WINNERS TABLE
(links to details)

QUALIFIERS

Preview
Box Assignments
Entries
Team Rankings
Individuals to Watch
Schedule
Prior Years
Meet's own website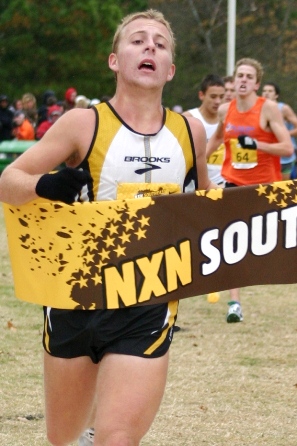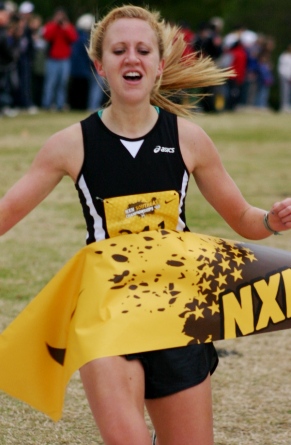 Brian Atkinson FL sprints in ahead of Pat McGregor and several other followers; Amanda Winslow had a more
comfortable 9-second margin. Photos by Matt Wojciechowski
Qualifiers

- for Nike Cross National finals at Portland OR December 6
(3rd and 4th place teams are eligible for selection as a national at large team)
(Individual qualifiers are the top 5 finishers not on a qualifying team.)

Boys Team


1.

Jamestown XC VA 115
2. Capital Distance (Broughton NC) 155
3.

RRL (Daviess County KY) 192


4.

Albemarle 5 Guys (Albemarle Co. VA) 1

96

Girls Team


1.

Wilmington XC (Tatnall DE) 45
2.

Suwanee XC (Collins Hill GA) 72
3.

Roanoke Titans (Hidden Valley VA) 118


4.

Blacksburg XC VA 123

Boys Individual


1.

Brian Atkinson FL 15:11
2.

Patrick McGregor AL 15:13


3.

Josh Hardin VA 15:14


4.

Ben Veilleux VA 15:15


5.

Andrew Palmer MD 15:16
Girls Individual


(1.

Amanda Winslow GA 17:34)
2.

Madeline Morgan AL 17:43
(3.

Kaitlin Buenaga DE 17:47)
4.

Kat Lautzenheiser VA 17:48


5. Allie Scalf TN 17:53
(6. Juliet Bottorff DE 17:56)
(7. Haley Pierce DE 18:06)
(8. Nicky Akande GA 18:06)
9. Allison Homer VA 18:09
10. Erika Fluehr FL 18:11




NXN SE team, indiv. champs conquer "hill that never ends," other adversity



Story by SteveU, DyeStat ESPN RISE Senior Editor

Amanda Winslow really got in the zone as she tried to complete her ascent up the long, seemingly endless finishing grade at the Nike Cross Nationals Southeast Regional meet Saturday in Cary, NC.

The wrong kind of zone.

"I was really dying," she said. "I felt like I was starting to go numb. I couldn't feel anything."

Finally, Winslow was able to focus on the finish banner. And she'd always wanted to break a real finishing banner, so the SE#2 Collins Hill (Suwanee XC) GA senior did so, winning in 17:34. It's a good thing she didn't look back, too. Because her teammates were dealing with an even more difficult adversary than the hill than never ends.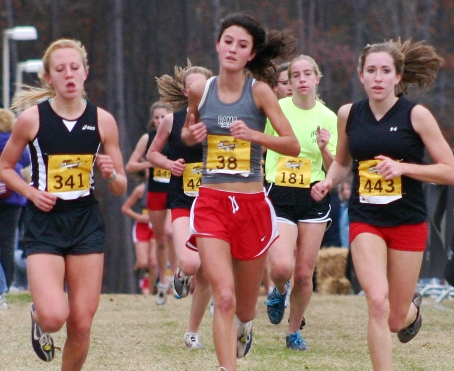 Leaders coming up on halfway: Winslow, Morgan, Bottorff.
Photo by Matt Wojcieshowski

That adversary was SE#1 Tatnall (Wilmington) XC. Winslow may have won the battle, but the girls from the northernmost state in the region won the war. Coach Pat Castagno's maturing crew, gunning for their 3rd straight trip to Portland, have been fronted by senior Juliet Bottorff for three years. But now she has company like never before; in fact, on this day, Kaitlin Buenaga would lead the team for the first time, finishing 3rd in 17:47. With Bottorff and freshman Haley Pierce finishing 6th and 7th, both ahead of Collins Hill's 2nd, Tatnall was on its way. Kallie Fehr and Molly Parsons piled it on as the winners tallied 45 and won over the Georgia school by 27.

"I love having teammates up there running with me," said Bottorff. "This is the best team we've had (since she's been there)."

The battle for 3rd took a surprising twist: SE#3 Mountain Brook AL (Bama XC) led through three girls, with defending national champ Madeline Morgan 2nd overall in 17:43. But they didn't have the depth to finish it on this day and three teams moved past them on the final two. Moving best was Hidden Valley VA (Roanoke Titans), which scored 118 to Blacksburg VA (Blacksburg XC) 123, and Midlothian VA (Midlothian TC) 129, with Bama XC 6th in 139.

Like Winslow, boys favorite Andrew Colley wasn't feeling great at the end, either – but then he wasn't quite himself the whole race. But SE#1 Jamestown VA (Jamestown XC) had more than enough teammate support for his club's title bid not to be in vain. With teammate Colin Mearns pulling ahead of him late, they were 5-6 (team scoring) in 15:26 and 15:33. Then John Holt came in 14th in 15:51 and the VA 2A champs were well on their way. They scored 115 to win by 40.

"Today, I needed to step it up … and the rest of our guys did, too," said Mearns.

If it seemed like SE#3 Broughton NC (Capital Distance) was more comfortable on the course than anyone else, well, it's their home course. So when they were announced for the #2 team qualifying spot, it's understandable that they had the biggest and most vociferous group of fans screaming in celebration.

Broughton got a big race from Blake Askin in 7th (team-scoring), had a tight 2-3-4, and produced the fastest fifth man of the day to score 155 – 40 out of first, but 37 ahead of 3rd-place SE#4 Daviess County KY (RRL).

"I figure I've raced on this course 24 time," said 6th-man Brady Lawrence, "which is way more than anyone should ever have to."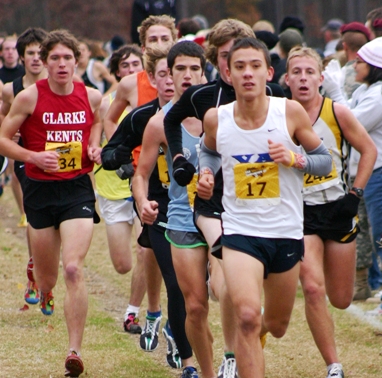 The boys lead pack before halfway.
Photo by Matt Wojcieshowski

While his team was back in third, Daviess Coach Tony Rowe wasn't too disappointed. His team had a great year and he had reason to be proud of the runner-ups, too – Broughton is coached by David Christian, who led the greatest Daviess County teams of their long, outstanding history in the late 90s.

Individually, the pack that would pull away from the Jamestown duo all wound up part of the five individual qualifiers. Melbourne FL (Melbourne Distance Project) jr Brian Atkinson was hardly used to the hills and chill (45-50 degrees, occasional drizzle), but he wisely laid off a fast pace and waited until after 2 miles to make a move. That was covered by Potomac Falls VA (Algonkian) sr Josh Hardin, who pushed hard to try and win on a long kick.

"I tried to keep contact, and hoped he would come back," said Atkinson, the Florida 4A champ. "Finally, he did come back a little and I thought I could kick by him." He did, using his upper body strength to drive ahead and win in 15:11.

Hoover AL (Birmingham XC) sr Patrick McGregor had the best kick behind Atkinson, taking 2nd in 15:13. Hardin wound up 3rd in 15:14, just ahead of the impressive effort of Clark County VA (Clarke Kents TX) sr Ben Veilleux 15:15. Right behind was Walt Whitman MD (unattached) jr Andrew Palmer (15:16), who was competing as an individual.

With all of the talent from Tatnall and Collins Hill in the top ten, the individual qualifying quintet went down to 10th place, the deepest of any region. The aforementioned Morgan of Mountain Brook, running in between the #1s of the qualifying teams, was the first individual qualifier in 2nd. Midlothian VA (Midlothian TC) jr Kat Lautzenheiser was 4th in 17:48, followed by Science Hill TN (Johnson City RC) sr Allie Scalf in 5th 17:53. The final two, in 9th and 10th overall, were Blacksburg VA (Blacksburg XC) sr Allison Homer (18:09) and Community School of Naples FL (Naples Seahawks TC) soph Erika Fluehr (18:11).

In the end, maybe the hill was the biggest winner. "People don't realize it at first," said one observer. "They go out too fast down that hill, then they have to come back two times. They don't realize how long it is."

It was a fitting test on the final day of NXN qualifying. Runners may not face the same natural hills in Portland, but with man-made barriers and mud, they'll no doubt be fighting that dying feeling at the end.


=====================================================================================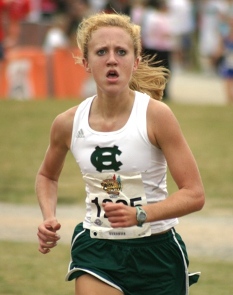 Amanda Winslow hopes to lead her club to a
reversal of Collins Hill's tiebreaker loss to
Tatnall DE at the McDonald's Maymont meet.
Winslow photo from Great American by Pat Davey