WINNERS TABLE
(links to details)

PHOTOS
by LGXXC Photo Pool
Boys Championship
Girls Championship

SteveU Preview

Tony Jones DyeStat IL preview

Entries
Box Assignments
Rankings
Schedule
Individuals to Watch
Prior Years


meet's own web site


Kroy boys, Geneva girls sweep for IL
Naperville North IL boys, Blue Streak girls (Magnificat OH) get 2nds
Stephanie Morgan OH runs CR 18:01; Kroy's Steve Sulkin 15:22
Boys Championship
-
Girls Championship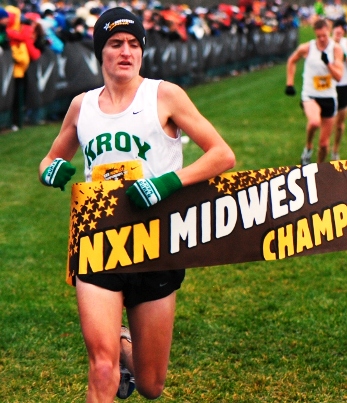 Steve Sulkin
(left) kicked best in the final stretch to lead
Kroy TC
(York IL) to victory, while
Stephanie Morgan
paced a group of individual girls with dominant final mile and 18:01 course record.
Photos Mike Hannum LGCXC Photo Pool
.
NXN Finals Qualifiers
Boys Teams


1. Kroy (York IL) 66
2. Naperville North XC IL 102
3. Carmel XC IN 106
4. Geneva XC IL 138


Girls Teams


1. Geneva RC IL 61
2. Blue Streaks XC (Magnificat OH) 75
3. Carmel IN XC 82
4. Hinsdale XC IL 106


Boys Individuals


(Steve Sulkin IL 15:22)
1. Jacob Swearingen MO 15:26
(Jordan Herbert 15:27)
2. Drew Shields IN 15:31
3. James Martin IN 15:35
4. Andrew Larsen IL 15:41
5. Donny Roys OH 15:42

Girls Individuals


1. Stephanie Morgan OH 18:01
2. Hannah Neczypor OH 18:22
3. Megan Yohe MO 18:23
4. Katie Gillespie OH 18:25
5. Lindsay Flanagan IL 18:31




Kroy Rediscovers Success Recipe; trio leads Geneva; 'easy' for Morgan





Lead story

by SteveU, DyeStat, ESPN RISE Senior Editor



It was the ultimate recipe for success. You take a tough one-point loss in a state meet, add some Joe Newton post-meet angst, stir in a hearty mix of York resolve, and finally complete with a topping of previous NXN experience – and watch the Clark-Kent-to-Superman-like transformation that took place on the Laverne Gibson Cross-Country Course.

With senior Steve Sulkin's 15:22 triumph highlighting the effort, the US#5/MW#2 Kroy (York HS) TC IL earned their fifth straight trip to Nike Cross Nationals Saturday afternoon in resounding fashion, scoring 66 points and beating runner-up US#3/MW#1 Naperville North XC, by 36. That completed a sweep of the top spots in the championship divisions by Illinois teams. Earlier, the US#4/MW#1 Geneva XC girls had taken a hard-fought victory in the girls title race, with their 61 points topping the 75 of the MS#3 Blue Streaks (Rocky River Magnificat HS) OH and the 82 of US#6/MW#2 Carmel XC (Carmel HS) IN.

The first to cross the line on the girls side, however, was "unaffiliated" (Barnesville OH) senior Stephanie Morgan, who pulled away in the last mile for an 18:01 course record victory. Her win highlighted the NXN's new policy allowing individuals to compete and qualify for NXN Finals; in fact the top six girls in the race overall were all sans teams, also highlighting the fact that the better Midwest teams excelled with pack running and not individual stars. For the boys, the fifth and final individual qualifier went down to 7th place, with two men of Kroy breaking it up, but just two of the top nine were running without teams in the first place.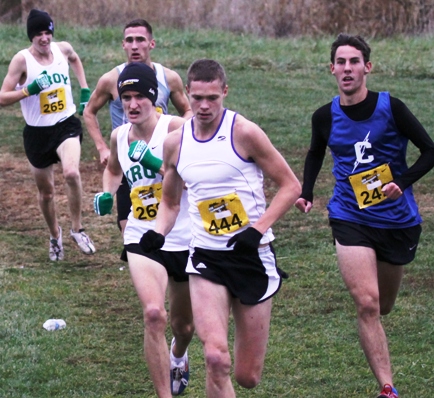 From left, Herbert, Shields, Sulkin, Swearingen, and Martin head into the stretch with a chance to win. Photo Jim Sullivan, LGCXC Photo Pool


All this, with pretty solid times, happened on an ominously cloudy 38-degree afternoon with brutal 20-30 MPH winds and occasional rain – which blessedly let up for most of the championship races. The meet was run in excellent fashion, though, despite the adversity, and the course's thick grass and design made the presence of mud and slop minimal.

Kroy's victory started with Sulkin's impressive effort. He made a mid-race surge that broke things up, but ultimately failed to completely shake most of the top group. At the top of the final stretch, there were five in contention, but Sulkin had one more card to play and kicked strong for the 15:22 win.

"The wind had started to get to me," he said, regarding the others catching up to him afte his previous surge. "But I found I had something left."

Sulkin's partner in the lead pack, senior Jordan Herbert, ran another fine race for 3rd (15:27), then teammates Adam Cecil, Jack Driggs, and Andrew Smith followed in 21st, 25th, and 45th (scoring 14-17-32). Club Coach Charlie Kern said it was those three that made the difference. "They had the opportunity to reverse the result from last week, and they did it," he said.

Meanwhile, Naperville North had its struggles. Top man Kyle Gibson, who had split Sulkin and Herbert the previous week, got off to a slow start, hoping to reel in a lot of stragglers later. He could only make it up to 16th, however. Teammate David McWilliams got up for 14th and with the rest of his teammates still scored 102 and held off Carmel for 2nd, 102-106. Being within four points of the US#3/MW#1 team could help Carmel for an at large bid down the road. US#10/MW#3 Geneva XC IL and defending regional and national champion US#15/MW#4 South Naperville XC (Neuqua Valley) IL were 4th (138) and 5th (159).

The boys battle for individual qualifying spots, completely mixed in with the team battle, was fierce. Sulkin's break shook things up and those who stayed close to him settled many of the spots. Casualties of that move and a fast early pace had been the likes of Mason XC's super soph Zach Wills, who held on to 8th, but missed making Portland by a place. Catching back up to Sulkin were unaffiliated Jacob Swearingen (Potosi MO), Fisher Running Program's Drew Shields, Sulkin's teammate Herbert, and Fort Wayne XC soph James Martin – all runners who had won or battled for state titles in the weeks prior.

Coming into the long home stretch, all five were still in contention, setting up the terrific finish. Shields was the fastest miler of the group, but Sulkin and Swearingen were the ones with the most left. They had taken turns surging on each other, but the final decisive move was Sulkin's. Swearingen (15:26) held off Herbert (15:27), while Shields (15:31) and Martin (15:35) held on for 4th and 5th. Surprising in 6th was unaffiliated Andrew Larson (Marmion IL) 15:41 and unaffiliated Donny Roys (Medina OH) 15:42 – with Roys getting the return trip to Portland after having made it with his club in 2007.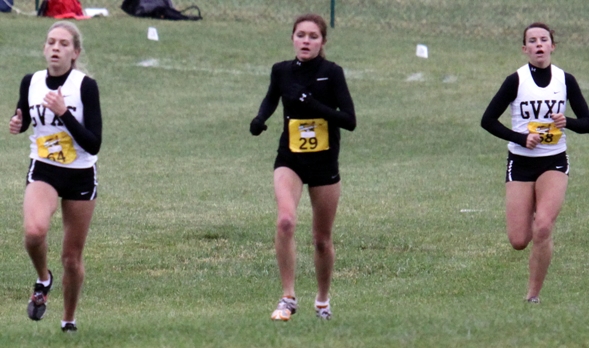 Geneva's Sarah Heuer and Kelly Whitely are split by Sarah Higgens IN as they battle for valuable
spots. Photo Jim Sullivan, LGCXC Photo Pool

The girls team race was a different animal. Geneva and Carmel had no familiarity with each other, and neither wound up trying to do any running near the front, despite the fact that each had top-five finishers in their respective state meets. They certainly were aware of the need to try and beat each other in the pack, which Carmel made easier with its neon green uniforms. But like Naperville North, Carmel's girls out a little too slow and the catchup game wasn't successful for them, either.

Geneva's senior Sarah Heuer, one of the two sisters who moved in from Minnesota, led her young team with an 18:51 in 9th, followed closely by Kelly Whitely (18:55) in 11th and then Meghan Heuer (19:06) in 17th. They scored 3-4-8, getting out ahead of Carmel's top three and staying there. That was the race as the 21-point difference between the top two Midwest teams had been forged.

"We definitely wanted to come in and run well, and that's what we did," said Whitely.

Meanwhile, however, the Blue Streaks XC Club (Magnificat) was brewing up the surprise of the day. These girls in their 2007 club incarnation had been fifth here and had focused on improving that standing throughout an unbeaten season in Ohio. #1 runner Madeline Chambers paced her club's effort Saturday in 8th (18:46), scoring 2nd and building an immediate cushion on Carmel. The Blue Streaks' 2-3-4-5 girls all more than held their own the rest of the way.

When the awards were announced, even after the 3rd and 4th place teams (Hinsdale XC IL 106, Carmel 82) were revealed, the girls from Magnificat still did not dare start to celebrate. Moments later, though, their 75-point total was announced, and great quantities of raucous cheering, hugs, screams, and tearful joy ensued – definitely the celebration of the day.

"We knew we had put in the hard work all season long," said deliriously happy coach Anjanette Arabian. "We knew they had one more great race in them."

By contrast, girls individual champion Stephanie Morgan was as laid back after winning as you could ever imagine anyone being. While no race is a walk in the park, Morgan looked like she'd just finished a tempo run rather than a battle in the ugly November conditions. "It felt really easy," she said. "I actually love running in bad weather in cross-country."

In contrast to the boys, the girls championship was like two different races, as the lead group was composed completely of individuals (without clubs) the entire way. Unbeaten AAA Illinois champ and Lake Park TC IL sr Lindsay Flanagan ("affiliated," yes, but without teammates) was expected to battle Morgan, but the duo had plenty of company with other Ohio, Missouri, and Indiana standouts. There was much shifting and surging, with some fading in and out of the lead pack, but always there was Morgan, with her statuesque form and 4:41 mile speed looking ready to go whenever she pleased. That time wound up being at the hay bales near 4K, where a tired Flanagan would go around the bales (unlike a steeplechase, you can do that) while Morgan went over and used the opportunity to surge away.

Flanagan would hold on for 5th (18:31), but it was an especially great day for Ohio individuals, with Hannah Neczypor and Katie Gillespie backing up Morgan in 2nd (18:22) and 4th (18:25). Neczypor, a North Royalton soph who was a very close 3rd in the Ohio D1 state meet, traveled to Terre Haute with the Blue Streak girls, meaning she could join in the celebration with her own success. Gillespie, meanwhile, is a Cuyoga Valley Christian senior who won the Ohio D2 race with a time just a couple ticks off of Neczypor's. They proved to be up to the challenge of the top runners from Illinois and Indiana.

In 3rd, unaffiliated Megan Yohe (18:23) was Missouri's brightest spot for the day, along with Swearingen. The Liberty HS junior had been the runner-up to Emily Sisson in the Missouri 4A meet. Just missing qualifying was surprising unaffiliated Waverly Neer, a Culver Academy IN soph who was 14th at her state meet. Indiana state champion Sarah Higgens of Center Grove XC (Center Grove HS) was 12th, while Michigan D1 runner-up Shannon Osika, a Waterford Mott soph, was 25th.

Most of the top individuals plan to give Foot Locker Midwest a run, too, but Morgan said she would stick with the Nike Cross Nationals. "I think there needs to be some top national runners who just do this meet."

Indeed, December's battle supreme in Portland will be getting some top individuals – and many great teams, too.




===========================================





Preview: Will it be Sweeps City for Illinois Powers?

Naperville North and Kroy could dominate boys; Geneva heads up girls battle of champions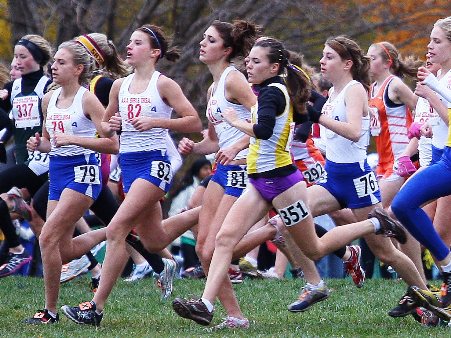 Nike Cross Nationals Midwest may be the smallest region in the county (the single state "regions" notwithstanding), but don't confuse quantity with quality.

The championship races will have two teams each ranked in the top six in the country, and while the girls battle should be a fight between the four respective state champion teams entered, the boys race could feature the same kind of domination from IL powers that Indiana had last year.
Brandon Gittelman photo of Geneva girls leading state meet.