5th NXN


Dec. 6 - Portland Meadows, Portland OR




Prior Years




DyeStat coverage of the first 4 years of NXN.






Proof that We're Number One!



The first four years of NXN (nee NTN - Nike Team Nationals) fulfilled the promise of crowning true national champions. At first, the meet was a coronation and confirmation of long standing power house programs -- Saratoga NY girls and York Elmhurst IL boys -- who frequently topped Marc Bloom's Super 25, the unofficial national rankings prior to NXN.

NXN next saw the emergence of new national powers, most notably Fayetteville-Manlius NY girls. Bill Aris' self-regenerating team won in 2006 and 2007 and is shooting for a trifecta in 2008, ranked #1 in the country most of the season until Saugus CA moved ahead after the Mt. SAC Invitational in late October.

2007

Girls - Manlius NY 83 repeats, Madeline Morgan AL 18:55
Boys - Naperville IL 125 (Los Alamos 127), Chris Derrick 15:40



Fayetteville-Manlius NY fans hear the news.


The Manlius girls (runners from Fayetteville-Manlius high school) won their second straight NTN title. With only one athlete graduating,the budding dynasty is starting to draw comparisons to New York rival Saratoga's great 2004 NTN championship team, which had four Foot Locker finalists. -- DyeStat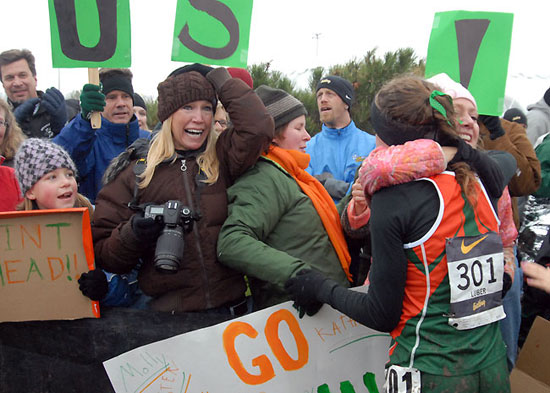 photo by Donna Dye
Chris Derrick (left) won the boys race and led Neuqua Valley Naperville IL to victory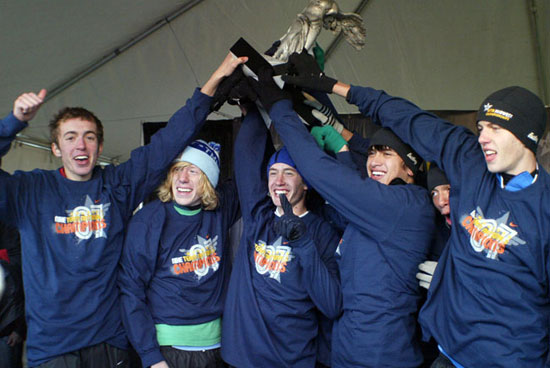 photo by John Nepolitan
2006
| | |
| --- | --- |
| Manlius XC Club girls NY (Fayetteville-Manlius) | Bridgetown XC Club boys PA (Coatesville) |
| Fayetteville-Manlius NY coach Bill Aris and his girls after their smashing victory, which climaxed a season-ending flourish of three straight wins -- the New York public schools state championship, the New York Federation championship and NTN. Aris brought his US#1 boys team to NTN the last 2 years without winning, but grabbed the title this year with a girls team that was out of the running for NTN until winning the New York championships. They are ranked US#1 this year by Marc Bloom's The Harrier magazine, so they could be back in Portland to defend their crown.. | Coatesville's 2-3 men Sean Ward and Owen Dawson, who finished 20th and 21st, slog through mud near the finish line. |
2005
Saratoga boys surprise, but girls lose to Hilton.
Kenny Klotz OR 16:26 and Betsy Bies SD 19:24 win individual honors.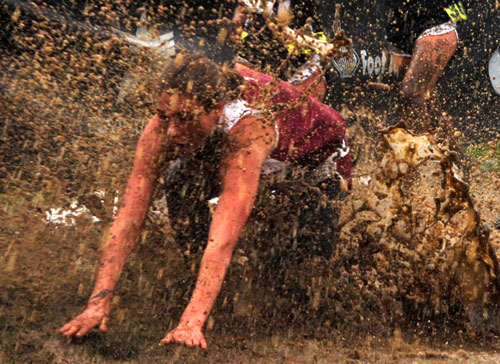 It was a mud bath at Portland Meadows. Precious few steps were not in water or shoe-sucking mud.
photo by Kirby Lee
2004
BOYS - Sean McNamara leads York IL to decisive victory over Fayetteville-Manlius NY
GIRLS - Divine right of queens: Saratoga wins


Greatest girls team ever? They had four Foot Locker finalists and won the inaugural NTN decisively.