NXN Selection Sunday




At-large invitations announced





November 30, 2008


For more information:

[email protected]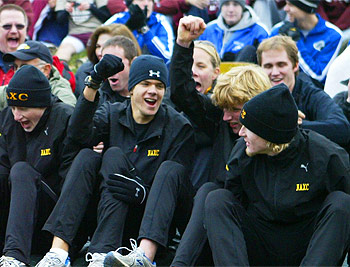 Wexford Flats RC (North Allegheny PA) reacts to their 3rd place finish at NXN NE, knowing it means they have a shot at an at-large bid to Portland. Photo by John Nepolitan


NXN At-Large Teams Named



Nike Cross Nationals has announced the eight At-Large team qualifiers for the NXN Finals in Portland December 6th. Those teams are:



Boys


Wexford Flats RC (

North Allegheny PA)

- NE Region
Danbury XC Club - NE Region
Thousand Oaks - California
Loyola - California



Girls


Burnt Hills TC - New York Region
Adirondack Runners (Queensbury NY) -New York Region
K Park RC (Kingwood Park TX) - South Region
Vista Ridge RC TX - South Region


Later today we will update the individual qualifiers list and include a complete list of all automatic and at-large qualifiers for NXN Finals.


Thank you

The NSSF
NXN Meet Management


Note: After the California state meet Saturday, the Dana Hills and Buchanan boys, and Saugus and Dana Hills girls were named the California auotmatic invites to the NXN Finals.