2008 Simplot Games

Idaho State University, Pocatello ID
February 14-16, 2008

DyeStat on-site with Rich Gonzalez, Dave Devine
Mike Kennedy, Marc Davis and John and Donna Dye
Super Saturday for Davis distance crew
Eddy and Haws follow coach's lead in claiming Simplot wins
by Dave Devine, assistant news editor
The final day of the Simplot Games three-day affair turned into a windfall for the distance squad from Davis High in Kaysville, Utah, but the cascade of wins didn't begin when girls' 1600 favorite Candace Eddy toed the line for the final of that event on Saturday afternoon. It actually started earlier, when Davis coach Corbin Talley handily won the Coaches' 1600 meter exhibition race just before the Games' elaborate opening ceremonies. The fields for the coaches' races—both a 200 and a 1600 were contested—were gender-mixed and age-expansive, but Talley (left, photo by Donna Dye) pulled smoothly away from a game group for a 4:28.07 win while a large contingent of his Davis High athletes hung over the railings along the backstretch grandstand and hollered enthusiastically for their mentor.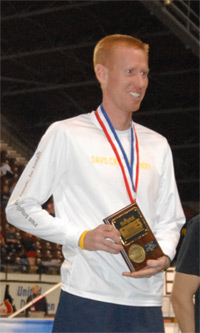 Talley, who ran collegiately at Weber State in Ogden, Utah, has helped build quite a program at Davis, where the track teams are well-balanced but feature an especially strong stable of distance talent. Last fall he led his girls team, competing as Davis XC Club, to a ninth place finish in the 2007 Nike Team Nationals, and had both Eddy and teammate Natalie Haws (3200 finalist) ready to roll in the two distance races on Saturday afternoon. In fact, Coach Talley and his young miler, Eddy, shared more in common than a desire to win their respective 1600s at Simplot. Both were hoping to regain titles they'd won in 2006, but lost in 2007. Talley won the coaches race two years ago, but lost the low-key event in '07 to BYU's 2006 NCAA steeplechase champion, Josh McAdams. Eddy won the girls 1600 in 2006 as a precocious freshman, and then suffered a defeat the following year at the hands of Judge Memorial's Samantha McMillan.

Once Coach Talley handled his end of the bargain with his coaches' win in the morning, it was up to Eddy and Haws to continue the Davis streak.

Eddy (right, photo by John Dye) was up first, a favorite to win the 1600 after a controlled prelim that saw her cruise to a 5:10.82 leading qualifier. When the gun went off in the final, she hung right behind the leaders through the early laps, before fronting a breakaway with Canadian Chelsea Graham (Edmonton Thunder) that saw the pair draw well-clear of the field toward an opening 800 split of 2:32. From there it was all Eddy, as she dropped a monster negative split of 2:22 to put 13 seconds between herself and Graham in the closing laps. Her 4:54.57 winner was just three seconds shy of Alicia Craig's superb 4:51.65 meet record from 2000.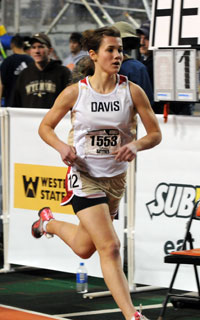 After Eddy's triumph, teammate Natalie Haws took the track for the 3200 final. Eddy may be the better known of the two, but Haws had a fine senior cross country campaign last fall, culminating in a 16th place finish at NTN that led her team at the national meet. She was motivated by Eddy's win heading into her own race, but also drew inspiration from her coach's victory.

"Hey," she figured, "if my coach can do it, I can."

Haws didn't compete in any indoor races last winter, after slipping on a patch of ice while out on a training run and badly cutting her knee. She still bears a jagged scar below her kneecap from the injury.

"Outdoors didn't go too well either," she admitted, "but I trained through the summer, and cross country went well, and I'm still running well from cross country."

Haws' cross country fitness was on full display in the 3200 final, where she wisely allowed ambitious leader Elizabeth Briasco of New York to pull away in the earlygoing, and instead stayed within herself as part of the trailing pack.

"I ran against [Briasco] in the trials," Haws said, "and she went out way fast in the trials, so I wasn't too worried. I knew if I went out too fast I'd die, so I just stayed with the other leaders."

Briasco eventually did come back. Haws caught her and maintained a steady pace until the middle laps, when she surged on the field and managed to hold off nearest pursuer and fellow Utahan Sarah Callister (Ogden UT jr) all the way to the line. Haws was the only competitor to slip under 11-flat, finishing in 10:56.16 to Callister's 11:02.31.

With her win, Haws joined Eddy in an impressive girls distance sweep which, coupled with Coach Talley's victory, made it a very good day for the Davis High distance crew.

Simplot home page