2008 Simplot Games

Idaho State University, Pocatello ID
February 14-16, 2008

DyeStat on-site with Rich Gonzalez, Dave Devine
Mike Kennedy, Marc Davis and John and Donna Dye
Saturday


Meet Program - Saturday Results -



Coward's 8.16 USR electrifies Simplot Saturday




It took Jacquelyn Coward less than two seconds to harness control of her speed. It only took a few more to then steer it right to the finish line en route to a new national 60m hurdles record

. - Rich Gonzalez story



FEATURES




Mile high medal haul

- Colorado boys took home a wealth of sprint medals, and it all goes back to the coaching - Dave Devine story


Shade of disappointment

- Vaulter Shade Weygandt grabs 13-1 MR, but misses competition from Rachel Laurent - Dave Devine story


Davis distance gets it done

- Candace Eddy and Natalie Haws follow coach's lead in claiming Simplot wins - Dave Devine story

G-60H: Jackie Coward TN already owned the national record (8.17) but she improved by one tick today, with Vashti Thomas CA second in 8.27 US#3 all time. Video
G TJ/LJ:

Vashti Thomas CA US#1 42-08.75

and US#2 19-10.75 -

#4 all-time in TJ - her second to Coward in hurdles in 8.27 placed her US#3 all time.
Coward (right) and Thomas come over the last hurdle together; Coward squeezes out 0.11 second advantage in the sprint to the finish.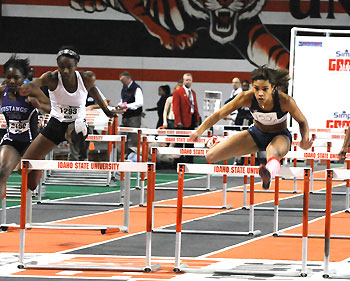 photo by John Dye


Coward's 8.16 USR electrifies a stellar Simplot Saturday


by Rich Gonzalez, editor, DyeStatCal

It took Jacquelyn Coward less than two seconds to harness control of her speed. It only took a few more to then steer it right to the finish line en route to a national record.

Coward, the senior from Knoxville West HS (Tn.), overcame an early deficit to catch another recordholder en route to shearing one-hundredth of a second off her own national standard in providing the most electric moment of a power-packed 30th edition of the Simplot Games.

While Coward's 60-meter high hurdles win in a stunning 8.16 seconds was the headlining achievement of the three-day, 20-state, 2,300-athlete affair, the popular meet also produced three national class records, four meet records, and a total of six nation-leading marks for the 2007-2008 season.

Coward, who inadvertantly showed up seven hours before her race to start warming up, rallied by the fourth hurdle to overtake early leader Vashti Thomas of California (Mt. Pleasant HS) and storm across the finish as the jumbo screen flashed the magical digits and announcer Jim Spier bellowed out the first reports: "Eight-fifteeeeen! A new national record!"

Coward instantly clapped her hands together four times and then pumped her fists into the air as she decelerated, then doubled over as she cupped her hands over her mouth and was overcome with emotion.

"I was just thanking God, not thinking when I crossed that it was fast enough (for the record)," said Coward, who signed with the University of Central Florida earlier this month. "My start wasn't perfect and (Vashti) started really well. I didn't really get control of my speed until the third hurdle, and then my technique kicked in. I didn't catch her until I think the third hurdle (of five)."

After a few seconds of review, the official time was changed to 8.16, sending a buzz through Holt Arena and ranking just ahead of the all-time prep mark of 8.17 she achieved in winning the KTC meet last winter. It was a far cry from the ultra-quiet welcome she discovered at 6:30 in the morning, when Coward arrived thinking there was a semifinals round to be run rather than the straight final she'd earned a spot in. In the end, time was on her side.



400: Dominick Roberts CO edges Akinto Boone NC and Kendall Gregory in photo finish



The big highlight of the boys' competition came in the 400-meter dash, where Colorado's Dominick Roberts powered up from third place with 140 meters left to nab early leader Akinto Boone and big-time closer Kendall Gregory down the final homestretch to seal a nation-leading 47.98 triumph. Gregory, from Ohio, edged New York's Boone, 48.28 to 48.32.

Roberts, who was fastest in Friday's qualifying in both the 400 and the 200, won the "seeded" final of the deuce on Saturday as well. But his razor-close decision over Bobby Grier (21.88 to 21.89) was actually bettered by North Carolina's DeMario House (21.87) in a non-seeded heat earlier in the day. Times from all heats were merged to determine final official placings.



More records and national leaders



Pole vaulter Nico Weiler provided plenty of entertainment while putting on another aerial clinic, easily besting a loaded field to win in 17 feet, 2 inches-- equaling his nation-leading mark this year. With national indoor recordholder Pat Manson (17-06.25 22 years ago) looking on from less than 15 feet away, Weiler had three solid efforts at 17-07 in his best showing of the year.

Vashti Thomas, who finished second to Coward in the historic hurdles race, was the female performer of the meet in terms of versatility, setting a California record and US #3 all-time mark in the high hurdles (8.27), bounding to a yearly nation-leading mark of 42-08.75 in the triple jump and earlier soaring US#2 19-10.75 to easily best the field in the long jump.

Georgia's Wes Wright posted the first nation-leading mark of the meet on Thursday, unleashing a 77-03 heave to win the weight throw. Wright, who competes for the Throw 1 Deep club, uncorked the decisive effort in the final round as he propelled the 25-pound weight into the arena's orbit.

Meet records were also achieved by Utah's Luke Puskedra, Colorado's Michael Hancock and Texas' Shade Weygandt.

Puskedra eventually shook a determined pursuer in Utah's Spencer Gardner to best his own meet standard in the 1600-meter run with a 4:10.58 triumph, easily topping last year's 4:13.62 win by the All-American distance runner. Puskedra split 59.8 and 62.1 for his opening 400-meter segments, before closing in 63.3 and and 65.4.

Hancock powered over the barriers and into the all-time list in the featured heat of the boys' 60-meter hurdles. He needed a clean race to prevail in 7.78, shaving 4/100ths of a second off Jason Richardson's previous meet record. Missouri's Andre' McDonald was a close second in 7.90, part of a great day of action for the versatility wunderkind. McDonald also won the long jump (22-11.50), took second in the high jump (6-08.00) and placed sixth in the triple jump (46-05.00).

Weygandt's expected clash with Rachel Laurent in the girls pole vault never fully materialized, with Laurent no-heighting at 12-03 and Weygandt effective scaling the progressions to negotiate a meet-record 13-01 clearance, besting one-time local favorite Julene Bailey's five-year-old standard by an inch. Weygandt arrived here as the national yearly leader (13-08), with Laurent close behind (13-07.25).




Results





Saturday Boys Results




Licensed to Hy-Tek MEET MANAGER Demo   Hy-Tek's Meet Manager 2/16/2008 07:08 PM
                  Simplot Games 2008 - 2/14/2008 to 2/16/2008                  
                                    Results                                    
 
Men 60 Meter Dash -
============================================================================
    Class FR:    6.78  2001        Jerald Watson, Morgan City, LA              
    Class SO:    6.67  2007        Jeremy Rankin, Aurora, CO                   
    Class JR:    6.64  2008        Jeremy Rankin, Aurora, CO                   
    Class SR:    6.57  1999        Casey Combest, Owesboro, KY                 
    Meet Rec:    6.68  2004        Kenny O'Neal, Sacramento, CA                
    National:    6.57  1999        Casey Combest, Owesboro, KY                 
    Name                    Year School               Prelims     Finals  H#
============================================================================
Finals
  1 Morris, Joseph            12 Colorado Flyers,Den     6.82       6.76   3 
  2 Whitaker, A.J.            12 D.A.T.A.C.,Denver C     7.10       6.88   3 
  3 Marshall, Cameron         11 South Bay Expres,Sa     7.09       6.88   3 
  4 Avery, Ryan               11 Davis Track Club,Ka     7.18       7.01   3 
  5 Craigo, Agustus           12 Warrior Express,Cen     7.26       7.05   1 
  6 Ballage, Keenan           12 Colorado Springs,Co     7.23       7.07   2 
  7 Bowens, Keith             11 Y M C A Team Ida,Bo     7.16       7.07   3 
  8 Blimke, Kevin             12 Capital City Tra,Ed     7.26       7.14   2 
  9 English, Khumari          12 So. California C,Di     7.23       7.18   2 
 10 Herrera, Taylor           11 So. California C,Di     7.20       7.20   2 
 11 Lyons, Taylor             11 Alpha T-Wolves,Orem     7.25       7.20   2 
 12 Mack, Bryan               12 Mack, Bryan,Arlingt     7.30       7.20   1 
 13 Orange, Ellon             12 Speed City,Norwalk      7.29       7.21   1 
 14 Ferrin, Curtis            12 Y M C A Team Ida,Bo     7.23       7.21   2 
 15 Pickett, Kiel             10 D.A.T.A.C.,Denver C     7.28       7.24   1 
 16 Wheeler, Chase            11 Wheeler, Chase,San      7.29       7.28   1 
 -- Goodwin, Tyler            12 Timpview Thunder,Pr     7.29         NT   1 
 -- House, DeMario            12 Racer-X,Charlotte N     7.06         DQ   3 
 
Men 200 Meter Dash -
============================================================================
    Class FR:   21.95  2001        Michael Grant, Snellvile, GA                
    Class SO:   21.62  2007        Rynell Parson, San Antonio, TX              
    Class JR:   21.02  2001        Brendan Christian, Austin, TX               
    Class SR:   20.69  2004        Xavier Carter, Melbourne, FL                
    Meet Rec:   21.47  2005        J-Mee Samuels, Winston-Salem, NC            
    National:   20.69  2004        Xavier Carter, Melbourne, FL                
    Name                    Year School               Prelims     Finals  H#
============================================================================
  1 House, DeMario            12 Racer-X,Charlotte N    23.18      21.87   2 
  2 Roberts, Dominick         12 M Z A Greyhounds,Au    22.36      21.88   3 
  3 Grier, Bobby              12 Racer-X,Charlotte N    22.58      21.89   3 
  4 Dodson, Quinton           12 D.A.T.A.C.,Denver C    23.21      21.98   1 
  5 Hughes, Joey              12 Speed City,Norwalk     23.02      22.03   2 
  6 Whitaker, A.J.            12 D.A.T.A.C.,Denver C    22.59      22.11   3 
  7 Hevner, Zach              12 Y M C A Team Ida,Bo    22.70      22.21   3 
  8 Ferrin, Curtis            12 Y M C A Team Ida,Bo    23.00      22.32   3 
  9 Pickett, Kiel             10 D.A.T.A.C.,Denver C    23.05      22.52   2 
 10 Martin, Daniel            12 Pacific United,Sacr    23.01      22.54   2 
 11 Vaughn, Jordon             9 Union Grove Trac,Mc               22.57   1 
 12 Butcher, Matt             12 Max Trax Track C,Lo    23.02      22.59   2 
 13 Orange, Evant             12 Speed City,Norwalk     23.09      22.81   2 
 14 Swaney, Wes               12 Swaney, Wes,Leeds U    23.45      22.91   1 
 15 Woods, Robert             10 Gardena Core Spe,Ga    22.91      22.98   3 
 16 Brown, Darryl             11 Gardena Core Spe,Ga    23.42      23.01   1 
 17 Henry, Derrick            10 C A T C,Oakland CA     23.44      23.33   1 
 18 Rice, Kevin               11 Cougar Track,Parker    23.45      24.48   1 
 
Men 400 Meter Dash -
============================================================================
    Class FR:   48.76  1985        William Reed, Philadelphia, PA              
    Class SO:   46.84  1986        William Reed, Philadelphia, PA              
    Class JR:   47.37  2005        Bryant McCombs, Old Bridge, NJ              
    Class SR:   45.92  2004        Elzie Coleman, Newburg, NY                  
    Meet Rec:   45.92  2004        Elzie Coleman, Newburg, NY                  
    National:   45.92  2004        Elzie Coleman, Newburg, NY                  
    Name                    Year School               Prelims     Finals  H#
============================================================================
  1 Roberts, Dominick         12 M Z A Greyhounds,Au    49.14      47.98   3 
  2 Gregory, Kendall          12 Gregory, Kendall,St    50.33      48.28   3 
  3 Boone, Akinto             12 Newburgh Elite T,Ne    49.40      48.32   3 
  4 Macintosh, Kyle           11 A T S Elite,Littlet    50.94      48.58   3 
  5 Grier, Bobby              12 Racer-X,Charlotte N    51.40      49.02   2 
  6 Hevner, Zach              12 Y M C A Team Ida,Bo    51.28      49.04   2 
  7 Unruh, Tyson              12 Lethbridge Track,Le    52.32      49.23   1 
  8 Sam, Sebastian            12 I S C A Track Cl,Mo    50.80      49.66   3 
  9 Jackson, Asa              12 Unattached,Sacramen    50.78      50.21   3 
 10 Jenkins, Peter            12 A T S Elite,Littlet    51.89      50.45   2 
 11 Sterling, Mark            12 Flight Track Clu,Co    52.02      50.63   1 
 12 Anderson, Jason           10 Spanish Fork Tra,Sp    52.36      50.80   1 
 13 Butcher, Matt             12 Max Trax Track C,Lo    51.72      50.90   2 
 14 Howard, Duron             12 Pacific United,Sacr    52.18      51.03   1 
 15 Scheuerman, Kevin         10 Kryptonite Speed,Pa    51.97      51.05   2 
 16 Holliman, Myster          12 AC Track Club,Tracy    52.34      51.46   1 
 17 Daw, Jeff                 11 Skyline Eagles,Salt    51.96      51.82   2 
 18 Henderson, Logan          12 Indian Track Clu,Po    52.09      51.96   1 
 
Men 800 Meter Run -
=========================================================================
    Class FR:   1:55.45  2005        Andrew Perkins, Watertown, WI             
    Class SO:   1:51.11  1994        Michael Granville, Bell Gardens, CA       
    Class JR:   1:50.55  1995        Michael Granville, Bell Gardens, CA       
    Class SR:   1:50.74  2006        Karjuan Williams, New Bern, NC            
    Meet Rec:   1:50.74  2006        Karjuan Williams, New Bern, NC            
    National:   1:50.55  1995        Michael Granville, Bell Gardens, CA       
    Name                    Year School               Prelims     Finals 
=========================================================================
  1 Abbott, Joe               12 Abbott, Joe,Reno NV  2:00.44    1:55.10  
  2 White, Charles            12 Team XC,Denver CO    1:57.38    1:55.32  
  3 Weinheimer, Alex          11 Ric Rojas Runnin,Bo  1:58.24    1:55.77  
  4 Moyer, Mathew             12 Moyer, Mathew,Washo  2:00.98    1:57.34  
  5 Clark, Stephen            12 Skyline Eagles,Salt  1:59.10    1:57.51  
  6 Kasica, Steve             12 Fruita Monument,Fru  2:00.19    1:57.70  
  7 Robertson, Karl           11 LeDuc Track Club,Ed  2:00.64    1:57.80  
  8 Redwine, Rob              12 Redwine, Rob,Tulsa   2:00.56    1:57.90  
  9 Schiavonne, Trevor        11 St. Albert Track,St  2:01.80    1:59.88  
 10 Dorosz, Sam               12 Lethbridge Track,Le  2:02.51    1:59.90  
 11 Kahn, Dain                11 Ric Rojas Runnin,Bo  2:03.38    2:00.27  
 12 Rideout, Michael          12 Pacific United,Sacr  2:03.42    2:00.60  
 13 Guerrero, Jose            10 Team XC,Denver CO    2:04.47    2:01.51  
 14 Mangiel, Paul             11 Lethbridge Track,Le  2:02.08    2:01.63  
 15 Homer, Jeff               12 Lethbridge Track,Le  2:02.63    2:01.92  
 16 Lund, Cody                12 Missoula Big Sky,Mi  2:02.41    2:02.01  
 17 Kovach, Jon                  Fort Collins Tra,Wi  2:05.48    2:02.83  
 18 Anestos, Chaz             12 Gate City Track,Poc  2:01.26    2:03.55  
 19 Jackson, Ade               9 Unattached,Sacramen  2:04.56    2:03.68  
 20 Breeden, Cory             12 Teeva Track, Inc,Co  2:04.29    2:03.75  
 21 Smith, Dane               11 Alpha T-Wolves,Orem  2:05.43    2:04.31  
 22 Walker, Evan              12 Century Track Cl,Po  2:04.56    2:04.59  
 23 Coles, John               12 Coles, John,West Jo  2:04.97    2:04.83  
 24 Taylor, Shawn             11 Golden West Athl,Gr  2:05.62    2:05.93  
 25 Lechtenberg, Brett        12 Roy Track Club,Roy   2:05.15    2:06.49  
 26 Bounds, Richard           12 Y M C A Team Ida,Bo  2:04.12    2:14.55  
 -- Cline, Kenneth            12 Timpview Thunder,Pr  2:03.42         NT  
 
Men 1600 Meter Run -
=========================================================================
    Class FR:   4:19.65  2005        Andrew Perkins, Watertown, WI             
    Class SO:   4:08.27  1997        Andy Powell, N. Eaton, MA                 
    Class JR:   4:05.79  1998        Andy Powell, N. Eaton, MA                 
    Class SR:   3:58.31  2001        Alan Webb, Reston, VA                     
    Meet Rec:   4:13.62  2007        Luke Puskedra, Salt Lake City, UT         
    National:   3:58.31  2001        Alan Webb, Reston, VA                     
    Name                    Year School               Prelims     Finals 
=========================================================================
  1 Puskedra, Luke            12 Bulldogs Track C,Sa  4:21.58    4:10.58  
  2 Cowhick, Henry            11 Crown Hill Track,Go  4:24.59    4:17.09  
  3 Muhudin, Roblet           10 Blazers Track Cl,Au  4:27.74    4:17.25  
  4 Gardner, Spencer          12 Gardner, Spencer,Sp  4:28.43    4:18.01  
  5 Cernanec, Will            12 A T S Elite,Littlet  4:28.12    4:20.42  
  6 Fitzpatrick, Eric         10 Y M C A Team Ida,Bo  4:31.60    4:23.08  
  7 Fletcher, Nathan             Timpview Thunder,Pr  4:37.04    4:27.68  
  8 Felix, Ben                12 Caveman TrackClu,Am  4:30.08    4:29.21  
  9 Johnson, Kevin            11 Colorado Springs,Co  4:31.95    4:29.45  
 10 Fuller, Travis            12 Bruin Track Club,Or  4:43.20    4:30.28  
 11 Kornelsen, Isaak          11 Edmonton Thunder,Ed  4:35.16    4:31.42  
 12 Huff, Austin              12 Cheyenne East,Cheye  4:31.59    4:31.65  
 13 Duffy, Matt               12 St. Mary's Panth,Be  4:27.85    4:33.53  
 14 Zimmerman, Zach           12 Wildcat Track Cl,Wo  4:39.30    4:34.55  
 15 Lotz, Chris               12 Kryptonite Speed,Pa  4:37.04    4:35.19  
 16 Brainerd, Jackson         12 Warrior Express,Cen  4:36.71    4:35.78  
 17 Wilson, Zeke              12 Challis Running,Cha  4:38.07    4:36.50  
 18 Anderson, Spencer         12 Davis Track Club,Ka  4:41.00    4:36.82  
 18 Kirtright, Shaine          8 Kirtright, Shain,Dr  4:38.25    4:36.82  
 20 Ingram, Scott             12 Cougar Track,Parker  4:46.76    4:36.89  
 21 Thibideau, Spencer        10 Golden West Athl,Gr  4:39.41    4:37.05  
 22 Nelson, Chase             11 Team Provo,Provo UT  4:39.83    4:38.25  
 23 Larsen, Bryce             12 Davis Track Club,Ka  4:46.58    4:39.10  
 24 Jenkins, Aaron            12 Century Track Cl,Po  4:40.78    4:39.66  
 25 Hulse, Alex               12 Cougar Track,Parker  4:46.52    4:39.81  
 26 Gerken, Max               12 Team XC,Denver CO    4:42.60    4:40.59  
 27 Rathburn, Devin           11 Cheyenne Central,Ch  4:45.28    4:41.16  
 28 Denlinger, Paul           11 Denlinger, Paul,Tem  4:43.05    4:41.26  
 29 Cowan, Garrett            11 Denlinger, Paul,Tem  4:38.77    4:41.80  
 30 Rankin, Matt              11 Y M C A Team Ida,Bo  4:44.84    4:42.48  
 31 Smithson, Russell         11 Smithson, Russel,Re  4:44.74    4:42.72  
 32 Holt, Chris               11 Warrior Express,Cen  4:46.13    4:43.25  
 33 Francis, Matthew          12 Bozeman Distance,Bo  4:43.49    4:43.61  
 34 McGee, Andrew             12 Fort Collins Tra,Wi  4:37.60    4:43.89  
 35 Gardner, Krys                Timpview Thunder,Pr  4:30.01    4:44.12  
 36 Empey, Morgan             11 Skyline Eagles,Salt  4:44.76    4:45.48  
 37 Winter, Doug              12 Warrior Express,Cen  4:44.56    4:45.72  
 38 Luna, Manuel              11 Ogden Track Club,Og  4:46.88    4:46.49  
 39 Gleason, Darren           10 Pleasant Grove V,Pl  4:47.31    4:46.64  
 40 Miller, Ray               11 Caldwell Track C,Ca  4:48.48    4:46.81  
 41 Butler, Griffin           12 Butler, Griffin,Ida  4:47.66    4:47.90  
 42 Potter, Michael           12 Waterford,Sandy UT   4:45.54    4:48.25  
 43 Olson, Thatcher           12 Skyline Eagles,Salt  4:41.77    4:49.49  
 
Men 3200 Meter Run -
=========================================================================
    Class FR:   9:13.54  2005        Sintayehu Taye, Portland, ME              
    Class SO:   8:52.74  1974        Rudy Chapa, Hammond, IN                   
    Class JR:   8:49.64  2000        Dathen Ritzenhein, Rockford, MI           
    Class SR:   8:36.94  1964        Gerry Lindgren, Spokane, WA               
    Meet Rec:   9:11.05  2000        Josh Rohatinsky, Provo, UT                
    National:   8:36.94  1964        Gerry Lindgren, Spokane, WA               
    Name                    Year School               Prelims     Finals 
=========================================================================
  1 Rickman, Wesley           11 Colorado Springs,Co  9:52.14    9:16.39  
  2 Casey, Patrick            12 Casey, Patrick,Laur  9:39.70    9:32.28  
  3 Robinson, Dominick        11 Campbell County,Gil  9:51.74    9:32.29  
  4 Tibaduiza, Bryan          11 Tibaduiza, Bryan,Re  9:40.78    9:41.44  
  5 Parish, Laine             12 Cheyenne Central,Ch  9:54.33    9:42.81  
  6 Nelson, Jonathan          11 Timpview Thunder,Pr  9:48.62    9:45.19  
  7 Bate, Greg                12 Bruin Track Club,Or  9:53.29    9:49.10  
  8 Ferrin, Neal              12 Ferrin, Neal,Millvi  9:56.22    9:50.87  
  9 Law, Graeme               12 Edmonton Thunder,Ed 10:03.81    9:53.51  
 10 Gutzwiller, Seth          11 Davis Track Club,Ka  9:53.59    9:56.56  
 11 Ricks, Trevor             12 Star ValleyTrack,Af 10:04.66   10:03.73  
 12 Brooks, Robert            12 Brooks, Robert,Miss 10:01.21   10:04.18  
 13 Wilson, Garrett           11 Kryptonite Speed,Pa 10:06.14   10:08.01  
 14 Tippetts, Trevor          12 Team Provo,Provo UT 10:05.86   10:14.00  
 15 Dickey, Kevin             12 Dickey, Kevin,Millv 10:05.12   10:18.63  
 
Men 60 Meter Hurdles -
============================================================================
    Class FR:    8.03  2002        Lataero Mitchell, Huber Heights, OH         
    Class SO:    8.83  2007        Wayne Davis, Raleigh, NC                    
    Class JR:    7.63  2008        Wayne Davis, Raleigh, NC                    
    Class SR:    7.62  2000        Rickey Harris, Clifton, VA                  
    Meet Rec:    7.82  2004        Jason Richardson, Cedar Hills, TX           
    National:    7.62  2000        Rickey Harris, Clifton, VA                  
    Name                    Year School               Prelims     Finals  H#
============================================================================
  1 Hancock, Michael          12 Colorado Flyers,Den     8.33       7.78   3 
  2 McDonald, Andre'          12 Draft Pick Acade,Ka     8.16       7.90   3 
  3 Capelle, Eric                Barlow Track Clu,Gr     8.43       8.07   3 
  4 Goble, Jon                12 Wolf Pack Track,Pla     8.44       8.19   3 
  5 Hill, Tarique             11 Colorado Flyers,Den     8.23       8.20   3 
  6 Hill, Tashaun             11 Colorado Flyers,Den     8.29       8.25   3 
  7 Valentine, Maurice        11 Oakland P A L Tr,Ca     8.47       8.37   2 
  8 Morgan, D.J.              11 Teekay Track Clu,Co     8.58       8.48   2 
  9 Kennedy, James            12 Gardena Core Spe,Ga     8.64       8.49   1 
 10 Arndt, Andrew             12 Arndt, Andrew,Saska     8.58       8.52   2 
 11 Simmons, Mitch            12 Y M C A Team Ida,Bo     8.54       8.54   2 
 12 Webb, Shaun               12 Davis Track Club,Ka     8.53       8.57   2 
 12 Sulit, Dextur             12 Cardinal Track C,Sa     8.75       8.57   1 
 14 Williams, Ronald          12 Speed City,Norwalk      8.70       8.64   1 
 15 Rohwer, James             12 Rohwer, James,Logan     8.78       8.71   1 
 16 Jenkins, Blake            12 Wolf Pack Track,Pla     8.67       8.75   1 
 17 Gustafson, Kaelen         12 Gustafson, Kaele,Ri     8.71       9.02   1 
 18 Lassiter, Kegan           12 Cody High School,Co     8.63       9.84   2 
 
Men 4x200 Meter Relay -
============================================================================
    Meet Rec:   1:27.96  2004        Newburg TC, Newburg, NY                   
    National:   1:26.09  2005        POLY, Long Beach, CA                      
    School                                            Prelims     Finals  H#
============================================================================
  1 D.A.T.A.C.  'A'                                   1:36.36    1:30.61   1 
     1) Whitaker, A.J. 12               2) Dodson, Quinton 12             
     3) Stevenson, Tyrone 12            4) Pickett, Kiel 10               
  2 Teekay Track Club  'A'                            1:33.64    1:30.92   2 
     1) Morgan, D.J. 11                 2) Robinson, Aaron 12             
     3) Mitchell, Antoine 12            4) Ezell, James 10                
  3 Barlow Track Club  'A'                            1:35.60    1:31.51   1 
     1) Capelle, Eric                   2) Dufala, Will                   
     3) Lewis, Sean 11                  4) Swift, Chris                   
  4 C A T C  'A'                                      1:34.90    1:31.52   1 
     1) Horsley, Carl 10                2) Rucker, Darquis 10             
     3) Sanders, Lamont 10              4) Henry, Derrick 10              
  5 Gardena Core Speed  'A'                           1:33.92    1:31.98   2 
     1) Kennedy, James 12               2) Brown, Darryl 11               
     3) Carpenter, Anthony 11           4) Woods, Robert 10               
  6 I S C A Track Club  'A'                           1:33.56    1:32.03   2 
     1) Sam, Sebastian 12               2) Ly, Thompson 12                
     3) Beard, Johnny 8                 4) Hesner, Marquee 12             
  7 Y M C A Team Idaho  'A'                           1:34.07    1:33.47   2 
     1) Hevner, Zach 12                 2) Christoffersen, Chase 11       
     3) Ferrin, Curtis 12               4) Bowens, Keith 11               
  8 Box Elder Track Club  'A'                         1:36.55    1:34.01   1 
     1) Iverson, Hyrum 12               2) Barnett, Sean 12               
     3) Galvin, Jeremy 11               4) Greene, Cameron 12             
  9 So. California Cheetas/Boys  'A'                  1:35.99    1:35.49   1 
     1) English, Khumari 12             2) Herrera, Taylor 11             
     3) Miller, Dejon 12                4) MacMahan, Ryan 12              
 10 Davis Track Club  'A'                             1:33.97    1:35.68   2 
     1) Carling, Taylor 11              2) Hinds, Tanner 10               
     3) Boarden, Zach 12                4) Avery, Ryan 11                 
 11 Cougar Track  'A'                                 1:36.00    1:36.72   1 
     1) Cruz-LaSanta, Keenan 11         2) Rice, Kevin 11                 
     3) Walker, Ryan 10                 4) Stone, Sam 12                  
 -- Speed City  'A'                                   1:31.80         NT   2 
     1) Orange, Ellon 12                2) Orange, Evant 12               
     3) Vaughn, Eric 12                 4) Hughes, Joey 12                
 
Men 4x200 Meter Relay -
=========================================================================
    School                                               Seed     Finals 
=========================================================================
  1 Y M C A Team Idaho  'B'                                      1:34.84  
     1) Pope, Zach 12                   2) Dilulo, Mike 12                
     3) Acree, Trent 10                 4) Burchard, Damien 12            
  2 Indian Track Club  'A'                                       1:36.30  
     1) Stapleton, Eric 12              2) Henderson, Logan 12            
     3) Cone, Eli 12                    4) Katsilometes, Edward 10        
  3 Madison Track Club  'A'                                      1:38.57  
     1) Bridges, Brock 12               2) Erickson, Jared 12             
     3) Saurey, Ammon 12                4) Shiffler, Ty 11                
  4 Indian Track Club  'B'                                       1:40.97  
     1) Valentine, Jacob 9              2) Otterstein, Aaron 9            
     3) Green, Shaw 9                   4) Belnap, Stanton 9              
  5 Gate City Track Club  'A'                                    1:41.54  
     1) Rasmussen, Joey 11              2) Rome, Misay 10                 
     3) Gonzalez, Mason 10              4) Castillo, Jerry 11             
  6 Snake River Rapids  'A'                                      1:44.58  
     1) Beach, Brian 11                 2) Bingham, Logan 12              
     3) Jacobsen, Quinn 11              4) Trejo, Craig 10                
 
Men 4x400 Meter Relay -
=========================================================================
    Meet Rec:   3:14.84  1996        John Muir RC, Pasadena, CA                
    National:   3:13.34  1996        John Muir High School, Pasadena, CA       
    School                                            Prelims     Finals 
=========================================================================
  1 James Logan  'A'                                  3:39.97    3:30.74  
     1) Burns, Aaron 12                 2) Bailey, Joe 12                 
     3) Brooks, Justin 12               4) Carter, Virjuan 12             
  2 Oquirrh Mountain Track Club  'A'                  3:38.31    3:31.61  
     1) Smedley, Tanner 11              2) Shrewsbury, Josh 11            
     3) Chavez, Anthony 12              4) Cagle, Dominick 11             
  3 C A T C  'A'                                      3:41.29    3:32.87  
     1) Horsley, Carl 10                2) Reed, Akil 10                  
     3) Sanders, Lamont 10              4) Jones, Bobby 12                
  4 Kelly Walsh Track & Field  'A'                    3:42.58    3:33.72  
     1) Douglass, Brandon 11            2) Marken, Daniel 12              
     3) Watt, Beau 12                   4) Fowler, John 12                
  5 Wildcat Track Club  'A'                           3:39.89    3:36.66  
     1) Anderson, Kevin 12              2) Page, Josh 12                  
     3) Hyde, Connor 11                 4) Burt, Danny 12                 
  6 Central Oregon Track Club  'A'                    3:42.53    3:37.00  
     1) Miller, Robin 12                2) Halligan, Korey 12             
     3) Whitehall, T. J. 11             4) Woock, Dylan 12                
 
Men 4x800 Meter Relay -
=========================================================================
    Meet Rec:   7:47.88  1998        Bingham TC, S. Jordan, UT                 
    National:   7:42.22  2005        Syosset, Syosset, NY                      
    School                                               Seed     Finals 
=========================================================================
  1 Timpview Thunderbirds  'A'                        8:11.00    8:12.74  
     1) Cline, Kenneth 12               2) Fairchild, Jason 12            
     3) Fletcher, Nathan                4) Gardner, Krys                  
  2 Fort Collins Track Club  'A'                      8:10.00    8:26.26  
     1) Binder, Nick 10                 2) Kovach, Jon                    
     3) Belasco, Matt 12                4) McGee, Andrew 12               
  3 Cougar Track  'A'                                 8:06.90    8:29.85  
     1) Ingram, Scott 12                2) Dillenbeck, Alex 10            
     3) Putnam, Travis 11               4) Serrano, CJ 12                 
  4 Davis Track Club  'A'                             8:20.00    8:31.58  
     1) Larsen, Bryce 12                2) Gutzwiller, Seth 11            
     3) Gallacher, Derek 11             4) Thomas, Ryan 12                
  5 Golden West Athletics Club  'A'                   8:12.84    8:35.96  
     1) Novy, Bradford 12               2) Taylor, Shawn 11               
     3) Thibideau, Spencer 10           4) Vilfer, Ryan 11                
  6 Team XC  'A'                                      8:12.00    8:36.96  
     1) White, Charles 12               2) Guerrero, Jose 10              
     3) Gerken, Max 12                  4) Marbury, Chris 12              
  7 Blazers Track Club  'A'                           7:23.00    8:37.14  
     1) Kelly, Alphonso 12              2) Kelly, Edryse 12               
     3) Muhudin, Roblet 10              4) Hewlett, Steve 10              
  8 Warrior Express  'A'                              8:20.00    8:40.43  
     1) Brainerd, Jackson 12            2) Ryan, Matt 12                  
     3) Holt, Chris 11                  4) Winter, Doug 12                
  9 Teeva Track, Inc.  'A'                            8:02.00    8:43.61  
     1) Breeden, Cory 12                2) Garcia, Jerry 12               
     3) Garcia, Paul 12                 4) Thompson, Tony 12              
 10 Ric Rojas Running  'A'                            8:10.00    8:54.59  
     1) Grotting, Tyler 10              2) Kahn, Dain 11                  
     3) Metzler, Chris 9                4) Weinheimer, Alex 11            
 11 Davis Track Club  'B'                             8:30.00    9:00.49  
     1) Snow, Bryson 12                 2) Stenquist, Leland 11           
     3) Thomas, Jason 10                4) Feigleson, Carston 11          
 -- Pueblo South Colts  'A'                           8:10.10         NT  
     1) Huerta, Adam 12                 2) Bolonas, David 12              
     3) Dugan, Keith 11                 4) Rael, Dominique 12             
 -- Roy Track Club  'A'                               8:10.00         NT  
     1) Berry, Justin 12                2) Trickett, Curt 12              
     3) Christensen, Tyson 11           4) Lechtenberg, Brett 12          
 -- Kryptonite Speed Team  'A'                        8:10.00         NT  
     1) Scheuerman, Kevin 10            2) Wilson, Garrett 11             
     3) Lotz, Chris 12                  4) Van Portfleit, Ryan 10         
 -- Cheyenne Central High School  'A'                 8:10.42         NT  
     1) Parish, Laine 12                2) Franke, Josh 12                
     3) Rathburn, Devin 11              4) Hull, Chris 11                 
 
Men 1600 Sprint Medley -
============================================================================
    Meet Rec:   3:27.80  1996        Muir RC, Pasadena, CA                     
    National:   3:24.69  1997        Muir, Pasadena, CA                        
    School                                            Prelims     Finals  H#
============================================================================
  1 Warrior Express  'A'                              3:48.00    3:35.46   1 
     1) Lyons, Kyle 11                  2) Forest, Nick 12                
     3) Craigo, Agustus 12              4) Sabey, Josh 12                 
  2 St. Mary's Panthers  'A'                          3:46.16    3:39.57   2 
     1) Duffy, Matt 12                  2) Baka, Kyle 12                  
     3) Logans, Brandon 12              4) Moses, Chance 9                
  3 Cody High School  'A'                             3:45.98    3:39.66   2 
     1) Lassiter, Kegan 12              2) Slight, Ethan 11               
     3) Smith, Kenny 12                 4) Blanchard, Landon 11           
  4 Davis Track Club  'A'                             3:43.12    3:40.02   2 
     1) Althoff, Wes 11                 2) Webb, Shaun 12                 
     3) Willoughby, Dan 12              4) Anderson, Spencer 12           
  5 Teeva Track, Inc.  'A'                            3:41.25    3:40.61   2 
     1) Breeden, Cory 12                2) Harrod, Jarvis 11              
     3) Thompson, Tony 12               4) Hairston/Abbot, James 11       
  6 Oquirrh Mountain Track Club  'A'                  3:46.32    3:41.70   2 
     1) Smedley, Tanner 11              2) Shrewsbury, Josh 11            
     3) Chavez, Anthony 12              4) Cagle, Dominick 11             
  7 Alpha T-Wolves  'A'                               3:47.43    3:43.41   2 
     1) Aaron, Sean 12                  2) Davies, Brandon 12             
     3) Lyons, Taylor 11                4) Barton, Kurt 12                
  8 Skyline Eagles  'A'                               3:48.14    3:43.95   1 
  9 Pleasant Grove Vikings  'A'                       3:48.88    3:44.08   1 
     1) Guerrero, Donovan 11            2) Matheson, Scott 10             
     3) Guerrero, Anthony 10            4) Gleason, Darren 10             
 10 Kryptonite Speed Team  'A'                        3:48.64    3:44.34   1 
     1) Morrin, Mike 12                 2) Maloney, Shane 12              
     3) Scheuerman, Kevin 10            4) Wilson, Garrett 11             
 11 Cougar Track  'A'                                 3:47.96    3:48.35   1 
     1) Cruz-LaSanta, Keenan 11         2) Rice, Kevin 11                 
     3) Walker, Ryan 10                 4) Ingram, Scott 12               
 12 Timpview Thunderbirds  'A'                        3:48.12    3:49.49   1 
     1) Workman, Isaac 12               2) Cline, Kenneth 12              
     3) Jones, T.J. 12                  4) Dahl, Eric 10                  
 
Men High Jump -
=========================================================================
    Class FR:      6-08  1998        Ivan Schmidt, Media, PA                   
    Class SO:      7-02  2002        Scott Sellers, Katy, TX                   
    Class JR:   7-05.25  2004        Scott Sellers, Katy, TX                   
    Class SR:      7-05  2005        Scott Sellers, Katy, TX                   
    Meet Rec:   7-02.25  1998        Alfredo Deza, Lima, Peru                  
    National:   7-05.25  2004        Scott Sellers, Katy, TX                   
    Name                    Year School                  Seed     Finals 
=========================================================================
  1 Valentine, Maurice        11 Oakland P A L Tr,Ca  7-00.25    6-10.00  
  2 McDonald, Andre'          12 Draft Pick Acade,Ka  7-00.50    6-08.00  
  3 Reed, Scott               12 Bulldog Track Cl,Ri  6-04.00    6-04.00  
  3 Riley, Colin              11 Indian Track Clu,Po  6-00.00    6-04.00  
  5 Hillam, Eric              11 Hillam, Eric,Idaho              6-04.00  
  6 Pierpont, Dylan           12 Warrior Express,Cen  6-04.00    6-04.00  
  6 Matheson, Scott           10 Pleasant Grove V,Pl  6-01.00    6-04.00  
  8 Bulcher, Chris            12 Lion Track Club,Fil  6-04.00    6-04.00  
  9 Swaney, Wes               12 Swaney, Wes,Leeds U  6-03.00    6-00.00  
  9 Pierce, Marcus            11 Warrior Express,Cen  6-00.00    6-00.00  
  9 Kirchner, Jessen          11 A T S Elite,Littlet  6-02.00    6-00.00  
  9 McNulty, Michael          12 Warrior Express,Cen  6-02.00    6-00.00  
  9 Reynolds, Chase           12 Reynolds, Chase,Ogd  6-03.50    6-00.00  
  9 Goble, Jon                12 Wolf Pack Track,Pla  6-01.00    6-00.00  
  9 Richins, Chad             11 Wolf Pack Track,Pla  6-01.00    6-00.00  
  9 Drake, TJ                 11 Trojan Track Clu,Ri  6-00.00    6-00.00  
  9 Holmes, Luke              11 Fruita Monument,Fru  6-04.00    6-00.00  
  9 Skinner, Tyler               Star ValleyTrack,Af  6-00.00    6-00.00  
 -- McClain, Kellan           12 Golden West Athl,Gr  6-04.00         NH  
 -- Rutledge, Kevin           12 Vance, Brandon,San   6-08.00         NH  
 -- Hadley, Garrett           12 Wolf Pack Track,Pla  6-01.00         NH  
 -- White, Erik               11 Murray Track Clu,We  6-00.00         NH  
 
Men Pole Vault -
=========================================================================
    Class FR:      15-06  1978        Bill Lange, Marinsville, NJ              
    Class SO:      16-09  1994        Jacob Davis, Orange, TX                  
    Class JR:   17-03.50  2006        Spencer McCorkel, Bryant, AR             
    Class SR:   17-06.50  1986        Pat Manson, Denver, CO                   
    Meet Rec:   17-06.25  1986        Pat Manson, Denver, CO                   
    National:   17-06.25  1986        Pat Manson, Denver, CO                   
    Name                    Year School                  Seed     Finals 
=========================================================================
  1 Weiler, Nico              12 Vance, Brandon,San  17-06.00   17-02.00  
  2 Shank, Corey              11 Shank, Corey,Fort W 17-00.00   16-03.00  
  3 Pelletier, Jason          12 Arkansas Vault C,Be 16-07.00   15-09.00  
  3 Wallingford, Blair        12 Wallingford, Bla,Ro 16-04.00   15-09.00  
  5 Beski, Elliot             11 Colorado Flyers,Den 14-07.00   15-03.00  
  6 Gebecki, Justin           12 Cheyenne East,Cheye 16-01.00   14-09.00  
  6 Sutterfield, Erik         12 Sutterfield, Eri,Hi 14-10.00   14-09.00  
  8 Vaniekirk, Ryan           12 Vance, Brandon,San  14-07.00   14-09.00  
  9 Childs, Brandon              Childs, Brandon,Tor 14-06.00   14-09.00  
 10 Parker, Jordan            11 Parker, Jordan,Spar 14-06.00   14-03.00  
 11 Mogaddedi, Belal          12 James Logan,Union C 14-06.00   14-03.00  
 11 Kittell, Bobby             0 Kittell, Bobby,Orem 14-09.00   14-03.00  
 11 Bowman, Jacob             12 Bowman, Jacob,Hardi            14-03.00  
 14 Wardell, Kelly            12 Team Montana,Helena 14-00.00   13-09.00  
 14 Arnold, Mike              12 Arnold, Mike,Reno N 14-06.00   13-09.00  
 14 Juilfs, J.J.               9 Juilfs, J.J.,Eugene 13-08.00   13-09.00  
 14 Robinson, Sean            12 Robinson, Sean,Bill 14-00.00   13-09.00  
 14 Rivera, Drew              12 Central Oregon T,Be 13-05.00   13-09.00  
 14 Schall, Andrew            12 Fort Collins Tra,Wi 15-00.00   13-09.00  
 20 Gwinn, Alex               10 Cody High School,Co 14-00.00   13-03.00  
 21 Ball, Levi                12 Ball, Levi,Farmingt 13-00.00   13-00.00  
 
Men Long Jump -
=========================================================================
    Class FR:      24-05  1996        Mike Newell, Dumfries, VA                
    Class SO:   24-08.50  1997        Mike Newell, Dumfries, VA                
    Class JR:   25-09.25  1998        Mike Newell, Dumfries, VA                
    Class SR:   26-06.50  1989        Dion Bentley, Pittsburg, PA              
    Meet Rec:   24-08.50  1996        Clarence Scott, Long Beach, CA           
    National:   26-06.50  1989        Dion Bentley, Pittsburg, PA              
    Name                    Year School                  Seed     Finals 
=========================================================================
  1 McDonald, Andre'          12 Draft Pick Acade,Ka 23-10.00   22-11.50  
  2 Michel, Steven            12 Laramie Track Cl,La 23-04.00   22-08.25  
  3 Ngo, Phil                 12 Waterford,Sandy UT  22-10.00   22-08.00  
  4 Craddock, Omar            11 Jump Corps,Killeen  22-11.00   22-05.00  
  5 Ward, Parker              12 Ward, Parker,Meridi 23-00.00   21-08.00  
  6 Wheeler, Chase            11 Wheeler, Chase,San  23-02.00   21-05.75  
  7 Sutter, Justin            11 Golden West Athl,Gr 23-00.50   21-04.00  
  8 Garrett, Gordon           12 Garrett, Gordon,Moa 21-11.00   20-09.00  
 
Men Shot Put -
=========================================================================
    Class FR:      63-02  2008        Nicholas Vena, Morristown, NJ            
    Class SO:   65-07.75  2000        Kevin Brookout, Stroud, OK               
    Class JR:      67-00  1969        Jesse Stuart, Glasgow, KY                
    Class SR:      74-11  1990        Brent Noon, Vista, CA                    
    Meet Rec:   67-10.50  1990        Brent Noon, Vista, CA                    
    National:      74-11  1990        Brent Noon, Vista, CA                    
    Name                    Year School                  Seed     Finals 
=========================================================================
  1 Finley, Mason             11 Fort Collins Tra,Wi 62-01.00   62-03.00  
  2 Wright,, Wesley           12 Throw1deep,Marietta 62-00.00   61-11.00  
  3 Hall, Bryce               12 Davis Track Club,Ka 62-11.00   59-02.50  
  4 Day, Louis                12 Metropolis Track,Ne 54-05.00   53-06.00  
  5 Roberts, Justin           11 Cheyenne Central,Ch 53-11.00   53-02.50  
  6 Cardinal, Michael         12 Cardinal, Michae,Bl            52-09.00  
  7 Rowley, Carson               Casper Striders,Cas 51-08.00   52-02.50  
  8 O'Farrell, Matt           11 Aspen Mountain T,Ro 53-05.00   52-01.00  
  9 Sellwood, Sean            12 Bulldogs Track C,Sa 56-00.00   51-09.00  
 10 Hill, Tony                11 Davis Track Club,Ka 51-09.00   51-02.00  
 11 Van Etten, Blake          12 VanEtten, Blake,Moo 54-09.00   50-08.00  
 12 Smock, Andrew             12 Golden West Athl,Gr 50-00.00   48-03.00  
 13 York, Robbie              12 Campbell County,Gil 48-02.00   47-09.50  
 14 Smith, Sam                12 Widefield Track,Col 46-01.00   46-07.50  
 15 Acero, Gabe               12 So. California C,Di 52-08.00   45-11.50  
 16 Cook, Matt                12 Cheyenne Central,Ch 47-10.00   45-08.50  
 17 Drummond, Trevor          12 Lodi Track Club,Lod 52-04.00   45-00.00  
 18 Voorhees, Andrew          12 Rustler Nation,Grea 50-06.00   44-11.50  
 19 Hunsaker, Will            12 Durango Track Cl,Ba            44-07.00  
 20 Johnson, Clint            12 Bulldog Track Cl,Ri 45-00.00   44-05.50  
 21 Anderson, Ethan           12 Wolf Pack Track,Pla 49-03.00   44-02.50  
 22 Hanes, Brad               11 Cody High School,Co 46-00.00   42-02.00  
 -- Meduna, Josh              12 Aspen Mountain T,Ro 48-00.00         ND  


Saturday Girls Results
Licensed to Hy-Tek MEET MANAGER Demo   Hy-Tek's Meet Manager 2/16/2008 07:13 PM
                  Simplot Games 2008 - 2/14/2008 to 2/16/2008                  
                                    Results                                    
 
Women 60 Meter Dash -
============================================================================
    Name                    Year School               Prelims     Finals  H#
============================================================================
Finals
  1 Purvis, Ashton            10 E O Y D C,Oakland C     7.59       7.38   3 
  2 Laarman, Loudia           10 Lethbridge Track,Le     7.75       7.45   3 
  3 Hubbard, Breanna          11 Hubbard, Breanna,Jo     7.64       7.61   3 
  4 Marshall, Dahlys          12 South Bay Expres,Sa     7.78       7.67   3 
  5 Bryant, Nyohsa            11 Racer-X,Charlotte N     7.84       7.68   2 
  6 Walker, Malia             12 Racer-X,Charlotte N     7.79       7.70   3 
  7 Wilson, Trinity            8 E O Y D C,Oakland C     7.99       7.75   1 
  8 Purvis, Julian            12 E O Y D C,Oakland C     7.83       7.77   3 
  9 Ndipagbor, Akawkaw         9 Speed City,Norwalk      7.89       7.80   2 
 10 Woodford, Ashley          11 Speed City,Norwalk      7.86       7.82   2 
 11 Guy, Sheqyra              12 Racer-X,Charlotte N     7.85       7.83   2 
 12 Harvey, Atiya              8 James Logan,Union C     8.02       7.85   1 
 13 Schueler, Kellie          10 Central Oregon T,Be     7.89       7.86   2 
 14 Thompson, Dominque        10 Taylorsville Tra,Ta     8.03       7.89   1 
 15 Hamlet, DeVen             12 Colorado Flyers,Den     7.89       7.92   2 
 16 Brown, Marshay            12 Cardinal Track C,Sa     8.07       8.00   1 
 17 Hudson, Olivia            10 Teekay Track Clu,Co     8.05       8.05   1 
 18 Gillespie, Vanessa         8 Colorado Flyers,Den     8.00       8.15   1 
 
Women 200 Meter Dash -
============================================================================
    Name                    Year School               Prelims     Finals  H#
============================================================================
  1 Purvis, Ashton            10 E O Y D C,Oakland C    24.42      23.54   3 
  2 Bryant, Nyohsa            11 Racer-X,Charlotte N    25.28      24.32   3 
  3 Cooper, Angele            12 Teekay Track Clu,Co    25.11      24.43   3 
  4 Ndipagbor, Akawkaw         9 Speed City,Norwalk     25.20      24.61   3 
  5 Sipes, Sara                  Pacific United,Sacr    25.82      24.91   2 
  6 Hurrel, Karlene           12 Capital City Tra,Ed    26.45      24.94   1 
  7 Gay, Natasha              12 D.A.T.A.C.,Denver C    25.59      24.95   3 
  8 Guy, Sheqyra              12 Racer-X,Charlotte N    25.74      25.08   2 
  9 Walker, Malia             12 Racer-X,Charlotte N    25.53      25.38   3 
 10 Hunter, Breyonna          10 So. Calif. Toget,Ga    25.89      25.54   2 
 11 Harvey, Atiya              8 James Logan,Union C    26.31      25.60   1 
 12 Hunter, Amanda            12 Mustang TC,Los Ange    26.14      25.63   2 
 13 Smith, Lakeisha           12 Speed City,Norwalk     26.31      26.15   2 
 14 Cotto, Brittany           10 Pacific United,Sacr    26.32      26.17   1 
 15 Wilson, April             12 Awesome Power Tr,La    26.30      26.19   2 
 16 Murphy, Denise            10 Cardinal Track C,Sa    26.31      26.46   1 
 17 Fowler, Autumn             9 Speed City,Norwalk     26.44      27.27   1 
 -- Hubbard, Breanna          11 Hubbard, Breanna,Jo    26.43         NT   1 
 
Women 400 Meter Dash -
============================================================================
    Name                    Year School               Prelims     Finals  H#
============================================================================
  1 Stewart, Natalie             Spanish Fork Tra,Sp    57.18      54.41   3 
  2 Joseph, Jasmine              Speed City,Norwalk     58.04      55.69   3 
  3 Harris, Andra             12 Pacific United,Sacr    58.10      56.14   3 
  4 Houp, Kristen             12 South Bay Expres,Sa    58.67      56.31   3 
  5 Schueler, Kellie          10 Central Oregon T,Be    57.55      56.40   3 
  6 Powell, Donisse           11 James Logan,Union C    59.11      56.59   3 
  7 Weaver, Angelica          11 So. Calif. Toget,Ga  1:00.07      56.73   1 
  8 Cousar, Nyjah             11 Teekay Track Clu,Co    59.11      57.25   2 
  9 Williamson, Kelsey        11 ThunderRidge Tra,Li    59.49      58.00   2 
 10 Hardiman, Iesha            8 I S C A Track Cl,Mo  1:00.11      58.21   1 
 11 McMillan, Cherrelle       11 South Bay Expres,Sa  1:00.28      58.93   1 
 12 Murphy, Li                10 Murphy, Li,Pocatell  1:00.01      59.19   2 
 13 Branch, Calaiah           10 So. Calif. Toget,Ga  1:00.39      59.47   1 
 14 Lester, Ashley            11 Fort Collins Tra,Wi  1:00.46      59.66   1 
 15 Winston, Erica            10 Speed City,Norwalk   1:00.50      59.68   2 
 16 Smith, Christina          10 Teekay Track Clu,Co    59.63    1:00.12   2 
 17 Kirkland, Kiersten        12 Speed City,Norwalk     59.93    1:00.17   2 
 -- James, Lakeisha           12 Kryptonite Speed,Pa  1:00.28         NT   1 
 
Women 800 Meter Run -
=========================================================================
    Name                    Year School               Prelims     Finals 
=========================================================================
  1 Lipsey, Charlene          11 Awesome Power Tr,La  2:18.11    2:14.24  
  2 Degaust, Hayley           12 Edmonton Thunder,Ed  2:19.13    2:15.92  
  3 Soderberg, Nicole         10 Edmonton Thunder,Ed  2:18.93    2:17.03  
  4 Clark, Brazile            12 E O Y D C,Oakland C  2:17.03    2:17.16  
  5 Soderberg, Alana          12 Edmonton Thunder,Ed  2:18.97    2:17.54  
  6 Thompson, Samantha        11 Colorado Springs,Co  2:20.32    2:17.80  
  7 Dencer, Camilla           12 Dencer, Camilla,Nor  2:17.03    2:17.84  
  8 Bolen, Jean               11 Calgary Warriors,Ca  2:23.48    2:18.14  
  9 Disiena, Anja             12 So. Calif. Toget,Ga  2:21.18    2:18.26  
 10 Hardy, Jami               12 James Logan,Union C  2:18.73    2:20.01  
 11 Diaz, Jordan              10 Heritage Track C,Sa  2:21.18    2:20.36  
 12 Bringhurst, Kim           12 Alpha T-Wolves,Orem  2:21.01    2:20.86  
 13 Calton, Chloe             11 Ogden Track Club,Og  2:21.25    2:21.36  
 14 Chugg, Jessie             12 Wolf Pack Track,Pla  2:23.16    2:21.37  
 15 Blankenship, Carli        12 Cody High School,Co  2:23.49    2:21.49  
 16 Kendall, Danielle         12 Calgary Spartans,Ca  2:21.85    2:21.56  
 17 Webb, Rachel              12 Skyline Eagles,Salt  2:23.92    2:22.85  
 18 Battiste, Trishawn        12 Blazers Track Cl,Au  2:25.29    2:23.39  
 19 Long, Nikki               11 Fort Collins Tra,Wi  2:21.96    2:23.42  
 20 Ellington, Ainsley        12 Team XC,Denver CO    2:22.28    2:23.64  
 21 Baucham, Dawnielle         9 So. Calif. Toget,Ga  2:24.09    2:24.75  
 22 Olson, Sarah              11 Y M C A Team Ida,Bo  2:23.72    2:25.03  
 23 Gullo, Jo                 12 Wolf Pack Track,Pla  2:24.95    2:27.58  
 24 Edwards, Sarah            12 Wildcat Track Cl,Wo  2:25.14    2:27.88  
 25 Motor, Alison             11 Pacific United,Sacr  2:24.34    2:33.49  
 26 Davis, Carlyle            11 Mustang TC,Los Ange  2:22.72    2:36.07  
 -- James, Lakeisha           12 Kryptonite Speed,Pa  2:25.37         NT  
 
Women 1600 Meter Run -
=========================================================================
    Name                    Year School               Prelims     Finals 
=========================================================================
  1 Eddy, Candace             11 Davis Track Club,Ka  5:10.82    4:54.57  
  2 Graham, Chelsea           10 Edmonton Thunder,Ed  5:12.39    5:07.65  
  3 Yingling, Sarah           12 Bruin Track Club,Or  5:17.08    5:08.99  
  4 Fulton, Eleanor            9 Fulton, Eleanaor,Lo  5:16.30    5:12.22  
  5 Logan, Camille            11 A T S Elite,Littlet  5:15.94    5:12.48  
  6 Skarda, Alexis            10 Ric Rojas Runnin,Bo  5:19.24    5:15.65  
  7 Sly, Kirsten              12 Spanish Fork Tra,Sp  5:21.74    5:18.27  
  8 Minton, Joscelyn          12 Northwest Christ,Ol  5:30.90    5:19.37  
  9 Moen, Michelle            12 Edmonton Thunder,Ed  5:24.59    5:21.10  
 10 Miller, Alyssa            10 Cheyenne Central,Ch  5:32.23    5:25.76  
 11 Peterson, Nicole          10 Aspen Mountain T,Ro  5:29.67    5:26.53  
 12 Larsen, Chelsea           12 Elko,Elko NV         5:38.17    5:28.80  
 13 Ward, Amanda               9 Donnelly Track C,Tw  5:34.50    5:29.76  
 14 Swanson, Katie            11 Davis Track Club,Ka  5:32.09    5:30.99  
 15 Combe, Megan              11 Skyline Eagles,Salt  5:36.35    5:31.30  
 16 Lassere, Rebecca           8 Lassere, Rebecca,Po  5:45.52    5:31.85  
 17 Brooks, Emma              12 Timpview Thunder,Pr  5:40.73    5:32.88  
 18 Trapp, Cheryn                Canyon Track Clu,Ca  5:36.27    5:33.47  
 19 Spartas, Elizabeth        12 Bozeman Distance,Bo  5:41.94    5:34.37  
 20 Kirchhofer, Emily         12 Warrior Express,Cen  5:42.72    5:35.19  
 21 Jones, Meagan             12 Highland,Stansbury   5:40.19    5:35.38  
 22 Sorenson, Suzie           11 Alpha T-Wolves,Orem  5:39.86    5:35.99  
 23 Kougl, Kelly              12 Cheyenne East,Cheye  5:41.25    5:36.11  
 24 Campbell, Kaylee          11 Preston Track Cl,Lo  5:38.15    5:36.89  
 25 Storey, Loren             12 Davis Track Club,Ka  5:30.87    5:37.26  
 26 Morin, Dana               10 Bronc Track Club,Sh  5:39.22    5:38.26  
 27 Deelstra, Jenna           11 Deelstra, Jenna,Ogd  5:41.68    5:39.84  
 28 Floodman, Marissa         12 Highland,Stansbury   5:47.53    5:40.39  
 29 Valentine, Kelsey         12 Davis Track Club,Ka  5:41.96    5:40.48  
 30 Tiernan, Bridget          11 Flight Track Clu,Co  5:31.53    5:42.64  
 31 Kamplain, Sierra           9 Bozeman Distance,Bo  5:40.60    5:43.18  
 32 Chugg, Cherice            10 Wolf Pack Track,Pla  5:43.40    5:43.41  
 33 Roome, Katie              11 Warrior Express,Cen  5:42.42    5:43.75  
 34 Berhow, Taylor            11 Skyline Eagles,Salt  5:40.03    5:44.80  
 35 Hedquist, Megan            9 Davis Track Club,Ka  5:40.58    5:45.53  
 36 McNeeley, Sophie          11 Warrior Express,Cen  5:47.35    5:45.81  
 37 Yanchek, Anna             10 Cheyenne Central,Ch  5:49.24    5:46.12  
 38 Carson, Bethany           11 Spanish Fork Tra,Sp  5:50.55    5:46.79  
 39 Sullivan, Margot          11 St. Mary's Panth,Be  5:42.58    5:47.00  
 40 Ballard-Sume, Ashley      11 Davis Track Club,Ka  5:48.24    5:48.13  
 41 Bobinchak, Emily          12 Bronc Track Club,Sh  5:42.76    5:50.93  
 42 Brewster, Kameryn         11 Kelly Walsh Trac,Ca  5:49.93    5:52.64  
 
Women 3200 Meter Run -
=========================================================================
    Name                    Year School               Prelims     Finals 
=========================================================================
  1 Haws, Natalie             12 Davis Track Club,Ka 11:22.01   10:56.16  
  2 Callister, Sarah          11 Ogden Track Club,Og 11:39.89   11:02.31  
  3 Stone, Caitlin            12 Stone, Caitlin,Cond 11:26.87   11:18.18  
  4 Briasco, Elizabeth        10 Awesome Power Tr,La 11:32.64   11:26.96  
  5 Hodson, Brooke            11 Alpha T-Wolves,Orem 11:25.70   11:31.35  
  6 Nielsen, Nicole           11 Y M C A Team Ida,Bo 11:26.35   11:41.50  
  7 West, Keely               10 Rustler Nation,Grea 11:51.03   11:44.08  
  8 Wirthlin, Julianne        11 Davis Track Club,Ka 11:57.39   11:44.87  
  9 Carrick, Chelsea          10 Casper Striders,Cas 11:52.25   11:48.86  
 10 Hansen, Emily             10 Davis Track Club,Ka 12:01.75   11:50.58  
 11 Jensen, Stephanie         12 Timpview Thunder,Pr 12:02.38   12:16.43  
 12 Englehardt, Jordan        11 Y M C A Team Ida,Bo 11:59.97   12:30.96  
 -- Holt, Brooke               9 Golden West Athl,Gr 11:50.43        DNF  
 
Women 60 Meter Hurdles -
============================================================================
    Name                    Year School               Prelims     Finals  H#
============================================================================
  1 Coward, Jacquelyn         12 Coward, Jacquely,Kn     8.49       8.16   3 
  2 Thomas, Vashti            12 Cardinal Track C,Sa     8.53       8.27   3 
  3 Marshall, Dahlys          12 South Bay Expres,Sa     8.81       8.53   3 
  4 Patton, Brianna           12 Colorado Flyers,Den     9.16       8.79   3 
  5 Truluck, Emani            12 So. Calif. Toget,Ga     9.31       8.90   2 
  6 MacEachen, Jill           11 Calgary Warriors,Ca     9.36       9.05   2 
  7 Merback, Jordan           12 Kelly Walsh Trac,Ca     9.52       9.05   1 
  8 Baltimore, Ashtyn         11 Mustang TC,Los Ange     9.02       9.06   3 
  9 Kaplar, Angela            11 Kaplar, Angela,Alpi     9.19       9.10   2 
 10 Machin, Rachel            10 Calgary Warriors,Ca     9.50       9.11   1 
 11 Wilson, Trinity            8 E O Y D C,Oakland C     9.13       9.19   3 
 12 Mendez, Kamiyanna          8 Colorado Flyers,Den     9.35       9.26   2 
 12 Treadwell, Asha           11 C A T C,Oakland CA      9.29       9.26   2 
 14 Jensen, Brooke            11 Davis Track Club,Ka     9.54       9.46   1 
 15 Chambers, Ty'Risha        11 Draft Pick Acade,Ka     9.41       9.66   2 
 16 Colvin, Jana              11 Wolf Pack Track,Pla     9.65       9.69   1 
 17 Ochsner, Maggie           11 Cheyenne Central,Ch     9.60       9.90   1 
 18 Rouse, Ellen              12 Rouse, Ellen,Orofin     9.59      10.16   1 
 
Women 4x200 Meter Relay -
============================================================================
    School                                            Prelims     Finals  H#
============================================================================
  1 Racer-X  'A'                                      1:44.85    1:40.68   2 
     1) Bryant, Nyohsa 11               2) Walker, Malia 12               
     3) Guy, Jasmine 10                 4) Guy, Sheqyra 12                
  2 Pacific United  'A'                               1:44.15    1:40.69   2 
     1) Harris, Andra 12                2) Duarte, Jasmine 10             
     3) Cotto, Brittany 10              4) Sipes, Sara                    
  3 Teekay Track Club  'A'                            1:44.09    1:41.22   2 
     1) Cooper, Angele 12               2) Cousar, Nyjah 11               
     3) Smith, Christina 10             4) Presley, Alycia 10             
  4 So. Calif. Together Elite  'A'                    1:46.28    1:41.92   2 
     1) Hedgepeth, Saraina 11           2) Hunter, Breyonna 10            
     3) Harrell, Urina 8                4) Truluck, Emani 12              
  5 Speed City  'B'                                   1:46.76    1:42.94   1 
     1) Lyday, Carisma 9                2) Smith, Lakeisha 12             
     3) Minor, Jasmine                  4) Mitchell, Margaret 12          
  6 I S C A Track Club  'A'                           1:46.54    1:43.64   2 
     1) Sakellar, Natasha 10            2) Crumlin, Anita 11              
     3) Hardiman, Iesha 8               4) Morris, Alexa 8                
  7 AC Track Club  'A'                                1:48.70    1:45.40   1 
     1) Kamson, Chelsey 11              2) White, Monikkia 11             
     3) Glaeser, Danielle 12            4) Deja, Sims 12                  
  8 Cardinal Track Club  'A'                          1:48.59    1:45.77   1 
     1) Brown, Marshay 12               2) Murphy, Denise 10              
     3) Butler, Stefany 11              4) Bautisa, Stephanie 11          
  9 Teekay Track Club  'B'                            1:48.42    1:47.93   1 
     1) Espinoza, Fabrina 10            2) Fair, Qiauna 12                
     3) Williams, Christy 10            4) Hudson, Olivia 10              
 10 D.A.T.A.C.  'A'                                   1:48.23    1:48.58   1 
     1) Gay, Natasha 12                 2) Finley, Ana 12                 
     3) Wagner, Jquay 10                4) Reaves, Jasmine 11             
 -- Speed City  'A'                                   1:43.93         NT   2 
     1) Ndipagbor, Akawkaw 9            2) Woodford, Ashley 11            
     3) Apelar, Krizia 12               4) Winston, Erica 10              
 -- Mustang TC  'A'                                   1:48.18         NT   1 
     1) Baltimore, Ashtyn 11            2) Hunter, Amanda 12              
     3) Davis, Carlyle 11               4) McKesey, Nailah 10             
 
Women 4x200 Meter Relay -
=========================================================================
    School                                               Seed     Finals 
=========================================================================
  1 Y M C A Team Idaho  'A'                                      1:46.36  
     1) Covington, Alyssa 12            2) Danielson, Courtney 11         
     3) DeGroot, Janilynn 11            4) Laritz, Allyssa 12             
  2 Trojan Track Club  'A'                                       1:47.90  
     1) Thompson, Amber 11              2) Anderson, Mckinzie 11          
     3) Hillman, Chelsey 11             4) West, Chalese 12               
  3 Gate City Track Club  'A'                                    1:51.97  
     1) Belnap, Kelsey 9                2) Greene, Abbi 11                
     3) Webb, Ari 12                    4) Thayne, Courtney 10            
  4 Donnelly Track Club  'B'                                     1:55.24  
     1) Ward, Amanda 9                  2) Worst, Madi 9                  
     3) Peck, Stephanie 9               4) Wagner, Brooke 9               
  5 Donnelly Track Club  'A'                                     1:57.59  
     1) Lavigne, Kourtnee 12            2) Keating, Danielle 12           
     3) Blackwood, Mercedes 11          4) Wayment, Emma 12               
 -- Bulldog Track Club  'A'                                           NT  
     1) Abbott, McKenzy 12              2) Ricks, Kristen 11              
     3) Ritter, Krissy 11               4) Sommers, Cydnee 12             
 
Women 4x400 Meter Relay -
============================================================================
    School                                            Prelims     Finals  H#
============================================================================
  1 Speed City  'A'                                   4:05.34    3:50.97   2 
     1) Winston, Erica 10               2) Joseph, Jasmine                
     3) Hawkins, Tanisha 12             4) Fowler, Autumn 9               
  2 Teekay Track Club  'A'                            4:00.63    3:52.28   2 
     1) Cooper, Angele 12               2) Cousar, Nyjah 11               
     3) Smith, Christina 10             4) Williams, Christy 10           
  3 So. Calif. Together Elite  'A'                    4:03.32    3:53.30   2 
     1) Weaver, Angelica 11             2) Baucham, Dawnielle 9           
     3) Disiena, Anja 12                4) Harrell, Urina 8               
  4 I S C A Track Club  'A'                           4:12.07    4:00.63   2 
     1) Sakellar, Natasha 10            2) Crumlin, Anita 11              
     3) Hardiman, Iesha 8               4) Tran, Jolene 11                
  5 Teekay Track Club  'B'                            4:13.41    4:04.39   1 
     1) Fenderson, Karryssa 10          2) Crawford, Sessyon 11           
     3) Presley, Alycia 10              4) Lewis, Courtney 11             
  6 Kelly Walsh Track & Field  'A'                    4:12.32    4:06.37   1 
     1) Hedlund, Shanae 11              2) Mestas, Jordan 11              
     3) Merback, Jordan 12              4) Nyffeler, Kate 12              
  7 Pacific United  'A'                               4:11.88    4:06.49   2 
     1) Lawrence, Shanae 10             2) Anderson, Shanea 11            
     3) Anderson, Janise 9              4) Motor, Alison 11               
  8 Davis Track Club  'A'                             4:10.93    4:06.75   2 
     1) Eddy, Candace 11                2) Jackson, Rachel 11             
     3) Jackson, Chelsey 11             4) Lott, Missy 10                 
  9 Fort Collins Track Club  'A'                      4:16.02    4:10.44   1 
     1) Hauer, Kylie 12                 2) Guy, Alyssa 12                 
     3) Lester, Ashley 11               4) Markham, Michelle 11           
 10 Ric Rojas Running  'A'                            4:15.28    4:12.24   1 
     1) Skarda, Alexis 10               2) Lahman, Miranda 10             
     3) Burger, Anna 10                 4) Boldt, Emily 11                
 11 Roy Track Club  'A'                               4:16.57    4:13.41   1 
     1) Berenyi, Chantel 12             2) Satterthwaite, Heather 12      
     3) Carter, Jessica 12              4) Andersen, Leina                
 12 St. Mary's Panthers  'A'                          4:18.58    4:14.93   1 
     1) Thomas, Kali 10                 2) Lindsay, Shelby 11             
     3) Davis, Ashley 11                4) Lawson, Taylor 10              
 
Women 4x800 Meter Relay -
=========================================================================
    School                                               Seed     Finals 
=========================================================================
  1 Edmonton Thunder  'A'                                        9:36.64  
     1) Graham, Chelsea 10              2) Soderberg, Alana 12            
     3) Soderberg, Nicole 10            4) Terlecki, Amelia 11            
  2 Cheyenne Central High School  'A'                 9:40.46    9:56.51  
     1) Meredith, Ciara 10              2) Miller, Alyssa 10              
     3) Wollert, Candace 10             4) Crockett, Victoria 11          
  3 Alpha T-Wolves  'A'                               9:40.00    9:57.07  
     1) Groom, Hannah 10                2) Sorenson, Suzie 11             
     3) Hodson, Brooke 11               4) Bringhurst, Kim 12             
  4 Davis Track Club  'A'                            10:05.00   10:03.12  
     1) King, Hollie 11                 2) Kusee, Talya 11                
     3) Swanson, Katie 11               4) Valentine, Kelsey 12           
  5 Fort Collins Track Club  'A'                      9:30.00   10:06.46  
     1) Cathcart, Brianna 9             2) Long, Nikki 11                 
     3) Willard, Aliese 11              4) Pundt, Melissa 12              
  6 Davis Track Club  'B'                            10:30.00   10:26.91  
     1) Hedquist, Megan 9               2) Wallin, Lizzy 11               
     3) Wirthlin, Julianne 11           4) Ballard-Sume, Ashley 11        
  7 Warrior Express  'A'                             10:05.00   10:32.59  
     1) Kirchhofer, Emily 12            2) Roome, Katie 11                
     3) Lewis, Emily 12                 4) McNeeley, Sophie 11            
  8 Timpview Thunderbirds  'A'                        9:40.00   10:38.13  
     1) Frandsen, Dania 9               2) Jensen, Stephanie 12           
     3) Troutner, Hilary 11             4) Brooks, Emma 12                
 -- Teekay Track Club  'A'                            9:39.90         NT  
     1) Crawford, Sessyon 11            2) Fenderson, Karryssa 10         
     3) Moseley, Jade 11                4) Warren, Ashley 9               
 
Women 1600 Sprint Medley -
============================================================================
    School                                            Prelims     Finals  H#
============================================================================
  1 Spanish Fork Track Club  'A'                      4:14.98    4:05.76   2 
     1) Money, McKenna 12               2) Stewart, Nachelle 12           
     3) Stewart, Natalie                4) Walters, Leah 12               
  2 So. Calif. Together Elite  'A'                    4:25.73    4:10.44   1 
     1) Weaver, Angelica 11             2) Hedgepeth, Saraina 11          
     3) Hunter, Breyonna 10             4) Mello, Melissa 11              
  3 Y M C A Team Idaho  'A'                           4:22.84    4:16.79   2 
     1) Olson, Sarah 11                 2) Charlton, Auna 11              
     3) Nielsen, Sam 11                 4) DeGroot, Janilynn 11           
  4 Flight Track Club  'A'                            4:25.61    4:17.90   1 
     1) Dubose, Tenesha 9               2) Hamilton, GinAsia              
     3) Horton, Chelsie                 4) Tiernan, Bridget 11            
  5 AC Track Club  'A'                                4:23.01    4:18.68   2 
     1) Kamson, Chelsey 11              2) Levy, Julianna 11              
     3) White, Monikkia 11              4) Glaeser, Danielle 12           
  6 Edmonton Thunder  'A'                             4:32.03    4:20.38   1 
     1) Dong, Kristina 10               2) Lemphers, Tayllor 10           
     3) Lindskoog, Dayna 12             4) Hudson, Amy 11                 
  7 Cheyenne Central High School  'A'                 4:21.94    4:23.19   2 
     1) Wollert, Candace 10             2) Crockett, Victoria 11          
     3) Ditto, Rebecca 10               4) Patch, Trae 12                 
  8 Davis Track Club  'A'                             4:10.94    4:23.42   2 
     1) Figgins, Danni 10               2) Eddy, Candace 11               
     3) Jensen, Brooke 11               4) Storey, Loren 12               
  9 St. Mary's Panthers  'A'                          4:31.58    4:24.04   1 
     1) Lomax, Jasmine 11               2) Lindsay, Shelby 11             
     3) Baker, Aziza 11                 4) Lawson, Taylor 10              
 10 Davis Track Club  'B'                             4:21.22    4:26.74   2 
     1) Billings, Kristen 12            2) Jackson, Rachel 11             
     3) Jackson, Chelsey 11             4) Haws, Natalie 12               
 11 Wolf Pack Track Club  'A'                         4:28.52    4:28.10   1 
     1) Ashmead, Jessica 10             2) Gullo, Jo 12                   
     3) Chugg, Jessie 12                4) Chugg, Cherice 10              
 12 Warrior Express  'A'                              4:31.01    4:30.90   1 
     1) McClarie, Elese 12              2) Daley, Aubrie 12               
     3) Gerber, Stephanie 9             4) McNeeley, Sophie 11            
 
Women High Jump -
=========================================================================
    Name                    Year School                  Seed     Finals 
=========================================================================
  1 O'Donnell, Danielle       11 Stride Ahead Tou,Wi  5-06.00    5-06.00  
  2 Dencer, Camilla           12 Dencer, Camilla,Nor  5-08.00    5-06.00  
  3 Gwilliam, Lauren          11 Taylorsville Tra,Ta  5-03.00    5-04.00  
  4 Richmond, Tara            10 Speed City,Norwalk   5-08.00    5-04.00  
  5 Brunel, Kaycee            11 Y M C A Team Ida,Bo  5-07.00    5-02.00  
  6 Balentine, Samantha       11 Lodi Track Club,Lod  5-05.00    5-02.00  
  7 Harrell, Urina             8 So. Calif. Toget,Ga  5-04.00    5-02.00  
  7 Borman, Brittany          12 Borman, Brittany,De  5-04.00    5-02.00  
  9 Huset, Tasha              10 Huset, Tasha,French  5-02.00    5-02.00  
 10 Machin, Rachel            10 Calgary Warriors,Ca  5-02.00    5-00.00  
 10 Rehm, Brittany            11 Cheyenne East,Cheye  5-00.00    5-00.00  
 10 Chambers, Ty'Risha        11 Draft Pick Acade,Ka  5-03.75    5-00.00  
 10 Brus, Cate                11 Cody High School,Co  5-00.00    5-00.00  
 10 Vozarova, Suzie           10 Alpha T-Wolves,Orem  4-11.00    5-00.00  
 10 Richard, Kelsey           10 LeDuc Track Club,Ed  5-00.00    5-00.00  
 10 Baker, Aziza              11 St. Mary's Panth,Be  5-06.00    5-00.00  
 10 Colvin, Jana              11 Wolf Pack Track,Pla  5-01.00    5-00.00  
 10 Jenkins, Valarie          10 Canyon Track Clu,Ca  5-02.00    5-00.00  
 -- McCloud, Deb              10 Kelly Walsh Trac,Ca  4-10.00         NH  
 -- Leslie, Jessica           12 Leslie, Jessica,Bil  5-04.00         NH  
 -- Denning, Mallory          12 Spanish Fork Tra,Sp  5-02.00         NH  
 
Women Pole Vault -
=========================================================================
    Name                    Year School                  Seed     Finals 
=========================================================================
  1 Weygandt, Shade           11 Weygandt, Shade,Man 13-07.00   13-01.00  
  2 Beard, Lindsay            12 Beard, Lindsay,Euge 12-07.00   11-09.00  
  3 Stover, Elizabeth         12 Max Trax Track C,Lo 13-00.00   11-09.00  
  4 Valentine, Daniele        12 Y M C A Team Ida,Bo 11-00.00   11-03.00  
  5 Barr, Chelsea             12 Y M C A Team Ida,Bo 12-02.00   11-03.00  
  6 Hartigan, Morgan          10 Cheyenne East,Cheye 11-00.00   10-09.00  
  7 Reaser, Alisha            12 Cody High School,Co 11-08.00   10-09.00  
  8 Waybright, Theresa        11 Y M C A Team Ida,Bo 10-06.00   10-03.00  
  9 Whisonant, Betsey         11 Cody High School,Co 11-00.00    9-09.00  
  9 Gray, Casey               11 Gray, Casey,Reno NV 11-02.00    9-09.00  
 11 Chambers, Rebekka         11 Chambers, Rebekk,Bi  9-06.00    9-09.00  
 12 Evanson, Mandi            11 Helena Vault and,He 10-06.00    9-03.00  
 12 Bales, Anna                9 Cody High School,Co 10-06.00    9-03.00  
 12 Clark, Rebecca            10 Y M C A Team Ida,Bo  9-00.00    9-03.00  
 12 Folkinga, Alexis          12 Folkinga, Alexis,Je  9-09.00    9-03.00  
 16 Koyle, Gentry             12 Gooding Track,Goodi  8-06.00    9-00.00  
 16 Lubke, Sarah              10 Team Montana,Helena  9-08.00    9-00.00  
 -- Laurent, Rachel           12 Laurent, Rachel,Hou 13-07.25         NH  
 
Women Long Jump -
=========================================================================
    Name                    Year School                  Seed     Finals 
=========================================================================
  1 Thomas, Vashti            12 Cardinal Track C,Sa 20-02.00   19-10.75  
  2 Geubelle, Andrea          11 A J S Track Club,Fe 19-07.00   19-01.25  
  3 Brewer, Ciarra             9 James Logan,Union C 19-04.00   18-07.00  
  4 Baltimore, Ashtyn         11 Mustang TC,Los Ange 19-06.00   18-00.75  
  5 Covington, Alyssa         12 Y M C A Team Ida,Bo 18-00.00   18-00.00  
  6 Hudson, Olivia            10 Teekay Track Clu,Co 19-00.00   17-09.50  
  7 MacEachen, Jill           11 Calgary Warriors,Ca 17-05.00   17-07.75  
  8 Ditto, Rebecca            10 Cheyenne Central,Ch 17-05.00   17-01.25  
  9 Leslie, Jessica           12 Leslie, Jessica,Bil 18-01.75   17-00.75  
 
Women Triple Jump -
=========================================================================
    Name                    Year School                  Seed     Finals 
=========================================================================
  1 Thomas, Vashti            12 Cardinal Track C,Sa 41-06.00   42-08.75  
  2 Hunter, Amanda            12 Mustang TC,Los Ange 41-04.00   40-01.50  
  3 Brewer, Ciarra             9 James Logan,Union C 39-03.00   38-08.50  
  4 Cox, Melia                 9 Speed City,Norwalk  36-10.00   38-06.75  
  5 Baker, Aziza              11 St. Mary's Panth,Be 37-00.00   38-01.75  
  6 Richmond, Tara            10 Speed City,Norwalk  36-09.00   37-10.25  
  7 Geubelle, Andrea          11 A J S Track Club,Fe 38-05.75   37-07.00  
  8 Truluck, Emani            12 So. Calif. Toget,Ga 37-09.00   37-06.25  
  9 Nielsen, Sam              11 Y M C A Team Ida,Bo 37-02.00   36-08.75  
 10 Ross, Jasmine             12 E O Y D C,Oakland C 38-02.00   36-04.50  
 11 Chambers, Ty'Risha        11 Draft Pick Acade,Ka 38-00.50   36-00.75  
 12 Woodke, Jordyn            12 A J S Track Club,Fe 36-07.00   35-10.75  
 13 White, Alexandria         11 Colorado Flyers,Den 38-07.75   35-05.25  
 14 LeFlore, Natalie          12 So. Calif. Toget,Ga 36-05.00   35-04.75  
 14 O'Donnell, Danielle       11 Stride Ahead Tou,Wi 36-09.00   35-04.75  
 16 Merback, Jordan           12 Kelly Walsh Trac,Ca 36-10.50   35-03.00  
 17 Ditto, Rebecca            10 Cheyenne Central,Ch 35-06.00   35-00.50  
 18 Nash, Emily               12 Nash Team,San Marco 37-02.00   34-09.00  
 18 Moore, Natalya            12 Colorado Flyers,Den 37-02.00   34-09.00  
 20 Lindsay, Shelby           11 St. Mary's Panth,Be 34-00.00   34-07.25  
 21 Lundgren, Chelsea         10 Lundgren, Chelse,Pe 37-00.00   34-05.50  
 22 Espinoza, Fabrina         10 Teekay Track Clu,Co 36-01.00   34-03.25  
 23 Bautisa, Stephanie        11 Cardinal Track C,Sa 34-00.00   34-02.25  
 24 Gillett, Jaynell          12 Gillett, Jaynell,Bo 37-04.00   33-07.50  
 25 Cornelison, Jordan        11 Trojan Track Clu,Ri 35-00.00   33-05.50  
 26 Stevens, Audrey           10 Kelly Walsh Trac,Ca 34-06.00   33-01.50  
 27 Daley, Aubrie             12 Warrior Express,Cen 34-05.00   33-00.75  
 28 Anderson, Mckinzie        11 Trojan Track Clu,Ri 34-00.00   32-09.75  
 29 Carter, Tianna            10 Cardinal Track C,Sa 35-00.00   32-08.25  
 30 Powell, Donisse           11 James Logan,Union C 37-07.00   32-01.50  
 31 Olsen, Shalyse            11 Trojan Track Clu,Ri            32-01.00  
 32 Leung, Elise              12 I S C A Track Cl,Mo 37-05.00   31-11.50  
 
Women Shot Put -
=========================================================================
    Name                    Year School                  Seed     Finals 
=========================================================================
  1 Chambers, Lauren          11 Throw1deep,Marietta 48-00.00   47-01.50  
  2 Borman, Brittany          12 Borman, Brittany,De 46-11.25   45-02.50  
  3 Halvorson, Aslynn         11 Higher Power Ath,Ch 42-05.00   44-00.50  
  4 Jordan, Caitlin           11 Throw1deep,Marietta 46-00.00   43-04.00  
  5 Warrington, Joy           12 Widefield Track,Col 40-04.00   42-02.25  
  6 Knighton, Nicole          12 Knighton, Nicole,We 40-10.00   41-10.00  
  7 Aiello, Candice              Knighton, Nicole,We 40-00.00   41-04.00  
  8 Rouse, Ellen              12 Rouse, Ellen,Orofin 38-00.00   40-06.50  
  9 Radford, Brenna           11 Throw1deep,Marietta 41-00.00   40-04.00  
 10 Sedivic, Morgan           12 A T S Elite,Littlet 43-00.00   38-11.00  
 11 Gates, Patrice            10 Throw1deep,Marietta 42-00.00   38-09.00  
 12 Milbourn, Cody            12 Cheyenne Central,Ch 37-05.00   38-03.50  
 13 Horner, Allison           12 Throw1deep,Marietta 39-00.00   38-01.00  
 14 Gray, Kelly               12 Aspen Mountain T,Ro 42-06.00   37-03.00  
 15 Iorg, Kilee               12 Iorg. Kilee M.,Moun 40-00.00   36-08.50  
 16 Ellingford, Skyler        11 Ellingford, Skyl,Ev 34-06.00   35-03.00  
 17 Kuhrt, Heather            11 Campbell County,Gil 36-10.00   33-10.50  
 

Meet Program
Licensed to Hy-Tek MEET MANAGER Demo   Hy-Tek's Meet Manager 2/12/2008 10:49 AM
                  Simplot Games 2008 - 2/14/2008 to 2/16/2008                  
                                 Meet Program                                  
 
Event 38  Men Shot Put -
===============================================================================
Saturday 2/16/2008 - 9:00 AM
    Class FR:     63-02  2008        Nicholas Vena, Morristown, NJ             
    Class SO:  65-07.75  2000        Kevin Brookout, Stroud, OK                
    Class JR:     67-00  1969        Jesse Stuart, Glasgow, KY                 
    Class SR:     74-11  1990        Brent Noon, Vista, CA                     
    Meet Rec:  67-10.50  1990        Brent Noon, Vista, CA                     
    National:     74-11  1990        Brent Noon, Vista, CA                     
           Name                        Year School                                
===============================================================================
Flight 1  Finals - Competing Later
  1   1070 Cottrell, Zac                 12 Aspen Mountain T            
  2   1074 Meduna, Josh                  12 Aspen Mountain T            
  3   1076 O'Farrell, Matt               11 Aspen Mountain T            
  4   1077 O'Farrell, Mike               11 Aspen Mountain T            
  5   1143 Smith, Carson                 11 Box Elder Track,            
  6   1158 Braun, Jamie                  12 Braun, Jamie, Bo            
  7   1172 Johnson, Clint                12 Bulldog Track Cl            
  8   1196 Sellwood, Sean                12 Bulldogs Track C            
  9   1201 Bush, Donald                  11 Bush, D. J., Boi            
 10   1242 Melgaard, Sean                11 Campbell County,            
 11   1245 Norris, Kirby                 12 Campbell County,            
 12   1253 Sullivan, Casey               12 Campbell County,            
 13   1257 Vandersloot, Tyler            10 Campbell County,            
 14   1260 York, Robbie                  12 Campbell County,            
 15   1301 Cardinal, Michael             12 Cardinal, Michae            
 16   1312 Rowley, Carson                   Casper Striders,            
 17   1333 Fonnesbeck, Colton            11 Century Track Cl            
 18   1368 Collins, David                12 Cheyenne Central            
 19   1369 Cook, Matt                    12 Cheyenne Central            
 20   1376 Roberts, Justin               11 Cheyenne Central            
 21   1426 Busnell, James                 9 Cody High School            
 22   1433 Hanes, Brad                   11 Cody High School            
 23   1438 Petry, Stephen                 9 Cody High School            
 24   1494 Branner, Justin               11 Cottonwood Track            
 25   1590 Hall, Bryce                   12 Davis Track Club            
 26   1591 Hill, Tony                    11 Davis Track Club            
 27   1597 Scoresby, Kenny               12 Davis Track Club            
 28   1631 Long, Tyson                   12 Donnelly Track C            
 29   1694 Courtnay, Cameron             12 Filer Running Cl            
 30   1724 Finley, Mason                 11 Fort Collins Tra            
 31   1733 Jackson, Victor               10 Frog Lake Cncs T            
 32   1734 Quinney, Windy                 9 Frog Lake Cncs T            
 33   1735 Stanley, Jordan                9 Frog Lake Cncs T            
 34   1751 King, Terence                 12 Gardena Core Spe            
 35   1776 Gregg, Jacob                  11 Gate City Track,            
 36   1779 Hurlburt, Bo                  11 Gate City Track,            
 37   1784 Record, Jordan                12 Gate City Track,            
 38   1786 Semons, Tyler                 11 Gate City Track,            
 39   1787 Steckel, Reed                 11 Gate City Track,            
 40   1796 Smock, Andrew                 12 Golden West Athl            
 41   1915 Decker, Michael               11 Indian Track Clu            
 42   1926 Martin, Russell               10 Indian Track Clu            
 43   1931 Smellie, Jace                 10 Indian Track Clu            
 44   1943 Bailey, Joe                   12 James Logan, Uni            
 45   1992 Finlayson, Cody               11 Lander Track, La            
 46   1997 Palmer, Cole                  11 Lander Track, La            
 47   1998 Siebigeroth, Keylen           12 Lander Track, La            
 48   2011 Garnich, Blake                12 Laramie Track Cl            
 49   2014 Jenkins, Chris                12 Laramie Track Cl            
 50   2018 Moore, Marshall               12 Laramie Track Cl            
 51   2065 Litchford, Daniel             12 Litchford, Danie            
 52   2073 Drummond, Trevor              12 Lodi Track Club,            
 53   2074 Herrin, Tyler                 12 Lodi Track Club,            
 54   2090 Manning, Brad                 12 Manning, Brad, M            
 55   2109 Day, Louis                    12 Metropolis Track            
 56   2146 Scheidell, Matt               11 Murray Track Clu            
 57   2147 Ward, Adam                    12 Murray Track Clu            
 58   2186 Aubrey, Thayne                12 Oquirrh Mountain            
 59   2276 Harriman, Ken                 11 Pueblo South Col            
 60   2356 Richardson, Brian             11 Rustler Nation,             
 61   2359 Voorhees, Andrew              12 Rustler Nation,             
 62   2380 Andrus, Shane                 11 Sky ViewTrack Cl            
 63   2382 Durrant, Kevin                12 Sky ViewTrack Cl            
 64   2447 Acero, Gabe                   12 So. California C            
 65   2449 Asnuwa, Paul                  11 So. California C            
 66   2486 Norris, Chris                 11 Spanish Fork Tra            
 67   2562 Crook, David                  11 Star ValleyTrack            
 68   2565 Erickson, Andrew              12 Star ValleyTrack            
 69   2569 Miles, Cole                   11 Star ValleyTrack            
 70   2588 Hill, Aaron                   10 Syracuse Track C            
 71   2594 Thompson, Kuyler              10 Syracuse Track C            
 72   2616 Cragun, Adam                  12 Taylorsville Tra            
 73   2676 Hairston/Abbot, James         11 Teeva Track, Inc            
 74   2681 Scotland, Victor              11 Teeva Track, Inc            
 75   2696 Anderson, Braydon             12 Throw1deep, Mari            
 76   2697 Brentnall, Edward              9 Throw1deep, Mari            
 77   2698 Dunkleberger, Andrew           9 Throw1deep, Mari            
 78   2699 Fraker, Davis                 10 Throw1deep, Mari            
 79   2700 Hardin, Brett                 10 Throw1deep, Mari            
 80   2701 Wright,, Wesley               12 Throw1deep, Mari            
 81   2774 Van Etten, Blake              12 VanEtten, Blake,            
 82   2809 Smith, Sam                    12 Widefield Track,            
 83   2837 Goodwin, Bill                 12 Wildcat Track Cl            
 84   2844 Nish, James                   11 Wildcat Track Cl            
 85   2861 Anderson, Ethan               12 Wolf Pack Track,            
 86   2862 Arvey, Jordan                 12 Wolf Pack Track,            
 
Event 37  Women Long Jump -
===============================================================================
Saturday 2/16/2008 - 8:00 AM
    Class FR:     19-07  2003        DeAna Carson, Moreno Valley, CA           
    Class SO:  19-11.75  2004        Shana Woods, Long Beach, CA               
    Class JR:     21-04  1976        Kathy McMillan, Raeford, NC               
    Class SR:  21-07.75  1981        Carol Lewis, Willingboro, NJ              
    Meet Rec:     20-05  2005        Brittany Daniels, Tracy, CA               
    National:  21-07.75  1981        Carol Lewis, Willingboro, NJ              
           Name                        Year School                                
===============================================================================
Flight 1  Finals - Competing Later
  1   1001 Dehart, Holly                  9 A J S Track Club            
  2   1002 Geubelle, Andrea              11 A J S Track Club            
  3   1062 Harrington, Rachel            12 Aspen Mountain T            
  4   1080 Hughes, Hayley                10 Ats Elite, Littl            
  5   1181 McMillan, Elli                11 Bulldogs Track C            
  6   1225 MacEachen, Jill               11 Calgary Warriors            
  7   1226 Machin, Rachel                10 Calgary Warriors            
  8   1229 Bazemore, Gabby               10 Campbell County,            
  9   1288 Conoly, Tianna                10 Cardinal Track C            
 10   1292 Murphy, Denise                10 Cardinal Track C            
 11   1293 Thomas, Vashti                12 Cardinal Track C            
 12   1329 Masiane, Simbi                 9 Century Track Cl            
 13   1353 Cruz, Gaby                    11 Cheyenne Central            
 14   1354 Ditto, Rebecca                10 Cheyenne Central            
 15   1363 Patch, Trae                   12 Cheyenne Central            
 16   1452 Mendez, Kamiyanna              8 Colorado Flyers,            
 17   1456 Reed, Takara                   9 Colorado Flyers,            
 18   1640 Fitts, Tasha                  10 Durango Track Cl            
 19   1661 Gren, Lindsai                 10 East Track Club,            
 20   1662 Miles, Lindsay                12 East Track Club,            
 21   1682 Kaisershot, Morgan            11 Elko, Elko NV               
 22   1720 Yeh, Hilary                   10 Fort Collins Tra            
 23   1788 Gillett, Jaynell              12 Gillett, Jaynell            
 24   1806 Poole, Loni                   11 Gooding Track, G            
 25   1853 Evans, Symone                 10 Heritage Track C            
 26   1854 Roth, Alena                   11 Heritage Track C            
 27   1873 Howell, Latecia                9 Howell, Latecia,            
 28   1881 Leung, Elise                  12 I S C A Track Cl            
 29   1937 Brewer, Ciarra                 9 James Logan, Uni            
 30   1940 Orange, Kiyoko                   James Logan, Uni            
 31   1954 Rieustra, Hayley              11 Jerome Track Clu            
 32   1964 McCloud, Deb                  10 Kelly Walsh Trac            
 33   1981 Bonneau, Katie                12 Kryptonite Speed            
 34   2026 Bock, Arielle                    LeDuc Track Club            
 35   2029 Simpson, Lauren               11 LeDuc Track Club            
 36   2030 Trueman, Olivia                9 LeDuc Track Club            
 37   2038 Leslie, Jessica               12 Leslie, Jessica,            
 38   2039 Laarman, Loudia               10 Lethbridge Track            
 39   2042 Novak, Brittany               11 Lethbridge Track            
 40   2068 Panzarello, Chelsea           12 Lodi Track Club,            
 41   2076 Lundgren, Chelsea             10 Lundgren, Chelse            
 42   2112 Dvarishkis, Alisa             12 Missoula Big Sky            
 43   2134 Morris, Sam                   10 Morris, Sam, Roy            
 44   2141 Ashbocker, Shannon            10 Murray Track Clu            
 45   2150 Baltimore, Ashtyn             11 Mustang TC, Los             
 46   2159 Miller, Julie                  9 Northeast Albert            
 47   2160 Trang, Debbie                 11 Northeast Albert            
 48   2197 Anderson, Janice               9 Pacific United,             
 49   2198 Anderson, Shanae              11 Pacific United,             
 50   2228 Porter, Erica                 12 Pleasant Grove V            
 51   2268 O'Dorisio, Danny              10 Pueblo South Col            
 52   2317 Bappe, Bethany                12 RivertonTrack, R            
 53   2319 Johnson, Dani                 11 RivertonTrack, R            
 54   2335 Rouse, Ellen                  12 Rouse, Ellen, Or            
 55   2336 Andersen, Leina                  Roy Track Club,             
 56   2370 Bartlett, Natalia             12 Sky View Track C            
 57   2411 Bowman, Kiley                 12 Snake River Rapi            
 58   2439 LeFlore, Natalie              12 So. Calif. Toget            
 59   2446 Dunn, Karynn                  11 So. California C            
 60   2471 Julian, Jolynn                 9 Spanish Fork Tra            
 61   2472 Meinhart, Elizabeth           12 Spanish Fork Tra            
 62   2493 Veasley, Jamee                10 Spartan Track Cl            
 63   2494 Veasly, Morgan                12 Spartan Track Cl            
 64   2522 Berry, Kaylynn                11 Sport of the God            
 65   2523 Stoll, Stephanie              10 Sport of the God            
 66   2557 West, Audrey                  10 Star ValleyTrack            
 67   2628 Songer, Sammy                 12 Team Montana, He            
 68   2652 Espinoza, Fabrina             10 Teekay Track Clu            
 69   2656 Hudson, Olivia                10 Teekay Track Clu            
 70   2747 Cornelison, Jordan            11 Trojan Track Clu            
 71   2882 Covington, Alyssa             12 Y M C A Team Ida            
 72   2890 Nielsen, Sam                  11 Y M C A Team Ida            
 
Event 36  Men Long Jump -
===============================================================================
Saturday 2/16/2008 - 9:30 AM
    Class FR:     24-05  1996        Mike Newell, Dumfries, VA                 
    Class SO:  24-08.50  1997        Mike Newell, Dumfries, VA                 
    Class JR:  25-09.25  1998        Mike Newell, Dumfries, VA                 
    Class SR:  26-06.50  1989        Dion Bentley, Pittsburg, PA               
    Meet Rec:  24-08.50  1996        Clarence Scott, Long Beach, CA            
    National:  26-06.50  1989        Dion Bentley, Pittsburg, PA               
           Name                        Year School                                
===============================================================================
Flight 1  Finals - Competing Later
  1   1004 Dudley, Ronnie                12 A J S Track Club            
  2   1048 Lyons, Taylor                 11 Alpha T-Wolves,             
  3   1049 Packer, Logan                 11 Alpha T-Wolves,             
  4   1094 Kirchner, Jessen              11 Ats Elite, Littl            
  5   1098 Parra, Clark                  12 Ats Elite, Littl            
  6   1138 Iverson, Hyrum                12 Box Elder Track,            
  7   1142 Salmon, Tom                   11 Box Elder Track,            
  8   1154 Burgard, Tanner               10 Bozeman Track Cl            
  9   1174 Lopez, Cody                   11 Bulldog Track Cl            
 10   1175 Reed, Scott                   12 Bulldog Track Cl            
 11   1199 Burns, Clay                   12 Burns, Clay, Lon            
 12   1216 Archer, Andre                 12 Caldwell Track C            
 13   1221 Lujan, Troy                   12 Caldwell Track C            
 14   1237 Benson, Braden                12 Campbell County,            
 15   1294 Brown, Mathew                 12 Cardinal Track C            
 16   1300 Sulit, Dextur                 12 Cardinal Track C            
 17   1308 Baker, Jake                   12 Casper Striders,            
 18   1322 Halligan, Korey               12 Central Oregon T            
 19   1396 Gebecki, Justin               12 Cheyenne East, C            
 20   1431 Guthrie, Zach                  9 Cody High School            
 21   1434 Krix, Zach                     9 Cody High School            
 22   1436 Neddermeyer, Matt             12 Cody High School            
 23   1443 Smith, Kenny                  12 Cody High School            
 24   1445 Welch, Derek                  12 Cody High School            
 25   1477 Hall, John                    12 Colorado Springs            
 26   1527 Craddock, Omar                11 Craddock, Omar,             
 27   1587 Ferguson, Jonathon            11 Davis Track Club            
 28   1593 Kunz, Kye                     11 Davis Track Club            
 29   1595 Rasmussen, Brock              12 Davis Track Club            
 30   1636 Halloran, Logann              10 Draft Pick Acade            
 31   1637 McDonald, Andre'              12 Draft Pick Acade            
 32   1644 Barnes, Gus                   10 Durango Track Cl            
 33   1650 Waters, Kaelen                10 Durango Track Cl            
 34   1695 Licea, Javier                 12 Filer Running Cl            
 35   1730 Wakefield, Steven             11 Fort Collins Tra            
 36   1748 Cooper, James Jr.             11 Gardena Core Spe            
 37   1752 Murray, Malcolm               11 Gardena Core Spe            
 38   1756 Garrett, Gordon               12 Garrett, Gordon,            
 39   1797 Sutter, Justin                11 Golden West Athl            
 40   1807 Garcia, Ricky                 12 Gooding Track, G            
 41   1810 Turner, Evan                  12 Gooding Track, G            
 42   1914 Cone, Eli                     12 Indian Track Clu            
 43   1921 Holyoak, Kalin                 9 Indian Track Clu            
 44   1974 Watt, Beau                    12 Kelly Walsh Trac            
 45   1980 Maughn, Matt                     Knighton, Nicole            
 46   2017 Michel, Steven                12 Laramie Track Cl            
 47   2085 Bridges, Brock                12 Madison Track Cl            
 48   2107 McPhee, Stephen               11 McPhee, Stephen,            
 49   2110 Mills, Kyle                   12 Mills, Kyle, Pah            
 50   2148 White, Erik                   11 Murray Track Clu            
 51   2161 Cote, Claude                  10 Northeast Albert            
 52   2162 Dargis, Real                  12 Northeast Albert            
 53   2163 Lawrence, Alex                10 Northeast Albert            
 54   2232 Compton, Alex                  9 Pleasant Grove V            
 55   2242 Matheson, Scott               10 Pleasant Grove V            
 56   2262 Larsen, Andrew                11 Preston Track Cl            
 57   2282 Rucker, Kam                   12 Pueblo South Col            
 58   2323 McCallum, Reid                11 RivertonTrack, R            
 59   2426 Fisher, Jason                 12 Snake River Rapi            
 60   2428 LeBow, Chandler                9 Snake River Rapi            
 61   2429 Martin, Rhett                 10 Snake River Rapi            
 62   2456 Jones, Jerrod                 10 So. California C            
 63   2460 Sermons, Brandon              11 So. California C            
 64   2486 Norris, Chris                 11 Spanish Fork Tra            
 65   2495 Roach, Dakota                 12 Spartan Track Cl            
 66   2496 Woldu, Efrem                  11 Spartan Track Cl            
 67   2524 Berry, Justin                 11 Sport of the God            
 68   2525 Martyn, Josh                  10 Sport of the God            
 69   2543 Baka, Kyle                    12 St. Mary's Panth            
 70   2548 Lewis, Freeman                12 St. Mary's Panth            
 71   2551 Okwudiafor, Ikem              10 St. Mary's Panth            
 72   2559 Brough, Kevin                 11 Star ValleyTrack            
 73   2592 Palmer, Ryan                  10 Syracuse Track C            
 74   2605 Conan, Ryan                   10 Taylor Mountain,            
 75   2771 Rutledge, Kevin               12 Vance, Brandon,             
 76   2779 Ward, Parker                  12 Ward, Parker, Me            
 77   2795 Pierce, Marcus                11 Warrior Express,            
 78   2799 Slater, Sheldon               12 Warrior Express,            
 79   2801 Ngo, Phil                     12 Waterford, Sandy            
 80   2807 Wheeler, Chase                11 Wheeler, Chase,             
 81   2865 Goble, Jon                    12 Wolf Pack Track,            
 82   2866 Hadley, Garrett               12 Wolf Pack Track,            
 83   2874 Richins, Chad                 11 Wolf Pack Track,            
 84   2877 Woods, Warren                 12 Woods, Warren, D            
 85   2900 Covington, Kason              10 Y M C A Team Ida            
 
Event 35  Women High Jump -
===============================================================================
Saturday 2/16/2008 - 9:00 AM
    Class FR:     5-10  2004        Patience Coleman, Duram, NC                
    Class SO:  6-00.75  1981        Mary Moore, Issaquah, WA                   
    Class JR:     6-01  1987        Alison Smith, Clarence, NY                 
    Class SR:     6-03  1984        Lisa Bernhagen, Hailey, ID                 
    Meet Rec:     6-03  1984        Lisa Bernhagen, Hailey, ID                 
    National:     6-03  1984        Lisa Bernhagen, Hailey, ID                 
           Name                        Year School                                
===============================================================================
Flight 1  Finals - Competing Later
  1   1031 Vozarova, Suzie               10 Alpha T-Wolves,             
  2   1127 Borman, Brittany              12 Borman, Brittany            
  3   1171 Sommers, Cydnee               12 Bulldog Track Cl            
  4   1178 Frank, Linda                   9 Bulldogs Track C            
  5   1200 Busby, Emily                  11 Busby, Emily, Cl            
  6   1226 Machin, Rachel                10 Calgary Warriors            
  7   1265 Jenkins, Valarie              10 Canyon Track Clu            
  8   1286 Butler, Stefany               11 Cardinal Track C            
  9   1287 Carter, Tianna                10 Cardinal Track C            
 10   1389 Rehm, Brittany                11 Cheyenne East, C            
 11   1419 Brus, Cate                    11 Cody High School            
 12   1423 Whisonant, Betsey             11 Cody High School            
 13   1551 Clouse, Michelle              11 Davis Track Club            
 14   1567 Rees, Amy                     12 Davis Track Club            
 15   1570 Storey, Britin                12 Davis Track Club            
 16   1611 Dencer, Camilla               12 Dencer, Camilla,            
 17   1635 Chambers, Ty'Risha            11 Draft Pick Acade            
 18   1660 Etringer, Olivia              12 East Track Club,            
 19   1804 Nelson, Lara                  11 Gooding Track, G            
 20   1875 Huset, Tasha                  10 Huset, Tasha, Fr            
 21   1964 McCloud, Deb                  10 Kelly Walsh Trac            
 22   1981 Bonneau, Katie                12 Kryptonite Speed            
 23   1991 Kneuffner, Justine             9 Kueffner, Justin            
 24   2028 Richard, Kelsey               10 LeDuc Track Club            
 25   2038 Leslie, Jessica               12 Leslie, Jessica,            
 26   2066 Balentine, Samantha           11 Lodi Track Club,            
 27   2070 Shields, Alexa                10 Lodi Track Club,            
 28   2141 Ashbocker, Shannon            10 Murray Track Clu            
 29   2173 O'Donnell, Danielle           11 O'Donnell, Danie            
 30   2227 Morton, Jentry                11 Pleasant Grove V            
 31   2270 Walker, Amanda                   Pueblo South Col            
 32   2340 Satterthwaite, Heather        12 Roy Track Club,             
 33   2363 Bartholomew, Nichelle         11 S U H S, Tri-Cit            
 34   2374 Howell, Lauren                12 Sky View Track C            
 35   2436 Harrell, Urina                 8 So. Calif. Toget            
 36   2470 Denning, Mallory              12 Spanish Fork Tra            
 37   2492 McCrea, Mariah                11 Spartan Track Cl            
 38   2507 Richmond, Tara                10 Speed City, Norw            
 39   2534 Baker, Aziza                  11 St. Mary's Panth            
 40   2581 Busby, Ann                    11 Syracuse Track C            
 41   2599 McKay, Jessica                10 Taylor Mountain,            
 42   2610 Gwilliam, Lauren              11 Taylorsville Tra            
 43   2752 Walker, Courtney              11 Trojan Track Clu            
 44   2858 Colvin, Jana                  11 Wolf Pack Track,            
 45   2879 Brunel, Kaycee                11 Y M C A Team Ida            
 
Event 33  Women Pole Vault -
===============================================================================
Saturday 2/16/2008 - 9:00 AM
    Class FR:  12-06.25  1999        Samantha Shepard, Weston, MA              
    Class SO:     13-06  2007        Shade Weygandt, Forney, TX                
    Class JR:     14-00  2006        Katie Veith, Ft Wayne, IN                 
    Class SR:  14-02.50  2007        Tory Anthony, Palo Alto, CA               
    Meet Rec:     13-00  2003        Julene Bailey, Nampa, ID                  
    National:  14-02.50  2007        Tory Anthony, Palo Alto, CA               
           Name                        Year School                                
===============================================================================
Flight 1  Finals - Competing Later
  1   1115 Beard, Lindsay                12 Beard, Lindsay,             
  2   1349 Chambers, Delaney             12 Chambers, Delane            
  3   1350 Chambers, Rebekka             11 Chambers, Rebekk            
  4   1386 Hartigan, Morgan              10 Cheyenne East, C            
  5   1417 Bales, Anna                    9 Cody High School            
  6   1421 Reaser, Alisha                12 Cody High School            
  7   1423 Whisonant, Betsey             11 Cody High School            
  8   1638 Desko, Ashley                 11 Durango Track Cl            
  9   1704 Folkinga, Alexis              12 Folkinga, Alexis            
 10   1706 Bronsert, Aly                 12 Fort Collins Tra            
 11   1802 Koyle, Gentry                 12 Gooding Track, G            
 12   1811 Gray, Casey                   11 Gray, Casey, Ren            
 13   1849 Evanson, Mandi                11 Helena Vault and            
 14   2023 Laurent, Rachel               12 Laurent, Rachel,            
 15   2097 Stover, Elizabeth             12 Max Trax Track C            
 16   2115 Huguet, Allison               12 Missoula Big Sky            
 17   2123 Valentino, Liz                11 Missoula Youth T            
 18   2622 Fitzpatrick, Ellie            12 Team Montana, He            
 19   2623 Lubke, Sarah                  10 Team Montana, He            
 20   2751 Thompson, Amber               11 Trojan Track Clu            
 21   2777 Waddington, Rachel            10 Waddington, Rach            
 22   2806 Weygandt, Shade               11 Weygandt, Shade,            
 23   2878 Barr, Chelsea                 12 Y M C A Team Ida            
 24   2881 Clark, Rebecca                10 Y M C A Team Ida            
 25   2892 Valentine, Daniele            12 Y M C A Team Ida            
 26   2893 Waybright, Theresa            11 Y M C A Team Ida            
 
Event 15  Mixed 200 Meter Dash Coaches
===============================================================================
Saturday 2/16/2008 - 9:00 AM
           Name                        Year School                                
===============================================================================
Section 1  Timed Finals
  1   1814 Boettcher, Brock             M31 Greeley Track Cl            
  2   1577 West, Jamie                    W Davis Track Club            
  3   2841 Millward, Carston              M Wildcat Track Cl            
  4   1545 Whitaker, Robert             M41 D.A.T.A.C., Denv            
  5   2240 Kernan, John                 M56 Pleasant Grove V            
Section 2  Timed Finals
  1   2642 Cornish, Chris                 M Team XC, Denver             
  2   1972 Hileman, Mark                M44 Kelly Walsh Trac            
  3   2732 Goodwin, Jaren               M19 Timpview Thunder            
  4   1891 East, Kaon-Jabba               M I S C A Track Cl            
  5   2250 Poulsen, Jackie              W23 Pocatello Track,            
  6   2684 Valentine, Bill              M25 Teeva Track, Inc            
Section 3  Timed Finals
  1   1753 Washington, David              M Gardena Core Spe            
  2   2246 Robertson, Stig              M26 Pleasant Grove V            
  3   1984 Larsen, Chris                  M Kryptonite Speed            
  4   2404 Maye, Sean                     M Skyline Eagles,             
  5   2790 Crow, CJ                       M Warrior Express,            
  6   1890 Chi, Coach                     M I S C A Track Cl            
 
Event 16  Mixed 1600 Meter Run Coaches
===============================================================================
Saturday 2/16/2008 - 11:05 AM
           Name                        Year School                                
===============================================================================
Section 1  Timed Finals
  1   2322 Gopp, Tawn                     M RivertonTrack, R            
  2   1367 Bishop, Rick                   M Cheyenne Central            
  3   1723 Cathcart, Steve                M Fort Collins Tra            
  4   1317 Mostert, Timo                M45 Caveman TrackClu            
  5   2787 Berthold, Aaron                M Warrior Express,            
  6   2917 Young, Brent                   M Young, Brent, Sa            
  7   2642 Cornish, Chris                 M Team XC, Denver             
  8   2061 Berndt, Chard                M40 Lion Track Club,            
  9   1378 Wilde, Sean                    M Cheyenne Central            
 10   1601 Talley, Corbin                M0 Davis Track Club            
Section 2  Timed Finals
  1   1058 DeKrey, Donna                  W Aspen Mountain T            
  2   1886 Spurgeon, Christie             W I S C A Track Cl            
  3   2311 Rojas, Ric                    M0 Ric Rojas Runnin            
  4   1071 DeKrey, Brad                   M Aspen Mountain T            
  5   1792 Kehoe, Carla                   W Golden West Athl            
  6   2761 Tylor, Lisa                  W45 Tylor, Kyle, Puy            
  7   2719 McAdams, Whitney             W26 Timpview Thunder            
  8   1306 Sondag, Becky                W38 Casper Striders,            
 
Event 25  Women 4x800 Meter Relay -
===============================================================================
Saturday 2/16/2008 - 10:20 AM
    Meet Rec:  9:12.22  2003        Bruin Track Club, Orem, UT                 
    National:  8:53.67  2002        Boys & Girls, Brooklyn, NY                 
     School                                                                 
===============================================================================
Section 1  Timed Finals
  1  Fort Collins Track Club Windsor, CO  'A'                     
     1) 1707 Cathcart, Brianna 9        2) 1714 Long, Nikki 11            
     3) 1719 Willard, Aliese 11         4) 1718 Pundt, Melissa 12         
  2  Teekay Track Club Corona, CA  'A'                            
     1) 2651 Crawford, Sessyon 11       2) 2654 Fenderson, Karryssa 10    
     3) 2659 Moseley, Jade 11           4) 2663 Warren, Ashley 9          
  3  Alpha T-Wolves Orem, UT  'A'                                 
     1) 1026 Groom, Hannah 10           2) 1030 Sorenson, Suzie 11        
     3) 1029 Hodson, Brooke 11          4) 1021 Bringhurst, Kim 12        
  4  Timpview Thunderbirds Provo, UT  'A'                         
     1) 2713 Frandsen, Dania 9          2) 2718 Jensen, Stephanie 12      
     3) 2722 Troutner, Hilary 11        4) 2710 Brooks, Emma 12           
  5  Cheyenne Central High School Cheyenne, WY  'A'               
     1) 1358 Meredith, Ciara 10         2) 1361 Miller, Alyssa 10         
     3) 1365 Wollert, Candace 10        4) 1352 Crockett, Victoria 11     
  6  Davis Track Club Kaysville, UT  'A'                          
     1) 1561 King, Hollie 11            2) 1562 Kusee, Talya 11           
     3) 1574 Swanson, Katie 11          4) 1575 Valentine, Kelsey 12      
  7  Warrior Express Centennial, CO  'A'                          
     1) 2782 Kirchhofer, Emily 12       2) 2786 Roome, Katie 11           
     3) 2783 Lewis, Emily 12            4) 2785 McNeeley, Sophie 11       
  8  Davis Track Club Kaysville, UT  'B'                          
     1) 1557 Hedquist, Megan 9          2) 1576 Wallin, Lizzy 11          
     3) 1579 Wirthlin, Julianne 11      4) 1549 Ballard-Sume, Ashley 11   
  9  Edmonton Thunder Edmonton, AB, --  'A'                       
     1) 1670 Graham, Chelsea 10         2) 1675 Soderberg, Alana 12       
     3) 1676 Soderberg, Nicole 10       4) 1677 Terlecki, Amelia 11       
 
Event 24  Men 4x800 Meter Relay -
===============================================================================
Saturday 2/16/2008 - 10:45 AM
    Meet Rec:  7:47.88  1998        Bingham TC, S. Jordan, UT                  
    National:  7:42.22  2005        Syosset, Syosset, NY                       
     School                                                                 
===============================================================================
Section 1  Timed Finals
  1  Warrior Express Centennial, CO  'A'                          
     1) 2788 Brainerd, Jackson 12       2) 2797 Ryan, Matt 12             
     3) 2792 Holt, Chris 11             4) 2800 Winter, Doug 12           
  2  Davis Track Club Kaysville, UT  'A'                          
     1) 1594 Larsen, Bryce 12           2) 1589 Gutzwiller, Seth 11       
     3) 1588 Gallacher, Derek 11        4) 1603 Thomas, Ryan 12           
  3  Davis Track Club Kaysville, UT  'B'                          
     1) 1598 Snow, Bryson 12            2) 1599 Stenquist, Leland 11      
     3) 1602 Thomas, Jason 10           4) 1586 Feigleson, Carston 11     
  4  Blazers Track Club Aurora, CO  'A'                           
     1) 1122 Kelly, Alphonso 12         2) 1123 Kelly, Edryse 12          
     3) 1124 Muhudin, Roblet 10         4) 1121 Hewlett, Steve 10         
  5  Teeva Track, Inc. Colorado Springs, CO  'A'                  
     1) 2673 Breeden, Cory 12           2) 2674 Garcia, Jerry 12          
     3) 2675 Garcia, Paul 12            4) 2682 Thompson, Tony 12         
  6  Cougar Track Parker, CO  'A'                                 
     1) 1515 Ingram, Scott 12           2) 1512 Dillenbeck, Alex 10       
     3) 1518 Putnam, Travis 11          4) 1521 Serrano, CJ 12            
  7  Fort Collins Track Club Windsor, CO  'A'                     
     1) 1722 Binder, Nick 10            2) 1726 Kovach, Jon               
     3) 1721 Belasco, Matt 12           4) 1727 McGee, Andrew 12          
  8  Roy Track Club Roy, UT  'A'                                  
     1) 2341 Berry, Justin 12           2) 2345 Trickett, Curt 12         
     3) 2343 Christensen, Tyson 11      4) 2344 Lechtenberg, Brett 12     
  9  Kryptonite Speed Team Parkler, CO  'A'                       
     1) 1988 Scheuerman, Kevin 10       2) 1990 Wilson, Garrett 11        
     3) 1985 Lotz, Chris 12             4) 1989 Van Portfleit, Ryan 10    
 10  Ric Rojas Running Boulder, CO  'A'                           
     1) 2307 Grotting, Tyler 10         2) 2308 Kahn, Dain 11             
     3) 2310 Metzler, Chris 9           4) 2313 Weinheimer, Alex 11       
 11  Pueblo South Colts Pueblo West, CO  'A'                      
     1) 2277 Huerta, Adam 12            2) 2271 Bolonas, David 12         
     3) 2274 Dugan, Keith 11            4) 2279 Rael, Dominique 12        
 12  Cheyenne Central High School Cheyenne, WY  'A'               
     1) 1373 Parish, Laine 12           2) 1370 Franke, Josh 12           
     3) 1375 Rathburn, Devin 11         4) 1371 Hull, Chris 11            
 13  Timpview Thunderbirds Provo, UT  'A'                         
     1) 2726 Cline, Kenneth 12          2) 2729 Fairchild, Jason 12       
     3) 2730 Fletcher, Nathan           4) 2731 Gardner, Krys             
 14  Team XC Denver, CO  'A'                                      
     1) 2647 White, Charles 12          2) 2644 Guerrero, Jose 10         
     3) 2643 Gerken, Max 12             4) 2646 Marbury, Chris 12         
 15  Golden West Athletics Club Granite Bay, CA  'A'              
     1) 1795 Novy, Bradford 12          2) 1798 Taylor, Shawn 11          
     3) 1799 Thibideau, Spencer 10      4) 1800 Vilfer, Ryan 11           
 
Event 40  Men Triple Jump -
===============================================================================
Saturday 2/16/2008 - 12:30 PM
    Class FR:  45-11.75  2005        Phelon Jones, Mobile, AL                  
    Class SO:  49-09.25  1998        Maurice Robinson, Prichard, AL            
    Class JR:  51-08.25  1973        Don Duvall, Denver, CO                    
    Class SR:  52-07.50  1988        Keith Holley, Virginia Beach, VA          
    Meet Rec:  52-02.75  1998        Greg Yeldell, Spencer, NC                 
    National:  52-07.50  1988        Keith Holley, Virginia Beach, VA          
           Name                        Year School                                
===============================================================================
Flight 1  Finals - Competing Later
  1   1006 Sanders, Jerhime              11 A J S Track Club            
  2   1007 Scott-Ellis, Stephen          12 A J S Track Club            
  3   1008 Smith, Zach                   11 A J S Track Club            
  4   1018 Accountius, Andrew            12 Accountius, Andr            
  5   1049 Packer, Logan                 11 Alpha T-Wolves,             
  6   1098 Parra, Clark                  12 Ats Elite, Littl            
  7   1216 Archer, Andre                 12 Caldwell Track C            
  8   1221 Lujan, Troy                   12 Caldwell Track C            
  9   1240 Igo, Michael                  11 Campbell County,            
 10   1251 Storie, Jed                   12 Campbell County,            
 11   1295 Camacho, Santiago             12 Cardinal Track C            
 12   1297 Hoang, Tony                   12 Cardinal Track C            
 13   1300 Sulit, Dextur                 12 Cardinal Track C            
 14   1308 Baker, Jake                   12 Casper Striders,            
 15   1322 Halligan, Korey               12 Central Oregon T            
 16   1436 Neddermeyer, Matt             12 Cody High School            
 17   1464 Harris, Joseph                12 Colorado Flyers,            
 18   1527 Craddock, Omar                11 Craddock, Omar,             
 19   1637 McDonald, Andre'              12 Draft Pick Acade            
 20   1647 Hunsaker, Will                12 Durango Track Cl            
 21   1730 Wakefield, Steven             11 Fort Collins Tra            
 22   1790 Goedhart, Harley              12 Goedhart, Harley            
 23   1797 Sutter, Justin                11 Golden West Athl            
 24   1855 Craig, A.J.                   11 Heritage Track C            
 25   1918 Henderson, Logan              12 Indian Track Clu            
 26   1943 Bailey, Joe                   12 James Logan, Uni            
 27   1944 Brewer, Arnaux                11 James Logan, Uni            
 28   2017 Michel, Steven                12 Laramie Track Cl            
 29   2020 Walker, Alex                  10 Laramie Track Cl            
 30   2034 Hansen, Branden                9 LeDuc Track Club            
 31   2080 Mack, Bryan                   12 Mack, Bryan, Arl            
 32   2108 McPherson, Michael            12 McPherson, Micha            
 33   2110 Mills, Kyle                   12 Mills, Kyle, Pah            
 34   2129 Emerson, Kyle                 12 Montezuma-Cortez            
 35   2156 Nash, Matthew                  9 Nash Team, San M            
 36   2161 Cote, Claude                  10 Northeast Albert            
 37   2262 Larsen, Andrew                11 Preston Track Cl            
 38   2282 Rucker, Kam                   12 Pueblo South Col            
 39   2450 Buckley, Marcus               11 So. California C            
 40   2495 Roach, Dakota                 12 Spartan Track Cl            
 41   2496 Woldu, Efrem                  11 Spartan Track Cl            
 42   2521 Speed, Adrian                 12 Speed, Adrian, E            
 43   2548 Lewis, Freeman                12 St. Mary's Panth            
 44   2551 Okwudiafor, Ikem              10 St. Mary's Panth            
 45   2552 Workman, Alex                 11 St. Mary's Panth            
 46   2573 Walters, Travis                  Star ValleyTrack            
 47   2580 Swaney, Wes                   12 Swaney, Wes, Lee            
 48   2605 Conan, Ryan                   10 Taylor Mountain,            
 49   2796 Pierpont, Dylan               12 Warrior Express,            
 50   2799 Slater, Sheldon               12 Warrior Express,            
 51   2900 Covington, Kason              10 Y M C A Team Ida            
 
Event 39  Women Shot Put -
===============================================================================
Saturday 2/16/2008 - 12:30 PM
    Class FR:  45-07.25  1991        Collinous Newsome, Denver, CO             
    Class SO:     48-11  2005        Kamorean Hayes, Charlotte, NC             
    Class JR:  52-05.75  1997        Heather Colyer, McAlisterville, PA        
    Class SR:  54-09.50  2003        Michelle Carter, Red Oak, TX              
    Meet Rec:  51-05.75  1994        Collinous Newsome, Denver, CO             
    National:  54-09.50  2003        Michelle Carter, Red Oak, TX              
           Name                        Year School                                
===============================================================================
Flight 1  Finals - Competing Later
  1   1060 Gray, Kelly                   12 Aspen Mountain T            
  2   1084 Sedivic, Morgan               12 Ats Elite, Littl            
  3   1127 Borman, Brittany              12 Borman, Brittany            
  4   1170 Ritter, Krissy                11 Bulldog Track Cl            
  5   1182 Netzler, Lag'l                10 Bulldogs Track C            
  6   1185 Vaisima, Ofa                   9 Bulldogs Track C            
  7   1205 Bayo, Marie                   10 C A T C, Oakland            
  8   1208 Oniah, Chinwe                 12 C A T C, Oakland            
  9   1209 Treadwell, Asha               11 C A T C, Oakland            
 10   1231 Kuhrt, Heather                11 Campbell County,            
 11   1233 Odell, Jennifer                9 Campbell County,            
 12   1236 White, April                  11 Campbell County,            
 13   1305 Heck, Melissa                 12 Casper Striders,            
 14   1355 Falk, Andrea                  12 Cheyenne Central            
 15   1360 Milbourn, Cody                12 Cheyenne Central            
 16   1385 Gruver, Deanna                12 Cheyenne East, C            
 17   1388 McLane, Jessica               11 Cheyenne East, C            
 18   1411 Miller, Stephanie             12 Club Cougar, Fir            
 19   1420 Osterkamp, Jennifer           10 Cody High School            
 20   1422 Valenzuela, Kristina          11 Cody High School            
 21   1490 Catmull, Meg                  10 Cottonwood Track            
 22   1639 Evans, Katie                  12 Durango Track Cl            
 23   1686 Ellingford, Skyler            11 Ellingford, Skyl            
 24   1731 O'Dell, Keely                  7 Frog Lake Cncs T            
 25   1732 Stanley, Amber                 7 Frog Lake Cncs T            
 26   1738 Draper, Rachel                12 Fruita Monument,            
 27   1759 Davis, Shantae'               12 Gate City Track,            
 28   1822 Attebury, Amanda              11 Green River Trac            
 29   1848 Broadwater, Sheena            12 Helena Vault and            
 30   1857 Halvorson, Aslynn             11 Higher Power Ath            
 31   1858 Okwara, Nnenna                11 Higher Power Ath            
 32   1909 Woodland, Jessica             12 Indian Track Clu            
 33   1936 Iorg, Kilee                   12 Iorg. Kilee M.,             
 34   1958 Johnson, Liz                     Johnson, Liz, Ft            
 35   1978 Aiello, Candice                  Knighton, Nicole            
 36   1979 Knighton, Nicole              12 Knighton, Nicole            
 37   2002 Hilman, Joann                 12 Laramie Track Cl            
 38   2116 Kain, Tasia                   12 Missoula Big Sky            
 39   2122 Rajala, Kiandra               12 Missoula Youth T            
 40   2264 Golob, Becca                     Pueblo South Col            
 41   2335 Rouse, Ellen                  12 Rouse, Ellen, Or            
 42   2371 Burningham, Liz               11 Sky View Track C            
 43   2412 Duff, Susan                   11 Snake River Rapi            
 44   2413 Hale, Kamari                  10 Snake River Rapi            
 45   2415 Jones, Amy                     9 Snake River Rapi            
 46   2420 Phillips, Krystal             12 Snake River Rapi            
 47   2598 Hansen, Hillary               11 Taylor Mountain,            
 48   2601 Shackleford, Sara             12 Taylor Mountain,            
 49   2602 Wolteman, Courtney            10 Taylor Mountain,            
 50   2603 Wolterman, Courtney           10 Taylor Mountain,            
 51   2612 Pais, Amanda                  11 Taylorsville Tra            
 52   2624 McAlmond, Brenah              12 Team Montana, He            
 53   2626 Scheeler, Jennalee            11 Team Montana, He            
 54   2687 Barboza, Lili                 12 Throw1deep, Mari            
 55   2688 Bragg, Katie                  11 Throw1deep, Mari            
 56   2689 Chambers, Lauren              11 Throw1deep, Mari            
 57   2690 Gates, Patrice                10 Throw1deep, Mari            
 58   2691 Horner, Allison               12 Throw1deep, Mari            
 59   2692 Jordan, Caitlin               11 Throw1deep, Mari            
 60   2693 Miller, Genay                 11 Throw1deep, Mari            
 61   2694 Miller, Jazmin                11 Throw1deep, Mari            
 62   2695 Radford, Brenna               11 Throw1deep, Mari            
 63   2746 Bradley, Martha               11 Trojan Track Clu            
 64   2808 Warrington, Joy               12 Widefield Track,            
 65   2817 Grosso, McKenzie              11 Wildcat Track Cl            
 
Event 41  Women Triple Jump -
===============================================================================
Saturday 2/16/2008 - 12:30 PM
    Class FR:  39-00.50  1996        Jodi Schlesinger, West Nyack, NY          
    Class SO:  41-01.50  2005        Ke'niya Richardson, Oakland, CA           
    Class JR:  42-05.50  1990        Juliana Yendork, Walnut, CA               
    Class SR:  44-06.75  2007        Ke'niya Richardson, Oakland, CA           
    Meet Rec:     43-05  2005        Brittany Daniels, Tracy, CA               
    National:  44-06.75  2007        Ke'niya Richardson, Oakland, CA           
           Name                        Year School                                
===============================================================================
Flight 1  Finals - Competing Later
  1   1001 Dehart, Holly                  9 A J S Track Club            
  2   1002 Geubelle, Andrea              11 A J S Track Club            
  3   1003 Woodke, Jordyn                12 A J S Track Club            
  4   1230 Hoffman, Nicole               10 Campbell County,            
  5   1232 Lazarus, Ashley                9 Campbell County,            
  6   1235 Stolpe, Hannah                10 Campbell County,            
  7   1283 Bautisa, Stephanie            11 Cardinal Track C            
  8   1284 Boxton, Camylle               10 Cardinal Track C            
  9   1287 Carter, Tianna                10 Cardinal Track C            
 10   1291 Luzon, JoAnn                     Cardinal Track C            
 11   1293 Thomas, Vashti                12 Cardinal Track C            
 12   1354 Ditto, Rebecca                10 Cheyenne Central            
 13   1453 Moore, Natalya                12 Colorado Flyers,            
 14   1459 White, Alexandria             11 Colorado Flyers,            
 15   1624 Ward, Amanda                   9 Donnelly Track C            
 16   1635 Chambers, Ty'Risha            11 Draft Pick Acade            
 17   1657 Ross, Jasmine                 12 E O Y D C, Oakla            
 18   1706 Bronsert, Aly                 12 Fort Collins Tra            
 19   1760 Greene, Abbi                  11 Gate City Track,            
 20   1761 Hopster, Alyssa                9 Gate City Track,            
 21   1788 Gillett, Jaynell              12 Gillett, Jaynell            
 22   1873 Howell, Latecia                9 Howell, Latecia,            
 23   1881 Leung, Elise                  12 I S C A Track Cl            
 24   1907 Undsworth, Jamie              11 Indian Track Clu            
 25   1937 Brewer, Ciarra                 9 James Logan, Uni            
 26   1941 Powell, Donisse               11 James Logan, Uni            
 27   1961 Keller, Kaitlinr               9 Keller, Kaitlin,            
 28   1965 Merback, Jordan               12 Kelly Walsh Trac            
 29   1969 Stevens, Audrey               10 Kelly Walsh Trac            
 30   2042 Novak, Brittany               11 Lethbridge Track            
 31   2068 Panzarello, Chelsea           12 Lodi Track Club,            
 32   2076 Lundgren, Chelsea             10 Lundgren, Chelse            
 33   2112 Dvarishkis, Alisa             12 Missoula Big Sky            
 34   2114 Hall, Lindsey                 11 Missoula Big Sky            
 35   2123 Valentino, Liz                11 Missoula Youth T            
 36   2152 Hunter, Amanda                12 Mustang TC, Los             
 37   2155 Nash, Emily                   12 Nash Team, San M            
 38   2159 Miller, Julie                  9 Northeast Albert            
 39   2173 O'Donnell, Danielle           11 O'Donnell, Danie            
 40   2268 O'Dorisio, Danny              10 Pueblo South Col            
 41   2317 Bappe, Bethany                12 RivertonTrack, R            
 42   2439 LeFlore, Natalie              12 So. Calif. Toget            
 43   2444 Truluck, Emani                12 So. Calif. Toget            
 44   2493 Veasley, Jamee                10 Spartan Track Cl            
 45   2498 Cox, Melia                     9 Speed City, Norw            
 46   2507 Richmond, Tara                10 Speed City, Norw            
 47   2534 Baker, Aziza                  11 St. Mary's Panth            
 48   2538 Lindsay, Shelby               11 St. Mary's Panth            
 49   2554 Fisher, Charli                   Star ValleyTrack            
 50   2556 Oliver, Lauren                10 Star ValleyTrack            
 51   2652 Espinoza, Fabrina             10 Teekay Track Clu            
 52   2745 Anderson, Mckinzie            11 Trojan Track Clu            
 53   2747 Cornelison, Jordan            11 Trojan Track Clu            
 54   2750 Olsen, Shalyse                11 Trojan Track Clu            
 55   2752 Walker, Courtney              11 Trojan Track Clu            
 56   2780 Daley, Aubrie                 12 Warrior Express,            
 57   2826 Vaisima, Maloi                11 Wildcat Track Cl            
 58   2890 Nielsen, Sam                  11 Y M C A Team Ida            
 
Event 34  Men High Jump -
===============================================================================
Saturday 2/16/2008 - 12:30 PM
    Class FR:     6-08  1998        Ivan Schmidt, Media, PA                    
    Class SO:     7-02  2002        Scott Sellers, Katy, TX                    
    Class JR:  7-05.25  2004        Scott Sellers, Katy, TX                    
    Class SR:     7-05  2005        Scott Sellers, Katy, TX                    
    Meet Rec:  7-02.25  1998        Alfredo Deza, Lima, Peru                   
    National:  7-05.25  2004        Scott Sellers, Katy, TX                    
           Name                        Year School                                
===============================================================================
Flight 1  Finals - Competing Later
  1   1033 Aaron, Sean                   12 Alpha T-Wolves,             
  2   1068 Bozner, Jazz                  10 Aspen Mountain T            
  3   1094 Kirchner, Jessen              11 Ats Elite, Littl            
  4   1142 Salmon, Tom                   11 Box Elder Track,            
  5   1175 Reed, Scott                   12 Bulldog Track Cl            
  6   1192 Oles, Jack                    12 Bulldogs Track C            
  7   1237 Benson, Braden                12 Campbell County,            
  8   1256 Tweeten, Cody                 11 Campbell County,            
  9   1282 Wells, Brett                  12 Carbon Indoor Tr            
 10   1443 Smith, Kenny                  12 Cody High School            
 11   1445 Welch, Derek                  12 Cody High School            
 12   1637 McDonald, Andre'              12 Draft Pick Acade            
 13   1741 Holmes, Luke                  11 Fruita Monument,            
 14   1783 Rasmussen, Joey               11 Gate City Track,            
 15   1794 McClain, Kellan               12 Golden West Athl            
 16   1869 Hillam, Eric                  11 Hillam, Eric, Id            
 17   1930 Riley, Colin                  11 Indian Track Clu            
 18   1957 Jessop, Tyler                 12 Jessop, Tyler, H            
 19   1987 Morrin, Mike                  12 Kryptonite Speed            
 20   2062 Bulcher, Chris                12 Lion Track Club,            
 21   2108 McPherson, Michael            12 McPherson, Micha            
 22   2148 White, Erik                   11 Murray Track Clu            
 23   2174 Valentine, Maurice            11 Oakland P A L Tr            
 24   2242 Matheson, Scott               10 Pleasant Grove V            
 25   2272 Bryant, Chaz                  12 Pueblo South Col            
 26   2283 Swain, Michael                11 Pueblo South Col            
 27   2297 Reynolds, Chase               12 Reynolds, Chase,            
 28   2364 Blankenship, Kyle             12 S U H S, Tri-Cit            
 29   2424 Beach, Brian                  11 Snake River Rapi            
 30   2456 Jones, Jerrod                 10 So. California C            
 31   2521 Speed, Adrian                 12 Speed, Adrian, E            
 32   2572 Skinner, Tyler                   Star ValleyTrack            
 33   2580 Swaney, Wes                   12 Swaney, Wes, Lee            
 34   2680 Newton, Xaxiel                11 Teeva Track, Inc            
 35   2755 Drake, TJ                     11 Trojan Track Clu            
 36   2760 Shippen, BJ                   11 Trojan Track Clu            
 37   2771 Rutledge, Kevin               12 Vance, Brandon,             
 38   2794 McNulty, Michael              12 Warrior Express,            
 39   2795 Pierce, Marcus                11 Warrior Express,            
 40   2796 Pierpont, Dylan               12 Warrior Express,            
 41   2865 Goble, Jon                    12 Wolf Pack Track,            
 42   2866 Hadley, Garrett               12 Wolf Pack Track,            
 43   2874 Richins, Chad                 11 Wolf Pack Track,            
 
Event 32  Men Pole Vault -
===============================================================================
Saturday 2/16/2008 - 12:30 PM
    Class FR:     15-06  1978        Bill Lange, Marinsville, NJ               
    Class SO:     16-09  1994        Jacob Davis, Orange, TX                   
    Class JR:  17-03.50  2006        Spencer McCorkel, Bryant, AR              
    Class SR:  17-06.50  1986        Pat Manson, Denver, CO                    
    Meet Rec:  17-06.25  1986        Pat Manson, Denver, CO                    
    National:  17-06.25  1986        Pat Manson, Denver, CO                    
           Name                        Year School                                
===============================================================================
Flight 1  Finals - Competing Later
  1   1054 Pelletier, Jason              12 Arkansas Vault C            
  2   1056 Arnold, Mike                  12 Arnold, Mike, Re            
  3   1107 Ball, Levi                    12 Ball, Levi, Farm            
  4   1130 Bowman, Jacob                 12 Bowman, Jacob, H            
  5   1137 Hunzeker, Zane                12 Box Elder Track,            
  6   1140 Maughn, Spencer               12 Box Elder Track,            
  7   1238 Cathy, Amos                   11 Campbell County,            
  8   1249 Schilling, Garrett            11 Campbell County,            
  9   1255 Turpin, Steve                 10 Campbell County,            
 10   1325 Rivera, Drew                  12 Central Oregon T            
 11   1332 Davis, Tyler                  11 Century Track Cl            
 12   1337 Johnson, Jase                 10 Century Track Cl            
 13   1342 Semons, Michael               10 Century Track Cl            
 14   1396 Gebecki, Justin               12 Cheyenne East, C            
 15   1403 Sexton, Tyler                 12 Cheyenne East, C            
 16   1406 Childs, Brandon                  Childs, Brandon,            
 17   1424 Bales, Hayden                 11 Cody High School            
 18   1425 Blanchard, Landon             11 Cody High School            
 19   1427 Clinton, Glen                 11 Cody High School            
 20   1430 Gifford, Reed                 12 Cody High School            
 21   1432 Gwinn, Alex                   10 Cody High School            
 22   1461 Beski, Elliot                 11 Colorado Flyers,            
 23   1600 Stuart, Jordan                12 Davis Track Club            
 24   1728 Schall, Andrew                12 Fort Collins Tra            
 25   1790 Goedhart, Harley              12 Goedhart, Harley            
 26   1950 Mogaddedi, Belal              12 James Logan, Uni            
 27   1956 Petersen, Austin              12 Jerome Track Clu            
 28   1959 Juilfs, J.J.                   9 Juilfs, J.J., Eu            
 29   1970 Douglass, Brandon             11 Kelly Walsh Trac            
 30   1974 Watt, Beau                    12 Kelly Walsh Trac            
 31   1977 Kittell, Bobby                 0 Kittell, Bobby,             
 32   2075 Lohse, Andrew                 12 Lohse, Andrew, M            
 33   2105 Varn, Darian                  12 Max Trax Track C            
 34   2211 Parker, Jordan                11 Parker, Jordan,             
 35   2278 Puls, T.J.                    11 Pueblo South Col            
 36   2295 Lilyhorn, Stefan              11 Reno High Track,            
 37   2327 Robinson, Sean                12 Robinson, Sean,             
 38   2354 McKinley, Clinton             11 Rustler Nation,             
 39   2368 Shank, Corey                  11 Shank, Corey, Fo            
 40   2530 Angell, Reggie                10 St. Anthony Trac            
 41   2579 Sutterfield, Erik             12 Sutterfield, Eri            
 42   2630 O'Reilly, Kelly               10 Team Montana, He            
 43   2631 Orthmeyer, Jon                   Team Montana, He            
 44   2632 Wardell, Jason                10 Team Montana, He            
 45   2633 Wardell, Kelly                12 Team Montana, He            
 46   2754 Briggs, Jace                  12 Trojan Track Clu            
 47   2759 Peterson, Curtis              11 Trojan Track Clu            
 48   2772 Vaniekirk, Ryan               12 Vance, Brandon,             
 49   2773 Weiler, Nico                  12 Vance, Brandon,             
 50   2775 Vaughn, Kc                    12 Vaughn, KC, Bori            
 51   2778 Wallingford, Blair            12 Wallingford, Bla            
 52   2905 Lewis, Dawson                 10 Y M C A Team Ida            
 53   2909 Oakes, Shad                   12 Y M C A Team Ida            
 54   2913 Schaffer, Luke                12 Y M C A Team Ida     
Simplot Games home page