Luke Puskedra: from callow to commanding
Utah star returns to defend 1600 title, more Simplot distance subplots

Preview by Dave Devine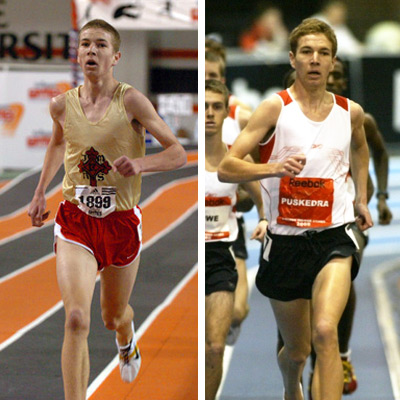 Puskedra in winter 2007 (left, John Dye), and 2008 (right, John Nepolitan)


Luke Puskedra has been here before.

A year ago, before he was the preeminent prep miler in the country, before he was the reigning Arcadia 2-mile champion or the Bob Firman Invite titlist or the NTN Southwest Regional winner or the Foot Locker All-American, before he was known as the runner who guns it from the start—lactic acid and oxygen depletion be damned—he was here in Pocatello, Idaho, a callow junior with an outdoor 1600 PR somewhere north of 4:20 and an 800 best of 2:04. When Luke Puskedra took the line for the mile at the 2007 Simplot Games, no one imagined that 4 minutes and 13 seconds later he would have shattered not only his own 800 and 1600 PRs, but the meet record for the distance as well. Dropping splits of 2:03 and 2:10 in the final, he took command early, in his now-customary fashion, and was never seriously challenged en route to a 4:13.62 clocking.

The rest, as the saying goes, is history.

Puskedra used that breakthrough as his national coming out party, springboarding to a 9:00.51 two mile victory at the Arcadia Invitational in April, and then fronting one of the great high school two mile races in recent memory through the opening mile before ceding the lead to last year's dominant distance aces, Matt Centrowitz and Craig Forys. This year, the workmanlike Puskedra has cast himself in a similar role, tearing through a cross country season that saw him mentioned as a Foot Locker favorite, and then nearly stealing that race with his front-running style. Asked before the Foot Locker National race, when exactly he expected to make his move for the win, he replied, "When the gun goes off. I only have one move: go hard from the gun."

Although he's occasionally had mixed results with that tactic, several weeks ago his blister-the-field approach paid off with a stirring win over a national-level mile crew assembled for the Reebok Boston Indoor Games. After dragging the pack through splits of 61 and 2:04, Puskedra fell behind Texas star Colby Lowe and it appeared his gambit may have been too ambitious once again. But then Puskedra found another gear with 300 meters to go and battled Lowe to the line for a 4:08.77 victory and a new national leader.

Which brings us to the 2008 Simplot boys' 1600. Luke Puskedra is once again entered, but there is no danger of
underestimating him this time around. He is the prohibitive favorite in a field that features no one holding a PR within eight seconds of the lanky Judge Memorial UT senior. The closest competition will likely come from two fellow Utahans who have become accustomed to racing in Puskedra's wake: Stephen Clark (Skyline UT sr) and Spencer Gardner (Springville UT sr). Both are fine runners in their own right, but probably not in Puskedra's stratosphere at this point. If he follows his typical approach in the final—and there's no reason to suspect he won't—the race will be between Luke Puskedra and the clock. Lactic acid and oxygen depletion be damned.



Simplot Distance Subplots





Boys 800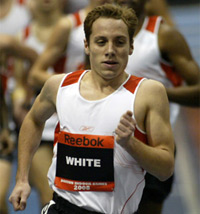 Charles White CO - Photo by
John Nepolitan

Charles White (Team XC/Cherry Creek CO sr) is perhaps better known as a miler, having put up great marks in a prep career straddling New York and Colorado, but he's in the 800 in Pocatello, and becomes an instant favorite, not only for his canny racing tactics but also for his 1:52 chops from last spring's Great Southwest Classic. White's closest competition could come from a future teammate: fellow University of Texas signee Patrick Todd (Highland Park TX sr). Todd was a 1:53.98 heat winner at last year's Nike Outdoor Nationals, and has overcome a series of injuries to emerge as a legitimate middle-distance threat this year. Also in the mix will be Joe Abbott (Galena NV sr), a 1:53.83 800-runner as a junior, and Steve Kasica (Fruita Monument CO sr), a Colorado 5A state 800 champion (1:54.63) recently hit by a car while running, but now recovered and expected to compete.



Girls 800



The top end of the girls' 800 is a California affair, with the class of the field likely to be Anja DiSiena (Southern California TC/Fountain Valley CA sr), the only runner who brings sub-2:10 credentials to the race. After DiSiena, a trio of 2:11 types will be jockeying for position. Lehigh CA soph Jordan Diaz (competing for Heritage TC), James Logan CA senior Jami Hardy and O'Dowd CA senior Brazile Clark (competing for EOYDC) all travel north from the Golden State for a shot at the Simplot title.
Girls 1600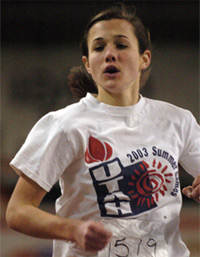 Candace Eddy UT - Photo John Dye

Candace Eddy (Davis UT jr), like fellow Utah distance star Luke Puskedra, is a past 1600 winner at the Simplot Games. Unlike Puskedra, her win came two years ago, when she took the title as a precocious freshman running 5:08.35 for the win. Last year, despite improving to 4:58.77, she was runner-up to Puskedra's Judge Memorial teammate, senior Samantha McMillan. Outdoors, Eddy was a Great Southwest 1500 champion and knocked her mile PR all the way down to 4:49.77 at Arcadia. She looks like a favorite to reclaim the title she lost last winter, but she'll have her hands full with Mountain View UT senior Sarah Yingling (competing for Bruin TC), who has a PR just over 5-minutes, and improving Lynbrook CA frosh Cindy Huang (ISCA Track Club), a former middle school star ready to make a splash in her first high school track campaign.



Boys 3200



With Puskedra opting for the 1600, the mantle for the 3200 falls to three juniors who bring mid-9 range to the race. The favorite, given his cross country efforts, might be Galena NV junior Bryan Tibaduiza. Tibaduiza was a Nevada state champ in XC, and then ran to a fine fourth-place showing at the NTN Southwest Regional. Garrett Wilson (Kryptonite/Highlands Ranch CO jr) will likely be in the mix, as will Wesley Rickman (Falcon CO jr), with his 3k PR of 8:51.74. One to watch will be Laurel MT senior Patrick Casey, who capped an undefeated Montana cross country campaign with a 1A state title, but has raced infrequently outside the Big Sky state.



Girls 3200



Traveling all the way from New York, Queens Science NY soph Elizabeth Briasco (Awesome Power) looks to be a slight favorite in the girls 3200, bringing a 10:57.39 indoor PR from her freshman year and momentum from a string of fine 1500 performances at the Colgate Women's Games this winter. She'll face regional talent like Sarah Callister (Ogden UT jr), Caitlin Stone (Sentinel MT sr) and Natalie Haws (Davis UT sr), but her stiffest challenge might come from Borah ID junior Nicole Nielsen, a 2007 Foot Locker qualifier competing for YMCA Team Idaho in Pocatello. Nielsen doesn't have the fastest 3200 PR in the field, but her fine cross country campaign hints at a possible breakthrough here, if she's able to bounce back enough from her extended autumn to be in the mix this early in the winter.