2008 Simplot Games

Idaho State University, Pocatello ID
February 14-16, 2008

DyeStat on-site with Rich Gonzalez, Dave Devine
Mike Kennedy, Marc Davis and John and Donna Dye
Meet record, with a Shade of disappointment
Texas vaulter Shade Weygandt grabs 13-1 MR, but misses competition from Rachel Laurent
by Dave Devine, assistant news editor
Shade Weygandt (Mansfield TX jr) had every reason to be elated after setting a new Simplot Games meet record of 13-1 in the girls' pole vault and walking away with a win in what was expected to be a hard fought event, but she was somewhat subdued after her victory. A portion of her reticent demeanor could be blamed on three failed attempts at 13-5 after she'd already secured the win, a height which was intended to be a manageable stepping stone to a new PR of 13-10. But at least part of her disappointment could be traced to an earlier round of the competition, when a journey she'd begun in Salt Lake City with fellow vaulter Rachel Laurent (Vandebilt Catholic LA) ended far too prematurely.

Laurent and Weygandt have a friendship forged through multiple meetings on the pole vault runway. This winter they've traded the US lead back and forth several times as each has scaled to new personal heights and they've collectively pushed the envelope of high school girls' vaulting. Their meeting at Simplot was expected to be a memorable, if cordial, clash. And it didn't begin in Pocatello, Idaho; it began in Salt Lake City, Utah. When they discovered that the farthest they could fly with their vaulting poles was Salt Lake, due to limitations on the smaller planes servicing Pocatello, Laurent and Weygandt decided to drive together for the remaining 3 hours north. They roadtripped, ate dinner, hung out at the same hotel, and prepared to push each other toward 14 feet in Saturday's final.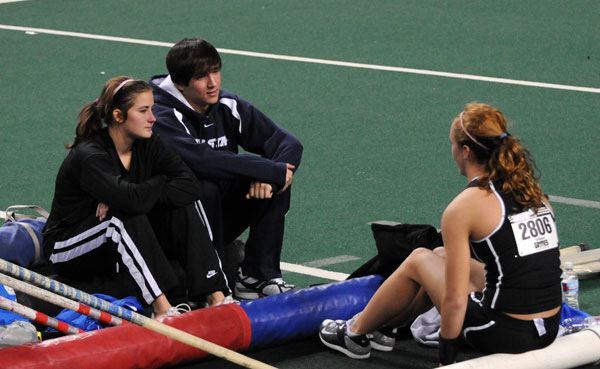 Shade Weygandt (right) and Rachel Laurent chat on the sidelines, along with boys 3rd place finisher Jason Pelletier, after Laurent's early exit. photo by John Dye

They even began vaulting at the same comfortable, though mildly risky, entry point of 12 feet 3 inches.

Weygandt sailed over on her second attempt, only to watch Laurent record three straight misses. The third time the crossbar crashed to the mat, the small group gathered along the raised runway was left in momentary stunned silence. Even Weygandt mouthed, Oh my gosh…she just no-heighted.

As the shocked Louisiana star crumpled in tears near a rack of poles, Weygandt pulled Laurent into an embrace and whispered a few encouraging words in her friend's ear.

"I was really upset when she no-heighted," Weygandt confided later. "We're such good friends…I wanted her to be with me. It didn't even matter who won, as long as we both jumped good heights."

Asked whether there were any noticeable deficiencies in Laurent's technique on the three 12-3 attempts, Weygandt was at a loss. "Her warm-ups looked fantastic," she said, "so I don't know."

She admitted that watching her friend exit so early in their anticipated matchup took some of the wind out of her sails, noting how much she was looking forward to having Laurent keep the pressure on as the crossbar moved up the standards.

Things were more than promising for Weygandt early on, as she advanced from 12-3 to clear 12-9 on her first attempt, and then got the crowd behind her with some rhythmic clapping before literally pouring herself over a new meet record of 13-1, downing Julene Bailey's 13-0 from 2003. From there, Weygandt hoped to leapfrog her way to 14 feet, planning to hit 13-5 and then a PR of 13-10 to surpass her 13-8 from the Trojan Games in Oklahoma.

With the crowd in both grandstands again chasing her to the box with their accelerated clapping, Weygandt took three solid attempts at 13-5, but had to settle for the considerable achievement of a new meet record and the appreciative applause that accompanied it.

Laurent watched from the sidelines throughout, still clearly disappointed, but also likely looking forward to the next time these two talented aerialists meet on the runway again.

Simplot home page