2008 Simplot Games

Idaho State University, Pocatello ID
February 14-16, 2008

DyeStat on-site with Rich Gonzalez, Dave Devine
Mike Kennedy, Marc Davis and John and Donna Dye
Mile high medal haul
Colorado's boys take home a wealth of sprint medals
by Dave Devine, assistant news editor
Take a quick glance at the yearly high school track and field lists, the national championship fields and the all-time records, and you'll see something Colorado Flyers club coach Tony Wells has known for a very long time. The state renowned for its Rocky Mountains and high altitude is also a hotbed for high-octane sprinting. That breadth of talent was on full display Saturday in the finals of the 2008 Simplot Games, especially on the boys' side.

A male athlete from one of the ubiquitous Colorado track clubs won or placed second in every event from the 60 meter dash through the 400, including the 60 hurdles. A relay team from Colorado won the boys Sprint Medley relay, the boys 4x200 and placed second in the boys 4x400. Not all of those athletes were members of Wells' Colorado Flyers (Denver CO) club, but all of them have benefitted in one way or another from Wells' long commitment to the sport in the Centennial State.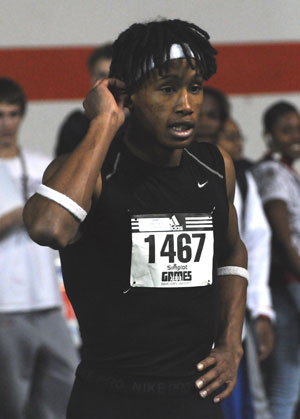 Joe Morris (left, Photo by John Dye), a lanky sprinter with an unorthodox cross-body arm swing, has been battling state rival Jeremy Rankin all season long on the national short sprint prep lists. While Rankin wasn't at the Simplot Games, Morris was there to compete in the 60 meter dash, under the watchful eye and guidance of Coach Wells. After Morris flashed a 6.82 in the qualifying rounds— wearing flats, and without the benefit of starting blocks—expectations were high for the final. Some were speculating a national record could be in the offing. That would have meant a 6.57, taking down Casey Combest's 1999 mark, but a false start in the final by DeMario House (Charlotte NC) in the lane immediately to Morris' right, and House's subsequent disqualification, kept the field on edge and settled deep in the blocks after everyone reset. When the second start went off clean, Morris still got out well enough for an easy 6.76 winner, just .02 off his personal best. Fellow Coloradan A.J. Whitaker of the D.A.T.A.C club (Denver CO) was second in 7.88.

"I felt like I cued right," Morris said after his race. "I actually was hoping to have a national record in the finals, but that will have to wait." He said the false start didn't rattle his race plan. "That's the first time that's happened to me. My heart was beating fast and I had to reset and get back into it. I just didn't let it shake me up."

Asked what might account for the impressive display of Colorado sprinting on the boys' side, the home-schooled senior (who competes for Golden CO outdoors) pointed toward the consistency of good coaching and the way success breeds success.

"Everyone's pushing each other. Me and Jeremy Rankin are doing it, and everyone else wants to do the same thing."

Another Colorado Flyer doing the same thing—and then some—was Morris' teammate, hurdler Michael Hancock. The Washington High (Denver) senior blitzed a strong 60 hurdles final from lane six, winning in 7.78 to break the eight year-old meet record of 7.82, formerly held by Jason Richardson. The time established Hancock as the #2 prep 60m hurdler in the US this winter, trailing only North Carolina star Wayne Davis II. Hancock's Colorado Flyers teammates, twins Tarique and Tashaun Hill, were fifth and sixth respectively, giving that club three of the top six placings.

That, despite what Coach Wells said was a hindered effort by his top runner.

"Michael hit the first hurdle bad, but he still ran well. He's a great kid."

Speak with Wells for even a short period of time, and it's clear he believes he is literally surrounded by great kids. And great former kids, who have returned to become his assistant coaches or moved on to other programs, carrying the thirty-eight year coach's twin torches of daily discipline and tireless dedication with them.

In fact, it may be Well's generosity with the knowledge he's accumulated over the years which at least partially explains the broad success of Colorado athletes at Simplot, even ones from clubs other than his Flyers.

"What I did—" Wells says, chuckling to himself. "Maybe I shouldn't have done this…"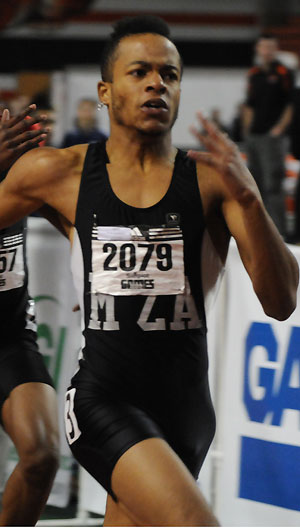 He interrupts himself again with his own laughter, then goes on to explain how he has passed along a wealth of information in the form of clinics and camps over the years. He is one of a handful of track and field coaches in the United States who have achieved the status of Master Coach, and he has a long list of acolytes who've benefitted from that knowledge.

One of the disciples, Wells allows, is MZA Greyhounds (Aurora CO) coach Tiyo Smith.

Told of that designation, Smith smiles knowingly. "Yeah, he can say that. We call him the guru."

Whatever Smith might have learned from Wells, he's applied it impressively to the training of his top charge, long sprinter Dominick Roberts (right, Photo by John Dye) of East High in Denver. Despite sterling junior marks of 21.14 for the 200 and 46.80 for the 400, Roberts was somewhat of a surprise star at the Simplot Games, winning the afternoon (and supposedly "fast") heat of the 200 final in 21.88, before ending up second to DeMario House, who dropped a 21.87 in a morning, and then bombing down the homestretch in the 400 final to seize a 47.98 win from pre-race favorite Kendall Gregory of Strongsville OH.

"Definitely, I was surprised," Roberts said of his third-to-first surge in the final fifty meters of the 400. "I was in shock…my eyes were wide. It was amazing."

Roberts acknowledges he hasn't received as much attention as Rankin, Morris or some of the other top-shelf Colorado sprinters, but says he'd prefer to let his performances speak for themselves.

"I'm a to-myself kind of person. I'm more out there with my actions than with my words. I think that just with me getting better, I'll get more coverage."

He's one more person pointing to the high level of coaching talent in Colorado to help explain the explosion of performances at Simplot.

"The better coaches are showing what they know. I've been with my coach since I was eight years old, and he's great."

In addition, he suggested, the elevation is a boon to training and performance.

"The altitude helps…we go anywhere and it's beneficial for us."

Altitude…attitude…discipline…determination...Coach Wells has been preaching it for years. And he loves bringing the fruits of that labor to the Simplot Games.

"Man, I've been coming here—" he says, before trailing off with another chuckle. "I was the first one here. Back when it was the Bennion Relays. This used to be our private Games."

With all those Colorado wins, it almost was again.


Simplot home page