2007 Bob Firman Invitational





Elite Girls





Sept. 22, 2007 Eagle ID



DyeStat on-site coverage

Mountain Brook AL 64 (Davis UT 80, Trabuco Hills CA 125)
Nicole Nielsen, Borah ID jr 18:19
Results - John Dye photo album - top 25 finishers



Mountain Brook girls trusted themselves and had fun, with whitewater rafting a side benefit of their long trip from Alabama.



by Dave Devine



It all took some careful orchestration. The girls from Mountain Brook AL had to take two different flights, travel hundreds of miles, arrive two days early, squeeze in a white water rafting trip, and survey a cross country course they'd never seen before. By Saturday, all they had left to do in Boise was run five kilometers. Their coach, Greg Echols, had a plan for that, too.

"Last year," he noted, a few hours after his SE#4 team had toppled all comers to take the Bob Firman girls' elite title, "the race went out in like 5:30, so we told the girls to lay back and not go out too fast." The problem, of course, was that the race didn't unfold as expected. "Today everyone went out in 5:50," Echols laughed, "so we were sort of scrambling in that second mile, trying to push back up. Other than that, the idea was just trust yourself and have fun out there." More below




| | |
| --- | --- |
| Madeline Morgan | Nicole Nielsen |
| | photos by John Dye |
The Spartans managed to do both, forging their way back into the race past teams like Boise ID and Gig Harbor WA which had been more ambitious in the opening mile. They were led by junior Madeline Morgan, who'd inserted herself in the lead pack by the first ascent up Spectator Hill, after an opening mile of 5:56.

Davis High of Utah, fronted by senior Natalie Haws and defending Firman champ Candace Eddy, were also asserting themselves in the second lap of the race, while pre-meet favorites like NW#3 Boise and NW#2 Gig Harbor were fading under the weight of expectations and off-days from key runners. "We got out quickly," Davis UT coach Corbin Talley confirmed, "because we thought we had to be aggressive on this course. The race plan was to get out aggressively, be patient, and then really move on the second lap." While a defense of her title wasn't in the cards for Eddy, she never folded, hanging on for fifth behind her teammate Haws in 4th, helping to secure an impressive second place finish well clear of 3rd placers Trabuco Hills CA.

Up front, Morgan was trying to steal the individual title along with the team trophy for her Alabama squad. She led heading into the second ascent of Spectator Hill, but if her out-of-town team was going to take the girls' team laurels, a hometown hero was out to defend the individual crown. Nicole Nielsen, a junior from local Borah High, was biding her time and planning a crushing move on the final hill.

Start of mile 2 - girls curl away from the lake and head for The Hill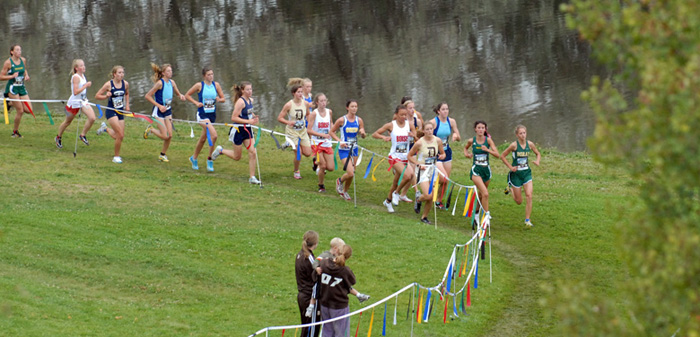 "I remember last year at Bob Firman," Nielsen said later, "Candace Eddy took off at the second hill and then she just left everyone. The whole race I was anticipating when I'd hit that hill, knowing I just had to go. When I got to the hill I gave it everything I had." Nielsen surged up the hill and crested in first, then used the downhill momentum to gap Morgan by 15 meters as they headed toward the finish. She gave all the credit to her coaches, Tim Severa and Pam Dietz. "I have amazing coaches, and they train me so well on hills. We do a lot of hill repeats, so I was trying to mentally tell myself it was just a hill repeat, thinking 'You've gotta go, you've gotta go!'"

Go she did, powering down the long final homestretch well clear of Morgan, narrowly missing Eddy's course record from the previous year with her 18:18.4 clocking. Morgan was overtaken in the closing meters by a hard-charging Hailey Knettles (sr Judge Memorial UT) who nailed down her second consecutive runner-up performance at Firman. Still, Morgan's third place finish initiated a run of Mountain Brook Spartans that placed their entire scoring five in the top 25, averaged 19:04.3 behind Morgan's 18:25, and beat Davis easily, 64 to 80.

Boise and Gig Harbor, both highly-ranked coming in, were left to wonder what had gone so wrong, as they were beaten by a string of Utah schools and an unranked team (Bear Lake ID) from their own region. Boise coach Dave Mills and Gig Harbor coach Patty Ley both attributed the rough outing to lingering illnesses and off days by key performers. Each also acknowledged that the season is still young, with time to regroup before the state meet cycle and the Nike Northwest regional meet.

For Mountain Brook, it was mission accomplished on two fronts: they confirmed their status as a team to be feared, with a tight, close-running pack, and they measured themselves against competition outside the region.

"Our biggest strength is that we're in a pack when we run," Morgan said as the team waited for the awards presentation. "No matter where we go, we still try to run as a team and stick close together."

Coach Echols agreed, adding, "It's been 95 degrees in every race we've run this year, so dropping down to the 60s was a little bit of a change, but it worked out. We did well and had a great time. This was definitely worth it."

The Hill - runners climb this steep hill twice during the 5k race.
Leaders come up the hill.

From left, Madeline Morgan AL, Sarah Olson ID and eventual winner Nicole Nielsen ID.
| | |
| --- | --- |
| . . . more runners climb the hill. | |
| | |
Results
Capital High School                                        Hy-Tek's Meet Manager
                 Bob Firman Cross Country Meet 2007 - 9/22/2007                  
                              Boise Schools Invite                               
                             Eagle Island State Park                             
                              Last Completed Event                               
 
Event 5  Girls 5k Run CC Elite
=======================================================================          
    Name                    Year School                  Finals  Points          
=======================================================================          
  1  #158 Nicole Nielsen      JR Borah                    18:19                  
  2 #1023 Hailey Knettles     SR Judge Memorial           18:25    1             
  3 #1361 Madeline Morgan     JR Mountain Brook           18:25    2             
  4  #479 Natalie Haws        SR Davis                    18:29    3             
  5  #476 Candace Eddy        JR Davis                    18:42    4             
  6 #1350 Marie Demedicis     FR Mountain Brook           18:51    5             
  7 #1811 Krystal Harper      SR Orem                     18:54    6             
  8 #2142 Brooke Hodson       JR Timpanogos               18:56    7             
  9 #1809 Kendy Christensen   JR Orem                     19:00    8             
 10  #390 Bethany McInturff   SR Century                  19:02                  
 11  #710 Alyssa Andrews      JR Gig Harbor               19:03    9             
 12 #1495 Bug Simmons         JR Mountain View-Idaho      19:04   10             
 13 #1944 Shalaya Kipp        JR Skyline                  19:04   11             
 14 #1351 Catherine Diethelm  FR Mountain Brook           19:05   12             
 15    #6 Cydney Jacobsen     SR Bear Lake                19:05   13             
 16 #2144 Suzie Sorensen      JR Timpanogos               19:06   14             
 17  #489 Katie Swanson       JR Davis                    19:15   15             
 18  #835 Alex Litzsinger     JR Highland (Poc)           19:16   16             
 19 #1391 Laura Hatch         JR Mountain Crest           19:17   17             
 20  #101 Sarah Olson         JR Boise                    19:21   18             
 21 #2190 Makenna Smith       SO Trabuco Hills            19:24   19             
 22 #1558 Ashley Robison      SO Mountain View-Utah       19:26   20             
 23 #2451 Laken Skidmore      SR West Jefferson           19:29                  
 24 #2183 Lori Hoffman        JR Trabuco Hills            19:30   21             
 25 #1346 Brigid Carey        SR Mountain Brook           19:30   22             
 26 #1344 Leslie Boozer       JR Mountain Brook           19:32   23             
 27 #2189 Sabrina Rathor      JR Trabuco Hills            19:34   24             
 28  #723 Kate Stuart         SR Gig Harbor               19:35   25             
 29  #340 Eden Lake           JR Central Valley           19:36   26             
 30  #478 Emily Hansen        SO Davis                    19:38   27             
 31 #2179 Ximena Cruz         JR Trabuco Hills            19:39   28             
 32  #335 Madi Barnes         FR Central Valley           19:41   29             
 33 #1396 Talina Nelson       JR Mountain Crest           19:45   30             
 34  #487 Loren Storey        SR Davis                    19:46   31             
 35   #36 Jordan Engelhardt   JR Bishop Kelly             19:47   32             
 36 #2177 Kristin Arkin       SR Trabuco Hills            19:48   33             
 37 #2187 Hayley Niles        JR Trabuco Hills            19:50   34             
 38 #1808 Sarah Blackburn     JR Orem                     19:52   35             
 39 #1362 Lucy Newton         JR Mountain Brook           19:55   36             
 40 #2139 Hannah Groom        SO Timpanogos               19:55   37             
 41   #40 Codi Gifford        JR Bishop Kelly             19:56   38             
 42   #94 Anne Lovelace       SR Boise                    19:56   39             
 43 #1022 Lizzie Hindert      JR Judge Memorial           19:56   40             
 44  #436 Jordan Powell       JR Columbia                 19:57                  
 45 #1562 Sarah Yingling      SR Mountain View-Utah       20:01   41             
 46 #2143 Lecy Skousen        FR Timpanogos               20:01   42             
 47 #1353 Reed Ellis          SR Mountain Brook           20:02   43             
 48   #53 Lara Tuthill        SO Bishop Kelly             20:03   44             
 49 #1942 Megan Combe         JR Skyline                  20:03   45             
 50 #2138 Kim Bringhurst      SR Timpanogos               20:04   46             
 51 #1388 Whitney Curtis      JR Mountain Crest           20:06   47             
 52    #8 Erika James         SR Bear Lake                20:08   48             
 53  #481 Holly King          JR Davis                    20:08   49             
 54  #490 Kelsey Valentine    SR Davis                    20:10   50             
 55   #89 Kate Jamboretz      FR Boise                    20:10   51             
 56   #14 Jessi Timothy       JR Bear Lake                20:11   52             
 57 #1946 Rachel Webb         SR Skyline                  20:13   53             
 58  #104 Jacque Sahlberg     SR Boise                    20:14   54             
 59 #1561 Makenzie Street     SO Mountain View-Utah       20:15   55             
 60 #1471 Kelli Ellingson     FR Mountain View-Idaho      20:17   56             
 61  #336 Breanna Barsten     JR Central Valley           20:20   57             
 62 #2043 Alayna Oleksa       SR South Eugene             20:21   58             
 63    #2 Amelia Crane        FR Bear Lake                20:22   59             
 64  #717 Anna Kalbrener      SR Gig Harbor               20:23   60             
 65 #1542 Andrea Eyestone     JR Mountain View-Utah       20:26   61             
 66  #349 Josie Warner        FR Central Valley           20:27   62             
 67 #1559 Emily Steele        JR Mountain View-Utah       20:28   63             
 68  #833 Bradi Hutchison     SR Highland (Poc)           20:28   64             
 69 #1866 Kiersten Blauer     SR Parowan                  20:29                  
 70 #1019 Lindsay Baker       SR Judge Memorial           20:30   65             
 71 #1393 Whitney Hopkins     SR Mountain Crest           20:31   66             
 72 #2045 Whitney Pitman      SR South Eugene             20:31   67             
 73   #12 Trichelle Schwab    FR Bear Lake                20:32   68             
 74 #2370 Amanda Palmer       SR Weiser                   20:33                  
 75 #2319 Jamie Van Lith      JR Vallivue                 20:34                  
 76  #836 Mariah Meyer        FR Highland (Poc)           20:34   69             
 77 #2046 Sasha Teninty       SO South Eugene             20:37   70             
 78 #1398 Meghan O'Very       FR Mountain Crest           20:39   71             
 79 #1947 Rebecca Winterton   SO Skyline                  20:40   72             
 80 #2106 Taylor Goodenoe     SO Timberline (Boise)       20:41                  
 81 #1807 Joanah Blackburn    SR Orem                     20:43   73             
 82 #1817 Megan Webb          JR Orem                     20:43   74             
 83  #712 Amanda Brager       SR Gig Harbor               20:44   75             
 84 #2048 Brookie Wilson      JR South Eugene             20:45   76             
 85   #42 Cara Gillespie      SR Bishop Kelly             20:45   77             
 86  #841 Samantha Thayne     SR Highland (Poc)           20:46   78             
 87 #1479 Hillary Holt        SO Mountain View-Idaho      20:46   79             
 88   #41 Payton Gifford      FR Bishop Kelly             20:47   80             
 89  #111 Fiona Wilhelm       SR Boise                    20:49   81             
 90   #95 Katie Lovelace      SO Boise                    20:49   82             
 91  #348 Kimberley Thatcher  FR Central Valley           20:50   83             
 92 #1394 Kimber Labrum       SR Mountain Crest           20:54   84             
 93 #2039 Lauren Graebner     JR South Eugene             20:58   85             
 94  #714 Hannah Dewalt       SR Gig Harbor               21:00   86             
 95  #722 Christy Sipes       SO Gig Harbor               21:03   87             
 96 #2140 Amber Hart          SR Timpanogos               21:04   88             
 97 #2141 Terra Hawkins       SR Timpanogos               21:05   89             
 98 #2049 Nora Wilson         FR South Eugene             21:08   90             
 99  #834 Kylie Hutchison     FR Highland (Poc)           21:12   91             
100    #7 Payge Jacobsen      SO Bear Lake                21:13   92             
101 #1477 Alexi Hawkins       JR Mountain View-Idaho      21:17   93             
102 #1545 Katie Harris        SR Mountain View-Utah       21:18   94             
103  #724 Kelly Williams      FR Gig Harbor               21:19   95             
104 #1488 Stephanie Larson    JR Mountain View-Idaho      21:23   96             
105  #840 Courtney Thayne     FR Highland (Poc)           21:26   97             
106 #1806 Sara Bartlett       SR Orem                     21:28   98             
107    #9 Janessa Leonhardt   JR Bear Lake                21:29   99             
108   #45 Erin Kelly          FR Bishop Kelly             21:34  100             
109 #1812 Hillary Heaps       JR Orem                     21:35  101             
110 #1389 Andrea Ferrin       SO Mountain Crest           21:36  102             
111   #96 Ellen Mering        JR Boise                    21:37  103             
112  #344 Ashley Renz         SO Central Valley           21:39  104             
113 #1941 Taylor Berhow       JR Skyline                  21:41  105             
114 #1030 Emma Welch          SO Judge Memorial           21:47  106             
115 #1943 Zara Guinard-Bachm  SR Skyline                  21:51  107             
116  #837 Jaymee Novosel      JR Highland (Poc)           21:55  108             
117  #338 Brittany Carter     SR Central Valley           22:02  109             
118 #1021 Jessica Gaffney     SO Judge Memorial           22:09  110             
119 #1945 jasmine sharp       SR Skyline                  22:09  111             
120 #1546 Alexis Harrison     SR Mountain View-Utah       22:36  112             
121 #2036 Meredith Dehaas     SO South Eugene             22:38  113             
122 #1480 Veronica Homme      JR Mountain View-Idaho      22:40  114             
123   #50 Stephanie Souza     SO Bishop Kelly             22:46  115             
124 #1025 Rosie Neville       SO Judge Memorial           22:46  116             
                                                                                 
                                   Team Scores                                   
=================================================================================
Rank Team                      Total    1    2    3    4    5   *6   *7   *8   *9
=================================================================================
   1 Mountain Brook               64    2    5   12   22   23   36   43          
      Total Time:  1:35:23.00                                                    
         Average:    19:04.60                                                    
   2 Davis                        80    3    4   15   27   31   49   50          
      Total Time:  1:35:50.00                                                    
         Average:    19:10.00                                                    
   3 Trabuco Hills               125   19   21   24   28   33   34               
      Total Time:  1:37:55.00                                                    
         Average:    19:35.00                                                    
   4 Timpanogos                  146    7   14   37   42   46   88   89          
      Total Time:  1:38:02.00                                                    
         Average:    19:36.40                                                    
   5 Orem                        196    6    8   35   73   74   98  101          
      Total Time:  1:39:12.00                                                    
         Average:    19:50.40                                                    
   6 Mountain Crest              231   17   30   47   66   71   84  102          
      Total Time:  1:40:18.00                                                    
         Average:    20:03.60                                                    
   7 Bear Lake                   240   13   48   52   59   68   92   99          
      Total Time:  1:40:18.00                                                    
         Average:    20:03.60                                                    
   8 Mountain View-Utah          240   20   41   55   61   63   94  112          
      Total Time:  1:40:36.00                                                    
         Average:    20:07.20                                                    
   9 Boise                       243   18   39   51   54   81   82  103          
      Total Time:  1:40:30.00                                                    
         Average:    20:06.00                                                    
  10 Gig Harbor                  255    9   25   60   75   86   87   95          
      Total Time:  1:40:45.00                                                    
         Average:    20:09.00                                                    
  11 Central Valley              257   26   29   57   62   83  104  109          
      Total Time:  1:40:54.00                                                    
         Average:    20:10.80                                                    
  12 Bishop Kelly                271   32   38   44   77   80  100  115          
      Total Time:  1:41:18.00                                                    
         Average:    20:15.60                                                    
  13 Skyline                     286   11   45   53   72  105  107  111          
      Total Time:  1:41:41.00                                                    
         Average:    20:20.20                                                    
  14 Highland (Poc)              318   16   64   69   78   91   97  108          
      Total Time:  1:42:16.00                                                    
         Average:    20:27.20                                                    
  15 Judge Memorial              322    1   40   65  106  110  116               
      Total Time:  1:42:47.00                                                    
         Average:    20:33.40                                                    
  16 Mountain View-Idaho         334   10   56   79   93   96  114               
      Total Time:  1:42:47.00                                                    
         Average:    20:33.40                                                    
  17 South Eugene                356   58   67   70   76   85   90  113          
      Total Time:  1:43:12.00                                                    
         Average:    20:38.40    
Bob Firman index page