2007 Bob Firman Invitational





Elite Boys





Sept. 22, 2007 Eagle, ID



DyeStat on-site coverage

Crater OR 121 (North Central WA 124)
Luke Puskedra, Judge Memorial UT 14:49.2 (MR CR)
NW#4 Crater OR toppled NW#1 US#3 North Central by 3 points

  

Results - John Dye Photo Album of top 25 finishers -


a story of two races - Puskedra's solo tour de force and a battle of nationally ranked teams



by Dave Devine

The boys' elite competition at the 2007 Bob Firman Invitational quickly devolved into two races: Luke Puskedra's devastating solo record assault, and the battle for team supremacy unfolding behind him—a competition featuring a host of nationally- and regionally-ranked teams highlighted by US#3 North Central WA and US#17 Trabuco Hills CA. Judge Memorial's Puskedra ensured that his pre-meet status as the individual favorite would remain intact by gapping a very good field less than a mile into the race, and never looking back. If Puskedra was free and clear, however, the top two teams were more vulnerable to upset.

Riley Sullivan, expected to be one of the lead runners for Trabuco Hills alongside senior Scott Blair, was making his seasonal debut at Firman, and no one outside the team was certain of his fitness. North Central was coming off a taxing Wednesday league meet to determine the best in Spokane, a race they couldn't train through because it included NW#3 Central Valley and NW#6 Mead. NC took that one handily—and were joined at Firman by both Spokane rivals—but to one degree or another, all three showed signs of the midweek effort. Read more


Luke Puskedra (left) made amends for his fade last year against Taylor Farnsworth
by taking 27 seconds off Farnsworth's course and meet record, while sr Ryan Santana (below) in 9th place led Crater OR boys to their big win over North Central






photos by John Dye

North Central's lead duo of Andrew Kimpel and Leon Dean were out well early, climbing into the top ten after the first loop through the park, and the rest of NC's pack was securely into the top twenty as the field moved into the second lap of the park. Trabuco Hills had Blair trailing Puskedra in a pack that included Gig Harbor WA's Miles Unterreiner, Skyline UT's Stephen Clark, and Springville UT's Spencer Gardner, but the rest of the California team was scattered farther afield and would come home eighth among a tight grouping of teams between 3rd (171 pts) and 8th (186 pts).

Weaving patiently through the crowd in their bright orange singlets were the Comets of NW#4 Crater OR, keying off lead runner Ryan Santana and biding their time for a late race push. Santana would end up ninth overall, splitting up the North Central pair of Kimpel (6th) and Dean (10th), but it was Santana's teammates, specifically the Crater 2-3-4 runners, who sealed the deal on a major Northwest upset for the 5A squad from Central Point, OR. Streaking across the line with less than 2-seconds between them, Crater's middle three took 26th, 28th and 29th, giving them four across before North Central's third. North Central would then group nicely between their 3rd and 5th men, but it wasn't enough, as Crater pulled the three-point upset, 121 to 124.

It was an outcome that would take several hours to confirm, as an error in the finish chute left the official results in question long enough that Crater had to beeline for the bus immediately after their awards were presented. Coach Justin Loftus still managed to offer a few thoughts on his team's win as he headed for the parking lot.

Initially slated to run the 3-Course Challenge in Seaside OR, Coach Loftus said he switched to Firman to see the course in advance of regionals and gain some big race experience. He considered it a successful trip on both counts, but didn't deem it a perfect effort. "We definitely have strength in our pack, but we also have some guys who will really pop up by the end of the year. It didn't necessarily show today, but I think it'll show by the end of the year." Asked if he thought coming in that his team had a shot at winning, he said, "I felt like we had a shot. I didn't know how much of a shot we had, but we thought we could be in there."

Another rankings-buster, somewhat off the pre-meet radar, was SW#10 Orem UT, who got up for a surprising third over a tight grouping of teams that included Mead WA, fellow Utah schools Mountain Crest and Mountain View, and Central Valley WA.

Luke Puskedra was alone before the end of the first mile
If the team outcome was unresolved far longer than expected, the individual race was never in doubt. Puskedra thoroughly dominated the field from the gun, using his fluid, efficient form to draw away well before an opening mile passed in 4:30. If the knock against Puskedra in the past has been a tendency to go too hard at the beginning, that particular chink in the armor was never a factor here.

It's also something he's working on. "I tried to hold it back a bit on this one," he said, without a touch of irony, "because I'm working on not going out as fast—trying to even it up, but the nerves got the best of me today I think. I'm just trying to get that second mile to come around now."

Despite not adhering to his planned conservative opening, Puskedra had a laser focus on his goal of breaking the Firman course record of 15:16.6. Many imagined he could come close to 15-flat, but few anticipated the sub-14:50 display Puskedra unfurled.

Except maybe Puskedra.

"I was hoping to go under fifteen for sure," he said. "That was my goal, to go under Taylor Farnsworth's record. He's a very established runner, so it's a good feeling."

Runner-up Stephen Clark (sr Skyline UT), more than thirty-five seconds back at 15:25.04, has seen plenty of his in-state rival. "Running against Luke is a good opportunity to race one of the best," he said after the finish. "You know, he's one of the best out there, and getting to race him every week is a huge advantage. See how he's progressing and how I'm progressing."

Puskedra, Clark and another Utah product, Spencer Gardner of Springville, made it a 1-2-3 sweep for the Utah crowd, something that couldn't have pleased the lanky senior from Judge Memorial more. "It's good to see Utah do so well," Puskedra said. "Steven and Spencer are good guys, we do cool-downs and warm-ups together, so it's good to see them do well too."

Asked about his goals for the rest of the year, Puskedra admitted that Foot Locker is never far from his mind, but said he's not putting as much pressure on himself as last year, when he failed to finish in the Foot Locker West qualifier. "This year," he said, "I'm just enjoying running much more, trying to have fun with it."

If this is how Luke Puskedra has fun, the rest of the country could be in trouble.

| | | |
| --- | --- | --- |
| | The one mile marker is on the beach, where the runners trudge through deep sand for about 100 meters. | |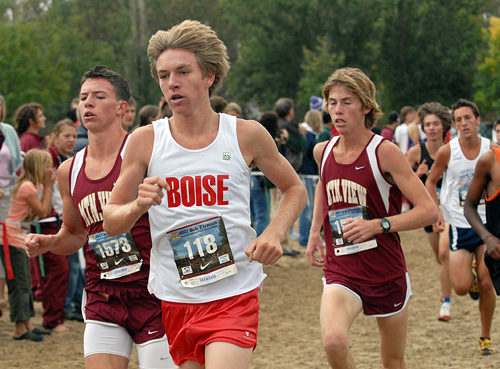 Results
Capital High School                                        Hy-Tek's Meet Manager

                 Bob Firman Cross Country Meet 2007 - 9/22/2007                  

                              Boise Schools Invite                               

                             Eagle Island State Park                             

                              Last Completed Event                               

 

Event 6  Boys 5k Run CC Elite

=======================================================================          

    Name                    Year School                  Finals  Points          

=======================================================================          

  1 #1040 Luke Puskedra       SR Judge Memorial           14:49    1             

  2 #1949 Stephen Clark       SR Skyline                  15:25    2             

  3 #2092 Spencer Gardner     SR Springville High         15:28                  

  4  #734 Miles Unterreiner   SR Gig Harbor               15:46    3             

  5 #2198 Scott Blair         SR Trabuco Hills            15:56    4             

  6 #1693 Andrew Kimpel       JR North Central Hi         15:58    5             

  7 #1406 Kevin Dickey        SR Mountain Crest           15:59    6             

  8 #1410 Neal Ferrin         SR Mountain Crest           16:04    7             

  9  #465 Ryan Santana        SR Crater                   16:05    8             

 10 #1684 Leon Dean           JR North Central Hi         16:06    9             

 11 #1240 Kelly Lynch         SR Mead                     16:08   10             

 12 #2598 Nigel Sharp         SR Campbell Collegiate      16:09                  

 13 #2352 Elijah Rono         JR Wasatch Academy          16:12                  

 14  #183 Jared Nielsen       SR Borah                    16:14                  

 15 #1573 Travis Fuller       SR Mountain View-Utah       16:16   11             

 16  #502 Seth Gutzwiller     JR Davis                    16:18   12             

 17 #1567 Greg Bate           SR Mountain View-Utah       16:19   13             

 18 #1829 Bryan Willoughby    SR Orem                     16:19   14             

 19  #351 Bryce Aguilar       SR Central Valley           16:20   15             

 20  #381 Jayson Taylor       SR Central Valley           16:22   16             

 21  #282 Ryan Saunders       SR Capital                  16:25                  

 22 #2208 Riley Sullivan      SR Trabuco Hills            16:26   17             

 23  #233 Tyler Curtis        SR Caldwell                 16:26                  

 24 #1421 Skylar Riggs        JR Mountain Crest           16:27   18             

 25 #1825 Jason Palmer        SR Orem                     16:28   19             

 26  #456 Josh Elliot         SO Crater                   16:28   20             

 27  #497 Spencer Anderson    SR Davis                    16:28   21             

 28  #462 Jerrod Pucket       SR Crater                   16:28   22             

 29  #457 Zach Elliot         JR Crater                   16:29   23             

 30  #848 Tommy Bollinger     SR Highland (Poc)           16:29   24             

 31  #124 Max Hardy           JR Boise                    16:30   25             

 32 #1824 Darren Ott          SR Orem                     16:31   26             

 33  #378 Jason Stoker        SR Central Valley           16:32   27             

 34  #732 Connor Peloquin     SO Gig Harbor               16:32   28             

 35 #1230 Jordan Baker        JR Mead                     16:32   29             

 36  #401 Aaron Jenkins       SR Century                  16:33                  

 37 #2146 Mike Bills          SR Timpanogos               16:33   30             

 38 #1408 Zak Dymock          SR Mountain Crest           16:33   31             

 39 #1707 Adam Tyler          SR North Central Hi         16:35   32             

 40 #1504 Derek Gunn          SR Mountain View-Idaho      16:36   33             

 41  #420 Zeke Wilson         SR Challis                  16:37                  

 42  #725 Chris Adgar-Beal    JR Gig Harbor               16:37   34             

 43 #2057 Sammy Kirtner       JR South Eugene             16:38   35             

 44 #1673 Alex Avila          SO North Central Hi         16:40   36             

 45 #1231 Marcus Budig        SR Mead                     16:42   37             

 46 #1233 Jordan Curnutt      JR Mead                     16:43   38             

 47 #2201 James Hendra        SR Trabuco Hills            16:43   39             

 48 #1950 Morgan Empey        JR Skyline                  16:44   40             

 49 #2056 Eamonn Kerr-Daly    JR South Eugene             16:45   41             

 50  #442 Neil Easter         SR Columbia                 16:45                  

 51 #1692 Jeff Howard         JR North Central Hi         16:46   42             

 52 #2145 Jake Berlin         SO Timpanogos               16:47   43             

 53  #359 Andrew Cesal        SR Central Valley           16:47   44             

 54 #1932 Todd Hueckstaedt    JR Rock Springs             16:48   45             

 55 #1565 Trent Allred        SR Mountain View-Utah       16:49   46             

 56  #118 Eric Fitzpatrick    SO Boise                    16:51   47             

 57  #464 Wyatt Rice-Narusch  SR Crater                   16:52   48             

 58 #1822 Ben Johnson         JR Orem                     16:52   49             

 59 #1578 Eric Lunt           JR Mountain View-Utah       16:53   50             

 60 #1933 Taylor McCort       SR Rock Springs             16:53   51             

 61 #1534 Cory Ytsma          JR Mountain View-Idaho      16:53   52             

 62 #1938 Garrett Zans        SO Rock Springs             16:54   53             

 63 #2209 Steven Tan          JR Trabuco Hills            16:54   54             

 64 #1954 Thatcher Olson      SR Skyline                  16:55   55             

 65 #1592 Matt Tenney         JR Mountain View-Utah       16:57   56             

 66 #1038 Parker Mildenhall   SO Judge Memorial           16:57   57             

 67 #2320 Brian Corral        FR Vallivue                 16:59                  

 68 #1239 Steven Kutsch       JR Mead                     16:59   58             

 69 #1370 Layton Dorsett      SO Mountain Brook           16:60   59             

 70  #504 Bryce Larsen        SR Davis                    17:01   60             

 71 #1691 Steve Hicks         SR North Central Hi         17:02   61             

 72 #1951 Gemechu Gaesse      SO Skyline                  17:05   62             

 73 #1818 Ray Bateman         SR Orem                     17:06   63             

 74 #2149 Matt Liddle         SO Timpanogos               17:06   64             

 75  #727 Mark Davis          SR Gig Harbor               17:08   65             

 76 #1630 Jason Towery        SR Nampa Christian          17:09                  

 77 #1379 Conrad Taylor       SR Mountain Brook           17:10   66             

 78  #469 Curtis Yungen       SR Crater                   17:11   67             

 79  #511 Jason Thomas        SO Davis                    17:12   68             

 80 #2050 Walker Augustyniak  SR South Eugene             17:13   69             

 81 #2843 Matt Dionne         JR Mead                     17:14   70             

 82 #2061 Zach Schneider      SR South Eugene             17:15   71             

 83 #2200 Brian Gomez         FR Trabuco Hills            17:15   72             

 84 #1953 Isaac Hales         JR Skyline                  17:16   73             

 85 #1518 Kevin Miller        JR Mountain View-Idaho      17:18   74             

 86  #365 Brandon Heintz      SR Central Valley           17:19   75             

 87 #1583 Taylor Ottesen      JR Mountain View-Utah       17:20   76             

 88 #2151 Dane Smith          JR Timpanogos               17:21   77             

 89 #1955 Ben Taylor          JR Skyline                  17:22   78             

 90 #1820 Mike Garlick        SR Orem                     17:23   79             

 91 #1037 Max Lamb            SO Judge Memorial           17:23   80             

 92 #1375 Jack Morgan         FR Mountain Brook           17:23   81             

 93  #510 Jordan Stuart       SR Davis                    17:24   82             

 94 #1710 Andrew Wordell      FR North Central Hi         17:25   83             

 95 #1575 Nick Harrison       SO Mountain View-Utah       17:25   84             

 96 #2202 Nhu-Nguyen Le       SR Trabuco Hills            17:26   85             

 97  #733 Shane Polley        SR Gig Harbor               17:27   86             

 98  #731 Spencer Payne       SO Gig Harbor               17:28   87             

 99  #845 Chaz Anestos        SR Highland (Poc)           17:28   88             

100  #509 Leland Stenquist    JR Davis                    17:29   89             

101 #1983 Scott Jenkins       SR Skyview                  17:29                  

102 #1526 Cody Pugil          JR Mountain View-Idaho      17:29   90             

103  #854 Jason Lyons         FR Highland (Poc)           17:30   91             

104  #130 Greg Montgomery     JR Boise                    17:30   92             

105  #454 James Croft         JR Crater                   17:30   93             

106 #1948 Ian Anderson        SO Skyline                  17:31   94             

107  #350 Bryan Aguilar       SO Central Valley           17:31   95             

108  #507 Bryson Snow         SR Davis                    17:33   96             

109  #376 Kyle Staples        JR Central Valley           17:35   97             

110 #1376 Richard Murray      JR Mountain Brook           17:36   98             

111 #1035 John Foye           JR Judge Memorial           17:37   99             

112 #2054 Ryan Graebner       SR South Eugene             17:38  100             

113 #1823 Derek Jones         SR Orem                     17:38  101             

114  #730 Jeff Osborn         JR Gig Harbor               17:38  102             

115 #2197 Colton Addy         SR Trabuco Hills            17:40  103             

116 #1994 Josh Wadsworth      SR Skyview                  17:40                  

117 #1509 Garrison Holdaway   JR Mountain View-Idaho      17:41  104             

118 #1237 Eric Foss           JR Mead                     17:41  105             

119 #2147 Brandon Davies      SR Timpanogos               17:42  106             

120 #2063 Casey Weinman       SR South Eugene             17:42  107             

121 #1935 James Sing          SO Rock Springs             17:43  108             

122  #128 Christian Kincaid   JR Boise                    17:45  109             

123  #129 Taylor Molenaar     SO Boise                    17:49  110             

124 #2059 Brain Leeson        JR South Eugene             17:50  111             

125 #1422 Quinn Stephens      SR Mountain Crest           17:50  112             

126 #1981 Jerry Hagler        SR Skyview                  17:51                  

127 #1420 Jesse Peterson      SR Mountain Crest           17:53  113             

128 #1371 Wilkerson Given     JR Mountain Brook           17:53  114             

129 #1930 Blane Berrett       JR Rock Springs             17:53  115             

130 #1417 Brayden Mickelson   SO Mountain Crest           17:55  116             

131  #850 Brandon Grigg       FR Highland (Poc)           17:56  117             

132 #2148 Jason Hodson        JR Timpanogos               18:00  118             

133  #119 Kenton Freemuth     FR Boise                    18:01  119             

134 #1042 Chris Sayre         SR Judge Memorial           18:09  120             

135 #2150 Mike Mace           JR Timpanogos               18:10  121             

136 #1603 Gatlin Creager      SR Nampa                    18:11                  

137 #1530 Cory Varland        SR Mountain View-Idaho      18:12  122             

138 #1503 Josh Fortin         SR Mountain View-Idaho      18:13  123             

139  #846 Tallin Bannister    FR Highland (Poc)           18:22  124             

140  #121 Walker Grimshaw     JR Boise                    18:23  125             

141  #851 Jacob Hall          FR Highland (Poc)           18:31  126             

142 #1378 Jake Stephens       SR Mountain Brook           18:40  127             

143 #1934 Andrew Rembacz      FR Rock Springs             18:47  128             

144 #1032 Frank Barrows       JR Judge Memorial           19:10  129             

145 #1611 Scott Sweet         SR Nampa                    19:31                  

146 #1372 Craig Jones         SR Mountain Brook           19:35  130             

                                                                                 

                                   Team Scores                                   

=================================================================================

Rank Team                      Total    1    2    3    4    5   *6   *7   *8   *9

=================================================================================

   1 Crater                      121    8   20   22   23   48   67   93          

      Total Time:  1:21:47.00                                                    

         Average:    16:21.40                                                    

   2 North Central High School   124    5    9   32   36   42   61   83          

      Total Time:  1:21:30.00                                                    

         Average:    16:18.00                                                    

   3 Orem                        171   14   19   26   49   63   79  101          

      Total Time:  1:22:41.00                                                    

         Average:    16:32.20                                                    

   4 Mead                        172   10   29   37   38   58   70  105          

      Total Time:  1:22:29.00                                                    

         Average:    16:29.80                                                    

   5 Mountain Crest              174    6    7   18   31  112  113  116          

      Total Time:  1:22:18.00                                                    

         Average:    16:27.60                                                    

   6 Mountain View-Utah          176   11   13   46   50   56   76   84          

      Total Time:  1:22:39.00                                                    

         Average:    16:31.80                                                    

   7 Central Valley              177   15   16   27   44   75   95   97          

      Total Time:  1:22:45.00                                                    

         Average:    16:33.00                                                    

   8 Trabuco Hills               186    4   17   39   54   72   85  103          

      Total Time:  1:22:39.00                                                    

         Average:    16:31.80                                                    

   9 Gig Harbor                  216    3   28   34   65   86   87  102          

      Total Time:  1:22:55.00                                                    

         Average:    16:35.00                                                    

  10 Skyline                     232    2   40   55   62   73   78   94          

      Total Time:  1:22:50.00                                                    

         Average:    16:34.00                                                    

  11 Davis                       243   12   21   60   68   82   89   96          

      Total Time:  1:23:48.00                                                    

         Average:    16:45.60                                                    

  12 South Eugene                316   35   41   69   71  100  107  111          

      Total Time:  1:24:54.00                                                    

         Average:    16:58.80                                                    

  13 Timpanogos                  320   30   43   64   77  106  118  121          

      Total Time:  1:24:54.00                                                    

         Average:    16:58.80                                                    

  14 Mountain View-Idaho         353   33   52   74   90  104  122  123          

      Total Time:  1:25:22.00                                                    

         Average:    17:04.40                                                    

  15 Judge Memorial              357    1   57   80   99  120  129               

      Total Time:  1:24:21.00                                                    

         Average:    16:52.20                                                    

  16 Rock Springs                372   45   51   53  108  115  128               

      Total Time:  1:25:37.00                                                    

         Average:    17:07.40                                                    

  17 Boise                       383   25   47   92  109  110  119  125          

      Total Time:  1:25:50.00                                                    

         Average:    17:10.00                                                    

  18 Mountain Brook              418   59   66   81   98  114  127  130          

      Total Time:  1:26:28.00                                                    

         Average:    17:17.60                                                    

  19 Highland (Poc)              444   24   88   91  117  124  126               

      Total Time:  1:27:10.00                                                    

         Average:    17:26.00                                                    


Bob Firman index page