2007 Bob Firman Invitational





Division 2 Boys





Sept. 22, 2007 Eagle ID



DyeStat on-site coverage

Ryan Golding, Bear Lake ID senior, 17:02
Bear Lake 60, Firth 58



Race Recap

- by Rob Monroe

Bear Lake ID senior Ryan Golding has run in the shadows of older Bear Lake runners throughout his high school career. Last week at the Tiger/Grizz Invite in Idaho Falls, he almost got his first invitational victory: "I was in the lead for most of the race, but then I got passed at the end," he recalled. "We've had some good runners at Bear Lake in the past, so I just kind of moved up. I'm still kind of new at it [being top runner on the team]." Adjusting well to his new role, Golding took the boys' Division 2 race at Bob Firman to win his first individual laurels. Sitting back and waiting for the right time to strike, Golding and his fellow Bear Lake runners raced with the sort of patience that comes with years of experience. Golding caught Firth's Cody Baxter on the final ascent up Spectator Hill en route to his 17:02 time, as Baxter finished third in 17:10, passed by Shaun Russon from North Sanpete at the end.

Similar to Golding's late race move, his Bear Lake ID teammates surged to defeat Firth ID by a narrow margin of 58-60. This was the second weekend in a row that Bear Lake topped Firth, as they finished 1-2 at the Tiger/Grizz Invite with scores of 43 and 64.




Bear Lake and Firth tied on runners 2 through 5, so the margin of victory was provided by Bear Lakes #1 Ryan Golding
in first vs. Firth's Cody Baxter in third.

| | |
| --- | --- |
| 1. Ryan Golding 17:02 | 3. Cody Baxter, Firth 17:10 |
| | |
2. Shaun Russon, North Sanpete sr 17:08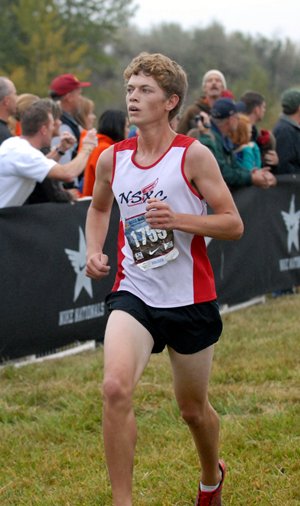 Capital High School                                        Hy-Tek's Meet Manager
                 Bob Firman Cross Country Meet 2007 - 9/22/2007                  
                              Boise Schools Invite                               
                             Eagle Island State Park                             
                              Last Completed Event                               
 
Event 9  Boys 5k Run CC D2
=======================================================================          
    Name                    Year School                  Finals  Points          
=======================================================================          
  1   #18 Ryan Golding        SR Bear Lake                17:02    1             
  2 #1759 Shaun Russon        SR North Sanpete            17:08    2             
  3  #684 Cody Baxter         JR Firth                    17:10    3             
  4 #1794 Brian Nelson        SO Nyssa                    17:11    4             
  5   #26 Tanner Saxton       SR Bear Lake                17:14    5             
  6 #1184 Seth Walker         SR Lakeview                 17:18    6             
  7  #701 Caden Portela       FR Firth                    17:19    7             
  8 #2028 Kasey Meyers        SO Soda Springs             17:21    8             
  9  #704 Kurt Ward           SR Firth                    17:25    9             
 10  #811 Luke Hetrick        SR Greenleaf Friends        17:26   10             
 11   #17 Jordan Crane        JR Bear Lake                17:26   11             
 12  #708 Bracken Williams    SR Firth                    17:27   12             
 13  #414 Joe Montoya         SR Challis                  17:36                  
 14 #1085 Andy Yung           JR Kimberly                 17:38   13             
 15 #2409 Justin Webb         JR Weiser                   17:40   14             
 16  #210 Garrett Traughber   SR Butte County             17:47                  
 17   #15 Dory Alleman        JR Bear Lake                17:47   15             
 18 #2307 Jordan Monroe       FR Union                    17:48   16             
 19 #2021 Shayde Stotts       JR Soda Springs             17:48   17             
 20  #761 Mike McHan          FR Gooding                  17:49   18             
 21 #2392 Ryan Jaggi          SO Weiser                   17:53   19             
 22 #1750 Tyler Allen         JR North Sanpete            17:57   20             
 23 #2310 Tom Sheehy          SO Union                    17:58   21             
 24 #1875 Domonic Bolin       JR Payette                  18:03   22             
 25 #2300 Michael Cox         JR Union                    18:03   23             
 26 #1882 Zach Waynetska      JR Payette                  18:05   24             
 27 #1753 Jon Bundy           SR North Sanpete            18:07   25             
 28   #23 Cameron Jones       SR Bear Lake                18:14   26             
 29 #1785 Kevin Beck          JR Nyssa                    18:15   27             
 30 #2277 Julio Garcia        SR Umatilla                 18:20   28             
 31  #703 Jesse Sorensen      SR Firth                    18:20   29             
 32 #1159 Colton Winkler      JR La Grande                18:21   30             
 33 #1864 Lee Sallee          SR Parma                    18:24   31             
 34   #27 Tyrel Skinner       JR Bear Lake                18:27   32             
 35 #2301 Chris Fasel         JR Union                    18:27   33             
 36 #1158 Michael Wanta       SR La Grande                18:29   34             
 37 #2396 Artem Moskalenko    FR Weiser                   18:39   35             
 38  #757 Blair Gerratt       SR Gooding                  18:41   36             
 39 #1180 David Rosales       FR Lakeview                 18:42   37             
 40 #1039 Matt Pell           FR Judge Memorial           18:44   38             
 41 #1760 Devin Shelley       SO North Sanpete            18:49   39             
 42 #2280 Peter Stice         JR Umatilla                 18:50   40             
 43  #695 Kyle Killpack       FR Firth                    18:50   41             
 44 #2306 Haiden Kohl         SR Union                    19:00   42             
 45 #1939 Connor Kellogg      JR Salmon                   19:00                  
 46  #758 Derek Gerratt       SO Gooding                  19:01   43             
 47 #2278 Obi Harriman        FR Umatilla                 19:02   44             
 48 #1078 Clay Stout          SO Kimberly                 19:03   45             
 49 #1069 Josh Hannold        SR Kimberly                 19:04   46             
 50 #2810 Jacob Mikesell         Valley                   19:06                  
 51 #2032 Jake Reidle         SR Soda Springs             19:06   47             
 52 #1260 Brennan Leavitt     JR Melba                    19:07                  
 53 #2382 James Chandler      SR Weiser                   19:07   48             
 54 #1798 Carter Spear        JR Nyssa                    19:08   49             
 55 #1195 Jared Moote         SO Liberty Charter          19:08   50             
 56 #1758 Robert Peel         SR North Sanpete            19:10   51             
 57 #1655 Tyler Forsberg      SR New Plymouth             19:11   52             
 58 #1033 Peter Bryner        SR Judge Memorial           19:13   53             
 59 #1041 Griffin Rowland     SO Judge Memorial           19:15   54             
 60 #1063 Cory Berry          SO Kimberly                 19:16   55             
 61 #2276 Marshall Coleman    SR Umatilla                 19:16   56             
 62 #1172 Brent Corning       JR Lakeview                 19:17   57             
 63 #1755 Ben Embleton        SR North Sanpete            19:18   58             
 64 #1853 Ben Hulbert         SR Parma                    19:18   59             
 65  #760 Colton Knopp        JR Gooding                  19:18   60             
 66 #2447 John Kelly          SO Wendell                  19:21                  
 67 #1670 Connor White        SO New Plymouth             19:23   61             
 68 #1036 Mat Keslte          FR Judge Memorial           19:24   62             
 69 #1259 Ty Johnson          SO Melba                    19:25                  
 70 #1031 Alex Baker          FR Judge Memorial           19:26   63             
 71   #21 Andrew Jacobs       SR Bear Lake                19:28   64             
 72 #2022 Micah Bowman        FR Soda Springs             19:29   65             
 73 #1878 Ty Higley           FR Payette                  19:35   66             
 74 #1857 Gabe Knickerbocker  JR Parma                    19:39   67             
 75 #2274 Mario Aparicio      SO Umatilla                 19:40   68             
 76 #2308 Gabriel O'Reilly    SO Union                    19:41   69             
 77  #921 Tyler Gibson        JR Homedale                 19:41   70             
 78  #806 Tony Berlin         SO Greenleaf Friends        19:42   71             
 79 #1067 Brandon Dixon       SR Kimberly                 19:42   72             
 80 #1751 Scott Bentley       SR North Sanpete            19:43   73             
 81 #1193 Jordan Jensen       SO Liberty Charter          19:43   74             
 82 #2387 Tanner Hawkins      SO Weiser                   19:45   75             
 83 #1061 Logan Altom         SR Kimberly                 19:46   76             
 84 #1860 Martin Loya         JR Parma                    19:49   77             
 85 #1796 Gabriel Ramirez     FR Nyssa                    19:50   78             
 86 #1788 Conner Fiscarelli   SO Nyssa                    19:52   79             
 87 #1782 Ricardo Alavarado   JR Nyssa                    19:54   80             
 88 #1789 Landon Hartley      JR Nyssa                    19:55   81             
 89 #1160 Conor Wood          SO La Grande                19:57   82             
 90 #1865 Terrell Timmons     SO Parma                    20:00   83             
 91 #1198 Radley Peterson     SO Liberty Charter          20:01   84             
 92 #1851 Spencer Green       SR Parma                    20:02   85             
 93 #2309 Alex Palmer         JR Union                    20:03   86             
 94 #2275 Josh Brown          SR Umatilla                 20:03   87             
 95 #1068 Morgan Godfrey      SR Kimberly                 20:04   88             
 96  #754 Ryan Crownover      SO Gooding                  20:05   89             
 97  #694 Trevor Jolley       SR Firth                    20:08   90             
 98  #957 Chris Stipa         JR Idaho City               20:09                  
 99 #1854 Layne Johnson       FR Parma                    20:11   91             
100 #2398 Mario Prado         SR Weiser                   20:12   92             
101 #2279 Travis Hendon       SR Umatilla                 20:14   93             
102 #2812 Nash Beltran           Valley                   20:15                  
103 #2035 Rase Woods          SR Soda Springs             20:19   94             
104 #1152 Daniel Harris       SR La Grande                20:20   95             
105 #2023 Taylor Bybee        SR Soda Springs             20:22   96             
106 #2303 Tyler Griffiths     SO Union                    20:22                  
107 #1862 Hal Nielsen         SR Parma                    20:26                  
108 #1034 John Emery          SR Judge Memorial           20:27   97             
109 #1201 Troy Washburn       SO Liberty Charter          20:33   98             
110 #1194 Derek Linford       JR Liberty Charter          20:36   99             
111 #1660 Nolan Kerby         JR New Plymouth             20:40  100             
112 #1888 Cole Merrick        SR Rimrock                  20:41  101             
113 #2404 Noel Solano         JR Weiser                   20:42  102             
114 #1178 John Pittman        JR Lakeview                 20:43  103             
115 #2031 Aaron Peterson      FR Soda Springs             20:44  104             
116 #1264 Gary Zeyer          SR Melba                    20:47                  
117  #919 Jacob Compton       FR Homedale                 20:48  105             
118 #1154 Emerson Hovecamp    SO La Grande                20:50  106             
119 #1181 Jared Seehawer      SO Lakeview                 20:51  107             
120  #426 Kristian Brown      SR Cole Valley              21:05                  
121 #1889 Brian Meyers        SR Rimrock                  21:11  108             
122  #813 Nam Joong Kim       SR Greenleaf Friends        21:14  109             
123 #1799 Jaime Venegas       FR Nyssa                    21:15                  
124 #1887 Chris Hipwell       SR Rimrock                  21:16  110             
125  #812 Mitchell Kelly      JR Greenleaf Friends        21:17  111             
126 #1192 Jared Hamblin       SO Liberty Charter          21:18  112             
127 #1624 Michael Claar       SO Nampa Christian          21:19  113             
128 #1625 Cir Isaac Cooper    FR Nampa Christian          21:20  114             
129 #1801 Tyler Wentz         FR Nyssa                    21:24                  
130 #1185 Tony Zamudio        SR Lakeview                 21:26  115             
131  #433 Jace Skyles         FR Cole Valley              21:27                  
132 #1881 Flo Johnson         12 Payette                  21:30  116             
133  #810 Brandt Graber       SR Greenleaf Friends        21:31  117             
134  #807 Keegan Brown        JR Greenleaf Friends        21:31  118             
135 #1783 Jesse Alvarado      SR Nyssa                    21:31                  
136 #1876 Rico Gaertner       SR Payette                  21:34  119             
137 #1629 Jonathan Lewellyn   JR Nampa Christian          21:39  120             
138 #1886 Alan Draper         SR Rimrock                  21:46  121             
139 #2348 Berthe Fousseyni    JR Wasatch Academy          21:56                  
140 #1661 Nathan Manser       SR New Plymouth             21:57  122             
141 #1800 Phillip Vielma      SR Nyssa                    22:01                  
142 #1879 Sebastian Krott     JR Payette                  22:02  123             
143 #2304 Jason Hesse         SR Union                    22:08                  
144  #923 Joey Larsen         SO Homedale                 22:08  124             
145  #918 Kenny Cockrum       JR Homedale                 22:09  125             
146 #1663 Daniel Nishizaki    SO New Plymouth             22:11  126             
147 #2302 James Fasel         SR Union                    22:26                  
148 #1652 Ben Byers           SO New Plymouth             22:30  127             
149 #1883 Brad White          JR Payette                  22:44  128             
150  #928 Nathan Perry        FR Homedale                 22:52  129             
151 #1153 Lee Hopper          SO La Grande                22:55  130             
152 #1183 Matt Voelkel        JR Lakeview                 23:24  131             
153 #1190 Wilson Ashton       FR Liberty Charter          23:27  132             
154  #920 Drew Farwell        SO Homedale                 23:35  133             
155 #1627 Kyle Durbin         FR Nampa Christian          24:00  134             
156  #808 Lee Dong Sub        JR Greenleaf Friends        24:02  135             
157 #1885 andy Bol            JR Rimrock                  24:11  136             
158 #1628 James Ihli          FR Nampa Christian          24:27  137             
159 #1622 Nick Bullock        FR Nampa Christian          24:28  138             
160  #915 Jarrod Armenta      FR Homedale                 25:12  139             
161 #1787 David Durfee        JR Nyssa                    25:12                  
                                                                                 
                                   Team Scores                                   
=================================================================================
Rank Team                      Total    1    2    3    4    5   *6   *7   *8   *9
=================================================================================
   1 Bear Lake                    58    1    5   11   15   26   32   64          
      Total Time:  1:27:43.00                                                    
         Average:    17:32.60                                                    
   2 Firth                        60    3    7    9   12   29   41   90          
      Total Time:  1:27:41.00                                                    
         Average:    17:32.20                                                    
   3 Union                       135   16   21   23   33   42   69   86          
      Total Time:  1:31:16.00                                                    
         Average:    18:15.20                                                    
   4 North Sanpete               137    2   20   25   39   51   58   73          
      Total Time:  1:31:11.00                                                    
         Average:    18:14.20                                                    
   5 Weiser                      191   14   19   35   48   75   92  102          
      Total Time:  1:33:04.00                                                    
         Average:    18:36.80                                                    
   6 Kimberly                    231   13   45   46   55   72   76   88          
      Total Time:  1:34:43.00                                                    
         Average:    18:56.60                                                    
   7 Soda Springs                231    8   17   47   65   94   96  104          
      Total Time:  1:34:03.00                                                    
         Average:    18:48.60                                                    
   8 Umatilla                    236   28   40   44   56   68   87   93          
      Total Time:  1:35:08.00                                                    
         Average:    19:01.60                                                    
   9 Nyssa                       237    4   27   49   78   79   80   81          
      Total Time:  1:34:16.00                                                    
         Average:    18:51.20                                                    
  10 Gooding                     246   18   36   43   60   89                    
      Total Time:  1:34:54.00                                                    
         Average:    18:58.80                                                    
  11 Judge Memorial              270   38   53   54   62   63   97               
      Total Time:  1:36:02.00                                                    
         Average:    19:12.40                                                    
  12 Lakeview                    310    6   37   57  103  107  115  131          
      Total Time:  1:36:51.00                                                    
         Average:    19:22.20                                                    
  13 Parma                       317   31   59   67   77   83   85   91          
      Total Time:  1:37:10.00                                                    
         Average:    19:26.00                                                    
  14 Payette                     347   22   24   66  116  119  123  128          
      Total Time:  1:38:47.00                                                    
         Average:    19:45.40                                                    
  15 La Grande                   347   30   34   82   95  106  130               
      Total Time:  1:37:57.00                                                    
         Average:    19:35.40                                                    
  16 Liberty Charter             405   50   74   84   98   99  112  132          
      Total Time:  1:40:01.00                                                    
         Average:    20:00.20                                                    
  17 Greenleaf Friends           418   10   71  109  111  117  118  135          
      Total Time:  1:41:10.00                                                    
         Average:    20:14.00                                                    
  18 New Plymouth                461   52   61  100  122  126  127               
      Total Time:  1:43:22.00                                                    
         Average:    20:40.40                                                    
  19 Homedale                    553   70  105  124  125  129  133  139          
      Total Time:  1:47:38.00                                                    
         Average:    21:31.60                                                    
  20 Rimrock                     576  101  108  110  121  136                    
      Total Time:  1:49:05.00                                                    
         Average:    21:49.00                                                    
  21 Nampa Christian             618  113  114  120  134  137  138               
      Total Time:  1:52:45.00                                                    
         Average:    22:33.00    
Bob Firman index page