22nd Roy Griak Invitational



Saturday, September 29, 2007 - Les Bolstad Golf Course, St. Paul MN



DyeStat onsite with SteveU




Flood, Finnerty fulfill hopes;

Wayzata MN boys, Greeley CO girls post stunning wins


Results Page - Highlights - SteveU Full Story


At left, Gold race 1-2 finishers Katie Flood (left) and Emily Sisson. At right, Gold winner Rob Finnerty leads early on. Photos, Jim Kirby

Highlights
The big

Katie Flood-Emily Sisson

showdown in the Girls Gold Race went to

Flood

, as the Dowling Catholic IA soph began pulling away after a mile and ran to a winning 17:57, just 11 seconds off the course record on a fiercely windy day, and winning by 36 seconds.

SW#4 Greeley West CO

came from out west put two in the top 10, score 125 points, and knock off HL#2 Dowling Catholic IA (137) and #3 Sioux Falls Roosevelt SD (162)
Finally running healthy, Burnsville MN sr

Rob Finnerty

saw his time come in the Boys Gold Race, winning easily in 15:58.
The

HL#7 Wayzata MN boys

, taking advantage of HL#1 Rosemount's woes (health problems knocked out or hampered two of their top five), won the highest scoring Griak race in history with their 211 defeating Marquette University HS of WI by 3, and with the first 7 teams within 45 points (including 7th-place Rosemount with 256).
Led by sr Greg Beesley's victory in 16:32, the Brandon Valley MN boys took the Maroon Division race with 173, 120 points up on Richfield.
Taking the measure of the other top contenders at each of the first five spots, Coon Rapids won the girls Maroon Division with 149 points, with a margin of 66 over Rosemount. The individual title went to St. Paul Academy Summit soph Anne Hart in 19:44.



Dominace and Suprises on a windy Minnesota Day



By SteveU


The individual Gold races at the 22nd Roy Griak Invitational, on a mild, but very windy and occasionally rainy day, were all about asserting one's place in the big scheme of things.

Katie Flood has obviously been one of the best runners in the Heartland, if not the country, but had never had the chance to race major competition outside of Iowa. Given the opportunity Saturday, the Dowling Catholic IA soph was stunningly dominant, only allowing Millard North NE standout Emily Sisson – 3rd at last fall's Foot Locker Finals – to hang around about half the race before winning by more than 30 seconds in 17:57 (Sisson 18:33). The performance plainly puts Flood in the middle of the national championship picture.

Saturday was also Rob Finnerty's time. Eleventh at Foot Locker Midwest as a freshman, the Burnsville MN sr has struggled with injury much of the past two XC seasons. Finally having enjoyed a long stretch of good health, he has turned last spring's success (8:59 2M) into September, becoming the best runner in the state and a top-10 national contender. Even not feeling completely "right," out there, he still rolled to an easy win in 15:58.

The team races at Griak, however, were stunners. Most expected the Girls Gold race to be a Heartland showdown between HL#2 Dowling Catholic IA and HL#3 Sioux Falls Roosevelt SD. It was, but the best racing of the day came from SW#4 Greeley West CO, which came from north central Colorado and used a great 1-2 punch and solid depth to win the day. Senior Kendra Gerk was 3rd for the winners and Erica Hinchcliffe was 6th, and when the 5th runner came in, they had 125 points, few enough to top DC (137) and SFR (162).

And the Boys Gold Race was really mind-boggling. HL#1 Rosemount got the big upfront race from Jordan Carlson (3rd), but two other top-fivers ran with health problems, one not finishing and the other way back from normal. That gave several other teams a chance to win it. It wound up being HL#7 Wayzata MN, the #2 team in MN, that had the right combo being both solid at the front (14th-17th for their 1-2) and the best 5th man (77th). Their winning score of 211 was the highest in the history of the meet (in any division, college or HS) and was 3 better than Marquette University HS from WI. Third (Shawnee Mission NW of KS with 236) through seventh (Rosemount with 256) places were packed together in a span of 20 points.

Amazingly, on a day that featured troubling thunderheads, a little late-meet lightening in the distance, and winds that gusted well over 30 MPH, the sun broke through and it got pretty warm by the Girls Maroon race. The worst storms passed 15 miles south of the Les Bolstad Golf Course, so while there was occasional driving rain, it was another near-miss for a meet that has narrowly avoided bad weather many years.




Overwhelming Flood



There was a Flood overwhelming the Les Bolstad Golf Course Saturday, but it didn't have anything to do with the rain that was falling. That Flood by the name of Katie took her first step into the cross-country big time Saturday and it was hardly a tentative one.

Many of those from outside Iowa who have only seen Flood from pictures or made assumptions based on her youth may not have realized that she is not, in some ways, the typical prodigal youngster. She has grown and her legs are powerful pistons, which had a lot to do with the way she ate up the rolling, slowish turf that makes Griak deceptively challenging for fast times.

Emily Sisson was runner-up to Allison Eckert here last year and clearly wanted to take the next step. But at a mile, reached in 5:38, Flood was already stepping on the gas and Sisson was fighting to stay with her. The gap was 7 seconds at 2 miles (11:23-11:31), and grew quickly thereafter.

Perennial high-placer Leeds ND sr Lindsay Anderson held 3rd at the mile, but by 2M, it was Greeley West CO's Kendra Gerk and Staples Motley's Naomi Landecker battling for the bronze, 24 seconds back of Sisson. Gerk would get 3rd in 18:51, followed by Landecker (19:06), Dowling Catholic's Ashlie Decker (19:07), and Anderson (19:21).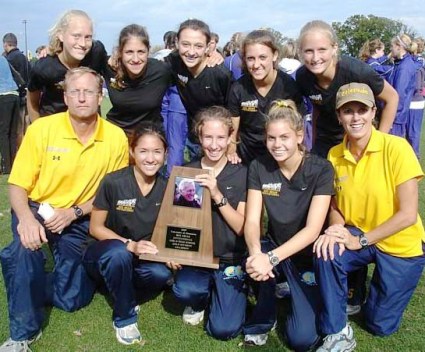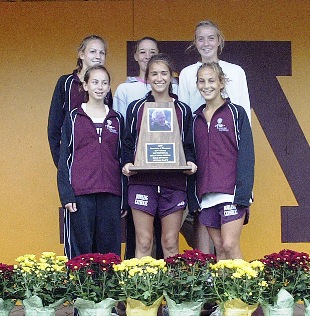 Above, the winning Greeley West CO girls. Photo by SteveU. Below, the Dowling Catholic runner-up team (missing a few girls). Photo by Jim Kirby


Afterward, Katie Flood seemed pretty unfazed by the magnitude of what she had done. "It was exciting. There were some nerves, but it was mostly exciting to get some good competition," she said. "I was glad to hear the time at the mile. It was a little slower than I usually go out, so I knew I would have more left for the longer distance (it was her first 5k, with Iowans typically racing 4k).

Flood attributed her strength on the course to some weight work in recent months, hill work and higher mileage.

Sisson said she felt "pretty good" early, but "then about halfway, I started not feeling so good. I was having trouble with the hills.

"It was disappointing because I was 2nd last year and I wanted to move up. But I'm not worried. It's still early and Katie is really a great runner."




From the Rodeo to Griak



In the girls team race, most were watching Dowling Catholic and Sioux Falls to see how they would match up. DC figured to get 1st or 2nd, then it would be how well the Rough Riders' top trio could stay to DC's #2, and if their scorers down the list could work in with the rest. DC needed a big race from its #2, but also for the gap between 2 and 5 not to be too big.

But a lot of folks were overlooking Greeley West.

So Dowling got a huge race from soph Ashlie Decker, who was 5th overall in 19:07, moving up all race to grab that spot. SFR's big three of sophs Bailey Breems and Seanna Kautz, and junior Erin Hargens were solid in 15th, 18th, and 26th, but with Dowling's #3 Tanelle Berard getting 23rd, the Maroons had a margin of 30 after three runners. SFR's Megan Brown, running the race of her young life in 27th, got 19 of that back to put the Rough Riders within striking distance.

But neither team was leading after 4 runners. With their 1-2 punch of senior Kendra Gerk (3rd in 18:52) and soph Erica Hinchcliffe (6th in 19:24), Greeley West was right up on Dowling through two runners. Then junior Ashlee Smalley (10th in 19:36) and soph Sarah Swenson (21st in 19:47) built a scary margin. There was a bigger gap to Greeley West's 5th, but when Adriannenicol Larson brought it home for the western visitors, the victory was in the bag.

"This is really exciting for us," said Greeley West head coach Sue Carter. "We've worked for three years to earn enough money to come out here. We've worked concessions, we've worked the rodeo, everything.

"We figured Kendra could get in the top 5, and Erica in the top 10, so they both did well. Our third runner did very well, and our fourth runner is really coming on. Everyone ran the best they could."

Dowling Catholic coach Father Jim Kirby admitted with the Heartland focus, the "Colorado team wasn't really on our radar.

"It was really an exciting day, though," he added. "Kate is awesome … really, they're all awesome."

The top two teams looked a lot like defending champ Sioux Falls Roosevelt had looked for most of the last four years – two really strong girls leading the way up front. With the Eckert twins graduated, though (each won a title here), Coach Kristi Rieger has developed an impressive pack of young runners and knew what her game plan had to be to win – and it was close, but not quite enough. "Our top three pretty much did what they needed to do," she said. "And I was really happy with the way our fourth girl (Megan Brown) came through today.

"We gave up a little too much after that," she added. "But we've got five weeks to get better."




Finally, it's Finnerty!



No one was more ready to win at Griak than Rob Finnerty. And no one had a bigger fan club, either.

The Burnsville MN sr has been destined for greatness since his freshman year, when he was 2nd in the Minnesota AA state meet and 11th at Foot Locker Midwest. Then, while struggling with injuries but still having solid results, he watched guys like Mike Torchia, Elliot Heath, and Hassan Mead take most of the top honors the next two years. A strong finish in track last spring (8:59 2M at NON) hinted that maybe his time was coming again, and sure enough, blessed by good health so far this fall, Finnerty is knocking them down.

He's been arguably a co-favorite at Griak each of the past two years, at least based on talent, and has taken two thirds. Saturday, there was no question he was the man to beat. Even on a day when he said he didn't feel that great, and "ran slower than I wanted," he pulled away after the mile to an easy 18-second win in 15:58. If he'd had any inclination to drift back at all, he would have undoubtedly been virtually pulled to victory by more than a dozen screaming, shirtless Burnsville crazies who rivaled the "AJ Nation" from Foot Locker 2 years ago.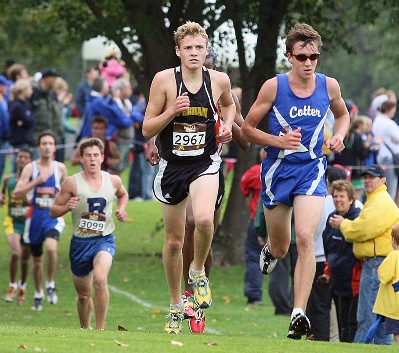 Trailing Rob Finnerty about mid-race were (left) Perham sr Kevin Lachowitzer (eventually 6th), Winona Cotter's Donny Wasinger (eventually 2nd), Minneapolis South's Rodel Kebede (obscured behind Lachowitzer, eventually 4th), and Rosemount's Jordan Carlson (3099, eventually 3rd). Photo Jim Kirby


"The biggest thing is that I'm pain-free right now," he said to a throng of interviewers. "I haven't had the vague injuries that took me out before. I guess I'm more knowledgeable now about any nagging injuries that start to come up and on easy days, I actually take it easy."

With that, the healthy training Finnerty had put in made up for a day when he "never felt in the groove," despite leading through splits of 4:58 and 10:00. "I haven't really felt that good this whole week. (knock on wood, here) But it feels good to have a cushion to work with."

At that point, cameramen focused on the throng of crazies lined up along the rope separating the finishing area where Finnerty was being interviewed. "I have the best fans in the state," he said with a grin, drawing a raucous cheer.

Running a smart, measured race, Winona Cotter sr Donny Wasinger was 2nd in 16:15, followed by Rosemount #1 and sr Jordan Carlson (16:21) and Minneapolis South jr Rodel Kedebe, who is following in the big footsteps left by now-graduated teammate Hassan Mead, who is starring at U. of Minnesota now.

Kedebe, who was 27th last year, was pleased with the way he moved up during the race, but has his kick to work on after a tough last 400 meters.




Wayzata – Starting Slow, Finishing Fast



In a team battle probably as wild as anything every seen here, a team whose coach said had no one in the "top 100" at the mile came up and took the crown after HL#1 Rosemount fell apart.

Jordan Carlson led Rosemount, as expected, with a fine 16:22 in 3rd. But Obai Hussein, who has run 2nd and 4th for the team was a DNF, and Tim Kojetin, 3rd man two meets ago, was 175th. Both were said to have respiratory ailments. That left six other teams battling for the title.

Through 2 men, Port Washington WI looked best (11th and 16th). With their #3 man 23rd and 4th in 57th, Marquette University HS of WI had the lead. But when Wayzata's Peter Holmes, their 5th man, crossed in 17:35 in 77th, Wayzata had made up the gap on three other teams and taken the crown with 211 points, the highest winning total ever in a Griak race, high school or college.

Marquette U. HS held on to 2nd, 3 points back, and Shawnee Mission NW of KS, with not as strong a top two but with only a 25-second gap from 1-5, was 3rd with 236. The log jam followed with Pleasant Valley IA 239, Brainerd MN 253, Port Washington 254, and Rosemount 256.

Wayzata Coach Bill Miles assertion that none of his charges were in the top 100 was borne out by the chip timer at the mile. Incredibly, the quintet of Jeremy Drenckhahn, Dan Ducharme, Anders Bowman, Andrew Wasz, and Holmes finished 14-17-37-66-77. At a mile, officially, those five were 151-162-188-196-184. No kidding.

"I thought we went out far too conservatively, but I guess my kids are smarter than me, because it worked out," said Coach Miles with a laugh. "We kept moving up the whole race. Nobody dropped off at all.

Miles knew his team's win had a lot to do with Rosemount's troubles, but also says his team, ranked #2 in Class AA coming in, can do better as well. "We were surprised and happy to win, but it wasn't our greatest race ever. We know that they don't hand out any automatic qualifiers to state here. We're solid and we're young, and we're going to get better."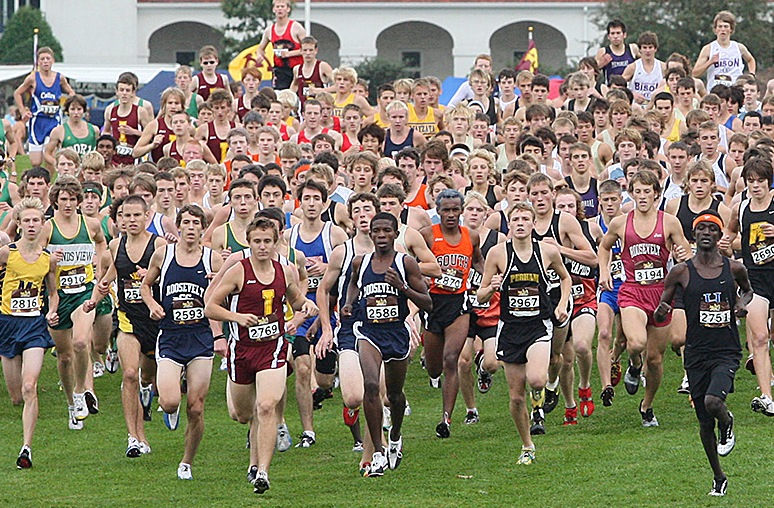 Start of the Boys Gold race. Photo Jim Kirby
Heartland Region Index