It's Fishers IN Boys and Magnificat OH Girls!
Individual titles to Brian Himelright, Emily Pritt
Photos and story by Jeff Hollobaugh, Midwest Region Editor
Full Results Here
Hilliard, Sept. 8
Boys: Fishers dominates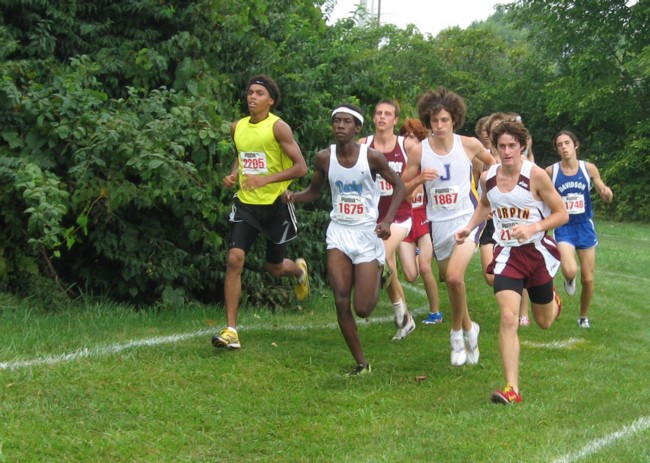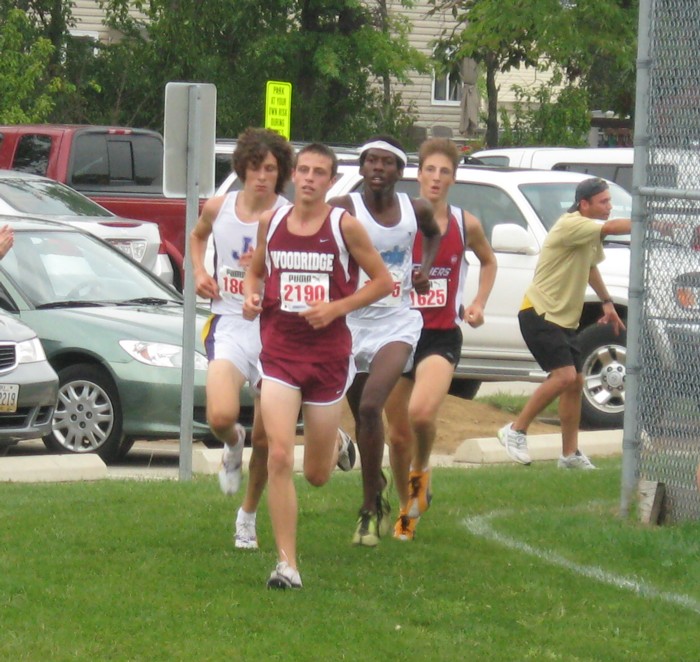 Himelright was surprised that the pack was so big at the mile mark (left). By halfway
(right) he had thinned things out a bit.

Indiana's No. 1 boys team, Fishers, meant business when it traveled to Hillard, Ohio, for the Midwest Meet of Champions. Running on Darby High School's flat course on a humid, overcast day, Fishers tallied 67 points to upend some of Ohio's best teams by a healthy margin. Rob Seymour's Tigers are currently ranked #9 in the Midwest.

Led by senior Cale Allen and his 15:47.98 in third, Fishers also placed junior Drew Shields in 4th (15:58.56). The next two runners also stuck together, Nate Piggush (16:25.86) and Tyler Stegman (16:29.27) finishing 18th and 19th. Number five man Alex Shields placed 23rd in 16:35.59.


In the race for the front, Allen and Shields hung on to the pack for the first half, but that's when Brian Himeright of Woodridge started applying the pressure. The foursome, joined by host school Darby's Joe Jackson, went through the mile in 4:59. At two miles, Himelright (10:09) had a few strides on Jackson, while the Fishers boys started losing ground.


Himelright continued to assert his dominance over the last mile, leaving Jackson behind to win in 15:35.22. Jackson finished 10 seconds later.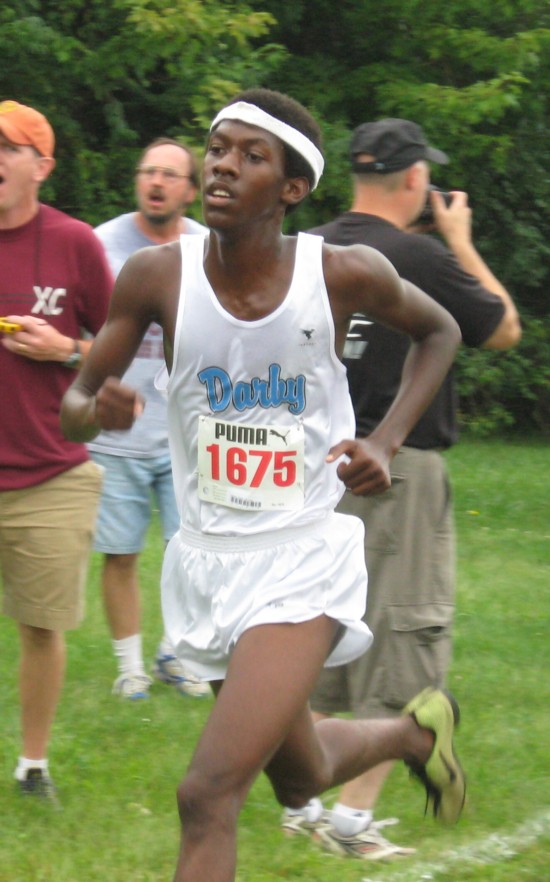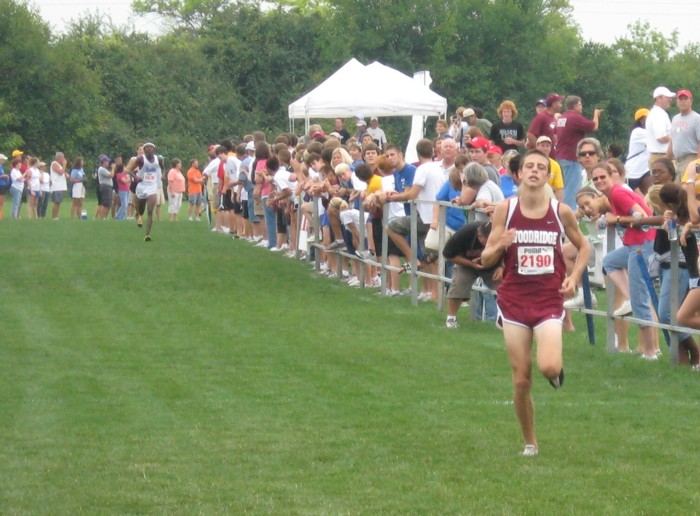 Joe Jackson (left) finished second in 15:45.77. At the finish (right), Himelright had a 10-second lead on Jackson.
Said Himelright, a senior, "It went out fast. I didn't expect so many people to be with the lead pack at first. I kind of planned to stay with it and hang tight for the first two miles or so."


After his PR finish here, Himelright said, "The goal now is to beat this time, and to help my team get to states." The Woodridge boys finished second here with 145 points. Hilliard Davidson had an excellent meet in third (173), as the next two teams finished very close (Turpin 180, Perry 183). Altogether 14 teams competed on the boy's side.



Girls: Pritt wins with blazing kick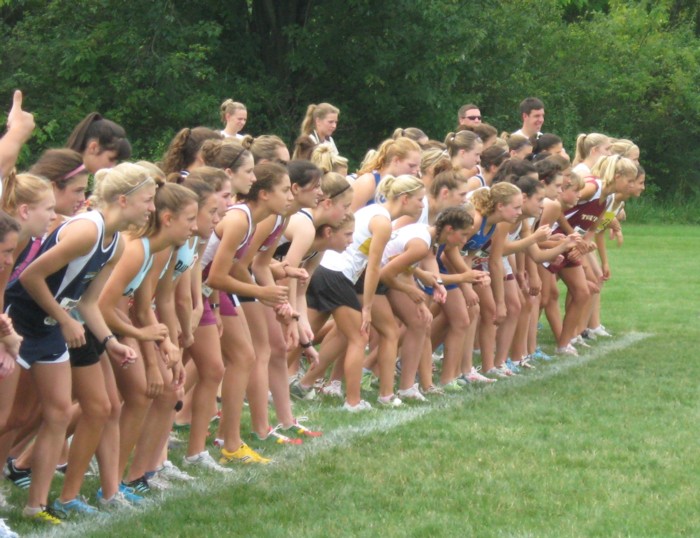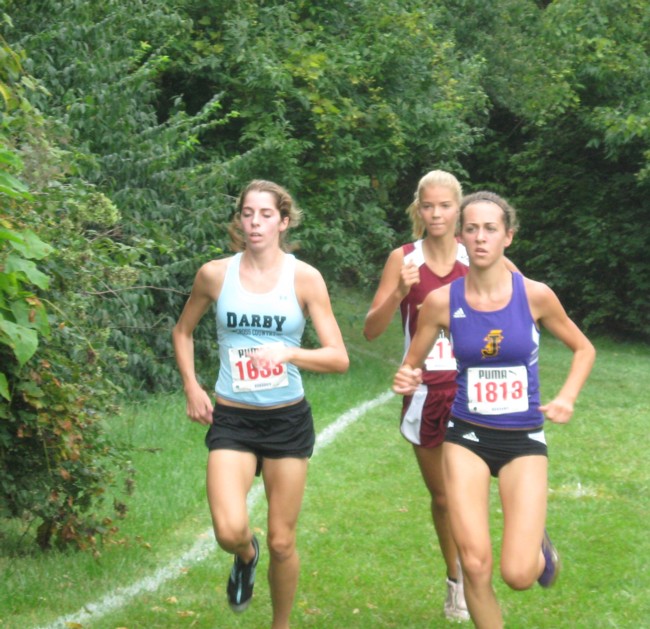 Start of the girls' race; by the mile mark, Alpeter and Pritt led Sam Patty (center), with the rest of the field well back.
Magnificat used its depth to grab the girls team crown with 83 points over Jackson (104) and the rest of the 11-team field. Despite not having anyone in the top five, the team put its own top five all in the overall top 25. Magnificat, ranked No. 7 in the Midwest, put 29 points between it and No. 9 St Ursula Academy, which finished third.


Erika Alpeter of Darby staged a thrilling duel with Jackson's Emily Pritt. The two ran side by side for the first mile (5:40), and at two miles Alpeter (11:41) had a two-second lead. She continued to stretch that out until it looked with a half mile to go as if she had locked it up.


However the humidity and the effort took its toll, and Alpeter began to slow. Running more than 10 meters behind, Pritt had not quite given up. "I was tired, but you don't want to think you're going to lose. I tried to stay upbeat. I could hear what the coaches were saying, and I saw her slowing down."


In the final quarter mile, Pritt rallied. Around the last turn, she started to think she could actually pull of the win. "I slowly started catching up. I thought I might not have enough time to catch her, though. Then it happened." With 30 meters left, Pritt blasted past Alpeter to win, 18:19.12 to 18:21.49.


Turpin senior Sam Patty finished third in 18:42.40, and Hallie Busta of Jackson got fourth in 18:46.64.

=================================


The Midwest Meet of Champions showcases many of the top teams and individuals in Ohio and surrounding states and is the premier early season meet in the Midwest. In 2007, this meet features 5 of the 6 defending cross country team champions in the state of Ohio and the #1 ranked team in Indiana. A great atmosphere will greet the teams and their fans. Music will be blaring, DyeStat will be in attendance to provide national coverage of the meet and play by play announcements of each race of this first class meet will be provided to spectators.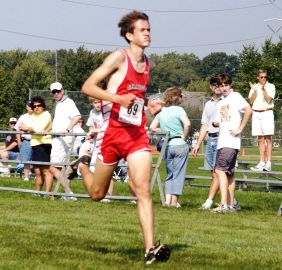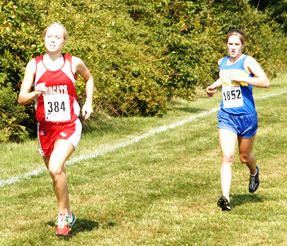 Last year's winners, Emil Heineking (left) and Bekah Smeltzer (right, in right photo) have both graduated

The MMOC will be held on Saturday, September 8th and is hosted by Hilliard Davidson and Hilliard Darby high schools. The course is considered flat and fast and very spectator friendly. The course records are held by Emil Heineking and Bekah Smeltzer. Heineking, from Chardon, was the state cross country champion in Ohio and a Footlocker finalist last year. He set the boys course record in 2006 with a time of 15:14 for 5,000 meters. Smeltzer, from Monroe Jefferson was a state champion in Michigan and established the girls course record last year with her 18:14 5K performance.

The top 2 boys teams at this meet last year received bids to compete in the Nike Team National meet in Portland, Oregon. Peninsula Woodridge and Cincinnati LaSalle each won team titles in Ohio last year and return to the MMOC in 2007! Among those competing for the title on the boys side will be Fishers High School (the #1 ranked team in Indiana), St Thomas Aquinas (defending D3 champs in Ohio) and Canal Winchester (D2 state runner up in 2006). We also have a tremendous field on girls side featuring defending Ohio team champions St Ursula Academy (D1) and Salem (D2). Other outstanding teams are Kettering Alter (D2 state runner up the past 3 years) and Magnificat (4th in D1 in 2006) which return most of their key runners this year. Magnificat is currently ranked #7 in the Nike Team National regional rankings in the Midwest.

Other top teams that are expected to contend for titles at the MMOC this year include cross country powers Centerville, Massillon Perry, Cincinnati Turpin, Massillon Jackson, Oak Hill (IN), Pickerington North, Cincinnati Colerain and host schools Hilliard Davidson and Hilliard Darby.

The boys individual race should be very competitive. Among those to watch are Andrew Shield and Cale Allen (Fishers), Kenta Shimizu (Hilliard Davidson), Shawn Roberts (Centerville), Brian Himelright and Joe White (Peninsula Woodridge), Tony Migliozzi (St Thomas Aquinas), Cameron Balser and Matt McClain (Oak Hill), David Rafailedes (Massillon Jackson) and Joe Jackson (Hilliard Darby).

Top individuals on the girls side are Emily Pritt and Hallie Busta (Massillon Jackson), Madeline Chambers (Magnificat), Erika Alpeter (Hilliard Darby), Karissa Magnuson and Lauren Kachel (Pickerington North), Emily Sabo (Peninsula Woodridge), Sam Patty (Turpin), Hilary Esselstein (Kettering Alter), Liz and Lauren Shivers (Salem) and Tori Brink (Hilliard Davidson).

Course:



The course is around the Hilliard Darby North Athletic Fields and crosses the Hilliard Rails to Trails Bike Path. The course is set up on a world cross country format with two 2k loops with a start and finish. The entire course is on grass with excellent footing. Markings on the course will be a double solid white line. The course will be set up on Thursday night and ready for course inspections on Friday. Please remember that school will be in session that day and parking will be at a minimum until 3:00 PM after the parking lot is clear. Parking for course inspection is available at the Wilcox Garage through the Weston Trails neighborhood. See the COURSE MAP (large .pdf file!).



Results:



Meet results will be posted on www.baumspage.com and www.dyestat.com later that night or you can pick them up before you leave. Results will also be posted for the general public near the concession stands.



Schedule:



9:30 AM Boys Freshman/Sophomore Race
10:00 AM Girls Freshman/Sophomore Race
10:30 AM Boys Race of Champions
11:00 AM Girls Race of Champions
11:30 AM Boys Open Race
12:00 AM Girls Open Race
12:30 AM Awards Ceremony



Awards / T-Shirts:



Awards will be given to the top-ten finishers in each race. Team trophies will be presented to the top-five teams in each race. Awards will be presented at the awards ceremony. T-Shirts will be available with the Midwest Meet of Champions and Dyestat logo in different colors and styles. Prices range from $15.00 to $20.00.



Dyestat Coverage:



The 2007 Midwest Meet of Champions will once again be showcased on www.dyestat.com. The meet information is currently up under the calendar link, with more information be added as the meet gets closer. Pre-meet analysis, meet results, pictures, video, and race commentary will all be provided on www.dyestat.com.