Illinois Girls State Meet





Staisiunaite, Bastert, Short lead the stars





Fri.-Sat., May 18-19, 2007 - O'Brien Stadium, Eastern Ill. U., Charleston IL



Coverage by Tony Jones, IllinoisPrepTopTimes.com


Saturday Full Results - Friday Full Results - Final RECAP by Tony Jones, IllinoisPrepTopTimes.com


AA Preview

Sectional Leaders

ihsa.org site


Class AA Highlights





Class A Highlights

-





By Tony Jones, IllinoisPrepTopTimes.com


From a true track fan's point of view, the scenario was perfect - the Class AA championship coming down to the 4x4 relay. With the victory there, Barrington (55 points) held off E. St. Louis (46) for their first team title. The Fillies became the first champion outside of Chicago Morgan Park, Evanston, Chicago South Shore, and E. St. Louis Lincoln. The battle was much closer than some observers thought, but the state finals bring out the best in everyone.

For Barrington, the title brings a ton of joy after a season of sorrow a year in wake of mass disqualifications. The Fillie posse was all smiles and appreciative this time around.

In Class AA, Sherrard won their first title in a very close battle over a solid and well-rounded Carthage group. Dwight and Seton Academy rounded out the top five, that included defending champion Benton, who were without the services of injured Courtney Smith.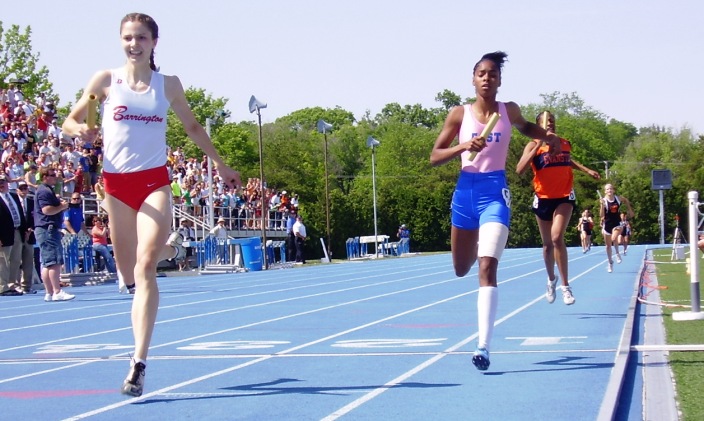 Barrington crosses the line for the win in the 4x400, enabling them to win the AA championship.


Event Summaries

Class A 4x800m Relay-
Monmouth-Roseville 9:35.93 (2:18.3 anchor); Winnebago 9:41.61; Sherrard 9:43.91
Summary: Sherrrard took the early lead up to the anchor leg- that's when Monmouth-Roseville took charge. Hanna Hottle had less than a second lead and expanded it by more than five seconds. Hottle's fade eventually cost her team the runner-up spot.

Class AA 4x800m Relay-
Barrington 9:09.67 (#3 all-time) [2:18.1, 2:20.6, 2:16.xx, 2:14.xx]; Hinsdale Central 9:14.11; Palatine 9:14.11
Summary: Barrington immediately took the lead from the gun and had to endure just one challenge from the field- Hinsdale Central on the third leg. Tracy kicked home on the anchor in near record time.

Class A 4x100m Relay-
Melrose Park (Walther Lutheran) 49.65; Dwight 49.68; Aurora (Christian) 49.99
Summary: the margin of victory was small as was the margin of error. WL anchor Jazzmyn Harvey held off a surprising but hard charging Chloe Trewartha. AC earned themselves a school record with the bronze medal effort.

Class AA 4x100m Relay-
E. St. Louis Sr. 47.25; Barrington 47.84; Hoffman Estates (Conant) 47.94
Summary: E. St. Louis Sr. took back the short relay title they lost several years go. Barrington picked up 9 big points to stay pace in the team race with ESL. Even though Nash burned the field on her anchor, the race was won on the second and third legs with crisp baton passing.

Class A 3200m-
Katelyn Bastert (Carthage) 10:38.91; Ryan Eichelberger (Reed-Custer) 11:03.90
Summary: the senior star completed IHSA career by winning her 4th consecutive state title. Bastert made sure the race was over after the initial 800m. Eichelberger ran stride by stride with Bastert the first two laps before falling back. Bastert indicated that she ran much faster than she wanted to the first mile: "I wanted to go 5:20 instead of 5:07!" The thing that makes Bastert such a joy is that she is the ultimate competitor and no matter how big her race lead is she gives the audience what they deserve- a great show.




Class A 1600/3200 champ Katelyn Bastert (left) and AA 800 (pictured) and 400 champ Casey Short. Short beat a great field in the 800, including runner-up Ashley Verplank and 3rd-place finisher Shakeia Pinnick.


Class AA 3200m-
Kristina Aubert (Crystal Lake South) 10:51.12 [5:27]; Laurie Dalyrimple (Elmhurst York) 10:56.97; Stephanie Strasser (St. Charles North) 11:04.16
Summary: Aubert, who is a heralded freshman, wins a close battle over Dalyrimple. It wasn't until the final 300 meters that the individual outcome was decided. Dalyrimple and Aubert broke away from the pack with three laps remaining and stayed glued before Aubert used her mile speed for winning measure. The victory was redemption of some sort for Aubert: "winning [this title] makes up for a [disappointing cross country] season.

Class A 100HH-
Ashley Kasnick (Aurora Central Catholic) 14.49; Leah Orley (Benton) 14.80; Megan Stringer (Central A &M) 15.12
Summary: Kasnick has had a great year and she concluded it with a major upset over defending champ Orley. Kasnick got to the first hurdle first and it was over.

Class AA 100HH-
Summary: Egle Staisiunaite (Downers Grove South) 13.72w; Natalie Tartar (Batavia) 14.17w
Summary: Staisiunaite achieved a personal best of under any condition. The anticipated battle between her and Tartar didn't materialize. Tartar was slow out of the blocks and couldn't catch up.

Class A 100m-
Kimberly Smith (Pinckneyville) 12.13R; Anisha Johnson (Seton Academy); Ashura Jenkins (Aurora Christian)
Summary: Smith won going away in meet record effort. Smith has now won the last two titles.

Class AA 100m-
Ronecia Nash (E. St. Louis Sr.) 11.94; Toni Graham (Hoffman Estates Conant) 11.95; Yolanda Suggs (Belleville West) 12.12
Summary: Nash and Graham ran a nearly photo-finish effort

Class A 800m-
Stephanie Brown (Downs Tri-Valley) 2:14.36; Leann Michl (Carthage) 2:16.91; Amy Byers (Carthage) 2:18.53
Summary: Brown defended her title with relative ease. Brown set an early blistering pace that led to a 2+ second margin of victory.

Class AA 800m-
Casey Short (Naperville Central) 2:11.33; Ashley Verplank (Bloomington) 2:12.05; Shakeia Pinnick (Aurora Waubonsie Valley) 2:12.70
Summary: it was Déjà vu all over again. Short is such a great tactician that she mired her self in a pack of runners through a brisk pace. Regina George (Chicago Morgan Park) actually had a slight lead at the top of the turn (500m) until just over 200m , when Short bolted to the front. Short appeared to catch the group off guard as she suddenly bolted to the front in an all out kick. Verplank and Short gave chase but to no avail. Short was incredibly strong down the stretch to the finish line.

Class A 4x200m Relay-
Dwight 1:44.10; South Holland (Seton Academy) 1:44.30; Melrose Park (Walther Lutheran) 1:45.59
Summary: the three top teams lined up for battle and Dwight held off hard charging anchor Anisha Johnson.

Class AA 4x200m Relay-
E. St. Louis Sr. 1:39.73; Harvey (Thornton) 1:40.98; Evanston 1:41.11
Summary: E. St. Louis got the lift they needed- an solid victory over a tough field. Ronecia Nash made sure Thonton didn't have any plans of upset with closing 23.7 anchor leg.

Class A 400m-
Ellen Kindelsperger (Sherrard) 57.41; Alisha Baron (Manilus Bureau Valley) 57.80; Tess Shubert (Okawville) 58.30
Summary: Kindlelsperger set a personal best in winning her first title. Baron was the surprise second place finisher.

Class AA 400m-
Casey Short (Naperville Central) 55.97; Coryn Marzejon (Huntley) 56.16; Yolanda Suggs (Belleville West) 56.53
Summary: Marzejon held a sizable lead at 200m then 250m. Short made a final push coming onto the homestretch and zipped by a fading Marzejon, who many considered the favorite to win this event.

Class A 300LH-
Leah Orley (Benton) 43.80; Amy Byers (Carthage) 44.96; Tori Stone (Altamont) 45.16
Summary: Orley won her final event of the day going away over tough rivals Byers and Stone.

Class AA 300LH-
Egle Staisiunatie (Downers Grove South) 41.67; Shakeia Pinnick (Aurora Waubonsie Valley) 42.65; Natalie Tartar (Batavia) 42.84
Summary: Staisiunaite ran the race of her life by destroying perhaps the deepest individual field of the day. Staisiunaite was even through the first three hurdles with Tartar and Pinnick. Lane Tech's Morgan Monroe tried to make up ground after hitting the first hurdle hard. She actually closed gap on Pinnick and Tartar but faded slightly down the stretch as the other two did. Staisiunaite improved mightily over last year and produced the fastest non Shalina Clarke (Evanston) time (#5 all-time).

Class A 1600m-
Katelyn Bastert (Carthage) 4:52.39 [2:20.5]; Stephanie Brown (Downs Tri-Valley) 5:07.71; Olivia Klaus (Eureka) 5:08.65
Summary: the great one set a blistering pace through 800 meters. She built up such a big lead that it appeared as if she was jogging the last 300 meters of the race. Said Bastert of her last state meet race: "I'm really going to miss competing her against the girls but I had a blast."

Class AA 1600m-
Ashley Verplank (Bloomington) 4:54.95 [2:31.4, 3:47.7]; Nicole Benson (Limestone) 5:00.37; Lizzy Hynes (St. Charles East) 5:01.30
Summary: a new champion was crowned but Verplank did it the hard way. She sprinted the last 250 meters and opened up what was a small lead to what appears to be a big going away victory. Actually, there was a pack of six girls through 800 meters and four on the bell lap (close by) before Verplank exploded with her great speed.

Class A 200m-
Kimberly Smith (Pinckneyville) 25.65; Anisha Johnson (Seton Academy) 26.02; Ellen Kindelsperger (Sherrard) 26.20
Summary: Smith completed the sprint double by holding off Johnson once more.

Class AA 200m-
Ronecia Nash (E. St. Louis) 24.86; Toni Graham (Hoffman Estates Conant) 25.16; Hanna Query (Mahomet-Seymour) 25.22
Summary: Nash competed the sprint double and closes out her team's scoring. Nash's effort proves she is the sprint queen of Illinois. A very tired but not beaten Graham was still able to muster a smile after four gutsy efforts.

Class A 4x400m Relay-
Dwight 4:00.93; Sherrard 4:03.12; Rockford Christian 4:04.12
Summary: Dwight followed up their indoor title with an outdoor one. The season best effort is also the school record.

Class AA 4x400m Relay-
Barrington 3:50.21; Maywood (Proviso East) 3:50.38; Evanston 3:51.76
Summary: How fitting was it for the Fillies to win the last event on the track after winning the first? Barrington trailed in third behind PE and Evanston through three legs but on the anchor is when Jennifer Schnack moved up and around Evanston's Brittany Tolar into second entering the homestretch. Meanwhile, PE's Nevada Morrison, who was sporting a heavily bandaged hamstring, began to labor with 50 meters remaining. Schnack remained calm but then suddenly struck with 10 meters left by edging ahead for the win. Both teams gave everything they had in the final tilt.


-Field Events-

Class A Long Jump-
Katelyn Moore (Camp Point Central) 17-10.5; Kolby Hoffman (Dwight) 17-10.25; Lauren Winkleman (Carmi-White County) 17-9.5
Summary: Moore, Hoffman, and Winkleman all remained in the same order as Friday's prelims. Moore's leap is a school record.

Class AA Long Jump-
Briittani McNeal (Romeoville) 18-10.5; Diane Lindsey (Thornton) 18-3.5; Breanna Sanner (Hillcrest) 18-2.75
Summary: McNeal and Lindsey moved up considerably from Friday's prelims. Both leapers improved 6" despite gusty conditions.

Class A Shot Put-
Maria Pretnar (Hillsboro) 42-10.25; Tabitha Smith (Oregon) 41-6.5; Allison Kereven (Oregon) 40-9
Summary: Kerevan moved in front of Alissa Patient (Macon-Meridian) for the third position. Pretnar and Smith did not improve on prelim marks.

Class AA Shot Put-
Bailey Wagner (Grant) 46-6; Megan Manning (Rock Island Alleman) 45-3.5; Khadija Abdullah (Thornton) 45-0
Summary: an observer noted that the top three finishers scratched on their Saturday attempts. One wonders if this move was to preserve the body for the Discus. Wagner defends her title in one of the best competitions in recent years. Teammate Tori Zigler cops all-state honors with a career best of 42-11

Class A Triple Jump-
Leah Orley (Benton) 37-6.5; Jenner Sio (Rockford Christian Life) 36-9.25; Jaimee Roy (Neoga) 36-6.5
Summary: Orley defended her title winning by nearly a foot. Sio, a relative unknown, cops second place.

Class AA Triple Jump-
Breanna Sanner (Hillcrest) 40-4.25; Alex Smith (Thornton) 38-9.25; Malakah Love (Carbondale) 38-2.25
Summary: Sanner proves she is the top jumper with the state's only 40' effort all season- and in the final.

Class A High Jump-
Jessica Hemann (Breese Central) 5-5
Summary: Hemann won her first title over several others on less height misses. Saturday's gusty conditions prevented better efforts.

Class AA High Jump-
Jennifer Palovscsik (Belleville East) 5-7; Alex Starks (Peoria Richwoods) 5-6; Raisa Taylor (Decatur Eisenhower) 5-5
Summary: Palovcsik had a season goal of winning the state championship and her goal was realized. She also came close to equally her personal record and the state best of 5-8, set back during the first week of the outdoor season.

Class A Discus Throw-
Megan Stringer (Moweaqua Central A & M) 122-6; Erin Clark (Fairbury Prairie Central) 122-4; Tracy Olson (Argenta-Oreana) 120-9
Summary: How competitive was this event? Consider the fact that positions 1-9 were just 5' from one another. Stringer, who was positioned in the 12th position coming into Saturday's final, won the title on her last throw. Her efforts received a stand up applause from the crowd during awards ceremony.

Class AA Discus Throw-
Erin Wycoff (Triad) 147-9; Bailey Wagner (Grant) 146-11; Jordan Harris (Champaign Central) 139-8
Summary: the top six hurlers will be returning in 2008. That means E. Wycoff and Bailey will resume their friendly competition once again. Erin's twin Kristen Wycoff placed 9th.

Class A Pole Vault-
Katherine Hendricks (Carterville) 11-3; Lisa Livingston (Clinton) 11-0; Tyra Woodruff (Byron) 11-0
Summary: Hendricks repeats as champion over a solid field.

Class AA Pole Vault-
Melissa Gergel (Chicago Heights Marian Catholic) 12-6; Jenna Wexter (Lincoln-Way Central) 11-6; Jocelyn Kuksa (Palatine) 11-3
Summary: Gergel ends her high school career with the coveted first place effort over friendly rival Wexter. Gergal, who appeared to be MIA much of the outdoor season, improved steadily the last several weeks going into state. She also exacted revenge from the IPTT loss to Wexter.


---




AA Preview

- The Barrington Fillies have been dominating the Illinois track and field scene since February. Ironically, their destiny with history will have to go through legendary programs E. St. Louis Sr. and Evanston - Full Team/Individual Class AA Preview by Tony Jones



The Qualifiers

- Jeff Hollobaugh's Sectional Highlights for Class AA and A. Katelyn Bastert blazed a 10:23.3 3200.