MITS Michigan State Indoor





James Jackson Joins Ultra-Elite Soph Sprinters - 6.74 60M





Saturday, March 17, 2007 - U of Michigan Indoor Track, Ann Arbor MI



Coverage by Steve Underwood, Pat Davey



Boys Highlights - Girls Highlights - Results from mitstrack.org
- Story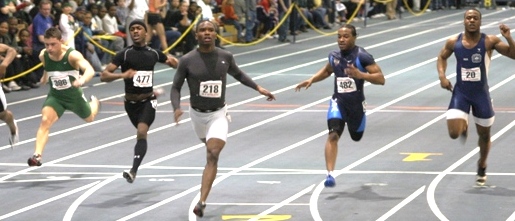 Grand Ledge soph James Jackson (center) wins 60 dash in 6.74. Photo by Davey, runmichigan.com
Grand Ledge soph James Jackson dashes US#5 6.74 60 to become 3rd soph this winter at 6.75 or better; also anchors 2nd-place 4x200 with 21.8.
MI Accelerators/Romulus sr Shane Wells, already US#4, just misses PR with 7.90 60H victory, anchors winning 4x200 with 21.6.
5 clear 6-08 in boys HJ, but Zeeland East's John Donkersloot comes away with win on misses.
Bedford sr Logan Lynch has good attempts at state record 16-05.50 PV, after securing win at 15-03.
Motor City TC/Detroit Mumford gets wins in 4x8 (8:01.17), 4x4 (3:24.17), and individual wins from Cedric Everson (meet record) 49.54 400 and Isaiah Ward (1:55.26).
Above, the 3200 field is a blur behind leader Marissa Treece, who backed up her NSIC double with a 10:34.40 victory. Photo by John Brabbs, runmichigan.com. At right, Ramzee Fondren used a devastating last 400 to rule the 800 in 2:12.69. Photo by Davey, runmichigan.com
After mild NIN disappointment, Zeeland East sr Allison Liske powers shot put out to US#6 46-06 (Byron Center sr Mary Angell 45-10)
Motor City TC/Detroit Mumford sr Shayla Mahan, already US#2, just misses PR and makes up for NSIC disappointment with 7.29 60 (also 24.3 4x200 relay leg).
Maple City Glen Lake sr Marissa Treece, fresh of NSIC double incl. US#2 2M, just misses state mark with 10:34.40 3200.
Detroit Cheetahs/Renaissance jr Ramzee Fondren dominates 800 in 2:12.69,

East Kentwood's Abigail Shanahan skies over 12-00.75 for state record in girls PV.

Grand Blanc 8th-grader Dynasty McGee rolls to 56.02 400 meet record victory, continuing great season.

MITS Provides Another Chance for Nationals Stars

By Steve Underwood

The MITS (Michigan) State Indoor Meet was a showcase for all of the athletes who had performed best during a season-long series. But for a big handful of the national-class athletes at the meet, which took place at the University of Michigan Indoor Facility in Ann Arbor Saturday, it was an opportunity to make up for less-than-satisfying efforts at NIN or NSIC the weekend before.

Those who demonstrated that they were more than what they showed in Landover or New York included sprinters James Jackson and Shayla Mahan. Jackson, the prodigal soph from Grand Ledge/Great Lakes TC, did well at NIN in just missing the final at 6.87 for 60, but improved to a stunning US#5 6.74 here to rule the field. Mahan found her Big Apple weekend bitterly disappointing, but the Motor City TC/Detroit Mumford sr came back here and blazed a 7.29 60, her 2nd sub-7:30 of the year.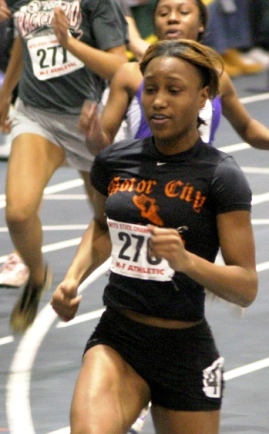 Shayla Mahan wins the 60. Photo by Davey, runmichigan.com

Allison Liske and Shane Wells also fit that mold. Liske, a Zeeland East sr, just missed the shot put final at NIN, but crushed her PR here with a US#6 46-06. Wells, a Romulus sr who winters with the Michigan Accelerators, skimmed the barriers in the 60H to a 7.90 after the hurdle fiasco at NIN. Unfortunately, Michigan's best hurdler – Josh Hembrough – didn't have the chance to make up for NIN disappointment as a nagging injury got to the point last week where he had to pull out of the meet.

On the other hand, NSIC was a monster breakthrough for Maple City Glen Lake sr Marissa Treece (5k champ and 2M runner-up). Here, then, was an encore performance and she dominated the 3200 in 10:34.40. Detroit Renaissance jr Ramzee Fondren also improved on a good NIN showing, blowing away the 800 field in 2;12.59.

In other events, the performances of the likes of pole vaulter Abigail Shanahan or the five boys high jumpers who cleared 6-08 pretty much stood on their own.


Sprints/Hurdles

James Jackson and Shayla Mahan were super motivated Saturday, and it certainly showed on the straightaway.

With each having left their respective meets last weekend feeling less than fulfilled, it was time to go out from the indoor season with a bang in Ann Arbor – and both did just that.

At NIN last weekend, Jackson was just .02 from the 6-man 60 final. It was a fine showing, but hard to notice nationally when there were already two other sophs in the final, Rynell Parson TX and eventual winner Jeremy Rankin CO.

Saturday, Jackson had an extra incentive. He had the loving attention of more family members than had ever seen him run before, including his older brother who had recently been released from prison. That Jackson, who is coached by Comets head man Kim Spalsbury as well as club coach Bob Hollingsworth, was going to have a big day was apparent in the rounds, as he zipped 6.86 in the heats and a PR 6.80 in the semis. Still, if he was going to get his national props, he needed to come down even further in the final. He did, dashing a US#5 6.74, putting him right there on the lists with Rankin and Parson. He became the #2 performer in state history, just .01 off the record.

Reflecting on last weekend, Jackson said, "I was just 2/100 of a second off (from making finals). I didn't have a good week of training because of my job, but I did my best and was satisfied with it."

After a good week this week, Jackson was really motivated by the contingent of Jacksons in the house, especially his brother. "He hasn't seen me run in five years. He's been in trouble with the law. But today, he came and brought his family to see me. I got out good and I finished good."

Then there was Mahan. Her heart was set on victory when she went to New York last weekend, but she was 4th in both the 60 and 200 finals. "Maybe I'm just not used to competition," she said. "I've got to get used to people running the same speed as me. When I run by myself, I run good."

That was the case again Saturday as Mahan blazed a 7.29 60 that is second only to her 7.26 from earlier this winter. With her 7.40 and 7.36 in the first two rounds, it was apparent that she was back to her old self.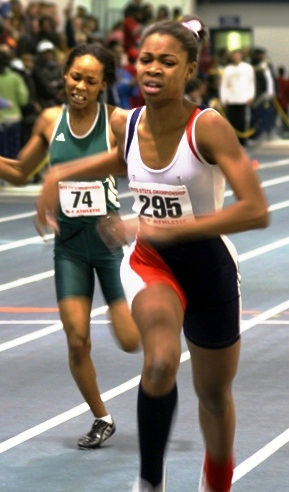 Dynasty McGee takes the 400. Photo by Davey, runmichigan.com
The 400s featured a stunning 8th-grader and a tough veteran senior at the top of the respective podiums.

Last weekend, Dynasty McGee found herself lining up against Bianca Knight – as big a star as there is in the sport – in the first heat of the 400 at NIN. "I was pretty overwhelmed," she admitted. She ran a very solid 57.27, but was the first non-qualifier for the finals in 9th – just like Liske.

Saturday, the Grand Blanc MS star really showed how talented she is and how she can do when she's in an element she's used to. In a tough field that included Michigan Accelerators/Kennedy standout Victoria Chatman, she powered ahead and never let up, crossing in a meet record 56.02 – a very good time on the flat oval from a national perspective. Chatman was 2nd in 56.95. McGee's time made her #2 in state history.

"It went pretty well," she said. "I tried to work on keeping my face relaxed, pumping my arms, and not getting tight."

Cedric Everson, who's been running great individually all over the Midwest all winter, as well as with his Motor City TC/Mumford teammates in relays, was going for the meet record. Varick Tucker of Belleville, who Everson later said is his cousin, went out at a torrid pace, hitting 200 in 22.9.

Everson held on to Tucker's jetstream, then finally passed him later on the 2nd lap and gritted through the finish in 49.54, a meet record, while Tucker settled for 3rd (50.31) behind Ann Arbor Pioneer's James Wade (50.15).

Grand Rapids Forest Hills Northern sr Josh Hembrough and Michigan Accelerators/Romulus sr Shane Wells went into NIN as the nation's #1 and #2 60M hurdlers. In the chaos that led to a 12-man final, they both got in, but were 12th and 8th, respectively, with Hembrough uncharacteristically crashing the last hurdle and tumbling to the track.

Wells said he was sick in MD, while Hembrough revealed he was about "85 percent" due to a hamstring injury. That injury got worse last week and Hembrough scratched here, though he showed up in warmups and spent the day conversing with and encouraging others. Wells, meanwhile, came here for redemption.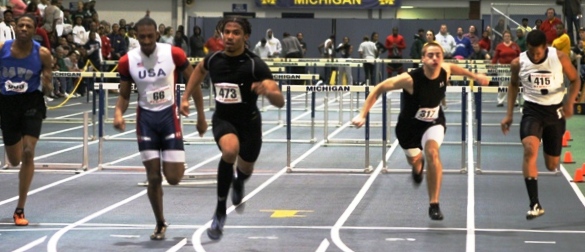 Shane Wells over the 60H field. Photo by Davey, runmichigan.com

At first, it was rough sailing, as he was 2nd in his semi to Pershing's James Carter, 7.99-8.10. But in the final, he looked the way he has most of the year, blazing to a 7.90 that was .22 ahead of Carter and just .08 off his PR 7.82, which rates #3 in state history. "I still didn't PR, but it was ok," he said.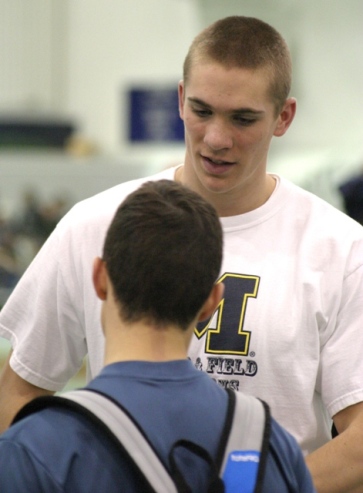 Josh Hembrough didn't compete due to injury, but still made the show. Photo by Davey, runmichigan.com

Unfortunately, Hembrough's hamstring wasn't ok. "It began bothering me four weeks ago, but I kept running," he explained. "At NIN, I was only about 85 percent. Two days ago in practice it got worse and I stopped. Now I'm getting physical therapy and am taking a month off."

Still, it was good to see the towering athlete on the track, talking to fellow athletes and fans, and cheering competitors on. To many, he is the face of Michigan prep track and field.

The 200s were also pretty swift races, with Ann Arbor Pioneer junior James Smith scorching a 22.07 on the 200m oval, good for #4 in state history and one of the better flat track runs in the country this year. On the girls side, it was Dearborn Edsel Ford's Elise Glass winning the battle of "Elises," 25.02 to 25.52 over Jackson's Elise Brown.


Field Events

Allison Liske had a solid first trip to NIN, taking 9th in the shot. But she knew she could do better. Saturday, she showed just how much better.

With a mighty 46-06, the Zeeland East sr topped favored Mary Angell and took her first state title.

"I missed the final at NIN by a couple of inches (4.75, actually)," she recalled. "It was kind of frustrating." She had a best of 44-03.50 there, 45-06 on the indoor season … and started this winter with a PR of 43-10 from last year. "Today, my technique out the back was different and I slammed the front harder."

Angell, the Byron Center sr, was 2nd in 45-10, just barely off her NIN throw that got her 4th.

The pole vault featured some outstanding efforts. East Kentwood sr Abigail Shanahan came into the meet with a PR of 11-08. She left with a new state record of 12-01 – and looked like the happiest competitor in the meet. "I couldn't believe it," she said of her reaction to the record. "I felt like I hit it, so I kind of did a belly roll on the way down."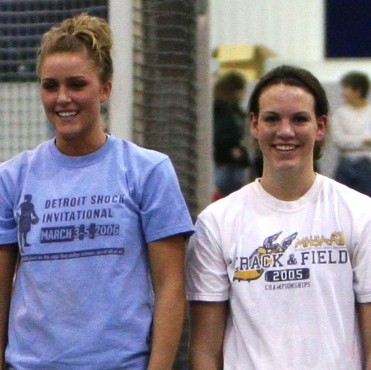 Allison Liske and Mary Angell 1-2 in the shot put. Photo by Jim Liske

She had never attempted anything over 12 feet before. "I broke in a new pole today," she said. "I've never jumped before with everyone clapping like that, either."


Distances

Marissa Treece was pretty happy just to make it in to the Foot Locker CC Finals field when she held on to her top 10 spot last fall in Kenosha. In San Diego, she led briefly, then faded to the middle of the pack, still with a solid showing given her credentials. One hoped for some improvement for the spring, as would be hoped for any senior in their final track season.

Well, things have changed and anyone who's taken notice will take her seriously any time she leads a major race in the future. Treece had a good winter in the MITS series, improving to 10:43 3200, but no one was prepared for what she did at NSIC. First, she dominated a mediocre 5000 field with an impressively even-paced run that gave her a 17:04.32 victory – a big improvement on anything she'd run in XC, a state record, and a solid spot on the all-time national list in the infrequently run event.

Very, very good, but what she did two days later would elevate her even further in the eyes of most. In the 2-mile, obviously an event with much more history, she hammered her PR all the way down to 10:22.96, not only destroying the state mark there, but even the all-time best outdoors. In finishing 2nd to NTN champ Ashley Higginson's great performance, Marissa completed her weekend ascension to the very top of the ranks in prep distance running.

In Ann Arbor Saturday, the spike-haired senior took a shot at the indoor state meet mark of 10:33.70. In New York, she paced both races well. But going out hard on her own has always been an issue with Treece and it came up and got her a bit again. Her first 400 of 71.9 was more suited to an outdoor 1500. Still, she's improved by so much that despite that, she still came in at 10:34.40, her 2nd best time and 30 seconds up on a good field that included Meggan Freeland and Emily Langenberg.

"I took a big rest after cross-country and it just seems like I've come back much fresher, which has helped a lot," she said. "But I really haven't done much different. It's 6-7-8, 6-7-8 (pattern of miles per day). I've done one run as long as 10 miles and I've been doing a little weigh lifting.

"Working with Coach Shay has really helped, though," she added. "It seems like my endurance is way up. When I ran 10:43 (3200 early in the winter), I was like, 'All right, I can do this.' Everything seems to be working right now."

The boys 3200 saw a tight pack of runners gradually broken up by Ovid-Elsie's Maverick Darling, who went on to win in 9:30.46.

The next most impressive distance race was easily the girls 800, as Ramzee Fondren showed her highest level of racing maturity yet. After defending champ Amelia Bannister of Albion took it out in 32, she dialed it back and the field watched as Monroe's Lindsay Gakenheimer opened eyes by building a big lead. She hit 400 in 65.3 and no one really knew what to think.

But then Fondren accelerated and it was she that the fans stared at now, wide-eyed, as she blew everyone else off the track with her negative split. Very few are the 800 runners who can run the 2nd 400 faster, even off a slow (for them) pace. Her 2:12.59 was more than six seconds ahead of Bannister. To be fair to Bannister, she's been making a long gradual comeback from mono and a car accident, but Fondren's time is second in meet history only to the legendary Geena Gall.

"I figure out my strategy for each race and this time, this was the best one," said Ramzee. "Usually, I go out hard the first 200."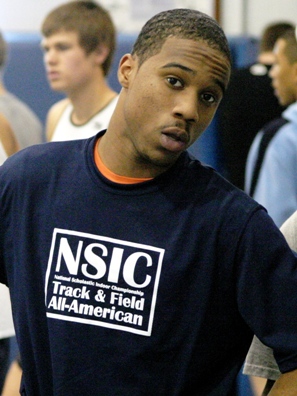 Isaiah Ward after his 800 win. Photo by Davey, runmichigan.com

In the boys 800, Isaiah Ward had hopes of hitting something close to the fine 1:51 split he had on the Motor City TC Sprint Medley at NSIC. He went out in a scintillating 54.3, but had to really hold on during subsequent laps of 29.6 and 31.6. Still, his winning 1:55.62 was consistent with the times he's run all year in compiling a fine resume.

Did he really mean to go out that fast? "I usually try and go out in 55 or 54," he said. "I'm glad I won, but I was doing too much thinking at the end and tied up bad. But honestly, I was just trying to stay away from second. I didn't want to lose like last year."

In the 1600s, Bedford's Alex Folk built a big early lead, going out in 2;07, then holding on for a 4:24.58 championship, with Williamston's Dan Nix closing to 0.7 seconds at the end. Rockford's Brittany Dixon led most of the way en route to a dominating 5:07.54 victory.


Relays

The best running with the stick on the track came in the 4x200, as anchors Shane Wells (Michigan Accelerators) and James Jackson (Great Lakes TC) did battle. Wells' 21.6 carry finished off his team's winning 1:30.86, while Jackson's team was a strong 2nd in 1:31.35 after his 21.8.

On the girls side of the 4x200, Mahan led off Motor City's effort with a 24.3, getting a big lead, but Ann Arbor Track Club stormed back and won it in 1:43.51 on Kiara Moore's 24.8 anchor. The club also took the 4x400 in 3:56.35

The Motor City/Mumford boys, with Ward and Everson, continued their success with victories in the 4x400 and 4x800 in times of 3:24.17 and 8:01.17. The boys DMR went to Herb's Runners, with anchor Cole Sanseverino of Monroe, in 10:38.51. Fondren paced Detroit Cheetahs to the girls 4x800 title in 9:30.25, while the DMR went to Spirit of Pre (Saline) in 12:40.16.


Licensed to University of Michigan     Hy-Tek's Meet Manager 3/17/2007 04:56 PM
                  MITS Indoor State Championships - 3/12/2007                  
                                 Ann Arbor, MI                                 
                                    Results                                    
 
Event 1  Girls Shot Put
==========================================================================
   MITS Meet: $ 46-08  2000        Becky Breisch, Border Bandits               
    Name                    Year School                  Finals           
==========================================================================
  1 Liske, Allison               Unattached              14.17m   46-06.00 
  2 Angell, Mary                 Byron Center            13.97m   45-10.00 
  3 Rolfe, Joy                   Fraser                  12.50m   41-00.25 
  4 Brooks, Tia                  East Kentwood           12.45m   40-10.25 
  5 Cameron, Kristin             Algonac                 11.12m   36-05.75 
  6 Whalen, Robyn                Liv. Franklin           10.94m   35-10.75 
  7 Strawn, Kirsten              Pioneer                 10.83m   35-06.50 
  8 Kubasiak, Katie              Coldwater               10.82m   35-06.00 
  9 Alexander, Courtney          BC Western              10.65m   34-11.25 
 10 Buchhop, Gwendolyn           Hillsdale Acad,         10.06m   33-00.25 
 10 Privette, Sarah              Brandon                 10.06m   33-00.25 
 12 Cormier, Samantha            Frankenmuth              9.99m   32-09.50 
 13 Lindsey, Laura               Gladwin                  9.97m   32-08.50 
 14 Engle, Heather               Monroe Jefferson         9.80m   32-02.00 
 15 Battan, Brandy               Vicksburg                9.79m   32-01.50 
 16 Mann, Brittany               Country Day M.S.         9.71m   31-10.25 
 17 Rupert, Jessica              Hillsdale                9.54m   31-03.75 
 18 Wendorf, Bailey              Coldwater                9.53m   31-03.25 
 19 Fether, Jessi                Waldron Area HS          9.14m   30-00.00 
 20 Corey, Kaylen                Byron Center             9.02m   29-07.25 
 21 Burks, Akilah                Pioneer                  8.95m   29-04.50 
 -- Parker, Josalynn             Coldwater                   ND            
 -- Brown, Norianna              Port Huron                  ND            
 
Event 2  Boys Shot Put
==========================================================================
   MITS Meet: $ 60-09.50  1999        TJ Duckett, Animal Farm                  
    Name                    Year School                  Finals           
==========================================================================
  1 Maloney, Jake                Detroit Cath. Cn        17.03m   55-10.50 
  2 Armstrong, Matt              Sexton                  17.00m   55-09.25 
  3 Stiffler, Donny              Williamston             15.99m   52-05.50 
  4 Flanner, George              Unattached              15.95m   52-04.00 
  5 Ide, Aaron                   Byron Center            15.94m   52-03.75 
  6 English, Nate                Hillsdale               15.61m   51-02.75 
  7 Kuras II, Mike               Lakewood                15.37m   50-05.25 
  8 McCullough, Ryan             Cadillac                15.29m   50-02.00 
  9 Briggs, Patrick              Unattached              15.01m   49-03.00 
 10 Woodman, Bobby               Williamston             14.96m   49-01.00 
 11 Milligan, Ernie              Pioneer                 14.41m   47-03.50 
 12 Hessell, Christopher         New Haven               14.26m   46-09.50 
 13 Ross, Raleigh                Crockett Tech           14.18m   46-06.25 
 14 Skipwith, Dicecil            Sexton                  14.11m   46-03.50 
 15 Ryerson, Mark                Swartz Creek            12.94m   42-05.50 
 16 Scholl, Andrew               Hillsdale               12.73m   41-09.25 
 -- Hidayetoglu, Earl            West Bloomfield             ND            
 -- Merchant, Cameron            Sexton                     DNF            
 
Event 3  Girls High Jump
==========================================================================
   MITS Meet: $ 5-10.50  2003        Vanessa Maher, Detroit Cheetahs           
    Name                    Year School                  Finals           
==========================================================================
  1 McKnight, Lindsey            Sparta                   1.68m    5-06.00 
  2 Majchrzak, McKenzie          Manistee                 1.62m    5-03.75 
  3 Siegle, Amber                Unattached              J1.62m    5-03.75 
  4 Hunault, Ashley              Alpena                  J1.62m    5-03.75 
  4 Roberts, Ariel               Pioneer                 J1.62m    5-03.75 
  6 Weaver, Alisha               Holt                     1.58m    5-02.25 
  7 Jenkins, Brianna             Northville               1.53m    5-00.25 
  8 Coulson, Kayleigh            W. Catholic             J1.53m    5-00.25 
  9 Foster, Carmen               White Cloud             J1.53m    5-00.25 
 10 Lane, Jennifer               Brighton                J1.53m    5-00.25 
 11 Manilla, Jena                Clarkston               J1.53m    5-00.25 
 12 Hintz, Kristine              Pioneer                  1.48m    4-10.25 
 13 Diegel, Julia                Eisenhower              J1.48m    4-10.25 
 14 Drumright, Kathryn           Pioneer                 J1.48m    4-10.25 
 14 Enzor, Megan                 Grand Blanc             J1.48m    4-10.25 
 16 Sorensen, Cami               Hesperia                 1.43m    4-08.25 
 16 Baker, Alysha                Ypsilanti                1.43m    4-08.25 
 18 Hahn, Stephanie              East Kentwood           J1.43m    4-08.25 
 
Event 4  Boys High Jump
==========================================================================
   MITS Meet: $ 6-10.25  1997        Jacob Surber, Will to Win                 
    Name                    Year School                  Finals           
==========================================================================
  1 Donkersloot, John            Zeeland East             2.03m    6-08.00 
  2 Poehlman, Kurt               Niles                   J2.03m    6-08.00 
  3 Lanier, Kevin                W.L. Lakeland           J2.03m    6-08.00 
  4 White, Mitchell              Liv. Stevenson          J2.03m    6-08.00 
  5 Amos, Kris                   Birmingham Grove        J2.03m    6-08.00 
  6 Koon, Ricky                  Caro                     1.83m    6-00.00 
  6 Reichenbach, Kurt            Pinckney                 1.83m    6-00.00 
  6 Borst, Matt                  Allendale                1.83m    6-00.00 
  9 Thornton, Bo                 Grant                   J1.83m    6-00.00 
  9 McDonald, Jake               Churchill               J1.83m    6-00.00 
 11 Baugh, Kyle                  Dakota                  J1.83m    6-00.00 
 12 Brown, Brandon               Carman-Ainsworth        J1.83m    6-00.00 
 12 Taylor, Josh                 Perry                   J1.83m    6-00.00 
 14 Danielson, Derek             Big Rapids              J1.83m    6-00.00 
 15 Franceschi, Eric             Northville               1.78m    5-10.00 
 15 Estes, Andrew                Grand Blanc              1.78m    5-10.00 
 17 Applewhite, Joe              East Kentwood           J1.78m    5-10.00 
 
Event 5  Girls Long Jump
==========================================================================
   MITS Meet: $ 19-06.50  1989        Trinette Johnson, Tech                   
    Name                    Year School                  Finals           
==========================================================================
  1 Guikema, Katie               South Christian          5.31m   17-05.25 
  2 Oliver, Juandretta           Albion                   5.29m   17-04.25 
  3 Scherting, Jessica           Heritage                 5.24m   17-02.25 
  3 Richardson, Shelleyse        West Bloomfield          5.24m   17-02.25 
  5 Hunault, Ashley              Alpena                   5.22m   17-01.50 
  6 McCauley, Aurielle           Romulus                  5.16m   16-11.25 
  7 Foster, Carmen               White Cloud              5.06m   16-07.25 
  8 Ramirez, Caitlyn             Lakeshore                4.86m   15-11.50 
  9 Glass, Elise                 Edsel Ford               4.82m   15-09.75 
  9 Roberts, Ariel               Pioneer                  4.82m   15-09.75 
 11 Rzepka, Mary                 Saline                   4.71m   15-05.50 
 12 Miller-Tolbert, Kim          Saline                   4.63m   15-02.25 
 13 Francois, Talecia            Ypsilanti                4.60m   15-01.25 
 14 Watkins, Valerie             Urban Lutheran           4.53m   14-10.50 
 15 Majchrzak, McKenzie          Manistee                 4.51m   14-09.75 
 16 Donaldson, Ciara             Belleville               4.50m   14-09.25 
 17 Maher-Balduf, Amanda         Pioneer                  4.47m   14-08.00 
 18 Breen, Emma                  Unattached               4.42m   14-06.00 
 -- Drumright, Kathryn           Pioneer                   FOUL            
 
Event 6  Boys Long Jump
==========================================================================
   MITS Meet: $ 23-09.50  1988        Marcel Richardson, Everett               
    Name                    Year School                  Finals           
==========================================================================
  1 Hamilton, Doug               Portage Central          6.65m   21-10.00 
  2 White, Myles                 Liv. Stevenson           6.62m   21-08.75 
  3 Lanier, Kevin                W.L. Lakeland            6.61m   21-08.25 
  4 Urbin, Sean                  Unattached               6.38m   20-11.25 
  5 Boyd, Calen                  Lansing-Eastern          6.36m   20-10.50 
  6 Kline, Jeff                  Flushing                 6.32m   20-09.00 
  7 Forman, Greg                 Perry                    6.25m   20-06.25 
  8 Diedrich, Greg               Eisenhower               6.24m   20-05.75 
  9 Haile, Serak                 East Kentwood            6.20m   20-04.25 
 10 Reed, Jonathan               Central Montcalm         6.08m   19-11.50 
 10 Moorer, Ira                  Lansing-Eastern          6.08m   19-11.50 
 12 Marshall, Elijah             Carman-Ainsworth         6.07m   19-11.00 
 13 Taylor, Jovan                Sexton                   6.03m   19-09.50 
 13 Wynn, Thaxton                Southwestern Aca         6.03m   19-09.50 
 15 Chesney, Justin              Ithaca                   5.94m   19-06.00 
 16 Harris, Armond               Robichaud                5.68m   18-07.75 
 17 Perow, Jordan                Saranac                  5.65m   18-06.50 
 18 Williams, Timothy            Southlake                5.50m   18-00.50 
 19 Payne, Marcus                Grand Blanc              5.33m   17-06.00 
 20 Tuszynski, Bradan            Gaylord                  5.27m   17-03.50 
 
Event 7  Girls Pole Vault
==========================================================================
   MITS Meet: $ 11-06  2005        Katie Shaw/Melissa Ullenbrush, GRTFC / Big D
    Name                    Year School                  Finals           
==========================================================================
  1 Shanahan, Abigail            East Kentwood            3.68m   12-00.75 
  2 Pilkerton, Rebecca           Dexter                   3.43m   11-03.00 
  3 Wackernagel, Chelsea         Montague                 3.28m   10-09.00 
  4 Mckerchie, Emily             Ludington                3.12m   10-02.75 
  4 Hagan, Brandi                F.H. Northern            3.12m   10-02.75 
  6 Birkmeier, Sarah             Rockford                J3.12m   10-02.75 
  7 Winkler, Marla               Stevenson               J3.12m   10-02.75 
  8 Monaweck, April              Plainwell                2.97m    9-09.00 
  8 Ostrowski, Abby              W. Catholic              2.97m    9-09.00 
  8 Buikema, Alyssa              Lowell                   2.97m    9-09.00 
 11 Morrissey, Kelly             W. Catholic              2.82m    9-03.00 
 11 Mason, Samantha              Akron-Fairgrove          2.82m    9-03.00 
 11 Betker, Monica               Unattached               2.82m    9-03.00 
 14 Brooks, Kelly                Grand Ledge              2.67m    8-09.00 
 14 Kenney, Kari                 Kenowa Hills             2.67m    8-09.00 
 14 Davidson, Lori               Rockford                 2.67m    8-09.00 
 14 Fassett, Stacey              MV - Landon              2.67m    8-09.00 
 14 Ural, Eren                   Churchill                2.67m    8-09.00 
 14 Carpenter, Grace             Pioneer                  2.67m    8-09.00 
 -- Trouten, Amanda              Okemos                      NH            
 -- McNeil, Morgan               Madison                     NH            
 -- Reidt, Emily                 Armada                      NH            
 -- Schafer, Amanda              Pewamo-Westphali            NH            
 -- Pizzini, Jessica             Dakota                      NH            
 -- Harmon, Shari                Bedford                     NH            
 -- Kolenbrander, Tanya          Rockford                    NH            
 
Event 8  Boys Pole Vault
==========================================================================
   MITS Meet: $ 16-05  2002        Brad Gebauer, Tip of the Thumb              
    Name                    Year School                  Finals           
==========================================================================
  1 Lynch, Logan                 Bedford                  4.65m   15-03.00 
  2 Yassay, Michael              Northville               4.50m   14-09.00 
  3 Wesley, Joe                  Marine City             J4.50m   14-09.00 
  4 Monahan, Brad                Unattached               4.35m   14-03.25 
  5 Mattix, Codi                 Saranac                  4.34m   14-02.75 
  6 Rancourt, Phil               East Kentwood            4.19m   13-09.00 
  6 Fisher, Matt                 Byron Center             4.19m   13-09.00 
  8 Walters, Josh                Williamston             J4.19m   13-09.00 
  9 Marsack, Zachary             Unattached               4.04m   13-03.00 
 10 Albrecht, Shane              Carsonville-Port        J4.04m   13-03.00 
 11 Peterman, Derik              Churchill               J4.04m   13-03.00 
 11 Johns, Kyle                  Lake Orion              J4.04m   13-03.00 
 11 Voice, Taylor                Unattached              J4.04m   13-03.00 
 14 Utley, William               Unattached               3.89m   12-09.00 
 14 Geerlings, Evert             East Kentwood            3.89m   12-09.00 
 14 Wojcik, Christopher          Saranac                  3.89m   12-09.00 
 17 Rogers, Ajay                 P.H. Northern            3.85m   12-07.50 
 -- Carey, Lucas                 Mt. Pleasant                NH            
 
Event 9  Girls Triple Jump
==========================================================================
   MITS Meet: $ 35-05  1998        Sherita Williams, Detroit Roadrunner        
    Name                    Year School                  Finals           
==========================================================================
  1 Polhemus, Savannah           Perry                   10.32m   33-10.25 
  2 McGee, Dynasty               Unattached              10.18m   33-04.75 
  3 Smith, Jessica               Comstock Park           10.06m   33-00.25 
  4 Stuart, Paige                Northville               9.82m   32-02.75 
  5 Hunault, Ashley              Alpena                   9.81m   32-02.25 
  6 Sisson, Allie                Novi                     9.75m   32-00.00 
  7 Foster, Carmen               White Cloud              9.55m   31-04.00 
  8 Eder, Breanna                Pioneer                  9.47m   31-01.00 
  9 Payne, Lyndsay               Perry                    9.07m   29-09.25 
 10 Keys, Laura                  Northville               8.61m   28-03.00 
 11 Potocki, Katy                Perry                    8.39m   27-06.50 
 12 Smith, Christina             Pioneer                  7.82m   25-08.00 
 -- Goss, Alyssa                 Pioneer                   FOUL            
 
Event 10  Boys Triple Jump
==========================================================================
   MITS Meet: $ 44-07.50  2000        Gary Stanford, Motor City                
    Name                    Year School                  Finals           
==========================================================================
  1 Wynn, Thaxton                Southwestern Aca        13.14m   43-01.50 
  2 Burrell, Troy                Port Huron              12.83m   42-01.25 
  3 White, Myles                 Liv. Stevenson          12.80m   42-00.00 
  4 Jones, Ryan                  Mumford                 12.69m   41-07.75 
  5 Diedrich, Greg               Eisenhower              12.43m   40-09.50 
  6 Rogers, Julius               Grand Blanc             11.96m   39-03.00 
  7 Amos, Kris                   Birmingham Grove        11.90m   39-00.50 
  8 Bankston, DeAndre            Port Huron              11.89m   39-00.25 
  9 Simor, David                 Liv. Stevenson          11.76m   38-07.00 
 -- Mester, Travis               Clare                     FOUL            
 
Event 11  Girls 60 Meter Hurdles
===================================================================
   MITS Meet: $  8.55  2003        Candice Davis, Ann Arbor Youth              
    Name                    Year School                 Prelims  H#
===================================================================
Preliminaries
  1 Arirguzo, Leslie             West Bloomfield           8.98Q  2 
  2 Uche, Chidimma               Pioneer                   9.05Q  1 
  3 Clay, Raven                  Cody                      9.10Q  4 
  4 McCauley, Aurielle           Romulus                   9.12Q  3 
  5 Caldwell, Kyra               Ypsilanti                 9.17Q  5 
  6 Marable, Ra'Jae              Pioneer                   9.20q  3 
  7 Madison, Paige               Pioneer                   9.36q  2 
  8 Enzor, Megan                 Grand Blanc               9.42q  5 
  9 Ali, Hamidah                 Robichaud                 9.59q  2 
 10 Dienhart, Emily              Southwestern Aca          9.61q  2 
 11 Richardson, Shelleyse        West Bloomfield           9.70q  1 
 12 Sisson, Allie                Novi                      9.78q  4 
 13 Maher-Balduf, Amanda         Pioneer                   9.79q  4 
 14 Foster, Carmen               White Cloud               9.83q  3 
 14 King, O'Malley               Northville                9.83q  4 
 16 Fenton, Amanda               Flushing                  9.86q  4 
 17 Ransey, Shelby               Cody                      9.96   3 
 18 Hull, Jade                   Grandville                9.99   5 
 19 Watkins, Valerie             Urban Lutheran           10.00   5 
 20 Franklin, Amira              Harrison                 10.01   3 
 21 Glover, Aneice               Cody                     10.02   5 
 22 King, Mimi                   Jackson                  10.05   1 
 23 Daniels, Kelcie              F.H. Northern            10.12   1 
 24 Brown, Dominique             Cody                     10.30   4 
 25 Boyd, Kate                   Grand Ledge              10.35   3 
 26 Wynn, Ashlie                 Carman-Ainsworth         10.42   1 
 27 McCoy, Sidney                Lakeview                 10.45   4 
 28 Etter, Samantha              Brighton                 10.55   2 
 29 Oliver, Juandretta           Albion                   10.77   2 
 30 Reed, Erin                   East Kentwood            11.18   5 
 31 Hawkins, Aja                 Unattached               14.68   1 
 
Event 11  Girls 60 Meter Hurdles
===================================================================
   MITS Meet: $  8.55  2003        Candice Davis, Ann Arbor Youth              
    Name                    Year School                   Semis  H#
===================================================================
Semi-Finals
  1 Clay, Raven                  Cody                      8.84Q  2 
  2 Arirguzo, Leslie             West Bloomfield           8.87Q  1 
  3 Marable, Ra'Jae              Pioneer                   8.96q  2 
  3 Uche, Chidimma               Pioneer                   8.96q  2 
  5 Caldwell, Kyra               Ypsilanti                 9.00q  1 
  6 Madison, Paige               Pioneer                   9.25q  2 
  7 Enzor, Megan                 Grand Blanc               9.42q  1 
  8 Ali, Hamidah                 Robichaud                 9.55q  1 
  9 Fenton, Amanda               Flushing                  9.56   1 
 10 Maher-Balduf, Amanda         Pioneer                   9.63   1 
 11 Foster, Carmen               White Cloud               9.74   2 
 12 McCauley, Aurielle           Romulus                   9.78   1 
 13 King, O'Malley               Northville                9.90   2 
 14 Sisson, Allie                Novi                     10.03   1 
 
Event 11  Girls 60 Meter Hurdles
================================================================
   MITS Meet: $  8.55  2003        Candice Davis, Ann Arbor Youth              
    Name                    Year School                  Finals 
================================================================
Finals
  1 Arirguzo, Leslie             West Bloomfield           8.84  
  2 Uche, Chidimma               Pioneer                   8.90  
  3 Marable, Ra'Jae              Pioneer                   8.96  
  4 Clay, Raven                  Cody                      8.99  
  5 Caldwell, Kyra               Ypsilanti                 9.07  
  6 Madison, Paige               Pioneer                   9.12  
  7 Enzor, Megan                 Grand Blanc               9.32  
  8 Ali, Hamidah                 Robichaud                 9.56  
 
Event 12  Boys 60 Meter Hurdles
===================================================================
   MITS Meet: $  7.79  2002        Kenneth Ferguson, Motor City                
    Name                    Year School                 Prelims  H#
===================================================================
Preliminaries
  1 Payne, Roscoe                Carman-Ainsworth          8.30Q  2 
  2 Carter, James                Pershing                  8.34Q  4 
  3 Wells, Shane                 Romulus                   8.36Q  3 
  4 Kwasnik, Rick                Eisenhower                8.44Q  1 
  5 Jackson, Darren              Mumford                   8.60Q  5 
  6 Henderson, DeAndre'          G.P. North H.S.           8.42q  4 
  7 Corcoran, Cavan              Northville                8.57q  3 
  8 Smith, Marcus                Grand Blanc               8.58q  3 
  9 Turner, Dante'               Grand Blanc               8.59q  2 
 10 Naser, Samer                 Edsel Ford                8.62q  2 
 11 Stinson, Charles             Jackson                   8.66q  2 
 12 Mason, Antoine               Unattached                8.74q  2 
 13 DuPerry, Imani               Brother Rice              8.78q  4 
 14 Post, Branden                Saline                    8.85q  5 
 15 DeBrano, Alex                Riverview                 8.90q  4 
 16 White, Myles                 Liv. Stevenson            8.91q  3 
 17 Gholston, Nathan             Accelerators              8.97   5 
 17 Blaszczyk, Joe               South Lyon                8.97   1 
 19 Lynwood, Phil                Grand Ledge               8.99   1 
 20 Moorer, Ira                  Lansing-Eastern           9.01   1 
 21 Bach, Christian              Belding                   9.03   3 
 22 Bass, Jordan                 Mumford                   9.18   2 
 23 Danna, Tyler                 Chippewa Valley           9.24   3 
 24 Baker, Derek                 Airport                   9.29   5 
 25 Cross, Karl                  Armada                    9.30   4 
 26 Carter, Aaron                East Kentwood             9.43   4 
 27 Thompson, Carlton            Robichaud                 9.47   5 
 28 Shaw, Kriel                  Rockford                  9.75   2 
 
Event 12  Boys 60 Meter Hurdles
===================================================================
   MITS Meet: $  7.79  2002        Kenneth Ferguson, Motor City                
    Name                    Year School                   Semis  H#
===================================================================
Semi-Finals
  1 Carter, James                Pershing                  7.99Q  1 
  2 Payne, Roscoe                Carman-Ainsworth          8.30Q  2 
  3 Wells, Shane                 Romulus                   8.10q  1 
  4 Henderson, DeAndre'          G.P. North H.S.           8.36q  1 
  5 Naser, Samer                 Edsel Ford                8.38q  1 
  6 Kwasnik, Rick                Eisenhower                8.41q  2 
  7 Stinson, Charles             Jackson                   8.43q  1 
  8 Jackson, Darren              Mumford                   8.44q  2 
  9 Smith, Marcus                Grand Blanc               8.46   2 
 10 Corcoran, Cavan              Northville                8.55   1 
 11 DuPerry, Imani               Brother Rice              8.57   2 
 12 White, Myles                 Liv. Stevenson            8.63   2 
 13 Turner, Dante'               Grand Blanc               8.68   2 
 14 Post, Branden                Saline                    8.77   1 
 15 Mason, Antoine               Unattached                8.99   2 
 16 DeBrano, Alex                Riverview                 9.06   1 
 
Event 12  Boys 60 Meter Hurdles
================================================================
   MITS Meet: $  7.79  2002        Kenneth Ferguson, Motor City                
    Name                    Year School                  Finals 
================================================================
Finals
  1 Wells, Shane                 Romulus                   7.90  
  2 Carter, James                Pershing                  8.12  
  3 Naser, Samer                 Edsel Ford                8.30  
  4 Payne, Roscoe                Carman-Ainsworth          8.33  
  5 Henderson, DeAndre'          G.P. North H.S.           8.37  
  6 Kwasnik, Rick                Eisenhower                8.41  
  7 Smith, Marcus                Grand Blanc               8.45  
  8 Jackson, Darren              Mumford                   8.56  
 
Event 13  Girls 60 Meter Dash
===================================================================
   MITS Meet: $  7.29  3/12/2007   Shayla Mahan, Mumford                       
    Name                    Year School                 Prelims  H#
===================================================================
Preliminaries
  1 Mahan, Shayla                Mumford                   7.40Q  3 
  2 Calloway, Keyria             Romulus                   7.81Q  4 
  3 Drayton, Lauren              Troy                      7.85Q  5 
  4 Mann, Erica                  Lakeview                  7.88Q  2 
  5 Lee, Rhonda                  Carman-Ainsworth          7.92Q  1 
  6 Horne, Brook                 Okemos                    7.93q  1 
  7 Holwerda, Olivia             Unattached                8.17q  4 
  8 Parker, Ashley               Accelerators              8.19q  5 
  9 Flowers, Doniesha            Cody                      8.21q  3 
 10 Jackson, Shannon             Howell                    8.31q  1 
 11 Chapman, JoRanda             Albion                    8.32q  2 
 12 Miller-Tolbert, Kim          Saline                    8.33q  3 
 13 Thompson, Arielle            Pioneer                   8.34q  1 
 14 Donaldson, Ciara             Belleville                8.36q  4 
 15 Williams, Noriah             Ypsi - Lincoln            8.37q  5 
 16 Washington, Camilia          Pontiac Central           8.38q  5 
 17 Chappel, Jasmine             Southwestern Aca          8.40   2 
 18 Wackernagel, Chelsea         Montague                  8.44   4 
 19 Eaton, Alivia                Pontiac Central           8.47   3 
 19 Berger, Jamie                Pioneer                   8.47   3 
 21 Black, Janay                 Flint-Northern            8.54   2 
 22 Gallardo, Stefanie           Saline                    8.55   1 
 22 Rzepka, Mary                 Saline                    8.55   2 
 24 Goines, Nastassia            Wayne Memorial            8.58   3 
 25 Amin, Aliya                  Pioneer                   8.66   3 
 26 Duhaime, Christina           Howell                    8.71   5 
 
Event 13  Girls 60 Meter Dash
===================================================================
   MITS Meet: $  7.29  3/12/2007   Shayla Mahan, Mumford                       
    Name                    Year School                   Semis  H#
===================================================================
Semi-Finals
  1 Mahan, Shayla                Mumford                   7.36Q  2 
  2 Calloway, Keyria             Romulus                   7.67Q  1 
  3 Mann, Erica                  Lakeview                  7.82q  2 
  3 Drayton, Lauren              Troy                      7.82q  1 
  5 Lee, Rhonda                  Carman-Ainsworth          7.88q  2 
  6 Horne, Brook                 Okemos                    7.99q  1 
  7 Parker, Ashley               Accelerators              8.11q  2 
  8 Holwerda, Olivia             Unattached                8.18q  1 
  9 Flowers, Doniesha            Cody                      8.25   2 
 10 Miller-Tolbert, Kim          Saline                    8.27   2 
 11 Donaldson, Ciara             Belleville                8.30   1 
 12 Thompson, Arielle            Pioneer                   8.31   2 
 13 Washington, Camilia          Pontiac Central           8.33   2 
 14 Jackson, Shannon             Howell                    8.37   1 
 15 Williams, Noriah             Ypsi - Lincoln            8.38   1 
 
Event 13  Girls 60 Meter Dash
================================================================
   MITS Meet: $  7.29  3/12/2007   Shayla Mahan, Mumford                       
    Name                    Year School                  Finals 
================================================================
Finals
  1 Mahan, Shayla                Mumford                   7.29$ 
  2 Calloway, Keyria             Romulus                   7.68  
  3 Drayton, Lauren              Troy                      7.82  
  4 Mann, Erica                  Lakeview                  7.86  
  5 Lee, Rhonda                  Carman-Ainsworth          7.97  
  6 Horne, Brook                 Okemos                    8.01  
  7 Parker, Ashley               Accelerators              8.17  
  8 Holwerda, Olivia             Unattached                8.22  
 
Event 14  Boys 60 Meter Dash
===================================================================
   MITS Meet: $  6.74  3/12/2007   James Jackson, Grand Ledge                  
    Name                    Year School                 Prelims  H#
===================================================================
Preliminaries
  1 Jackson, James               Grand Ledge               6.86Q  5 
  2 White, Darryl                Romulus                   6.95Q  1 
  3 Baker, Edwin                 Oak Park                  7.06Q  2 
  4 Seminski, Aaron              Williamston               7.08Q  4 
  5 Williams, Darrin             M.L. King                 7.09Q  3 
  6 Ratomski, Yury               Romeo                     7.05q  1 
  7 Cleary, Earnest              Ferndale                  7.11q  5 
  8 Taul, Mark                   Groves                    7.13q  4 
  9 VanDriel, Brandon            Sparta                    7.15q  3 
 10 Ingram  II, Mark             Unattached                7.16q  1 
 11 Smith, Cortez                Cass Tech                 7.18q  5 
 12 Nichols, Wayne               Redford Covenant          7.19q  4 
 13 Shaltry, Kenji               Unattached                7.20q  4 
 14 Showers, Valtorie            Crockett Tech             7.21q  3 
 15 McCoy, Kionne                Southfield Lathr          7.24q  2 
 15 Lewis, Darien                Mumford                   7.24q  2 
 17 Jones, Tyjuan                Carman-Ainsworth          7.27   4 
 17 Cissoko, Boubacar            Cass Tech                 7.27   4 
 19 Sanders, Jake                Greenville                7.31   1 
 20 Wanderhorst, Darius          Fraser                    7.32   2 
 21 Bekken, Gregory              Byron Center              7.34   4 
 22 Caper, Larry                 Unattached                7.38   1 
 23 Richards, Carlos             Cass Tech                 7.39   5 
 23 Harris, Armond               Robichaud                 7.39   1 
 23 Olds, Tim                    Davison                   7.39   2 
 26 Puhalla, Michael             Maximum Output            7.40   2 
 27 Harris, Brandyn              Monroe                    7.41   3 
 27 Demps, Aaron                 Sexton                    7.41   5 
 29 Roots, Tyler                 Unattached                7.42   3 
 30 Simpson, Curtis              Accelerators              7.43   3 
 31 Simpson, Jawan               Unattached                7.44   1 
 32 Reed, Jonathan               Central Montcalm          7.45   4 
 32 Crossley, Ezekial            East Kentwood             7.45   2 
 34 Ratliff, Jason               Chelsea                   7.46   5 
 35 Jackson, Dennis              Unattached                7.51   5 
 36 Young, Johnnie               F.H. Northern             7.60   1 
 37 DeShazor, Jaron              Portage Central           7.63   5 
 38 Eideh, Steve                 Liv. Stevenson            7.69   2 
 
Event 14  Boys 60 Meter Dash
===================================================================
   MITS Meet: $  6.74  3/12/2007   James Jackson, Grand Ledge                  
    Name                    Year School                   Semis  H#
===================================================================
Semi-Finals
  1 Jackson, James               Grand Ledge               6.80Q  1 
  2 White, Darryl                Romulus                   6.89Q  2 
  3 Williams, Darrin             M.L. King                 6.98q  1 
  3 Seminski, Aaron              Williamston               6.98q  1 
  5 Baker, Edwin                 Oak Park                  7.03q  2 
  6 Cleary, Earnest              Ferndale                  7.07q  2 
  7 Ingram  II, Mark             Unattached                7.10q  2 
  8 Ratomski, Yury               Romeo                     7.11q  2 
  9 VanDriel, Brandon            Sparta                    7.12   1 
 10 Showers, Valtorie            Crockett Tech             7.13   2 
 11 Smith, Cortez                Cass Tech                 7.14   2 
 12 Lewis, Darien                Mumford                   7.22   1 
 13 McCoy, Kionne                Southfield Lathr          7.32   2 
 14 Taul, Mark                   Groves                    7.47   1 
 
Event 14  Boys 60 Meter Dash
================================================================
   MITS Meet: $  6.74  3/12/2007   James Jackson, Grand Ledge                  
    Name                    Year School                  Finals 
================================================================
Finals
  1 Jackson, James               Grand Ledge               6.74$ 
  2 White, Darryl                Romulus                   6.88  
  3 Williams, Darrin             M.L. King                 6.98  
  4 Seminski, Aaron              Williamston               7.01  
  5 Baker, Edwin                 Oak Park                  7.03  
  6 Cleary, Earnest              Ferndale                  7.04  
  7 Ingram  II, Mark             Unattached                7.10  
  8 VanDriel, Brandon            Sparta                    7.20  
 
Event 15  Girls 4x800 Meter Relay
================================================================
   MITS Meet: $ 9:19.06  2000        North Kent                                
    School                                               Finals 
================================================================
  1 Detroit Cheetah Track Club  'A'                     9:30.25  
  2 Motor City Track Club  'A'                          9:30.82  
  3 Spirit of Pre  'A'                                  9:36.19  
  4 Michigan Accelerators  'A'                          9:43.76  
  5 Ann Arbor Youth Track Club  'A'                     9:50.85  
  6 Breen Track Club  'A'                              10:01.06  
  7 No Barrier Harrier  'A'                            10:24.40  
  8 Front Line Track Club  'A'                         10:30.04  
  9 Livonia Track Club  'A'                            10:43.95  
 10 Elite Feet Track Club  'A'                         10:52.31  
 11 Herb's Runners  'A'                                10:52.46  
 12 Melon Head Track Club  'A'                         10:53.10  
 13 Lake Erie Striders  'A'                            10:53.94  
 14 Red Tide  'A'                                      10:58.09  
 15 Larc  'A'                                          11:04.87  
 16 CB Cruisers  'A'                                   11:11.21  
 17 Running Gear Track Club  'A'                       11:52.67  
 
Event 16  Boys 4x800 Meter Relay
================================================================
   MITS Meet: $ 7:59.12  2000        Ledges                                    
    School                                               Finals 
================================================================
  1 Motor City Track Club  'A'                          8:01.17  
  2 Complete Runner  'A'                                8:09.41  
  3 Ann Arbor Youth Track Club  'A'                     8:10.09  
  4 Ocelots  'A'                                        8:18.64  
  5 Ledges  'A'                                         8:24.39  
  6 Jackalopes  'A'                                     8:31.45  
  7 Breen Track Club  'A'                               8:31.64  
  8 Nsic Track Club  'A'                                8:37.07  
  9 Spirit of Pre  'A'                                  8:40.88  
 10 Herb's Runners  'A'                                 8:55.22  
 
Event 17  Girls 1600 Meter Run
================================================================
   MITS Meet: $ 4:56.91  2004        Lisa Senakiewich, All World               
    Name                    Year School                  Finals 
================================================================
  1 Dixon, Brittany              Rockford               5:07.54  
  2 McFarlane, Rachel            Churchill              5:14.43  
  3 Webb, Natalie                Woodhaven              5:14.49  
  4 Hagan, Lindsay               Northville             5:17.23  
  5 Miller, Janie                Mt. Pleasant           5:19.49  
  6 Duerksen, Kelsey             Pioneer                5:22.56  
  7 Pastula, Adrienne            Hillsdale              5:23.65  
  8 Schultz, Sara                Holly                  5:23.99  
  9 Snyder, Hillary              Lumen Christi HS       5:24.53  
 10 Mayfield, Jane               Pioneer                5:27.03  
 11 Clark, Lindsay               Giesler M.S.           5:27.32  
 12 Smith, Kristen               Clarkston              5:27.61  
 13 Waterhouse, Molly            Vicksburg              5:28.48  
 14 Parks, Krista                East Kentwood          5:29.23  
 15 Cummings, Lindsey            Saline                 5:31.16  
 16 Meyers, Kelsey               Goodrich               5:32.95  
 17 Kincaid, Tiffany             Clarkston              5:33.13  
 18 Hoffman, Andrea              Monroe Jefferson       5:34.14  
 19 Butler, Andrea               Clarkston              5:38.06  
 20 Brackins, Megan              Kettering              5:39.37  
 21 Quaintance, Rachel           W.L. Northern          5:39.90  
 22 Kowalczyk, Katie             S.H. Stevenson         5:40.86  
 23 Vondette, Katie              Clarkston Jr. HS       5:42.05  
 24 Ferrans, Kristie             Monroe                 5:42.40  
 25 Smigielski, Erin             S.H. Stevenson         5:44.49  
 26 Duke, Kayla                  Linden                 5:44.69  
 27 Stebbins, Ashley             Rockford               5:45.91  
 28 Braunreuther, Bailee         Clarkston Jr. HS       5:46.09  
 29 Freeland, Mindy              Western                5:51.13  
 30 Nausain, Cayla               Concord                5:52.49  
 31 Spader, Mary                 Northville             5:58.11  
 
Event 18  Boys 1600 Meter Run
================================================================
   MITS Meet: $ 4:09.75  2000        Dathan Ritzenhein, North Kent             
    Name                    Year School                  Finals 
================================================================
  1 Folk, Alex                   Bedford                4:24.58  
  2 Nix, Dan                     Williamston            4:25.28  
  3 McAlary, Joshua              Lumen Christi HS       4:26.48  
  4 Jagielski II, Tim            Waldron Area HS        4:28.17  
  5 Fisher, Robbie               G.P. North H.S.        4:28.40  
  6 Kamyszek, Reed               Kenowa Hills           4:30.25  
  7 Hankins, Brian               Pinckney               4:30.67  
  8 Wile, Anthony                Brother Rice           4:32.75  
  9 Smith, Brendan               Chelsea                4:34.97  
 10 Martin, Nathan               Three Rivers           4:35.56  
 11 Oleski, Zac                  Detroit Cath. Cn       4:36.57  
 12 Wines, Matt                  Pinckney               4:36.61  
 13 Taylor, Luke                 Caledonia              4:37.76  
 14 McKeown, Devin               Milford                4:38.27  
 15 Schuck, Nicolas              Niles                  4:38.35  
 16 Freed, Donny                 Addison                4:40.55  
 17 Harris, Alexander            Shrine                 4:40.93  
 18 Itkin, Alexander             AA - Huron             4:41.26  
 19 McAvoy, Joe                  Hillsdale              4:41.45  
 20 Dalton, Jack                 Northville             4:43.35  
 21 Cooper, Jim                  Reeths-Puffer          4:43.83  
 22 Vansickle, Adam              Frankenmuth            4:49.95  
 
Event 19  Girls 400 Meter Run
===================================================================
   MITS Meet: $ 56.02  3/12/2007   Dynasty McGee, Unattached                   
    Name                    Year School                  Finals  H#
===================================================================
  1 McGee, Dynasty               Unattached               56.02$  5 
  2 Chatman, Victoria            Kennedy                  56.95   5 
  3 Moore, Kiara                 Pioneer                  57.45   5 
  4 Drayton, Katrina             Troy                     58.93   5 
  5 Tate, Sierra                 Unattached               59.58   5 
  6 Osborne, Aisha               Mumford                  59.68   5 
  7 Jones, Brittany              Pioneer                1:00.19   3 
  8 Rhoden, Darcy                F.H. Northern          1:00.51   4 
  9 Towe, Tityona                Romulus                1:00.64   3 
 10 DeTroyer, Olivia             Chelsea                1:01.21   4 
 11 Cremeans, Cara               Lumen Christi HS       1:01.39   4 
 12 Pritchett, Breanca           Pershing               1:01.72   4 
 13 Reed, Musetta                Pioneer                1:02.01   3 
 14 Thomas, Cherub               Pioneer                1:02.12   3 
 15 Lee, Jessica                 Pioneer                1:02.45   4 
 16 Hart, Liz                    Catholic Central       1:02.61   1 
 17 Drury, Daniela               Northville             1:02.78   1 
 18 Thorsen, Rebecca             Reeths-Puffer          1:03.04   2 
 19 Hufnagel, Lindsey            Most Holy Trinit       1:03.62   2 
 20 Kreichelt, Emily             Northville             1:03.80   3 
 21 Sredzinski, Kari             Pinckney               1:04.02   2 
 22 Brundige, Kate               Vicksburg              1:04.08   1 
 23 Shaffer, Jennifer            Camden-Frontier        1:04.20   2 
 24 Stone, Carly                 Allegan                1:04.97   1 
 
Event 20  Boys 400 Meter Run
===================================================================
   MITS Meet: $ 49.54  3/12/2007   Cedric Everson, Mumford                     
    Name                    Year School                  Finals  H#
===================================================================
  1 Everson, Cedric              Mumford                  49.54$  4 
  2 Wade, James                  Pioneer                  50.15   4 
  3 Tucker, Varick               Belleville               50.31   4 
  4 Meier, Jared                 Reeths-Puffer            51.18   3 
  5 St. Amant, David             Churchill                52.52   4 
  6 Wells, Khalid                Cass Tech                52.57   3 
  7 Springett, Brandon           F.H. Central             52.77   3 
  8 Miles, Jordan                Woodhaven                52.82   4 
  9 Slocum, Tim                  Potterville              52.85   3 
 10 Price, Kevon                 Pontiac Central          52.94   4 
 11 Rumpf, CJ (Craig)            Niles                    53.23   2 
 12 McElyea, Ryan                Carman-Ainsworth         53.25   2 
 13 Fortenberry, Micheal         Mumford                  53.32   3 
 14 Fowler, Nick                 Dakota                   53.41   3 
 15 Greenwood, Christopher       M.L. King                53.68   2 
 16 Ash, Chris                   Monroe                   53.94   2 
 17 Davis, Anthony               Redford Covenant         54.10   1 
 18 Chesney, Justin              Ithaca                   54.15   1 
 19 Wheeler, Dean                Unattached               54.18   1 
 20 Butters, Ian                 Pennifield               54.43   1 
 21 Alexander, Matthew           Clarkston                54.61   1 
 22 Hamilton, Doug               Portage Central          54.72   2 
 
Event 21  Girls 200 Meter Dash
===================================================================
   MITS Meet: $ 25.01  2005        Alexandria Sqruiel, Detroit P.A.L.          
    Name                    Year School                  Finals  H#
===================================================================
  1 Glass, Elise                 Edsel Ford               25.02   3 
  2 Brown, Elise                 Jackson                  25.52   3 
  3 Tyson-King, Jovonne          Rochester Adams          25.78   3 
  4 Castro, Corrie               Saline                   26.38   3 
  5 Sharp-Jackson, Tiara         Pioneer                  26.52   1 
  6 Taylor, Kyra                 Pershing                 26.57   2 
  7 Hamilton, Diamond            Avondale                 26.69   2 
  8 Moore, Shavonne              Pontiac Northern         27.07   2 
  9 Davis, Brittany              Novi                     27.28   1 
 10 Beachum, Bethany             Fruitport                27.43   3 
 11 Fischer, Krysten             Rockford                 27.58   2 
 12 Caywood, Becky               Rockford                 27.78   1 
 13 Jackson, Kenneia             Ypsilanti                30.80   2 
 
Event 22  Boys 200 Meter Dash
===================================================================
   MITS Meet: $ 21.79  2004        Morgan Trent, Maximum Output                
    Name                    Year School                  Finals  H#
===================================================================
  1 Smith, James                 Pioneer                  22.07   4 
  2 Stewart, Johnathan           Clarenceville            22.58   4 
  3 Jackson, Kevin               East Kentwood            22.84   4 
  4 Williams, Deshawn            Cody                     22.98   3 
  5 Parnell, Quinn               Reniassance              22.99   1 
  6 Rashad, Jahmar               Carman-Ainsworth         23.04   3 
  7 Haile, Serak                 East Kentwood            23.09   3 
  8 Boyd, Calen                  Lansing-Eastern          23.30   1 
  9 Bynum, L'Shane               Belding                  23.48   2 
 10 Doxie, Torrion               Lansing-Eastern          23.64   3 
 11 Rosalez, Sean                Davison                  23.76   3 
 12 Worthy, Stephan              Reniassance              23.86   2 
 13 Amos, Kris                   Birmingham Grove         23.92   2 
 14 Kadykowski, Ronnie           Detroit Cath. Cn         24.29   4 
 15 Thomas, Tyler                Jackson                  24.46   4 
 
Event 23  Girls Distance Medley
================================================================
   MITS Meet: $ 12:18.58  2004        North Kent                               
    School                                               Finals 
================================================================
  1 Spirit of Pre  'A'                                 12:40.16  
  2 Red Tide  'A'                                      12:46.75  
  3 Townsend Track Club  'A'                           13:00.27  
  4 Livonia Track Club  'A'                            13:06.92  
  5 Newburgh Track Club  'A'                           13:13.21  
  6 Front Line Track Club  'A'                         13:24.02  
  7 West Bloomfield Track Club  'A'                    13:28.87  
  8 Gaylord Track Club  'A'                            13:29.02  
  9 Ann Arbor Youth Track Club  'A'                    13:29.60  
 10 Jackalopes  'A'                                    13:35.51  
 11 Lake Erie Striders  'A'                            13:47.46  
 12 Eagles Track Club  'A'                             13:48.22  
 13 Larc  'A'                                          13:51.68  
 14 Herb's Runners  'A'                                14:13.78  
 15 Ledges  'A'                                        14:25.60  
 16 CB Cruisers  'A'                                   14:27.72  
 17 Funlons  'A'                                       14:49.80  
 -- Running Gear Track Club  'A'                             DQ  
 
Event 24  Boys Distance Medley
================================================================
   MITS Meet: $ 10:33.01  2004        Spirit of Pre, Mad Dog                   
    School                                               Finals 
================================================================
  1 Herb's Runners  'A'                                10:38.41  
  2 Defenders of Gonder  'A'                           10:51.61  
  3 Top Run  'A'                                       10:54.99  
  4 Spirit of Pre  'A'                                 10:55.83  
  5 Jackalopes  'A'                                    10:59.95  
  6 Ledges  'A'                                        11:06.49  
  7 Ivon  'A'                                          11:14.57  
  8 Ann Arbor Track Club  'A'                          11:15.05  
  9 Saginaw Bay Track Club  'A'                        11:17.62  
 10 Toilet Town Terrors  'A'                           11:24.82  
 11 T-Town  'A'                                        11:24.88  
 12 Motor City Track Club  'A'                         11:26.88  
 13 Melon Head Track Club  'A'                         11:31.16  
 
Event 25  Girls 800 Meter Run
================================================================
   MITS Meet: $ 2:08.77  2005        Geena Gall, Infinity                      
    Name                    Year School                  Finals 
================================================================
  1 Fondren, Ramzee              Reniassance            2:12.69  
  2 Bannister, Amelia            Albion                 2:18.74  
  3 Lohner, Raeanne              G.R. East              2:19.83  
  4 Gakenheimer, Lindsey         Monroe                 2:20.85  
  5 Kinney, Monica               W. Catholic            2:21.29  
  6 Quaintance, Lauren           W.L. Northern          2:21.57  
  7 Farrow, Christina            Reniassance            2:21.62  
  8 Williams, Kanaya             Romulus                2:23.67  
  9 Fedewa, Erin                 St. Johns              2:23.80  
 10 Olison, Ajia                 Mumford                2:24.16  
 11 Nelson, Kate                 Williamston            2:24.87  
 12 Hiemstra, Rebecca            Pioneer                2:24.96  
 13 McKnight, Lindsey            Sparta                 2:26.13  
 14 Beatty, Kelsey               Clare                  2:27.77  
 15 Draney, Samantha             Allegan                2:27.88  
 16 Gailliard, Saisha            Pioneer                2:28.79  
 17 Washington, Jasmine          Romulus                2:29.07  
 18 Krych, Kelsey                Goodrich               2:31.37  
 19 Reder, Kate                  BC Western             2:33.07  
 20 Pinkston, Shariece           Mumford                2:35.08  
 21 Hampton, Pressanique         Southwestern Aca       2:35.52  
 
Event 26  Boys 800 Meter Run
================================================================
   MITS Meet: $ 1:55.08  2004        Liam Boylan-Pett, Streaking Dweebs        
    Name                    Year School                  Finals 
================================================================
  1 Ward, Isaiah                 Mumford                1:55.62  
  2 Peek, Delorean               Crockett Tech          1:56.47  
  3 Price, Kendrick              Mumford                2:00.39  
  4 Fortson, Chris               Pioneer                2:01.07  
  5 Hentemann, Justin            St. Johns              2:01.57  
  6 Ankerson, Seth               T.C. West              2:01.77  
  7 Washington, Kristopher       East Detroit           2:02.08  
  8 Magnotte, Dave               Dakota                 2:04.98  
  9 Bellant, Adam                Lansing-Eastern        2:05.69  
 10 Demres, David                Rochester Adams        2:05.76  
 11 Lewis, Kevon                 Wayne Memorial         2:05.79  
 12 Gaul, Andrew                 P.H. Northern          2:05.91  
 13 Wood, Mitch                  Unattached             2:06.39  
 14 Erdmans, Matt                Byron Center           2:08.44  
 15 Ralston, Alex                Fenton                 2:14.93  
 
Event 27  Girls 4x200 Meter Relay
===================================================================
   MITS Meet: $ 1:41.04  2003        Maximum Output                            
    School                                               Finals  H#
===================================================================
  1 Ann Arbor Youth Track Club  'A'                     1:43.51   4 
  2 Motor City Track Club  'A'                          1:44.62   4 
  3 Bernard Track Club  'A'                             1:45.95   3 
  4 Albion Track Club  'A'                              1:46.41   4 
  5 Maximum Output  'A'                                 1:47.14   4 
  6 Michigan Accelerators  'A'                          1:48.53   4 
  7 Speed Zone  'A'                                     1:49.40   4 
  8 Pontiac Elite  'A'                                  1:50.15   3 
  9 Tortoise & Hare AC  'A'                             1:50.65   3 
 10 Cat Track Club  'A'                                 1:51.02   1 
 11 Pal  'A'                                            1:52.32   3 
 12 Culp Track Club  'A'                                1:52.79   3 
 13 CB Cruisers  'A'                                    1:52.97   1 
 14 Spirit of Pre  'A'                                  1:53.21   1 
 15 Melon Head Track Club  'A'                          1:54.35   2 
 16 Senoritas  'A'                                      1:55.26   2 
 17 Quick Chicks  'A'                                   1:57.14   2 
 18 Newburgh Track Club  'A'                            2:00.52   1 
 -- Cal  'A'                                                 DQ   3 
 
Event 28  Boys 4x200 Meter Relay
===================================================================
   MITS Meet: $ 1:30.86  3/12/2007   Michigan Accelerators, Accelerators       
    School                                               Finals  H#
===================================================================
  1 Michigan Accelerators  'A'                          1:30.86$  3 
  2 Great LakeTC  'A'                                   1:31.35   3 
  3 Pal  'A'                                            1:32.92   3 
  4 Baumans  'A'                                        1:34.55   1 
  5 T-Town  'A'                                         1:34.60   2 
  6 Albion Track Club  'A'                              1:35.68   1 
  7 Speed Zone  'A'                                     1:36.52   2 
  8 Ledges  'A'                                         1:37.30   1 
  9 Maximum Output  'A'                                 1:37.42   2 
 10 KP Athletics  'A'                                   1:37.68   3 
 11 Ldc  'A'                                            1:38.30   1 
 12 Herb's Runners  'A'                                 1:39.24   2 
 13 Blue Crew Track Club  'A'                           1:40.01   3 
 -- Ann Arbor Youth Track Club  'A'                         DNF   3 
 
Event 29  Girls 3200 Meter Run
================================================================
   MITS Meet: $ 10:33.70  2004        Sharron Vantuyl, Mad Dog                 
    Name                    Year School                  Finals 
================================================================
  1 Treece, Marissa              Glen Lake             10:34.40  
  2 Freeland, Meggan             Western               11:04.80  
  3 Laugenberg, Emily            Grand Ledge           11:05.42  
  4 Abrahamian, Tiffany          Rochester             11:10.38  
  5 Carter, Megan                Southfield Chris      11:21.02  
  6 Calka, Courtney              Liv. Stevenson        11:43.89  
  7 Dent, Adrian                 S.H. Stevenson        11:45.78  
  8 Wilson, Emily                Milan                 11:48.78  
  9 Secord, Sloan                Gaylord               12:00.11  
 10 Anderson, Holly              Fruitport             12:03.83  
 11 Palinkas, Melinda            Saranac               12:05.23  
 12 Vanderbaan, Shaylee          Jenison               12:07.66  
 13 Johnson, Kari                Central Lake          12:12.15  
 14 Micheloni, Marcela           S.H. Stevenson        12:13.18  
 15 Halm, Lauren                 Williamston           12:18.56  
 16 Hunt, Samantha               Gaylord               12:34.78  
 17 Kennedy, Allison             Pioneer               12:36.67  
 18 Litz, Caitlyn                S.H. Stevenson        12:43.00  
 
Event 30  Boys 3200 Meter Run
================================================================
   MITS Meet: $ 9:05.6h  1978        Eric Henricksen, Mad Dog                  
    Name                    Year School                  Finals 
================================================================
  1 Darling, Maverick            Ovid-Elsia             9:30.46  
  2 Dimambro, Joe                Fenton                 9:35.86  
  3 Aprill, Bobby                Dexter                 9:38.67  
  4 Neely, Ryan                  Dexter                 9:40.69  
  5 Sanseverino, Cole            Monroe                 9:46.73  
  6 Marcum, Jon                  Pinckney               9:47.08  
  7 Marcinkowski, Steven         Howell                 9:49.54  
  8 Brownell, Gary               Woodhaven              9:49.90  
  9 Manby, Jon                   East Kentwood          9:50.00  
 10 Culbertson, Dan              Pioneer                9:51.00  
 11 Rock, Jon                    Eisenhower             9:51.22  
 12 Miller, Benjamin             DeLaSalle              9:54.26  
 13 MacDonough, Kenneth          Novi                  10:03.96  
 14 Knisely, Nathan              Coldwater             10:05.13  
 15 Toloff, Alex                 Detroit Cath. Cn      10:07.26  
 16 Heck, Justin                 Monroe                10:12.81  
 17 Lea, Devin                   Grand Ledge           10:13.98  
 18 Deering, Nicholas            T.C. West             10:15.67  
 19 Martin, Peter                T.C. West             10:18.35  
 20 Burns, Geoff                 T.C. West             10:18.85  
 21 Hock, Max                    Lake Orion            10:18.92  
 22 Noble, Tyler                 Shepherd              10:21.85  
 23 Ferrara, B rad               Linden                10:25.17  
 24 Lucas, Dan                   Grand Ledge           10:26.38  
 25 Cassady, Pat                 Flushing              10:27.41  
 26 Brunner, Matthew             Pinckney              10:28.22  
 27 Cooper, Dakota               Hesperia              10:38.56  
 
Event 31  Girls 4x400 Meter Relay
===================================================================
   MITS Meet: $ 3:50.7h  1977        Motor City                                
    School                                               Finals  H#
===================================================================
  1 Ann Arbor Youth Track Club  'A'                     3:56.35   4 
  2 Michigan Accelerators  'A'                          3:56.87   4 
  3 Albion Track Club  'A'                              4:02.21   4 
  4 Motor City Track Club  'A'                          4:02.27   4 
  5 Detroit Cheetah Track Club  'A'                     4:08.26   3 
  6 Romulus 4  'A'                                      4:09.26   3 
  7 Tortoise & Hare AC  'A'                             4:09.73   3 
  8 Bernard Track Club  'A'                             4:10.36   4 
  9 Southfield Spikes TC  'A'                           4:13.98   3 
 10 Culp Track Club  'A'                                4:14.49   2 
 11 Maximum Output  'A'                                 4:16.87   4 
 12 Blue Crew Track Club  'A'                           4:18.47   3 
 13 Spirit of Pre  'A'                                  4:24.61   2 
 14 Quick Chicks  'A'                                   4:30.59   2 
 15 Melon Head Track Club  'A'                          4:32.05   2 
 16 CB Cruisers  'A'                                    4:32.10   1 
 17 Elite Feet Track Club  'A'                          4:38.54   1 
 18 Newburgh Track Club  'A'                            5:01.55   1 
 
Event 32  Boys 4x400 Meter Relay
===================================================================
   MITS Meet: $ 3:20.8h  1982        Trail Blazers                             
    School                                               Finals  H#
===================================================================
  1 Motor City Track Club  'A'                          3:24.17   2 
  2 Ann Arbor Youth Track Club  'A'                     3:28.33   2 
  3 Michigan Accelerators  'A'                          3:31.82   2 
  4 Great LakeTC  'A'                                   3:32.87   2 
  5 T-Town  'A'                                         3:33.31   1 
  6 Six Mile Track Club  'A'                            3:33.34   2 
  7 KP Athletics  'A'                                   3:33.62   1 
  8 Melon Head Track Club  'A'                          3:35.50   1 
  9 Baumans  'A'                                        3:37.63   1 
 10 Herb's Runners  'A'                                 3:41.04   1 
 11 Ledges  'A'                                         3:48.04   1