TX WDL Friday Night Lights





Reed Connor leads US#9/SO#2 Woodlands boys, Woodlands girls edge Kingwood





August 31, 2007 at Bear Branch Park, The Woodlands, TX



DyeStat on-site with John Sullivan, South Region editor



Boys - 4420 meters, 10:00pm
Girls - 3200 meters, 9:30pm
Course was flat, grass, and muddy
76 degrees, cloudy, 87% humidity
- Highlights - Girls A Results - Boys A Results - Girls B Results - Boys B Results - Photos -
HIGHLIGHTS:
The Woodlands jr Reed Connor, 3rd in the state 3200, pulled away in the 2nd half of the race.
"It was my first time to lead a race, so I didn't know what to expect. I got out too slow and had to move up. About the 1200, I moved to the lead and just kept going. "
US#9/SO#2/TX#1 The Woodlands boys demolished a good field with 26 points, followed by SO#4/TX#6 Cedar Park with 72.
The Woodlands coach Dan Green said, "I was kind of nervous. We're doing a lot of base, nothing fast, so I wasn't sure."
Lamar sr Halsey Fowler, with 4:57.28 credentials, used a strong kick to nip The Woodlands soph Sarah Andrews, 11:54.29 to 11:54.81. Kingwood sr Kristen Hanselka lost a shoe around the mile mark and ended up 3rd.
Halsey Fowler was happy with her race. "I thought we had another full lap to go, then someone yelled out that we were finishing! I had a lot left and felt great."
SO#10/TX#4 The Woodlands girls turned back a great field, tallying 48 to edge SO#4/TX#2 Kingwood with 51. The bronze went to SO#6/TX#3 Cinco Ranch with 102.
Boys top 5 (r to l) 1st Reed Connor, 2nd Layne Nixon, 3rd Richie Spearman, 4th Chad Brown, 5th Jay McIllece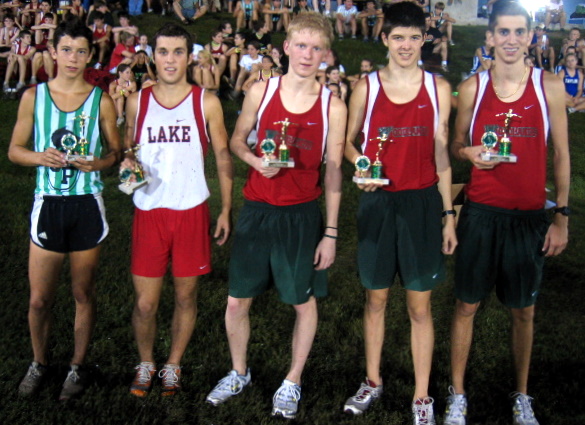 US#9/SO#2 The Woodlands boys used home field advantage to win easily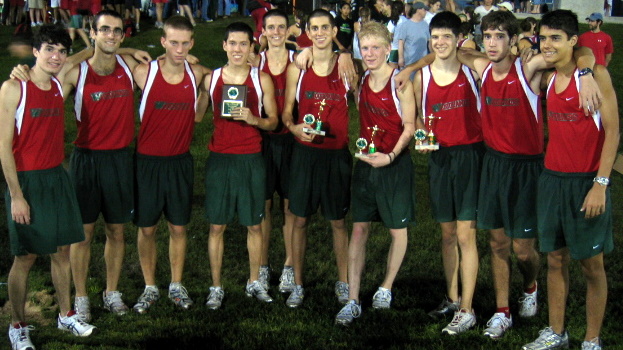 Girls top 3 (r to l) 1st Halsey Fowler, 2nd Sarah Andrews, 3rd Kristen Hanselka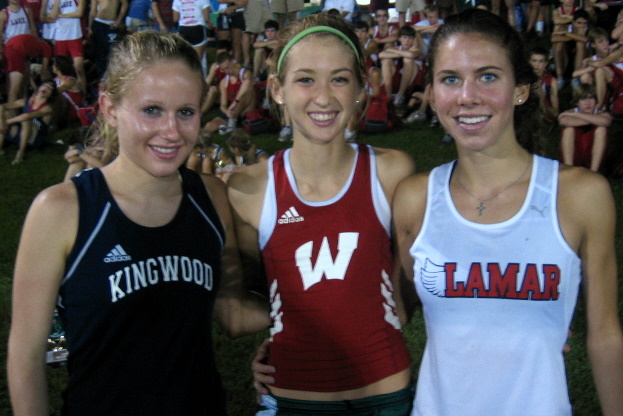 SO#10/TX#4 The Woodlands girls turned back a great field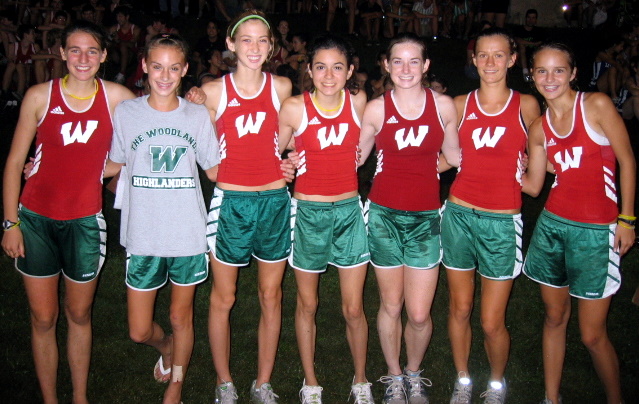 photos by John Sullivan
RESULTS
            


Boys Division A:



TEAMS:
1.   26 The Woodlands
2.   72 Cedar Park
3.  111 Cinco Ranch
4.  135 Kingwood
5.  150 Klein Oak
6.  158 Strake Jesuit
7.  183 Magnolia
8.  236 Friendswood
9.  243 Clear Lake
10. 243 Lamar
11. 260 Kempner
12. 343 Morton Ranch
13. 367 St. Pius
14. 397 Cy Woods
15. 411 Killeen Shoemaker
16. 440 Ft. Bend Travis
17. 455 Klein Collins

INDIVIDUALS:
PL	NAME			SCHOOL		TIME		SCORE 
1	 Reed Connor		The Woodlands	14:31.76	1	   
2	 Layne Nixon		The Woodlands	14:47.26	2	   
3	 Richie Spearman	The Woodlands	14:53.27	3	   
4	 Chad Brown		Clear Lake	14:55.72	4	   
5	 Jay McIllece		Cedar Park	14:56.03	5	   
6	 Zack Flowers		Cinco Ranch	14:56.21	6	   
7	 Ryan Bennett		Kingwood	14:56.87	7	   
8	 Michael Cook		Magnolia	14:57.11	8	   
9	 Bryce Young		The Woodlands	15:00.55	9	   
10	 James Webb		Strake Jesuit	15:02.01	10	   
11	 Tim Wang		The Woodlands	15:09.92	11	   
12	 Jeremy Warren		Klein Oak	15:10.73	12	   
13	 Bobby Mcillece		Cedar Park	15:14.64	13	   
14	 Joey D'Ermo		St. Pius	15:18.11	14	   
15	 Sam Bushong		Cedar Park	15:23.82	15	   
16	 Austin Krohn		Cedar Park	15:25.11	16	   
17	 Ryan Dohner		Klein Oak	15:26.82	17	   
18	 Alex Yale		Kingwood	15:29.69	18	   
19	 Blake Niccum		Lamar		15:31.75	19	   
20	 Will Herrington	Strake Jesuit	15:32.81	20	   
21	 Mitch Blakeley		The Woodlands	15:34.25	21	   
22	 Gabe Cuadra		Friendswood	15:35.97	22	   
23	 Ben Wroblewski		Cedar Park	15:36.77	23	   
24	 Scott Wilkinson	Cinco Ranch	15:38.32	24	   
25	 Justin Dermit		Cinco Ranch	15:39.20	25	   
26	 Raul Cetina		Cinco Ranch	15:42.04	26	   
27	 Brandon Wilkson	Cedar Park	15:44.99	27	   
28	 Shalin Dalal		Kempner		15:46.03	28	   
29	 Anthony Jordan		Magnolia	15:50.77	29	   
30	 George Stredny		Cinco Ranch	15:53.03	30	   
31	 Albert Rodriguez	Lamar		15:53.57	31	   
32	 Yam Valdez		Klein Oak	15:55.05	32	   
33	 Greg York		Strake Jesuit	15:58.54	33	   
34	 Dayne Jordan		Magnolia	15:59.30	34	   
35	 Jared Harris		Kingwood	15:59.50	35	   
36	 Nick Hermes		Magnolia	16:00.23	36	   
37	 Kyle Smith		Kingwood	16:00.81	37	   
38	 David Hayes		Kingwood	16:02.25	38	   
39	 Ben Miller		Cinco Ranch	16:02.72	39	   
40	 Austin Geerts		Cedar Park	16:03.50	40	   
41	 unknown		unknown		16:06.70	x	   
42	 Jack Brentin		Strake Jesuit	16:08.68	41	   
43	 Michael Golden		The Woodlands	16:10.29	42	   
44	 Kwadwo Korang		Lamar		16:10.80	43	   
45	 Cody Widener		Klein Oak	16:13.19	44	   
46	 Alex Politis		Klein Oak	16:14.89	45	   
47	 Josh Dubose		Friendswood	16:15.12	46	   
48	 Errol Hampton		Kempner		16:15.46	47	   
49	 Cole Marinko		Morton Ranch	16:16.66	48	   
50	 Brandon Swindler	Friendswood	16:16.99	49	   
51	 Spencer Buxton		Ft. Bend Travis	16:17.16	50	   
52	 Matt Cortez		Kempner		16:17.81	51	   
53	 Zach Morgan		Clear Lake	16:18.79	52	   
54	 Alex Soto		Morton Ranch	16:22.94	53	   
55	 Colin Roach		Strake Jesuit	16:23.10	54	   
56	 Marco Talamantes	Lamar		16:24.39	55	   
57	 Felix Trujillo		Kingwood	16:25.39	56	   
58	 Blake James		Friendswood	16:27.60	57	   
59	 Chris Lebeau		Clear Lake	16:30.30	58	   
60	 David Koistinen	Kempner		16:31.52	59	   
61	 Blake Bailes		Kingwood	16:32.15	60	   
62	 unknown		unknown		16:34.53	61	   
63	 Dustin Martinez	Friendswood	16:37.56	62	   
64	 John Lovallo		Clear Lake	16:38.25	63	   
65	 Janothan Jones		Westfield	16:39.21	x	   
66	 unknown		unknown		16:42.07	64	   
67	 James Collins		Strake Jesuit	16:44.17	65	   
68	 Ryan Wood		Friendswood	16:46.67	66	   
69	 Andres Escobar		Cy Woods	16:49.92	67	   
70	 Nishaht Jayant		Clear Lake	16:50.66	68	   
71	 Tyler Christiansen	Clear Lake	16:55.56	69	   
72	 Will Nation		Klein Oak	16:57.63	70	   
73	 Miguel Ayala		Morton Ranch	16:59.81	71	   
74	 Travis White		Klein Collins	17:10.40	72	   
75	 Alfred Howard		Shoemaker	17:22.36	73	   
76	 Vince Florez		Cy Woods	17:23.58	74	   
77	 Shanup Dalal		Kempner		17:25.81	75	   
78	 Nathan Grudier		Magnolia	17:27.61	76	   
79	 Justin Zambrana	Shoemaker	17:32.04	77	   
80	 Michael Lane		Ft. Bend Travis	17:40.63	78	   
81	 Jarod Gray		Shoemaker	17:43.39	79	   
83	 Trevor Deines		Cy Woods	17:46.99	80	   
84	 Josh Vasquez		St. Pius	17:49.85	81	   
85	 Justin Stanaland	Cy Woods	17:50.79	82	   
86	 Jeremey Coronado	Morton Ranch	17:51.04	83	   
87	 Daniel Frasier		Klein Collins	17:51.78	84	   
88	 Jake D'Ermo		St. Pius	17:53.25	85	   
89	 Donald Ross		Lamar		17:56.57	86	   
90	 Patrick Cardillo	Morton Ranch	17:57.01	87	   
91	 Jose Gomez		Morton Ranch	17:58.15	88	   
92	 Micahel Blakeley	Shoemaker	17:59.00	89	   
93	 Joseph Ochoa		St. Pius	18:00.24	90	   
94	 Eric Douglass		Morton Ranch	18:01.39	91	   
95	 Mitchel Cruz		Magnolia	18:01.97	92	   
96	 Jamal Green		Shoemaker	18:03.37	93	   
97	 Justin Lundquist	Cy Woods	18:17.16	94	   
98	 Matt Krezinski		Cy Woods	18:34.79	95	   
99	 Sherman Dumar		Cy Woods	18:37.37	96	   
100	 Ray Garcia		St. Pius	18:39.87	97	   
101	 Pedro Coronado		Klein Collins	18:45.12	98	   
102	 Kyle Clawson		Ft. Bend Travis	18:45.29	99	   
103	 Zach Smith		Klein Collins	18:54.11	100	   
104	 unknown		unknown		18:58.24	x	   
105	 Chris Davila		Klein Collins	19:08.08	101	   
106	 John Albers		Klein Collins	19:08.26	102	   
107	 unknown		unknown		19:14.84	x	   
108	 unknown		unknown		19:59.67	x	   
109	 Rob DiValerio		St. Pius	20:04.30	103	   
110	 James Flowers		Shoemaker	21:02.36	104	   
111	 Robert Clemons		Shoemaker	21:22.44	105	   
112	 Conner Lau		Ft. Bend Travis	21:23.05	106	   
113	 Cameron Temple		Ft. Bend Travis	22:08.82	107	   
114	 Daniel Nemariam	Ft. Bend Travis	23:07.25	108	 




Girls Division A:


TEAMS:
1.   48 The Woodlands
2.   51 Kingwood
3.  102 Cinco Ranch
4.  129 Lamar
5.  148 A&M Consolidated
6.  174 Cy-Fair
7.  180 Cy-Woods
8.  269 Klein
9.  292 Magnolia
10. 342 Cy-Falls
11. 356 Langham Creek
12. 361 Ft. Bend Austin
13. 376 Klein Collins
14. 404 Clear Brook
15. 468 Atascocita

INDIVIDUALS:
PL	NAME			SCHOOL		TIME		SCORE 
1	Halsey Fowler		Lamar		11:54.29	1
2	Sarah Andrews		The Woodlands	11:54.81	2
3	Kristen Hanselka	Kingwood	11:57.48	3
4	Brittainy Robertson	Alvin		12:05.91	4
5	Nicole Peters		Langham Crk.	12:16.13	5
6	Alli Keithan		Cinco Ranch	12:23.53	6
7	Faith Sanders		Spring		12:24.19	7
8	Shawn Dalglish		The Woodlands	12:16.54	8
9	Shelby Nicholls		Kingwood	12:28.17	9
10	Addie Quinn		Kingwood	12:18.94	10
11	Samantha Thompson	The Woodlands	12:29.42	11
12	Nevena Pilipovic-Wengler The Woodlands	12:30.42	12
13	Sophie Blake		Kingwood	12:35.86	13
14	Alyse Goldsmith		Cinco Ranch	12:40.71	14
15	Margo Lyons		The Woodlands	12:42.88	15
16	Hailey Nicholls		Kingwood	12:44.02	16
17	Bria Gueriu		Lamar		12:46.15	17
18	Lauren Trapani		Cy- Fair	12:46.65	18
19	Kylie Fitzgerald	Cy Woods	12:51.13	19
20	Eirann Cohen		The Woodlands	12:51.62	20
21	Jordan Bettiol		A&M		12:52.50	21
22	Kristen Stone		Cinco Ranch	12:53.47	22
23	Melissa Mahoney		Cy Woods	12:54.07	23
24	Shelby Bottoms		Lamar		12:54.46	24
25	Erica Sanchez		Clear Brook	12:55.81	25
26	Sally Hays		A&M		12:56.26	26
27	Morgan Hartmann		A&M		12:57.17	27
28	Itzel Cetina		Cinco Ranch	12:58.92	28
29	Hillary Montgomery	Klein		13:00.39	29
30	Rosemary Steup		Kingwood	13:01.27	30
31	Katy Williams		A&M		13:01.73	31
32	Alex Bullard		Cinco Ranch	13:04.81	32
33	Brandy Smith		Cy- Fair	13:06.57	33
34	Jennifer Rembach	Cy- Fair	13:07.58	34
35	Anne Jones		Lamar		13:08.28	35
36	Caylin Howell		Ft. Bend SFA	13:10.54	36
37	Elisabeth Creasman	The Woodlands	13:12.49	37
38	Hannah Sindlinger	Kingwood	13:12.95	38
39	Awbuda Jenkins		Cy- Fair	13:16.07	39
40	Shiloe Dovall		Cy Woods	13:17.46	40
41	Brintney Green		Westfield	13:27.12	41
42	Renee Klodzinski	Klein		13:30.39	42
43	Keri Wood		A&M		13:33.05	43
44	Taylor Cloy		Magnolia	13:34.16	44
45	Kylie Cullian		Klein Collins	13:36.22	45
46	Christina Fogle		Magnolia	13:38.46	46
47	Mallory Ramsey		Cinco Ranch	13:39.18	47
48	Abby Sampson		Cy Woods	13:44.31	48
49	Kerrie Alford		Cy- Fair	13:45.14	49
50	Kelly Garcie		Cy Woods	13:47.12	50
51	Shannon Jacobson	Magnolia	13:47.51	51
52	Katie Howard		Lamar		13:48.45	52
53	Amelia unknown		Ft. Bend SFA	13:50.63	53
54	Cristin Garcia		Cy- Fair	13:54.58	54
55	Kendra Carroll		A&M		13:56.15	55
56	Camille Subert		Cinco Ranch	13:57.99	56
57	Lyndsey Berry		A&M		14:02.06	57
58	Camille Rowdon		Lamar		14:04.92	58
59	Jordan Hopper		Cy Falls	14:05.47	59
60	S. Brezina		Friendswood	14:04.92	60
61	Lauren Waters		Klein		14:05.47	61
62	Hiba Kriedie		Kempner		4:06.07		62
63	Monsterratt Topete	Cy Falls	14:12.58	63
64	Chelsey Watson		Klein		14:15.20	64
66	C. Tiu			Friendswood	14:19.45	66
67	Erika Berry		Klein Collins	14:21.85	67
68	Allison Henry		Cy Woods	14:22.27	68
69	Kylie Hold		Cy Falls	14:23.71	69
70	Michelle Burito		Langham Crk.	14:24:86	70
71	Lauren McKenna		Cy Falls	14:29.16	71
72	Whitney Minton		Cy- Fair	14:30.02	72
73	Audrey Peau		Klein		14:32.43	73
74	Bryttin Boyd		Magnolia	14:35.28	74
75	M. Tiu			Friendswood	14:36.85	75
76	Katherine Toy		Kempner		14:40.18	76
77	Marissa Methvin		Magnolia	14:40.07	77
78	Allison Hollek		Klein		14:43.55	78
79	Laura Bradt		Clear Brook	14:44.46	79
80	Claire Hunter		Cy Falls	14:37.41	80
81	Michelle unknown	Ft. Bend SFA	14:48.01	81
82	Ashley Hill		Atascocita	14:55.77	82
83	Alyssa Crocker		Cy Falls	14:56.13	83
84	Maryum Burney		Clear Brook	15:02.22	84
85	Kyleigh Hanes		Klein Collins	15:04.62	85
86	Zelda Abadom		Kempner		15:06.38	86
87	Brooke Curtis		Langham Crk.	15:10.13	87
88	Alicia Frederick	Lamar		15:11.34	88
89	Sarah Sanders		Klein Collins	15:12.64	89
90	Stephanie Davis		Klein Collins	15:13.04	90
91	Casey unknown		Ft. Bend SFA	15:14.74	91
92	Ashton Davis		Langham Crk.	15:15.27	92
93	Michelle Olvera		Atascocita	15:16.51	93
94	Jenna Marshall		Atascocita	15:19.24	94
94	Yasi Gonzales		Westfield	15:19.24	94
95	Kaci Gevaldo		Klein Collins	15:27.11	95
96	Jillian Anderson	Atascocita	15:28.19	96
97	Gina Keidel		Kempner		15:29.05	97
98	Tiffany Leduc		Klein		15:29.45	98
100	Missy unknown		Ft. Bend SFA	15:30.11	100
101	Maria unknown		Ft. Bend SFA	15:33.21	101
102	Jackie Nance		Langham Crk.	15:34.43	102
103	Kerri Hamilton		Atascocita	15:35.94	103
104	Magdalena Hernandez	Atascocita	15:43.14	104
105	Brenda unknown		Ft. Bend SFA	15:49.42	105
106	Noelle Butes		Atascocita	15:55.41	106
107	Kim Castenon		Clear Brook	16:12.98	107
108	Whitney Phillips	Spring		16:14.28	108
109	Tabitha Powell		Clear Brook	16:40.13	109
110	Mary Aubin		Clear Brook	18:15.01	110
111	Melissa Garcia		Spring		18:21.74	111




Boys Division B:


TOP TEAMS:
1.  80 Atascocita
2. 179 Katy Taylor
3. 179 A&M
4. 187 Brenham
5. 198 Oak Ridge
6. 218 Willis
7. 225 Klein Forest

TOP INDIVIDUALS:
PL	NAME			SCHOOL		TIME	 
1	Bussing, Austin		Katy Taylor	15:29.19
2	Campbell, Justin	Conroe		15:33.25
3	Valentine, Quinn	The Woodlands	15:35.82
4	Adams, Ian		The Woodlands	15:46.56
4	Antkowaiak, Will	Brenham		15:46.56
5	Rovegno, Matt		Katy Taylor	15:50.67
6	Wells, David		Brenham		15:53.78
7	Hernandez, Matt		Klein Forest	15:55.28
8	Falcon, Carlos		St. Johns	15:55.90
9	Williams, Joey		Cinco Ranch	15:58.41
10	Weatherly, Ryan		Cinco Ranch	15:58.79
11	Renteria, Richard	Cy Creek	15:59.20
12	Keller, Stephen		Kingwood	15:59.38
13	Dominguez, Cruz		Luling		16:00.22
14	Cassrry, Tim		John Cooper	16:04.57
15	Urroznelli		John Cooper	16:04.80
16	Zimmer, Ben		Kingwood	16:05.22
17	Daum, Karl		Clear Lake	16:05.65
18	Hall, Jesse		A&M		16:07.63
19	Case, Stephen		A&M		16:08.96
20	Florian, Chris		A&M		16:10.31




Girls Division B:


TOP TEAMS:
1. 173 St. Johns
2. 278 Kingwood Park
3. 301 Brenham
4. 305 Montgomery
5. 311 Elsik
6. 315 Katy
7. 334 Friendswood
8. 336 Willis

TOP INDIVIDUALS:
PL	NAME			SCHOOL		TIME	 
1	Schrader, Bree		Kingwood Park	12:27.6
2	Boice, Jessica		Kingwood  	12:55.5
3	Wells, Faybia		Willis		12:59.0
4	Munoz, Megan		Kingwood	12:59.8
5	Logan, Valerie		Kingwood	13:02.0
6	Andropoulos, Kate	The Woodlands	13:13.6
7	Murray, Colleen		The Woodlands	13:17.2
8	McHale, Liz		Oakridge	13:20.6
9	Howard, Grace		Cinco Ranch	13:21.1
10	Patin, Amber		Montgomery	13:23.5
11	Eber, Audrey		Elsik		13:24.1
12	Lee, Krea		Cy Creek	13:24.5
13	Reynolds, Catie		St. Johns	13:25.1
14	Balbutin, Isabel	Mayde Creek	13:25.6
15	Collazos, Sara		Cypress Ridge	13:28.0
16	Hawkins, Jasmine	Morton Ranch	13:28.6
17	Gamble, Meredith	St. Johns	13:29.2
18	Stemick, Laren		Cooper		13:30.1
19	Creasman, Kristy	The Woodlands	13:31.5
20	Murphy, Kathleen	Cooper		13:31.9

South Region Index