San Antonio ISD Invite
Paul Snyder and Chelsea Ward-Waller earn gold
Saturday, Sept. 29, 2007 at Brooks City Base, San Antonio, TX
Girls: 3200 meters
Boys: 5000 meters
Course is same one used for Region I
- Highlights - Girls Results - Boys Results -
The course is on a deserted golf course on a former Air Force base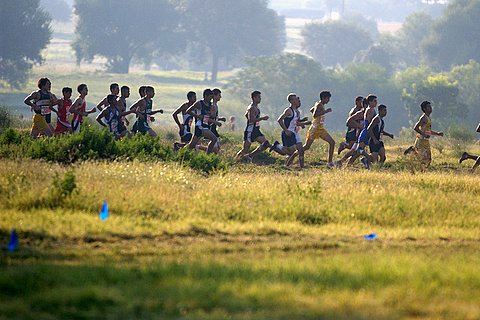 file photo from Bert Richardson
HIGHLIGHTS:
Churchill jr

Paul Snyder

cruised home in 15:44.30, followed by Judson sr Albert Cardenas in 16:15.40.
Brackenridge boys scored 94 for team gold, averaging 17:01. O'Connor took silver with 121, with Reagan 142 and Judson 149 rounding out the top 4.
Alamo Heights sr

Chelsea Ward-Waller

earned individual honors, clocking 12:04.20. Close behind in 2nd, Churchill sr Katie Carroll ran 12:07.00.
Reagan girls placed 5 in the top 10 to capture the team title with 31 points and a 12:57 average. Churchill was 2nd with 48 and Judson 3rd with 131.
RESULTS:



BOYS


San Antonio ISD - Organization License	   Hy-Tek's MEET MANAGER  12:32 PM  9/29/2007
	2007 SAISD INVITATIONAL CROSS COUNTRY MEET - 9/29/2007			
    			BROOKS CITY-BASE					
				Rankings					

Event 2  Boys 5k Run CC Varsity
=======================================================================
    Name                    Year School                  Finals  Points
=======================================================================
  1 Snyder, Paul                 Churchill             15:44.30    1
  2 Cardenas, Albert             Judson                16:15.40    2
  3 Martin, Peter                San Antonio Chri      16:19.70    3
  4 Velasquez, Raymond           Judson                16:23.20    4
  5 Hernandez, Daniel            Brackenridge          16:26.90    5
  6 Gosset, Eric                 Warren                16:30.30    6
  7 Luna, Anthony                Highlands             16:31.10    7
  8 Benn, Jacob                  Stevens               16:31.30    8
  9 Ybarra, Joshua               Brackenridge          16:35.10    9
 10 Peth, Matt                   Central Catholic      16:38.20
 11 Carey, Matt                  Central Catholic      16:38.60
 12 Gonzalez, Adolfo             United South          16:51.40   10
 13 Vasquez, Anthony             Taft                  16:53.40   11
 14 Alvarado, Daniel             Churchill             16:56.07   12
 15 Stoots, Nick                 O'Connor              16:59.90   13
 16 Holtz, Jory                  Judson                17:02.40   14
 17 Ramirez, Andrew              O'Connor              17:04.30   15
 18 Kazmierczak, Mark            Clemens               17:07.70   16
 19 Gonzalez, John               Brackenridge          17:12.70   17
 20 Alvarez, Jacob               MacArthur             17:14.10   18
 21 Eadie, Matt                  Reagan                17:15.90   19
 22 Rios, Jon                    O'Connor              17:16.30   20
 23 Buriolla, Chris              Stevens               17:17.10   21
 24 Well, Richard                Cole                  17:18.40   22
 25 Frausto, Nick                Warren                17:19.30   23
 26 Kirkpatrick, Sean            O'Connor              17:19.50   24
 27 Gil, Raul                    United South          17:20.40   25
 28 Brown, Dallas                Alamo Heights         17:21.60   26
 29 Clark, Cameron               Churchill             17:22.80   27
 30 Nelson, Greg                 Reagan                17:23.40   28
 31 Vail, Nathan                 Reagan                17:24.00   29
 32 Rocha, Jimmie                Brackenridge          17:24.90   30
 33 Baker, Preston               Reagan                17:25.70   31
 34 Cook, Andre'                 Madison               17:27.10   32
 35 Camacho, Johnny              Brackenridge          17:28.00   33
 36 Greene, Mark                 Lee                   17:28.60   34
 37 Flynn, Marc                  Reagan                17:33.70   35
 38 Gonzales, Steven             Harlandale            17:34.00   36
 39 Gutierrez, Jose              United South          17:34.30   37
 40 Brooks, Darnell              Madison               17:35.00   38
 41 Saam, Ryan                   Reagan                17:37.90   39
 42 Battle, Lumumba              Fox Tech              17:39.70   40
 43 Woods, T                     Wagner                17:40.80   41
 44 Castillo, Jerry              Highlands             17:43.40   42
 45 Peterson, Philip             Madison               17:44.40   43
 46 Broussard, Stephen           Judson                17:46.80   44
 47 Chubb, Justin                MacArthur             17:48.00   45
 48 Martinez, Sam                MacArthur             17:48.70   46
 49 Torres, Kenneth              Wagner                17:49.40   47
 50 Peterson, Anthony            Taft                  17:53.10   48
 51 Loeffler, Andy               O'Connor              17:54.60   49
 52 Bautista, Juan               United South          17:55.80   50
 53 Rogers, Matt                 Reagan                17:57.20   51
 54 Anderson, Andrew             Tivy                  17:58.30   52
 55 Perez, Ryan                  Highlands             17:59.30   53
 56 Navarro, Ruben               Seguin                17:59.70   54
 57 Rhoden, Jon                  O'Connor              18:00.20   55
 58 Howe, Tucker                 Churchill             18:01.00   56
 59 Castillo, Juan               Jefferson             18:01.70   57
 60 Robledo, Robert              Lee                   18:02.70   58
 61 De Leon, Fabian              Southwest             18:04.00   59
 62 Lavin, Joseph                Stevens               18:05.30   60
 63 Rodea, Jesus                 Tivy                  18:05.50   61
 64 Gonzales, Nyson              MacArthur             18:06.10   62
 65 Ramirez, David               Lee                   18:08.40   63
 66 Jacquez, Zac                 Taft                  18:09.00   64
 67 Sepulveda, Joe               Seguin                18:09.20   65
 68 Torres, Jimmy                Stevens               18:09.80   66
 69 Tijerina, Eric               Southwest             18:10.80   67
 70 Uresti, Justin               South San             18:11.80   68
 71 Flores, Chris                Fox Tech              18:12.10   69
 72 Segovia, Joey                Brackenridge          18:12.40   70
 73 Rodriguez, Jeffrey           Brackenridge          18:16.90   71
 74 Swain, Rico                  Warren                18:17.40   72
 75 Luna, Sergio                 Memorial              18:18.80
 76 Martinez, Derek              Taft                  18:19.20   73
 77 Herrera, Eric                Highlands             18:20.00   74
 78 Villalobos, Jesus            United South          18:23.60   75
 79 Munoz, Mark                  Highlands             18:24.00   76
 80 Martinez, Alex               Southwest             18:27.90   77
 81 Peacock, Chase               MacArthur             18:28.50   78
 82 Cruz, Andres                 Southwest             18:28.80   79
 83 Gonzales, Jonathon           Seguin                18:29.00   80
 84 Cortez, Richard              Warren                18:29.50   81
 85 Ibarra, Ramiro               McCollum              18:29.70
 86 Garcia, Johnny               Tivy                  18:30.60   82
 87 Small, Phillip               Warren                18:31.80   83
 88 Davis, Alex                  Stevens               18:33.30   84
 89 Hernandez, Nick              Judson                18:34.30   85
 90 Rodriguez, Tyler             Madison               18:34.80   86
 91 Thomas, Caleb                Tivy                  18:35.80   87
 92 Trejo, Robert                South San             18:36.20   88
 93 Naranjo, Kevin               Burbank               18:36.50   89
 94 Vargas, Joshua               Jefferson             18:37.60   90
 95 Hausen, Josh                 Stevens               18:39.10   91
 96 Tello, Rudy                  Highlands             18:40.70   92
 97 Luna, Justin                 Fox Tech              18:41.60   93
 98 Fleming, Chris               San Antonio Chri      18:42.20   94
 99 Arredondo, Jorge             Harlandale            18:43.20   95
100 Howell, Calvin               Alamo Heights         18:43.50   96
101 Vela, Brian                  Tivy                  18:44.50   97
102 Garcia, Tommy                Tivy                  18:48.00   98
103 Blanco, Ruben                Fox Tech              18:49.10   99
104 Hernandez, John              Harlandale            18:50.20  100
105 Vellejo, Patrick             Memorial              18:50.70
106 Guerra, Rudy                 Judson                18:51.30  101
107 Sarmiento, Marcos            Wagner                18:51.50  102
108 Solano, Jesse                San Antonio Chri      18:52.00  103
109 Lougee, Seth                 Cole                  18:52.40  104
110 Gallardo, Isaac              Burbank               18:52.70  105
111 Rhoden, Ben                  O'Connor              18:52.90  106
112 Clarke, Joshua               San Antonio Chri      18:53.10  107
113 Mc Carty, Jonathan           MacArthur             18:53.30  108
114 Donahue, Kevin               Churchill             18:53.50  109
115 Salazar, Gilbert             Harlandale            18:54.90  110
116 Kopp, Ricky                  Clemens               18:55.20  111
117 Briell, Elliot               Seguin                18:57.00  112
118 Sepulveda, Jesse             Seguin                18:58.20  113
119 Martinez, Sergio             Jefferson             19:01.70  114
120 Fory, Lance                  Clemens               19:02.50  115
121 Hernandez, Jordan            Stevens               19:02.90  116
122 Rodriguez, Clemente          Highlands             19:03.40  117
123 Navey, Will                  Alamo Heights         19:05.00  118
124 Ray, Adam                    Madison               19:05.60  119
125 Soto, Brian                  Warren                19:08.80  120
126 Fraser, Michael              Lee                   19:09.30  121
127 Good, Robbie                 Taft                  19:10.50  122
128 Loh, Joseph                  San Antonio Chri      19:13.40  123
129 Mc Mahon, Ryan               Alamo Heights         19:14.20  124
130 Magallanes, Josh             Lee                   19:14.90  125
131 Johnson, Kevin               Madison               19:15.50  126
132 Bennett, Aaron               Southwest             19:16.00  127
133 Phillips, Trevor             Lee                   19:17.30  128
134 Rodriguez, Andrew            Wagner                19:19.30  129
135 Sanchez, Ray                 Clemens               19:20.80  130
136 Jonathan, Martin             San Antonio Chri      19:21.30  131
137 Eggers, Nathan               Cole                  19:21.60  132
138 Moore, London                Cole                  19:23.40  133
139 Razon, Johann                Seguin                19:25.80  134
140 Grant, Pearson               San Antonio Chri      19:27.00  135
141 Flores, Joey                 United South          19:29.00  136
142 Barrasa, Randy               Fox Tech              19:30.30  137
143 Carrillo, Rick               Fox Tech              19:30.60  138
144 Rocha, Matt                  Taft                  19:31.20  139
145 Hernandez, Carlos            Burbank               19:31.60  140
146 Trevino, Richard             Clemens               19:37.00  141
147 Seale, David                 Edison                19:40.00
148 Suarez, Josh                 Madison               19:40.30  142
149 Sinaka, Ezabah               Sam Houston           19:42.80
150 Gonzales, Joshua             Edison                19:44.00
151 Sorriano, Richard            Edison                19:44.60
152 Rivera, Michael              Warren                19:44.90  143
153 Servin, Raul                 Harlandale            19:45.10  144
154 Contreras, Estevan           Burbank               19:48.00  145
155 Darden, Michael              Sam Houston           19:49.30
156 Espinoza, Michael            Judson                19:50.70  146
157 Selbo, David                 Tivy                  19:51.30  147
158 Santillana, Jorge            South San             19:59.40  148
159 Mc Ghee, Wesley              Cole                  20:04.60  149
160 Gonzalez, Martin             Burbank               20:08.40  150
161 Bernal, Mario                Edison                20:08.60
162 Ham, James                   San Antonio Chri      20:09.40
163 Jolley, Justin               Cole                  20:10.30  151
164 Fletcher, Tim                Cole                  20:15.90  152
165 Espinoza, Joshua             South San             20:19.90  153
166 Reyes, Martin                Wagner                20:23.90  154
167 Dizly, Akhir                 Sam Houston           20:26.10
168 Kelley, Justin               San Antonio Chri      20:27.10
169 Delgado, Daniel              Southwest             20:27.30  155
170 Ramirez, Augustine           Jefferson             20:28.10  156
171 Silva, Sam                   Jefferson             20:29.10  157
172 Howell, Roger                Alamo Heights         20:30.60  158
173 Mc Lean, Rabb                Alamo Heights         20:31.10  159
174 Monsivais, John              Memorial              20:34.20
175 Groom, Sam                   San Antonio Chri      20:35.40
176 Salinas, Robert              Jefferson             20:44.90  160
177 Zamora, Rene                 Jefferson             20:47.30  161
178 Lumbreras, George            South San             20:49.90  162
179 Gil, Gilbert                 Burbank               20:51.50  163
180 Roberson, Andy               San Antonio Chri      21:04.60
181 Aguilar, Jose                Kennedy               21:08.40  164
182 Colorado, Juan               Kennedy               21:15.70  165
183 Perales, Jose                South San             21:49.50  166
184 Medrano, Greg                Jefferson             21:55.00
185 Guerrero, Sergio             Kennedy               22:17.50  167
186 Talamantes, Steven           South San             22:20.00  168
187 Winn, Andrew                 Alamo Heights         22:26.40  169
188 Salazar, Joshua              Kennedy               22:42.70  170
189 Saied, Rudy                  Kennedy               23:39.00  171
190 Gonzales, Alonso             Kennedy               23:39.40  172
191 Salazar, Eduardo             Fox Tech              23:53.10  173

                                   Team Scores
=================================================================================
Rank Team                      Total    1    2    3    4    5   *6   *7   *8   *9
=================================================================================
   1 Brackenridge                 94    5    9   17   30   33   70   71
      Total Time:  1:25:07.60
         Average:    17:01.52
   2 O'Connor                    121   13   15   20   24   49   55  106
      Total Time:  1:26:34.60
         Average:    17:18.92
   3 Reagan                      142   19   28   29   31   35   39   51
      Total Time:  1:27:02.70
         Average:    17:24.54
   4 Judson                      149    2    4   14   44   85  101  146
      Total Time:  1:26:02.10
         Average:    17:12.42
   5 United South                197   10   25   37   50   75  136
      Total Time:  1:28:05.50
         Average:    17:37.10
   6 Churchill                   205    1   12   27   56  109
      Total Time:  1:26:57.67
         Average:    17:23.54
   7 Stevens                     239    8   21   60   66   84   91  116
      Total Time:  1:28:36.80
         Average:    17:43.36
   8 MacArthur                   249   18   45   46   62   78  108
      Total Time:  1:29:25.40
         Average:    17:53.08
   9 Highlands                   252    7   42   53   74   76   92  117
      Total Time:  1:28:57.80
         Average:    17:47.56
  10 Warren                      265    6   23   72   81   83  120  143
      Total Time:  1:29:08.30
         Average:    17:49.66
  11 Madison                     318   32   38   43   86  119  126  142
      Total Time:  1:30:26.90
         Average:    18:05.38
  12 Taft                        318   11   48   64   73  122  139
      Total Time:  1:30:25.20
         Average:    18:05.04
  13 Tivy                        379   52   61   82   87   97   98  147
      Total Time:  1:31:54.70
         Average:    18:22.94
  14 Lee                         401   34   58   63  121  125  128
      Total Time:  1:32:03.90
         Average:    18:24.78
  15 Southwest                   409   59   67   77   79  127  155
      Total Time:  1:32:27.50
         Average:    18:29.50
  16 Seguin                      424   54   65   80  112  113  134
      Total Time:  1:32:33.10
         Average:    18:30.62
  17 San Antonio Christian Sch   430    3   94  103  107  123  131  135
      Total Time:  1:32:00.40
         Average:    18:24.08
  18 Fox Tech                    438   40   69   93   99  137  138  173
      Total Time:  1:32:52.80
         Average:    18:34.56
  19 Wagner                      473   41   47  102  129  154
      Total Time:  1:34:04.90
         Average:    18:48.98
  20 Harlandale                  485   36   95  100  110  144
      Total Time:  1:33:47.40
         Average:    18:45.48
  21 Clemens                     513   16  111  115  130  141
      Total Time:  1:34:03.20
         Average:    18:48.64
  22 Alamo Heights               522   26   96  118  124  158  159  169
      Total Time:  1:34:54.90
         Average:    18:58.98
  23 Cole                        540   22  104  132  133  149  151  152
      Total Time:  1:35:00.40
         Average:    19:00.08
  24 Jefferson                   574   57   90  114  156  157  160  161
      Total Time:  1:36:38.20
         Average:    19:19.64
  25 South San                   619   68   88  148  153  162  166  168
      Total Time:  1:37:57.20
         Average:    19:35.44
  26 Burbank                     629   89  105  140  145  150  163
      Total Time:  1:36:57.20
         Average:    19:23.44
  27 Kennedy                     837  164  165  167  170  171  172
      Total Time:  1:51:03.30
         Average:    22:12.66


GIRLS
Event 1  Girls 3200 Meter Run CC Varsity
=======================================================================
    Name                    Year School                  Finals  Points
=======================================================================
  1 Ward-Waller, Chelsea         Alamo Heights         12:04.20    1
  2 Carroll, Katie               Churchill             12:07.00    2
  3 Nelson, Courtney             Reagan                12:31.30    3
  4 Dunn, Faryn                  Taft                  12:48.50
  5 Saari, Stephaney             Reagan                12:49.20    4
  6 Montes, Ana                  Reagan                13:00.20    5
  7 Danielson, Marcie            Churchill             13:06.00    6
  8 Ayala, Vanessa               Churchill             13:06.40    7
  9 Paul, Meredith               Warren                13:06.90    8
 10 Hierholzer, Lauren           Reagan                13:11.90    9
 11 Orsak, Kami                  Reagan                13:12.60   10
 12 Maratinez, Maribel           Wagner                13:15.20   11
 13 Maldonado, Marisa            Taft                  13:18.50
 14 Gutierrez, Samantha          Judson                13:20.70   12
 15 Larson, Kelsey               Reagan                13:23.20   13
 16 Morales, Lillian             South San             13:24.00   14
 17 Patterson, Deanna            Roosevelt             13:26.20
 18 Perez, Sofia                 Madison               13:26.60   15
 19 Sutton, Amanda               Churchill             13:26.90   16
 20 Snelling, Ashlynn            Churchill             13:27.30   17
 21 Brown, Shanea                Roosevelt             13:28.80
 22 Brown, Martha                Cole                  13:33.00   18
 23 Luna, Gloria                 United South          13:36.50   19
 24 Gray, Breana                 Judson                13:37.30   20
 25 Kendall, Maloree             MacArthur             13:39.00   21
 26 Eppel, Sharon                Clemens               13:39.70
 27 Zamora, Michelle             Highlands             13:43.60   22
 28 Angel, Stephanie             Churchill             13:43.90   23
 29 Covell, Emily                Highlands             13:44.50   24
 30 Jones, Danielle              Judson                13:44.90   25
 31 Danish, Danielle             Warren                13:45.60   26
 32 Vita, Tonie                  Reagan                13:46.60   27
 33 Leornard, Micah              Alamo Heights         13:46.90   28
 34 Talaska, Baylee              O'Connor              13:47.60   29
 35 Hernandez, Abigail           Southwest             13:51.40   30
 36 Malloy, Regina               Madison               13:54.20   31
 37 Canty, Shannon               Alamo Heights         13:54.50   32
 38 Quinones, Stephanie          Harlandale            13:55.30   33
 39 Wolfe, Chloe                 Highlands             13:55.50   34
 40 Ramirez, Jennifer            Harlandale            13:55.90   35
 41 Martinez, Jaclyn             Judson                13:56.20   36
 42 Irving, Elizabeth            Churchill             13:56.60   37
 43 Acuna, Elisabeth             Judson                13:56.90   38
 44 Switzer, Marcela             Judson                13:57.20   39
 45 Jackson, Jasmine             Burbank               14:00.00   40
 46 Lara, Jessica                Fox Tech              14:01.70
 47 Roth, Alexa                  O'Connor              14:03.00   41
 48 Polk, Sandra                 Roosevelt             14:03.50
 49 Mora, Gina                   Wagner                14:04.00   42
 50 Perez, Rebecca               MacArthur             14:04.20   43
 51 Hernandez, Darian            Burbank               14:04.50   44
 52 Reeves, Salina               O'Connor              14:04.90   45
 53 Rodriguez, Natalia           Judson                14:05.20   46
 54 Everts, Mayela               Madison               14:05.80   47
 55 Contreras, Alaina            Madison               14:07.50   48
 56 Valdez, Balina               Highlands             14:09.40   49
 57 Barco, Ana                   United South          14:10.80   50
 58 Nugent, Ashley               Madison               14:12.10   51
 59 Lopez, Britany               South San             14:12.40   52
 60 Rodriguez, Laura             McCollum              14:12.70   53
 61 Garza, Amanda                Warren                14:15.10   54
 62 Toney, Tiara                 Wagner                14:16.20   55
 63 Shough, Kaci                 MacArthur             14:17.80   56
 64 Parazo, Andrea               MacArthur             14:18.90   57
 65 Martin, Lauren               Stevens               14:20.40   58
 66 Flores, Caroline             O'Connor              14:22.00   59
 67 Hernandez, Liset             Taft                  14:24.40
 68 Alonso, Kimberly             Burbank               14:25.30   60
 69 Rocha, Priscilla             Fox Tech              14:28.00
 70 Van Hecke, Michelle          Southwest             14:28.30   61
 71 Arellano, Vicky              United South          14:29.70   62
 72 Benavides, Natasha           South San             14:30.30   63
 73 Moncada, Alyssa              Taft                  14:30.80
 74 Lea, Kristina                Wagner                14:31.90   64
 75 Morell, Brianne              Alamo Heights         14:32.70   65
 76 Martinez, Jaylibeth          Wagner                14:34.70   66
 77 Wade, Kayley                 Madison               14:36.20   67
 78 Walker, Brianna              Roosevelt             14:37.50
 79 Velez, Valerie               O'Connor              14:39.00   68
 80 Quirk, Hillary               Alamo Heights         14:39.40   69
 81 Goudge, Kate                 Alamo Heights         14:40.20   70
 82 Bahng, Kelly                 Stevens               14:40.70   71
 83 Sanchez, Aricelli            Stevens               14:41.70   72
 84 Villarreal, Maria            Harlandale            14:42.10   73
 85 Campos, Jocelyn              Harlandale            14:42.40   74
 86 Cantu, Deborah               South San             14:42.80   75
 87 Lopez, Rebekah               O'Connor              14:43.70   76
 88 Goodwyn, Jasmin              McCollum              14:46.60   77
 89 Gonzalez, Tadianna           Brackenridge          14:47.50   78
 90 Gonzalez, Karla              Highlands             14:50.00   79
 91 Garza, Prissy                United South          14:51.30   80
 92 Delgado, Kelly               Burbank               14:54.10   81
 93 Mc Allister, Katie           MacArthur             14:55.40   82
 94 Estrada, Francis             Brackenridge          14:56.90   83
 95 Thompson, Karen              Cole                  14:59.90   84
 96 Hernandez, Emma              McCollum              15:02.90   85
 97 Tucker, Kim                  Madison               15:04.10   86
 98 Helsel, Kasara               MacArthur             15:05.50   87
 99 Blanquiz, Miranda            Harlandale            15:08.40   88
100 Beltran, Andrea              Stevens               15:08.90   89
101 Guevara, Desirae             Stevens               15:09.80   90
102 Rosas, Bianca                Brackenridge          15:10.70   91
103 Smith, Leah                  O'Connor              15:11.20   92
104 Valdovinos, Marlene          Stevens               15:11.90   93
105 Arizmendi, Michelle          Fox Tech              15:17.50
106 Macias, Melina               Stevens               15:18.40   94
107 Acosta, Idalia               Brackenridge          15:18.80   95
108 Ramirez, Priscilla           Lee                   15:19.70
109 Lopez, Stephany              Harlandale            15:21.00   96
110 Hinojosa, Claudia            Memorial              15:22.70
111 Hernandez, Joanna            MacArthur             15:24.60   97
112 Sanchez, Adalyna             Southwest             15:26.50   98
113 Dominguez, Amanda            Highlands             15:27.10   99
114 Robles, Karen                United South          15:27.70  100
115 Morino, Kristyn              Warren                15:28.00  101
116 Gomez, Casey                 Lee                   15:33.20
117 Cruz, Chloe                  Warren                15:34.60  102
118 Ovideo, Diana                United South          15:35.50  103
119 Rodriguez, Samantha          Burbank               15:36.20  104
120 Mejia, Stephanie             Kennedy               15:38.80
121 Ortiz, Christina             United South          15:41.10  105
122 Garza, Valerie               Warren                15:43.50  106
123 Miranda, Bianca              Highlands             15:44.30  107
124 Mata, Analisa                South San             15:44.90  108
125 Pena, Mayte                  Southwest             15:45.30  109
126 Roman, Elizabeth             Jefferson             15:46.60
127 Leathers, Lauren             Alamo Heights         15:52.90  110
128 Garcia, Lupe                 Wagner                15:53.60  111
129 Cervantes, Maribel           Memorial              15:55.50
130 Rivera, Kimmy                Brackenridge          15:56.70  112
131 Garcia, Mercedes             Jefferson             15:58.30
132 Gonzalez, Erika              United South          16:01.50
133 Anguiano, Melisa             McCollum              16:01.80  113
134 Castillo, Jenny              Brackenridge          16:07.60  114
135 Martinez, Hannah             South San             16:08.10  115
136 Ramirez, Priscilla           McCollum              16:11.30  116
137 Gomez, Lupe                  Southwest             16:13.80  117
138 Vasquez, Wendy               Memorial              16:14.50
139 Chester, Kira                Wagner                16:16.60  118
140 Edmonds, Dominique           Cole                  16:26.00  119
141 Erickson, Ashley             Cole                  16:33.90  120
142 Ibarra, Kristina             Edison                16:38.40
143 Espinoza, Gabriella          Edison                16:40.10
144 Sanchez, Lydia               Edison                16:45.20
145 Birrou, Teneice              Sam Houston           16:46.20
146 Salgado, Reina               Edison                16:46.90
147 Najera, Roxi                 Jefferson             16:48.80
148 Gomez, Samantha              Memorial              16:55.20
149 Bonner, Shantrice            Sam Houston           17:10.60
150 Zepeda, Fanny                Sam Houston           17:23.70
151 Mejia, Crystal               Kennedy               17:52.60
152 Alfonso, Elizabeth           Kennedy               18:29.70
153 Kirk, Clara                  Cole                  18:41.90  121
154 Naranjo, Trisha              Burbank               18:54.20  122
155 De La Fuente, Kylee          Jefferson             19:45.60

                                   Team Scores
=================================================================================
Rank Team                      Total    1    2    3    4    5   *6   *7   *8   *9
=================================================================================
   1 Reagan                       31    3    4    5    9   10   13   27
      Total Time:  1:04:45.20
         Average:    12:57.04
   2 Churchill                    48    2    6    7   16   17   23   37
      Total Time:  1:05:13.60
         Average:    13:02.72
   3 Judson                      131   12   20   25   36   38   39   46
      Total Time:  1:08:36.00
         Average:    13:43.20
   4 Madison                     192   15   31   47   48   51   67   86
      Total Time:  1:09:46.20
         Average:    13:57.24
   5 Alamo Heights               195    1   28   32   65   69   70  110
      Total Time:  1:08:57.70
         Average:    13:47.54
   6 Highlands                   208   22   24   34   49   79   99  107
      Total Time:  1:10:23.00
         Average:    14:04.60
   7 Wagner                      238   11   42   55   64   66  111  118
      Total Time:  1:10:42.00
         Average:    14:08.40
   8 O'Connor                    242   29   41   45   59   68   76   92
      Total Time:  1:10:56.50
         Average:    14:11.30
   9 MacArthur                   259   21   43   56   57   82   87   97
      Total Time:  1:11:15.30
         Average:    14:15.06
  10 Warren                      291    8   26   54  101  102  106
      Total Time:  1:12:10.20
         Average:    14:26.04
  11 Harlandale                  303   33   35   73   74   88   96
      Total Time:  1:12:24.10
         Average:    14:28.82
  12 United South                311   19   50   62   80  100  103  105
      Total Time:  1:12:36.00
         Average:    14:31.20
  13 South San                   312   14   52   63   75  108  115
      Total Time:  1:12:34.40
         Average:    14:30.88
  14 Burbank                     329   40   44   60   81  104  122
      Total Time:  1:13:00.10
         Average:    14:36.02
  15 Stevens                     380   58   71   72   89   90   93   94
      Total Time:  1:14:01.50
         Average:    14:48.30
  16 Southwest                   415   30   61   98  109  117
      Total Time:  1:15:45.30
         Average:    15:09.06
  17 McCollum                    444   53   77   85  113  116
      Total Time:  1:16:15.30
         Average:    15:15.06
  18 Brackenridge                459   78   83   91   95  112  114
      Total Time:  1:16:10.60
         Average:    15:14.12
  19 Cole                        462   18   84  119  120  121
      Total Time:  1:20:14.70
         Average:    16:02.94


South Region homepage