Cy-Fair ISD Invite
SO#9 College Park girls edge Cy-Fair, College Park boys nip A&M
Friday, Oct. 5, 2007 at Spring Creek Park, Tomball, TX
Girls: 3200 meters
Boys: 4800 meters
Course has some hills, all grass
84 degrees, mostly cloudy, 69% humidity
- Highlights - Photos - Girls Results - Boys Results -

HIGHLIGHTS:
SO#9

College Park girls

won a tight battle with bubble team Cy-Fair, 49-53. College Park got a big lift when its 2-5 pack finished 10-11-12-13, overcoming the off-day for usual #1 Eli Schultz who finished as #7.
Langham Creek sr

Nicole Peters

, the #5 state 5A returnee, took command and posted a winning time of 11:56. Klein fr Hillary Montgomery earned silver in 12:24, followed by College Park soph McKenze Neal in 12:29.
A&M Consolidated soph Stephen Case pulled away after the mile, clocking 15:53 for the win. Tomball jr Matt Perri was 2nd in 16:03, ahead of College Park jr Cody Foster in 16:06 for the bronze.
The boy's team chase came down to the wire, as College Park nipped A&M 57-58. The Cavalier's 4th and 5th man placed 15-16 while the Tigers' were going 20-21, which made the difference.
PHOTOS:
Boys start
photo courtesy Richard Schultz
| | |
| --- | --- |
| Stephen Case was all alone | Nicole Peters powers home first |
| | |
| photo courtesy Richard Schultz | photo by John Sullivan |
| | |
| Cody Foster led College Park to team gold | McKenze Neal led the girls to the title |
| | |
| | photos courtesy Richard Schultz |
College Park's pack in 10-11-12-13 sealed the win, 49-53 over Cy-Fair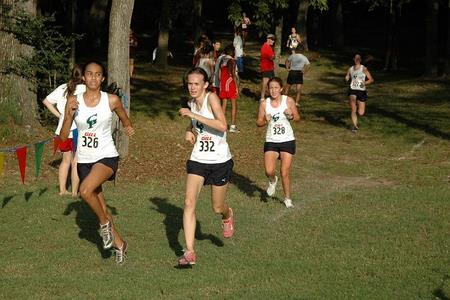 photo courtesy Richard Schultz
RESULTS:



Boys


Cypress Woods High School	Hy-Tek's MEET MANAGER  9:25 PM  10/5/2007  Page 1
	            2007 Cy Fair ISD XC Invitational - 10/5/2007
	                  Spring Creek Park, Tomball, Texas

	Event 5  Boys 4800 Meter Run CC Varsity
==================================================================================
    Name                    Year School                Avg Mile     Finals  Points
==================================================================================
  1 #550 Case, Stephen           A & M Consolidat          5:20      15:53    1
  2  #30 Perri, Matt             Tomball High School       5:23      16:03    2
  3 #348 Foster, Cody            College Park Hig          5:24      16:06    3
  4  #93 Falcon, Carlos          ST Johns High SC          5:32      16:30    4
  5  #52 Czepinski, Alan         CY Fair High School       5:35      16:38    5
  6 #549 Teinert, Chase          A & M Consolidat          5:36      16:40    6
  7 #523 Renteria, Richard       CY Creek High SC          5:37      16:43
  8 #213 Rodgers, Joe            Klein Forest Hig          5:37      16:45    7
  9  #33 Tillota, Ryan           Tomball High School       5:38      16:47    8
 10 #212 Hernandez, Matt         Klein Forest Hig          5:38      16:47    9
 11 #664 Florian, Chris          A & M Consolidat          5:38      16:48   10
 12 #349 Willhite, Jon           College Park Hig          5:40      16:53   11
 13 #347 Puckett, Ernest         College Park Hig          5:41      16:57   12
 14 #323 Castillo, Jose          Springwoods High          5:42      16:58   13
 15 #416 Kaelin, Brenymn         CY Falls High SC          5:42      16:59
 16 #214 Davis, Jeff             Klein Forest Hig          5:43      17:03   14
 17 #352 Woodcock, Douglas       College Park Hig          5:45      17:08   15
 18 #353 Vitucci, Chris          College Park Hig          5:46      17:10   16
 19  #54 Cunningham, Mark        CY Fair High School       5:46      17:11   17
 20 #415 Pereida, Mark           CY Falls High SC          5:47      17:13
 21 #351 Fagnant, Josh           College Park Hig          5:48      17:15   18
 22 #290 Epperson, Andrew        CY Springs High           5:48      17:17   19
 23 #541 Munyon, Morrell         A & M Consolidat          5:48      17:17   20
 24 #578 Mora-Boellstorff, D     A & M Consolidat          5:49      17:18   21
 25 #600 Debruin, Nate           Kingwood High SC          5:49      17:19   22
 26 #350 Janousek, Michael       College Park Hig          5:49      17:20   23
 27  #94 Elliot, Eric            ST Johns High SC          5:50      17:21   24
 28 #637 Smith, Tannor           Kingwood High SC          5:50      17:23   25
 29 #629 Reidy, David            Kingwood High SC          5:51      17:25   26
 30 #431 Deines, Trevor          CY Woods                  5:52      17:29   27
 31  #28 McKay, Zach             Tomball High School       5:53      17:30   28
 32  #32 Terrell, AL             Tomball High School       5:54      17:33   29
 33  #55 Hume, Scott             CY Fair High School       5:55      17:38   30
 34 #542 Edwards, Tyler          A & M Consolidat          5:56      17:41   31
 35 #321 Razo, Jose              Springwoods High          5:57      17:42   32
 36 #417 Williams, Coby          CY Falls High SC          5:57      17:43
 37 #628 Phillips, Wade          Kingwood High SC          5:57      17:44   33
 38 #638 Terry, Logan            Kingwood High SC          5:58      17:46   34
 39 #514 Butcher, Keaton         CY Creek High SC          6:01      17:55
 40 #306 Mata, Walter            Springwoods High          6:01      17:56   35
 41 #589 Bennett, Todd           Kingwood High SC          6:01      17:56   36
 42  #29 Melendez, Jose          Tomball High School       6:02      17:58   37
 43  #57 Zysk, Chris             CY Fair High School       6:03      18:00   38
 44 #432 Florez, Vince           CY Woods                  6:04      18:04   39
 45  #53 Martinez, Derek         CY Fair High School       6:04      18:05   40
 46 #436 Dumars, Sherman         CY Woods                  6:04      18:05   41
 47 #180 Franks, Sean            Langham Creek HI          6:05      18:06   42
 48 #389 Olmos, Jon              Katy High School          6:05      18:07   43
 49 #153 Monteith, Luke          Jersey Village H          6:06      18:09
 50  #95 Chapman, Henry          ST Johns High SC          6:06      18:11   44
 51 #215 Jamal, Hassan           Klein Forest Hig          6:07      18:14   45
 52 #433 Lundquist, Justin       CY Woods                  6:08      18:17   46
 53 #434 Stanaland, Justin       CY Woods                  6:09      18:18   47
 54  #59 Hume, Mark              CY Fair High School       6:09      18:19   48
 55 #444 Fitzgerald, Austin      CY Woods                  6:09      18:20   49
 56 #268 Rodriguez, Carlos       FB Bush High School       6:10      18:21   50
 57 #292 Nolasco, Luis           CY Springs High           6:10      18:22   51
 58 #178 Bennett, Mitchell       Langham Creek HI          6:11      18:24   52
 59 #273 Onofre, Alberto         FB Bush High School       6:13      18:30   53
 60 #682 Infante, Julio          CY Falls High SC          6:13      18:31
 61 #553 James, Jack             A & M Consolidat          6:14      18:33   54
 62 #324 Razo, Jairo             Springwoods High          6:15      18:37   55
 63 #322 Bahena, Omar            Springwoods High          6:17      18:43   56
 64  #27 Berthleson, Deven       Tomball High School       6:18      18:46   57
 65  #96 Marek, Ben              ST Johns High SC          6:20      18:51   58
 66 #270 Mancilla, Richard       FB Bush High School       6:20      18:52   59
 67 #391 Rowe, Daniel            Katy High School          6:20      18:53   60
 68  #98 Helfenstein, Julian     ST Johns High SC          6:21      18:54   61
 69 #182 Freidrich, Eric         Langham Creek HI          6:21      18:54   62
 70  #97 Citek, Tyler            ST Johns High SC          6:21      18:55   63
 71 #515 Caten, Joshua           CY Creek High SC          6:22      18:58
 72  #56 Anderson, Philip        CY Fair High School       6:23      19:00   64
 73 #513 Black, Aaron            CY Creek High SC          6:23      19:01
 74 #319 Uriostegui, Adrian      Springwoods High          6:23      19:02   65
 75 #676 Campero, Albert         Humble High School        6:25      19:08   66
 76 #158 Wolfson, David          Jersey Village H          6:29      19:18
 77 #183 Meyer, Zach             Langham Creek HI          6:31      19:24   67
 78  #31 Sansing, Brandon        Tomball High School       6:32      19:28   68
 79 #269 Ramos, Zuri             FB Bush High School       6:33      19:30   69
 80 #295 Orliss, Shawn           CY Springs High           6:33      19:30   70
 81 #293 Porter, Aaron           CY Springs High           6:34      19:33   71
 82 #498 Johnson, Daniel         CY Ridge High SC          6:34      19:34   72
 83 #501 Hernandez, Matt         CY Ridge High SC          6:34      19:35   73
 84 #103 Fossi, Derek            ST Johns High SC          6:34      19:35   74
 85 #181 Sallee, Jordan          Langham Creek HI          6:35      19:36   75
 86 #502 Spaulding, Seth         CY Ridge High SC          6:36      19:39   76
 87 #585 Agnew, Ryan             Kingwood High SC          6:41      19:54   77
 88 #675 Shirley, Corey          Humble High School        6:44      20:04   78
 89 #500 Sangalang, Anthony      CY Ridge High SC          6:45      20:06   79
 90 #384 Zgbay, Austin           College Park Hig          6:46      20:10
 91 #294 Parker, Nick            CY Springs High           6:50      20:21   80
 92 #156 Benavides, Bernard      Jersey Village H          6:52      20:27
 93 #298 Klander, Allen          CY Springs High           6:54      20:34   81
 94 #388 Mecum, Matthew          Katy High School          6:55      20:35   82
 95 #155 Nugyen, Francis         Jersey Village H          6:57      20:42
 96 #216 Selden, Camry           Klein Forest Hig          6:57      20:43   83
 97 #393 Jue, Erik               Katy High School          6:58      20:44   84
 98 #179 Brigaitis, Stephen      Langham Creek HI          6:58      20:46   85
 99 #227 Dyer, Brian             Klein Forest Hig          7:00      20:52   86
100 #184 Baker, Wade             Langham Creek HI          7:01      20:54   87
101 #390 Ortiz, Ivan             Katy High School          7:04      21:04   88
102 #499 Fuentes, Alfred         CY Ridge High SC          7:06      21:08   89
103 #271 Niven, Michael          FB Bush High School       7:08      21:14   90
104 #296 Legg, Aaron             CY Springs High           7:09      21:17   91
105 #677 William, Cameron        Humble High School        7:13      21:30   92
106 #678 Hypolitw, Jocody        Humble High School        7:31      22:23   93
107 #320 Valles, Eric            Springwoods High          7:32      22:27   94
108 #674 Jazami, Jorge           Humble High School        7:43      23:00   95

                                   Team Scores
=================================================================================
Rank Team                      Total    1    2    3    4    5   *6   *7   *8   *9
=================================================================================
   1 College Park High School     57    3   11   12   15   16   18   23
      Total Time:  1:24:14.00
         Average:    16:50.80
   2 A & M Consolidated High S    58    1    6   10   20   21   31   54
      Total Time:  1:23:56.00
         Average:    16:47.20
   3 Tomball High School         104    2    8   28   29   37   57   68
      Total Time:  1:25:51.00
         Average:    17:10.20
   4 CY Fair High School         130    5   17   30   38   40   48   64
      Total Time:  1:27:32.00
         Average:    17:30.40
   5 Kingwood High School        140   22   25   26   33   34   36   77
      Total Time:  1:27:37.00
         Average:    17:31.40
   6 Klein Forest High School    158    7    9   14   45   83   86
      Total Time:  1:29:32.00
         Average:    17:54.40
   7 ST Johns High School        191    4   24   44   58   61   63   74
      Total Time:  1:29:47.00
         Average:    17:57.40
   8 Springwoods High School     191   13   32   35   55   56   65   94
      Total Time:  1:29:56.00
         Average:    17:59.20
   9 CY Woods                    200   27   39   41   46   47   49
      Total Time:  1:30:13.00
         Average:    18:02.60
  10 CY Springs High School      291   19   51   70   71   80   81   91
      Total Time:  1:35:03.00
         Average:    19:00.60
  11 Langham Creek High School   298   42   52   62   67   75   85   87
      Total Time:  1:34:24.00
         Average:    18:52.80
  12 FB Bush High School         321   50   53   59   69   90
      Total Time:  1:36:27.00
         Average:    19:17.40
  13 Katy High School            357   43   60   82   84   88
      Total Time:  1:39:23.00
         Average:    19:52.60
  14 CY Ridge High School        389   72   73   76   79   89
      Total Time:  1:40:02.00
         Average:    20:00.40
  15 Humble High School          424   66   78   92   93   95
      Total Time:  1:46:05.00
         Average:    21:13.00


Girls
 Event 4  Girls 3200 Meter Run CC Varsity
==================================================================================
    Name                    Year School                Avg Mile     Finals  Points
==================================================================================
  1 #462 Peters, Nicole          Langham Creek HI          6:01      11:56    1
  2  #38 Montgomery, Hillary     Klein High School         6:15      12:24    2
  3 #331 Neal, McKenze           College Park Hig          6:17      12:29    3
  4 #485 Jenkins, Amanda         CY Fair High School       6:17      12:29    4
  5 #487 Smith, Brandy           CY Fair High School       6:18      12:30    5
  6 #194 Citizen, Christi        Humble High School        6:18      12:31    6
  7 #242 Hopper, Jordan          CY Falls High SC          6:19      12:32    7
  8 #241 Longoria, Monica        CY Falls High SC          6:21      12:36    8
  9 #484 Garcia, Cristin         CY Fair High School       6:23      12:40    9
 10 #332 Bingman, Laurel         College Park Hig          6:25      12:44   10
 11 #326 Andaya, Makayla         College Park Hig          6:26      12:46   11
 12 #327 Beckman, Erin           College Park Hig          6:27      12:48   12
 13 #328 Jensen, Emily           College Park Hig          6:28      12:50   13
 14 #244 McKenna, Lauren         CY Falls High SC          6:29      12:53   14
 15 #494 Livergood, Madeline     CY Fair High School       6:31      12:57   15
 16 #134 Collazos, Sara          CY Ridge High SC          6:32      12:59   16
 17 #243 Topete, Monsterratt     CY Falls High SC          6:36      13:07   17
 18 #145 Gamble, Meredith        ST Johns High SC          6:37      13:08   18
 19  #78 Shetty, Neha            A & M Consolidat          6:37      13:09   19
 20 #486 Remback, Jennifer       CY Fair High School       6:37      13:09   20
 21 #142 Reynolds, Catie         ST Johns High SC          6:38      13:10   21
 22 #533 Dolejsi, Dana           CY Creek High SC          6:40      13:14
 23 #483 Alford, Kerrie          CY Fair High School       6:42      13:18   22
 24  #36 Pfau, Audrey            Klein High School         6:43      13:20   23
 25 #329 Hatley, Kate            College Park Hig          6:43      13:20   24
 26 #195 Citizen, Amber          Humble High School        6:44      13:23   25
 27 #248 Carballo, Dyanna        CY Falls High SC          6:46      13:26   26
 28 #232 Andrade, Angelica       CY Springs High           6:47      13:28   27
 29  #79 Barrick, Jenn           A & M Consolidat          6:48      13:30   28
 30  #81 Berry, Lyndsey          A & M Consolidat          6:49      13:32   29
 31 #330 Schultz, Elizabeth      College Park Hig          6:49      13:33   30
 32  #86 Beach, Samantha         A & M Consolidat          6:49      13:33   31
 33 #246 Held, Kylie             CY Falls High SC          6:49      13:33   32
 34 #233 Alzate, Jasmine         CY Springs High           6:52      13:39   33
 35 #403 Mikeska, Amanda         Katy High School          6:53      13:40   34
 36  #84 Wright, Kate            A & M Consolidat          6:53      13:41   35
 37  #35 Hollek, Allison         Klein High School         6:55      13:45   36
 38  #37 Leduc, Tiffany          Klein High School         6:57      13:49   37
 39  #40 Watson, Chelsey         Klein High School         6:59      13:52   38
 40 #245 Hunter, Claire          CY Falls High SC          6:59      13:53   39
 41  #41 Avelar, Samantha        Klein High School         7:02      13:58   40
 42 #401 Hanson, Christina       Katy High School          7:02      13:58   41
 43  #80 Patlan, Mayra           A & M Consolidat          7:04      14:03   42
 44 #146 Van Sweringen, Jess     ST Johns High SC          7:05      14:05   43
 45  #83 Mason, Stephanie        A & M Consolidat          7:06      14:07   44
 46  #39 Waters, Lauren          Klein High School         7:07      14:08   45
 47 #464 Brito, Michelle         Langham Creek HI          7:07      14:09   46
 48 #463 Curtis, Brooke          Langham Creek HI          7:08      14:10   47
 49 #173 Hernandez, Karol        Klein Forest Hig          7:09      14:13   48
 50 #143 Watkins, Emily          ST Johns High SC          7:10      14:14   49
 51 #275 Ikegbunam, Kimberly     FB Bush High School       7:10      14:14   50
 52 #279 Stillwagon, Rebecca     FB Bush High School       7:10      14:14   51
 53 #278 Cubero, Joelle          FB Bush High School       7:11      14:16   52
 54 #136 Nelson, Amanda          CY Ridge High SC          7:11      14:16   53
 55 #650 Cesnik, Courtney        CY Woods Varsity B        7:13      14:20   54
 56 #528 Barnett, Dezirae        CY Creek High SC          7:13      14:20
 57  #22 Mundy, Rhi              Tomball High School       7:15      14:24   55
 58 #276 Okolo, Jennifer         FB Bush High School       7:16      14:26   56
 59 #404 Romanoski, Rachel       Katy High School          7:16      14:26   57
 60 #399 DE LA Fuente, Erica     Katy High School          7:19      14:31   58
 61 #400 Edwards, Lindsey        Katy High School          7:19      14:32   59
 62 #135 Martin, Brandi          CY Ridge High SC          7:21      14:36   60
 63 #405 Tauriello, Teresa       Katy High School          7:21      14:36   61
 64 #277 Vela, Jackie            FB Bush High School       7:22      14:37   62
 65 #172 Gonzales, Ariel         Klein Forest Hig          7:22      14:37   63
 66 #151 Patterson, Sara         ST Johns High SC          7:23      14:39   64
 67 #118 Griesbach, Kristin      Jersey Village H          7:25      14:43   65
 68 #150 Beavers, Brittany       ST Johns High SC          7:26      14:45   66
 69 #660 Oliver, Abby            CY Woods Varsity B        7:28      14:50   67
 70 #176 Lewis, Shaleah          Klein Forest Hig          7:29      14:51   68
 71  #25 Patton, Stephanie       Tomball High School       7:29      14:52   69
 72 #466 Davis, Ashton           Langham Creek HI          7:30      14:53   70
 73 #120 Rodriguez, Veronica     Jersey Village H          7:31      14:55   71
 74 #138 Wooler, Rachel          CY Ridge High SC          7:31      14:56   72
 75 #648 Berrones, Alex          CY Woods Varsity B        7:31      14:56   73
 76 #231 Alvarez, Samantha       CY Springs High           7:32      14:57   74
 77 #661 Quinlan, Haley          CY Woods Varsity B        7:33      14:59   75
 78 #406 Kelley, Sarah           Katy High School          7:34      15:02   76
 79 #465 Tyson, Jahmilah         Langham Creek HI          7:35      15:03   77
 80 #144 Kontchou, Nelly         ST Johns High SC          7:35      15:04   78
 81 #531 Casanova, Jessica       CY Creek High SC          7:36      15:06
 82 #234 O'Brien, Katie          CY Springs High           7:38      15:10   79
 83 #175 Juarez, Raquel          Klein Forest Hig          7:39      15:11   80
 84 #649 Brokken, Kirstyn        CY Woods Varsity B        7:40      15:13   81
 85 #137 Perez, Erica            CY Ridge High SC          7:41      15:16   82
 86 #177 Lira, Monica            Klein Forest Hig          7:43      15:20   83
 87 #537 Hunter, Michelle        CY Creek High SC          7:45      15:23
 88  #26 Schmittle, Jessica      Tomball High School       7:47      15:28   84
 89 #259 Ibarguen, Rosa          Springwoods High          7:48      15:29   85
 90 #197 Gonzalez, Janney        Humble High School        7:50      15:33   86
 91 #468 Tran, Nicole            Langham Creek HI          7:50      15:34   87
 92 #174 Hernandez, Valeria      Klein Forest Hig          7:51      15:35   88
 93 #651 Davis, Alexis           CY Woods Varsity B        7:52      15:37   89
 94 #119 Parker, Patrice         Jersey Village H          7:55      15:43   90
 95 #467 Labrie, Latasha         Langham Creek HI          7:55      15:44   91
 96 #235 Ortega, Rachael         CY Springs High           7:56      15:45   92
 97 #122 Tverbaak, Veronica      Jersey Village H          7:57      15:48   93
 98 #261 NG, Loraine             Springwoods High          7:58      15:50   94
 99 #258 Glezen, Amy             Springwoods High          7:59      15:52   95
100 #262 Gardea, Jackie          Springwoods High          8:01      15:56   96
101 #116 Crum, Amanda            Jersey Village H          8:02      15:57   97
102 #199 Lara, Julia             Humble High School        8:03      15:59   98
103  #24 Wayman, Amber           Tomball High School       8:05      16:04   99
104 #121 Spears, Vanessa         Jersey Village H          8:07      16:07  100
105 #117 Gambhir, Jessica        Jersey Village H          8:11      16:15  101
106 #200 Deshotel, Ariel         Humble High School        8:31      16:55  102
107 #206 Gonzalez, Steph         Humble High School        8:35      17:03  103
108 #260 Hunter, Janet           Springwoods High          8:54      17:40  104
109  #23 Alvardo, Amanda         Tomball High School       9:05      18:03  105
110 #236 Sanchez, Citlalli       CY Springs High           9:14      18:20  106
111 #263 Ramon, Stephanie        Springwoods High          9:19      18:31  107

                                   Team Scores
=================================================================================
Rank Team                      Total    1    2    3    4    5   *6   *7   *8   *9
=================================================================================
   1 College Park High School     49    3   10   11   12   13   24   30
      Total Time:  1:03:37.00
         Average:    12:43.40
   2 CY Fair High School          53    4    5    9   15   20   22
      Total Time:  1:03:45.00
         Average:    12:45.00
   3 CY Falls High School         72    7    8   14   17   26   32   39
      Total Time:  1:04:34.00
         Average:    12:54.80
   4 Klein High School           136    2   23   36   37   38   40   45
      Total Time:  1:07:10.00
         Average:    13:26.00
   5 A & M Consolidated High S   142   19   28   29   31   35   42   44
      Total Time:  1:07:25.00
         Average:    13:29.00
   6 ST Johns High School        195   18   21   43   49   64   66   78
      Total Time:  1:09:16.00
         Average:    13:51.20
   7 Langham Creek High School   241    1   46   47   70   77   87   91
      Total Time:  1:10:11.00
         Average:    14:02.20
   8 Katy High School            249   34   41   57   58   59   61   76
      Total Time:  1:11:07.00
         Average:    14:13.40
   9 FB Bush High School         271   50   51   52   56   62
      Total Time:  1:11:47.00
         Average:    14:21.40
  10 CY Ridge High School        283   16   53   60   72   82
      Total Time:  1:12:03.00
         Average:    14:24.60
  11 CY Springs High School      305   27   33   74   79   92  106
      Total Time:  1:12:59.00
         Average:    14:35.80
  12 Humble High School          317    6   25   86   98  102  103
      Total Time:  1:14:21.00
         Average:    14:52.20
  13 Klein Forest High School    342   48   63   68   80   83   88
      Total Time:  1:14:12.00
         Average:    14:50.40
  14 CY Woods Varsity B          350   54   67   73   75   81   89
      Total Time:  1:14:18.00
         Average:    14:51.60
  15 Tomball High School         412   55   69   84   99  105
      Total Time:  1:18:51.00
         Average:    15:46.20
  16 Jersey Village High Schoo   416   65   71   90   93   97  100  101
      Total Time:  1:17:06.00
         Average:    15:25.20
  17 Springwoods High School     474   85   94   95   96  104  107
      Total Time:  1:20:47.00
         Average:    16:09.40


South Region homepage