Girls: 3200 meters
Boys: 5000 meters
- Highlights - Girls Results - Boys Results -
Early in the girls race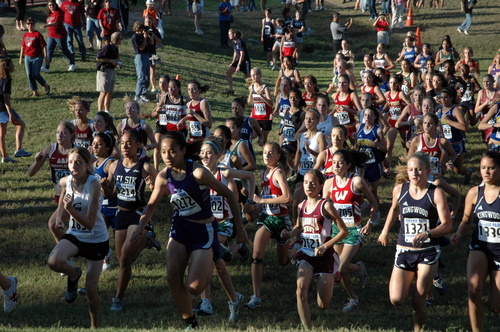 photo courtesy Richard Schultz



HIGHLIGHTS:



While many of the top boys from last week's Nike South traveled to Chile Pepper (AR), the top girls ended up at College Park. Brazoswood jr

Lauren Smith

, Nike South champ and state 5A runner-up in 2006, clocked 11:11.96 today to remain undefeated. Alvin sr Brittainy Robertson, 2nd at Nike South and the #3 state returnee, was close behind in 11:15.45. The Woodlands soph Sarah Andrews, 4th at Nike South, earned bronze in 11:20.87, followed by Kingwood sr Kristen Hanselka, 3rd at Nike South, in 11:27.98 to round out the top 4.
SO#3

The Woodlands girls

captured the team title with 48 points, averaging 11:49. SO#2 Kingwood took the silver with 58 and an 11:54 average. SO#7 A&M Consolidated placed 3rd with 88 points, followed by SO#8 College Park with 95. SO#9 Cy-Woods was involved in a big pile-up, with usual #1 Melissa Mahoney bearing the brunt of the fall, ending up with a broken wrist and unable to finish. Its 5 finishers scored 207 to round out the top 5.
Magnolia sr

Michael Cook

, the #7 state 5A returnee, used his strong kick to claim individual honors in 16:14.04. A&M Consolidated jr Stephen Case took 2nd in 16:15.81, with Kingwood sr Ryan Bennett 3rd in 16:17.64.

Klein Oak boys

won a tight team battle, scoring 81 with a 16:53 average. SO#6 Kingwood took 2nd with 83 with a 16:50 average, followed by A&M Consolidated with 95, host College Park with 97, and SO#1 Cedar Park (resting its top 6) with 101.
RESULTS:



Boys - Top Teams & Individuals



Boys 5k Run CC Varsity Boys
=======================================================================          
    Name                    Year School                  Finals  Points          
=======================================================================          
  1 Cook, Michael                Magnolia              16:14.04      1
  2 Case, Stephen                A&M Consolidated      16:15.81      2
  3 Bennett, Ryan                Kingwood              16:17.64      3
  4 Foster, Cody                 College Park          16:18.34      4
  5 O'Neil, Sean                 Cedar Park            16:24.79      5
  6 Puckett, Ernest              College Park          16:33.84      6
  7 Hall, Jesse                  A&M Consolidated      16:41.22      7
  8 Krol, Patrick                Brazos High School    16:41.89      8
  9 Yale, Alec                   Kingwood              16:42.95      9
 10 Harris, Jared                Kingwood              16:43.39     10
 11 Jordan, Anthony              Magnolia              16:46.99     11
 12 Warren, Jeremy               Klein Oak             16:48.09     12
 13 Dohner, Ryan                 Klein Oak             16:48.70     13
 14 Willhite, Jon                College Park          16:50.99     14
 15 Politis, Alex                Klein Oak             16:51.91     15
 16 Geerts, Austin               Cedar Park            16:52.99     16
 17 Sekimotto, Henry             Cedar Park            16:55.56     17
 18 Jordan, Dayne                Magnolia              16:57.52     18
 19 Nichols, Jeff                Willis High School    16:59.03     19
 20 Valdez, Tony                 Klein Oak             17:00.22     20
 21 Nation, Will                 Klein Oak             17:00.48     21
 22 Florian, Chris               A&M Consolidated      17:01.19     22
 23 Eberhard, Bryan              Klein Oak             17:01.58     23
 24 White, Travis                Klein Collins         17:01.98     24
 25 Holt, Spencer                Atascocita            17:02.28     25
 26 Worley, Dalton               Klein High School     17:06.07     26
 27 Teinert, Chase               A&M Consolidated      17:07.12     27
 28 Zimmer, Ben                  Kingwood              17:07.56     28
 29 Renteria, Richard            Cy-Creek              17:07.89
 30 Wilkinson, Brandon           Cedar Park            17:10.63     29
 31 Woodcock, Doug               College Park          17:14.40     30
 32 Widener, Cody                Klein Oak             17:15.58     31
 33 Thigpen, Caleb               Klein High School     17:16.06     32
 34 Keller, Stephan              Kingwood              17:18.88     33
 35 Krohn, Garrett               Cedar Park            17:22.10     34
 36 Smith, Aaron                 Oak Ridge             17:22.69     35
 37 Belcher, Brandon             Klein High School     17:25.82     36
 38 Mora-Boellstorff, David      A&M Consolidated      17:26.29     37
 39 Martin, Ethan                Brazos High School    17:26.69     38
 40 Alfadel, Ali                 Kingwood              17:27.12     39
 41 Concienne, Max               Atascocita            17:27.94     40
 42 Pereida, Mark                Cy-Falls              17:28.40     41
 43 Munyon, Morrell              A&M Consolidated      17:29.41     42
 44 Janousek, Michael            College Park          17:29.88     43
 45 Kaelyn, Breynm               Cy-Falls              17:37.07     44

                                   Team Scores                                   
=================================================================================
Rank Team                      Total    1    2    3    4    5   *6   *7   *8   *9
=================================================================================
   1 Klein Oak High School        81   12   13   15   20   21   23   31
      Total Time:  1:24:29.40
         Average:    16:53.88
   2 Kingwood High School         83    3    9   10   28   33   39   58
      Total Time:  1:24:10.42
         Average:    16:50.09
   3 A&M Consolidated High Sch    95    2    7   22   27   37   42   48
      Total Time:  1:24:31.63
         Average:    16:54.33
   4 College Park High School     97    4    6   14   30   43   46   54
      Total Time:  1:24:27.45
         Average:    16:53.49
   5 Cedar Park High School      101    5   16   17   29   34
      Total Time:  1:24:46.07
         Average:    16:57.22
   6 Magnolia High School        145    1   11   18   52   63   65   89
      Total Time:  1:25:48.46
         Average:    17:09.70
   7 Klein High School           205   26   32   36   55   56   69   76
      Total Time:  1:27:27.15
         Average: 17:29.43




Girls - 

Top Teams & Individuals



Girls 3200 Meter Run CC Varsity Girl
=======================================================================          
    Name                    Year School                  Finals  Points          
=======================================================================          
  1 Smith, Lauren                Brazoswood            11:ll.96      1
  2 Robertson, Brittainy         Alvin High School     11:15.45  
  3 Andrews, Sarah               The Woodlands         11:20.87      2
  4 Hanselka, Kristen            Kingwood              11:27.98      3
  5 Peters, Nicole               Langham Creek         11:34.26      4
  6 Montgomery, Hillary          Klein High School     11:43.13      5
  7 Schultz, Ellie               College Park          11:46.13      6
  8 Blake, Sophie                Kingwood              11:49.13      7
  9 Sanders, Faith               Spring High School    11:51.51
 10 Thompson, Samantha           The Woodlands         11:52.39      8
 11 Bettiol, Jordan              A&M Consolidated      11:53.19      9
 12 Nicholls, Shelby             Kingwood              11:54.50     10
 13 Dalglish, Shawn              The Woodlands         11:55.48     11
 14 Lyons, Margo                 The Woodlands         11:57.57     12
 15 Neal, McKenze                College Park          11:58.66     13
 16 Hays, Sally                  A&M Consolidated      11:59.25     14
 17 Pilipovic-Wengler, Nevena    The Woodlands         12:00.38     15
 18 Pustka, Haleight             Brazos High School    12:02.31     16
 19 Steup, Rosemary              Kingwood              12:05.18     17
 20 Wood, Keri                   A&M Consolidated      12:05.69     18
 21 Witte, Brandi                Brazos High School    12:05.88     19
 22 Andaya, Makayla              College Park          12:12.31     20
 23 Logan, Valerie               Kingwood              12:14.90     21
 24 Hartmann, Morgan             A&M Consolidated      12:16.13     22
 25 Cohen, Eirann                The Woodlands         12:16.73     23
 26 Fitzgerald, Kylie            Cy-Woods              12:17.89     24
 27 Williams, Katy               A&M Consolidated      12:19.55     25
 28 Creasman, Elisabeth          The Woodlands         12:19.96     26
 29 Bingman, Laurel              College Park          12:20.39     27
 30 Nicholls, Hailey             Kingwood              12:20.75     28
 31 Beckman, Erin                College Park          12:21.65     29
 32 Hopper, Jordan               Cy-Falls              12:22.94     30
 33 Trevino, Kelly               Cy-Woods              12:26.77     31
 34 Carroll, Kenda               A&M Consolidated      12:34.52     32
 35 Citizen, Christi             Humble High School    12:36.49     33

                                   Team Scores                                   
=================================================================================
Rank Team                      Total    1    2    3    4    5   *6   *7   *8   *9
=================================================================================
   1 The Woodlands High School    48    2    8   11   12   15   23   26
      Total Time:    59:06.69
         Average:    11:49.34
   2 Kingwood High School         58    3    7   10   17   21   28   38
      Total Time:    59:31.69
         Average:    11:54.34
   3 A&M Consolidated High Sch    88    9   14   18   22   25   32   59
      Total Time:  1:00:33.81
         Average:    12:06.77
   4 College Park High School     95    6   13   20   27   29   34   69
      Total Time:  1:00:39.14
         Average:    12:07.83
   5 Cy-Woods High School        207   24   31   36   49   67
      Total Time:  1:04:07.48
         Average:    12:49.50
   6 Klein High School           216    5   42   48   51   70   85   91
      Total Time:  1:04:29.75
         Average:    12:53.95


South Region homepage