4x200 Meter Relay





Texas Relays





April 6-7, 2007 University of Texas, Austin TX



DyeStat on-site coverage



Notes & Quotes - Results -

Judson TX - sr George Alicea, sr Eman Fondren, sr Roisean Haynes, jr Brandon
Thomas (l to r, #1-4)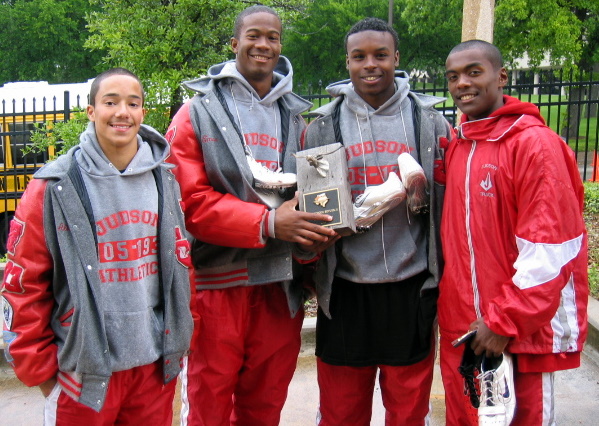 photo by John Sullivan

Notes & Quotes:
BOYS
Judson TX struck gold in 1:29.11, as only 4 of the 9 finalists competed.

In Friday's prelims, Klein Forest TX had fastest time of 1:26.29. Other heat winners were Judson 1:26.76, Garland TX 1:26.96, West Monroe LA 1:27.40, North Mesquite TX 1:27.47 and Angleton TX 1:28.02 (the current US leader at 1:25.84).

In 2006, Texas teams and West Monroe LA were 12 of the top 14 US schools in this event.

Quotes:
Brandon Thomas, Judson anchor leg

I was running against Jacques (Caldwell), one of the fastest guys in the nation, but I didn't let that scare me and I held him off pretty well.

Judson Coach Ron Faught

We got our medals. Now we're going to call it a day and skip the 4x100 final. It's not worth risking injury.

GIRLS
The Division 2 (large schools) final was cancelled, as all 9 teams scratched due to weather. In small school Division 1, Ursuline TX took top honors in 1:46.03.

In Friday's prelims, current US#1 Timberview TX set the tone while winning heat #1 in 1:37.58, with other top times turned in by Skyline TX 1:39.34, Ft Bend Marshall TX 1:39.38, Judson TX 1:39.77 and Lancaster TX 1:39.95.

This was the deepest event of the meet as a total of 22 teams ran under the Dyestat Elite standard of 1:43.00.

Girls Div 2 - Girls Div 1 - Boys Div 2 - Boys Div 1
Boys

          80th Clyde Littlefield Texas Relays - 4/4/2007 to 4/7/2007           
                             Mike A. Myers Stadium                             
                              University of Texas                              
 

Event 32  Boys 4x200 Meter Relay HS Div. II
===============================================================
 National HS:   1:23.31  1998        Fort Worth Wyatt          
   Myers Std: S 1:24.10  2006        Houston Eisenhower        
        Meet: M 1:24.55  1999        Long Beach Poly, CA       
    School                                               Finals
===============================================================
Finals                                                         
  1 Converse Judson                                     1:29.11
     1) Dale Kindred 12                 2) Eman Fondren 12     
     3) Brandon Thomas 11               4) Randez James 12     
  2 Garland                                             1:29.42
     1) Jacques Caldwell 11             2) Jared Ben 11        
     3) Malcolm Williams 12             4) Malcolm Williams 12 
  3 West Monroe                                         1:29.69
     1) Sam Smith 11                    2) Dimitri Hampton 10  
     3) Keldrick Williams 11            4) Terry Carter 12     
  4 North Mesquite                                      1:31.03
     1) Daymond Patterson 12            2) Lanear Sampson 11   
     3) Jonathan Hackworth 12           4) Edrick Boger 11     
 -- Klein Forest                                            DNS
     1) Kelsey Caesar 12                2) Mark Barnes 11      
     3) Milton Jones 11                 4) Kendrick Maiden 12  
 -- Texas City                                              DNS
     1) Lee Prevost 11                  2) Johnny Thomas 11    
     3) Jarvis Carraway 12              4) Whitney Prevost 12  
 -- Duncanville                                             DNS
     1) Vernon Frazier 12               2) Justin Flowers 12   
     3) Monquil Pickens 11              4) Josh Harris 11      
 -- North Crowley                                           DNS
     1) Mitch Hobson 11                 2) Chris Ford 12       
     3) Reid Singleton 12               4) Courtney Gardner 11 
 -- Lewisville                                              DNS
     1) Markus Henderson 11             2) Chad Haynes 12      
     3) Darius Teamer 11                4) Jorge Bacallao 12   

Event 32  Boys 4x200 Meter Relay HS Div. II
================================================================   
 National HS:   1:23.31  1998        Fort Worth Wyatt              
   Myers Std: S 1:24.10  2006        Houston Eisenhower            
        Meet: M 1:24.55  1999        Long Beach Poly, CA           
    School                                              Prelims  H#
===================================================================
Preliminaries                                                      
  1 Klein Forest                                        1:26.29q  2
  2 Converse Judson                                     1:26.76q  3
  3 Duncanville                                         1:26.92q  2
  4 Garland                                             1:26.96q  6
  5 Lewisville                                          1:27.23q  6
  6 North Crowley                                       1:27.31q  6
  7 West Monroe                                         1:27.40q  5
  8 North Mesquite                                      1:27.47q  4
  9 Texas City                                          1:27.53q  5
 10 Hou Worthing                                        1:27.68   4
 11 Mesq Horn                                           1:27.81   2
 12 FB Dulles                                           1:27.99   4
 13 Greenville                                          1:28.01   4
 14 Angleton                                            1:28.02   1
 15 Crltn Smith                                         1:28.25   6
 16 Waxahachie                                          1:28.28   1
 17 Copperas Cove                                       1:28.29   1
 18 Dal Carter                                          1:28.29   2
 19 Wylie                                               1:28.32   4
 20 Dal Kimball                                         1:28.52   6
 21 Cedar Hill                                          1:28.55   2
 22 Dal Skyline                                         1:28.58   5
 23 Dal Pinkston                                        1:28.60   1
 24 Baytown Lee                                         1:28.86   5
 25 Lancaster                                           1:28.92   5
 26 Austin                                              1:28.94   3
 27 Arl Bowie                                           1:29.08   2
 28 Humble                                              1:29.08   3
 29 Lake Highlands                                      1:29.32   5
 30 Corsicana                                           1:29.43   4
 31 Odessa Permian                                      1:29.52   1
 32 DeSoto                                              1:29.53   1
 33 Pflugerville                                        1:29.59   1
 34 Converse Wagner                                     1:29.68   2
 35 Pfg Connally                                        1:29.74   4
 36 RR McNeil                                           1:29.82   6
 37 SA Jay                                              1:29.86   3
 38 SA Reagan                                           1:30.09   5
 39 Irv MacArthur                                       1:30.20   3
 40 Pearland                                            1:30.45   6
 41 So Grand Prairie                                    1:30.58   3
 42 Dal Lincoln                                         1:30.82   3
 43 Katy Taylor                                         1:31.59   2
 44 FW Boswell                                          1:32.03   5
 45 Tyler                                               1:32.09   2
 46 Cedar Park                                          1:32.37   4
 47 Galveston Ball                                      1:32.53   3
 48 Aus Westlake                                        1:32.60   4
 -- LC Clear Creek                                          DNF   6
 -- Waco Midway                                             DNF   5
 -- Everman                                                 DNS   1
 -- Jenks                                                   DNS   3
 -- Dal So Oak Cliff                                        DNS   6


Event 31  Boys 4x200 Meter Relay HS Div. I
================================================================ 
 National HS:   1:23.31  1998        Fort Worth Wyatt            
   Myers Std: S 1:24.10  2006        Houston Eisenhower          
        Meet: M 1:27.59  2006        Giddings                    
    School                                               Finals  
================================================================ 
Finals                                                           
  1 Tatum                                               1:31.35  
     1) Tatum Javarious 11              2) Lennon Creer 12       
     3) Calvin Stoker 11                4) Donovan Sammons 12    
  2 Westminster Acad.                                   1:32.62  
     1) Jordan Doucet 12                2) Timothy Redd 8        
     3) David Dugas 11                  4) Jordan Redd 12        
  3 Trinity Christian                                   1:33.55  
     1) Reginald McCarther 12           2) Derek Perales 12      
     3) Kenith Roseman 10               4) O.J. Stoneham 11      
 -- Kennedale                                               DNS  
     1) Aaron Wingfield 10              2) Corey Mooney 12       
     3) Aaron Labruce 12                4) Cordero Gray 12       
 -- Rosebud-Lott                                            DNS  
     1) Cordell Colbert 12              2) Danny Gonzales 12     
     3) Rex Conners 12                  4) Carrington Peterson 12
 -- Gatesville                                              DNS  
     1) Troy Barnes 12                  2) Jacoby Jones 12       
     3) Barry Pickens 12                4) Robby Young 12        
 -- Ranchview                                               DNS  
     1)                                 2) Bronson Wilson 12     
     3) Dovian Ingram 09                4) Shaka Harris 12       
 -- Lexington                                               DNS  
     1) Jamal Nicksen 12                2) Chase McCravey 12     
     3) Tracy Crawford 12               4) Corey Lewis 12        
 -- Dal Roosevelt                                           DNS  
     1) Jarale Shaw 11                  2) Kenneth Hawks 12      
     3) Timmy Spratt 12                 4) Danny Hogan 12        

Event 31  Boys 4x200 Meter Relay HS Div. I
================================================================                  
 National HS:   1:23.31  1998        Fort Worth Wyatt                             
   Myers Std: S 1:24.10  2006        Houston Eisenhower                           
        Meet: M 1:27.59  2006        Giddings                                     
    School                                              Prelims  H#               
===================================================================               
Preliminaries                                                                     
  1 Kennedale                                           1:28.09Q  2               
  2 Tatum                                               1:28.92Q  3               
  3 Gatesville                                          1:30.07Q  1               
  4 Lexington                                           1:29.85q  2               
  5 Dal Roosevelt                                       1:30.24q  2               
  6 Ranchview                                           1:30.44q  3               
  7 Trinity Christian                                   1:30.87q  3               
  8 Westminster Acad.                                   1:31.04q  3               
  9 Rosebud-Lott                                        1:31.08q  3               
 10 Taylor                                              1:31.89   1               
 11 Madisonville                                        1:32.38   1               
 12 Calvary Baptist                                     1:32.72   1               
 13 La Vernia                                           1:33.90   3               
 14 Ingleside                                           1:34.30   2               
 15 Covenant Chr                                        1:34.45   1               
 16 SW Christian                                        1:35.47   3               
 17 South SA West                                       1:35.86   2               
 -- Dal Madison                                             DNF   1               
 -- Hearne                                                  DNF   2               
 -- Vernon                                                   DQ   2 lane violation
 -- Midland Chr                                              DQ   1 out of zone   
 -- Waco La Vega                                             DQ   2 out of zone   
 -- Sweetwater                                              DNS   3               
 -- Pal Westwood                                            DNS   1               




Girls 
Event 30  Girls 4x200 Meter Relay HS Div. II
================================================================               
 National HS:   1:33.87  2004        Poly, Long Beach, CA                      
   Myers Std: S 1:34.51  2003        Alief Elsik                               
        Meet: M 1:35.06  2006        LB Wilson (CA)                            
    School                                               Finals
===============================================================
Finals - CANCELLED; all finalists scratched due to weather                      


Event 30  Girls 4x200 Meter Relay HS Div. II
================================================================               
 National HS:   1:33.87  2004        Poly, Long Beach, CA                      
   Myers Std: S 1:34.51  2003        Alief Elsik                               
        Meet: M 1:35.06  2006        LB Wilson (CA)                            
    School                                              Prelims  H#            
===================================================================            
Preliminaries                                                                  x
  1 Mans Timberview                                     1:37.58q  1            
  2 Dal Skyline                                         1:39.34q  2            
  3 FB Marshall                                         1:39.38q  3            
  4 Converse Judson                                     1:39.77q  5            
  5 Lancaster                                           1:39.95q  6            
  6 Arl Bowie                                           1:40.45q  5            
  7 Dal Lincoln                                         1:40.48q  3            
  8 Hou Westbury                                        1:40.88q  4            
  9 Cedar Hill                                          1:40.93q  5            
 10 Aus Johnson                                         1:40.95   4            
 11 Waco Midway                                         1:41.16   1            
 12 Irving                                              1:41.21   1            
 13 FW Dunbar                                           1:41.35   3            
 14 Arl Martin                                          1:41.50   5            
 15 North Crowley                                       1:41.53   5            
 16 Baytown Sterling                                    1:42.16   1            
 17 Jenks                                               1:42.25   4            
 18 Mesquite Poteet                                     1:42.40   3            
 19 Richardson                                          1:42.61   2            
 20 Mesq Horn                                           1:42.86   3            
 21 SA Warren                                           1:42.95   2            
 22 Tyler Lee                                           1:42.99   4            
 23 So Grand Prairie                                    1:43.05   6            
 24 Killeen Ellison                                     1:43.36   1            
 25 Arl Houston                                         1:43.54   4            
 26 Dal Carter                                          1:43.64   6            
 27 Pearland                                            1:43.68   5            
 28 Crowley                                             1:43.86   6            
 29 The Woodlands                                       1:43.87   6            
 30 Lewisville                                          1:43.99   2            
 31 SA Taft                                             1:44.74   3            
 32 Lake Highlands                                      1:45.01   6            
 33 Odessa                                              1:45.10   6            
 34 Cleburne                                            1:45.31   3            
 35 Hou Memorial                                        1:45.99   1            
 36 Rockwall                                            1:46.13   4            
 37 Converse Wagner                                     1:46.22   2            
 38 Aus Westlake                                        1:46.45   6            
 39 The Colony                                          1:46.47   1            
 40 RR McNeil                                           1:46.49   5            
 41 RR Stony Point                                      1:47.42   2            
 42 Irv MacArthur                                       1:47.84   2            
 43 Pfg Connally                                        1:48.36   2            
 44 Tyler                                               1:48.37   5            
 45 Aus Lake Travis                                     1:49.65   3            
 -- Alexandria                                               FS   6            
 -- Duncanville                                              FS   1            
 -- Aus Reagan                                               DQ   4 out of zone
 -- Conroe                                                   DQ   3 out of zone
 -- Saginaw                                                 DNS   4            

Event 29  Girls 4x200 Meter Relay HS Div. I
=======================================================================
 National HS:   1:33.87  2004        Poly, Long Beach, CA              
   Myers Std: S 1:34.51  2003        Alief Elsik                       
        Meet: M 1:41.09  2006        Louisville (CA)                   
    School                                               Finals  Points
=======================================================================
Finals                                                                 
  1 Ursuline                                            1:46.03        
     1) Christina Mullen 12             2) Sheri Sullivan 12           
     3) Anne Diaz-Arrastia 10           4) Claire West 12              
  2 Royse City                                          1:49.18        
     1) Alex Lopez-Rogina 11            2) Raven Alexander 10          
     3) Megan Frausto 10                4) Autumn Landers 10           
  3 Needville                                           1:50.37        
     1) Sarah Black 12                  2) Bianca Grant 11             
     3) Regina Robinson 10              4) Kiera Benson 12             
  4 Cin. Withrow                                        1:50.61        
     1) Porscha Johnson 12              2) Brittany Smith 10           
     3) Genesis Calhoun 09              4) Jade Clingman 10            
 -- La Vernia                                               DNS        
     1) Lisa Broll 12                   2) Aimee Jonas 12              
     3) Stacy Stanush 10                4) Mariah Brooks 10            
 -- Mexia                                                   DNS        
     1) Lacy Smith 11                   2) Taniqua Busby 12            
     3) Alyssa Asberry 12               4) Quintisha Strain 10         
 -- Carthage                                                DNS        
     1) Raven Tatum 11                  2) Ashley Smith 12             
     3) Shireana Robinson 10            4) Kandis Pipkin 11            
 -- Dal Roosevelt                                           DNS        
     1) Destiny Cullors 09              2) Lakeevia Burr 11            
     3) Sequoya McGhee 12               4) Laquesia Davenport 12       

Event 29  Girls 4x200 Meter Relay HS Div. I
================================================================               
 National HS:   1:33.87  2004        Poly, Long Beach, CA                      
   Myers Std: S 1:34.51  2003        Alief Elsik                               
        Meet: M 1:41.09  2006        Louisville (CA)                           
    School                                              Prelims  H#            
===================================================================            
Preliminaries                                                                  
  1 Mexia                                               1:43.12Q  1            
  2 Carthage                                            1:43.41Q  3            
  3 Waco La Vega                                        1:43.88Q  2            
  4 Ursuline                                            1:43.95q  1            
  5 Cin. Withrow                                        1:44.00q  3            
  6 Needville                                           1:44.50q  1            
  7 La Vernia                                           1:45.15q  2            
  8 Dal Roosevelt                                       1:45.34q  1            
  9 Royse City                                          1:46.03q  2            
 10 UC Randolph                                         1:46.05   2            
 11 St. Joseph                                          1:46.46   2            
 12 Robinson                                            1:46.63   1            
 13 Rosebud-Lott                                        1:46.68   3            
 14 Lexington                                           1:47.03   2            
 15 Hutto                                               1:47.69   3            
 16 Schulenburg                                         1:47.71   1            
 17 Kerens                                              1:47.98   3            
 18 WF Hirschi                                          1:49.97   1            
 19 St. Michaels                                        1:50.13   3            
 20 Pilot Point                                         1:50.60   2            
 21 Jasper                                              1:50.76   2            
 -- Yoakum                                                   DQ   1 out of zone
 -- Hitchcock                                               SCR   3            


Texas Relays meet index