Puma College Park Invitational





SO#1 College Park girls win battle of Houston; Andrews comes back with a win





Saturday, October 17, 2009 - College Park TX






Results

- Boys - Girls
from Mike Gibson, courtesy of John Sullivan
Race distance: Boys-5k, Girls-3200m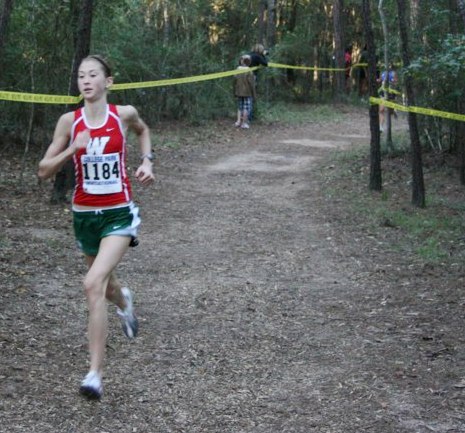 Highlights
For the first time this fall, the top Houston-area girls teams that make up much of the SO Top 10 got together in the relatively small invite at College Park.

US#17/SO#1 College Park

outscored US#42/SO#2 Kingwood at four of the five spots for a 7-point win in the small, competitive field (7 teams). SO#5 The Woodlands was 3rd with 70 and SO#3 Clear Lake 4th with 81. The top four teams all averaged under 12 minutes per girl
The Woodlands sr

US#4

Sarah Andrews

made her return after a bout of flu and triumphed in 11:04.0, seven seconds ahead of College Park's Bree Shrader

US#42/SO#5 Kingwood

won the boys race with 46 points, with US#9/SO#3 The Woodlands resting their entire top 7 and getting 2nd with their "B" team, scoring 60. College Park's Brian Gohlke was first across the line in 15:36.9.
Results
Boys
 College Park High School                                   HY-TEK's Meet Manager
            Puma College Park Invitational Cross Country - 10/17/2009            
                            College Park High School                             
                              Last Completed Event                               
 
Event 1  Boys 5k Run CC DI Varsity Boys
=======================================================================          
    Name                    Year School                  Finals  Points          
=======================================================================          
  1 Gohlke, Brian                College Park HS       15:36.90    1             
  2 Brinkley, Justin             Humble Kingwood       15:48.20    2             
  3 Nichols, Jeff                Willis                15:57.90    3             
  4 Evans, Eric                  Conroe The Woodl      16:07.30    4             
  5 Case, Stephen                College Station       16:12.30    5             
  6 Bennett, Todd                Humble Kingwood       16:13.90    6             
  7 Garcia, AJ                   Klein Forest          16:17.00    7             
  8 Bohne, Travis                College Station       16:21.40    8             
  9 Moncrief, Connor             Conroe The Woodl      16:22.00    9             
 10 Hodges, Sean                 College Park HS       16:22.40   10             
 11 Beck, Travis                 Humble Kingwood       16:25.40   11             
 12 Reyes, Isaac                 Conroe The Woodl      16:25.80   12             
 13 Terry, Logan                 Humble Kingwood       16:26.30   13             
 14 Reidy, David                 Humble Kingwood       16:28.70   14             
 15 Lindberg, Micheal            Kingwood Park         16:29.70   15             
 16 Johnson, Zac                 Conroe The Woodl      16:31.40   16             
 17 Jackson, Kwame               Kingwood Park         16:32.70   17             
 18 Perez, Eladio                Houston Westside      16:33.10   18             
 19 Albright, Drew               Conroe The Woodl      16:33.70   19             
 20 Dalheim, Nick                Katy Mayde Creek      16:35.90   20             
 21 Joshi, Sarang                Katy Mayde Creek      16:37.80   21             
 22 Vibrock, Eric                Conroe The Woodl      16:41.60   22             
 23 Winemiller, Brent            College Station       16:43.90   23             
 24 Mora-Boellstorff, David      College Station       16:44.50   24             
 25 Garcia, Marco                Klein Forest          16:45.40   25             
 26 Chavira, Isaiah              Katy Mayde Creek      16:47.90   26             
 27 Engel, Evan                  College Park HS       16:49.20   27             
 28 Goodlander, Zachary          Willis                16:50.10   28             
 29 Williams, Jason              Conroe The Woodl      16:51.00   29             
 30 cossio, gabe                 Houston Westside      16:52.50   30             
 31 Hedges, Nic                  Conroe The Woodl      16:54.10                  
 32 Gersch, Zach                 Willis                16:54.80   31             
 33 Leon, Fidel                  Katy Mayde Creek      16:57.50   32             
 34 raniefar, mehdi              Houston Westside      17:00.70   33             
 35 Dunn, Jordan                 Conroe The Woodl      17:09.60                  
 36 Wilson, Greg                 Conroe The Woodl      17:10.00                  
 37 Zambrano, Juan               Kingwood Park         17:11.30   34             
 38 Wilson, Capers               Humble Kingwood       17:15.10   35             
 39 Yount, Garrett               Willis                17:16.50   36             
 40 Watson, James                College Park HS       17:19.10   37             
 41 Drukker, Leonel              College Station       17:19.90   38             
 42 Herrington, Josh             College Station       17:20.40   39             
 43 Sessum, Cory                 College Park HS       17:21.10   40             
 44 Jones, Derek                 Katy Mayde Creek      17:23.60   41             
 45 Sohn, Eugene                 College Station       17:29.20   42             
 46 Ducker, Mitchell             College Park HS       17:29.70   43             
 47 Monreal, Daniel              Klein Forest          17:31.80   44             
 48 Rollo, Nick                  Kingwood Park         17:34.80   45             
 49 Alexshonis, Patrick          College Station       17:38.40                  
 50 Lebsack, David               College Park HS       17:40.00   46             
 51 Glenn, Michael               Willis                17:43.70   47             
 52 Barajas, Andres              Klein Forest          17:44.20   48             
 53 Henry, Jonathan              College Park HS       17:47.70                  
 54 Smith, Zach                  Kingwood Park         17:51.60   49             
 55 Vannauker, Peter             Humble Kingwood       17:52.20   50             
 56 Boardman, Chris              College Station       17:55.60                  
 57 Bonilla, Zavier              Katy Mayde Creek      18:08.70   51             
 58 Phillips, Tyler              College Station       18:09.90                  
 59 Gersch, Alex                 Willis                18:10.40   52             
 60 Brown, Ryan                  Humble Kingwood       18:11.40                  
 61 Martin, James                Kingwood Park         18:12.40   53             
 62 Kelley, Jeremy               Houston Westside      18:14.00   54             
 63 Bounds, John                 Kingwood Park         18:14.50   55             
 64 Baker, Brett                 Kingwood Park         18:17.90                  
 65 Mcdonnell, Cameron           Humble Kingwood       18:19.60                  
 66 motzinger, Kevin             Houston Westside      18:24.20   56             
 67 blount, joshua               Houston Westside      18:29.20   57             
 68 Lee, Sam                     Kingwood Park         18:37.90                  
 69 taylor, matthew              Houston Westside      18:38.40   58             
 70 zgourides, Constantine       Houston Westside      18:56.50                  
 71 Zemlicka, Chris              Willis                19:01.30   59             
 72 Sparks, Brenden              Willis                19:09.60                  
 73 aramayo, martin              Houston Westside      19:21.10                  
 74 Sanchez, Daniel              Kingwood Park         19:33.30                  
 75 Martinez, Alex               Klein Forest          19:37.70   60             
 76 Jones, Brandt                College Park HS       19:42.80      
 77 Unknown                                            19:46.80                  
            
                                                                                 
                                   Team Scores                                   
=================================================================================
Rank Team                      Total    1    2    3    4    5   *6   *7   *8   *9
=================================================================================
   1 Humble Kingwood              46    2    6   11   13   14   35   50          
      Total Time:  1:21:22.50                                                    
         Average:    16:16.50                                                    
   2 Conroe The Woodlands         60    4    9   12   16   19   22   29          
      Total Time:  1:22:00.20                                                    
         Average:    16:24.04                                                    
   3 College Station A&M Cons     98    5    8   23   24   38   39   42          
      Total Time:  1:23:22.00                                                    
         Average:    16:40.40                                                    
   4 College Park High School    115    1   10   27   37   40   43   46          
      Total Time:  1:23:28.70                                                    
         Average:    16:41.74                                                    
   5 Katy Mayde Creek            140   20   21   26   32   41   51               
      Total Time:  1:24:22.70                                                    
         Average:    16:52.54                                                    
   6 Willis                      145    3   28   31   36   47   52   59          
      Total Time:  1:24:43.00                                                    
         Average:    16:56.60                                                    
   7 Kingwood Park               160   15   17   34   45   49   53   55          
      Total Time:  1:25:40.10                                                    
         Average:    17:08.02                                                    
   8 Klein Forest                184    7   25   44   48   60                    
      Total Time:  1:27:56.11                                                    
         Average:    17:35.22                                                    
   9 Houston Westside            191   18   30   33   54   56   57   58          
      Total Time:  1:27:04.50                                                    
         Average:    17:24.90                                                    

Girls
 College Park High School                                   HY-TEK's Meet Manager
            Puma College Park Invitational Cross Country - 10/17/2009            
                            College Park High School                             
                              Last Completed Event                               
 
Event 2  Girls 3200 Meter Run CC DI Varsity Girls
=======================================================================          
    Name                    Year School                  Finals  Points          
=======================================================================          
  1 Andrews, Sarah               Conroe The Woodl      11:04.00    1             
  2 Schrader, Bree               College Park HS       11:11.10    2             
  3 Roper, Cali                  Willis                11:20.70    3             
  4 Wade, Brittney               Houston Clear Lake    11:26.70    4             
  5 Neal, McKenze                College Park HS       11:29.90    5             
  6 Steup, Rosemary              Humble Kingwood       11:30.30    6             
  7 Jensen, Katie                College Park HS       11:31.30    7             
  8 Blake, Sophie                Humble Kingwood       11:33.50    8             
  9 Craig, Laura                 Humble Kingwood       11:37.40    9             
 10 Murray, Collen               Conroe The Woodl      11:38.10   10             
 11 Daigre, Catie                Humble Kingwood       11:38.60   11             
 12 Lyons, Margo                 Conroe The Woodl      11:41.70   12             
 13 Wassef, Chrissy              Houston Clear Lake    11:45.70   13             
 14 Wassef, Audrey               Houston Clear Lake    11:48.90   14             
 15 Jensen, Emily                College Park HS       11:49.90   15             
 16 Neff, Celesta                College Park HS       11:54.90   16             
 17 Balbontin, Isabel            Katy Mayde Creek      11:56.00   17             
 18 Heitzwebel, Emily            Humble Kingwood       11:56.50   18             
 19 Andrews, Claire              College Park HS       11:57.00   19             
 20 Sheehan, Kerstin             Humble Kingwood       12:01.90   20             
 21 Dean, Jessie                 Houston Clear Lake    12:02.60   21             
 22 Hayes, Shelby                Conroe The Woodl      12:03.30   22             
 23 Fuelling, Ashleigh           Katy Mayde Creek      12:04.20   23             
 24 VanKlompenburg, Haley        College Park HS       12:04.80   24             
 25 Thompson, Samantha           Conroe The Woodl      12:05.30   25             
 26 Bingman, Laurel              College Park HS       12:06.70                  
 27 Campbell, Katie              Humble Kingwood       12:07.20   26             
 28 Willard, Katie               Conroe The Woodl      12:09.10   27             
 29 Guidot, Ashley               Conroe The Woodl      12:12.30   28             
 30 Reeves, Mckenzie             Houston Clear Lake    12:14.00   29             
 31 Brown, Emily                 Houston Clear Lake    12:15.60   30             
 32 Novelli, Hannah              Conroe The Woodl      12:16.10                  
 33 Creasman, Michelle           Conroe The Woodl      12:17.00                  
 34 Hoffman, Steffi              Houston Clear Lake    12:20.20   31             
 35 Wiseman, Jordan              Conroe The Woodl      12:21.00                  
 36 Harpole, Annette             Houston Clear Lake    12:26.50                  
 37 Messenger, Tiffany           Katy Mayde Creek      12:27.70   32             
 38 Zarnick, Macey               Houston Clear Lake    12:33.70                  
 39 Brice, Juliana               Humble Kingwood       12:36.60                  
 40 Molina, Jennifer             Katy Mayde Creek      12:44.70   33             
 41 Sutherland, Alexandra        Houston Clear Lake    12:53.70                  
 42 Judge, Jocelyn               Katy Mayde Creek      12:54.60   34             
 43 Thompson, Chelsea            Klein Forest          13:05.40   35             
 44 Bixler, Kelli                Humble Kingwood       13:05.80                  
 45 Fanali, Rebecca              Willis                13:24.70   36             
 46 Ragland, Makayla             Willis                13:28.00   37             
 47 Rangel, Veronica             Klein Forest          13:30.90   38             
 48 Shedd, Lauren                Katy Mayde Creek      13:32.00   39             
 49 Hernandez, Valeria           Klein Forest          13:38.50   40             
 50 Comeaux, Shaquerria          Klein Forest          13:39.50   41             
 51 MacAllister, Jessica         College Park HS       13:48.00                  
 52 Adamick, Renee               Willis                13:50.70   42             
 53 Reina, Rebecca               Willis                14:01.90   43             
 54 Broadus, Camille             Klein Forest          14:03.60   44             
 55 MacAllister, Amanda          College Park HS       14:27.30                  
 56 Dusthimer, Paige             Klein Forest          14:30.10   45             
 57 Wells, Faybia                Willis                14:30.60   46             
 58 Estrada, Mariel              Willis                14:36.70   47             
 59 Elmore, Julia                Willis                14:40.80                  
 60 Clark, Kirsten               Klein Forest          14:59.20   48             
 61 Battazar, Nira               Klein Forest          15:25.20                  
 62 Reina, Victoria              Willis                15:30.10                  
 63 Vigil, Jenny                 Willis                15:47.80                  
                                                                                 
                                   Team Scores                                   
=================================================================================
Rank Team                      Total    1    2    3    4    5   *6   *7   *8   *9
=================================================================================
   1 College Park High School     45    2    5    7   15   16   19   24          
      Total Time:    57:57.10                                                    
         Average:    11:35.42                                                    
   2 Humble Kingwood              52    6    8    9   11   18   20   26          
      Total Time:    58:16.30                                                    
         Average:    11:39.26                                                    
   3 Conroe The Woodlands         70    1   10   12   22   25   27   28          
      Total Time:    58:32.40                                                    
         Average:    11:42.48                                                    
   4 Houston Clear Lake           81    4   13   14   21   29   30   31          
      Total Time:    59:17.90                                                    
         Average:    11:51.58                                                    
   5 Katy Mayde Creek            139   17   23   32   33   34   39               
      Total Time:  1:02:07.20                                                    
         Average:    12:25.44                                                    
   6 Willis                      161    3   36   37   42   43   46   47          
      Total Time:  1:06:06.00                                                    
         Average:    13:13.20                                                    
   7 Klein Forest                198   35   38   40   41   44   45   48          
      Total Time:  1:07:57.90                                                    
         Average:    13:35.58                                                    

South Region Index