Northshore Metropolitan Championships
Malia Cali 16:55, LA#8 Sacred Heart girls, #7 Fontainbleau boys led by Jeff Sanders
Wednesday, Nov. 7, 2007 at St Thomas Aquinas HS, Hammond, LA
Course: 3 miles, flat, fast
67 degrees, sunny
-- Highlights -- Girls Results -- Boys Results --

Malia Cali motors home in 16:55.42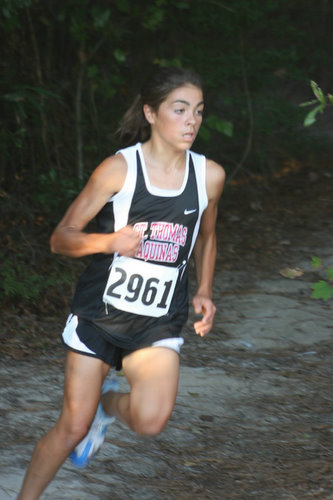 HIGHLIGHTS:
St Thomas Aquinas soph

Malia Cali

dipped under 17 minutes yet again, posting a 16:55.42 winner, with mile splits of 5:21 and 11:08. Sacred Heart sr Meggie Schmidt earned silver in 18:12.36, and Mandeville sr Katherine Cade the bronze in 18:43.49.

Sacred Heart girls

, ranked #8 in the most recent Louisiana coaches poll, claimed the team trophy with 43 points (2-5-7-8-21) and a 19:25 average, ahead of #10 St Thomas Aquinas with 57 and #5 St Scholastica with 65.
Fontainebleau sr

Jeff Sanders

, the #3 state 5A returnee, topped the field in 15:34.94, followed by Sumner jr Cody Trout in 16:02.92 and Fontainebleau sr Neal Fischer in 16:04.84.

Fontainebleau boys

, ranked #7 in the state, tallied 45 (1-3-10-14-17) for the team title, while #8 St Paul scored 55 for 2nd, Mandeville 77 for 3rd and Sumner 78 for 4th.


RESULTS:
                  O'KREPKI NORTHSHORE METRO CC 2007 - 11/7/2007                  
                                   HAMMOND, LA                                   
                              Last Completed Event                               
 
Event 4  Boys 3 Mile Run CC Varsity
=======================================================================          
    Name                    Year School                  Finals  Points          
=======================================================================          
  1 Sanders, Jeff                Fontainebleau HI      15:34.94    1             
  2 Trout, Cody                  Sumner                16:02.92    2             
  3 Fischer, Neal                Fontainebleau HI      16:04.84    3             
  4 Casey, Conner                Mandeville High       16:21.23    4             
  5 Mizell, Ethan                St. Paul's High       16:27.36    5             
  6 Lozes, Brian                 St. Paul's High       16:28.48    6             
  7 France, Zach                 Slidell High School   16:31.89    7             
  8 Thompson, Blake              Slidell High School   16:32.31    8             
  9 Mouton, Matt                 St. Paul's High       16:33.69    9             
 10 Harris, Zach                 Fontainebleau HI      16:37.04   10             
 11 James, Miquel                Sumner                16:44.00   11             
 12 Casey, Sean                  Mandeville High       16:49.90   12             
 13 Moreno, Leonel               Sumner                16:56.25   13             
 14 Cabrera, Juan                Fontainebleau HI      16:59.82   14             
 15 Ball, Mark                   Mandeville High       17:00.71   15             
 16 Wiedemann, Trent             St. Paul's High       17:08.29   16             
 17 Fetter, Sammy                Fontainebleau HI      17:08.58   17             
 18 O'Dell, Corey                Fontainebleau HI      17:10.70   18             
 19 Martin, Nick                 St. Paul's High       17:11.44   19             
 20 Trimble, Bradley             Fontainebleau HI      17:12.18   20             
 21 Connelly, Kevin              Fontainebleau HI      17:19.93                  
 22 Guillory, Pierre             St. Paul's High       17:20.76   21             
 23 Penton, Jordan               Mandeville High       17:23.45   22             
 24 Carvin, Romeo                Northshore High       17:23.75   23             
 25 Hollander, Steven            Mandeville High       17:29.19   24             
 26 Newsome, Joe                 Sumner                17:29.78   25             
 27 Blackman, Chase              Mandeville High       17:30.14   26             
 28 Stevens, Cody                Sumner                17:30.47   27             
 29 Wills, Randy                 St. Thomas Aquin      17:44.98   28             
 30 Brantley, Taylor             Mandeville High       17:45.92   29             
 31 Miller, Will                 Slidell High School   17:47.86   30             
 32 Waller, Daniel               Ponchatoula High      17:48.71   31             
 33 Dykes, Lance                 Sumner                17:49.42   32             
 34 MC Daniel, Jesse             Sumner                17:50.10   33             
 35 Brown, Sean                  Northshore High       17:51.99   34             
 36 Balius, Kyle                 Mandeville High       17:53.33                  
 37 Franszczak, Matt             Slidell High School   17:54.02   35             
 38 Weller, Eric                 St. Paul's High       17:54.34   36             
 39 Susko, David                 Mandeville High       17:55.10                  
 40 Stinson, Matthew             Sumner                17:57.26                  
 41 Sunseri, Matt                Fontainebleau HI      17:59.94                  
 42 Gill, Brady                  Amite High School     18:03.55   37             
 43 Dillon, Trevor               St. Paul's High       18:07.48                  
 44 Billac, Gerald               Ponchatoula High      18:08.83   38             
 45 Hughes, Corey                Amite High School     18:10.32   39             
 46 Ross, Austin                 St. Paul's High       18:10.74                  
 47 Ricks, Rory                  Amite High School     18:12.69   40             
 48 Desselle, Jean-Luc           Northshore High       18:15.19   41             
 49 Haynes, Patterson            Slidell High School   18:23.06   42             
 50 Gauthreaux, David            Fontainebleau HI      18:26.97                  
 51 Cooper, Cody                 Northshore High       18:28.64   43             
 52 Van Duym, Peter              Mandeville High       18:31.68                  
 53 Voorhees, Sam                Northshore High       18:44.53   44             
 54 Peed, Joe                    Mandeville High       18:46.50                  
 55 O'Krepki, Gus                St. Thomas Aquin      18:48.79   45             
 56 Gabriel, Ben                 Ponchatoula High      18:59.42   46             
 57 Hawkins, Jeremy              Ponchatoula High      19:00.15   47             
 58 Chagoya, Tony                Maurepas High SC      19:01.48                  
 59 Steib, Jacob                 Ponchatoula High      19:05.84   48             
 60 Holly, Kevin                 Fontainebleau HI      19:08.77                  
 61 Browning, Justin             Fontainebleau HI      19:12.32                  
 62 Escarra, Jonathon            Northshore High       19:16.21   49             
 63 Treadaway, Christopher       Fontainebleau HI      19:19.22                  
 64 Coumes, Matt                 Fontainebleau HI      19:25.18                  
 65 Stilley, Austin              Albany High School    19:31.65                  
 66 Rodriguez, Michael           Salmen                19:33.82                  
 67 Hunt, Jason                  Salmen                19:34.62                  
 68 Slaven, Sean                 Amite High School     19:49.19   50             
 69 Dauterive, Paul              Covington High S      19:49.45                  
 70 O'Krepki, Bruce              St. Thomas Aquin      20:28.25   51             
 71 Price, Tony                  Amite High School     20:29.62   52             
 72 Theard, Adam                 Slidell High School   20:32.86   53             
 73 Fleenor, Murphy              St. Thomas Aquin      20:38.93   54             
 74 Bradley, Brant               Northshore High       20:59.02   55             
 75 Anderson, Simon              Fontainebleau HI      21:12.20                  
 76 O'Krepki, Max                St. Thomas Aquin      21:15.97   56             
 77 Burkenstock, Austin          Northlake Christ      21:16.97                  
 78 Alphonso, Micah              Northlake Christ      21:30.71                  
 79 Mobley, Adam                 Northshore High       21:36.97                  
 80 Errington, Wesley            Northshore High       21:37.91                  
 81 Ledford, Tyson               Maurepas High SC      21:39.81                  
 82 Dwyer, Daniel                Northlake Christ      21:41.37                  
 83 Greenlee, Ivan               Salmen                21:43.18                  
 84 Broyles, Rob                 Sumner                22:03.47                  
 85 Fayard, Kyle                 Fontainebleau HI      22:04.45                  
 86 Kinchen, Ross                Albany High School    22:10.45                  
 87 Zack, Brown                  Mandeville High       22:28.98                  
 88 Laplaute, Dylan              Fontainebleau HI      22:31.52                  
 89 Wesley, Chris                Maurepas High SC      22:37.58                  
 90 Meyer, Dakota                Mandeville High       22:48.94                  
 91 Sansovich, Dylan             Albany High School    22:58.49                  
 92 Roberts, James               Northlake Christ      23:21.70                  
 93 Gaudin, Alec                 Salmen                23:31.33                  
 94 Erickson, Ryan               Fontainebleau HI      23:39.31                  
 95 Gautier, Evan                Ponchatoula High      23:39.31   57             
                                                                                 
                                   Team Scores                                   
=================================================================================
Rank Team                      Total    1    2    3    4    5   *6   *7   *8   *9
=================================================================================
   1 Fontainebleau High School    45    1    3   10   14   17   18   20          
      Total Time:  1:22:25.22                                                    
         Average:    16:29.05                                                    
   2 St. Paul's High School       55    5    6    9   16   19   21   36          
      Total Time:  1:23:49.26                                                    
         Average:    16:45.86                                                    
   3 Mandeville High School       77    4   12   15   22   24   26   29          
      Total Time:  1:25:04.48                                                    
         Average:    17:00.90                                                    
   4 Sumner                       78    2   11   13   25   27   32   33          
      Total Time:  1:24:43.42                                                    
         Average:    16:56.69                                                    
   5 Slidell High School         122    7    8   30   35   42   53               
      Total Time:  1:27:09.14                                                    
         Average:    17:25.83                                                    
   6 Northshore High School      185   23   34   41   43   44   49   55          
      Total Time:  1:30:44.10                                                    
         Average:    18:08.82                                                    
   7 Ponchatoula High School     210   31   38   46   47   48   57               
      Total Time:  1:33:02.95                                                    
         Average:    18:36.59                                                    
   8 Amite High School           218   37   39   40   50   52                    
      Total Time:  1:34:45.37                                                    
         Average:    18:57.08                                                    
   9 St. Thomas Aquinas HS       234   28   45   51   54   56                    
      Total Time:  1:38:56.92                                                    
         Average:    19:47.39                                                                                            


Event 3  Girls 3 Mile Run CC Varsity
=======================================================================          
    Name                    Year School                  Finals  Points          
=======================================================================          
  1 Cali, Malia                  St. Thomas Aquin      16:55.42    1             
  2 Schmidt, Meggie              New Orleans           18:12.36    2             
  3 Cade, Katherine              Mandeville High       18:43.49    3             
  4 Becerra, Jordyn              St. Thomas Aquin      19:07.94    4             
  5 Tixier, Emily                New Orleans           19:14.12    5             
  6 Debble, Amy                  Fontainebleau HI      19:15.89    6             
  7 Quinn, Ellie                 New Orleans           19:16.09    7             
  8 Burst, Bethany               New Orleans           19:19.28    8             
  9 Henssler, Jenna              Northshore High       19:20.52                  
 10 Hamel, Melissa               St. Scholastica       19:23.06    9             
 11 MC Affe, Emily               St. Thomas Aquin      19:40.47   10             
 12 Ledoux, Clare                St. Scholastica       19:55.49   11             
 13 Thurber, Mikaela             Fontainebleau HI      20:12.62   12             
 14 Wesley, Ciara                Sumner                20:14.61   13             
 15 Despeaux, Rachel             St. Scholastica       20:19.38   14             
 16 Fereday, Lauren              St. Scholastica       20:21.62   15             
 17 Thees, Courtney              St. Scholastica       20:22.02   16             
 18 Pereira, Catherine           St. Scholastica       20:28.57   17             
 19 Duracher, Paige              Mandeville High       20:37.83   18             
 20 Lorino, Gina                 Northshore High       20:47.43                  
 21 Mobley, Michelle             St. Thomas Aquin      20:49.90   19             
 22 Jenkins, Savannah            St. Scholastica       20:52.45   20             
 23 Martin, Ardenne              New Orleans           21:04.95   21             
 24 Janssen, Malanie             Mandeville High       21:11.48   22             
 25 Gambel, Elizabeth            St. Thomas Aquin      21:17.68   23             
 26 Stubbs, Mallory              St. Scholastica       21:18.45                  
 27 Smith, Megan                 Slidell High School   21:18.93   24             
 28 Derbins, Christine           Mandeville High       21:20.05   25             
 29 Wales, Jennifer              Mandeville High       21:23.63   26             
 30 Dillon, Lemetria             Slidell High School   21:24.30   27             
 31 Erickson, Lauren             Fontainebleau HI      21:25.77   28             
 32 Stubbs, Marley               St. Scholastica       21:29.39                  
 33 Folse, Kaitlyn               Fontainebleau HI      21:38.77   29             
 34 Day, Jessica                 Fontainebleau HI      21:39.05   30             
 35 Carlette, Karlie             Sumner                21:41.38   31             
 36 Gill, Marissa                Slidell High School   21:44.63   32             
 37 Kent, Lauren                 Sumner                21:47.09   33             
 38 Johnson, Natalie             Mandeville High       21:50.32   34             
 39 Levy, Rebecca                Northshore High       21:57.59                  
 40 Edwards, Ali                 St. Scholastica       21:57.86                  
 41 Theil, Sarah                 St. Scholastica       22:02.18                  
 42 O'Krepki, Molly              St. Thomas Aquin      22:03.40   35             
 43 May, Georgianna              New Orleans           22:03.80   36             
 44 Morin, Jessica               Salmen                22:04.10                  
 45 Keller, Marla                New Orleans           22:08.14   37             
 46 MC Clesky, Maggie            New Orleans           22:08.95                  
 47 Cook, Virginia               Sumner                22:16.66   38             
 48 Dykes, Scotti                Sumner                22:27.67   39             
 49 Willhoit, Maria              New Orleans           22:29.41                  
 50 Murchison, Whitney           Mandeville High       22:35.21   40             
 51 Maestri, Maddy               St. Scholastica       22:40.36                  
 52 Harth, Monika                Ponchatoula High      22:40.81                  
 53 Cole, Blaise                 St. Scholastica       22:45.99                  
 54 Broadbridge, Susan           St. Scholastica       22:52.95                  
 55 McCURLEY, Cristin            Fontainebleau HI      22:54.34   41             
 56 Thompson, Brittni            Slidell High School   22:58.28   42             
 57 Schott, MACKENZIE            St. Scholastica       23:06.84                  
 58 Henderson, Niaekia           Amite High School     23:09.93                  
 59 Perez, Gabby                 Northlake Christ      23:20.33                  
 60 Thompson, Brianna            Slidell High School   23:27.48   43             
 61 Crowe, Tanya                 Sumner                23:27.81   44             
 62 Landreaux, Elise             New Orleans           23:32.67                  
 63 McDUFF, Erin                 Mandeville High       23:34.21                  
 64 Gautier, Rachel              St. Scholastica       23:37.31                  
 65 Rask, Hailee                 Fontainebleau HI      23:40.30   45             
 66 Etzkin, Natalie              Ponchatoula High      23:42.56                  
 67 Bigner, Ladonna              Albany High School    23:42.84                  
 68 MC Dougal, Katie             New Orleans           24:13.86                  
 69 Hodges, Rebekah              Salmen                24:14.20                  
 70 Edwards, Lilly               Sumner                24:21.77   46             
 71 Rossano, Dani                St. Thomas Aquin      24:31.36   47             
 72 Borchert, Katie              Slidell High School   24:50.31   48             
 73 Brumfield, Kourtney          St. Thomas Aquin      24:54.18                  
 74 Felps, Gabrielle             Maurepas High SC      25:11.82   49             
 75 Wheat, Nicki                 Albany High School    25:12.97                  
 76 Foster, Annie                Albany High School    25:16.21                  
 77 Guitreau, Haly               Maurepas High SC      25:23.43   50             
 78 Ryan, Katie                  Northlake Christ      25:35.42                  
 79 Sibley, Jasmine              Amite High School     25:43.40                  
 80 Boudreaux, Danielle          St. Scholastica       26:00.66                  
 81 Schukz, Kelley               Mandeville High       26:01.15                  
 82 Durham, Katie                St. Thomas Aquin      26:15.67                  
 83 Wagner, Ashley               Albany High School    26:16.03                  
 84 Nethken, Rebeccah            Northshore High       26:26.56                  
 85 Garland, Ivy                 Maurepas High SC      26:29.32   51             
 86 Richardson, Claire           Maurepas High SC      26:50.62   52             
 87 Reich, Susanna               Mandeville High       28:01.61                  
 88 Bouquet, Kristan             Maurepas High SC      29:12.32   53             
                                                                                 
                                   Team Scores                                   
=================================================================================
Rank Team                      Total    1    2    3    4    5   *6   *7   *8   *9
=================================================================================
   1 Academy OF Sacred Heart      43    2    5    7    8   21   36   37          
      Total Time:  1:37:06.80                                                    
         Average:    19:25.36                                                    
   2 St. Thomas Aquinas HS        57    1    4   10   19   23   35   47          
      Total Time:  1:37:51.41                                                    
         Average:    19:34.29                                                    
   3 St. Scholastica  Academy     65    9   11   14   15   16   17   20          
      Total Time:  1:40:21.57                                                    
         Average:    20:04.32                                                    
   4 Mandeville High School       94    3   18   22   25   26   34   40          
      Total Time:  1:43:16.48                                                    
         Average:    20:39.30                                                    
   5 Fontainebleau High School   105    6   12   28   29   30   41   45          
      Total Time:  1:44:12.10                                                    
         Average:    20:50.42                                                    
   6 Sumner                      154   13   31   33   38   39   44   46          
      Total Time:  1:48:27.41                                                    
         Average:    21:41.49                                                    
   7 Slidell High School         168   24   27   32   42   43   48               
      Total Time:  1:50:53.62                                                    
         Average:    22:10.73                                                    
   8 Maurepas High School        255   49   50   51   52   53                    
      Total Time:  2:13:07.51                                                    
         Average:    26:37.51                                                    


South Region homepage