TX Greenhill XC Relay
SO#4 Cedar Park boys and SO#10 Woodlands girls post fastest 4-person relay times
August 25, 2007 Norbuck Park, Dallas, TX

results courtesy Mike Krueger

82 degrees, mostly cloudy, 74% humidty
A work glove (serving as a relay baton) is passed by each 4-person team
The 4x1.5 mile course is run entirely on grass
The course has haybales in some areas similar to the Nike Team National course and many European courses
- Highlights - Photos -
- Girls Elite Results - Boys Elite Results - Girls 5A-4A Results - Boys 5A-4A Results -
Highlights:
The Woodlands girls coach Noel Hansen - "I thought we did a nice job of racing and competing. It was an honest 1.5 mile cross-country course with a legitimate hill in some pretty warm and humid conditions. Many of our athletes ended up running alone because of how far ahead we were. It is a challenge to keep pushing yourself in those circumstances, and I thought we did a good job of that."
The Woodlands girls winning splits: Sarah Andrews (soph) 9:05, Nevena Pilipovic-Wengler(sr) 9:30, Shawn Dalglish (jr) 9:35, Sam Thompson (fr) 9:38
Cedar Park boys coach Timo Sheard - "Sam (Bushong, 1st leg) battled with the McKinney Boyd runner (Robert Carpenter) until the end. Then our 2nd leg (Bobby McIllece) built a 60-70 yard lead and the final two legs weren't pushed. He added, "We have 5 runners real tight right now, but I'm not sure how far they'll move up. We haven't had a real strong #1 man in cross country the last several seasons."
Cedar Park boys winning splits: Sam Bushong (sr) 7:51, Bobby McIllece (soph) 7:53, Ben Wroblewski (sr) 8:09, Jay McIllece (soph) 8:00
Photos
SO#4 Cedar Park boys display their hardware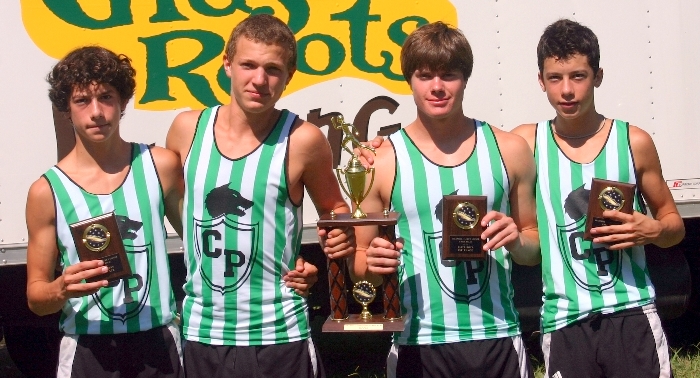 photo courtesy Timo Sheard
RESULTS



Girls Elite Results

   

Place
Division
Gender
School
Time
Runner 1
Runner 2
Runner 3
Runner 4
1
Elite
Girls
The Woodlands
37.50
Sarah Andrews
Nevena P-Wrengler

gler

Shawn Dalglish
Sam Thompson
2
Elite
Girls
Ursuline Academy
39.07
Brenna Farren
Natalie Crain
Melanie Wilcox
Katherine Devlin
3
Elite
Girls
Highland Park
40.25
Claire Rhodes
Sara Sutherland
Jenna Read
Caroline Cartwright
4
Elite
Girls
Rockwall
42.47
Katie Roland
Jodi Leroy
Michelle Conomos
Chrystal Rhousesett
5
Elite
Girls
Wylie High School
43.28
Claire Rhodes
Andre
Kaitlyn
Rachel
6
Elite
Girls
Hamilton HS
47.05
Nicole Wenzel
Shelby Pardy
Tiffany Headley
Amber W.



Boys Elite Results



| | | | | | | | | |
| --- | --- | --- | --- | --- | --- | --- | --- | --- |
| Place | Division | Gender | School | Time | Runner 1 | Runner 2 | Runner 3 | Runner 4 |
| 1 | Elite | Boys | Cedar Park | 31.53 | Sam Bushong | Bobby McIllece | Ben Wroblewski | Jay McIllece |
| 2 | Elite | Boys | Coppell | 33.04 | Matt Kirby | Tom Hudson | Will Whitehill | Colton Reese |
| 3 | Elite | Boys | McKinney Boyd | 33.20 | Robert Carpenter | Nick Thorp | Matt Spencer | Trevor Deupree |
| 4 | Elite | Boys | Midlothian | 33.52 | Sam Merson | Kenny Kits | Neal Ellis | Kyle Lister |
| 5 | Elite | Boys | Jesuit | 34.03 | Scott Palmer | Chris Payne | Sal Perdomo | Gabe Weiss |
| 6 | Elite | Boys | Wylie HS | 35.07 | Hulla | Torres | Ibarra | Diaz |
| 7 | Elite | Boys | McKinney North HS | 36.31 | Adrian Lopez | Lane Davis | Evan F. | Will O'Neal |



Girls 4A-5A Results

   

| | | | | | | | | |
| --- | --- | --- | --- | --- | --- | --- | --- | --- |
| Place | Division | Gender | School | Time | Runner 1 | Runner 2 | Runner 3 | Runner 4 |
| 1 | 5A-4A | Girls | Woodlands HS A | 39.25 | Eirann Cohen | Margo Lyons | Elisabeth Creasman | Kate Andropoulis |
| 2 | 5A-4A | Girls | Nolan Catholic HS | 40.45 | Morgan Halboth | Allison Flood | Jacquelyn Batson | Caitlin Keen |
| 3 | 5A-4A | Girls | Cedar Park HS | 41.04 | J. Bula | H. Canizales | A. Rodriguez | A. Boykin |
| 4 | 5A-4A | Girls | The Woodlands HS B | 41.13 | Kristy Creaseman | Colleen Murray | Maria Garcia | Caitlin Whittemore |
| 5 | 5A-4A | Girls | Highland Park HS | 41.20 | Kylie Weintraub | Becca Lett | Meredith Hightower | Lindsey West |
| 6 | 5A-4A | Girls | Hebron HS | 41.31 | Jessica Clothier | Lesley Ratliff | Beth Pelzer | Leia Kirch |
| 7 | 5A-4A | Girls | North Mesquite HS | 41.37 | Yuliana Granado | Ariel Conyers | Mercedes Figueroa | Lindsey Matvey |
| 8 | 5A-4A | Girls | JJ Pearce HS | 41.38 | Jenny Engelson | Megan Siebert | Stephanie Pritchitt | Kelsey Krueger |
| 9 | 5A-4A | Girls | Highland Park HS | 42.21 | Catherine McCollloch | Allie Leiser | Lottie Todd | Kristin Hazen |
| 10 | 5A-4A | Girls | Ennis HS | 42.34 | Amy Alcala | Teresa Smith | Mackenzie Graham | Emily Barnes |
| 11 | 5A-4A | Girls | Ellison HS | 42.49 | | | | |
| 12 | 5A-4A | Girls | Coppell HS | 42.54 | | | | |
| 13 | 5A-4A | Girls | Rowlett HS | 42.57 | | | | |
| 14 | 5A-4A | Girls | John Horn HS | 43.19 | | | | |
| 15 | 5A-4A | Girls | Lake Highlands HS | 43.31 | | | | |
| 16 | 5A-4A | Girls | Allen HS | 43.35 | | | | |
| 17 | 5A-4A | Girls | Frisco Centennial HS | 43.42 | | | | |
| 18 | 5A-4A | Girls | Ursuline Academy | 43.54 | | | | |
| 19 | 5A-4A | Girls | McKinney Boyd | 43.59 | | | | |
| 20 | 5A-4A | Girls | Nolan Catholic HS | 44.05 | | | | |
| 21 | 5A-4A | Girls | Skyline HS | 44.22 | | | | |
| 22 | 5A-4A | Girls | Sam Houston HS | 44.55 | | | | |
| 23 | 5A-4A | Girls | Midlothian HS | 44.56 | | | | |
| 24 | 5A-4A | Girls | Coppell HS | 45.10 | | | | |
| 25 | 5A-4A | Girls | Mansfield Legacy HS | 45.34 | | | | |
| 26 | 5A-4A | Girls | Little Elm HS | 45.51 | | | | |
| 27 | 5A-4A | Girls | No Card | 45.53 | | | | |
| 28 | 5A-4A | Girls | McKinney Boyd | 45.54 | | | | |
| 29 | 5A-4A | Girls | Wylie HS | 46.34 | | | | |
| 30 | 5A-4A | Girls | Rockwall | 47.17 | | | | |
| 31 | 5A-4A | Girls | Frisco Centennial HS | 47.19 | | | | |
| 32 | 5A-4A | Girls | Lake Dallas HS | 48.17 | | | | |
| 33 | 5A-4A | Girls | JJ Pearce HS | 48.34 | | | | |
| 34 | 5A-4A | Girls | Lancaster HS | 48.37 | | | | |
| 35 | 5A-4A | Girls | The Colony HS | 48.42 | | | | |
| 36 | 5A-4A | Girls | John Horn HS | 49.12 | | | | |
| 37 | 5A-4A | Girls | No Card | 50.10 | | | | |
| 38 | 5A-4A | Girls | Red Oak HS | 50.19 | | | | |
| 39 | 5A-4A | Girls | Lake Dallas HS | 50.26 | | | | |
| 40 | 5A-4A | Girls | Ellison HS | 50.36 | | | | |
| 41 | 5A-4A | Girls | Ursuline Academy | 51.40 | | | | |
| 42 | 5A-4A | Girls | Red Oak HS | 42.03 | | | | |
| 43 | 5A-4A | Girls | Little Elm HS | 52.22 | | | | |
| 44 | 5A-4A | Girls | Sam Houston HS | 52.29 | | | | |



Boys 4A-5A Results

   

Place
Division
Gender
School
Time
Runner 1
Runner 2
Runner 3
Runner 4
1
5A-4A
Boys
Centennial
32.59
Cole Revela
Kyle Garcia
Soren Thompson
Dan Martin
2
5A-4A
Boys
Cedar Park
33.02
A. Krohn
A. Geerts
B. Wilkinson
S. O'Neal
3
5A-4A
Boys
Lake Highlands
33.11
Austin Roth
Nick Parkin
Nathan Hogg
Tristan Fick
4
5A-4A
Boys
Hebron HS
33.27
Zach Freeland
Blake Baxter
Ryan Freeland
Tyler Jones
5
5A-4A
Boys
Nolan Catholic Varsity A
33.51
Jarod Roberts
Austin Gentry
Chris Flaherty
Thomas Bobbitt
6
5A-4A
Boys
Cedar Park
33.54
D. Ngyuen
C. Shoppach
G. Kroh
H. Sekimotto
7
5A-4A
Boys
Hebron HS
34.31
Brian Cash
Corey Clark
Bruce Crawford
Adrian Jones
8
5A-4A
Boys
Coppell
34.31
Chad Martin
Mam Cage
Sumner Warren
Keller Hansen
9
5A-4A
Boys
North Mesquite
34.35
Charles Douglas
Rual Tejada
Ricky Rodriguez
Lucius Lopez
10
5A-4A
Boys
Allen High School
34.49
Chad Holobetz
Brian Clinton
Ben Wells
Brian Gossett
11
5A-4A
Boys
Highland Park
34.50
12
5A-4A
Boys
Sam Houston High Arlin

gton

34.57
13
5A-4A
Boys
Jesuit
35.12
14
5A-4A
Boys
Rowlett
35.25
15
5A-4A
Boys
Forney
35.28
16
5A-4A
Boys
Mansfield Legacy
35.28
17
5A-4A
Boys
McKinney Boyd 1
35.44
18
5A-4A
Boys
The Colony
36.05
19
5A-4A
Boys
Nolan Catholic Varsity B
36.09
20
5A-4A
Boys
Rockwall
36.17
21
5A-4A
Boys
Little Elm Gold
36.22
22
5A-4A
Boys
DeSoto
36.24
23
5A-4A
Boys
Red Oak
36.27
24
5A-4A
Boys
McKinney Boyd 2
36.39
25
5A-4A
Boys
Lancaster
36.40
26
5A-4A
Boys
Centennial
37.00
27
5A-4A
Boys
Cleburne
37.03
28
5A-4A
Boys
JJ Pearce
37.04
29
5A-4A
Boys
Highland Park
37.19
30
5A-4A
Boys
Midlothian
38.01
31
5A-4A
Boys
Allen High School
38.02
32
5A-4A
Boys
Rowlett
38.05
33
5A-4A
Boys
McKinney North
38.24
34
5A-4A
Boys
Wylie
38.34
35
5A-4A
Boys
Midlothian
38.39
36
5A-4A
Boys
Syline
38.40
37
5A-4A
Boys
North Mesquite
39.03
38
5A-4A
Boys
Bryan Adams
39.21
39
5A-4A
Boys
Thomas Jefferson
39.23
40
5A-4A
Boys
Lake Dallas
39.35
41
5A-4A
Boys
Forney
40.21
42
5A-4A
Boys
Red Oak
41.24
43
5A-4A
Boys
Little Elm Navy
42.10
44
5A-4A
Boys
No Card
42.31
45
5A-4A
Boys
John Horn HS Mesquite
42.49

South Region Index