C. Milton Wright

96 topples SE#9

Come-From-Behind Winners in Every Race



Patience, Tactics are Rewarded as Front-Runners
All Fall by the Wayside at Maryland State Meet
Very, very close in the team battles too...



By David Austin, Dyestat Correspondent



11/10/07 - In the pressurized crucible of championship-level competition, the race does not always go to the
swiftest runners from the regular season. Especially when there are many steep hills involved. In
the Maryland State Championship cross-country races for larger schools, contested this morning
in hilly Hereford, north of Baltimore, pre-race favorites who went out aggressively in their races
were uniformly punished for those tactics. All four of the boys and girls races in the larger, 4A
and 3A divisions were won by patient runners who shadowed the early leaders—in some cases
by a considerable distance—before striking. The two girls' races came down to the final 100
meters, while the boys' races both saw their final lead change with more than a mile to go—even
though plenty of racing remained at that point.

The races were contested under cloudy skies, in chilly (sub-50-degree) damp conditions. They
call it cross-country weather. With a realignment of school divisions that brought more top
schools into direct competition with each other—in particular, 2A powers Hereford, Howard,
and Atholton were all bumped up to 3A this year—and with a trio of three-time champions now
having moved on to college, the races were more wide-open this year. In the girls' 4A race,
freshman Britt Eckerstrom of traditional power Northwest of Montgomery County pulled a
quartet of potential winners through a first mile of 6:09. She still led at the deuce, coming
through in 13-even with Churchill's Louise Hanallah at her side. But just behind lurked a pair of
runners, Dominique Lockhart and Teshika Rivers, from two-time Nike Team Nationals (NTN)
competitors Eleanor Roosevelt (ER). Rivers had come from slightly off the pace, but moved into
the lead coming up out of the dip for the final 800 meters. There she had to fight off a game Britt
Eckerstrom, and the two runners were neck and neck with 100 meters to go. In the end, Rivers
prevailed, by a scant one second, in 19:17 (fastest girl's time of the day). Hanallah third,
Lockhart fourth.

In the team competition, ER's top-end duo was not quite enough. They were beaten by a single
point by C.M. Wright—the area's first squad invited to NTN three years ago. Wright's top two
scored 23 points, to 5 for ER's top two, but Wright was just that little bit better placed in the 3-
4-5 slots. Had ER's #4 and #5 runners each just finished one second ahead of where they did,
ER would have had the win—by a point.

4A Girls photos: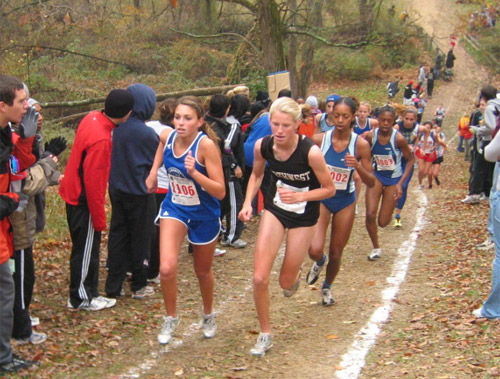 1. Hanallah (L) and Eckerstrom power up out of the dip in mile 2, with Lockhart and Rivers
just behind.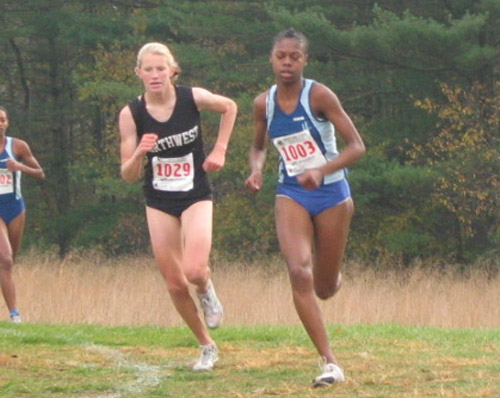 2. Eckerstrom (L) and Rivers duke it out 200 meters from the finish.





Boys 4A



In the boys' 4A race, dominated for the past three years by Matthew Centrowitz, now at Oregon
and on the bubble to compete for the Ducks' deep and talented team at NCAAs next week, all
eyes were on Quince Orchard's Neil Darmody, who had laid waste to the competition all season
long, most recently taking down Andrew Jesien's Montomery County championships meet
record time by a dozen seconds. (Jesien had the honor of being Centrowitz's first victim three
years ago, and now runs for Virginia.) But today, the twenty-meter lead he had forged in the
first half-mile of the race looks, in hindsight, to have been a tad too aggressive. Darmody's split
at the mile was 5:06. But by the mile-and-a-half mark he was done at the front, surrendering his
lead to Whitman sophomore Andrew Palmer, who headed the field at two miles in 11:03 and
continued to nurture his lead until he hit the tape, though shadowed over the final mile and a half
not only by Darmody, who had no quit in him, but also by his red-clad Q.O. teammate David
Laratta. In the end it was Palmer for the win in 16:36 (a couple of seconds faster than Centro's
winning time as a sophomore), then Laratta in 16:43 and a tiring Darmody, just a tick before
17:00.

Individual honors are nice. But cross-country is a team sport, and Quince Orchard was dominant
today. Artem Panasenkov in 9th place gave QO three scorers in the top ten, and their final tally
was 47 points to Northwest's 117. In past years, on the strength of such a performance, QO
would surely have been tapped for a trip to Portland and the Nike Team Nationals. The format
has changed, and this year teams must race in a regionals format and compete their way to the
NTN finals. If QO is up for that, they would seem to have an excellent chance to make it to the
Show.

4A Boys photos: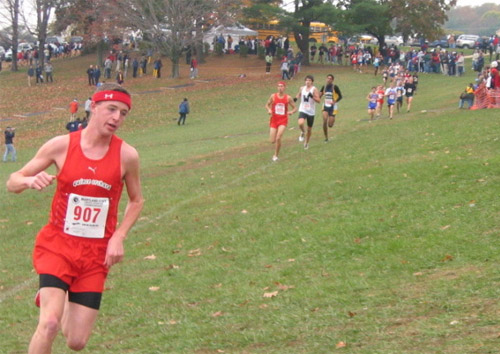 1. Neil Darmody from team-champion Quince Orchard sets the pace at a mile-and-a-quarter.
Eventual individual winner Andrew Palmer is 3rd here (white jersey).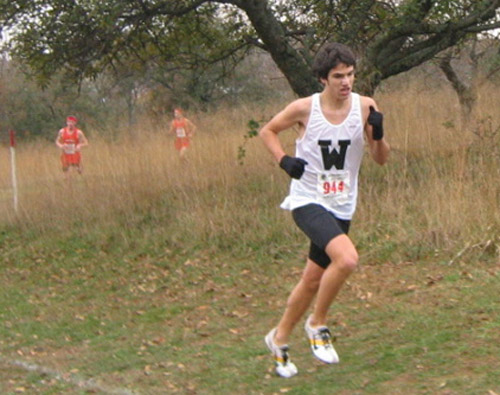 2. At two-and-a-quarter, Whitman's Andrew Palmer has a comfortable lead, shadowed by two
from Quince Orchard.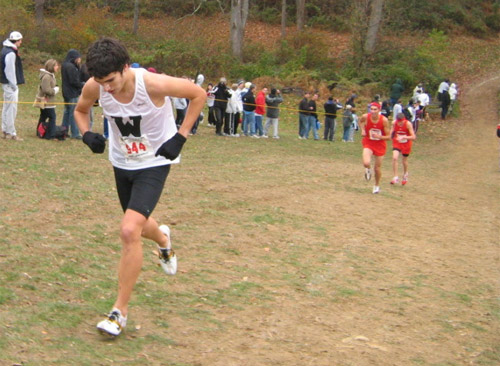 3. Coming out of the Dip, Palmer hasn't completely shaken Laratta or a tiring Darmody—
but he never came back to them, either.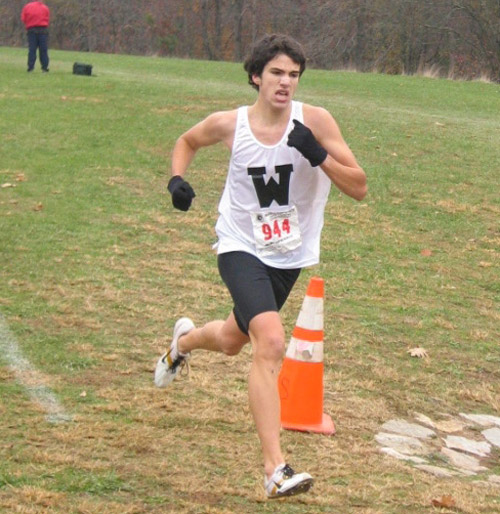 4. Your 4A champion, Andrew Palmer. Still two more years to compete in this event, too.



Girls 3A



The girls' 3A race was widely anticipated and it did not disappoint. Hotly-contested at both the
individual and team levels—and led at both levels by one runner from each of the rival teams,
Howard and Hereford, fans who were not satisfied by this race just must not like cross-country!
Kristen Malloy of host Hereford High, and Elyse Borisko of Howard, waged a mano-a-mano
battle over the entire length of the course, and the matter was not decided until the finish line
was in sight.

At times, Borisko—who snuck in to a 2nd-place finish in last year's race, just ahead of a tiring
Malloy—could have been forgiven for thinking she was in control of this race. Although Malloy
had taken a fraction of a second off of her own course record earlier in the year, she had mid-
season health problems and it was believed that she might not be at her best here today. After
coming through the mile with Malloy in 6:09, Borisko led in the middle mile and well into the
third as well, with a lead that at one point stretched out to nearly 40 meters. Heading into the dip
for the second time with a bit more than half a mile remaining, Malloy had pulled even. But
Borisko slipped ahead by a good ten meters in the ascent. It was only in the final sprint that
Malloy turned on the jets to pull out a four-second win in 19:36. The racing was, it turns out, a
reflection of Malloy's energy-conserving tactics. Her notion was to stay close, not burn too much
energy on the hills given she is not in top condition, and rely on a kick she has confidence in.
(With good reason, it turns out.)

Borisko, though, was the one who got to rest her hand on the team-championship trophy. Despite
Hereford's trio of top-ten scorers (1-4-7) being nine ahead of Howard's (2-9-10), Howard got the
better of the team competition by the slender margin of 69-73 over Hereford.

3A Girls photos: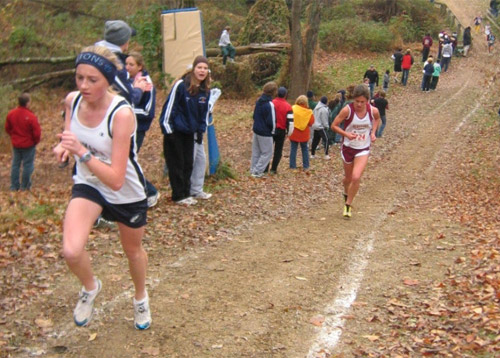 1. Uphill…Howard's Elyse Borisko led Kristen Malloy of Hereford for the first 2+ miles.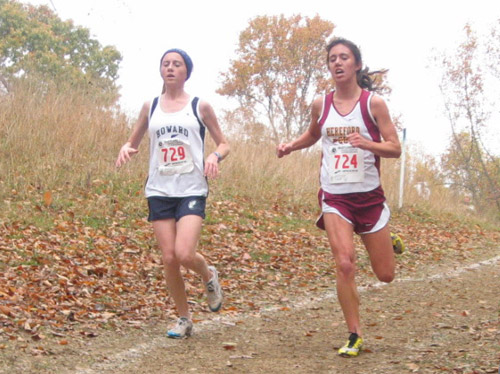 2. Malloy caught up with half a mile to go, heading into the Dip: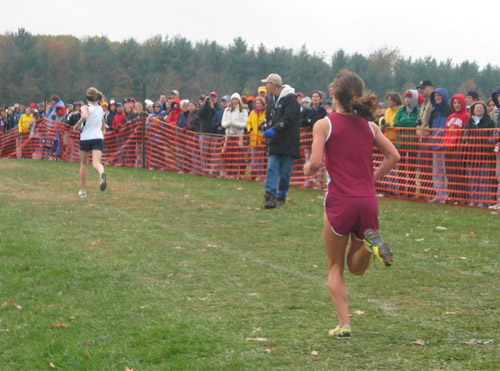 3. But she just as quickly surrendered the lead back to Borisko…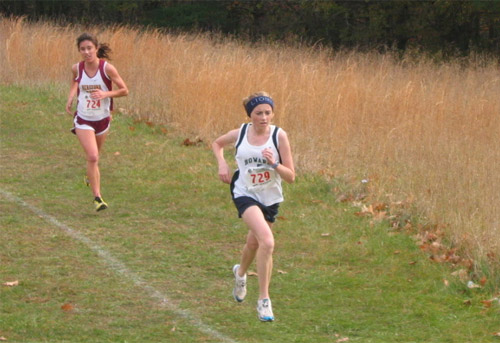 4. The view with 200m to go: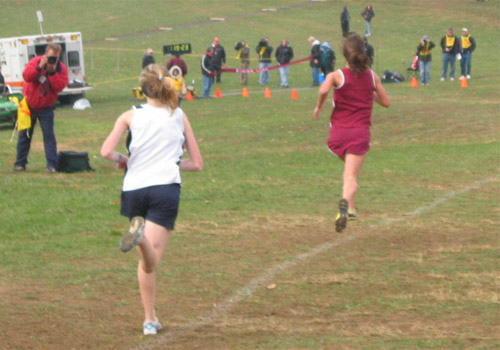 5. But just 50 meters later, it was a very different picture, as Malloy sprinted off to the win:




Boys 3A



The boys' 3A division featured an even closer team race: another one-point margin on this most
competitive of days. In the race itself, Atholton's Graham Bazell—fifth here a year ago and with
9:13 creds over 3200 meters—set a sparkling early pace, coming through the mile in 5:03. But his
lead, established over the opening mile but never more than about five meters, was short-lived as
Howard's Joey Thompson took control of the race in the first pass through the Dip and put on a
clinic on how to win a race: You run fast. Very fast. Thompson blazed through the two-mile
mark in 10:49, with no pursuers in sight, and broke the finish tape at 16:16, by a fairly wide
margin the fastest time of the day. In second was Dylan Bernard of Urbana, followed by Bazell
in third place.

In the team competition, Bethesda-Chevy Chase eked out a one-point win over defending
champion Wilde Lake, 89-90. That race was so close that over all five scoring positions, the
biggest difference between the teams was five points—to Wilde Lake's favor, in the fifth
position. But it wasn't enough, as B-CC had the advantage over Wilde Lake in the other four: by
1, 1, 1, and 3 points.

3A Boys photos: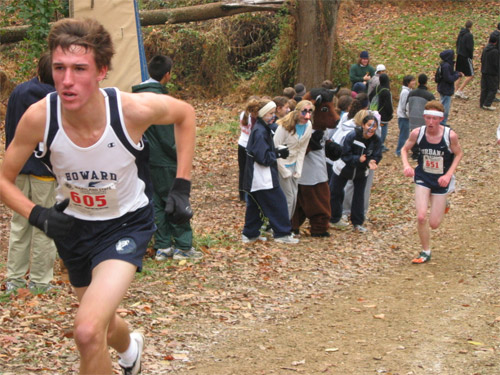 1. Up the back slope of the Dip, Thompson forges a lead over Urbana's Dylan Bernard, who
would finish second in the race.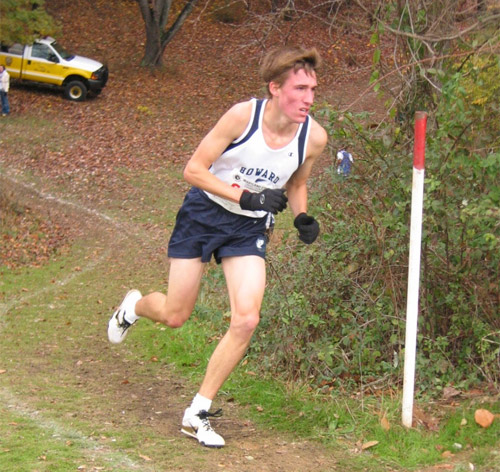 2. Nobody else in sight nearing the two-mile mark. Thompson is in control.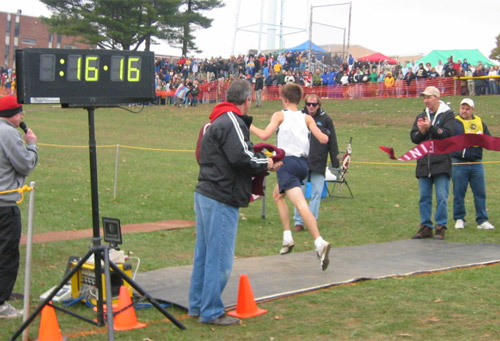 3. Thompson breaks the tape.

4A Boys
MARYLAND XC 4A BOYS 5K

Hereford, MD

Nov. 10, 2007


Results by RUNHIGH.COM

PLACE  TEAM                  POINTS  PLACES OF FINISHERS              AVG. TIME    SPREAD

  1   Quince Orchard (Mtg)     47    2    3    9   15   18   39   49   17:10        47
  2   Northwest (Mtg)         117   10   19   24   30   34   38   77   17:40        38
  3   Severna Park (Aa)       149    6   17   22   50   54   58   78   17:45      1:02
  4   C. Milton Wright (Hfd   172    7   27   35   36   67   70   97   17:50      1:09
  5   Walt Whitman (Mtg)      187    1   12   40   55   79  100  118   17:44      1:56
  6   Gaithersburg (Mtg)      195    4   14   41   44   92  110  126   17:51      1:44
  7   Walter Johnson (Mtg)    203    5   46   47   52   53   83  117   17:58      1:02
  8   Winston Churchill (Mt   207   21   28   42   45   71   75   84   18:01        49
  9   Magruder (Mtg)          233   13   16   23   90   91   95  108   17:59      1:20
 10   Leonardtown (Stm)       241   20   43   56   57   65   74   99   18:07        42
 11   South River (Aa)        260    8   11   61   66  114  124  130   18:06      2:07
 12   Dulaney (Bco)           309   26   48   51   86   98  101  111   18:19      1:07
 13   Thomas Johnson (Fre)    328   29   63   73   81   82  104  112   18:21        45
 14   Linganore (Fre)         352   25   31   89   94  113  119  123   18:27      1:36
 15   Chesapeake (Aa)         385   37   59   72  102  115  120  127   18:35      1:27
 16   Broadneck (Aa)          410   62   76   80   87  105  116  122   18:37        47
 17   Eleanor Roosevelt (Pg   415   32   33   93  128  129  131  136   18:51      2:02
 18   North Carroll (Car)     427   64   69   85  103  106  109  134   18:41        48
 19   Westminster (Car)       433   60   68   88   96  121  125  132   18:44      1:15
 20   Duval (Pg)              663  107  137  138  140  141             21:46      4:16
 21   Henry Wise (Pg)         692  133  135  139  142  143  144        22:46      5:02

Individuals

1. Quince Orchard (Mtg)
    2  David Laratta, Sr           16:43    5:23
    3  Neal Darmody, Sr            16:59    5:29
    9  Artem Panasenkov, Sr        17:14    5:33
   15  Michael Migdall, Sr         17:25    5:37
   18  Jeremiah Joson, Sr          17:29    5:38
   39  Ryan Priovolos, Sr          17:57    5:47
   49  Kristofer Lasko, Sr         18:10    5:51
Time = 1:25:47     Places = 47

2. Northwest (Mtg)
   10  Chris Miller, Fr            17:16    5:34
   19  John Dinardo, Jr            17:38    5:41
   24  Nick Gummo, Jr              17:41    5:42
   30  Bobby Sonken, Fr            17:51    5:45
   34  John Ingraham, Jr           17:53    5:46
   38  Managi Biggers, Sr          17:56    5:47
   77  Olivier Poulain, So         18:31    5:58
Time = 1:28:16     Places = 117

3. Severna Park (Aa)
    6  Andrew Finlayson, Jr        17:12    5:33
   17  J P. Reddinger, Sr          17:29    5:38
   22  T J. Cowing, Jr             17:40    5:42
   50  Thomas Brus, Jr             18:11    5:52
   54  Brendan Cooley, So          18:13    5:53
   58  Mike Bollino, Sr            18:16    5:53
   78  Chas Deveas, Sr             18:32    5:58
Time = 1:28:43     Places = 149

4. C. Milton Wright (Hfd
    7  Pete Houlihan, Sr           17:13    5:33
   27  Steve Otradovec, Sr         17:50    5:45
   35  Paul Otradovec, Sr          17:53    5:46
   36  Tyler Baxter, Sr            17:54    5:46
   67  Nick Baxter, Sr             18:21    5:55
   70  Alex Kammerer, Jr           18:23    5:56
   97  Jason Thompson, Jr          18:50    6:04
Time = 1:29:09     Places = 172

5. Walt Whitman (Mtg)
    1  Andrew Palmer, So           16:36    5:21
   12  Brandt Silver-Korn, So      17:19    5:35
   40  Daniel Nowakowski, Sr       17:58    5:48
   55  Daniel Miller, Sr           18:15    5:53
   79  Drew Katz, So               18:32    5:59
  100  Justin Krumm, Sr            18:52    6:05
  118  Nathaniel Lowry, Jr         19:30    6:17
Time = 1:28:38     Places = 187

6. Gaithersburg (Mtg)
    4  Antonio Palmer, Jr          17:00    5:29
   14  Vikas Bhatia, Jr            17:24    5:37
   41  Brendan Stepek, So          18:01    5:48
   44  Sahil Rahman, Sr            18:07    5:50
   92  Luke Reding, Sr             18:43    6:02
  110  Mike Limongelli, Sr         19:14    6:12
  126  Ian McIntyre, Sr            19:41    6:21
Time = 1:29:13     Places = 195

7. Walter Johnson (Mtg)
    5  Christopher Moen, Sr        17:11    5:32
   46  Roni Teich, Jr              18:08    5:51
   47  Ishen Dey, So               18:08    5:51
   52  Sean O'Leary, So            18:12    5:52
   53  Brian Graves, Sr            18:13    5:52
   83  Tyler Boatright, Jr         18:36    6:00
  117  Phil Shriver, Jr            19:29    6:17
Time = 1:29:50     Places = 203

8. Winston Churchill (Mt
   21  Sean King, Jr               17:40    5:42
   28  Mark Hannallah, Jr          17:50    5:45
   42  Matthew Bernstein, Jr       18:02    5:49
   45  Cyril Draffin, Jr           18:07    5:50
   71  Ryan Schorer, Jr            18:28    5:57
   75  Sei Masuoka, So             18:31    5:58
   84  Harvey Schwartz, Jr         18:36    6:00
Time = 1:30:04     Places = 207

9. Magruder (Mtg)
   13  Nicolas Escobar, So         17:23    5:36
   16  Emilio Galis, Sr            17:26    5:37
   23  Chris Gregorski, Jr         17:40    5:42
   90  Joey Schaefer, Jr           18:42    6:02
   91  Collin Sommers, Jr          18:42    6:02
   95  Mark Mechak, So             18:46    6:03
  108  Rodrigo Tranamil, Sr        19:09    6:11
Time = 1:29:52     Places = 233

10. Leonardtown (Stm)
   20  Michael Hageman, So         17:39    5:42
   43  Matt Oeshel, Jr             18:06    5:50
   56  Nick Boyd, Jr               18:15    5:53
   57  Cameron Paul, Sr            18:15    5:53
   65  Logan Wright, Jr            18:21    5:55
   74  Dennis Steiger, Jr          18:31    5:58
   99  Justin Zarzaca, Sr          18:52    6:05
Time = 1:30:35     Places = 241

11. South River (Aa)
    8  John Brungot, Sr            17:14    5:33
   11  Nic Walsh, So               17:18    5:35
   61  Andrew Stresing, Sr         18:18    5:54
   66  Nathan Suberi, Sr           18:21    5:55
  114  Ryan Glynn, Jr              19:20    6:14
  124  Andy Harris, Sr             19:37    6:19
  130  David Kersey, Fr            19:56    6:26
Time = 1:30:29     Places = 260

12. Dulaney (Bco)
   26  Charlie Larsen, Sr          17:44    5:43
   48  Corey Hancock, Jr           18:09    5:51
   51  Bill King, Jr               18:12    5:52
   86  Buck Shipley, So            18:38    6:01
   98  Jay Souder, So              18:51    6:05
  101  Hal McVeigh, So             18:55    6:06
  111  John Bullough, Sr           19:15    6:12
Time = 1:31:32     Places = 309

13. Thomas Johnson (Fre)
   29  Scott Shatto, Jr            17:50    5:45
   63  Ben Ebert-Zavos, Jr         18:20    5:55
   73  Andrew Edland, Jr           18:29    5:58
   81  Andrew Cantor, Jr           18:33    5:59
   82  Matt Healy, So              18:35    5:59
  104  Patrick English, Sr         19:03    6:09
  112  Stephen Nicewarner, Jr      19:15    6:13
Time = 1:31:45     Places = 328

14. Linganore (Fre)
   25  Tim Jones, Sr               17:42    5:42
   31  Roy Jones, Sr               17:51    5:45
   89  Lyndon Novotny, Jr          18:40    6:01
   94  Robert Perrota, Sr          18:45    6:03
  113  Nathan Elbert, Sr           19:17    6:13
  119  Adam Rudy, So               19:30    6:17
  123  Sean Grubber, Jr            19:35    6:19
Time = 1:32:13     Places = 352

15. Chesapeake (Aa)
   37  Kyle Fairchild, Jr          17:54    5:46
   59  Will Neal, So               18:17    5:54
   72  T J. Myers, Jr              18:28    5:57
  102  Collin Wojociechowski, Jr   18:56    6:06
  115  Ripken Lamarsh, Fr          19:20    6:14
  120  Tim Wickless, Jr            19:31    6:17
  127  Chris Seto, Jr              19:47    6:23
Time = 1:32:53     Places = 385

16. Broadneck (Aa)
   62  Ben Olsen, Sr               18:18    5:54
   76  Avery Wentworth, Fr         18:31    5:58
   80  Jeremy Buyer, Sr            18:32    5:59
   87  Ryan Cleaver, So            18:39    6:01
  105  Nick Garner, Sr             19:05    6:09
  116  Tim Caudle, So              19:28    6:17
  122  Connor Gilbert, So          19:33    6:18
Time = 1:33:04     Places = 410

17. Eleanor Roosevelt (Pg
   32  Brian Faherty, Jr           17:53    5:46
   33  Daniel Edmonds, Sr          17:53    5:46
   93  Charles Bolinger, Fr        18:44    6:02
  128  Hunter Wyatt, Jr            19:49    6:24
  129  Maurice Dukes, Sr           19:55    6:25
  131  Phillip Kang, Sr            20:02    6:28
  136  Paul Yan, Fr                20:29    6:36
Time = 1:34:12     Places = 415

18. North Carroll (Car)
   64  Dustin Mathers, Jr          18:20    5:55
   69  Keith Dietz, Jr             18:22    5:55
   85  Jesse Albright, So          18:36    6:00
  103  Alex Ungleabee, Sr          18:59    6:07
  106  Robert Pagels, Sr           19:07    6:10
  109  Joey Gutkoska, So           19:10    6:11
  134  Kyle Blackiston, So         20:16    6:32
Time = 1:33:23     Places = 427

19. Westminster (Car)
   60  Michael Wilkins, Sr         18:17    5:54
   68  Ryan Taylor, So             18:22    5:55
   88  Christian Libdan, Sr        18:40    6:01
   96  Andrew Solomon, Sr          18:49    6:04
  121  Kenny Mersinger, Sr         19:32    6:18
  125  Ian Bucacink, Jr            19:37    6:20
  132  Jose Cortez, Sr             20:02    6:28
Time = 1:33:38     Places = 433

20. Duval (Pg)
  107  Kaleb Mersha, Sr            19:09    6:10
  137  Calvin Crawley, So          21:34    6:57
  138  Jonathon Lambert, Sr        21:37    6:58
  140  George Samu, Sr             23:05    7:27
  141  Adefisayo Adeokun, Sr       23:25    7:33
Time = 1:48:48     Places = 663

21. Henry Wise (Pg)
  133  Adrain Miller, So           20:09    6:30
  135  Dominick Laws, Sr           20:21    6:34
  139  Clyde Partlow, Fr           23:03    7:26
  142  Ryan Young, Sr              25:07    8:06
  143  Gyasi Lester, Fr            25:10    8:07
  144  Alexander Blackwell, Jr     25:40    8:17
Time = 1:53:48     Places = 692
Top

        TEAM                                  1M          2M        FINAL
 PLACE SCORE           FINISHER              TIME        TIME        TIME      PACE        TEAM

    1     1  Andrew Palmer, So                5:15       11:02    16:36    5:21  Walt Whitman (Mtg)
    2     2  David Laratta, Sr                5:12       11:09    16:43    5:23  Quince Orchard (Mtg)
    3     3  Neal Darmody, Sr                 5:06       11:06    16:59    5:29  Quince Orchard (Mtg)
    4     4  Antonio Palmer, Jr               5:20       11:27    17:00    5:29  Gaithersburg (Mtg)
    5        Sumanth Kuppalli, Sr             5:13       11:19    17:00    5:29  Perry Hall (Bco)
    6     5  Christopher Moen, Sr             5:21       11:27    17:11    5:32  Walter Johnson (Mtg)
    7     6  Andrew Finlayson, Jr             5:27       11:34    17:12    5:33  Severna Park (Aa)
    8     7  Pete Houlihan, Sr                5:20       11:33    17:13    5:33  C. Milton Wright (Hfd
    9     8  John Brungot, Sr                 5:20       11:29    17:14    5:33  South River (Aa)
   10     9  Artem Panasenkov, Sr             5:19       11:28    17:14    5:33  Quince Orchard (Mtg)
   11    10  Chris Miller, Fr                 5:39       11:39    17:16    5:34  Northwest (Mtg)
   12    11  Nic Walsh, So                    5:27       11:34    17:18    5:35  South River (Aa)
   13    12  Brandt Silver-Korn, So           5:24       11:31    17:19    5:35  Walt Whitman (Mtg)
   14        Sharif Kronemer, Sr              5:29       11:39    17:21    5:36  Springbrook (Mtg)
   15    13  Nicolas Escobar, So              5:23       11:34    17:23    5:36  Magruder (Mtg)
   16    14  Vikas Bhatia, Jr                 5:32       11:32    17:24    5:37  Gaithersburg (Mtg)
   17    15  Michael Migdall, Sr              5:29       11:36    17:25    5:37  Quince Orchard (Mtg)
   18    16  Emilio Galis, Sr                 5:23       11:37    17:26    5:37  Magruder (Mtg)
   19    17  J P. Reddinger, Sr               5:30       11:40    17:29    5:38  Severna Park (Aa)
   20        Kyle Balderson, Jr               5:19       11:32    17:29    5:38  Sherwood (Mtg)
   21    18  Jeremiah Joson, Sr               5:29       11:44    17:29    5:38  Quince Orchard (Mtg)
   22        Kenny Siu, Sr                    5:21       11:39    17:34    5:40  Thomas Wootton (Mtg)
   23        Russell Speiden, Sr              5:19       11:31    17:34    5:40  Sherwood (Mtg)
   24    19  John Dinardo, Jr                 5:28       11:45    17:38    5:41  Northwest (Mtg)
   25    20  Michael Hageman, So              5:34       11:49    17:39    5:42  Leonardtown (Stm)
   26    21  Sean King, Jr                    5:43       11:51    17:40    5:42  Winston Churchill (Mt
   27    22  T J. Cowing, Jr                  5:30       11:48    17:40    5:42  Severna Park (Aa)
   28    23  Chris Gregorski, Jr              5:20       11:39    17:40    5:42  Magruder (Mtg)
   29    24  Nick Gummo, Jr                   5:35       11:49    17:41    5:42  Northwest (Mtg)
   30    25  Tim Jones, Sr                    5:30       11:46    17:42    5:42  Linganore (Fre)
   31    26  Charlie Larsen, Sr               5:31       11:50    17:44    5:43  Dulaney (Bco)
   32    27  Steve Otradovec, Sr              5:35       11:49    17:50    5:45  C. Milton Wright (Hfd
   33    28  Mark Hannallah, Jr               5:42       11:53    17:50    5:45  Winston Churchill (Mt
   34    29  Scott Shatto, Jr                 5:39       11:57    17:50    5:45  Thomas Johnson (Fre)
   35    30  Bobby Sonken, Fr                 5:43       11:59    17:51    5:45  Northwest (Mtg)
   36    31  Roy Jones, Sr                    5:31       11:54    17:51    5:45  Linganore (Fre)
   37    32  Brian Faherty, Jr                5:29       11:45    17:53    5:46  Eleanor Roosevelt (Pg
   38    33  Daniel Edmonds, Sr               5:28       11:42    17:53    5:46  Eleanor Roosevelt (Pg
   39    34  John Ingraham, Jr                5:38       11:52    17:53    5:46  Northwest (Mtg)
   40    35  Paul Otradovec, Sr               5:41       11:57    17:53    5:46  C. Milton Wright (Hfd
   41    36  Tyler Baxter, Sr                 5:37       11:58    17:54    5:46  C. Milton Wright (Hfd
   42    37  Kyle Fairchild, Jr               5:49       12:13    17:54    5:46  Chesapeake (Aa)
   43    38  Managi Biggers, Sr               5:25       11:46    17:56    5:47  Northwest (Mtg)
   44    39  Ryan Priovolos, Sr               5:34       11:54    17:57    5:47  Quince Orchard (Mtg)
   45    40  Daniel Nowakowski, Sr            5:44       12:06    17:58    5:48  Walt Whitman (Mtg)
   46    41  Brendan Stepek, So               5:42       12:03    18:01    5:48  Gaithersburg (Mtg)
   47    42  Matthew Bernstein, Jr            5:42       12:02    18:02    5:49  Winston Churchill (Mt
   48        Rutvij Pandya, Jr                5:40       12:09    18:02    5:49  Montgomery Blair (Mtg
   49    43  Matt Oeshel, Jr                  5:33       12:03    18:06    5:50  Leonardtown (Stm)
   50    44  Sahil Rahman, Sr                 5:50       12:10    18:07    5:50  Gaithersburg (Mtg)
   51    45  Cyril Draffin, Jr                5:42       12:05    18:07    5:50  Winston Churchill (Mt
   52    46  Roni Teich, Jr                   5:37       12:09    18:08    5:51  Walter Johnson (Mtg)
   53    47  Ishen Dey, So                    5:50       12:12    18:08    5:51  Walter Johnson (Mtg)
   54    48  Corey Hancock, Jr                5:24       11:58    18:09    5:51  Dulaney (Bco)
   55    49  Kristofer Lasko, Sr              5:38       12:01    18:10    5:51  Quince Orchard (Mtg)
   56    50  Thomas Brus, Jr                  5:49       12:11    18:11    5:52  Severna Park (Aa)
   57    51  Bill King, Jr                    5:34       12:04    18:12    5:52  Dulaney (Bco)
   58    52  Sean O'Leary, So                 5:50       12:12    18:12    5:52  Walter Johnson (Mtg)
   59    53  Brian Graves, Sr                 5:49       11:55    18:13    5:52  Walter Johnson (Mtg)
   60    54  Brendan Cooley, So               5:40       12:08    18:13    5:53  Severna Park (Aa)
   61    55  Daniel Miller, Sr                5:40       11:52    18:15    5:53  Walt Whitman (Mtg)
   62    56  Nick Boyd, Jr                    5:49       12:12    18:15    5:53  Leonardtown (Stm)
   63    57  Cameron Paul, Sr                 5:40       12:11    18:15    5:53  Leonardtown (Stm)
   64    58  Mike Bollino, Sr                 5:40       12:09    18:16    5:53  Severna Park (Aa)
   65    59  Will Neal, So                    5:49       12:14    18:17    5:54  Chesapeake (Aa)
   66    60  Michael Wilkins, Sr              5:51       12:15    18:17    5:54  Westminster (Car)
   67    61  Andrew Stresing, Sr              5:35       12:04    18:18    5:54  South River (Aa)
   68    62  Ben Olsen, Sr                    5:35       12:00    18:18    5:54  Broadneck (Aa)
   69    63  Ben Ebert-Zavos, Jr              5:51       12:19    18:20    5:55  Thomas Johnson (Fre)
   70    64  Dustin Mathers, Jr               5:42       12:14    18:20    5:55  North Carroll (Car)
   71    65  Logan Wright, Jr                 5:47       12:18    18:21    5:55  Leonardtown (Stm)
   72    66  Nathan Suberi, Sr                5:39       12:15    18:21    5:55  South River (Aa)
   73    67  Nick Baxter, Sr                  5:50       12:17    18:21    5:55  C. Milton Wright (Hfd
   74    68  Ryan Taylor, So                  5:49       12:21    18:22    5:55  Westminster (Car)
   75    69  Keith Dietz, Jr                  5:53       12:20    18:22    5:55  North Carroll (Car)
   76    70  Alex Kammerer, Jr                5:51       12:17    18:23    5:56  C. Milton Wright (Hfd
   77        Nick Poremski, Sr                5:38       12:06    18:25    5:56  Parkville (Bco)
   78    71  Ryan Schorer, Jr                 5:43       12:18    18:28    5:57  Winston Churchill (Mt
   79    72  T J. Myers, Jr                   5:55       12:23    18:28    5:57  Chesapeake (Aa)
   80    73  Andrew Edland, Jr                5:52       12:24    18:29    5:58  Thomas Johnson (Fre)
   81    74  Dennis Steiger, Jr               5:40       12:09    18:31    5:58  Leonardtown (Stm)
   82    75  Sei Masuoka, So                  5:51       12:21    18:31    5:58  Winston Churchill (Mt
   83    76  Avery Wentworth, Fr              5:53       12:29    18:31    5:58  Broadneck (Aa)
   84    77  Olivier Poulain, So              5:50       12:10    18:31    5:58  Northwest (Mtg)
   85    78  Chas Deveas, Sr                  5:51       12:27    18:32    5:58  Severna Park (Aa)
   86    79  Drew Katz, So                    5:46       12:23    18:32    5:59  Walt Whitman (Mtg)
   87    80  Jeremy Buyer, Sr                 5:37       12:15    18:32    5:59  Broadneck (Aa)
   88    81  Andrew Cantor, Jr                5:52       12:28    18:33    5:59  Thomas Johnson (Fre)
   89    82  Matt Healy, So                   5:51       12:24    18:35    5:59  Thomas Johnson (Fre)
   90    83  Tyler Boatright, Jr              5:50       12:21    18:36    6:00  Walter Johnson (Mtg)
   91    84  Harvey Schwartz, Jr              5:53       12:28    18:36    6:00  Winston Churchill (Mt
   92    85  Jesse Albright, So               5:51       12:27    18:36    6:00  North Carroll (Car)
   93    86  Buck Shipley, So                 5:47       12:30    18:38    6:01  Dulaney (Bco)
   94    87  Ryan Cleaver, So                 5:44       12:23    18:39    6:01  Broadneck (Aa)
   95    88  Christian Libdan, Sr             5:52       12:25    18:40    6:01  Westminster (Car)
   96    89  Lyndon Novotny, Jr               5:47       12:27    18:40    6:01  Linganore (Fre)
   97    90  Joey Schaefer, Jr                5:48       12:31    18:42    6:02  Magruder (Mtg)
   98    91  Collin Sommers, Jr               5:48       12:28    18:42    6:02  Magruder (Mtg)
   99    92  Luke Reding, Sr                  5:55       12:33    18:43    6:02  Gaithersburg (Mtg)
  100    93  Charles Bolinger, Fr             5:45       12:35    18:44    6:02  Eleanor Roosevelt (Pg
  101    94  Robert Perrota, Sr               5:53       12:30    18:45    6:03  Linganore (Fre)
  102    95  Mark Mechak, So                  5:47       12:25    18:46    6:03  Magruder (Mtg)
  103    96  Andrew Solomon, Sr               5:52       12:26    18:49    6:04  Westminster (Car)
  104    97  Jason Thompson, Jr               5:52       12:29    18:50    6:04  C. Milton Wright (Hfd
  105    98  Jay Souder, So                   5:50       12:32    18:51    6:05  Dulaney (Bco)
  106    99  Justin Zarzaca, Sr               5:38       12:37    18:52    6:05  Leonardtown (Stm)
  107   100  Justin Krumm, Sr                 5:55       12:42    18:52    6:05  Walt Whitman (Mtg)
  108        Peter Gentles, Sr                5:41       12:31    18:54    6:06  High Point (Pg)
  109   101  Hal McVeigh, So                  5:50       12:31    18:55    6:06  Dulaney (Bco)
  110        Ibrahim Jawara, Sr               5:45       12:30    18:55    6:06  Parkdale (Pg)
  111   102  Collin Wojociechowski, Jr        5:57       12:49    18:56    6:06  Chesapeake (Aa)
  112        Sebastien Narcisse, So           5:42       12:47    18:56    6:06  Laurel (Pg)
  113   103  Alex Ungleabee, Sr               5:53       12:37    18:59    6:07  North Carroll (Car)
  114   104  Patrick English, Sr              5:59       12:44    19:03    6:09  Thomas Johnson (Fre)
  115   105  Nick Garner, Sr                  5:54       12:34    19:05    6:09  Broadneck (Aa)
  116   106  Robert Pagels, Sr                5:56       12:43    19:07    6:10  North Carroll (Car)
  117   107  Kaleb Mersha, Sr                 5:41       12:35    19:09    6:10  Duval (Pg)
  118   108  Rodrigo Tranamil, Sr             5:43       12:30    19:09    6:11  Magruder (Mtg)
  119        Cody Vernon, Fr                  5:52       12:38    19:09    6:11  Old Mill (Aa)
  120   109  Joey Gutkoska, So                5:57       12:50    19:10    6:11  North Carroll (Car)
  121        Tetros Welday, So                5:46       12:44    19:11    6:11  Bladensburg (Pg)
  122   110  Mike Limongelli, Sr              5:37       12:07    19:14    6:12  Gaithersburg (Mtg)
  123   111  John Bullough, Sr                5:47       12:39    19:15    6:12  Dulaney (Bco)
  124   112  Stephen Nicewarner, Jr           6:00       12:53    19:15    6:13  Thomas Johnson (Fre)
  125   113  Nathan Elbert, Sr                5:37       12:26    19:17    6:13  Linganore (Fre)
  126   114  Ryan Glynn, Jr                   6:03       12:54    19:20    6:14  South River (Aa)
  127   115  Ripken Lamarsh, Fr               5:58       12:57    19:20    6:14  Chesapeake (Aa)
  128   116  Tim Caudle, So                   5:54       12:49    19:28    6:17  Broadneck (Aa)
  129   117  Phil Shriver, Jr                 6:00       12:55    19:29    6:17  Walter Johnson (Mtg)
  130   118  Nathaniel Lowry, Jr              5:55       12:46    19:30    6:17  Walt Whitman (Mtg)
  131   119  Adam Rudy, So                    5:49       12:48    19:30    6:17  Linganore (Fre)
  132   120  Tim Wickless, Jr                 6:04       13:06    19:31    6:17  Chesapeake (Aa)
  133   121  Kenny Mersinger, Sr              5:59       12:58    19:32    6:18  Westminster (Car)
  134   122  Connor Gilbert, So               5:48       12:52    19:33    6:18  Broadneck (Aa)
  135   123  Sean Grubber, Jr                 5:59       13:01    19:35    6:19  Linganore (Fre)
  136   124  Andy Harris, Sr                  6:07       13:08    19:37    6:19  South River (Aa)
  137   125  Ian Bucacink, Jr                 5:57       13:04    19:37    6:20  Westminster (Car)
  138   126  Ian McIntyre, Sr                 6:10       13:08    19:41    6:21  Gaithersburg (Mtg)
  139   127  Chris Seto, Jr                   6:06       13:12    19:47    6:23  Chesapeake (Aa)
  140   128  Hunter Wyatt, Jr                 6:10       13:23    19:49    6:24  Eleanor Roosevelt (Pg
  141   129  Maurice Dukes, Sr                6:04       13:17    19:55    6:25  Eleanor Roosevelt (Pg
  142   130  David Kersey, Fr                 6:08       13:20    19:56    6:26  South River (Aa)
  143   131  Phillip Kang, Sr                 6:03       13:17    20:02    6:28  Eleanor Roosevelt (Pg
  144   132  Jose Cortez, Sr                  6:00       13:09    20:02    6:28  Westminster (Car)
  145   133  Adrain Miller, So                6:09       13:19    20:09    6:30  Henry Wise (Pg)
  146   134  Kyle Blackiston, So              6:09       13:18    20:16    6:32  North Carroll (Car)
  147   135  Dominick Laws, Sr                6:12       13:24    20:21    6:34  Henry Wise (Pg)
  148        Willie Catrer, Sr                6:03       13:42    20:24    6:35  Ch Flowers (Pg)
  149        Troy Brawn, So                   6:03       13:42    20:25    6:35  Ch Flowers (Pg)
  150   136  Paul Yan, Fr                     6:08       13:26    20:29    6:36  Eleanor Roosevelt (Pg
  151        Christopher Johns, Jr            6:12       13:57    21:05    6:48  Bowie (Pg)
  152   137  Calvin Crawley, So               6:20       14:09    21:34    6:57  Duval (Pg)
  153   138  Jonathon Lambert, Sr             6:32       14:26    21:37    6:58  Duval (Pg)
  154        Chiemela Ogbonna, Sr             6:31       14:26    21:55    7:04  Bowie (Pg)
  155   139  Clyde Partlow, Fr                6:47         :00    23:03    7:26  Henry Wise (Pg)
  156   140  George Samu, Sr                  6:55         :00    23:05    7:27  Duval (Pg)
  157   141  Adefisayo Adeokun, Sr            6:55         :00    23:25    7:33  Duval (Pg)
  158        Alexander Strachan, Jr           6:49         :00    23:36    7:37  Bowie (Pg)
  159   142  Ryan Young, Sr                   7:09         :00    25:07    8:06  Henry Wise (Pg)
  160   143  Gyasi Lester, Fr                 7:08         :00    25:10    8:07  Henry Wise (Pg)
  161   144  Alexander Blackwell, Jr          6:54         :00    25:40    8:17  Henry Wise (Pg)
"*" indicates females
10 finishers among Men 1 & Under
31 finishers among Men 2 - 2
52 finishers among Men 3 - 3
68 finishers among Men 4 & Up
161 male finishers
0 female finishers
161 total finishers


4A Girls
MARYLAND XC 4A GIRLS 5K

Hereford, MD

Nov. 10, 2007


Results by RUNHIGH.COM

PLACE  TEAM                  POINTS  PLACES OF FINISHERS              AVG. TIME    SPREAD

  1   C. Milton Wright (Hfd    96    7   16   19   22   32   45   68   20:24      1:20
  2   Eleanor Roosevelt (Pg    97    1    4   24   27   41   69   91   20:22      2:06
  3   Dulaney (Bco)           108   10   12   21   25   40   59   70   20:30      1:32
  4   Winston Churchill (Mt   112    3    8   18   35   48   52   58   20:29      2:13
  5   Walt Whitman (Mtg)      124    6    9   20   29   60   92   95   20:37      2:26
  6   Northwest (Mtg)         141    2   17   23   49   50   53   55   20:42      2:24
  7   Thomas Wootton (Mtg)    206    5   15   26   54  106  111  118   21:13      3:55
  8   Leonardtown (Stm)       233   33   44   46   47   63   74   89   21:38      1:13
  9   Severna Park (Aa)       235   14   31   39   71   80   84        21:34      2:43
 10   South River (Aa)        243   11   34   43   62   93  104  122   21:35      3:14
 11   Richard Montgomery (M   283   30   37   42   72  102  108  113   21:56      2:15
 12   Quince Orchard (Mtg)    284   13   28   64   65  114  116  117   21:56      3:53
 13   Thomas Johnson (Fre)    389   73   75   76   79   86   96  109   22:44        15
 14   Linganore (Fre)         400   38   51   94  105  112  125  128   22:39      2:26
 15   Westminster (Car)       427   57   66   88   97  119  123  124   22:57      2:14
 16   Sherwood (Mtg)          429   61   83   85   99  101  110  121   22:55      1:01
 17   Chesapeake (Aa)         438   56   87   90   98  107  120  127   22:56      1:38
 18   Broadneck (Aa)          471   67   78   81  115  130  131  132   23:31      2:55
 19   Ch Flowers (Pg)         491   77   82  100  103  129             23:31      2:46
 20   Bowie (Pg)              564   36  126  133  134  135  136        26:17      7:09

Individuals

1. C. Milton Wright (Hfd
    7  Sara Bailey, Sr*            19:46    6:23
   16  Shannon Rafferty, So*       20:10    6:30
   19  Lindsay Smith, Jr*          20:25    6:35
   22  Erica Scripa, Jr*           20:31    6:37
   32  Whitney Hora, So*           21:06    6:48
   45  Hannah McKenzie, Jr*        21:34    6:57
   68  Lindsay Lippencott, Sr*     22:34    7:16
Time = 1:41:57     Places = 96

2. Eleanor Roosevelt (Pg
    1  Teshika Rivers, Jr*         19:17    6:13
    4  Dominique Lockhart, Sr*     19:28    6:17
   24  Amirah Johnson, Fr*         20:44    6:41
   27  Brittany View, Jr*          20:57    6:45
   41  Brittany Ogun-Mokun, Jr*    21:22    6:54
   69  Tasha Stanley, Sr*          22:34    7:17
   91  Zawadi Rowe, Sr*            23:02    7:26
Time = 1:41:47     Places = 97

3. Dulaney (Bco)
   10  Emma Larkin, Sr*            19:50    6:24
   12  Anjelica Dinucci, Sr*       19:59    6:27
   21  Kelly Rush, Sr*             20:27    6:36
   25  Chelsey Bush, So*           20:53    6:44
   40  Jen Bae, Jr*                21:22    6:53
   59  Jen Sanchez, Jr*            22:06    7:08
   70  Katie Cox, Fr*              22:35    7:17
Time = 1:42:29     Places = 108

4. Winston Churchill (Mt
    3  Louise Hannallah, Sr*       19:25    6:16
    8  Erin McManus, Sr*           19:47    6:23
   18  Alexandra Giedd, So*        20:20    6:33
   35  Maryam Fikri, So*           21:13    6:50
   48  Owoade Ayorinde, Sr*        21:38    6:59
   52  Sophie Jacobson, So*        21:44    7:01
   58  Johne Vera, Jr*             22:05    7:07
Time = 1:42:22     Places = 112

5. Walt Whitman (Mtg)
    6  Morgane Gay, Sr*            19:41    6:21
    9  Debbie Isen, Sr*            19:49    6:23
   20  Eliza Schalch, Sr*          20:26    6:35
   29  Shayna Barbash, So*         21:01    6:47
   60  Andi Sunshine, Jr*          22:06    7:08
   92  Melanie Stern, Fr*          23:02    7:26
   95  Sarah Shannahan, Sr*        23:07    7:27
Time = 1:43:02     Places = 124

6. Northwest (Mtg)
    2  Britt Eckerstrom, Fr*       19:18    6:13
   17  Kathy Aherne, Sr*           20:13    6:31
   23  Becca Stinner, Sr*          20:40    6:40
   49  Hillary Siegall, So*        21:39    6:59
   50  Sarah Sekscienski, Fr*      21:41    7:00
   53  Kate Allaway, So*           21:46    7:01
   55  Emma Eckerstrom, So*        21:55    7:04
Time = 1:43:29     Places = 141

7. Thomas Wootton (Mtg)
    5  Veronica Salcido, Sr*       19:37    6:19
   15  Jessie Rubin, So*           20:09    6:30
   26  Iona Machado, Sr*           20:56    6:45
   54  Kerry Nisson, Sr*           21:54    7:04
  106  Amy Levine, So*             23:31    7:35
  111  Briana Rotello, So*         23:38    7:37
  118  Abby Peller, So*            24:11    7:48
Time = 1:46:05     Places = 206

8. Leonardtown (Stm)
   33  Olivia Webster, Sr*         21:08    6:49
   44  Jessica Gass, So*           21:28    6:55
   46  Anna Frowein, Fr*           21:35    6:57
   47  Katlyn Dillow, Sr*          21:37    6:58
   63  Natilie Dillow, So*         22:20    7:12
   74  Anna Sprout, Jr*            22:40    7:19
   89  Cali Copsey, So*            23:00    7:25
Time = 1:48:06     Places = 233

9. Severna Park (Aa)
   14  Liya Kasimova, Sr*          20:05    6:28
   31  Kelsey Kenealy, Jr*         21:05    6:48
   39  Sadie Dempsey, So*          21:19    6:52
   71  Chris Patrick, Fr*          22:35    7:17
   80  Megan Irminger, So*         22:48    7:21
   84  Kelsey Hill, Jr*            22:51    7:22
Time = 1:47:50     Places = 235

10. South River (Aa)
   11  Hillary Lee, So*            19:53    6:25
   34  Mary Fromme, Jr*            21:11    6:50
   43  Miranda Heater, Jr*         21:28    6:55
   62  Hannah Rivers, Sr*          22:20    7:12
   93  Caitlin Phillips, Jr*       23:06    7:27
  104  Megan Passero, So*          23:24    7:33
  122  Kylie Marinzel, Fr*         24:24    7:52
Time = 1:47:55     Places = 243

11. Richard Montgomery (M
   30  Luyang Liu, Sr*             21:05    6:48
   37  Sarah Britton, Sr*          21:15    6:51
   42  Alana Moore, Jr*            21:23    6:54
   72  Julia Mertz, Jr*            22:35    7:17
  102  Eva Rodezno, Jr*            23:19    7:31
  108  Fatima Resendez, Fr*        23:33    7:36
  113  Amanda Pinzon, Sr*          23:47    7:40
Time = 1:49:36     Places = 283

12. Quince Orchard (Mtg)
   13  Aimee Moores, Jr*           20:03    6:28
   28  Stephanie Joson, So*        20:58    6:46
   64  Dawn Rainbolt, Sr*          22:22    7:13
   65  Melissa Goleb, Sr*          22:23    7:13
  114  Jacelyn St Regis, So*       23:55    7:43
  116  Laura Gomez, Sr*            24:05    7:46
  117  Victoria Rainbolt, Fr*      24:06    7:46
Time = 1:49:39     Places = 284

13. Thomas Johnson (Fre)
   73  Kelsey Igo, So*             22:40    7:18
   75  Stephanie Bryan, So*        22:40    7:19
   76  Savanna Plombon, Fr*        22:41    7:19
   79  Aimee Shafer, Sr*           22:46    7:21
   86  Jenny Donoghue, Jr*         22:54    7:23
   96  Amanda Caudle, Jr*          23:08    7:28
  109  Eileen Donoghue, Fr*        23:36    7:37
Time = 1:53:39     Places = 389

14. Linganore (Fre)
   38  Bridgett Nolan, So*         21:15    6:51
   51  Melissa Maczis, Sr*         21:42    7:00
   94  Erin Manion, Sr*            23:07    7:27
  105  Rachel Pulley, Sr*          23:30    7:35
  112  Heather Gula, Jr*           23:41    7:38
  125  Amanda Quiumette, Jr*       24:27    7:53
  128  Margaret Brinkley, So*      25:17    8:09
Time = 1:53:14     Places = 400

15. Westminster (Car)
   57  Allison Eaton, Sr*          21:59    7:05
   66  Ali Thompson, Jr*           22:25    7:14
   88  Jenna Brown, Sr*            23:00    7:25
   97  Casey Haddaway, Jr*         23:09    7:28
  119  Erin Laird, Sr*             24:13    7:49
  123  Megan Cyhanick, Jr*         24:26    7:53
  124  Steph Shugars, So*          24:27    7:53
Time = 1:54:44     Places = 427

16. Sherwood (Mtg)
   61  Teresa Cronin, So*          22:17    7:11
   83  Meghan Dunn, Sr*            22:51    7:22
   85  Abby Iacangelo, Fr*         22:52    7:23
   99  Alexa Becker, So*           23:14    7:29
  101  Lindsay Blank, Jr*          23:18    7:31
  110  Grace Corbett, Sr*          23:36    7:37
  121  Stephanie Wight, Sr*        24:15    7:49
Time = 1:54:31     Places = 429

17. Chesapeake (Aa)
   56  Laura Blevins, Jr*          21:56    7:04
   87  Kattie Phipps, Jr*          22:58    7:24
   90  Katie Maranto, Sr*          23:01    7:25
   98  Josie Fillat, So*           23:12    7:29
  107  Andrea Hendrix, Jr*         23:33    7:36
  120  Kortnie Walker, So*         24:15    7:49
  127  Jessica Rilee, Sr*          25:16    8:09
Time = 1:54:38     Places = 438

18. Broadneck (Aa)
   67  Jennifer Steinweg, Jr*      22:33    7:16
   78  Ellyn Hopper, So*           22:41    7:19
   81  Amanda Pollander, Jr*       22:49    7:21
  115  Mariah Smith, So*           24:03    7:45
  130  Gianna Summa, Fr*           25:28    8:13
  131  Stephanie Hicks, Jr*        26:06    8:25
  132  Monique Dykman, So*         27:12    8:46
Time = 1:57:33     Places = 471

19. Ch Flowers (Pg)
   77  T'Nay Williams, So*         22:41    7:19
   82  Asia Lewis, So*             22:50    7:22
  100  Camille Washington, So*     23:16    7:30
  103  Denae Ford, So*             23:21    7:32
  129  Stephanie Lipscomb, Sr*     25:27    8:12
Time = 1:57:33     Places = 491

20. Bowie (Pg)
   36  Anika Stark, Jr*            21:15    6:51
  126  Courtney Cox, So*           25:07    8:06
  133  Tina Dang, Jr*              28:15    9:07
  134  Kiarra Jamison, Fr*         28:23    9:09
  135  Dara Martin, Fr*            28:24    9:09
  136  Taneesha Tate-Robinson, Jr* 28:33    9:12
Time = 2:11:21     Places = 564
Top

        TEAM                                  1M          2M        FINAL
 PLACE SCORE           FINISHER              TIME        TIME        TIME      PACE        TEAM

    1     1  Teshika Rivers, Jr*              6:10       13:00    19:17    6:13  Eleanor Roosevelt (Pg
    2     2  Britt Eckerstrom, Fr*            6:08       12:58    19:18    6:13  Northwest (Mtg)
    3     3  Louise Hannallah, Sr*            6:08       12:59    19:25    6:16  Winston Churchill (Mt
    4     4  Dominique Lockhart, Sr*          6:08       13:00    19:28    6:17  Eleanor Roosevelt (Pg
    5     5  Veronica Salcido, Sr*            6:10       13:06    19:37    6:19  Thomas Wootton (Mtg)
    6     6  Morgane Gay, Sr*                 6:09       13:02    19:41    6:21  Walt Whitman (Mtg)
    7     7  Sara Bailey, Sr*                 6:12       13:13    19:46    6:23  C. Milton Wright (Hfd
    8     8  Erin McManus, Sr*                6:10       13:08    19:47    6:23  Winston Churchill (Mt
    9     9  Debbie Isen, Sr*                 6:17       13:20    19:49    6:23  Walt Whitman (Mtg)
   10    10  Emma Larkin, Sr*                 6:17       13:24    19:50    6:24  Dulaney (Bco)
   11    11  Hillary Lee, So*                 6:10       13:16    19:53    6:25  South River (Aa)
   12        Abby Spitler, So*                6:14       13:21    19:57    6:26  Gaithersburg (Mtg)
   13    12  Anjelica Dinucci, Sr*            6:15       13:22    19:59    6:27  Dulaney (Bco)
   14    13  Aimee Moores, Jr*                6:14       13:22    20:03    6:28  Quince Orchard (Mtg)
   15    14  Liya Kasimova, Sr*               6:10       13:17    20:05    6:28  Severna Park (Aa)
   16    15  Jessie Rubin, So*                6:10       13:16    20:09    6:30  Thomas Wootton (Mtg)
   17    16  Shannon Rafferty, So*            6:16       13:24    20:10    6:30  C. Milton Wright (Hfd
   18    17  Kathy Aherne, Sr*                6:13       13:27    20:13    6:31  Northwest (Mtg)
   19    18  Alexandra Giedd, So*             6:16       13:27    20:20    6:33  Winston Churchill (Mt
   20    19  Lindsay Smith, Jr*               6:14       13:28    20:25    6:35  C. Milton Wright (Hfd
   21    20  Eliza Schalch, Sr*               6:28       13:45    20:26    6:35  Walt Whitman (Mtg)
   22    21  Kelly Rush, Sr*                  6:18       13:42    20:27    6:36  Dulaney (Bco)
   23        Anna Bosse, Fr*                  6:32       13:45    20:28    6:36  Walter Johnson (Mtg)
   24    22  Erica Scripa, Jr*                6:35       13:47    20:31    6:37  C. Milton Wright (Hfd
   25    23  Becca Stinner, Sr*               6:14       13:39    20:40    6:40  Northwest (Mtg)
   26    24  Amirah Johnson, Fr*              6:29       14:00    20:44    6:41  Eleanor Roosevelt (Pg
   27    25  Chelsey Bush, So*                6:27       13:58    20:53    6:44  Dulaney (Bco)
   28        Johanna Gretschel, Sr*           6:24       13:53    20:55    6:45  Montgomery Blair (Mtg
   29    26  Iona Machado, Sr*                6:24       13:55    20:56    6:45  Thomas Wootton (Mtg)
   30    27  Brittany View, Jr*               6:31       14:04    20:57    6:45  Eleanor Roosevelt (Pg
   31    28  Stephanie Joson, So*             6:28       13:54    20:58    6:46  Quince Orchard (Mtg)
   32        Courtney Whalen, Sr*             6:38       13:59    21:00    6:46  Magruder (Mtg)
   33    29  Shayna Barbash, So*              6:28       13:50    21:01    6:47  Walt Whitman (Mtg)
   34    30  Luyang Liu, Sr*                  6:31       14:01    21:05    6:48  Richard Montgomery (M
   35    31  Kelsey Kenealy, Jr*              6:28       14:04    21:05    6:48  Severna Park (Aa)
   36    32  Whitney Hora, So*                6:38       14:03    21:06    6:48  C. Milton Wright (Hfd
   37    33  Olivia Webster, Sr*              6:38       14:07    21:08    6:49  Leonardtown (Stm)
   38    34  Mary Fromme, Jr*                 6:36       14:12    21:11    6:50  South River (Aa)
   39    35  Maryam Fikri, So*                6:20       14:09    21:13    6:50  Winston Churchill (Mt
   40    36  Anika Stark, Jr*                 6:29       14:05    21:15    6:51  Bowie (Pg)
   41    37  Sarah Britton, Sr*               6:32       14:09    21:15    6:51  Richard Montgomery (M
   42    38  Bridgett Nolan, So*              6:50       14:14    21:15    6:51  Linganore (Fre)
   43    39  Sadie Dempsey, So*               6:29       14:07    21:19    6:52  Severna Park (Aa)
   44    40  Jen Bae, Jr*                     6:39       14:26    21:22    6:53  Dulaney (Bco)
   45    41  Brittany Ogun-Mokun, Jr*         6:31       14:09    21:22    6:54  Eleanor Roosevelt (Pg
   46    42  Alana Moore, Jr*                 6:27       14:07    21:23    6:54  Richard Montgomery (M
   47    43  Miranda Heater, Jr*              6:50       14:29    21:28    6:55  South River (Aa)
   48    44  Jessica Gass, So*                6:36       14:20    21:28    6:55  Leonardtown (Stm)
   49    45  Hannah McKenzie, Jr*             6:43       14:24    21:34    6:57  C. Milton Wright (Hfd
   50    46  Anna Frowein, Fr*                6:41       14:30    21:35    6:57  Leonardtown (Stm)
   51    47  Katlyn Dillow, Sr*               6:35       14:26    21:37    6:58  Leonardtown (Stm)
   52    48  Owoade Ayorinde, Sr*             6:24       14:13    21:38    6:59  Winston Churchill (Mt
   53    49  Hillary Siegall, So*             6:51       14:36    21:39    6:59  Northwest (Mtg)
   54    50  Sarah Sekscienski, Fr*           6:45       14:23    21:41    7:00  Northwest (Mtg)
   55    51  Melissa Maczis, Sr*              6:37       14:22    21:42    7:00  Linganore (Fre)
   56    52  Sophie Jacobson, So*             6:36       14:28    21:44    7:01  Winston Churchill (Mt
   57    53  Kate Allaway, So*                6:45       14:30    21:46    7:01  Northwest (Mtg)
   58        Katie Barbour, Sr*               6:50       14:27    21:47    7:02  Arundel (Aa)
   59        Deseree King, So*                6:24       14:20    21:50    7:02  Oxon Hill (Pg)
   60    54  Kerry Nisson, Sr*                6:24       14:22    21:54    7:04  Thomas Wootton (Mtg)
   61    55  Emma Eckerstrom, So*             6:51       14:47    21:55    7:04  Northwest (Mtg)
   62    56  Laura Blevins, Jr*               6:53       14:42    21:56    7:04  Chesapeake (Aa)
   63    57  Allison Eaton, Sr*               6:49       14:45    21:59    7:05  Westminster (Car)
   64    58  Johne Vera, Jr*                  6:32       14:26    22:05    7:07  Winston Churchill (Mt
   65    59  Jen Sanchez, Jr*                 6:46       14:39    22:06    7:08  Dulaney (Bco)
   66    60  Andi Sunshine, Jr*               6:49       14:42    22:06    7:08  Walt Whitman (Mtg)
   67        Lindsay Holland, Fr*             6:41       14:47    22:16    7:11  North County (Aa)
   68    61  Teresa Cronin, So*               6:51       14:49    22:17    7:11  Sherwood (Mtg)
   69    62  Hannah Rivers, Sr*               6:55       14:56    22:20    7:12  South River (Aa)
   70    63  Natilie Dillow, So*              6:56       14:51    22:20    7:12  Leonardtown (Stm)
   71    64  Dawn Rainbolt, Sr*               6:46       14:41    22:22    7:13  Quince Orchard (Mtg)
   72    65  Melissa Goleb, Sr*               6:49       14:50    22:23    7:13  Quince Orchard (Mtg)
   73    66  Ali Thompson, Jr*                6:46       14:48    22:25    7:14  Westminster (Car)
   74    67  Jennifer Steinweg, Jr*           6:51       14:54    22:33    7:16  Broadneck (Aa)
   75    68  Lindsay Lippencott, Sr*          6:46       14:53    22:34    7:16  C. Milton Wright (Hfd
   76    69  Tasha Stanley, Sr*               6:23       14:07    22:34    7:17  Eleanor Roosevelt (Pg
   77    70  Katie Cox, Fr*                   6:55       15:03    22:35    7:17  Dulaney (Bco)
   78    71  Chris Patrick, Fr*               6:53       15:06    22:35    7:17  Severna Park (Aa)
   79    72  Julia Mertz, Jr*                 6:38       14:44    22:35    7:17  Richard Montgomery (M
   80    73  Kelsey Igo, So*                  7:04       15:08    22:40    7:18  Thomas Johnson (Fre)
   81    74  Anna Sprout, Jr*                 7:05       15:12    22:40    7:19  Leonardtown (Stm)
   82    75  Stephanie Bryan, So*             7:04         :00    22:40    7:19  Thomas Johnson (Fre)
   83    76  Savanna Plombon, Fr*             7:07       15:10    22:41    7:19  Thomas Johnson (Fre)
   84    77  T'Nay Williams, So*              6:46       15:08    22:41    7:19  Ch Flowers (Pg)
   85    78  Ellyn Hopper, So*                6:46       15:01    22:41    7:19  Broadneck (Aa)
   86        Molly Donovan, Sr*               6:49       15:00    22:45    7:20  North Carroll (Car)
   87    79  Aimee Shafer, Sr*                7:10       15:14    22:46    7:21  Thomas Johnson (Fre)
   88    80  Megan Irminger, So*              6:49       15:07    22:48    7:21  Severna Park (Aa)
   89    81  Amanda Pollander, Jr*            6:52       15:08    22:49    7:21  Broadneck (Aa)
   90    82  Asia Lewis, So*                  6:53       15:27    22:50    7:22  Ch Flowers (Pg)
   91    83  Meghan Dunn, Sr*                 6:56       15:13    22:51    7:22  Sherwood (Mtg)
   92    84  Kelsey Hill, Jr*                 6:40       15:09    22:51    7:22  Severna Park (Aa)
   93    85  Abby Iacangelo, Fr*              7:04       15:16    22:52    7:23  Sherwood (Mtg)
   94    86  Jenny Donoghue, Jr*              7:10       15:14    22:54    7:23  Thomas Johnson (Fre)
   95    87  Kattie Phipps, Jr*               7:09       15:18    22:58    7:24  Chesapeake (Aa)
   96    88  Jenna Brown, Sr*                 7:16       15:30    23:00    7:25  Westminster (Car)
   97    89  Cali Copsey, So*                 6:58       15:21    23:00    7:25  Leonardtown (Stm)
   98    90  Katie Maranto, Sr*               6:56       15:12    23:01    7:25  Chesapeake (Aa)
   99    91  Zawadi Rowe, Sr*                 6:59       15:22    23:02    7:26  Eleanor Roosevelt (Pg
  100    92  Melanie Stern, Fr*               6:54       15:15    23:02    7:26  Walt Whitman (Mtg)
  101    93  Caitlin Phillips, Jr*            7:02       15:17    23:06    7:27  South River (Aa)
  102    94  Erin Manion, Sr*                 7:03       15:26    23:07    7:27  Linganore (Fre)
  103    95  Sarah Shannahan, Sr*             6:56       15:17    23:07    7:27  Walt Whitman (Mtg)
  104    96  Amanda Caudle, Jr*               7:10       15:26    23:08    7:28  Thomas Johnson (Fre)
  105    97  Casey Haddaway, Jr*              7:17       15:30    23:09    7:28  Westminster (Car)
  106    98  Josie Fillat, So*                7:05       15:29    23:12    7:29  Chesapeake (Aa)
  107    99  Alexa Becker, So*                6:57       15:27    23:14    7:29  Sherwood (Mtg)
  108   100  Camille Washington, So*          6:51       15:28    23:16    7:30  Ch Flowers (Pg)
  109   101  Lindsay Blank, Jr*               7:06       15:30    23:18    7:31  Sherwood (Mtg)
  110   102  Eva Rodezno, Jr*                 7:04       15:33    23:19    7:31  Richard Montgomery (M
  111   103  Denae Ford, So*                  7:04       15:34    23:21    7:32  Ch Flowers (Pg)
  112   104  Megan Passero, So*               7:03       15:37    23:24    7:33  South River (Aa)
  113   105  Rachel Pulley, Sr*               7:07       15:29    23:30    7:35  Linganore (Fre)
  114   106  Amy Levine, So*                  7:02       15:28    23:31    7:35  Thomas Wootton (Mtg)
  115   107  Andrea Hendrix, Jr*              7:13       15:41    23:33    7:36  Chesapeake (Aa)
  116   108  Fatima Resendez, Fr*             7:05       15:34    23:33    7:36  Richard Montgomery (M
  117   109  Eileen Donoghue, Fr*             7:18       15:49    23:36    7:37  Thomas Johnson (Fre)
  118   110  Grace Corbett, Sr*               7:06       15:32    23:36    7:37  Sherwood (Mtg)
  119   111  Briana Rotello, So*              7:05       15:40    23:38    7:37  Thomas Wootton (Mtg)
  120   112  Heather Gula, Jr*                7:14       15:53    23:41    7:38  Linganore (Fre)
  121   113  Amanda Pinzon, Sr*               7:15       15:57    23:47    7:40  Richard Montgomery (M
  122   114  Jacelyn St Regis, So*            7:21       15:56    23:55    7:43  Quince Orchard (Mtg)
  123   115  Mariah Smith, So*                7:26       16:03    24:03    7:45  Broadneck (Aa)
  124   116  Laura Gomez, Sr*                 6:49       15:46    24:05    7:46  Quince Orchard (Mtg)
  125   117  Victoria Rainbolt, Fr*           7:20       15:59    24:06    7:46  Quince Orchard (Mtg)
  126   118  Abby Peller, So*                 7:22       16:21    24:11    7:48  Thomas Wootton (Mtg)
  127   119  Erin Laird, Sr*                  7:34       16:18    24:13    7:49  Westminster (Car)
  128   120  Kortnie Walker, So*              7:10       16:03    24:15    7:49  Chesapeake (Aa)
  129   121  Stephanie Wight, Sr*             7:20       16:11    24:15    7:49  Sherwood (Mtg)
  130        Rachelle Bernadel, Jr*           7:11       16:09    24:15    7:49  Parkdale (Pg)
  131   122  Kylie Marinzel, Fr*              7:22       16:04    24:24    7:52  South River (Aa)
  132   123  Megan Cyhanick, Jr*              7:34       16:28    24:26    7:53  Westminster (Car)
  133   124  Steph Shugars, So*               7:34       16:26    24:27    7:53  Westminster (Car)
  134   125  Amanda Quiumette, Jr*            7:15       15:53    24:27    7:53  Linganore (Fre)
  135   126  Courtney Cox, So*                7:36       16:36    25:07    8:06  Bowie (Pg)
  136   127  Jessica Rilee, Sr*               7:10       16:28    25:16    8:09  Chesapeake (Aa)
  137   128  Margaret Brinkley, So*           7:33       16:45    25:17    8:09  Linganore (Fre)
  138   129  Stephanie Lipscomb, Sr*          7:28       17:04    25:27    8:12  Ch Flowers (Pg)
  139   130  Gianna Summa, Fr*                7:34       16:55    25:28    8:13  Broadneck (Aa)
  140        Shanita Williams, Jr*            7:32       17:21    25:43    8:18  Henry Wise (Pg)
  141   131  Stephanie Hicks, Jr*             7:34       17:13    26:06    8:25  Broadneck (Aa)
  142   132  Monique Dykman, So*              7:47       17:42    27:12    8:46  Broadneck (Aa)
  143   133  Tina Dang, Jr*                    :00       18:51    28:15    9:07  Bowie (Pg)
  144   134  Kiarra Jamison, Fr*               :00       18:48    28:23    9:09  Bowie (Pg)
  145   135  Dara Martin, Fr*                  :00       18:54    28:24    9:09  Bowie (Pg)
  146   136  Taneesha Tate-Robinson, Jr*       :00       19:01    28:33    9:12  Bowie (Pg)
"*" indicates females
18 finishers among Women 1 & Under
42 finishers among Women 2 - 2
39 finishers among Women 3 - 3
47 finishers among Women 4 & Up
0 male finishers
146 female finishers
146 total finishers


3A Boys
MARYLAND XC 3A BOYS 5K

Hereford, MD

Nov. 10, 2007


Results by RUNHIGH.COM


PLACE  TEAM                  POINTS  PLACES OF FINISHERS              AVG. TIME    SPREAD

  1   Bethesda-Cc (Mtg)        89    5    7   18   21   38   72   76   17:31      1:06
  2   Wilde Lake (How)         90    6    8   19   24   33   74  104   17:32        53
  3   Urbana (Fre)            121    2   14   25   35   45   52   91   17:40      1:42
  4   Bel Air (Hfd)           158   13   15   36   39   55   56   65   17:56      1:11
  5   Damascus (Mtg)          172    4   30   40   47   51   57   66   18:00      1:29
  6   Hereford (Bco)          199   20   37   43   49   50   53   59   18:11        49
  7   Centennial (How)        213   17   32   34   41   89  101  107   18:12      1:37
  8   Northeast (Cec)         223   10   23   28   54  108  126  138   18:10      2:13
  9   Towson (Bco)            224    9   12   58   64   81   87  118   18:11      1:52
 10   Atholton (How)          249    3   22   63   79   82   88  115   18:16      2:12
 11   Howard (How)            261    1   42   67   68   83   92  114   18:16      2:50
 12   Reservoir (How)         297   26   46   48   75  102  141  143   18:34      1:35
 13   Northern (Cal)          395   11   62   93  110  119  133  137   18:55      2:31
 14   Albert Einstein (Mtg)   414   16   27  100  129  142  147        19:05      3:10
 15   Chopticon (Stm)         416   70   73   80   95   98  106  130   19:04        24
 16   La Plata (Cha)          441   31   44  121  122  123  128  144   19:12      1:58
 17   Catonsville (Bco)       448   69   77   90   96  116  117  134   19:12        55
 18   Frederick (Fre)         449   60   84   85  109  111  112  113   19:12        55
 19   Huntingtown (Cal)       500   71   78   94  125  132  135  145   19:28      1:25
 20   Watkins Mill (Mtg)      506   29   99  120  127  131  136  151   19:28      2:27
 21   Mergenthaler (Bal)      508   61   86   97  124  140  149        19:31      1:57
 22   Great Mills (Stm)       641  103  105  139  146  148  150  152   20:32      2:29
 23   Friendly (Pg)           775  153  154  155  156  157  158        25:32      2:42

Individuals

1. Bethesda-Cc (Mtg)
    5  Dylan Straughan, Jr         17:03    5:30
    7  Kyle Short, Sr              17:10    5:32
   18  Matt Davey-Karlson, Jr      17:34    5:40
   21  Alex Prevost, Jr            17:38    5:41
   38  Walter Beller-Morales, Sr   18:09    5:51
   72  Andrew Finkelstein, So      18:53    6:05
   76  James Lough, Jr             19:00    6:08
Time = 1:27:33     Places = 89

2. Wilde Lake (How)
    6  Jonathan Sham, Jr           17:08    5:32
    8  Derek Lange, Sr             17:12    5:33
   19  Johnny Henderson, Sr        17:37    5:41
   24  Evan Anderson, Jr           17:42    5:42
   33  Walter Frauman, Jr          18:00    5:48
   74  Nicholas Allera, Jr         18:57    6:06
  104  Michael Lazris, Fr          19:23    6:15
Time = 1:27:37     Places = 90

3. Urbana (Fre)
    2  Dyland Bernard, Sr          16:41    5:23
   14  Nick Huang, Jr              17:26    5:37
   25  Jimmy Miller, So            17:43    5:43
   35  Ellery Murdock, Jr          18:05    5:50
   45  Matt Bozzonetti, Sr         18:23    5:56
   52  Andy Stakem, Sr             18:30    5:58
   91  Ryan Fagan, Jr              19:11    6:11
Time = 1:28:16     Places = 121

4. Bel Air (Hfd)
   13  Brandon Roposko, Jr         17:23    5:36
   15  Alex Lohrmann               17:30    5:38
   36  Mike Evans, Jr              18:05    5:50
   39  Nick Cook, So               18:10    5:51
   55  Matt Cross, Sr              18:34    5:59
   56  Brandon Smith, Fr           18:36    6:00
   65  Will Tanenbaur              18:46    6:03
Time = 1:29:40     Places = 158

5. Damascus (Mtg)
    4  Wil Zahorodny, Sr           16:59    5:29
   30  Thomas Arias, So            17:55    5:47
   40  Ben Constantinides, So      18:14    5:53
   47  Jonathan Constantinides, So 18:24    5:56
   51  Charlie Ramirez, Fr         18:28    5:57
   57  Billy Thane, So             18:37    6:00
   66  Sam Weeks, Jr               18:48    6:04
Time = 1:29:59     Places = 172

6. Hereford (Bco)
   20  Ryan Chelton                17:38    5:41
   37  John Steinbacher            18:07    5:51
   43  Andy Passmore               18:20    5:55
   49  Scott Mead                  18:26    5:56
   50  John Riemer                 18:26    5:57
   53  Colin McKee                 18:30    5:58
   59  Gordon Covington            18:39    6:01
Time = 1:30:54     Places = 199

7. Centennial (How)
   17  Brian Larson, Sr            17:32    5:39
   32  Andreas Mitchell, Jr        18:00    5:48
   34  Matt Francis, Sr            18:01    5:49
   41  Eric Feinstein, Jr          18:16    5:54
   89  Yungpeng Gao, So            19:09    6:11
  101  Daniel Coleman, So          19:21    6:14
  107  Kevin Schmid, Jr            19:28    6:17
Time = 1:30:57     Places = 213

8. Northeast (Cec)
   10  Rico Borrero, Sr            17:17    5:34
   23  Nick Weddle, Sr             17:40    5:42
   28  Joe Rosenthal, Jr           17:49    5:45
   54  Justin Emerson, So          18:32    5:59
  108  Matt Grenagle, Sr           19:30    6:17
  126  Autin Lopez, Jr             19:59    6:27
  138  Marty Beckner, Jr           20:32    6:37
Time = 1:30:47     Places = 223

9. Towson (Bco)
    9  Jay Thierer                 17:13    5:33
   12  Mason Campbell              17:20    5:35
   58  Ryan Davis                  18:38    6:01
   64  Blake Davis                 18:42    6:02
   81  Alan O'Donnel               19:04    6:09
   87  Justin Mayhew               19:09    6:10
  118  Drew Landerman              19:48    6:23
Time = 1:30:54     Places = 224

10. Atholton (How)
    3  Graham Bazell, Jr           16:54    5:27
   22  Michael Lynch, Jr           17:38    5:41
   63  Kyle Werner, Sr             18:41    6:02
   79  Van Jackson, Jr             19:02    6:08
   82  Matt Pacheco, So            19:05    6:09
   88  Rylan King, Fr              19:09    6:11
  115  Connor Belson, Jr           19:44    6:22
Time = 1:31:19     Places = 249

11. Howard (How)
    1  Joey Thompson, Sr           16:16    5:15
   42  Alex Moberg, Sr             18:18    5:54
   67  Josh Soloman, So            18:50    6:04
   68  Thomas Hoesman, Sr          18:50    6:05
   83  Josh Clark, Sr              19:06    6:09
   92  Will Dyer, Jr               19:12    6:12
  114  Dominque Hoskin, Fr         19:41    6:21
Time = 1:31:19     Places = 261

12. Reservoir (How)
   26  Ryan Cavanaugh, Jr          17:46    5:44
   46  Matt Bennett, So            18:23    5:56
   48  Jake Williams, Jr           18:25    5:56
   75  Eric Schuler, Fr            18:58    6:07
  102  Brian Macfarland, So        19:21    6:14
  141  David Kozlowski, Sr         20:38    6:39
  143  Chris Folwer, So            20:49    6:43
Time = 1:32:50     Places = 297

13. Northern (Cal)
   11  Andrew Cerrito, Jr          17:18    5:35
   62  Mark Mansor, Sr             18:41    6:01
   93  Timothy Dowell, Jr          19:13    6:12
  110  Williams Spann, Fr          19:35    6:19
  119  Steven Chow, Sr             19:49    6:23
  133  Stephen Flowers, Jr         20:18    6:33
  137  Patrick Odell, So           20:28    6:36
Time = 1:34:33     Places = 395

14. Albert Einstein (Mtg)
   16  Alex Bodaken, Sr            17:32    5:39
   27  Sebastian Devlin-Foltz, Sr  17:46    5:44
  100  Milo Johnson, Fr            19:16    6:13
  129  Jonah Zinn, Sr              20:11    6:30
  142  Benjamin Rivers, So         20:41    6:40
  147  Martin Swift, Sr            21:41    7:00
Time = 1:35:24     Places = 414

15. Chopticon (Stm)
   70  Jamie Thorne, Jr            18:52    6:05
   73  Joey Groeger, Jr            18:53    6:05
   80  David Deboe, Sr             19:04    6:09
   95  Chris Bruce, Sr             19:14    6:12
   98  Jacob Schmid, Jr            19:15    6:13
  106  Tyler Rose, Sr              19:28    6:17
  130  Sean Keating, So            20:14    6:31
Time = 1:35:16     Places = 416

16. La Plata (Cha)
   31  Theodore Green, Sr          17:58    5:47
   44  Patrick O'Clair, Jr         18:21    5:55
  121  Jonathan Mattingly, So      19:51    6:24
  122  Kevin Farley, So            19:52    6:24
  123  James Hancock, So           19:55    6:25
  128  Thomas Brannon, Sr          20:07    6:29
  144  Mike Garrow, Jr             21:09    6:49
Time = 1:35:56     Places = 441

17. Catonsville (Bco)
   69  Kyle Prendergast            18:51    6:05
   77  Ty Stump                    19:01    6:08
   90  Chris Fawcett, Sr           19:11    6:11
   96  Philip Clelland, Jr         19:14    6:12
  116  Kent Brinks, Jr             19:45    6:22
  117  Ben Greason                 19:47    6:23
  134  Kyle Crum, So               20:19    6:33
Time = 1:36:00     Places = 448

18. Frederick (Fre)
   60  Robert Schultz, Sr          18:40    6:01
   84  Anthony Cecchetti, So       19:06    6:10
   85  Matt Barretto, So           19:07    6:10
  109  George Martinez, Fr         19:34    6:19
  111  Shawn Brothers, Sr          19:35    6:19
  112  Kyle Cooper, Fr             19:36    6:19
  113  Reed Wilkinson, So          19:36    6:19
Time = 1:36:00     Places = 449

19. Huntingtown (Cal)
   71  Kyle Cook, Sr               18:52    6:05
   78  Andrew McLean, Jr           19:02    6:08
   94  Bryant Strong, Sr           19:13    6:12
  125  Tim Krause, Jr              19:57    6:26
  132  Nate Dawes, So              20:16    6:32
  135  C J. Filippi, Sr            20:21    6:34
  145  Zack Ray, Sr                21:27    6:55
Time = 1:37:18     Places = 500

20. Watkins Mill (Mtg)
   29  David Gaynor, Jr            17:49    5:45
   99  Chris Kaczmarek, Sr         19:16    6:13
  120  Ryan King, Sr               19:50    6:24
  127  Marko Modric, Jr            20:07    6:29
  131  Tanner Brophy, So           20:16    6:32
  136  Jed Lingat, Sr              20:25    6:35
  151  David Anderson, Sr          23:25    7:33
Time = 1:37:16     Places = 506

21. Mergenthaler (Bal)
   61  Aaron Moon                  18:40    6:01
   86  Anthony Rogers              19:07    6:10
   97  Devin Mickins               19:15    6:12
  124  Edward Brown                19:55    6:25
  140  Anthony Williams            20:37    6:39
  149  Marcus Coleman              22:08    7:08
Time = 1:37:33     Places = 508

22. Great Mills (Stm)
  103  Scott Smoot, Sr             19:23    6:15
  105  Kevin Kayser, Fr            19:28    6:16
  139  Jackson Holdon, Fr          20:33    6:38
  146  Kevin Helm, So              21:28    6:55
  148  Jacob Stansfield, Fr        21:51    7:03
  150  Travis Reavis, So           23:07    7:27
  152  Kyle Jordan, Fr             23:39    7:38
Time = 1:42:39     Places = 641

23. Friendly (Pg)
  153  Mercurius Winston, Jr       24:12    7:48
  154  George Latson, Jr           24:29    7:54
  155  Vincent Jones, Jr           26:01    8:23
  156  Albert Thomas, Jr           26:02    8:24
  157  Brian Motley, Sr            26:54    8:41
  158  Henry Young, So             28:23    9:09
Time = 2:07:36     Places = 775
Top

        TEAM                                  1M          2M        FINAL
 PLACE SCORE           FINISHER              TIME        TIME        TIME      PACE        TEAM

    1     1  Joey Thompson, Sr                5:04       10:48    16:16    5:15  Howard (How)
    2     2  Dyland Bernard, Sr               5:04       11:01    16:41    5:23  Urbana (Fre)
    3     3  Graham Bazell, Jr                5:02       11:09    16:54    5:27  Atholton (How)
    4     4  Wil Zahorodny, Sr                5:06       11:10    16:59    5:29  Damascus (Mtg)
    5     5  Dylan Straughan, Jr              5:16       11:26    17:03    5:30  Bethesda-Cc (Mtg)
    6     6  Jonathan Sham, Jr                5:18       11:25    17:08    5:32  Wilde Lake (How)
    7     7  Kyle Short, Sr                   5:15       11:27    17:10    5:32  Bethesda-Cc (Mtg)
    8     8  Derek Lange, Sr                  5:19       11:28    17:12    5:33  Wilde Lake (How)
    9     9  Jay Thierer                      5:25       11:34    17:13    5:33  Towson (Bco)
   10    10  Rico Borrero, Sr                 5:23       11:35    17:17    5:34  Northeast (Cec)
   11        Christian Smooth, Jr             5:22       11:34    17:18    5:35  Annapolis (Aa)
   12    11  Andrew Cerrito, Jr               5:24       11:38    17:18    5:35  Northern (Cal)
   13    12  Mason Campbell                   5:09       11:23    17:20    5:35  Towson (Bco)
   14    13  Brandon Roposko, Jr              5:19       11:29    17:23    5:36  Bel Air (Hfd)
   15    14  Nick Huang, Jr                   5:29       11:38    17:26    5:37  Urbana (Fre)
   16    15  Alex Lohrmann                    5:22       11:37    17:30    5:38  Bel Air (Hfd)
   17    16  Alex Bodaken, Sr                 5:27       11:44    17:32    5:39  Albert Einstein (Mtg)
   18    17  Brian Larson, Sr                 5:30       11:42    17:32    5:39  Centennial (How)
   19    18  Matt Davey-Karlson, Jr           5:39       11:51    17:34    5:40  Bethesda-Cc (Mtg)
   20    19  Johnny Henderson, Sr             5:33       11:50    17:37    5:41  Wilde Lake (How)
   21    20  Ryan Chelton                     5:32       11:47    17:38    5:41  Hereford (Bco)
   22    21  Alex Prevost, Jr                 5:39       11:51    17:38    5:41  Bethesda-Cc (Mtg)
   23    22  Michael Lynch, Jr                5:32       11:46    17:38    5:41  Atholton (How)
   24    23  Nick Weddle, Sr                  5:31       11:43    17:40    5:42  Northeast (Cec)
   25    24  Evan Anderson, Jr                5:31       11:47    17:42    5:42  Wilde Lake (How)
   26    25  Jimmy Miller, So                 5:29       11:48    17:43    5:43  Urbana (Fre)
   27    26  Ryan Cavanaugh, Jr               5:35       11:54    17:46    5:44  Reservoir (How)
   28    27  Sebastian Devlin-Foltz, Sr       5:27       11:49    17:46    5:44  Albert Einstein (Mtg)
   29    28  Joe Rosenthal, Jr                5:31       11:47    17:49    5:45  Northeast (Cec)
   30    29  David Gaynor, Jr                 5:36       11:50    17:49    5:45  Watkins Mill (Mtg)
   31    30  Thomas Arias, So                 5:34       11:58    17:55    5:47  Damascus (Mtg)
   32    31  Theodore Green, Sr               5:23       11:53    17:58    5:47  La Plata (Cha)
   33    32  Andreas Mitchell, Jr             5:32       11:55    18:00    5:48  Centennial (How)
   34    33  Walter Frauman, Jr               5:34       11:57    18:00    5:48  Wilde Lake (How)
   35    34  Matt Francis, Sr                 5:32       11:56    18:01    5:49  Centennial (How)
   36    35  Ellery Murdock, Jr               5:30       12:00    18:05    5:50  Urbana (Fre)
   37    36  Mike Evans, Jr                   5:30       11:51    18:05    5:50  Bel Air (Hfd)
   38    37  John Steinbacher                 5:30       11:57    18:07    5:51  Hereford (Bco)
   39    38  Walter Beller-Morales, Sr        5:39       12:09    18:09    5:51  Bethesda-Cc (Mtg)
   40    39  Nick Cook, So                    5:38       12:05    18:10    5:51  Bel Air (Hfd)
   41    40  Ben Constantinides, So           5:28       11:59    18:14    5:53  Damascus (Mtg)
   42    41  Eric Feinstein, Jr               5:43       12:13    18:16    5:54  Centennial (How)
   43    42  Alex Moberg, Sr                  5:34       12:11    18:18    5:54  Howard (How)
   44    43  Andy Passmore                    5:46       12:18    18:20    5:55  Hereford (Bco)
   45    44  Patrick O'Clair, Jr              5:34       12:09    18:21    5:55  La Plata (Cha)
   46    45  Matt Bozzonetti, Sr              5:35       12:14    18:23    5:56  Urbana (Fre)
   47    46  Matt Bennett, So                 5:35       12:12    18:23    5:56  Reservoir (How)
   48    47  Jonathan Constantinides, So      5:24       12:02    18:24    5:56  Damascus (Mtg)
   49    48  Jake Williams, Jr                5:37       12:17    18:25    5:56  Reservoir (How)
   50    49  Scott Mead                       5:40       12:12    18:26    5:56  Hereford (Bco)
   51    50  John Riemer                      5:41       12:08    18:26    5:57  Hereford (Bco)
   52        Josh Day, Jr                     5:36       12:14    18:26    5:57  Meade (Aa)
   53    51  Charlie Ramirez, Fr              5:39       12:14    18:28    5:57  Damascus (Mtg)
   54    52  Andy Stakem, Sr                  5:38       12:17    18:30    5:58  Urbana (Fre)
   55    53  Colin McKee                      5:47       12:20    18:30    5:58  Hereford (Bco)
   56    54  Justin Emerson, So               5:39       12:22    18:32    5:59  Northeast (Cec)
   57    55  Matt Cross, Sr                   5:32       12:17    18:34    5:59  Bel Air (Hfd)
   58    56  Brandon Smith, Fr                5:41       12:23    18:36    6:00  Bel Air (Hfd)
   59    57  Billy Thane, So                  5:38       12:24    18:37    6:00  Damascus (Mtg)
   60    58  Ryan Davis                       5:49       12:28    18:38    6:01  Towson (Bco)
   61    59  Gordon Covington                 5:40       12:11    18:39    6:01  Hereford (Bco)
   62    60  Robert Schultz, Sr               5:49       12:32    18:40    6:01  Frederick (Fre)
   63    61  Aaron Moon                       5:49       12:33    18:40    6:01  Mergenthaler (Bal)
   64    62  Mark Mansor, Sr                  5:52       12:30    18:41    6:01  Northern (Cal)
   65    63  Kyle Werner, Sr                  5:41       12:25    18:41    6:02  Atholton (How)
   66    64  Blake Davis                      5:42       12:18    18:42    6:02  Towson (Bco)
   67        Nicholas Schmidding, Sr          5:48       12:29    18:42    6:02  Paint Branch (Mtg)
   68    65  Will Tanenbaur                   5:45       12:30    18:46    6:03  Bel Air (Hfd)
   69        Chase Holmes, Jr                 5:50       12:29    18:46    6:03  Tuscarora (Fre)
   70    66  Sam Weeks, Jr                    5:38       12:27    18:48    6:04  Damascus (Mtg)
   71    67  Josh Soloman, So                 5:57       12:42    18:50    6:04  Howard (How)
   72    68  Thomas Hoesman, Sr               5:52       12:37    18:50    6:05  Howard (How)
   73    69  Kyle Prendergast                 6:02       12:39    18:51    6:05  Catonsville (Bco)
   74    70  Jamie Thorne, Jr                 5:43       12:36    18:52    6:05  Chopticon (Stm)
   75    71  Kyle Cook, Sr                    5:47       12:31    18:52    6:05  Huntingtown (Cal)
   76    72  Andrew Finkelstein, So           5:49       12:38    18:53    6:05  Bethesda-Cc (Mtg)
   77    73  Joey Groeger, Jr                 5:44       12:38    18:53    6:05  Chopticon (Stm)
   78    74  Nicholas Allera, Jr              5:58       12:42    18:57    6:06  Wilde Lake (How)
   79    75  Eric Schuler, Fr                 5:55       12:42    18:58    6:07  Reservoir (How)
   80        Jeff Rohde                       5:40       12:37    18:59    6:07  Franklin (Bco)
   81    76  James Lough, Jr                  5:40       12:28    19:00    6:08  Bethesda-Cc (Mtg)
   82    77  Ty Stump                         6:03       12:45    19:01    6:08  Catonsville (Bco)
   83    78  Andrew McLean, Jr                5:37       12:23    19:02    6:08  Huntingtown (Cal)
   84    79  Van Jackson, Jr                  5:54       12:43    19:02    6:08  Atholton (How)
   85    80  David Deboe, Sr                  5:55       12:41    19:04    6:09  Chopticon (Stm)
   86    81  Alan O'Donnel                    5:57       12:46    19:04    6:09  Towson (Bco)
   87    82  Matt Pacheco, So                 5:48       12:40    19:05    6:09  Atholton (How)
   88    83  Josh Clark, Sr                   5:52       12:43    19:06    6:09  Howard (How)
   89    84  Anthony Cecchetti, So            5:57       12:50    19:06    6:10  Frederick (Fre)
   90    85  Matt Barretto, So                5:53       12:39    19:07    6:10  Frederick (Fre)
   91    86  Anthony Rogers                   5:48       12:48    19:07    6:10  Mergenthaler (Bal)
   92    87  Justin Mayhew                    5:48       12:47    19:09    6:10  Towson (Bco)
   93    88  Rylan King, Fr                   5:55       12:41    19:09    6:11  Atholton (How)
   94    89  Yungpeng Gao, So                 6:03       12:46    19:09    6:11  Centennial (How)
   95        Chris Healy                      5:57       12:48    19:10    6:11  Dundalk (Bco)
   96    90  Chris Fawcett, Sr                5:48       12:40    19:11    6:11  Catonsville (Bco)
   97    91  Ryan Fagan, Jr                   5:49       12:45    19:11    6:11  Urbana (Fre)
   98    92  Will Dyer, Jr                    5:56       12:45    19:12    6:12  Howard (How)
   99    93  Timothy Dowell, Jr               5:58       12:50    19:13    6:12  Northern (Cal)
  100    94  Bryant Strong, Sr                5:53       12:49    19:13    6:12  Huntingtown (Cal)
  101    95  Chris Bruce, Sr                  5:54       12:49    19:14    6:12  Chopticon (Stm)
  102    96  Philip Clelland, Jr              6:01       12:50    19:14    6:12  Catonsville (Bco)
  103    97  Devin Mickins                    5:49       12:48    19:15    6:12  Mergenthaler (Bal)
  104    98  Jacob Schmid, Jr                 5:47       12:49    19:15    6:13  Chopticon (Stm)
  105    99  Chris Kaczmarek, Sr              5:38       12:44    19:16    6:13  Watkins Mill (Mtg)
  106   100  Milo Johnson, Fr                 6:03       12:54    19:16    6:13  Albert Einstein (Mtg)
  107   101  Daniel Coleman, So               6:03       12:50    19:21    6:14  Centennial (How)
  108   102  Brian Macfarland, So             5:58       12:58    19:21    6:14  Reservoir (How)
  109   103  Scott Smoot, Sr                  5:52       12:48    19:23    6:15  Great Mills (Stm)
  110   104  Michael Lazris, Fr               5:59       12:37    19:23    6:15  Wilde Lake (How)
  111   105  Kevin Kayser, Fr                 6:00       12:57    19:28    6:16  Great Mills (Stm)
  112   106  Tyler Rose, Sr                   6:07       13:06    19:28    6:17  Chopticon (Stm)
  113   107  Kevin Schmid, Jr                 5:54       12:47    19:28    6:17  Centennial (How)
  114   108  Matt Grenagle, Sr                6:01       12:53    19:30    6:17  Northeast (Cec)
  115   109  George Martinez, Fr              6:03       12:59    19:34    6:19  Frederick (Fre)
  116   110  Williams Spann, Fr               6:09       13:05    19:35    6:19  Northern (Cal)
  117   111  Shawn Brothers, Sr               6:05       13:04    19:35    6:19  Frederick (Fre)
  118   112  Kyle Cooper, Fr                  6:02       13:02    19:36    6:19  Frederick (Fre)
  119   113  Reed Wilkinson, So               6:04       13:04    19:36    6:19  Frederick (Fre)
  120   114  Dominque Hoskin, Fr              5:58       12:55    19:41    6:21  Howard (How)
  121   115  Connor Belson, Jr                5:51       12:58    19:44    6:22  Atholton (How)
  122   116  Kent Brinks, Jr                  6:02       13:00    19:45    6:22  Catonsville (Bco)
  123   117  Ben Greason                      5:54       13:01    19:47    6:23  Catonsville (Bco)
  124   118  Drew Landerman                   6:05       13:03    19:48    6:23  Towson (Bco)
  125   119  Steven Chow, Sr                  6:10       13:15    19:49    6:23  Northern (Cal)
  126   120  Ryan King, Sr                    6:00       13:08    19:50    6:24  Watkins Mill (Mtg)
  127   121  Jonathan Mattingly, So           6:01       13:19    19:51    6:24  La Plata (Cha)
  128   122  Kevin Farley, So                 5:47       13:05    19:52    6:24  La Plata (Cha)
  129   123  James Hancock, So                6:00       13:09    19:55    6:25  La Plata (Cha)
  130   124  Edward Brown                     6:02       13:18    19:55    6:25  Mergenthaler (Bal)
  131   125  Tim Krause, Jr                   6:08       13:11    19:57    6:26  Huntingtown (Cal)
  132   126  Autin Lopez, Jr                  6:00       12:52    19:59    6:27  Northeast (Cec)
  133   127  Marko Modric, Jr                 6:13       13:28    20:07    6:29  Watkins Mill (Mtg)
  134   128  Thomas Brannon, Sr               6:08       13:29    20:07    6:29  La Plata (Cha)
  135   129  Jonah Zinn, Sr                   6:12       13:26    20:11    6:30  Albert Einstein (Mtg)
  136   130  Sean Keating, So                 6:11       13:30    20:14    6:31  Chopticon (Stm)
  137   131  Tanner Brophy, So                6:13       13:28    20:16    6:32  Watkins Mill (Mtg)
  138   132  Nate Dawes, So                   6:10       13:30    20:16    6:32  Huntingtown (Cal)
  139   133  Stephen Flowers, Jr              6:15       13:27    20:18    6:33  Northern (Cal)
  140   134  Kyle Crum, So                    6:13       13:19    20:19    6:33  Catonsville (Bco)
  141   135  C J. Filippi, Sr                 6:09       13:24    20:21    6:34  Huntingtown (Cal)
  142   136  Jed Lingat, Sr                   6:14       13:31    20:25    6:35  Watkins Mill (Mtg)
  143   137  Patrick Odell, So                6:16       13:37    20:28    6:36  Northern (Cal)
  144   138  Marty Beckner, Jr                6:15       13:35    20:32    6:37  Northeast (Cec)
  145   139  Jackson Holdon, Fr               6:24       13:42    20:33    6:38  Great Mills (Stm)
  146   140  Anthony Williams                 6:15       13:46    20:37    6:39  Mergenthaler (Bal)
  147   141  David Kozlowski, Sr              6:08       13:29    20:38    6:39  Reservoir (How)
  148   142  Benjamin Rivers, So              6:16       13:39    20:41    6:40  Albert Einstein (Mtg)
  149   143  Chris Folwer, So                 6:22       13:58    20:49    6:43  Reservoir (How)
  150   144  Mike Garrow, Jr                  6:25       14:02    21:09    6:49  La Plata (Cha)
  151   145  Zack Ray, Sr                     6:30       14:18    21:27    6:55  Huntingtown (Cal)
  152   146  Kevin Helm, So                   6:18       14:17    21:28    6:55  Great Mills (Stm)
  153   147  Martin Swift, Sr                 6:06       14:15    21:41    7:00  Albert Einstein (Mtg)
  154   148  Jacob Stansfield, Fr             6:40       14:25    21:51    7:03  Great Mills (Stm)
  155   149  Marcus Coleman                   6:35       14:40    22:08    7:08  Mergenthaler (Bal)
  156   150  Travis Reavis, So                6:51       15:17    23:07    7:27  Great Mills (Stm)
  157   151  David Anderson, Sr               7:00       15:24    23:25    7:33  Watkins Mill (Mtg)
  158   152  Kyle Jordan, Fr                  7:03       15:39    23:39    7:38  Great Mills (Stm)
  159   153  Mercurius Winston, Jr            6:24       15:57    24:12    7:48  Friendly (Pg)
  160   154  George Latson, Jr                6:46       15:58    24:29    7:54  Friendly (Pg)
  161   155  Vincent Jones, Jr                7:15       16:29    26:01    8:23  Friendly (Pg)
  162   156  Albert Thomas, Jr                6:46       15:58    26:02    8:24  Friendly (Pg)
  163   157  Brian Motley, Sr                 8:18         :00    26:54    8:41  Friendly (Pg)
  164   158  Henry Young, So                  8:11         :00    28:23    9:09  Friendly (Pg)
"*" indicates females
14 finishers among Men 1 & Under
30 finishers among Men 2 - 2
48 finishers among Men 3 - 3
45 finishers among Men 4 & Up
164 male finishers
0 female finishers
164 total finishers



3A Girls
MARYLAND XC 3A GIRLS 5K
Hereford, MD
Nov. 10, 2007
Results by RUNHIGH.COM
PLACE TEAM POINTS PLACES OF FINISHERS AVG. TIME SPREAD
1 Howard (How) 69 2 9 10 21 27 31 39 21:07 2:15
2 Hereford (Bco) 73 1 4 7 29 32 66 122 21:04 2:39
3 Bel Air (Hfd) 125 15 20 24 28 38 40 72 21:51 58
4 Centennial (How) 144 5 11 17 52 59 69 70 21:51 2:15
5 Damascus (Mtg) 149 8 23 34 41 43 57 78 21:59 1:34
6 Urbana (Fre) 184 18 25 36 42 63 71 74 22:15 1:31
7 Wilde Lake (How) 202 26 35 45 46 50 51 61 22:27 55
8 Meade (Aa) 215 6 30 55 60 64 112 22:22 2:18
9 Annapolis (Aa) 245 33 47 53 54 58 97 100 22:42 41
10 Towson (Bco) 261 13 14 75 79 80 102 103 22:49 2:40
11 Northern (Cal) 273 12 37 62 77 85 121 22:55 3:00
12 Reservoir (How) 280 19 22 48 90 101 115 118 23:12 3:36
13 Bethesda-Cc (Mtg) 312 3 65 67 86 91 99 104 23:11 4:32
14 La Plata (Cha) 341 16 49 82 89 105 124 23:39 3:58
15 Catonsville (Bco) 347 44 56 68 87 92 96 108 23:36 2:17
16 Paint Branch (Mtg) 479 83 84 93 106 113 126 24:54 1:39
17 Huntingtown (Cal) 499 76 81 111 114 117 119 125 25:06 2:25
18 Largo (Pg) 504 73 88 95 120 128 129 25:27 4:05
19 Chopticon (Stm) 518 94 98 107 109 110 116 123 25:24 48
20 Friendly (Pg) 653 127 130 131 132 133 134 28:55 2:06
Individuals
1. Howard (How)
2 Elyse Borisko, Jr* 19:40 6:20
9 Meredith Mill, So* 21:08 6:49
10 Caitlyn Fuller, So* 21:09 6:49
21 Chelsea Foong, Sr* 21:45 7:01
27 Keri Dickens, So* 21:54 7:04
31 Nicole Shouse, Jr* 22:10 7:09
39 Katie Aquino, Sr* 22:22 7:13
Time = 1:45:35 Places = 69
2. Hereford (Bco)
1 Kristen Malloy* 19:36 6:19
4 Shelby Meadowcroft* 20:32 6:37
7 Marta Randall* 20:52 6:44
29 Amelia Tenberg* 22:03 7:07
32 Jamie Dalgeleish* 22:15 7:10
66 Jackie Lamonica* 23:20 7:32
122 Robin Beck* 26:27 8:32
Time = 1:45:16 Places = 73
3. Bel Air (Hfd)
15 Kelsey Hinchliffe, Sr* 21:24 6:54
20 Allison Berg, So* 21:39 6:59
24 Jackie Darrow, Jr* 21:49 7:02
28 Melissa Navin, So* 22:00 7:06
38 Alyssa Dramis, Sr* 22:21 7:13
40 Jamie Freeman, Jr* 22:22 7:13
72 Holly Sweeney, Jr* 23:35 7:36
Time = 1:49:11 Places = 125
4. Centennial (How)
5 Olivia Joseph, Fr* 20:43 6:41
11 Kelsey Abernathy, Fr* 21:09 6:49
17 Chloe Heckman, Jr* 21:32 6:57
52 Amanda Strawitch, Sr* 22:51 7:22
59 Riley Mc Intyre, Jr* 22:57 7:24
69 Alex Wang, Jr* 23:23 7:32
70 Cate Albertini, Jr* 23:24 7:33
Time = 1:49:11 Places = 144
5. Damascus (Mtg)
8 Taylor Colbert, Jr* 20:56 6:45
23 Amanda Zyzak, Sr* 21:49 7:02
34 Janna Domico, Jr* 22:17 7:11
41 Ellen Davis, Jr* 22:24 7:13
43 Tayler King, So* 22:30 7:15
57 Chelsey McMinn, So* 22:55 7:23
78 Alicia Fenner, Sr* 23:49 7:41
Time = 1:49:53 Places = 149
6. Urbana (Fre)
18 Kelly Fauth, Sr* 21:34 6:57
25 Kelly Ramsburg, Jr* 21:52 7:03
36 Kathryn Fossaceca, So* 22:18 7:12
42 Leslie Aird, Jr* 22:27 7:14
63 Megan Lewis, Sr* 23:04 7:26
71 Katie Nordyke, Sr* 23:31 7:35
74 Jessa Coleman, So* 23:45 7:39
Time = 1:51:13 Places = 184
7. Wilde Lake (How)
26 Lindsey Siferd, Jr* 21:53 7:03
35 Olivia Medoff, Fr* 22:18 7:11
45 Sarah Boone, Jr* 22:37 7:18
46 Julie Thumel, So* 22:38 7:18
50 Kelly Hetzler, Sr* 22:47 7:21
51 Anne Schwartzwalder, Fr* 22:49 7:22
61 Annika McGinnis, Fr* 22:58 7:24
Time = 1:52:11 Places = 202
8. Meade (Aa)
6 Jasmine Savage, Jr* 20:48 6:43
30 Jasmine Martin, So* 22:03 7:07
55 Victoria Phillips, So* 22:53 7:23
60 Michaela Washington, So* 22:57 7:24
64 Anna Grimes, Jr* 23:06 7:27
112 Leah Whitt, So* 25:43 8:18
Time = 1:51:46 Places = 215
9. Annapolis (Aa)
33 Casey O'Brien, So* 22:15 7:11
47 Kelsey Swensen, Jr* 22:38 7:18
53 Kathryn Howser, Sr* 22:52 7:22
54 Lindsey Miller, Sr 22:52 7:22
58 Camilla Henriksen, So* 22:56 7:24
97 Montana Geimer, Fr* 25:07 8:06
100 Erin Harmon, Jr* 25:12 8:08
Time = 1:53:30 Places = 245
10. Towson (Bco)
13 Ellie Kavanagh* 21:14 6:51
14 Emma Fesperman* 21:21 6:53
75 Rahchel Pillion* 23:47 7:40
79 Rachel Lieberman* 23:51 7:41
80 Eva Metz* 23:54 7:42
102 Shelia McMenmin* 25:18 8:10
103 Katherine Borah* 25:21 8:10
Time = 1:54:06 Places = 261
11. Northern (Cal)
12 Karina Coelho, Jr* 21:14 6:51
37 Shannon Ramsey, Fr* 22:21 7:12
62 Megan Ogden, So* 23:02 7:26
77 Jessica Murray, Fr* 23:47 7:40
85 Rachel Bennett, Sr* 24:13 7:49
121 Caitlin Megonigal, So* 26:16 8:28
Time = 1:54:35 Places = 273
12. Reservoir (How)
19 Erin Kilic, Sr* 21:38 6:58
22 Jaclyn Tsjoumas, Sr* 21:45 7:01
48 Sarah Sweet, Sr* 22:41 7:19
90 Sariayah Zaghab, So* 24:41 7:58
101 Rachel Cooper, Jr* 25:14 8:08
115 Kelly Klein, Sr* 25:59 8:23
118 Carissa Dorson, Sr* 26:12 8:27
Time = 1:55:57 Places = 280
13. Bethesda-Cc (Mtg)
3 Addie Tousley, So* 20:10 6:30
65 Annie Bateman, Jr* 23:19 7:31
67 Caroline Quill, Jr* 23:21 7:32
86 Darcy O'Connor, Fr* 24:22 7:51
91 Joanie Webber, Jr* 24:42 7:58
99 Alexandra Beehler, Jr* 25:08 8:06
104 Laura Keeling, Jr* 25:25 8:12
Time = 1:55:52 Places = 312
14. La Plata (Cha)
16 Sophie Dent, Jr* 21:29 6:56
49 Jordan Donahue, Sr* 22:43 7:20
82 Corinne Arnold, Jr* 23:55 7:43
89 Stephanie Newman, Jr* 24:41 7:58
105 Audrey O'Clair, Jr* 25:27 8:12
124 Amanda Schmeltz, Sr* 27:07 8:45
Time = 1:58:14 Places = 341
15. Catonsville (Bco)
44 Emily Parr* 22:31 7:16
56 Katie Gill* 22:53 7:23
68 Francoise Mandengue* 23:23 7:32
87 Sarah Willis* 24:25 7:52
92 Allyson Norris* 24:48 8:00
96 Cathy Gill* 25:05 8:05
108 Hanna Jenkins* 25:38 8:16
Time = 1:57:58 Places = 347
16. Paint Branch (Mtg)
83 Korine Duval, Jr* 24:08 7:47
84 Noelle Tomwigfield, Sr* 24:08 7:47
93 Michelle Tabisz, Sr* 24:54 8:02
106 Sarah Chang, Jr* 25:32 8:14
113 Sarah Adams, Fr* 25:46 8:19
126 Sylvie Vu, Jr* 27:33 8:53
Time = 2:04:26 Places = 479
17. Huntingtown (Cal)
76 Vicki Jacobsen, So* 23:47 7:40
81 Bailey Bertolaccini, So* 23:55 7:43
111 Kristin Hay, Jr* 25:43 8:17
114 Hannah Weis, Fr* 25:53 8:21
117 Stephanie Hurt, Fr* 26:12 8:27
119 Gina Luppino, Sr* 26:13 8:27
125 Sarah Robbins, Sr* 27:11 8:46
Time = 2:05:28 Places = 499
18. Largo (Pg)
73 Nicole Franklin, Sr* 23:37 7:37
88 Ashley Lindsey, So* 24:38 7:57
95 Jamsmine Walker, Sr* 25:00 8:04
120 Amber Lindsey, So* 26:16 8:28
128 Kamilah McKinzie, Fr* 27:42 8:56
129 Elizabeth Kallay, Sr* 28:10 9:05
Time = 2:07:12 Places = 504
19. Chopticon (Stm)
94 Shaina Milby, Jr* 24:55 8:02
98 Brittany Bultz, Jr* 25:07 8:06
107 Jessie Hall, Sr* 25:35 8:15
109 Charotte Butters, Sr* 25:40 8:16
110 Jacquelin Parsons, Jr* 25:42 8:17
116 Friederike Hohnheltz, Jr* 26:02 8:24
123 Monica Hettle, Jr* 26:47 8:38
Time = 2:06:56 Places = 518
20. Friendly (Pg)
127 Anita Richter, Sr* 27:37 8:54
130 Indya Price, Jr* 28:13 9:06
131 Ayasha Lyke, Sr* 29:29 9:30
132 Kevonna Cusaac, Jr* 29:32 9:32
133 Ivanna Green, So* 29:43 9:35
134 Licia Moses, Jr* 29:46 9:36
Time = 2:24:32 Places = 653
Top
TEAM 1M 2M FINAL
PLACE SCORE FINISHER TIME TIME TIME PACE TEAM
1 1 Kristen Malloy* 6:08 13:14 19:36 6:19 Hereford (Bco)
2 2 Elyse Borisko, Jr* 6:08 13:07 19:40 6:20 Howard (How)
3 3 Addie Tousley, So* 6:19 13:29 20:10 6:30 Bethesda-Cc (Mtg)
4 4 Shelby Meadowcroft* 6:30 13:53 20:32 6:37 Hereford (Bco)
5 Lindsay Chetelat, Jr* 6:16 13:43 20:41 6:40 Stephen Decatur (Wor)
6 5 Olivia Joseph, Fr* 6:38 14:12 20:43 6:41 Centennial (How)
7 6 Jasmine Savage, Jr* 6:29 14:01 20:48 6:43 Meade (Aa)
8 7 Marta Randall* 6:24 13:54 20:52 6:44 Hereford (Bco)
9 8 Taylor Colbert, Jr* 6:18 13:52 20:56 6:45 Damascus (Mtg)
10 9 Meredith Mill, So* 6:33 14:05 21:08 6:49 Howard (How)
11 10 Caitlyn Fuller, So* 6:24 13:55 21:09 6:49 Howard (How)
12 11 Kelsey Abernathy, Fr* 6:50 14:13 21:09 6:49 Centennial (How)
13 Keri Wilson, Sr* 6:30 14:18 21:10 6:49 Long Reach (How)
14 12 Karina Coelho, Jr* 6:36 14:14 21:14 6:51 Northern (Cal)
15 Megan Schott, Fr* 6:39 14:09 21:14 6:51 North Harford (Hfd)
16 13 Ellie Kavanagh* 6:33 14:08 21:14 6:51 Towson (Bco)
17 14 Emma Fesperman* 6:37 14:20 21:21 6:53 Towson (Bco)
18 Kitria Stewart* 6:31 14:16 21:23 6:54 Mergenthaler (Bal)
19 15 Kelsey Hinchliffe, Sr* 6:29 14:10 21:24 6:54 Bel Air (Hfd)
20 16 Sophie Dent, Jr* 6:37 14:12 21:29 6:56 La Plata (Cha)
21 17 Chloe Heckman, Jr* 6:38 14:20 21:32 6:57 Centennial (How)
22 18 Kelly Fauth, Sr* 6:39 14:34 21:34 6:57 Urbana (Fre)
23 19 Erin Kilic, Sr* 6:39 14:26 21:38 6:58 Reservoir (How)
24 20 Allison Berg, So* 6:39 14:23 21:39 6:59 Bel Air (Hfd)
25 Katara Logan* 6:33 14:17 21:39 6:59 Lake Clifton (Bal)
26 21 Chelsea Foong, Sr* 6:57 14:34 21:45 7:01 Howard (How)
27 22 Jaclyn Tsjoumas, Sr* 6:39 14:28 21:45 7:01 Reservoir (How)
28 23 Amanda Zyzak, Sr* 6:45 14:41 21:49 7:02 Damascus (Mtg)
29 24 Jackie Darrow, Jr* 6:31 14:20 21:49 7:02 Bel Air (Hfd)
30 25 Kelly Ramsburg, Jr* 6:40 14:37 21:52 7:03 Urbana (Fre)
31 26 Lindsey Siferd, Jr* 6:58 14:44 21:53 7:03 Wilde Lake (How)
32 Anna Roth* 6:47 14:32 21:54 7:04 Franklin (Bco)
33 27 Keri Dickens, So* 7:01 14:42 21:54 7:04 Howard (How)
34 28 Melissa Navin, So* 6:40 14:46 22:00 7:06 Bel Air (Hfd)
35 29 Amelia Tenberg* 6:48 14:49 22:03 7:07 Hereford (Bco)
36 30 Jasmine Martin, So* 6:46 14:44 22:03 7:07 Meade (Aa)
37 31 Nicole Shouse, Jr* 6:55 14:47 22:10 7:09 Howard (How)
38 32 Jamie Dalgeleish* 6:49 14:52 22:15 7:10 Hereford (Bco)
39 33 Casey O'Brien, So* 6:46 14:56 22:15 7:11 Annapolis (Aa)
40 34 Janna Domico, Jr* 6:46 14:50 22:17 7:11 Damascus (Mtg)
41 35 Olivia Medoff, Fr* 6:50 14:49 22:18 7:11 Wilde Lake (How)
42 36 Kathryn Fossaceca, So* 6:30 14:35 22:18 7:12 Urbana (Fre)
43 37 Shannon Ramsey, Fr* 7:03 15:01 22:21 7:12 Northern (Cal)
44 38 Alyssa Dramis, Sr* 6:44 14:48 22:21 7:13 Bel Air (Hfd)
45 39 Katie Aquino, Sr* 6:59 14:55 22:22 7:13 Howard (How)
46 40 Jamie Freeman, Jr* 6:56 14:54 22:22 7:13 Bel Air (Hfd)
47 41 Ellen Davis, Jr* 6:49 14:47 22:24 7:13 Damascus (Mtg)
48 42 Leslie Aird, Jr* 6:53 15:05 22:27 7:14 Urbana (Fre)
49 43 Tayler King, So* 6:47 14:50 22:30 7:15 Damascus (Mtg)
50 44 Emily Parr* 7:07 15:08 22:31 7:16 Catonsville (Bco)
51 45 Sarah Boone, Jr* 6:50 14:57 22:37 7:18 Wilde Lake (How)
52 46 Julie Thumel, So* 6:51 14:58 22:38 7:18 Wilde Lake (How)
53 47 Kelsey Swensen, Jr* 6:57 15:06 22:38 7:18 Annapolis (Aa)
54 48 Sarah Sweet, Sr* 6:55 15:05 22:41 7:19 Reservoir (How)
55 49 Jordan Donahue, Sr* 6:55 15:09 22:43 7:20 La Plata (Cha)
56 50 Kelly Hetzler, Sr* 7:08 15:19 22:47 7:21 Wilde Lake (How)
57 51 Anne Schwartzwalder, Fr* 7:07 15:17 22:49 7:22 Wilde Lake (How)
58 Brinae Robinson* 6:56 15:26 22:50 7:22 Western (Bal)
59 52 Amanda Strawitch, Sr* 7:07 15:13 22:51 7:22 Centennial (How)
60 53 Kathryn Howser, Sr* 6:57 15:24 22:52 7:22 Annapolis (Aa)
1 54 Lindsey Miller, Sr 6:58 15:23 22:52 7:22 Annapolis (Aa)
61 55 Victoria Phillips, So* 6:58 15:09 22:53 7:23 Meade (Aa)
62 56 Katie Gill* 7:07 15:15 22:53 7:23 Catonsville (Bco)
63 57 Chelsey McMinn, So* 6:49 15:16 22:55 7:23 Damascus (Mtg)
64 58 Camilla Henriksen, So* 6:37 15:29 22:56 7:24 Annapolis (Aa)
65 59 Riley Mc Intyre, Jr* 7:08 15:24 22:57 7:24 Centennial (How)
66 60 Michaela Washington, So* 7:00 15:17 22:57 7:24 Meade (Aa)
67 61 Annika McGinnis, Fr* 7:11 15:23 22:58 7:24 Wilde Lake (How)
68 62 Megan Ogden, So* 6:56 15:22 23:02 7:26 Northern (Cal)
69 63 Megan Lewis, Sr* 6:58 15:28 23:04 7:26 Urbana (Fre)
70 64 Anna Grimes, Jr* 7:01 15:20 23:06 7:27 Meade (Aa)
71 Anna Sparr, So* 6:54 15:13 23:07 7:27 Great Mills (Stm)
72 Emily Makhlouf* 7:20 15:34 23:14 7:30 Franklin (Bco)
73 65 Annie Bateman, Jr* 7:05 15:28 23:19 7:31 Bethesda-Cc (Mtg)
74 66 Jackie Lamonica* 6:56 15:39 23:20 7:32 Hereford (Bco)
75 67 Caroline Quill, Jr* 7:12 15:35 23:21 7:32 Bethesda-Cc (Mtg)
76 68 Francoise Mandengue* 7:19 15:34 23:23 7:32 Catonsville (Bco)
77 69 Alex Wang, Jr* 7:08 15:25 23:23 7:32 Centennial (How)
78 70 Cate Albertini, Jr* 7:10 15:31 23:24 7:33 Centennial (How)
79 Kate Gallant, Sr* 7:23 15:42 23:28 7:34 Westlake (Cha)
80 71 Katie Nordyke, Sr* 7:00 15:26 23:31 7:35 Urbana (Fre)
81 72 Holly Sweeney, Jr* 7:11 15:38 23:35 7:36 Bel Air (Hfd)
82 73 Nicole Franklin, Sr* 7:08 15:41 23:37 7:37 Largo (Pg)
83 74 Jessa Coleman, So* 6:59 15:52 23:45 7:39 Urbana (Fre)
84 75 Rahchel Pillion* 7:09 15:53 23:47 7:40 Towson (Bco)
85 76 Vicki Jacobsen, So* 7:14 15:44 23:47 7:40 Huntingtown (Cal)
86 77 Jessica Murray, Fr* 7:12 15:52 23:47 7:40 Northern (Cal)
87 78 Alicia Fenner, Sr* 7:02 15:47 23:49 7:41 Damascus (Mtg)
88 79 Rachel Lieberman* 7:11 16:01 23:51 7:41 Towson (Bco)
89 80 Eva Metz* 7:19 15:59 23:54 7:42 Towson (Bco)
90 81 Bailey Bertolaccini, So* 7:12 15:44 23:55 7:43 Huntingtown (Cal)
91 82 Corinne Arnold, Jr* 7:16 16:02 23:55 7:43 La Plata (Cha)
92 Michelle Butler* 7:17 15:48 23:56 7:43 Franklin (Bco)
93 83 Korine Duval, Jr* 7:13 16:12 24:08 7:47 Paint Branch (Mtg)
94 84 Noelle Tomwigfield, Sr* 7:28 16:13 24:08 7:47 Paint Branch (Mtg)
95 85 Rachel Bennett, Sr* 7:31 16:08 24:13 7:49 Northern (Cal)
96 86 Darcy O'Connor, Fr* 7:31 16:14 24:22 7:51 Bethesda-Cc (Mtg)
97 Sada Wakefield* 7:19 16:24 24:24 7:52 Crossland (Pg)
98 87 Sarah Willis* 7:33 16:23 24:25 7:52 Catonsville (Bco)
99 Ashley Davenport, So* 7:20 16:16 24:35 7:56 Great Mills (Stm)
100 88 Ashley Lindsey, So* 7:32 16:27 24:38 7:57 Largo (Pg)
101 89 Stephanie Newman, Jr* 7:15 16:41 24:41 7:58 La Plata (Cha)
102 90 Sariayah Zaghab, So* 7:22 16:15 24:41 7:58 Reservoir (How)
103 91 Joanie Webber, Jr* 7:22 16:20 24:42 7:58 Bethesda-Cc (Mtg)
104 92 Allyson Norris* 7:34 16:33 24:48 8:00 Catonsville (Bco)
105 93 Michelle Tabisz, Sr* 7:42 16:49 24:54 8:02 Paint Branch (Mtg)
106 94 Shaina Milby, Jr* 7:54 16:49 24:55 8:02 Chopticon (Stm)
107 95 Jamsmine Walker, Sr* 7:18 16:35 25:00 8:04 Largo (Pg)
108 96 Cathy Gill* 7:40 16:43 25:05 8:05 Catonsville (Bco)
109 97 Montana Geimer, Fr* 7:22 16:29 25:07 8:06 Annapolis (Aa)
110 98 Brittany Bultz, Jr* 7:57 16:59 25:07 8:06 Chopticon (Stm)
111 99 Alexandra Beehler, Jr* 7:23 16:23 25:08 8:06 Bethesda-Cc (Mtg)
112 100 Erin Harmon, Jr* 7:41 16:47 25:12 8:08 Annapolis (Aa)
113 101 Rachel Cooper, Jr* 7:36 16:49 25:14 8:08 Reservoir (How)
114 102 Shelia McMenmin* 7:41 16:50 25:18 8:10 Towson (Bco)
115 103 Katherine Borah* 7:31 17:04 25:21 8:10 Towson (Bco)
116 104 Laura Keeling, Jr* 7:32 16:48 25:25 8:12 Bethesda-Cc (Mtg)
117 105 Audrey O'Clair, Jr* 7:26 16:51 25:27 8:12 La Plata (Cha)
118 106 Sarah Chang, Jr* 7:38 16:58 25:32 8:14 Paint Branch (Mtg)
119 107 Jessie Hall, Sr* 8:00 17:21 25:35 8:15 Chopticon (Stm)
120 108 Hanna Jenkins* 7:35 16:48 25:38 8:16 Catonsville (Bco)
121 109 Charotte Butters, Sr* 7:59 17:22 25:40 8:16 Chopticon (Stm)
122 110 Jacquelin Parsons, Jr* 7:58 17:14 25:42 8:17 Chopticon (Stm)
123 111 Kristin Hay, Jr* 7:33 17:09 25:43 8:17 Huntingtown (Cal)
124 112 Leah Whitt, So* 7:45 17:13 25:43 8:18 Meade (Aa)
125 113 Sarah Adams, Fr* 7:59 17:22 25:46 8:19 Paint Branch (Mtg)
126 114 Hannah Weis, Fr* 7:32 17:19 25:53 8:21 Huntingtown (Cal)
127 115 Kelly Klein, Sr* 7:52 17:16 25:59 8:23 Reservoir (How)
128 116 Friederike Hohnheltz, Jr* 8:04 17:28 26:02 8:24 Chopticon (Stm)
129 Alexia Derkasch* 7:47 17:40 26:10 8:26 Franklin (Bco)
130 117 Stephanie Hurt, Fr* 7:45 17:36 26:12 8:27 Huntingtown (Cal)
131 118 Carissa Dorson, Sr* 7:37 17:21 26:12 8:27 Reservoir (How)
132 119 Gina Luppino, Sr* 8:05 17:41 26:13 8:27 Huntingtown (Cal)
133 120 Amber Lindsey, So* 7:53 17:39 26:16 8:28 Largo (Pg)
134 121 Caitlin Megonigal, So* 7:56 17:34 26:16 8:28 Northern (Cal)
135 122 Robin Beck* 6:47 14:53 26:27 8:32 Hereford (Bco)
136 123 Monica Hettle, Jr* 8:03 17:48 26:47 8:38 Chopticon (Stm)
137 124 Amanda Schmeltz, Sr* 8:07 18:02 27:07 8:45 La Plata (Cha)
138 125 Sarah Robbins, Sr* 8:05 17:49 27:11 8:46 Huntingtown (Cal)
139 126 Sylvie Vu, Jr* 8:18 18:24 27:33 8:53 Paint Branch (Mtg)
140 127 Anita Richter, Sr* 7:54 18:22 27:37 8:54 Friendly (Pg)
141 128 Kamilah McKinzie, Fr* 8:01 18:31 27:42 8:56 Largo (Pg)
142 129 Elizabeth Kallay, Sr* 8:05 18:32 28:10 9:05 Largo (Pg)
143 130 Indya Price, Jr* 7:48 18:29 28:13 9:06 Friendly (Pg)
144 131 Ayasha Lyke, Sr* 8:32 19:40 29:29 9:30 Friendly (Pg)
145 132 Kevonna Cusaac, Jr* 8:43 19:56 29:32 9:32 Friendly (Pg)
146 133 Ivanna Green, So* 8:33 19:45 29:43 9:35 Friendly (Pg)
147 134 Licia Moses, Jr* 8:36 19:53 29:46 9:36 Friendly (Pg)
"*" indicates females
1 finishers among Men 4 & Up
14 finishers among Women 1 & Under
27 finishers among Women 2 - 2
44 finishers among Women 3 - 3
33 finishers among Women 4 & Up
1 male finishers
147 female finishers
148 total finishers
2A Boys
MARYLAND XC 2A BOYS 5K

Hereford, MD

Nov. 10, 2007


Results by RUNHIGH.COM


PLACE  TEAM                  POINTS  PLACES OF FINISHERS              AVG. TIME    SPREAD

  1   River Hill (How)         57    2    6   12   13   24   48        17:25      1:25
  2   Francis Scott Key (Ca    77    3    4    5   14   51   66   83   17:23      1:52
  3   Oakland Mills (How)      98    1   10   25   29   33   47   79   17:46      1:48
  4   Mount Hebron (How)      109    8   15   18   28   40   55   61   17:55      1:06
  5   Loch Raven (Bco)        112    7   11   26   30   38   53   80   17:54      1:20
  6   Winters Mill (Car)      206   22   31   42   43   68   93  114   18:30      1:01
  7   Century (Car)           208   23   27   39   46   73   75   95   18:32      1:05
  8   Middletown (Fre)        213    9   35   44   62   63   64   76   18:28      1:31
  9   Liberty (Car)           227   16   21   56   57   77   85  119   18:33      1:37
 10   Marriotts Ridge (How)   232   32   45   49   52   54   67   71   18:35        26
 11   Walkersville (Fre)      278   41   50   58   59   70   74   92   18:50        44
 12   Hammond (How)           312   17   36   78   84   97  108  116   19:01      2:14
 13   Rising Sun (Cec)        352   19   20  101  105  107  112  115   19:26      2:51
 14   Patuxent (Cal)          369   37   60   87   91   94  103  109   19:19      1:28
 15   Kent Island (Qa)        410   72   81   82   86   89  104  118   19:30        26
 16   Eastern Tech (Bco)      460   65   69   96  113  117  123        20:09      2:29
 17   James Bennett (Wic)     477   88   90   98   99  102  106  111   19:53        28
 18   Parkside (Wic)          485   34  100  110  120  121  122        20:59      4:29

Individuals

1. River Hill (How)
    2  Craig Morgan, Jr            16:45    5:24
    6  Sean Kirby, Jr              17:01    5:29
   12  Michael Feroe, Sr           17:33    5:40
   13  Jason Lee, Sr               17:35    5:40
   24  Jason Harman, Sr            18:10    5:51
   48  Trevor Auth, Sr             18:36    6:00
Time = 1:27:03     Places = 57

2. Francis Scott Key (Ca
    3  Arthur Leathers, Sr         16:48    5:25
    4  Zach Holz, Sr               16:51    5:26
    5  Jordan White, Sr            16:58    5:28
   14  Alex Haufler, Fr            17:40    5:42
   51  David (Dj) Watson, Jr       18:40    6:01
   66  Jesse Henderson, Sr         19:02    6:08
   83  Tim Davis, Fr               19:32    6:18
Time = 1:26:55     Places = 77

3. Oakland Mills (How)
    1  Kyle Andrews, Sr            16:33    5:20
   10  Teddy Carney, Sr            17:30    5:39
   25  David Owen, Jr              18:10    5:52
   29  Jay Kuvelker, So            18:14    5:53
   33  David Toller, Sr            18:21    5:55
   47  Dylan Marty, Jr             18:35    6:00
   79  Majid Waheed, Jr            19:26    6:16
Time = 1:28:47     Places = 98

4. Mount Hebron (How)
    8  Zach Weinstein, Jr          17:24    5:36
   15  Tom Gorman, Sr              17:42    5:42
   18  Constantine Matsakis, So    17:45    5:44
   28  Graham Welch, So            18:14    5:53
   40  Mike Janesh, Sr             18:29    5:58
   55  John Brun, Jr               18:47    6:03
   61  Sean Symon, Sr              18:58    6:07
Time = 1:29:32     Places = 109

5. Loch Raven (Bco)
    7  Mike Glassman               17:07    5:31
   11  Brandon Sweeney             17:33    5:40
   26  Michael Greco               18:12    5:52
   30  Dominic Rubino              18:14    5:53
   38  Jeff Delcher                18:26    5:57
   53  James Glassman              18:43    6:02
   80  Mark Oteiza                 19:28    6:16
Time = 1:29:30     Places = 112

6. Winters Mill (Car)
   22  Eric Tringali, So           18:05    5:50
   31  Chris Frock, Jr             18:17    5:54
   42  Tom Carpenter, So           18:31    5:58
   43  Ryan Spangler, Fr           18:32    5:58
   68  Andrew Parker, Jr           19:06    6:09
   93  Paul Griffin, So            19:44    6:22
  114  Scott Hutchinson, Sr        21:16    6:51
Time = 1:32:29     Places = 206

7. Century (Car)
   23  Avior Zynda, Jr             18:10    5:51
   27  Pat Mead, So                18:13    5:52
   39  Nick Pezza, Fr              18:27    5:57
   46  Pat Wachter, Sr             18:35    5:59
   73  Trevor Etheridge, So        19:14    6:12
   75  Sean Hughes, Sr             19:19    6:14
   95  Jared Hughes, Sr            19:54    6:25
Time = 1:32:37     Places = 208

8. Middletown (Fre)
    9  Jimmy Greene, Sr            17:28    5:38
   35  Hank Binzer, Jr             18:23    5:56
   44  Willie Owens, Jr            18:32    5:58
   62  Tom Brinton, Jr             18:58    6:07
   63  Garrett Foland, Jr          18:59    6:07
   64  Sam Bello, Jr               19:00    6:08
   76  Chris Goulart, Sr           19:20    6:14
Time = 1:32:18     Places = 213

9. Liberty (Car)
   16  Tim Souders, Jr             17:44    5:43
   21  Eric Liberatore, Sr         18:00    5:48
   56  Pat Dougherty, Sr           18:51    6:05
   57  Dan Rodriguez, Jr           18:52    6:05
   77  Sam Schlachter, Sr          19:20    6:14
   85  Dante Almonte               19:33    6:18
  119  Danny Haines, Sr            21:58    7:05
Time = 1:32:45     Places = 227

10. Marriotts Ridge (How)
   32  David Reymann, Jr           18:18    5:54
   45  Matthew Hynson, Sr          18:34    5:59
   49  Jacob Beschner, So          18:37    6:00
   52  Michael Hynson, So          18:41    6:02
   54  Vincent Drago, So           18:44    6:02
   67  Brendan Wray, Sr            19:04    6:09
   71  Michael Bargamian, Jr       19:13    6:12
Time = 1:32:52     Places = 232

11. Walkersville (Fre)
   41  Colin Hartman, Jr           18:29    5:58
   50  Stephen Keith, Fr           18:39    6:01
   58  Rob McCabe, Sr              18:55    6:06
   59  Jeff Henriksen, Sr          18:56    6:06
   70  Mike Patschak, Jr           19:13    6:12
   74  Luke Zeller, Jr             19:17    6:13
   92  Kent Southern, Fr           19:43    6:21
Time = 1:34:10     Places = 278

12. Hammond (How)
   17  Kyle Stanton, Jr            17:44    5:43
   36  Michael Powers, Sr          18:25    5:56
   78  Tom Bradtke, Sr             19:24    6:15
   84  Robie Oehrli, Jr            19:32    6:18
   97  Brad Humpert, Sr            19:58    6:26
  108  Matt Miller, Sr             20:53    6:44
  116  Mark Thomas, Sr             21:20    6:53
Time = 1:35:01     Places = 312

13. Rising Sun (Cec)
   19  Billy Steele, Jr            17:51    5:45
   20  Samuel Guethler, Jr         17:59    5:48
  101  Zach Douglas, So            20:04    6:28
  105  Phillip Carpenter, Fr       20:37    6:39
  107  Paul Wright, So             20:41    6:40
  112  Cody Palmer, Fr             21:13    6:51
  115  Stephen Frost, So           21:16    6:51
Time = 1:37:09     Places = 352

14. Patuxent (Cal)
   37  Josh Barrett, Jr            18:26    5:57
   60  Andrew Lloyd, Jr            18:58    6:07
   87  Jeff Gay, Jr                19:37    6:19
   91  Matt Hallenbeck, So         19:41    6:21
   94  Charles Ragan, So           19:54    6:25
  103  Hans Hoffman, Sr            20:14    6:31
  109  Ben Burk, Jr                21:02    6:47
Time = 1:36:33     Places = 369

15. Kent Island (Qa)
   72  Nolan Matthews, Jr          19:13    6:12
   81  Nick Leffers, Jr            19:30    6:17
   82  Kris Knox, Jr               19:31    6:18
   86  Michael Vanhoy, Jr          19:36    6:19
   89  Barret Jacob, Sr            19:38    6:20
  104  Adam Abruzzo, Sr            20:24    6:35
  118  Tim Aland, Sr               21:35    6:57
Time = 1:37:27     Places = 410

16. Eastern Tech (Bco)
   65  Chris Sufezynski            19:01    6:08
   69  Kenny Link                  19:07    6:10
   96  Donald Rees                 19:55    6:25
  113  Michael Woodward            21:15    6:51
  117  Steven Rees                 21:29    6:56
  123  Joey McNew                  23:17    7:30
Time = 1:40:45     Places = 460

17. James Bennett (Wic)
   88  Helmut Bevensee, Jr         19:37    6:20
   90  Evan Geary, So              19:40    6:21
   98  Joey Mayandado, Sr          20:00    6:27
   99  Paul Turner, So             20:02    6:27
  102  Gray Reeves, So             20:05    6:28
  106  Costen Merritt, So          20:41    6:40
  111  Trevor Pierson, Sr          21:08    6:49
Time = 1:39:22     Places = 477

18. Parkside (Wic)
   34  Eric Wood, So               18:23    5:56
  100  Jeff Ruark, Sr              20:03    6:28
  110  Tyler Ringer, So            21:06    6:48
  120  Andrew Padley, Sr           22:30    7:15
  121  Daniel Trivits, Sr          22:51    7:22
  122  Reed Plaskon, Sr            23:12    7:29
Time = 1:44:51     Places = 485
Top

        TEAM                                  1M          2M        FINAL
 PLACE SCORE           FINISHER              TIME        TIME        TIME      PACE        TEAM

    1     1  Kyle Andrews, Sr                 5:19       10:59    16:33    5:20  Oakland Mills (How)
    2     2  Craig Morgan, Jr                 5:17       11:10    16:45    5:24  River Hill (How)
    3     3  Arthur Leathers, Sr              5:18       11:05    16:48    5:25  Francis Scott Key (Ca
    4     4  Zach Holz, Sr                    5:18       11:11    16:51    5:26  Francis Scott Key (Ca
    5     5  Jordan White, Sr                 5:18       11:13    16:58    5:28  Francis Scott Key (Ca
    6     6  Sean Kirby, Jr                   5:18       11:18    17:01    5:29  River Hill (How)
    7     7  Mike Glassman                    5:18       11:21    17:07    5:31  Loch Raven (Bco)
    8     8  Zach Weinstein, Jr               5:19       11:25    17:24    5:36  Mount Hebron (How)
    9        Luke Arbuckle, So                5:20       11:33    17:27    5:38  Elkton (Cec)
   10     9  Jimmy Greene, Sr                 5:30       11:41    17:28    5:38  Middletown (Fre)
   11    10  Teddy Carney, Sr                 5:26       11:38    17:30    5:39  Oakland Mills (How)
   12    11  Brandon Sweeney                  5:30       11:43    17:33    5:40  Loch Raven (Bco)
   13    12  Michael Feroe, Sr                5:22       11:42    17:33    5:40  River Hill (How)
   14        William Orndorff, Sr             5:25       11:41    17:34    5:40  Rockville (Mtg)
   15    13  Jason Lee, Sr                    5:31       11:46    17:35    5:40  River Hill (How)
   16    14  Alex Haufler, Fr                 5:28       11:43    17:40    5:42  Francis Scott Key (Ca
   17    15  Tom Gorman, Sr                   5:24       11:36    17:42    5:42  Mount Hebron (How)
   18    16  Tim Souders, Jr                  5:29       11:50    17:44    5:43  Liberty (Car)
   19    17  Kyle Stanton, Jr                 5:26       11:41    17:44    5:43  Hammond (How)
   20    18  Constantine Matsakis, So         5:26       11:43    17:45    5:44  Mount Hebron (How)
   21        Ramon Munoz, Sr                  5:31       11:49    17:51    5:45  Clarksburg (Mtg)
   22    19  Billy Steele, Jr                 5:29       11:51    17:51    5:45  Rising Sun (Cec)
   23    20  Samuel Guethler, Jr              5:28       11:52    17:59    5:48  Rising Sun (Cec)
   24    21  Eric Liberatore, Sr              5:29       11:59    18:00    5:48  Liberty (Car)
   25    22  Eric Tringali, So                5:41       12:04    18:05    5:50  Winters Mill (Car)
   26    23  Avior Zynda, Jr                  5:38       12:12    18:10    5:51  Century (Car)
   27    24  Jason Harman, Sr                 5:38       12:15    18:10    5:51  River Hill (How)
   28    25  David Owen, Jr                   5:38       12:07    18:10    5:52  Oakland Mills (How)
   29    26  Michael Greco                    5:40       12:09    18:12    5:52  Loch Raven (Bco)
   30    27  Pat Mead, So                     5:43       12:09    18:13    5:52  Century (Car)
   31    28  Graham Welch, So                 5:37       12:07    18:14    5:53  Mount Hebron (How)
   32    29  Jay Kuvelker, So                 5:49       12:17    18:14    5:53  Oakland Mills (How)
   33    30  Dominic Rubino                   5:41       12:10    18:14    5:53  Loch Raven (Bco)
   34    31  Chris Frock, Jr                  5:39       12:03    18:17    5:54  Winters Mill (Car)
   35    32  David Reymann, Jr                5:39       12:11    18:18    5:54  Marriotts Ridge (How)
   36    33  David Toller, Sr                 5:37       12:12    18:21    5:55  Oakland Mills (How)
   37    34  Eric Wood, So                    5:34       12:06    18:23    5:56  Parkside (Wic)
   38    35  Hank Binzer, Jr                  5:44       12:21    18:23    5:56  Middletown (Fre)
   39        Giovanni Reumante, Sr            5:35       12:12    18:24    5:56  Northwood (Mtg)
   40    36  Michael Powers, Sr               5:48       12:18    18:25    5:56  Hammond (How)
   41    37  Josh Barrett, Jr                 5:42       12:14    18:26    5:57  Patuxent (Cal)
   42    38  Jeff Delcher                     5:45       12:16    18:26    5:57  Loch Raven (Bco)
   43    39  Nick Pezza, Fr                   5:52       12:22    18:27    5:57  Century (Car)
   44    40  Mike Janesh, Sr                  5:29       12:04    18:29    5:58  Mount Hebron (How)
   45    41  Colin Hartman, Jr                5:42       12:13    18:29    5:58  Walkersville (Fre)
   46    42  Tom Carpenter, So                5:44       12:24    18:31    5:58  Winters Mill (Car)
   47    43  Ryan Spangler, Fr                5:44       12:17    18:32    5:58  Winters Mill (Car)
   48    44  Willie Owens, Jr                 5:44       12:22    18:32    5:58  Middletown (Fre)
   49    45  Matthew Hynson, Sr               5:43       12:21    18:34    5:59  Marriotts Ridge (How)
   50    46  Pat Wachter, Sr                  5:47       12:24    18:35    5:59  Century (Car)
   51    47  Dylan Marty, Jr                  5:40       12:10    18:35    6:00  Oakland Mills (How)
   52    48  Trevor Auth, Sr                  5:41       12:17    18:36    6:00  River Hill (How)
   53    49  Jacob Beschner, So               5:50       12:25    18:37    6:00  Marriotts Ridge (How)
   54    50  Stephen Keith, Fr                5:46       12:19    18:39    6:01  Walkersville (Fre)
   55    51  David (Dj) Watson, Jr            5:46       12:22    18:40    6:01  Francis Scott Key (Ca
   56    52  Michael Hynson, So               5:52       12:24    18:41    6:02  Marriotts Ridge (How)
   57    53  James Glassman                   5:54       12:28    18:43    6:02  Loch Raven (Bco)
   58    54  Vincent Drago, So                5:46       12:23    18:44    6:02  Marriotts Ridge (How)
   59    55  John Brun, Jr                    5:37       12:31    18:47    6:03  Mount Hebron (How)
   60        Mark Shaw, Jr                    5:42       12:26    18:47    6:03  Queen Anne (Qa)
   61    56  Pat Dougherty, Sr                6:06       12:37    18:51    6:05  Liberty (Car)
   62    57  Dan Rodriguez, Jr                5:59       12:40    18:52    6:05  Liberty (Car)
   63    58  Rob McCabe, Sr                   5:51       12:40    18:55    6:06  Walkersville (Fre)
   64    59  Jeff Henriksen, Sr               5:50       12:35    18:56    6:06  Walkersville (Fre)
   65    60  Andrew Lloyd, Jr                 5:59       12:41    18:58    6:07  Patuxent (Cal)
   66    61  Sean Symon, Sr                   5:27       11:58    18:58    6:07  Mount Hebron (How)
   67    62  Tom Brinton, Jr                  5:44       12:28    18:58    6:07  Middletown (Fre)
   68    63  Garrett Foland, Jr               5:52       12:37    18:59    6:07  Middletown (Fre)
   69    64  Sam Bello, Jr                    5:52       12:38    19:00    6:08  Middletown (Fre)
   70    65  Chris Sufezynski                 5:48       12:32    19:01    6:08  Eastern Tech (Bco)
   71    66  Jesse Henderson, Sr              5:46       12:32    19:02    6:08  Francis Scott Key (Ca
   72    67  Brendan Wray, Sr                 5:56       12:45    19:04    6:09  Marriotts Ridge (How)
   73    68  Andrew Parker, Jr                5:58       12:43    19:06    6:09  Winters Mill (Car)
   74    69  Kenny Link                       5:47       12:33    19:07    6:10  Eastern Tech (Bco)
   75    70  Mike Patschak, Jr                5:58       12:54    19:13    6:12  Walkersville (Fre)
   76    71  Michael Bargamian, Jr            5:56       12:47    19:13    6:12  Marriotts Ridge (How)
   77    72  Nolan Matthews, Jr               5:52       12:45    19:13    6:12  Kent Island (Qa)
   78    73  Trevor Etheridge, So             5:49       12:36    19:14    6:12  Century (Car)
   79    74  Luke Zeller, Jr                  5:57       12:49    19:17    6:13  Walkersville (Fre)
   80    75  Sean Hughes, Sr                  5:48       12:49    19:19    6:14  Century (Car)
   81    76  Chris Goulart, Sr                5:48       12:53    19:20    6:14  Middletown (Fre)
   82    77  Sam Schlachter, Sr               6:00       13:03    19:20    6:14  Liberty (Car)
   83        Austin Poist, Jr                 5:52       12:53    19:23    6:15  Edgewood (Hfd)
   84        Michael Leaman, Sr               5:44       12:41    19:23    6:15  Clarksburg (Mtg)
   85    78  Tom Bradtke, Sr                  5:53       12:48    19:24    6:15  Hammond (How)
   86    79  Majid Waheed, Jr                 5:54       12:46    19:26    6:16  Oakland Mills (How)
   87    80  Mark Oteiza                      5:51       12:42    19:28    6:16  Loch Raven (Bco)
   88    81  Nick Leffers, Jr                 5:49       12:46    19:30    6:17  Kent Island (Qa)
   89    82  Kris Knox, Jr                    5:57       12:58    19:31    6:18  Kent Island (Qa)
   90    83  Tim Davis, Fr                    6:01       12:56    19:32    6:18  Francis Scott Key (Ca
   91    84  Robie Oehrli, Jr                 6:02       13:01    19:32    6:18  Hammond (How)
   92    85  Dante Almonte                    6:00       12:57    19:33    6:18  Liberty (Car)
   93    86  Michael Vanhoy, Jr               5:55       12:59    19:36    6:19  Kent Island (Qa)
   94    87  Jeff Gay, Jr                     6:01       12:59    19:37    6:19  Patuxent (Cal)
   95    88  Helmut Bevensee, Jr              6:03       13:04    19:37    6:20  James Bennett (Wic)
   96    89  Barret Jacob, Sr                 6:00       13:01    19:38    6:20  Kent Island (Qa)
   97        Jimmy Weer, Sr                   6:00       13:10    19:40    6:20  North Caroline (Cin)
   98    90  Evan Geary, So                   6:06       13:06    19:40    6:21  James Bennett (Wic)
   99    91  Matt Hallenbeck, So              6:02       13:09    19:41    6:21  Patuxent (Cal)
  100    92  Kent Southern, Fr                6:11       13:15    19:43    6:21  Walkersville (Fre)
  101    93  Paul Griffin, So                 6:04       13:03    19:44    6:22  Winters Mill (Car)
  102    94  Charles Ragan, So                6:00       13:04    19:54    6:25  Patuxent (Cal)
  103    95  Jared Hughes, Sr                 5:53       13:12    19:54    6:25  Century (Car)
  104    96  Donald Rees                      6:01       13:12    19:55    6:25  Eastern Tech (Bco)
  105    97  Brad Humpert, Sr                 5:53       13:00    19:58    6:26  Hammond (How)
  106        Franklin Taylor, So              6:02       13:17    20:00    6:27  Easton (Tal)
  107    98  Joey Mayandado, Sr               5:51       13:13    20:00    6:27  James Bennett (Wic)
  108    99  Paul Turner, So                  6:06       13:14    20:02    6:27  James Bennett (Wic)
  109   100  Jeff Ruark, Sr                   6:14       13:29    20:03    6:28  Parkside (Wic)
  110   101  Zach Douglas, So                 5:58       13:16    20:04    6:28  Rising Sun (Cec)
  111   102  Gray Reeves, So                  6:06       13:26    20:05    6:28  James Bennett (Wic)
  112   103  Hans Hoffman, Sr                 6:06       13:25    20:14    6:31  Patuxent (Cal)
  113   104  Adam Abruzzo, Sr                 6:00       13:23    20:24    6:35  Kent Island (Qa)
  114   105  Phillip Carpenter, Fr            6:24       13:52    20:37    6:39  Rising Sun (Cec)
  115   106  Costen Merritt, So               6:14       13:39    20:41    6:40  James Bennett (Wic)
  116   107  Paul Wright, So                  6:05       13:35    20:41    6:40  Rising Sun (Cec)
  117   108  Matt Miller, Sr                  6:20       13:55    20:53    6:44  Hammond (How)
  118   109  Ben Burk, Jr                     6:08       13:23    21:02    6:47  Patuxent (Cal)
  119   110  Tyler Ringer, So                 6:23       14:04    21:06    6:48  Parkside (Wic)
  120   111  Trevor Pierson, Sr               6:19       13:50    21:08    6:49  James Bennett (Wic)
  121   112  Cody Palmer, Fr                  6:25       14:06    21:13    6:51  Rising Sun (Cec)
  122   113  Michael Woodward                 6:16       13:53    21:15    6:51  Eastern Tech (Bco)
  123   114  Scott Hutchinson, Sr             6:17       14:00    21:16    6:51  Winters Mill (Car)
  124   115  Stephen Frost, So                6:25       14:07    21:16    6:51  Rising Sun (Cec)
  125   116  Mark Thomas, Sr                  6:16       13:55    21:20    6:53  Hammond (How)
  126   117  Steven Rees                      6:37       14:22    21:29    6:56  Eastern Tech (Bco)
  127   118  Tim Aland, Sr                    6:37       14:24    21:35    6:57  Kent Island (Qa)
  128   119  Danny Haines, Sr                 6:23       14:22    21:58    7:05  Liberty (Car)
  129   120  Andrew Padley, Sr                6:39       14:59    22:30    7:15  Parkside (Wic)
  130   121  Daniel Trivits, Sr               6:24       15:08    22:51    7:22  Parkside (Wic)
  131   122  Reed Plaskon, Sr                 6:54       15:28    23:12    7:29  Parkside (Wic)
  132   123  Joey McNew                       6:54       15:26    23:17    7:30  Eastern Tech (Bco)
"*" indicates females
8 finishers among Men 1 & Under
24 finishers among Men 2 - 2
38 finishers among Men 3 - 3
48 finishers among Men 4 & Up
132 male finishers
0 female finishers
132 total finishers



2A Girls
MARYLAND XC 2A GIRLS 5K

Hereford, MD

Nov. 10, 2007


Results by runhigh.com



PLACE  TEAM                  POINTS  PLACES OF FINISHERS              AVG. TIME    SPREAD

  1   River Hill (How)         40    1    4   10   12   13   18   19   21:20      2:06
  2   Century (Car)            66    2    5    6   16   37   51   71   21:30      3:11
  3   Mount Hebron (How)       94    3   14   24   26   27   30   32   22:07      1:58
  4   Loch Raven (Bco)        113   11   15   17   31   39   58  116   22:30      1:21
  5   Winters Mill (Car)      160   20   23   28   44   45   49   77   22:54        54
  6   Oakland Mills (How)     184    9   25   47   48   55   60   83   23:04      2:10
  7   Middletown (Fre)        188    8   29   33   42   76  102  107   23:07      3:06
  8   Liberty (Car)           223    7   41   50   59   66   68   92   23:23      2:51
  9   North Hagerstown (Was   255   38   46   53   54   64   82  111   23:46      1:09
 10   Marriotts Ridge (How)   299   35   52   65   72   75   80   86   24:08      1:42
 11   Queen Anne (Qa)         312   40   43   61   74   94   95  114   24:19      2:46
 12   Rising Sun (Cec)        358   36   57   73   91  101  103  110   24:44      3:04
 13   North Point             364   34   67   79   84  100  105  109   24:48      3:08
 14   North Caroline (Cin)    365   21   62   87   89  106  108  113   25:01      4:36
 15   Calvert (Cal)           385   22   70   93   96  104  115        25:09      4:11
 16   Southern (Aa)           388   56   78   81   85   88   97  112   24:59      1:36
 17   Elkton (Cec)            419   63   69   90   98   99             25:20      1:51

Individuals

1. River Hill (How)
    1  Katie Harman, Jr*           19:54    6:25
    4  Patyon Lawrence, Fr*        20:57    6:45
   10  Jamie Scott, Jr*            21:50    7:02
   12  Kelsey Harman, Jr*          21:57    7:05
   13  Meghan Yi, Fr*              22:00    7:06
   18  Alicia Seelaus, Jr*         22:20    7:12
   19  Anna Demaree, Fr*           22:29    7:15
Time = 1:46:36     Places = 40

2. Century (Car)
    2  Maura Linde, Fr*            19:59    6:27
    5  Allison Dearie, Fr*         21:06    6:48
    6  Kirsten McGovern, So*       21:06    6:48
   16  Catnerine Casem, Fr*        22:11    7:09
   37  Beth Anne Wieber*           23:09    7:28
   51  Mary Hartman, Fr*           23:43    7:39
   71  Katie Mead, Sr*             24:40    7:57
Time = 1:47:30     Places = 66

3. Mount Hebron (How)
    3  Beckey Yep, So*             20:40    6:40
   14  Kara Brosmer, Sr*           22:05    7:07
   24  Angela Malczyn, Jr*         22:36    7:17
   26  Theressa Neiderer, Sr*      22:37    7:17
   27  Beckey Schumm, Fr*          22:38    7:18
   30  Olivia Vo, Fr*              22:56    7:24
   32  Kare Appel, So*             23:02    7:26
Time = 1:50:34     Places = 94

4. Loch Raven (Bco)
   11  Erin Williams*              21:52    7:03
   15  Sarah Burbaum*              22:06    7:08
   17  Kaity Handley*              22:18    7:12
   31  Allie Smith*                22:59    7:25
   39  Alice Wolfkill*             23:13    7:29
   58  Tori Trentularge*           24:00    7:44
  116  Sarah Mullin, Sr*           29:29    9:30
Time = 1:52:27     Places = 113

5. Winters Mill (Car)
   20  Lane Hahn, Fr*              22:30    7:15
   23  Jill Benko, Fr*             22:35    7:17
   28  Leah Staley, Fr*            22:40    7:18
   44  Casey Roberds, So*          23:22    7:32
   45  Connie Compton, Fr*         23:23    7:33
   49  Forest Fleischer, Jr*       23:34    7:36
   77  Amber Slater, So*           24:48    8:00
Time = 1:54:29     Places = 160

6. Oakland Mills (How)
    9  Elizabeth Kimble, Jr*       21:48    7:02
   25  Leah Davidson-Wolf, So*     22:36    7:17
   47  Kate Chisolm, So*           23:27    7:34
   48  Margo James, Sr*            23:31    7:35
   55  Rachel Shulder, Jr*         23:57    7:43
   60  Dalyce Wilson, Jr*          24:09    7:47
   83  Ananda Martin-Caughey, Jr*  25:18    8:10
Time = 1:55:17     Places = 184

7. Middletown (Fre)
    8  Kristin Wilson, So*         21:42    7:00
   29  Katie Bussard, Fr*          22:43    7:19
   33  Marissa Gastelle, So*       23:02    7:26
   42  Rebecca Ahalt, Jr*          23:18    7:31
   76  Rachael Malagari, Sr*       24:48    8:00
  102  Kayla Kroll, Sr*            26:25    8:31
  107  Abby Lundahl, Fr*           27:09    8:45
Time = 1:55:32     Places = 188

8. Liberty (Car)
    7  Samantha McElroy, Fr*       21:34    6:57
   41  Michele Lambert, So*        23:16    7:30
   50  Caitlyn Hill, So*           23:38    7:37
   59  Laura Ball, Sr*             24:00    7:44
   66  Samantha Black, Sr*         24:24    7:52
   68  Hannah Kobett, Jr*          24:29    7:54
   92  Lauren Ridder, Sr*          25:47    8:19
Time = 1:56:51     Places = 223

9. North Hagerstown (Was
   38  Brooke Pettner, Jr*         23:11    7:29
   46  Alison Harrell, So*         23:25    7:33
   53  Amanda Michael, Sr*         23:56    7:43
   54  Taryn Shank, Jr*            23:56    7:43
   64  Christine Brugh, So*        24:20    7:51
   82  Susana Brown, Sr*           25:16    8:09
  111  Christen Brown, Jr*         27:42    8:56
Time = 1:58:47     Places = 255

10. Marriotts Ridge (How)
   35  Molly Morse, So*            23:06    7:27
   52  Linsdey Di Antonio, So*     23:48    7:40
   65  Tara McVey, Jr*             24:20    7:51
   72  Stephanie Buckner, Fr*      24:41    7:58
   75  Anna Grant, So*             24:48    8:00
   80  Kirsten Walker, Fr*         25:08    8:06
   86  Hannah Goodman, 12*         25:27    8:13
Time = 2:00:40     Places = 299

11. Queen Anne (Qa)
   40  Hilary Staver, Sr*          23:13    7:29
   43  Emily Smith, Jr*            23:21    7:32
   61  Brittney Zulant, Jr*        24:15    7:49
   74  Megan Moore, Sr*            24:46    7:59
   94  Katie Hammer, Jr*           25:59    8:23
   95  Leigh Hobson, Jr*           25:59    8:23
  114  Katie Nave, Jr*             28:40    9:15
Time = 2:01:32     Places = 312

12. Rising Sun (Cec)
   36  Lindsey McGinley, So*       23:08    7:28
   57  Gabby Neri, Jr*             23:58    7:44
   73  Casey Barker, So*           24:44    7:58
   91  Cassidy Adam, So*           25:39    8:16
  101  Nicole Keane, Sr*           26:12    8:27
  103  Jordin Newby, So*           26:42    8:37
  110  Samantha Iwersen, So*       27:30    8:52
Time = 2:03:40     Places = 358

13. North Point
   34  Danielle Pedersen*          23:04    7:26
   67  Grace Phillips*             24:25    7:53
   79  Ariana Wiley*               24:56    8:03
   84  Brittany Baker*             25:22    8:11
  100  Alyssa Albro*               26:11    8:27
  105  Shannon Hall*               27:08    8:45
  109  Avorey Springer*            27:23    8:50
Time = 2:03:57     Places = 364

14. North Caroline (Cin)
   21  Deb Ostrander, Sr*          22:33    7:16
   62  Kaneesha Hollis, Sr*        24:16    7:50
   87  Whitney Keller-Meyer, Jr*   25:32    8:14
   89  Ashley Waltrup, Sr*         25:36    8:15
  106  Autumn Irby, So*            27:08    8:45
  108  Sierra Turner, Jr*          27:14    8:47
  113  Misha Holmes, Jr*           28:30    9:11
Time = 2:05:04     Places = 365

15. Calvert (Cal)
   22  Caroline Parris, Fr*        22:35    7:17
   70  Emily Carroll, Fr*          24:34    7:55
   93  Rakeeda Commodore, Sr*      25:49    8:20
   96  Katie Schinabeck, Fr*       26:01    8:23
  104  Susan Yeatman, Fr*          26:45    8:38
  115  Katherine Yeatman, So*      29:00    9:21
Time = 2:05:42     Places = 385

16. Southern (Aa)
   56  Kerry Kramer, Jr*           23:58    7:44
   78  Khyber Rabdau, So*          24:49    8:00
   81  Marie Rohrbaugh, Sr*        25:12    8:08
   85  Jessie Ames, So*            25:23    8:11
   88  Allison Bobby, Jr*          25:33    8:14
   97  Rachel Powers, Sr*          26:01    8:24
  112  Katie Hobbs, Jr*            28:15    9:07
Time = 2:04:53     Places = 388

17. Elkton (Cec)
   63  Margot Bailey, So*          24:18    7:50
   69  Hayley Tumas, Jr*           24:32    7:55
   90  Samantha Richman, Fr*       25:37    8:16
   98  Brandi Lofland, Fr*         26:05    8:25
   99  Rachel Ladysh, Sr*          26:09    8:26
Time = 2:06:39     Places = 419
Top

        TEAM                                  1M          2M        FINAL
 PLACE SCORE           FINISHER              TIME        TIME        TIME      PACE        TEAM

    1     1  Katie Harman, Jr*                6:21       13:27    19:54    6:25  River Hill (How)
    2     2  Maura Linde, Fr*                 6:22       13:28    19:59    6:27  Century (Car)
    3     3  Beckey Yep, So*                  6:22       13:39    20:40    6:40  Mount Hebron (How)
    4     4  Patyon Lawrence, Fr*             6:33       14:02    20:57    6:45  River Hill (How)
    5     5  Allison Dearie, Fr*              6:28       14:02    21:06    6:48  Century (Car)
    6     6  Kirsten McGovern, So*            6:28       14:06    21:06    6:48  Century (Car)
    7     7  Samantha McElroy, Fr*            6:23       14:12    21:34    6:57  Liberty (Car)
    8     8  Kristin Wilson, So*              6:33       14:32    21:42    7:00  Middletown (Fre)
    9        Jacqueline Fisher, Jr*           6:50       14:43    21:45    7:01  Easton (Tal)
   10     9  Elizabeth Kimble, Jr*            6:32       14:32    21:48    7:02  Oakland Mills (How)
   11    10  Jamie Scott, Jr*                 6:39       14:39    21:50    7:02  River Hill (How)
   12    11  Erin Williams*                   6:52       14:41    21:52    7:03  Loch Raven (Bco)
   13    12  Kelsey Harman, Jr*               6:49       14:39    21:57    7:05  River Hill (How)
   14    13  Meghan Yi, Fr*                   6:36       14:35    22:00    7:06  River Hill (How)
   15    14  Kara Brosmer, Sr*                6:43       14:37    22:05    7:07  Mount Hebron (How)
   16    15  Sarah Burbaum*                   6:54       14:45    22:06    7:08  Loch Raven (Bco)
   17    16  Catnerine Casem, Fr*             6:51       14:47    22:11    7:09  Century (Car)
   18        Christel Mukendi*                6:51       15:01    22:16    7:11  Samuel Banks (Bal)
   19    17  Kaity Handley*                   6:56       14:56    22:18    7:12  Loch Raven (Bco)
   20    18  Alicia Seelaus, Jr*              6:43       14:52    22:20    7:12  River Hill (How)
   21        Savannah Bozman, Fr*             6:37       14:45    22:21    7:12  James Bennett (Wic)
   22    19  Anna Demaree, Fr*                6:27       14:38    22:29    7:15  River Hill (How)
   23    20  Lane Hahn, Fr*                   6:57       15:00    22:30    7:15  Winters Mill (Car)
   24    21  Deb Ostrander, Sr*               6:45       15:03    22:33    7:16  North Caroline (Cin)
   25    22  Caroline Parris, Fr*             6:54       15:03    22:35    7:17  Calvert (Cal)
   26    23  Jill Benko, Fr*                  6:55       14:58    22:35    7:17  Winters Mill (Car)
   27    24  Angela Malczyn, Jr*              6:50       15:05    22:36    7:17  Mount Hebron (How)
   28    25  Leah Davidson-Wolf, So*          6:47       15:00    22:36    7:17  Oakland Mills (How)
   29    26  Theressa Neiderer, Sr*           6:56       15:03    22:37    7:17  Mount Hebron (How)
   30    27  Beckey Schumm, Fr*               6:50       15:02    22:38    7:18  Mount Hebron (How)
   31    28  Leah Staley, Fr*                 7:17       15:23    22:40    7:18  Winters Mill (Car)
   32    29  Katie Bussard, Fr*               6:50       15:08    22:43    7:19  Middletown (Fre)
   33    30  Olivia Vo, Fr*                   6:58       15:07    22:56    7:24  Mount Hebron (How)
   34    31  Allie Smith*                     7:02       15:21    22:59    7:25  Loch Raven (Bco)
   35    32  Kare Appel, So*                  6:58       15:15    23:02    7:26  Mount Hebron (How)
   36    33  Marissa Gastelle, So*            7:12       15:35    23:02    7:26  Middletown (Fre)
   37    34  Danielle Pedersen*               6:51       15:16    23:04    7:26  North Point
   38    35  Molly Morse, So*                 7:11       15:28    23:06    7:27  Marriotts Ridge (How)
   39    36  Lindsey McGinley, So*            7:05       15:12    23:08    7:28  Rising Sun (Cec)
   40    37  Beth Anne Wieber*                7:13       15:35    23:09    7:28  Century (Car)
   41    38  Brooke Pettner, Jr*              7:05       15:33    23:11    7:29  North Hagerstown (Was
   42    39  Alice Wolfkill*                  6:58       15:20    23:13    7:29  Loch Raven (Bco)
   43    40  Hilary Staver, Sr*               7:16       15:40    23:13    7:29  Queen Anne (Qa)
   44    41  Michele Lambert, So*             6:50       15:20    23:16    7:30  Liberty (Car)
   45    42  Rebecca Ahalt, Jr*               7:08       15:42    23:18    7:31  Middletown (Fre)
   46    43  Emily Smith, Jr*                 7:19       15:40    23:21    7:32  Queen Anne (Qa)
   47    44  Casey Roberds, So*               7:10       15:47    23:22    7:32  Winters Mill (Car)
   48    45  Connie Compton, Fr*              7:00       15:26    23:23    7:33  Winters Mill (Car)
   49    46  Alison Harrell, So*              7:06       15:37    23:25    7:33  North Hagerstown (Was
   50    47  Kate Chisolm, So*                7:23       15:55    23:27    7:34  Oakland Mills (How)
   51    48  Margo James, Sr*                 7:22       15:48    23:31    7:35  Oakland Mills (How)
   52    49  Forest Fleischer, Jr*            7:21       15:52    23:34    7:36  Winters Mill (Car)
   53    50  Caitlyn Hill, So*                7:20       15:46    23:38    7:37  Liberty (Car)
   54        Kitty Kistler, Jr*               7:07       15:38    23:43    7:39  Walkersville (Fre)
   55    51  Mary Hartman, Fr*                7:05       15:38    23:43    7:39  Century (Car)
   56    52  Linsdey Di Antonio, So*          7:12       15:43    23:48    7:40  Marriotts Ridge (How)
   57    53  Amanda Michael, Sr*              7:19       16:01    23:56    7:43  North Hagerstown (Was
   58    54  Taryn Shank, Jr*                 7:13       15:54    23:56    7:43  North Hagerstown (Was
   59    55  Rachel Shulder, Jr*              7:21       15:55    23:57    7:43  Oakland Mills (How)
   60    56  Kerry Kramer, Jr*                7:04       15:58    23:58    7:44  Southern (Aa)
   61    57  Gabby Neri, Jr*                  7:09       16:14    23:58    7:44  Rising Sun (Cec)
   62    58  Tori Trentularge*                7:18       15:58    24:00    7:44  Loch Raven (Bco)
   63    59  Laura Ball, Sr*                  7:26       15:59    24:00    7:44  Liberty (Car)
   64    60  Dalyce Wilson, Jr*               7:02       15:57    24:09    7:47  Oakland Mills (How)
   65    61  Brittney Zulant, Jr*             7:33       16:07    24:15    7:49  Queen Anne (Qa)
   66    62  Kaneesha Hollis, Sr*             7:27       16:28    24:16    7:50  North Caroline (Cin)
   67    63  Margot Bailey, So*               7:22       16:12    24:18    7:50  Elkton (Cec)
   68        Raven Wilson*                    7:21       16:01    24:20    7:51  Eastern Tech (Bco)
   69    64  Christine Brugh, So*             7:13       16:13    24:20    7:51  North Hagerstown (Was
   70    65  Tara McVey, Jr*                  7:18       16:10    24:20    7:51  Marriotts Ridge (How)
   71    66  Samantha Black, Sr*              7:18       16:16    24:24    7:52  Liberty (Car)
   72    67  Grace Phillips*                  7:23       16:17    24:25    7:53  North Point
   73    68  Hannah Kobett, Jr*               7:32       16:22    24:29    7:54  Liberty (Car)
   74    69  Hayley Tumas, Jr*                7:42       16:27    24:32    7:55  Elkton (Cec)
   75        Jenny Altieri, Sr*               6:55       17:06    24:34    7:55  Kent Island (Qa)
   76    70  Emily Carroll, Fr*               7:33       16:28    24:34    7:55  Calvert (Cal)
   77    71  Katie Mead, Sr*                  7:22       16:25    24:40    7:57  Century (Car)
   78    72  Stephanie Buckner, Fr*           7:19       16:40    24:41    7:58  Marriotts Ridge (How)
   79    73  Casey Barker, So*                7:23       16:15    24:44    7:58  Rising Sun (Cec)
   80    74  Megan Moore, Sr*                 7:47       16:44    24:46    7:59  Queen Anne (Qa)
   81    75  Anna Grant, So*                  7:45       16:30    24:48    8:00  Marriotts Ridge (How)
   82    76  Rachael Malagari, Sr*            7:43       16:38    24:48    8:00  Middletown (Fre)
   83    77  Amber Slater, So*                7:21       16:29    24:48    8:00  Winters Mill (Car)
   84    78  Khyber Rabdau, So*               7:32       16:32    24:49    8:00  Southern (Aa)
   85    79  Ariana Wiley*                    7:21       16:36    24:56    8:03  North Point
   86    80  Kirsten Walker, Fr*              7:12       16:30    25:08    8:06  Marriotts Ridge (How)
   87    81  Marie Rohrbaugh, Sr*             7:38       16:51    25:12    8:08  Southern (Aa)
   88    82  Susana Brown, Sr*                7:22       16:43    25:16    8:09  North Hagerstown (Was
   89    83  Ananda Martin-Caughey, Jr*       7:52       16:54    25:18    8:10  Oakland Mills (How)
   90    84  Brittany Baker*                  7:51       17:11    25:22    8:11  North Point
   91    85  Jessie Ames, So*                 7:33       16:39    25:23    8:11  Southern (Aa)
   92    86  Hannah Goodman, 12*              7:53       17:02    25:27    8:13  Marriotts Ridge (How)
   93    87  Whitney Keller-Meyer, Jr*        7:31       17:11    25:32    8:14  North Caroline (Cin)
   94    88  Allison Bobby, Jr*               7:44       17:01    25:33    8:14  Southern (Aa)
   95        Aryn Barrtett*                   7:31       17:04    25:34    8:15  Randallstown (Bco)
   96    89  Ashley Waltrup, Sr*              7:30       17:11    25:36    8:15  North Caroline (Cin)
   97    90  Samantha Richman, Fr*            7:50       17:09    25:37    8:16  Elkton (Cec)
   98    91  Cassidy Adam, So*                7:29       17:17    25:39    8:16  Rising Sun (Cec)
   99        Brittany Beebe*                  7:43       17:14    25:42    8:17  Eastern Tech (Bco)
  100    92  Lauren Ridder, Sr*               7:38       16:47    25:47    8:19  Liberty (Car)
  101    93  Rakeeda Commodore, Sr*           7:26       17:15    25:49    8:20  Calvert (Cal)
  102        Ashley Greenhawk, Sr*            7:30       17:10    25:52    8:20  Parkside (Wic)
  103    94  Katie Hammer, Jr*                7:46       17:11    25:59    8:23  Queen Anne (Qa)
  104    95  Leigh Hobson, Jr*                7:47       17:10    25:59    8:23  Queen Anne (Qa)
  105    96  Katie Schinabeck, Fr*            7:39       17:18    26:01    8:23  Calvert (Cal)
  106    97  Rachel Powers, Sr*               7:39       17:12    26:01    8:24  Southern (Aa)
  107    98  Brandi Lofland, Fr*              7:51       17:35    26:05    8:25  Elkton (Cec)
  108    99  Rachel Ladysh, Sr*               7:49       17:14    26:09    8:26  Elkton (Cec)
  109   100  Alyssa Albro*                    7:52       17:39    26:11    8:27  North Point
  110   101  Nicole Keane, Sr*                7:46       17:15    26:12    8:27  Rising Sun (Cec)
  111   102  Kayla Kroll, Sr*                 7:40       17:20    26:25    8:31  Middletown (Fre)
  112        Jasmine Fields*                  7:50       17:54    26:42    8:36  Eastern Tech (Bco)
  113   103  Jordin Newby, So*                8:01       17:45    26:42    8:37  Rising Sun (Cec)
  114   104  Susan Yeatman, Fr*               7:54       18:02    26:45    8:38  Calvert (Cal)
  115   105  Shannon Hall*                    7:54       17:58    27:08    8:45  North Point
  116   106  Autumn Irby, So*                 7:55       18:05    27:08    8:45  North Caroline (Cin)
  117   107  Abby Lundahl, Fr*                8:08       18:03    27:09    8:45  Middletown (Fre)
  118   108  Sierra Turner, Jr*               7:54       18:05    27:14    8:47  North Caroline (Cin)
  119   109  Avorey Springer*                 8:17       18:19    27:23    8:50  North Point
  120   110  Samantha Iwersen, So*            8:10       18:19    27:30    8:52  Rising Sun (Cec)
  121   111  Christen Brown, Jr*              7:59       18:22    27:42    8:56  North Hagerstown (Was
  122   112  Katie Hobbs, Jr*                 8:15       18:57    28:15    9:07  Southern (Aa)
  123   113  Misha Holmes, Jr*                7:55       18:23    28:30    9:11  North Caroline (Cin)
  124   114  Katie Nave, Jr*                  8:17       19:06    28:40    9:15  Queen Anne (Qa)
  125        Alexis Nuga*                     8:13       19:20    28:57    9:20  Samuel Banks (Bal)
  126   115  Katherine Yeatman, So*           8:10       19:23    29:00    9:21  Calvert (Cal)
  127   116  Sarah Mullin, Sr*                8:42       19:38    29:29    9:30  Loch Raven (Bco)
  128        Regina Bakoa*                    8:27       20:09    30:26    9:49  Samuel Banks (Bal)
"*" indicates females
25 finishers among Women 1 & Under
26 finishers among Women 2 - 2
31 finishers among Women 3 - 3
25 finishers among Women 4 & Up
0 male finishers
128 female finishers
128 total finishers



1A Boys
MARYLAND XC 1A BOYS 5K
Hereford, MD
Nov. 10, 2007
Results by runhigh.com
PLACE TEAM POINTS PLACES OF FINISHERS AVG. TIME SPREAD
1 Glenelg (How) 77 12 13 14 18 20 23 74 18:25 16
2 South Carroll (Car) 93 4 15 16 17 41 49 52 18:24 2:01
3 Smithsburg (Was) 102 2 9 21 28 42 53 68 18:15 2:35
4 Mountain Ridge (All) 119 8 10 32 33 36 55 79 18:32 1:33
5 Fort Hill (All) 148 11 22 34 38 43 45 99 18:52 1:33
6 Clear Spring (Was) 182 5 6 27 66 78 89 94 18:59 3:09
7 Bohemia Manor (Cec) 198 25 26 30 58 59 65 19:21 1:17
8 Northern (G) 212 1 35 39 67 70 72 86 19:12 3:53
9 Williamsport (Was) 218 3 31 44 64 76 85 98 19:17 3:30
10 Harford Tech (Hfd) 274 29 47 50 71 77 81 87 19:55 1:45
11 Cambridge (Dor) 275 48 54 56 57 60 61 69 19:58 24
12 Forest Park (Bal) 285 19 46 63 73 84 107 111 19:58 2:22
13 Pikesville (Bco) 288 24 37 62 75 90 100 112 20:00 2:35
14 Chesapeake (Bco) 354 7 40 83 106 118 20:59 7:14
15 Digital Harbor (Bal) 436 51 91 95 96 103 21:15 2:11
16 Snow Hill (Wor) 489 80 82 93 115 119 22:18 4:18
17 Dunbar (Bal) 514 92 97 101 110 114 116 120 22:11 2:03
18 Crisfield (Som) 543 88 108 109 117 121 23:30 5:14
19 Carver A&T (Bco) 546 102 104 105 113 122 23:19 5:34
Individuals
1. Glenelg (How)
12 Scott Menner 18:17 5:54
13 William Mettle 18:21 5:55
14 Matthew Ellis 18:22 5:55
18 Brian Chew 18:31 5:58
20 Justin Deitrick 18:32 5:59
23 Jarrod Spurrier 18:38 6:01
74 Connor Pencek 20:35 6:38
Time = 1:32:01 Places = 77
2. South Carroll (Car)
4 Jake Zamostny 17:21 5:36
15 Connor Trexler 18:23 5:56
16 Ryan Martin 18:27 5:57
17 Mike Vogel 18:27 5:57
41 Brett Kappe 19:22 6:15
49 Mike Dee 19:46 6:22
52 Chad Osborne 19:52 6:24
Time = 1:31:59 Places = 93
3. Smithsburg (Was)
2 Corey Centofonti, Sr 16:49 5:25
9 David Wilson, So 17:40 5:42
21 Zach Cross, Jr 18:33 5:59
28 Jake Shriver, So 18:52 6:05
42 Phil Shriver, Sr 19:23 6:15
53 Sean Planer, Jr 19:56 6:26
68 Chris Ecker, Jr 20:23 6:34
Time = 1:31:14 Places = 102
4. Mountain Ridge (All)
8 Josh Shuck, Jr 17:39 5:41
10 Gavin Caupp, Sr 17:46 5:44
32 Chris Derosa, Jr 19:00 6:08
33 Chuck Upperman, So 19:05 6:09
36 David Moon, Sr 19:11 6:11
55 Dakota Bradley, Jr 20:00 6:27
79 Eric Morris, Sr 20:42 6:41
Time = 1:32:39 Places = 119
5. Fort Hill (All)
11 Burton Cross, Jr 17:55 5:47
22 Jack Meekins, Jr 18:35 5:59
34 Seth Thompson, So 19:08 6:10
38 Taylor Anderson, Jr 19:16 6:13
43 Jeb Hardman, Sr 19:27 6:16
45 Shane Malloy, Jr 19:36 6:19
99 Cody Mohler, Jr 21:49 7:02
Time = 1:34:19 Places = 148
6. Clear Spring (Was)
5 Cory Horton, Jr 17:31 5:39
6 Ben Courter, Sr 17:33 5:40
27 Wade Miller, Sr 18:51 6:05
66 Kyle Byrne, Sr 20:19 6:33
78 Grant Simmers, So 20:40 6:40
89 Brandon Schildtknecht, Fr 21:15 6:51
94 Kyle Downs, Jr 21:28 6:55
Time = 1:34:53 Places = 182
7. Bohemia Manor (Cec)
25 Joey Embleton 18:48 6:04
26 Nick Hanifee 18:50 6:04
30 Ryan Lonoza 18:57 6:07
58 Jake Kozlowski 20:03 6:28
59 Josh Garcia 20:04 6:28
65 Dj Dunlap 20:19 6:33
Time = 1:36:41 Places = 198
8. Northern (G)
1 Ryan Bowser, Sr 16:39 5:22
35 Elijah Lais, Sr 19:10 6:11
39 William Herpel, Jr 19:19 6:14
67 Cody Brenneman, Fr 20:21 6:34
70 Mitchell Hall, Sr 20:31 6:37
72 Zachary Lipscomb, Jr 20:33 6:38
86 Christopher Wood, Sr 21:04 6:48
Time = 1:35:57 Places = 212
9. Williamsport (Was)
3 Michael Lilley, Jr 17:07 5:31
31 Rio Ferrario, Jr 18:58 6:07
44 Nathanial Clark, Jr 19:29 6:17
64 Graylon Wright, Fr 20:14 6:32
76 Danny Quinn, So 20:37 6:39
85 Codi Hawbaker, So 20:54 6:44
98 Sean Connelly, Jr 21:39 6:59
Time = 1:36:24 Places = 218
10. Harford Tech (Hfd)
29 Johathan Brandonisio 18:54 6:06
47 Gabri Lincoln-Decusatis 19:42 6:21
50 Daniel Blackburn 19:47 6:23
71 Eddy Soto 20:31 6:37
77 Ben Butler 20:38 6:39
81 Bryan Phan 20:45 6:42
87 Travis Dunlap 21:07 6:49
Time = 1:39:31 Places = 274
11. Cambridge (Dor)
48 Jon Cannon 19:43 6:21
54 Jon Linthicum 19:57 6:26
56 Eric Collison 20:00 6:27
57 Chris Bramble 20:03 6:28
60 Chris Jones 20:06 6:29
61 Greg Love 20:07 6:29
69 Trey Hyre 20:29 6:36
Time = 1:39:47 Places = 275
12. Forest Park (Bal)
19 William Cook, Jr 18:32 5:59
46 Robert Pearson, So 19:39 6:20
63 Deandre Payton, Jr 20:13 6:31
73 Derrek Desuignes, Jr 20:33 6:38
84 Devon Billups, Sr 20:53 6:44
107 Kevin Cooper, Sr 22:35 7:17
111 Edward Jackson, So 22:44 7:20
Time = 1:39:49 Places = 285
13. Pikesville (Bco)
24 Blake Stein, So 18:42 6:02
37 Josh Wesalo, Jr 19:15 6:12
62 Evan Lutz, So 20:11 6:31
75 Justin Lui, Jr 20:35 6:38
90 Aaron Massuda, Jr 21:17 6:52
100 Alex Ullman, Jr 21:56 7:04
112 Adam Janofsky, Jr 22:44 7:20
Time = 1:39:58 Places = 288
14. Chesapeake (Bco)
7 Danny Generette, Sr 17:36 5:40
40 Darius Yancey, Sr 19:21 6:14
83 Trent Hall, Sr 20:48 6:42
106 Joseph Garrison, Jr 22:22 7:13
118 Sean Mancho, Sr 24:49 8:00
Time = 1:44:53 Places = 354
15. Digital Harbor (Bal)
51 Angelo Diggs, Sr 19:50 6:24
91 Delvaughn Rooks, Jr 21:19 6:53
95 Victor Ekanem, Sr 21:31 6:56
96 Zuri Mattis, Sr 21:33 6:57
103 David Adam, Sr 22:01 7:06
Time = 1:46:12 Places = 436
16. Snow Hill (Wor)
80 Ted Cooke 20:45 6:41
82 Chad Green 20:46 6:42
93 Josh Smythers 21:27 6:55
115 Jessie Klump 23:30 7:35
119 Austin Dittrich 25:02 8:04
Time = 1:51:28 Places = 489
17. Dunbar (Bal)
92 Leo Eaders, Fr 21:22 6:53
97 Luther Westbrook, Fr 21:34 6:57
101 Kameron White, Fr 21:58 7:05
110 Dominic Thomas, So 22:40 7:19
114 Dwayne Scott, Jr 23:24 7:33
116 Antonio Weeks, Fr 24:00 7:44
120 Donte Bethea, So 25:28 8:13
Time = 1:50:55 Places = 514
18. Crisfield (Som)
88 Daric Evans 21:13 6:51
108 Josh Thomas 22:39 7:18
109 Zac Townsend 22:40 7:18
117 Greg Bisset 24:30 7:54
121 Josh Fountain 26:27 8:32
Time = 1:57:27 Places = 543
19. Carver A&T (Bco)
102 John Hendricks, So 21:59 7:05
104 Max Kirschner, So 22:06 7:07
105 Churchill Davenport, Jr 22:10 7:09
113 Cameron Kirschner, So 22:47 7:21
122 Adam Schnitzer, Fr 27:33 8:53
Time = 1:56:34 Places = 546
Top
TEAM 1M 2M FINAL
PLACE SCORE FINISHER TIME TIME TIME PACE TEAM
1 1 Ryan Bowser, Sr 5:17 11:06 16:39 5:22 Northern (G)
2 2 Corey Centofonti, Sr 5:17 11:13 16:49 5:25 Smithsburg (Was)
3 3 Michael Lilley, Jr 5:17 11:13 17:07 5:31 Williamsport (Was)
4 Ceth Parker, Sr 5:25 11:31 17:17 5:34 Catoctin (Fre)
5 4 Jake Zamostny 5:22 11:29 17:21 5:36 South Carroll (Car)
6 5 Cory Horton, Jr 5:23 11:37 17:31 5:39 Clear Spring (Was)
7 6 Ben Courter, Sr 5:31 11:39 17:33 5:40 Clear Spring (Was)
8 7 Danny Generette, Sr 5:26 11:40 17:36 5:40 Chesapeake (Bco)
9 8 Josh Shuck, Jr 5:31 11:51 17:39 5:41 Mountain Ridge (All)
10 9 David Wilson, So 5:24 11:42 17:40 5:42 Smithsburg (Was)
11 10 Gavin Caupp, Sr 5:27 11:46 17:46 5:44 Mountain Ridge (All)
12 Jake Silverman 5:24 11:46 17:54 5:46 Patterson Mill (Hfd)
13 11 Burton Cross, Jr 5:23 11:50 17:55 5:47 Fort Hill (All)
14 Ward Stevenson 5:31 11:59 17:56 5:47 Kent County (K)
15 Ian Macfawn, Fr 5:29 11:57 17:59 5:48 Allegany (All)
16 Chris Mills, Sr 5:17 11:10 18:14 5:53 Western Stes (Bco)
17 12 Scott Menner 5:38 12:10 18:17 5:54 Glenelg (How)
18 13 William Mettle 5:42 12:15 18:21 5:55 Glenelg (How)
19 14 Matthew Ellis 5:43 12:23 18:22 5:55 Glenelg (How)
20 Scott Moser, Jr 5:35 12:10 18:23 5:56 Brunswick (Fre)
21 15 Connor Trexler 5:54 12:23 18:23 5:56 South Carroll (Car)
22 16 Ryan Martin 5:54 12:27 18:27 5:57 South Carroll (Car)
23 17 Mike Vogel 5:54 12:21 18:27 5:57 South Carroll (Car)
24 18 Brian Chew 5:41 12:18 18:31 5:58 Glenelg (How)
25 19 William Cook, Jr 5:33 12:21 18:32 5:59 Forest Park (Bal)
26 20 Justin Deitrick 5:50 12:31 18:32 5:59 Glenelg (How)
27 21 Zach Cross, Jr 5:40 12:22 18:33 5:59 Smithsburg (Was)
28 22 Jack Meekins, Jr 5:36 12:21 18:35 5:59 Fort Hill (All)
29 23 Jarrod Spurrier 5:48 12:32 18:38 6:01 Glenelg (How)
30 Collin Hickey 5:56 12:25 18:38 6:01 Patterson Mill (Hfd)
31 24 Blake Stein, So 5:40 12:25 18:42 6:02 Pikesville (Bco)
32 25 Joey Embleton 5:40 12:28 18:48 6:04 Bohemia Manor (Cec)
33 26 Nick Hanifee 5:51 12:30 18:50 6:04 Bohemia Manor (Cec)
34 27 Wade Miller, Sr 5:56 12:31 18:51 6:05 Clear Spring (Was)
35 28 Jake Shriver, So 5:58 12:41 18:52 6:05 Smithsburg (Was)
36 29 Johathan Brandonisio 5:58 12:39 18:54 6:06 Harford Tech (Hfd)
37 30 Ryan Lonoza 5:47 12:35 18:57 6:07 Bohemia Manor (Cec)
38 31 Rio Ferrario, Jr 5:48 12:38 18:58 6:07 Williamsport (Was)
39 32 Chris Derosa, Jr 5:33 12:27 19:00 6:08 Mountain Ridge (All)
40 Maurice Cotton, Jr 5:59 12:48 19:03 6:09 Washington (Som)
41 33 Chuck Upperman, So 5:51 12:41 19:05 6:09 Mountain Ridge (All)
42 34 Seth Thompson, So 5:56 12:42 19:08 6:10 Fort Hill (All)
43 35 Elijah Lais, Sr 5:50 12:49 19:10 6:11 Northern (G)
44 36 David Moon, Sr 5:38 12:40 19:11 6:11 Mountain Ridge (All)
45 Buddy Clements 5:45 12:40 19:12 6:12 Perryville (Cec)
46 37 Josh Wesalo, Jr 5:52 12:48 19:15 6:12 Pikesville (Bco)
47 38 Taylor Anderson, Jr 5:51 12:43 19:16 6:13 Fort Hill (All)
48 39 William Herpel, Jr 5:57 13:00 19:19 6:14 Northern (G)
49 40 Darius Yancey, Sr 5:53 12:46 19:21 6:14 Chesapeake (Bco)
50 41 Brett Kappe 6:03 13:04 19:22 6:15 South Carroll (Car)
51 42 Phil Shriver, Sr 5:58 12:59 19:23 6:15 Smithsburg (Was)
52 43 Jeb Hardman, Sr 5:49 12:56 19:27 6:16 Fort Hill (All)
53 44 Nathanial Clark, Jr 5:51 12:51 19:29 6:17 Williamsport (Was)
54 45 Shane Malloy, Jr 5:58 13:01 19:36 6:19 Fort Hill (All)
55 46 Robert Pearson, So 5:50 13:09 19:39 6:20 Forest Park (Bal)
56 47 Gabri Lincoln-Decusatis 6:00 13:04 19:42 6:21 Harford Tech (Hfd)
57 48 Jon Cannon 6:05 13:10 19:43 6:21 Cambridge (Dor)
58 49 Mike Dee 6:03 13:03 19:46 6:22 South Carroll (Car)
59 50 Daniel Blackburn 6:12 13:16 19:47 6:23 Harford Tech (Hfd)
60 51 Angelo Diggs, Sr 5:41 13:12 19:50 6:24 Digital Harbor (Bal)
61 52 Chad Osborne 5:58 13:07 19:52 6:24 South Carroll (Car)
62 53 Sean Planer, Jr 6:03 13:12 19:56 6:26 Smithsburg (Was)
63 54 Jon Linthicum 6:02 13:16 19:57 6:26 Cambridge (Dor)
64 55 Dakota Bradley, Jr 6:00 13:21 20:00 6:27 Mountain Ridge (All)
65 56 Eric Collison 6:00 13:17 20:00 6:27 Cambridge (Dor)
66 Chris Delouch 6:03 13:30 20:03 6:28 Randallstown (Bco)
67 57 Chris Bramble 6:01 13:19 20:03 6:28 Cambridge (Dor)
68 58 Jake Kozlowski 6:09 13:21 20:03 6:28 Bohemia Manor (Cec)
69 59 Josh Garcia 5:58 13:14 20:04 6:28 Bohemia Manor (Cec)
70 60 Chris Jones 6:06 13:32 20:06 6:29 Cambridge (Dor)
71 61 Greg Love 6:04 13:32 20:07 6:29 Cambridge (Dor)
72 62 Evan Lutz, So 6:13 13:20 20:11 6:31 Pikesville (Bco)
73 63 Deandre Payton, Jr 6:11 13:41 20:13 6:31 Forest Park (Bal)
74 64 Graylon Wright, Fr 6:17 13:23 20:14 6:32 Williamsport (Was)
75 Sean Traver, Jr 6:08 13:39 20:17 6:32 Carver Vo-Tech (Bal)
76 65 Dj Dunlap 6:09 13:25 20:19 6:33 Bohemia Manor (Cec)
77 66 Kyle Byrne, Sr 6:15 13:34 20:19 6:33 Clear Spring (Was)
78 67 Cody Brenneman, Fr 6:22 13:37 20:21 6:34 Northern (G)
79 68 Chris Ecker, Jr 6:08 13:35 20:23 6:34 Smithsburg (Was)
80 69 Trey Hyre 6:10 13:28 20:29 6:36 Cambridge (Dor)
81 70 Mitchell Hall, Sr 6:10 13:38 20:31 6:37 Northern (G)
82 71 Eddy Soto 6:05 13:38 20:31 6:37 Harford Tech (Hfd)
83 72 Zachary Lipscomb, Jr 6:22 13:42 20:33 6:38 Northern (G)
84 73 Derrek Desuignes, Jr 6:03 13:36 20:33 6:38 Forest Park (Bal)
85 74 Connor Pencek 5:56 13:31 20:35 6:38 Glenelg (How)
86 75 Justin Lui, Jr 5:55 13:40 20:35 6:38 Pikesville (Bco)
87 76 Danny Quinn, So 6:07 13:33 20:37 6:39 Williamsport (Was)
88 77 Ben Butler 6:16 13:35 20:38 6:39 Harford Tech (Hfd)
89 78 Grant Simmers, So 6:32 13:50 20:40 6:40 Clear Spring (Was)
90 79 Eric Morris, Sr 6:01 13:36 20:42 6:41 Mountain Ridge (All)
91 80 Ted Cooke 6:19 13:47 20:45 6:41 Snow Hill (Wor)
92 81 Bryan Phan 6:23 13:44 20:45 6:42 Harford Tech (Hfd)
93 82 Chad Green 6:13 13:47 20:46 6:42 Snow Hill (Wor)
94 83 Trent Hall, Sr 6:15 13:57 20:48 6:42 Chesapeake (Bco)
95 84 Devon Billups, Sr 6:12 13:42 20:53 6:44 Forest Park (Bal)
96 85 Codi Hawbaker, So 6:29 13:55 20:54 6:44 Williamsport (Was)
97 86 Christopher Wood, Sr 6:22 13:58 21:04 6:48 Northern (G)
98 87 Travis Dunlap 6:17 14:09 21:07 6:49 Harford Tech (Hfd)
99 88 Daric Evans 6:26 13:56 21:13 6:51 Crisfield (Som)
100 89 Brandon Schildtknecht, Fr 6:22 13:56 21:15 6:51 Clear Spring (Was)
101 90 Aaron Massuda, Jr 6:28 13:59 21:17 6:52 Pikesville (Bco)
102 91 Delvaughn Rooks, Jr 6:14 14:12 21:19 6:53 Digital Harbor (Bal)
103 92 Leo Eaders, Fr 6:39 14:36 21:22 6:53 Dunbar (Bal)
104 93 Josh Smythers 6:32 14:15 21:27 6:55 Snow Hill (Wor)
105 94 Kyle Downs, Jr 6:30 14:04 21:28 6:55 Clear Spring (Was)
106 95 Victor Ekanem, Sr 6:14 14:27 21:31 6:56 Digital Harbor (Bal)
107 96 Zuri Mattis, Sr 5:56 14:14 21:33 6:57 Digital Harbor (Bal)
108 97 Luther Westbrook, Fr 6:26 14:23 21:34 6:57 Dunbar (Bal)
109 98 Sean Connelly, Jr 6:23 14:30 21:39 6:59 Williamsport (Was)
110 99 Cody Mohler, Jr 6:27 14:27 21:49 7:02 Fort Hill (All)
111 100 Alex Ullman, Jr 6:32 14:31 21:56 7:04 Pikesville (Bco)
112 101 Kameron White, Fr 6:55 14:50 21:58 7:05 Dunbar (Bal)
113 102 John Hendricks, So 6:37 14:30 21:59 7:05 Carver A&T (Bco)
114 103 David Adam, Sr 6:05 14:33 22:01 7:06 Digital Harbor (Bal)
115 104 Max Kirschner, So 6:48 14:42 22:06 7:07 Carver A&T (Bco)
116 105 Churchill Davenport, Jr 6:37 14:44 22:10 7:09 Carver A&T (Bco)
117 106 Joseph Garrison, Jr 6:32 14:36 22:22 7:13 Chesapeake (Bco)
118 107 Kevin Cooper, Sr 6:43 15:06 22:35 7:17 Forest Park (Bal)
119 108 Josh Thomas 6:45 14:56 22:39 7:18 Crisfield (Som)
120 109 Zac Townsend 6:45 14:57 22:40 7:18 Crisfield (Som)
121 110 Dominic Thomas, So 6:31 14:59 22:40 7:19 Dunbar (Bal)
122 111 Edward Jackson, So 6:42 15:04 22:44 7:20 Forest Park (Bal)
123 112 Adam Janofsky, Jr 6:33 14:45 22:44 7:20 Pikesville (Bco)
124 113 Cameron Kirschner, So 6:43 14:59 22:47 7:21 Carver A&T (Bco)
125 114 Dwayne Scott, Jr 6:59 15:33 23:24 7:33 Dunbar (Bal)
126 John Ritter 6:43 15:40 23:30 7:35 Pocomoke (Wor)
127 115 Jessie Klump 6:57 15:37 23:30 7:35 Snow Hill (Wor)
128 116 Antonio Weeks, Fr 7:02 15:53 24:00 7:44 Dunbar (Bal)
129 117 Greg Bisset 7:11 16:11 24:30 7:54 Crisfield (Som)
130 118 Sean Mancho, Sr 6:44 15:59 24:49 8:00 Chesapeake (Bco)
131 119 Austin Dittrich 7:25 16:46 25:02 8:04 Snow Hill (Wor)
132 120 Donte Bethea, So 7:31 16:52 25:28 8:13 Dunbar (Bal)
133 121 Josh Fountain 7:43 17:09 26:27 8:32 Crisfield (Som)
134 122 Adam Schnitzer, Fr 7:49 :00 27:33 8:53 Carver A&T (Bco)
"*" indicates females
9 finishers among Men 1 & Under
16 finishers among Men 2 - 2
34 finishers among Men 3 - 3
25 finishers among Men 4 & Up
134 male finishers
0 female finishers
134 total finishers
1A Girls
MARYLAND XC 1A GIRLS 5K

Hereford, MD

Nov. 10, 2007


PLACE  TEAM                  POINTS  PLACES OF FINISHERS              AVG. TIME    SPREAD

  1   South Carroll (Car)      69    4    5   15   17   28   44   55   22:07      2:18
  2   Bohemia Manor (Cec)      95    1    6    8   30   50   91        22:16      3:56
  3   Brunswick (Fre)         113    2   11   14   18   68   85   87   22:40      4:53
  4   Smithsburg (Was)        132   12   20   22   35   43   45   46   23:08      1:53
  5   Williamsport (Was)      137    7   13   27   42   48   63   69   23:04      2:41
  6   Glenelg (How)           146   24   25   29   32   36   38   41   23:24        27
  7   Fort Hill (All)         183    3   16   26   66   72   78   79   23:37      5:16
  8   Mountain Ridge (All)    195   10   21   51   56   57   64   67   23:53      2:50
  9   Southern (G)            200   19   31   47   49   54   59   71   23:55      2:03
 10   Patterson Mill (Hfd)    247   23   37   53   61   73   74   80   24:34      2:53
 11   Carver A&T (Bco)        283   33   39   60   75   76   81   86   24:58      2:52
 12   Mardela (Wic)           318    9   40   83   92   94   95        26:42      8:40
 13   Digital Harbor (Bal)    321   34   62   65   70   90             25:57      5:59
 14   Cambridge (Dor)         365   52   58   82   84   89   93        26:54      4:39
 15   Snow Hill (Wor)         456   77   88   96   97   98             32:09     11:40

Individuals

1. South Carroll (Car)
    4  Erin Slifer*                21:04    6:48
    5  Catherine Robinson*         21:13    6:51
   15  Emily Powell*               22:21    7:12
   17  Rachel Sykes*               22:36    7:17
   28  Jess Johnson*               23:22    7:32
   44  Anna Weaver*                24:04    7:46
   55  Julia Tennyson*             24:48    8:00
Time = 1:50:34     Places = 69

2. Bohemia Manor (Cec)
    1  Jenn Cleary*                20:33    6:38
    6  Brook Bailey*               21:15    6:51
    8  Holly Wieser*               21:39    6:59
   30  Emily Smith*                23:22    7:32
   50  Brandie Carey*              24:29    7:54
   91  Ashley Argoe*               29:37    9:33
Time = 1:51:16     Places = 95

3. Brunswick (Fre)
    2  Sara Fisher, Jr*            20:43    6:41
   11  Becky Kaler, So*            22:08    7:08
   14  Maria Moss, Sr*             22:15    7:11
   18  Nina Badell, So*            22:37    7:17
   68  Meaghan Edgerly, Sr*        25:35    8:15
   85  Tiffany Tsoi, Jr*           28:22    9:09
   87  Sara Cassidy, Jr*           29:11    9:25
Time = 1:53:16     Places = 113

4. Smithsburg (Was)
   12  Chelsea Connelly, Sr*       22:08    7:08
   20  Stephanie Breen, So*        22:46    7:20
   22  Natalie Mancini, Sr*        23:06    7:27
   35  Anna Law, Sr*               23:37    7:37
   43  Taylor Donley, Jr*          24:01    7:45
   45  Braden Grosh, So*           24:04    7:46
   46  Julie Lewis, So*            24:14    7:49
Time = 1:55:36     Places = 132

5. Williamsport (Was)
    7  Tracey Forsythe, Jr*        21:35    6:58
   13  Kara Hardy, Sr*             22:14    7:10
   27  Lexi Bryan, Jr*             23:21    7:32
   42  Kellie Quinn, Jr*           23:54    7:43
   48  Jess Johnson, Sr*           24:16    7:50
   63  Kayla Ferrario, Jr*         25:22    8:11
   69  Ginger Berry, Jr*           25:43    8:18
Time = 1:55:19     Places = 137

6. Glenelg (How)
   24  Caitlyn Cumberland*         23:11    7:29
   25  Laura Crigler*              23:18    7:31
   29  Kirby Taylor*               23:22    7:32
   32  Kesshi Jordan*              23:30    7:35
   36  Emma Horoszczak*            23:38    7:37
   38  Tara Sones*                 23:44    7:39
   41  Shelby Starr*               23:50    7:41
Time = 1:56:57     Places = 146

7. Fort Hill (All)
    3  Amanda Twigg, Jr*           20:48    6:43
   16  Haley Meeks, So*            22:22    7:13
   26  Amanda Funk, So*            23:20    7:31
   66  Bethany Yurko, So*          25:30    8:13
   72  Chablis Smith, Jr*          26:04    8:24
   78  Sheree Arbogast, Sr*        26:41    8:36
   79  Haley Heavner, Jr*          27:19    8:49
Time = 1:58:02     Places = 183

8. Mountain Ridge (All)
   10  Sierra Wassell, Jr*         22:07    7:08
   21  Katie Precht, So*           22:54    7:23
   51  Chelsea Wininger, Jr*       24:32    7:55
   56  Kim Erickson, Jr*           24:55    8:02
   57  Noel Wilt, Fr*              24:57    8:03
   64  Triston Stevens, So*        25:26    8:12
   67  Katelyn Erickson, Sr*       25:32    8:14
Time = 1:59:23     Places = 195

9. Southern (G)
   19  Brittney Scheffel, Sr*      22:45    7:20
   31  Lindsey Smith, Fr*          23:24    7:33
   47  Katie Gindlesberger, So*    24:15    7:49
   49  Kim Stephens, Jr*           24:24    7:52
   54  Jennifer Cosner, Jr*        24:47    8:00
   59  Hannah Davis, Sr*           25:01    8:04
   71  Julie Swerbinsky, Sr*       26:01    8:23
Time = 1:59:33     Places = 200

10. Patterson Mill (Hfd)
   23  Liz Hays*                   23:11    7:29
   37  Andrea Schwienteck*         23:39    7:38
   53  Sarah Sharrow*              24:46    7:59
   61  Gabby Killian*              25:09    8:07
   73  Ali Schoene*                26:04    8:24
   74  Abby Willard*               26:05    8:25
   80  Jessica Sanders*            27:20    8:49
Time = 2:02:48     Places = 247

11. Carver A&T (Bco)
   33  Lorena Smith, Fr*           23:30    7:35
   39  Valerie Caplan, Jr*         23:45    7:40
   60  Chelsea Harman, Jr*         25:08    8:06
   75  Eleanor Davenport, Jr*      26:06    8:25
   76  Julia Yerger, So*           26:22    8:30
   81  Brenna Hoffman, Jr*         27:28    8:52
   86  Victoria Simmonds, So*      28:30    9:12
Time = 2:04:49     Places = 283

12. Mardela (Wic)
    9  Jessie Early*               21:47    7:01
   40  Carrie Early*               23:48    7:40
   83  Caroline Franks*            27:47    8:57
   92  Taylor Burns*               29:44    9:35
   94  Danielle Campbell*          30:27    9:49
   95  Megan Severn*               30:59    9:59
Time = 2:13:30     Places = 318

13. Digital Harbor (Bal)
   34  Regina Summerville, Fr*     23:33    7:36
   62  Shawnita Hailey, Sr*        25:14    8:08
   65  Ashly McClure, Sr*          25:28    8:13
   70  Vernesse Thomas, Jr*        25:57    8:22
   90  Ashleigh Clark, Jr*         29:31    9:31
Time = 2:09:42     Places = 321

14. Cambridge (Dor)
   52  Alicia McDonnell*           24:43    7:58
   58  Ashley Simmons*             25:00    8:04
   82  Brittany Seyler*            27:33    8:53
   84  Courtney Harris*            27:51    8:59
   89  Jenna Jones*                29:21    9:28
   93  Erin Kennedy*               29:55    9:39
Time = 2:14:26     Places = 365

15. Snow Hill (Wor)
   77  Katie Hilyer*               26:29    8:32
   88  Leah Klump*                 29:16    9:26
   96  Anna Slaughter*             31:59   10:19
   97  Faryn Muir*                 34:50   11:14
   98  Nicole Sinkola*             38:09   12:18
Time = 2:40:42     Places = 456
Top

        TEAM                                  1M          2M        FINAL
 PLACE SCORE           FINISHER              TIME        TIME        TIME      PACE        TEAM

    1        Lauryn Macfawn, Sr*              6:06         :00    19:38    6:20  Allegany (All)
    2     1  Jenn Cleary*                     6:17         :00    20:33    6:38  Bohemia Manor (Cec)
    3     2  Sara Fisher, Jr*                 6:24         :00    20:43    6:41  Brunswick (Fre)
    4     3  Amanda Twigg, Jr*                6:25         :00    20:48    6:43  Fort Hill (All)
    5        Cara Richardson*                 6:26         :00    21:02    6:47  Perryville (Cec)
    6     4  Erin Slifer*                     6:28         :00    21:04    6:48  South Carroll (Car)
    7     5  Catherine Robinson*              6:29         :00    21:13    6:51  South Carroll (Car)
    8     6  Brook Bailey*                    6:28         :00    21:15    6:51  Bohemia Manor (Cec)
    9     7  Tracey Forsythe, Jr*             6:40         :00    21:35    6:58  Williamsport (Was)
   10     8  Holly Wieser*                    6:29         :00    21:39    6:59  Bohemia Manor (Cec)
   11     9  Jessie Early*                    6:27         :00    21:47    7:01  Mardela (Wic)
   12        Lyndsay Ames*                    6:55         :00    22:02    7:06  Harford Tech (Hfd)
   13    10  Sierra Wassell, Jr*              6:44         :00    22:07    7:08  Mountain Ridge (All)
   14    11  Becky Kaler, So*                 6:52         :00    22:08    7:08  Brunswick (Fre)
   15    12  Chelsea Connelly, Sr*            6:52         :00    22:08    7:08  Smithsburg (Was)
   16        Kristy Steiner, Jr*              7:07         :00    22:11    7:09  Catoctin (Fre)
   17    13  Kara Hardy, Sr*                  6:56         :00    22:14    7:10  Williamsport (Was)
   18    14  Maria Moss, Sr*                  6:51         :00    22:15    7:11  Brunswick (Fre)
   19    15  Emily Powell*                    6:50         :00    22:21    7:12  South Carroll (Car)
   20    16  Haley Meeks, So*                 6:56         :00    22:22    7:13  Fort Hill (All)
   21        Hannah Methaney, So*             7:07         :00    22:23    7:13  Catoctin (Fre)
   22    17  Rachel Sykes*                    6:25         :00    22:36    7:17  South Carroll (Car)
   23    18  Nina Badell, So*                 6:51         :00    22:37    7:17  Brunswick (Fre)
   24        Latasha Duncan*                  7:15         :00    22:43    7:19  Forestville (Pg)
   25    19  Brittney Scheffel, Sr*           6:51         :00    22:45    7:20  Southern (G)
   26    20  Stephanie Breen, So*             7:06         :00    22:46    7:20  Smithsburg (Was)
   27    21  Katie Precht, So*                6:53         :00    22:54    7:23  Mountain Ridge (All)
   28    22  Natalie Mancini, Sr*             6:55         :00    23:06    7:27  Smithsburg (Was)
   29    23  Liz Hays*                        7:07         :00    23:11    7:29  Patterson Mill (Hfd)
   30    24  Caitlyn Cumberland*              7:05         :00    23:11    7:29  Glenelg (How)
   31    25  Laura Crigler*                   7:29         :00    23:18    7:31  Glenelg (How)
   32    26  Amanda Funk, So*                 7:06         :00    23:20    7:31  Fort Hill (All)
   33    27  Lexi Bryan, Jr*                  7:06         :00    23:21    7:32  Williamsport (Was)
   34    28  Jess Johnson*                    6:55         :00    23:22    7:32  South Carroll (Car)
   35    29  Kirby Taylor*                    7:07         :00    23:22    7:32  Glenelg (How)
   36    30  Emily Smith*                     7:31         :00    23:22    7:32  Bohemia Manor (Cec)
   37    31  Lindsey Smith, Fr*               7:16         :00    23:24    7:33  Southern (G)
   38    32  Kesshi Jordan*                   7:23         :00    23:30    7:35  Glenelg (How)
   39    33  Lorena Smith, Fr*                7:20         :00    23:30    7:35  Carver A&T (Bco)
   40    34  Regina Summerville, Fr*          6:53         :00    23:33    7:36  Digital Harbor (Bal)
   41    35  Anna Law, Sr*                    7:16         :00    23:37    7:37  Smithsburg (Was)
   42    36  Emma Horoszczak*                 7:29         :00    23:38    7:37  Glenelg (How)
   43    37  Andrea Schwienteck*              7:19         :00    23:39    7:38  Patterson Mill (Hfd)
   44    38  Tara Sones*                      7:29         :00    23:44    7:39  Glenelg (How)
   45    39  Valerie Caplan, Jr*              7:20         :00    23:45    7:40  Carver A&T (Bco)
   46    40  Carrie Early*                    7:14         :00    23:48    7:40  Mardela (Wic)
   47    41  Shelby Starr*                    7:29         :00    23:50    7:41  Glenelg (How)
   48    42  Kellie Quinn, Jr*                7:25         :00    23:54    7:43  Williamsport (Was)
   49    43  Taylor Donley, Jr*               7:10         :00    24:01    7:45  Smithsburg (Was)
   50    44  Anna Weaver*                     7:09         :00    24:04    7:46  South Carroll (Car)
   51    45  Braden Grosh, So*                7:21         :00    24:04    7:46  Smithsburg (Was)
   52    46  Julie Lewis, So*                 7:18         :00    24:14    7:49  Smithsburg (Was)
   53    47  Katie Gindlesberger, So*         7:21         :00    24:15    7:49  Southern (G)
   54    48  Jess Johnson, Sr*                7:15         :00    24:16    7:50  Williamsport (Was)
   55    49  Kim Stephens, Jr*                7:19         :00    24:24    7:52  Southern (G)
   56    50  Brandie Carey*                   7:31         :00    24:29    7:54  Bohemia Manor (Cec)
   57    51  Chelsea Wininger, Jr*            7:22         :00    24:32    7:55  Mountain Ridge (All)
   58        Jessicq Pacshall, So*            7:24         :00    24:35    7:56  Dunbar (Bal)
   59        Tamicka Smithson, Jr*            7:24         :00    24:35    7:56  Dunbar (Bal)
   60    52  Alicia McDonnell*                7:19         :00    24:43    7:58  Cambridge (Dor)
   61    53  Sarah Sharrow*                   7:20         :00    24:46    7:59  Patterson Mill (Hfd)
   62    54  Jennifer Cosner, Jr*             7:29         :00    24:47    8:00  Southern (G)
   63    55  Julia Tennyson*                  7:13         :00    24:48    8:00  South Carroll (Car)
   64        Teona Collins*                   7:20         :00    24:50    8:00  Crisfield (Som)
   65        Tyshia Oliver, Sr*               7:09         :00    24:51    8:01  Reginald Lewis (Bal)
   66    56  Kim Erickson, Jr*                7:24         :00    24:55    8:02  Mountain Ridge (All)
   67    57  Noel Wilt, Fr*                   7:31         :00    24:57    8:03  Mountain Ridge (All)
   68    58  Ashley Simmons*                  7:33         :00    25:00    8:04  Cambridge (Dor)
   69    59  Hannah Davis, Sr*                7:31         :00    25:01    8:04  Southern (G)
   70        Marina Shapsay, Sr*              7:19         :00    25:05    8:05  Pikesville (Bco)
   71    60  Chelsea Harman, Jr*              7:40         :00    25:08    8:06  Carver A&T (Bco)
   72    61  Gabby Killian*                   7:53         :00    25:09    8:07  Patterson Mill (Hfd)
   73    62  Shawnita Hailey, Sr*             7:47         :00    25:14    8:08  Digital Harbor (Bal)
   74    63  Kayla Ferrario, Jr*              7:29         :00    25:22    8:11  Williamsport (Was)
   75    64  Triston Stevens, So*             7:24         :00    25:26    8:12  Mountain Ridge (All)
   76    65  Ashly McClure, Sr*               7:35         :00    25:28    8:13  Digital Harbor (Bal)
   77    66  Bethany Yurko, So*               7:43         :00    25:30    8:13  Fort Hill (All)
   78    67  Katelyn Erickson, Sr*            7:53         :00    25:32    8:14  Mountain Ridge (All)
   79    68  Meaghan Edgerly, Sr*             7:52         :00    25:35    8:15  Brunswick (Fre)
   80    69  Ginger Berry, Jr*                7:34         :00    25:43    8:18  Williamsport (Was)
   81    70  Vernesse Thomas, Jr*             7:32         :00    25:57    8:22  Digital Harbor (Bal)
   82    71  Julie Swerbinsky, Sr*            7:40         :00    26:01    8:23  Southern (G)
   83    72  Chablis Smith, Jr*               7:59         :00    26:04    8:24  Fort Hill (All)
   84    73  Ali Schoene*                     7:54         :00    26:04    8:24  Patterson Mill (Hfd)
   85    74  Abby Willard*                    7:54         :00    26:05    8:25  Patterson Mill (Hfd)
   86    75  Eleanor Davenport, Jr*           7:58         :00    26:06    8:25  Carver A&T (Bco)
   87    76  Julia Yerger, So*                8:09         :00    26:22    8:30  Carver A&T (Bco)
   88        Erica Fountain*                  7:50         :00    26:27    8:32  Crisfield (Som)
   89    77  Katie Hilyer*                    7:55         :00    26:29    8:32  Snow Hill (Wor)
   90    78  Sheree Arbogast, Sr*             7:52         :00    26:41    8:36  Fort Hill (All)
   91    79  Haley Heavner, Jr*               7:52         :00    27:19    8:49  Fort Hill (All)
   92    80  Jessica Sanders*                 8:03         :00    27:20    8:49  Patterson Mill (Hfd)
   93    81  Brenna Hoffman, Jr*              8:07         :00    27:28    8:52  Carver A&T (Bco)
   94    82  Brittany Seyler*                 8:08         :00    27:33    8:53  Cambridge (Dor)
   95        Dinah Lake*                      8:37         :00    27:39    8:55  Washington (Som)
   96    83  Caroline Franks*                 8:33         :00    27:47    8:57  Mardela (Wic)
   97    84  Courtney Harris*                 8:37         :00    27:51    8:59  Cambridge (Dor)
   98    85  Tiffany Tsoi, Jr*                8:27         :00    28:22    9:09  Brunswick (Fre)
   99    86  Victoria Simmonds, So*           8:23         :00    28:30    9:12  Carver A&T (Bco)
  100        Courtney Sanderson, Jr*          8:07         :00    28:37    9:14  Kent County (K)
  101        Jessica Kelley, Sr*              8:15         :00    28:54    9:19  Kent County (K)
  102    87  Sara Cassidy, Jr*                8:28         :00    29:11    9:25  Brunswick (Fre)
  103    88  Leah Klump*                      8:39         :00    29:16    9:26  Snow Hill (Wor)
  104    89  Jenna Jones*                     8:50         :00    29:21    9:28  Cambridge (Dor)
  105    90  Ashleigh Clark, Jr*              8:21         :00    29:31    9:31  Digital Harbor (Bal)
  106    91  Ashley Argoe*                    8:36         :00    29:37    9:33  Bohemia Manor (Cec)
  107        Hannah Hagler*                   8:25         :00    29:37    9:33  Pocomoke (Wor)
  108    92  Taylor Burns*                    8:35         :00    29:44    9:35  Mardela (Wic)
  109    93  Erin Kennedy*                    8:48         :00    29:55    9:39  Cambridge (Dor)
  110    94  Danielle Campbell*               8:32         :00    30:27    9:49  Mardela (Wic)
  111    95  Megan Severn*                    8:57         :00    30:59    9:59  Mardela (Wic)
  112    96  Anna Slaughter*                  8:48         :00    31:59   10:19  Snow Hill (Wor)
  113    97  Faryn Muir*                      9:52         :00    34:50   11:14  Snow Hill (Wor)
  114    98  Nicole Sinkola*                 10:47         :00    38:09   12:18  Snow Hill (Wor)
"*" indicates females
4 finishers among Women 1 & Under
15 finishers among Women 2 - 2
26 finishers among Women 3 - 3
18 finishers among Women 4 & Up
0 male finishers
114 female finishers
114 total finishers