Meet's own site

Meet Information

Results: Girls - Boys

Prior Years on DyeStat
2006
2005


RECORD NUMBER OF ATHLETES
SET TO RUN IN JESSE OWENS CLASSIC

By Arthur L. Mack
A record number of runners will toe the line in Saturday's Jesse Owens Cross Country Invitational.

As of Thursday night, 2,878 athletes have registered for this year's race, which has runners in 12 divisions — Gold Boys and Girls, Silver Boys and Girls, Bronze Boys and Girls, Red Boys and Girls, Junior High Boys and Girls (large divisions) and Junior High Boys and Girls (small divisions).


(continued below)

Site of last 5 AL State Meets and 2008 AAU Nationals!!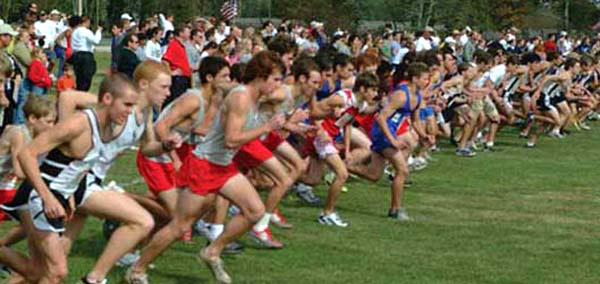 Race start at the Oakville Indian Mounds Cross Country course, site of the last five Alabama State Meets



This meet, now in its seventh year, has grown by leaps and bounds, and this year's meet is expected to be a barnburner. More than 1,000 awards will be given out, with the top 10 finishers in each division receiving special awards.

A lot of attention will be focused on the two largest divisions---Gold and Silver.

The girls' Gold Division—which consists of elite schools—should once again be tough, as Alabama schools such as St. Paul's, led by Mary Carleton Johnston; Hoover, led by the Muldowney twins, Kimberly and Nicole; and Scottsboro, led by Caitlin Chitwood, expected to compete for the team title.

Individually, the main attraction in this year's meet is Kathy Kroeger of Independence High School of Franklin, Tennessee. Kroeger was the 2006 Foot Locker Champion, but is easing back into competition after a long layoff. She won the Sharp Springs Invite in TN last week against light competition and has had two other races that were basically workouts. This will be her first race against some of the better runners in the region and the course, which is fast with only a few hills, should be to her liking.

Kroger could face a stiff battle for the title from Decatur Austin's Jennifer Dunn, and Sparkman's Katie Huston. It could be a repeat of last year's race, where Dunn won in 17 minutes, 54.33 seconds.

The boys' Gold Division, as always, should be very competitive. Defending Alabama 5A champion St. Paul's, led by Lee Gilmer, should be one of the favorites, along with Auburn, led by Alabama 6A all-staters Patrick Gomez and Howard Graves. Also in the mix could be Oak Mountain, and Scottsboro.

The Silver Division could be just as competitive. Several out of state schools, such as Daniel Boone and David Lipscomb out of Tennessee, along with Pearl, Miss. could be strong in the Silver Girls' division. Individually, keep an eye out on Mobile Murphy's Shalela Dowdy, who has run under 20 minutes for 5K this season.

In the Silver Division boys, Mobile's McGill-Toolen, last year's champion, is back. The Jackets, led by Joe Aguirre, could very well repeat, but could face a strong challenge from city rival UMS-Wright, led by John Robert Taylor and Richie Huetteman.

Out of town teams that could provide some strong competition could come from Independence High of Franklin, Tenn, as well as Pearl, Miss.

Individually, Mobile Davidson's Damien Lee is expected to be one of the favorites to win. Two weeks ago at the Daphne (Ala.) Invitational, Lee ran away from the field on a very tough 5K course to win in 17:22.47.




===============================





The Oakville Cross Country Course is located at the Oakville Indian Mounds Park and Museum. The park is located approximately 22 miles northwest of Cullman, approximately 8 miles south of Moulton on AL HWY #157, and 1/2 mile from the Jesse Owens Memorial Park.

The course is very scenic and fast with some short hills. The starting area is very wide. There are some grass trails through the wooded area. Each mile mark will have an overhead marker.

The course is open year round with the exception of school holidays. Please call before using the park to verify the opening hours. The posted hours are from 8:00 a.m. until 4:00 p.m., Monday - Friday. The park is open on Saturday and Sunday from 1:00 p.m. until 4:00 p.m. If the gate is locked, park outside the gate and you have permission to walk around the gate.

Camping is permitted in the park. Showers are available. Please call 256-905-2494 and make a reservation if you plan to camp. There is no camping fee.

There is a course map at the starting area.

For additional information, contact Stan Johnson at 256-974-1529, 256-566-4410, 256-905-2440 or by email at [email protected].