TriStateRunner
meet site

wmtiming.com site

Results
Boys - Girls

Distance: 3M






Bazell Takes CR, Breaks 16:00

Highlights
Atholton sr

Graham Bazell

breaks the 8-year-old boys course record with a 15:51 in the Elite Division
With a 1-2 finish in the "large schools" race, Severna Park topped the Elite field teams for the best score of the day, winning its race with 34 points and the combined with 129. Mt. Hebron had won the elite division with 48 points.
Mt. Hebron's Becky Yep had the best girls time of the day with her 19:54 in the Elite Division.
Again, it was a large school champion with the best overall score as C. Milton Wright dominated the overall tallies with 83.
Atholton senior claims 8-year-old mark in weather-delayed event
Story and photo by John Roemer IV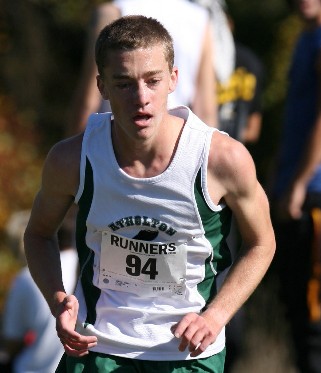 Atholton MD senior Graham Bazell was unable to travel to New York this past weekend to challenge Manhattan record-breaker and fellow Maryland star Solomon Haile (Sherwood HS) because of county rules prohibiting schedule changes. Instead, he came to Parkton Saturday and broke the record on Hereford's legendary course by a remarkable nine seconds at the weather-delayed Bull Run Invitational.

Mike Myers (Eastern NJ) set the previous standard of 16:00 in 2000 on this incarnation of the difficult state championship meet course, which has been in use for 14 years. The likes of Matt Centrowitz, Shane Stroup, Steve Duplinsky, and Robert Wetzel had run within a few seconds of Myers' time.

Postponed due to persistent lightning two weeks ago, the meet lost 45 of its originally scheduled 120 teams, including Atholton, it seemed. Bazell learned the night before his race that he'd be able to run at Hereford. On a dry, sunny day with temperatures in the high 60s during the Elite Boys race, he pulled away from Cory Hampshire (Jefferson WV) and Cory Puffett (DeMatha Catholic MD) in the first half mile. Running without a watch, Bazell split 4:54 at the mile and a minute later charged into the notorious Dip.

"It's hard to figure how to run this course," Bazell said later. "I ran a controlled, fast, first mile to get a cushion (for a record attempt). The second mile is really difficult, so I tried to keep up my turnover. I heard my split (10:31) but I felt slow and had no idea if I could do it." Spectators at the finish line, informed that the record was within reach, cheered him to a 15:51. With the top 10 performances here crowded between 16:00 and 16:10, Bazell's 9-second improvement on the record is significant.

"It was really painful the entire race – even the first mile, which is relatively flat," said Bazell. Garnering national attention as a sophomore with his 9:13.65 3200 meters during the 2007 indoor season, he explained that he's more comfortable on the track, but this performance in his racing career "is toward the top. It's good knowing who preceded me" at Hereford.

Asked about his objectives for the state meet on November 8, Bazell said he'd like to lower his record. Solomon Haile's 4A race is scheduled a half hour before his race, so he and coaches Mike Babe and Elizabeth DeFrances will know how fast he needs to run if Haile manages to better Bazell's time.