WEEK #2 SUMMARY: 9/9 WKND:
Coatesville is the real deal. Kyle Dawson holds off Bryan Beegle. The Manheim Township girls win. Sydney Clark, Hempfield, a new star (photo by Don Rich/pa.milesplit.com), below) arrives in dominating win at GETTYSBURG.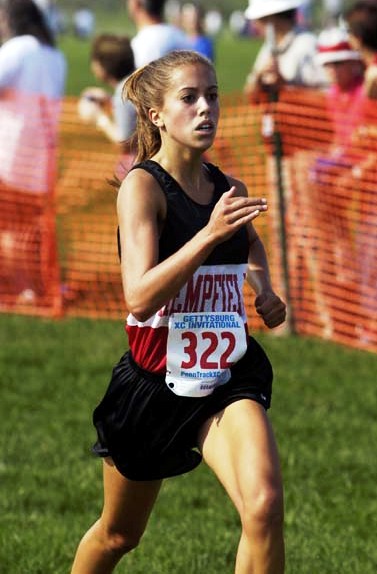 Sydney Clark, winner of the Gettysburg Invite - Photo by Don Rich/pa.milesplit.com
Gettysburg XC Invitational @ Gettysburg HS
It was game, set & match for Hempfield newcomer Sydney Clark, and another dominating run by US#4 Coatesville.
Cross country usually gets its best other-sport converts from soccer. This time, it's tennis. And a rather serious tennis player at that.

Just as the Millers of Manheim used the Gettysburg Invitational to burst onto the PA and national scene four years ago, Hempfield junior Sydney Clark debuted in her first big cross country race at the high school level, and served an ace. She simply ran away from some pretty good athletes to clock 18:34 on a warm day, and come within ten seconds of the course record on her first try.

Clark used the only two pieces of pre-race coaching advice to perfection, getting out quickly to avoid the jam entering the first part of the trail, and then using the final 3/4's of a mile to distance herself from any kickers. "I knew the girl from Boiling Springs has a kick, and probably a few other girls as well, and I didn't want to get caught in that."

Clark was with the talented group as they came through the mile in a comfortable high 5:50's. With her were eventual runner-up Kaylyn Christopher of Preston WV, and some of the top distance talent in the state in Easton's Chanelle Price, Boiling Springs' Kara Millhouse, Chambersburg's Sarah Morrison, and Northern stars Rachel Wong and Katie Meck. By 1.75 miles, it was just Clark, Christopher and Price.
Clark stayed patient until 3/4 mile to go when she said she "opened her stride and tried to kick it in."

Clark senses she may have a choice to make at some point between tennis and running. She ran XC in middle school, but didn't her first two years of high school, "because in tennis, you have to train all year to be really good." But a new tennis coach last spring allowed Clark to try track, after she had run a few indoor meets and enjoyed not only the sport and team aspect, but the competition as well.

From the start of track, she dropped her 3200 time from 11:49 to a PR of 11:12.02 at Districts and an 11th place 11:15.72 at States.

For now, she can run most weekend meets, but as captain of the tennis team, has a responsibility to her team. "I'm going to have to make a choice soon, but I'm still thinking about it."

Christopher held on for 2nd in 18:46, followed by Price at 18:49, Millhouse at 19:03, Wong at 19:06, Morrison at 19:14, Cumberland Valley's Paige Anderson at 19:24, and Meck at 19:28.

Coatesville's Men Of Black leave another invitational with more than a trophy. More confidence.
"We may be better than I thought," was all Coatesville head coach Keith Andrew could conjecture after watching his team literally wipe out their second straight invitational competition.

With over 130 scoring athletes in a race, it doesn't take long to add up points. But when you place your scoring five in the top 12 with a 1-4-7-8-12 (scoring 1-3-6-7-9=26), the team competition is pretty much complete. For good measure, Coatesville got a 20th place finish from sophomore Chris Rosato.
At the front of the race, team #1 Kyle Dawson tried to blow the race open early. Teammates Tom Pannulla, Owen Dawson (Kyle's twin), and Jason Leonard, were in the chase pack with Gettysburg's Bryan Beegle and Red Lion's Greg Kareis. But Beegle knows the course, and he was not going to give up without a fight. From a 40-meter gap at a mile, he whittled it down to about 20 meters at 1.75 and then to about 10 meters at two miles.

But Dawson is on a team that is focused this year. They plan to give their best at every moment in every race, and Dawson simply refused to be caught, winning in 15:57. Beegle came in at 16:01, with Kareis at 16:21, Pannulla 16:21... followed by the #1 runner of 2nd place West Chester East, John LaColla in 5th at 16:22. East tallied 72 points, with Cumberland Valley 3rd with 126.

The times were off what Pannulla expected because of the heat, and because of some swampy conditions on the first trail. But overall, he was pleased with their team effort, especially since they have been training through these early races. He says it's not just their re- dedication to each other and their training, but that it's just plain competition that keeps the 2nd-5th man changing from race to race. "Except for Kyle at #1, you don't have a set place on this team. Someone's always gunning for you, so you've got to be in front of them."

Coatesville has a dual meet in a week-and-a-half, followed a week-and- a-half later by the Carlisle Invitational. A week later, they host the Steel City Invitational around the time of a dual meet test against West Chester Henderson. They then gear for leagues, districts, and states.

Unranked Manheim Township topples three PA-ranked teams
Chambersburg was ranked #2 in the PennTrackXC.com pre-season poll. Easton was ranked 5th. And Cumberland Valley was ranked 7th. Well, those #'s are likely to change a lot this week as unranked, unmentioned (but not unknown) Manheim Township came into Gettysburg with a top girls' team this year, and narrowly defeated Cumberland Valley 127-140. Hempfield, largely due to the nice 1 point from tennis player-runner Sydney Clark, claimed 3rd with 150 points, Easton took 4th with 152, and Chambersburg was at 5th with 163.
Chambersburg lost their #2/3 runner during the race, but this was a Manheim Township team that coach Terry Lee says he knew he had on paper, but was thrilled to see on the course.

They too are sharing athletes with other sports, and it's paying off. Ruthie Rosenberger is a spring soccer player, and also competes throughout the year. The sophomore took 13th overall. 16th and 17th were seniors Paige Rainear and Laura Faller. Rainear is a field hockey player and is currently not playing because of a shoulder injury from this past summer. But she's a born runner been known to just hit the road for an hour or more because it's fun. Faller is in her 2nd year with the team. Mary McDonnell is a senior who transferred from Florida. She was 34th overall. And senior Allison Spangler rounded out the top five. She's also just in her 2nd year of running.
Lee thinks this team has the chemistry and focus to do well this year. He credits the training support in core work by assistant coach Eileen Boulby is a big reason this group has started the season with a win.
Other Varsity Races
The Varsity Girls Group 2 race was won by North Carroll MD junior Katie Hursey in 19:21. The first PA runner was Lampeter-Strasburg freshman Justine Barr, 2nd in 19:36. Carlisle won the Group 2 title by one point over host Gettysburg. Lampeter-Strasburg senior Timmy Getz captured the Group 2 boys race in 16:33. But it was Belair MD taking the team title with 112 points. Carlisle was 2nd with 192. The Group 3 girls race was won by James Buchanan senior Lindsey Hollenshead in 19:49. Wyomissing tallied just 62 point to beat Tulpehocken by 17.
28th Annual Centaur Invitational @ DeSales University
By Kim Jaick Soden
Pennridge's Sarah Simonetti and Boyertown's Jason Weller each pulled off the perfect run-away-with-the-race plan at the DeSales University Centaur Invitational in Center Valley on Saturday.
Each took the race from the start, built a healthy 10 second-or so lead by the mile and extended it to about 30 seconds before crossing the finish line. Simonetti, a junior, clocked 19:45.4 over the 3.1 miles. Weller, a senior, finished in 16:04.5.
"I was trying to place at least in the top five," said Simonetti, who is coming off a record-setting win at last week's Viking Invitational. "I expected more people to be with me and I just tried to keep the pace up."
Things are finally coming together for Simonetti, who spent last winter recovering from mononucleosis. She was able to finish ninth in the spring in the 3A 3,200-meter state championships and then gained some extra experience at Lock Haven's Eastern States summer cross country camp.
"She has the talent," said Pennridge coach Bill Smith. "She's worked very hard over the summer and she is fearless. I think the big ones are ahead of her."
According to Boyertown coach Ron Hofmanner, Weller also had a good summer that included a lot of hill work and beach running.
"My goal was to win this year," Weller said. "I planned on going out hard and pushing hard the whole way."
In the team race the Radnor girls packed four runners in the top 10 for the win with 79 points. Leading the way were Hannah Granger and Kelyn Freedman, who finished third and fourth in 20:29.2 and 20:29.3.
On the boys side, Salesianum finished with 99 points and had four guys in the top 25. Dominic Dellapelle finished 10th to lead the way.

32nd Cliff Robbins Invitational @ Kirby Park, Wilkes-Barre
As long as there isn't another flood and another postponed Beach Boys concert pushing this meet back a week, they'll return to their first Saturday in September timeframe for 2007. As it was, they got the dry weekend. There are not team scores, but with District 2 powers Hazleton and Dallas in the mix, it was somewhat surprising to see Delaware Valley at the front of the race with five in the top 36 behind the 4-5 finishes of Jess Koenig and Christine Gillies, both juniors. Hanover Area's Alyssa Namey was the individual champ for the girls in 19:52. In the boys' race, Mark Bucklaw repeated as individual champ, going 16:03, while Lakeland Teammate Kyle Pepson was just a second behind. Bucklaw was four seconds faster than he toured the course in 2005.

34th California University of PA Invitational
Ambridge swept both team titles. Lauren Sittler lead her team with a
21:14 to a 33-49 win over Waynesburg. In the boys' race, Ambridge was four point winners over Uniontown, which was lead by an 18:52 win by Bryan Johnson.

39th Annual Mill Street Run
The Council Rock North girls are off to a great start with their second team win in as many weeks. Lead by senior Allison Sikora's
17:08 on the 2.9 mile Mill Street Run, the scoring pack was a neat
1:25 apart to tally just 28 points. The best boys' race of the day belong to James Barrett of Holy Ghost Prep, who went 15:05 to lead his team to the small school's title.

Abington Invitational @ Abington HS
Nick Crits of Wissahikcon went 16:14 to win, and Rob Speare of Strath Haven took 2nd, but it was the depth of Haverford Township behind the 3rd place 16:40 by Matt Keehn that was the difference. Haverford placed five in the top 18 with a good 55-second spread for the 10- point margin over Strath Haven. Perkiomen Valley placed four in the top 17 to outdistance Gwynedd Mercy by ten points behind the 20:08 3rd place by Kelsey Conroy. Gwynedd took the top two spots, with Kelly McEldrew going 19:33 and Jill Buck in at 20:01.

Big Red Invitational @ West Middlesex HS
In a format that divides the AA schools into larger and smaller, the winning team came away fairly even. Adam Shrawder lead West Middlesex to 21 points with his 17:02 and a scoring compression of 39 seconds.
Garrett Gray lead Northeast to 31 points with his 16:57 and a scoring compression of 59 seconds. Kacey Gibson of Neshannock was the fastest on the day with an 18:34 to win the White Division (smaller schools).
Union City won the team race in that division. West Middlesex won the Red Division, but it was Elwood City's Bethany Walker taking the individual title in 20:03.

Central Bucks East Invitational @ CB East HS
North Penn won the team title by 7 points behind the 3rd place 19:55 by Chambersburg-transfer Cecelia Forshee. Tara Hardy lead Unionville with her 2nd place 19:50. Former all-state Unionville runner Christine Smith, who was 23rd as a freshman two years ago, missed last season to injury and won the JV race in 21:16. Central Bucks East's Kate Ross smoked the competition with an 18:58. I
n the boys' race, Paul Springer opened his season with a 15:26 win to lead his teammates to a 56-66 win over Central Bucks West.

Forest Hills Cross Country Invitational @ Forest Hills MS
Defending AA state champ Carly Seymour of Central Cambria got off to a great start, bettering her course record of 18:47 by 31 seconds. The junior has a talented sister in 9th grader Kelsey, who finished 3rd in 19:46, with the two leading teammates Annie Cedada, Morgan Eckenrod and Sara Hand across the line in 4th, 6th and 17th respectively, for the team title with just 29 points. In the boys'
race, Westmont Hilltop's Travis Dean took 1st in 16:31, but Bishop McCort had the scorers to hold off Central Cambria by seven points for the team championship. Jiim Spisak took 2nd for McCort in 16:57, with teammate Mike Garver 3rd in 17:25.

Lebanon Valley Invitational @ Lebanon Valley 5K
Sporting a 1:53 compression off a meet winning 19:31 by senior Kassie Meholick, the Cedar Cliff girls conquered both the competition and the tough Fort Indiantown Gap course. A a good sign for the future, Meholick is the only senior in the top seven. Philadelphia's Saint Joseph's Prep took on a talented York Suburban squad in the boys'
race, and came away with a 41-51 team victory. York Suburban's Matt Cocciardi took home the top prize with a 17:11, but the Prep packed their five guys in 2nd, 4th, 7th, 11th and 20th behind the 17:17 by Tom Iannacone.
Red, White & Blue Classic, Pittsburgh
By Jeremy Lenzi, PennTrackXC.com
Boys' Race:
Scott Van Kooten of Pittsburgh Central Catholic set a hard pace for the first mile, which is mostly downhill, pushing to a 4:30. He was followed by Lucas Zarzeczny of Avonworth and about ten others, including Gateway's Ed Macmurchy, Laurel Highlands' Jeff Palya and Penn Hills' Malcolm Muhammad. By the two and a half mile mark (approximate), Van Kooten and Zarzeczny emerged out of the woods with a sizeable lead. Van Kooten ran the last, looping section of the course with about 10 meters to spare over Zarzeczny, however, Zarzeczny timed his kick perfectly, catching Van Kooten right at the line. The two finished in 15:13 and 15:14. Macmurchy, Palya and Muhammad finished in a flourish to complete the top 5, but almost a full minute behind second place.
In the team battle for the "A" Race (bigger schools), North Allegheny finished first with 65 points, Mt. Lebanon second with 92 and Baldwin third with 173. It appears that NA and Lebo are going to continue their tradition of battling for the top spot in Western PA. Once the "B" race's smaller school were extracted from the results, Avonworth emerged victorious with 38 points, followed by Canon- McMillan with 71.
Girls' Race:
After a hard first mile paced by Fox Chapel's Rachel Humphrey, the Bower cousins took over the reins of the girls' race. Samantha Bower of Greensburg Salem emerged from the woods with a 30 meter lead over her cousin Natalie Bower of Latrobe. Over the last half mile Samantha was able to hold on to the lead she had created throughout the race, finishing first in a time of 18:44. Natalie finished second, nine seconds back at 18:53. Humphrey held on for third, followed by Norwin's Anna Yoney, a newcomer to the cross country circuit and Greensburg Salem's Noelle Blank to round out the top 5.
The girls' team battle again featured North Allegheny and Mount Lebanon, with Mt. Lebanon reversing the results of the boys' race, emerging victorious with 94 points to NA's 119. Greensburg Salem completed the set of award winners, placing third with 153 team points. Once the smaller schools were extracted, Greensburg Central Catholic's girls claimed the team title with 56 points. Avonworth finished second with 71 points.
Triple Threat @ Belmont Plateau, Philadelphia
The PA#2 West Chester Henderson boys, and a strong girls team swept the Triple Threat hill-and-bale 3K-4K-5K race at Belmont Plateau in Philadelphia. The race combines the top two times of each teammate in each of the three races, with the total determining the overall winner. The Henderson boys at 1:37.35 were just seven second winners over LaSalle, while the girls beat Cardinal O'Hara by almost three minutes. Henderson built almost a 1:45 lead on the 3K and 4K legs.
Henderson's Jervis Andrew (9:18.23) and Scott Mcollester (9:40.28) took 1st and 7th overall in the 3K; Chris Aldrich won the 4K in 13:16.79, with teammate Jim Norley 7th in 14:23.20; while in the 5K, Chris Ferry went 16:47.08 Amy Jordan (11:10.52) and Ragen Rimkie
(11:40.55) took 2nd and 7th overall in the 3K; Jackie Merrick
(16:59.03) and Anna Pavone (17:20.45) were 3rd and 5th in the 4K; while Carly Hamond (20:43.66) and Jeanette Gehrig (22:15.55) were 2nd and 7th in the 5K
Twin Valley Raider Relays @ Twin Valley HS
Lancaster Mennonite swept the boys and girls races in the 4 x 2-mile format. The boys tallied an eight-mile total time of 46:46, while the girls went 57:18.