2006 New York Federation Championships





Fayetteville-Manlius girls win again. Shen boys, Tommy Gruenewald, and Hannah Davidson also win.





Nov 18, 2006 Bowdoin Park, Wappinger Falls, NY



With Steve Underwood and Tom Cuffe



Preview - Girls Entries - Boys Entries -

BOYS - Fayetteville-Manlius' Tommy Gruenewald pulled away from Brian Rhodes-Devey and Steve Murdock at the 2-mile mark and won by 5 seconds. NE#2 Shenendehowa won the team title.

GIRLS - Fayetteville-Manlius confirms its NTN Northeast #1 ranking by repeating its public schools championship win over NE#2 Hilton and NE#3 Saratoga. Saratoga star Hannah Davidson won individual honors.

SteveU Reports - A Magical Day - Girls: Fay-Man's For Real, Hannah Back on Top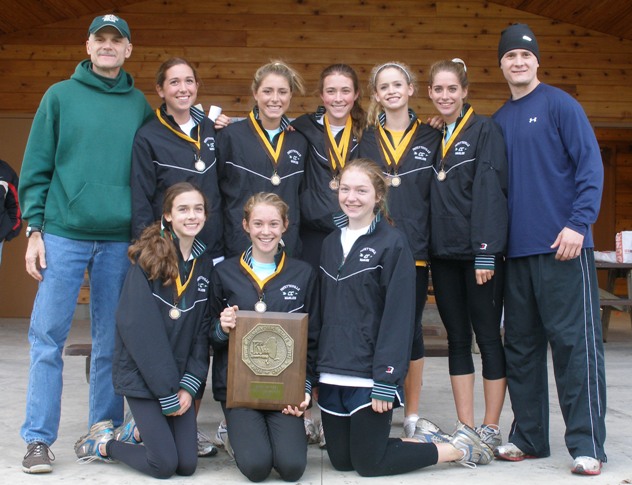 FM XC girls after winning Feds. Front row from left: Courtney Chapman, Molly Mallone, Dana Gould.
Back row from left: Coach Bill Aris, Catie Caputo, Hilary Hooley, Kathryn Buchan, Mackenzie Carter,
Jessica Hauser and Coach John Aris.

A Magical Course, A Magical Day for the Champs
By SteveU

The newcomer can't really prepare for the essence of cross-country that is experienced at Bowdoin Park in Wappinger Falls, NY. The hills, the woods, the trails – and all on the incredibly scenic banks of the Hudson River, itself a state if not national treasure, steeped in American history.

It looks and feels like a place where magic happens.

Well, Fayetteville-Manlius head coach Bill Aris knows about magic, the kind that comes from building a team ready to run its best at the perfect time, a team that has combined the discipline of measured training with the mental and emotional development that defines a team, and to see it realized in performance. They did it in 2004, and to an extent in 2005, with the Men of Stotan. Now, in 2006, suddenly we have a girls team from F-M that looks strikingly similar to those boys.

Suddenly? Well, maybe suddenly for those in the surrounding states and nation who see this team they didn't know much about beating Hilton and Saratoga, not just last week at the NYSPHSAA meet, but again Saturday at the New York Feds meet here. But what the rest of us see now has been building all fall long.

It wasn't as close and didn't feel as much like an upset this time. Led again by soph Kathryn Buchan and fr MacKenzie Carter, but getting the right contributions from their "five number-three runners," Fay-Man scored 103 to Hilton's 128 and Toga's 142. They confirmed their status as the new NE#1 in the NTN rankings and are almost certain to receive an NTN bid Sunday.

The magic was hardly limited to the girls team race, though. What about the way Toga junior Hannah Davidson glided powerfully and comfortably over the difficult course, pulling away from several other magnificent standouts in the last mile and seemingly prove that last week's Class AA defeat was just a little speedbump in a wonderful season? Her 18:05 was 22 seconds clear of the fine run by Suffern soph Shelby Greany, who was closely followed by an all-star group that will be reckoned with at Van Cortlandt next week during the Foot Locker NE race.

And the magic was there for the Shenendehowa boys. Just ask Coach Mike Jones, superstar sr transfer Steve Murdock, or Murdock's Shen teammates, with which a iron bond has been formed that is greater than the sum of its parts. Despite a wonderful race by Collegiate – the former NE#1 and Great American champs which had slipped in recent weeks but led the race early en route to 2nd – Shen won decisively, their 98 point total more than 50 clear of the field. When Murdock struggled early, fighting off an illness, sr teammate Zach Predmore set the tone by running ahead of him and as high as 3rd, eventually taking 6th.

And the magic was there a SECOND time for Coach Aris, as his joy and satisfaction of watching his girls was compounded when his star pupil sr Tommy Gruenewald rumbled to victory in the boys race in near-record time – 15:40 compared to the 15:39 CR. Like Davidson a bit of a surprise runner-up last week, Tommy G. this time ran "his" race on one of his favorite courses and powered away from a gutsy run by Guilderland sr Brian Rhodes-Devey (15:45) and a late charge by Murdock (15:48).

If they run at least as well next week, it will be difficult to wrest a Foot Locker Finals bid from any of those three.

Under mostly cloudy skies (with sun that occasionally broke through), on a comfortably cool, almost windless day – a perfect day for running – the magic was there at beautiful Bowdoin Park in the Hudson Valley. And those with the magical performances seized the day.




Girls: Fay-Man's For Real; Hannah Back on Top

The girls race at Saturday's NY Feds meet was fascinating and at least mildly surprising in both the individual and team competition. But the fact that they were such was for two very different reasons: The team race opened eyes because Fayetteville-Manlius proved that last week's victory at the NYSPHSAA Class AA meet was no fluke and the top three teams from that race were the same Saturday, but with some breathing room in-between them.

On the other hand, the girls individual race went out at a much more conservative pace than last week's AA battle, with neither Saratoga jr Hannah Davidson nor Suffern soph Shelby Greany showing any interest in repeating that blazing start. Subsequently, there were no late rallies by conservative starters like Hilton sr Allison Sawyer. Everyone was a conservative starter and when it came time to push past halfway, Davidson had plenty of energy to win and confirm that she's still on track with the special season she had put together previously, including that impressive Eastern States win.

First, though, the Fay-Man triumph had meaning on so many levels. It meant that the Hornets have proven twice that they have ascended to the top of the pile of New York girls powerhouse teams. It all but guaranteed that they would get their first NTN bid Sunday morning as the top squad from the Northeast (they did). And, finally, it brought back the memories of those Men of Stotan that so impressed in 2004 and 2005.

While Coach Bill Aris was obvious feeling much jubilation and satisfaction inside after this transpired – when he got word from the scoring trailer that his girls had won, he practically flew across the field to wear the F-M contingent was waiting – he indicated that the grand design was to have the team at this level by now and, while they executed and performed with excellence, his team is still "ascending."

"Don't get me wrong, this was a very good race," he said, "but it was predictable. Some people thought we ran out of our minds at states last week, but actually that wasn't the case. It was well enough to win. The whole season was set up to really start to peak last week and here."

Coach Aris explained that meets like Eastern States and even the section meet were hardly indicators of where this team could go. "At sections we were flat; that was because we were working our butts off, much like the boys were at that time in 2004. It all came together today because we were rested and we were mentally, physically … even spiritually ready. I thought we were capable of this."

Each team member had a role and played a special part in the victory. "Our first and second runners ran a 'step-up' race today," Coach Aris said, referring to the 6th- and 7th-place finishes (team scoring) of Kathryn Buchan and MacKenzie Carter, both in 18:49 and just four seconds back of Hilton's Sawyer. "And our third girl, (sr) Jessica Hauser (28th /19:57) ran a magnificent 2nd half."

At that point, however, F-M was trailing as Saratoga led each of the first three spots. After Davidson's win, they got a 9th from fr Cassie Goutos and 21st from sr Alysha McElroy.

It was the 4th and 5th that sealed it for the winners. "(Freshman) Molly Malone is usually our 7th girl and I asked her to push really hard to the hill, even though I knew after that she might be running on fumes," said Coach Aris, "but I wanted her to pull our other girls along."

Not only did the strategy work, but Malone held onto 29th, two ticks behind Hauser and the #4 spot. "Then our 5th, (sr) Hillary Hooley, also ran a great second half," said Aris. "They all had a role and did their job." The Hornets scored 62 for their 4-5, compared to 83 for Hilton and 111 for Saratoga. To put an exclamation point on the effort, 6th runner Courtney Chapman, an 8th-grader, was 36th and sr Catie Caputo was 38th. The spread between F-M's 3rd and 7th runners: just 19 seconds.

"We have two number ones and five number threes," said Hooley, one of two F-M seniors.

Hilton was a very solid second, although maybe "solid" isn't quite the right word. As one observer said, "This team seems to be held together by spit and athletic tape." Maybe that can be looked at as a testament to Hilton's ability to rise above adversity. During last year's incredible NTN championship run, they rallied around sr Amanda Griggs' ability to fight through injury.

Saturday, they were led by Sawyer's 6th (5th team) and fellow sr. Caroline Schultz in 10th. The gaps and spreads for Hilton are just a bit bigger this year. "I figured we really had to go for it," said Coach Mike Szczepanik. "We had to get out well and get in good position, go fast on the downhill and power it in. We did get out good; maybe some got out too good. We faded a little in the stretch.

"We did well," he added, "but F-M was great today."

Individually speaking, while the team around her might not have the firepower of some recent Toga squads, Davidson is certainly well on her way to being one of their great number ones. Saturday was probably her best race yet as she not only pulled away from Greany, but several other challengers that are Foot Locker contenders, including Bay Shore sr Callie Hogan, Honeyoe Falls-Lima sr Liz Deir, Greenwich jr Caitlin Lane, and Sawyer. Davidson, Greany, Deir, and Lane all made it to San Diego last year.

Davidson seemed almost embarrassed by the attention, but she's getting used to it. "This week we went out a lot slower," said the champ. "I felt like I had a lot more control over the race. I felt good the whole way. After state, I really wanted to win here.

She said going down State Meet Hill she and Greany broke away, then beyond the bottom of it she began to pull away.

Deir was the runner in that group who kind of stood to gain the most, the Class B champ up state that doesn't get to face good competition very often. She ran solid, but, well, it wasn't quite the magic day she was hoping for.

She remembered the breakaway beginning, at least from her perspective, going up the hill. "It started out with a group of six of us, then it got down to four," she said. "(Hannah) made her move on the uphill. She was hauling. I didn't feel as strong as I wanted to. It was a struggle."

Deir would later catch Greany again, but not quite be able to pass her. Then Hogan and Lane passed her very late. Greany was 18:27, Hogan and Lane 18:29, and Deir 18:30.

It wasn't quite magic for Sawyer, either. Leading her team to a solid runner-up finish, though, she was able to smile about the comparison with the previous week. "I guess they caught on to my plan," she said.

Then there's the Fay-Man plan, the one that has worked best the last two weeks. Speaking on behalf of her teammates, No. 5 girl and sr Hillary Hooley said team unity, focus, and flexible roles were the keys. "I think it helped that we're really just concerned about our team. We're in our own little bubble and we're like a family. It gives you a lot of confidence when there's six other girls behind you.

"We all have the utmost trust in each other," she added. "We all have different roles in different races. It's not so much about winning, but just going out and doing our best."
(boys story coming)

The Evil Empire Holds Court:
The Nation's Toughest State Meet does it Again

By Tom Cuffe – NTN Northeast Regional Editor

They held the New York State Cross-Country team championship race today at Bowdoin State Park. What we get here at the conclusion of another fantastic season for NYS harriers is the de facto overall "state" meet for NYS fans, athletes and coaches. The meet is called, for the record, the NYS Federation Championships, and is run extremely well by the Federation Committee which has representatives from the four families (yes, a mafia reference. FYI: The word "mafia" is derived from the old Sicilian adjective "mafiusu," which has its roots in the Arabic mahjas, meaning "aggressive boasting, bragging". Roughly translated it means "swagger", but can also be translated as "boldness, bravado" – so like NY!). The meet is comprised of the: CHSAA (the Catholic schools), the PSAL (the Public schools of NYC), the AIS (the Private schools) and the NYSPHSAA (the rest of Public schools of NYS).
Being the La Cosa Nostra of STATE MEETS, the contest is run on an extremely tough layout at Bowdoin Park. The course is so demanding, so tough, so harsh that it's actually cruel – yes, cruel – ask anyone that has ever had to race on it or put together a race plan for this spectacle of athletic excellence called the Federation XC Championship. So what does it take to excel on this hard hitting 5000 meter design? Not nitty-gritty, but grittiness, a great physicality and most of all a mental toughness second to none! The race places 269 quality athletes on the line – 27 teams plus 70 top individuals – for a 12:15 PM gun for the girls and a 1:00 PM cannon for the boys.
The girls are striding out and doing their drills and prepping as the bell tolls for high noon. The count down to the gun begins at 12:05 as the starter calls out to the assemblage 10 minutes to race time! At 12:10 we hear, "Five minutes to the Championship race." The tension in the air is so palpable, you'd need a machete cut thru it – 4 minutes, 3 minutes, two minutes, one minute – my Lord, it's here!
The report from the gun releases 269 lithe bodies from their motionless prison – "Free at last, free at last, thank God almighty I am free at last." The beauty of the start is simply breathtaking: the colors mix and mesh into a stunning fall spectacle; the glorious motion, the intensity and the concentration is etched on every face and every sinew -- it truly makes for a dazzling display of cross-country at its absolute best.
Out from the start, seven emerge: Hannah Davidson, Saratoga Springs; Allison Sawyer and Caroline Schultz, Hilton; Liz Deir, HFL; Shelby Greany, Suffern; Caitlin Lane, Greenwich; and Callie Hogan, Bay Shore establish themselves as the contenders for the lofty crown. Three-quarters of a mile in there, and there is no clear team leader because the athletes are literally tripping over one another as they make a wicked left hand turn around a course marker.
At the 1-¼ mile mark it is evident that Fayetteville Manlius is the team leader and that Hilton, as well as Saratoga, have some serious work to do if they hope to win today. Round and round they go to "the state meet hill," and on that trail the break occurs as Davidson pulls decisively ahead over the field as they re-emerge at 1-¾ . It is also at this point, with just a shade over a mile to go, that FM is the clear team leader with Hilton and SS in a dog fight for the silver and the bronze with a hard charging Burnt Hills in the hunt.
Over the next ¾ of a mile there is minimal changing of positions in the individual battle as well as the team confrontation. Davidson is in total control and goes on to win by 22 seconds over Greany, in 18:05.7 to 18:27.7. Davidson's is the 6th fastest time ever on this course. The Bill Aris-coached FM Hornets out of Section 3 show their endurance and strength over the final kilometer to take a convincing 25-point victory over a game Hilton squad, with a disappointing for them third-place finish for the Streaks out of Saratoga Springs, winner of 16 out of the last 17 Fed meet titles (pretty darn incredible).
Burnt Hills, also a Section Two team, came on in leaps and bounds as they took home a team plaque with a wonderful fourth-place performance, edging out East Aurora 144 to 157.
Well, take the entire ladies' scenario and repeat it at 12:50 PM. Just as you are getting to catch your breath after a tremendous gals gallop, it's time for the boys race and some more nerve testing, gut checking, tenacious, harrowing harrier exploits. On with the show, this is it!
By now we should all know the main players in this multi-act drama and, sure enough just like clockwork, they are on the stage ready to put on a great show. Shen, Collegiate, FM, Smithtown and Queensbury are all part of this 5-act play. Shakespeare, yes William Shakespeare (baptised April 26, 1564 – died April 23, 1616), was an English poet and playwright widely regarded as the greatest writer of the English language, as well as one of the greatest in Western literature, and the world's preeminent dramatist) – aka "The Bard" – would have been proud.
The blast from the cannon goes off and just as scripted, we have Tommy G, BRD, Ryan McDermott, Steve Murdock, and a guest appearance from Zach Predmore of Shen up front. The team race looked like Shenendehowa's, from the 800 meter mark to the finish line -- it was that evident, even in this massive field. FM was definitely in the mix, as was Collegiate, but the Dutchmen out of NYC were not the same team that won at Great American on September 23.
By 1 ½ miles BRD barely led Tommy G, with Zach Predmore running a heroic race in third with his teammate "Doc" 13 seconds behind the leaders with RMac a stride back. At this point the team battle is a clear Shen, with FM and Collegiate in a death dual. Just prior to the 2 mile mark, it's still BRD by a step over Tommy G, with Doc moving to third, still 13 seconds in arrears.
Predmore is still courageously holding on to fourth with PSAL Champion Keith Stapleton of Curtis moving into fifth, with top junior Lee Berube of Ticonderoga racing into sixth, closely followed by CHSAA Champion RMac. The team title looks like Shen, Collegiate and FM, with Smithtown showing their cards and looking to make a statement.
And down the stretch they come! It's Tommy G's day as he just misses the Bowdoin course record by four tenths of a second!!! Charlie Millioen of St. Anthony's ran 15:39.7 in 2000 to TG's 15:40.1. BRD takes the silver in 15:45.5 and an "under the weather" Doc takes the bronze in 15:48.0. Their times rank them #2, #5 & #7 AT at Bowdoin. Super kudos to Berube, who ran the "perfect" race for this course. By his own admission he was as far back as 50th in the early going and RACED all the way to 4th in a fine 16:16.5 to tie for #29 AT.
Matt Jones's Plainsmen won the coveted team title with 98 points, followed by the 151 points of a rebounding Collegiate squad, which nipped FM by a scant three points (154). The top five was rounded out by Smithtown of Long Island with 171 and a strong outing by Queensbury with 200 even.
In an interview with Steve Murdock of Shen, he really surmised what the Fed is all about. "NYS is real tough, the toughest. It reminds me more of the Battle of the Bulge than the Battle of Saratoga, but either way the team with the biggest gun is going to win."
I could not have said it better myself, Doc. Steve also told me that everyone should really appreciate all the great things that are going on in the sport of cross-country – once again I concur! Lastly, I asked one of the rising stars in our sport, junior Kyle Merber of Half Hallow Hills West, what did he thought of his Fed experience?
"I've never seen so many fans at a cross country race before," he said. "The intensity of the crowd was amazing and I think helped all the runners"
Well said, Kyle, and that is the last word.