Brown Invitational



Friday-Saturday, December 28-29, 2007

Olney-Margolies Athletic Center, Brown University, Providence RI

DyeStat on-site with John Nepolitan





Girls mile showdown highlights Day 2 track action



Day 2 story and photos by John Nepolitan
Results

While the first day of the 26th annual Brown University Invitational featured field events and just one Championship running event, day 2 is all about the oval, with high powered mile races and exciting sprints to soak in.

The chase for a starting position in the Millrose Games high school mile and the first of the season's feature qualifying races every year is a highlight of the two day track festival in Providence, Rhode Island, and 2007 did not disappoint.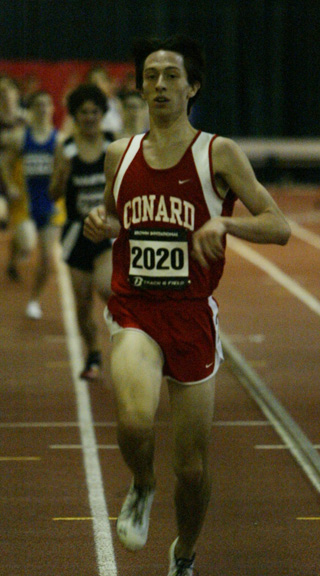 Andrew Judd

Invitational Mile





Boys

– With top seed Kyle Merber(Half Hollow Hills West, NY) sitting the race out, opting instead for the 4 x 800, the field was wide open in the boys mile. Taking the early pace work were the Elnick twis (Tom and Mike) from New York's Kellenberg Memorial HS, leading the field through even splits of 1:06, 2:13.6. With 500 meters to go , Andrew Judd (Conard, Ct) jumped to the front and would pass by the 1200 mark in 3:20, but Judd's lead would last just 1 lap because with 300 to go Demetri Goutos(Saratoga, NY) would jump make his bid for the win. Judd would settle in and then launch his drive for home at the bell and once in the lead, would pull away to a 4:24.00 – 4:25.74 win over Goutos. Right behind Goutos the Elnick's would regroup to nail down 3rd and 4th (Tom 4:26.45 and Mike 4:26.78), with soph Nick Ross (East Greenwich, RI) also dipping under 4:30 in 5th with a time of 4:27.45. Andrew Judd – "I wanted to go out and take control, but still staying relaxed. The twins (Elrich's from Kellenberg) went by me so I just decided to stay on their backs. I just waited on them till like 3 laps to go, passed them and tried to make a surge, but Goutos(Saratoga, NY) came up behind me so I just wanted to take the last 400 as hard as I could….I want to get down to 4:15 indoors."



Girls

– Cailtin Lane (Greenwich, NY) spent a good part of the 2006-07 track season battling IT Band problems. A strong cross country season, including an individual state championship, appeared to show that the injury problems were behind her, and so it was on to indoor track. Opening her season at the Bishop Loughlin Games mile, Lane came in 2nd to North Shore(NY)'s Brianna Welsch in just over 5:00. A 4:37 1500 meter league race helped to shake out the cobwebs, then it was on to Brown. Jumping right out to the lead, Lane would pass through splits of 1:12 – 2:23 and 3:41 with former Saratoga teammate Hannah Davidson right on her shoulder along with Jeanne Mack (LaSalle, RI) and Anna Shields (Lewis Mills, CT). Heading into the final two laps, Lane had started to gap the field as Shields moved into 2nd followed by Davidson. Lurking off the back of the leaders was Sam Roecker (Burnt Hills, NY) who had anchored her school to the Championship DMR title less than 24 hours before. Holding onto her lead over the final two laps Lane would go onto win in 4:57.08 – the #5 time ever at the Brown Invitational. Behind the Penn State-bound runner, Davidson would move past Shields to come home 2nd in 4:58.48, while Roecker would also catch and pass Schields to grab 3rd in 4:59.95. For Lane it was her first major mile victory and confirmation that her problems of the past are just that-- in the past. Caitlin Lane – " I am really excited…The 4:37 gave me a little bit of confidence so I was really ready to come out here…I think that this is my first real big mile win so I am really excited…I wanted to run a hard race regardless if I won or what place I got….My goal was to push the pace the whole way…I think I am going to run the 3000 or 2 mile at Yale, I am not sure if I am going to run the mile again, but I hope to run Millrose and Boston Indoor and stuff like that and try to keep getting faster."




Invitational 500 meters





Boys

– Some states have the 200 and 400 as part of their state order of events, while others have the 300 and 600. The Brown meet runs the unique event – the 500 meters – looking to have an interesting mix of short and long sprinters clashing. Dennis Scruggs (Bellport, NY) very quickly ended all question taking the lead coming off the 1st turn and never being truly challenged on his way to a 1:05.91 clocking. Passing through splits of 26 and 52, Scruggs had hoped to run faster, but is looking to attack the 400 at next week's Hispanic Games in New York and hoping to run "in the 47's." Dennis Scruggs – "It (the 500) is easier (than the 600), but I should have kicked harder….In the 600 I am trying to hit a 1:19. My goal was to hit a 1:21, but I already ran 1:20 so now I wanna hit 1:19….My next race will be the 400 at the Hispanic Games where I want to run 47 or 48."



Girls

– Jasmine Morrow (Hope) got to the lead quickly in the 1st section of the three-section final and held that lead all the way to the finish line, just holding off a fast closing Mogda Rubak (Half Hollow Hills West) in the meet's closest finish 1:19.58 – 1:19.61. As the 3rd and final section took to the track, few in attendance were really paying close attention, but when Rachelle Sylvia (Westerly, RI) hit the front and started to build up a big lead, heads started to turn. Closing in on the finish line it became a question of just how close could she get to the fastest time posted. Running through the line, Sylvia would run .55 seconds faster than Morrow and claim the title.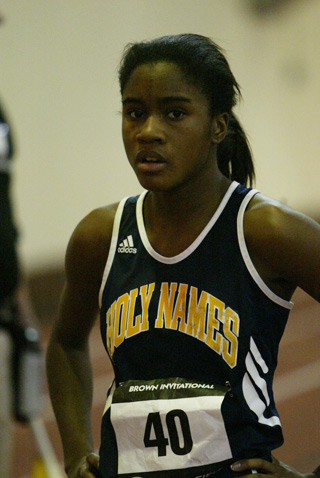 55 meter dash winner Klarissa Ricks

Invitational 800 meters





Boys

– Jumping to the front at the gun, Cas Loxsom (Wilber Cross CT) would lead the field through an honest, but not blistering 57 opening 400. Sitting right on Loxsom's shoulder would be in-state rival Andrew Esposito (Ledyard, CT) and with just 1 lap to go, Esposito would attack. Once in the lead he would not look back and steadly pull away for a 1:58.25 – 1:59.90 win.



Girls

– A pack of three including Jordan White (Holy Names, NY), Brianne Bellon (Saratoga, NY) and Monique Mckenzie (Tilden, NY), quickly formed in the 800 and like the boys had an honest opening pace but not blistering. Always in proper position, White would sit until it was time to strike for home. Jumping to the lead at the bell, White would go on to win by just over 2 seconds, running 2:15.33 to the 2:17.61 of Mckenzie and 2:18.26 of Bellon. Jordan White – "It (the race) followed my plan, we went out a little bit slower than I thought (68 at the 400)… I just kind of hung back and waited for the end of the 3rd lap to move up, I like to be right at the front at the start of the last lap and then I don't have to go wide on that last lap…For my first 800 of the season I think that 2:15 is pretty good for me."



Sprints



After posting the fastest qualifying times in the trials and semi's, Madalayne Smith (Saratoga, NY) 55 meter High Hurdles, and Klarissa Ricks(Holy Names, NY) 55 meter dash, each dominated the final of their events. Smith's time in the hurdles, 8.26, is the #7 time in meet history, while Ricks clocked the #8 time in meet history with a 7.16 dash performance. The two winners of the boys straightaway events did NOT have the top times in their qualifying rounds, but made their presence known as soon as the gun went off in the final. James Kehrer (Colonie, NY) got the lead in the 55 hurdles and put pressure on Chris Conway (Bishop Freehan, MA) who had the best time in the semi final, but could not come back on Kehrer in the late stages of the final. Kehrer would go onto win in 7.69 to Conway's 7.75. Dominic Smith (Bloomfield, CT) had only the 4th best time in the 55m semi, but would jump out to the lead early in the final and hold on for a 6.50 – 6.53 win over state rival Lorenzo Baker (Middletown, CT).



Invitational 3000 meters



Each of the long distance races saw a pack of three form and that is where the similarities would end. The boy's race would start off with Westerly (RI) teammates on the front as Andrew Springer and Tim O'Loughlin would lead the field through splits of 1:12- 2:23 – 3:33- 4:45 – 5:57- 7:10 and 8:20, when, with 250 meters to go, Everett Hackett (Hall,CT) would make a strong bid for the win. Hackett would finish in 8:50.64 ( the #4 time in meet history) while Springer and O'Loughlin would hold on for 2nd and 3rd recording the only other times under 9:00 with 8:55.94 and 8:59.90 clockings. Coming home in 4th place, moving up through the pack thoughout the race, would be Seekonk MA's Johnny Gregorek who would cross the finish in 9:04.88. Gregorek is the son of former St. Anthony's (NY), Georgetown University star, John Gregorek, who was also a US Olympian in the steeplechase.

While the boy's race stayed bunched until late, the girl's race saw Cassandra Goutos (Saratoga, NY) jump to the front and pound out the pace. Passing through splits of 1:17 – 2:34 – 4:02 – 5:24, Goutos had company as teammate Sydney King and LaSalle's Jean Christensen were right on her. Soon the pace would start to take its toll on the trailing pair and Goutos would gain a 6 second advantage at 2000 meters (reached in 6:48) and continue to pull away through splits of 8:13 and 9:38 before finishing off in an indoor best of 10:17.64. Cassandra Goutos – "It felt really smooth…I tried to take it out a little slower and just keep picking it up during the race. It felt really good…it's(10:17) an indoor PR so I am really happy about that and it is the first time I ran it this season."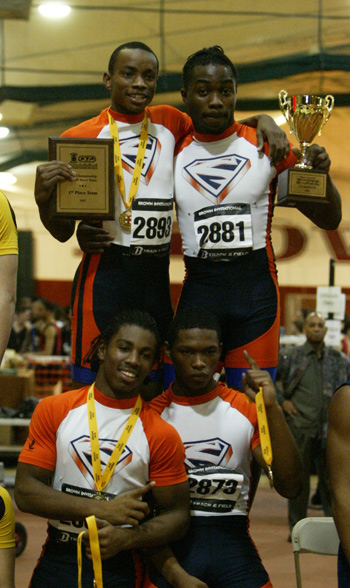 Sheephead Bay NY 4x200

Relays



4 x 800 – Kyle Merber was listed in the mile, but would opt out to run with the same 3 teammates he won the Championship DMR with just 24 hours before. Just like in the previous day's DMR, Harold Jamison would break the race open and give Merber a lead to work with. Attacking his entire 800 meter leg, Merber would bring Half Hollow Hills West home in 8:06.54, good enough not only to break the school's indoor record, but also outdoor record and the #5 time in meet history. While the boys race was all but over even before the final pass of the baton, the girls race was over after the 1st leg. Saratoga, opening up with its #1 cross country runner and team leader Hannah Davidson(2:23), the New York school would be safely in the lead after leg #1 and go on to win by 150 meters over second place, clocking 9:36.33 – the #5 time in meet history. In a show of just how strong Saratoga has been over the years, the 2007 winner is the #4 Saratoga time in meet history.

4 x 400 – The meets final relays always seem to provide some noise and the Brown meet was no different. While Bellport (NY) had won the 1st section of the 4 x 400 in 3:30.24 on the strength of anchorman Andrew Scruggs' 50.6 split, it was the 2nd heat that caused all the commotion. Amityville (NY) would battle with Bergen Catholic (NJ), trading leads throughout the race. Late in the race, Bergen Catholic had the lead and looked like it was headed to a high place when coming off the final turn Amityville pulled up next to the New Jersey school and the two runners bumped arms. Bergen Catholic anchor man Dom Gaston would get bumped onto the infield for a stride and while going off balance put up his arm striking the Amityville anchor. The two schools would come through the finishline with Amityville being given credit for the win in 3:30.57 to Bergen Catholic's 3:31.13, but there was a yellow flag up. In the end both teams would be disqualified.

Darryl Bradshaw would get Sheephead Bay (NY) out to the lead after on the 1st leg of the 4 x 200 and that is where they would stay all the way though the race crossing the finish in 1:32.93. In heat two Middletown CT would do all they could to catch the New Yorkers, but they would come up .02 short and have to settle for the silver medals. While Sheepshead Bay would depend on the strength of a lead off leg, the Bayshore girls Sprint Medley Relay would rely on anchor Sarah McCurdy to bring them from behind to win in 4;12.23 over Holy Names 4:16.61. McCurdy, who had pulled out of the Invitational Mile, would run a swift 2:15.2 split for the Long Island school.


Brown Invitational Index