Brown Invitational



Friday-Saturday, December 28-29, 2007

Olney-Margolies Athletic Center, Brown University, Providence RI

DyeStat on-site with John Nepolitan





Girls DMR is hot, but Flowers' throwing leads Day 1



Day 1 story and photos by John Nepolitan
Results


While the indoor season in New York has been in full swing for a few weeks, the undercover action in New England is just getting started and the first major stop annually is the Brown Invitational. Divided into two days, and each day being divided into sessions for boys and girls, allows for plenty of action. Friday is dedicated to a few choice Championship field events – triple jump, weight throw and pole vault – and the always popular Championship Distance Medley Relay. This is not to say that only 3 events are contested the first day as numerous frosh/soph running events take place, as well as varsity field relays in the high jump, shot put and long jump.

While most of the pre-meet attention had been focused on the DMRs, Victoria Flowers (Classical, RI) was overlooked. After breaking the national record in the 20 pound weight throw she will be overlooked no more.



Girls 20 Pound Weight Throw

– While the first day started to come to an end, and teams began to file out, Victoria Flowers(Classical, RI) stepped into the throwing circle for her 5th throw of the day. Seconds later, officials scrambled to get an accurate reading of the measuring tape and the final reading was a new national record of 61-00.75, adding just over 2" to Maureen Griffin's 11 year old mark.

Flowers was the national leader in 2007 and improved her best from a 58-01.75, which had made her the #4 performer of all time. So the record throw was not a surprise, not to Flowers or her coach Robert Palazzo.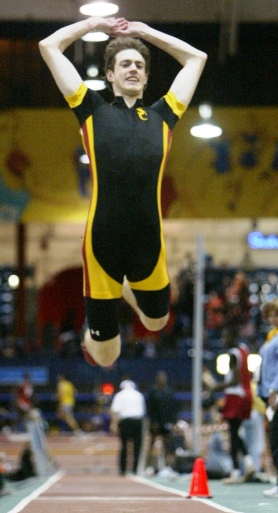 Steve Crouse

"Victoria has been looking great and it was just a matter of time and keeping it between the lines", said Coach Palazzo. Flowers will have more chances this season to extend the record with upcoming meets such as the Dartmouth Relays and URI Invitational. Looking to the end of the season, the UCONN-bound Flowers will return to the NSIC and possibly follow in the footsteps of Walter Henning (St Anthony's, NY ) and finish her career with a new national record at The Armory.

Victoria Flowers -- "I still can't believe it….I had a good vibe today, I just wanted to stay calm. Every throw was a good one, even if it was a foul (just her 1st throw), I knew it was a good one….My coach always says it is just a matter of time, just practice, practice, practice. I get better in practice. I have my bad days and he keeps telling me to do this do that and it always gets better….I want to break it (the record) again and throw further; this is just the beginning of the season."



Boys Championship Triple Jump

– As the doors to the Brown University indoor track facility were just being opened and teams began to file in, Steve Crouse (Colonie Central, NY) was on the triple jump runway, measuring out his steps only to find that his runup would be cut 4' short by the buildings homestretch wall. The distance of 117' was just not going to be long enough for the senior to use his normal approach.

But a 47' 8-1/2" jump in the preliminary round would be all Crouse would need to record his 2nd major invitational win of the still young indoor season. In the 1st jump of the finals, Crouse switched from the 40' board to the 36' board in hopes of getting the run up he wanted, but it was not to be. Still feeling the effects of being ill the previous week, with strep throat, Crouse in his own words "ran out of gas" and called it a day. Crouse will return to the New York Armory next for the Hispanic Games and then explore the long jump at the Yale Invitational.

Steve Crouse – " A win's a win; I'll take it….I didn't have my full approach, so I shortened it up a little bit, but it didn't make that much of a difference….(on trying to get closer to the 50' barrier) I want to go 49' next week at the Hispanic Games, and keep lifting and practicing."



Boys Championship Pole Vault

– Brian McGovern (Mt Saint Michael's NY) had made the goal for himself to jump at least 15' 0" in every meet this indoor season. He had continued his streak of 15' competitions at yesterday's Marine Holiday Classic at The New York Armory Center before calling it a day to rest for the long trip to Providence.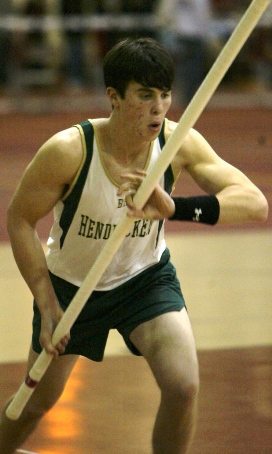 Nick Casbarro


While McGovern waited for his opening height, the competition here continued and slowly one by one competitors dropped away. With only 2 other competitors remaining McGovern entered the competition at 13'6". While the top-seeded McGovern waited, Nick Casbarro (Bishop Hendriken, RI) had cleared 13' 0" to take the lead. Three times McGovern would come down the runway at his opening height and each time he would have more than enough height to clear the bar only to "come down" on it with his chest dislodging the bar.

Casbarro would miss his three attempts at 13'6" and then wait to see what McGovern could do. It was not to be for the New Yorker as once again he would come down on the bar after being what appeared to be at least 2' over it. The home state would have its first winners of the weekend as Casbarro would claim the title.



Boys Championship Distance Medley Relay

– While the girls' distance medley relay later in the day had 2 or 3 teams that appear to be a cut above the others, the boys race was up for grabs with no clear cut favorite. If there was a role of favorite it may have fallen to Kellenburg Memorial (NY), having already broken 8:00 in the 4 x 800 this season.

Half Hollow Hills West (NY) had maybe the best anchor leg on paper coming into the weekend, with 4:15 miler Kyle Merber handling the final leg duties. Early on, it looked like the 800 meter strength of Kellenburg and the balanced strength of Colonie would break away, but never far behind through the first two legs was Half Hollow Hills West. Half Hollow Hills 800 meter leg, Harold Jamison, would grab the baton some 15-20 meters behind the two leaders and would avoid the temptation to bolt out to catch them. Running controlled, Jamison slowly worked his way back to the two leaders and his 2:00.2 split would giver Merber an unexpected slight lead at the final exchange.

Through the first half Merber was not alone and then "put the brakes on," thus forcing the Kellenberg anchor Thomas Elnick to the front. For two laps Merber stayed right in the perfect position before striking for home with 2 laps to go. Coming up to 1 lap to go the Columbia-bound runner had a slight gap which would continue to grow all the way to the finish.

"Coming into the race we had hoped to qualify for nationals (10:40) and after adding up our potential splits we knew we could do it. When I looked up and saw we had run 10:30 I was ecstatic," said the anchor man Merber about his team's performance.

Harold Jamison – "I just did what I had to do….my coach did it for me. If it was not for practice I would not have been able to do it."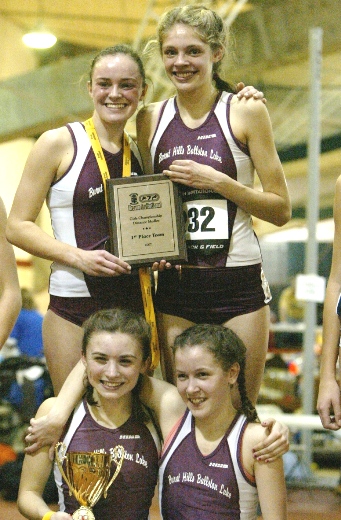 Burnt Hills DMR Girls


Kyle Merber – "I was not expecting to get it in first. I told my teammates to keep me within 5 – 10 seconds and I would do my best, so getting it in the lead was a nice surprise. I took it out in 65 or so, then my coach said let him do the work, so I just dropped the pace. I really just put the brakes on, and he took the lead and I just sat on him. I'm really confident in my kick; normally when it comes down to 400 meters I think I am going to be in it till the end. You have to make sure he is not coming up, but I was confident that I could do it (hold on to the finish)."



Girls Championship Distance Medley Relay

- Most of the pre-meet attention fell on the girls distance medley, as two teams that had recently returned from the Nike Team Nationals would be squaring off. Adding fuel to the fire, these two teams, Saratoga and Burnt Hills are not only instate rivals in New York, but also in the same league and have faced each other many times. So as the teams lined up for the final time in 2007 this race was thought to be a duel between the two.

Seemed everybody forgot to tell LaSalle HS that this was to be a two-team affair, as after a swift 3:37.2 opening leg by Jeanne Mack, the Rhode Island school had a slight lead. With Lauren Cardarelli(60.5) and Nicole Cocozza (2:24.6) handling the middle legs, LaSalle built up a 25 meter lead over Burnt Hills, with Saratoga another 25 back as the 1600 meter anchor legs took the stick.

Burnt Hills' Sam Roecker, the NTN New York Champion, took off after LaSalle's Jean Christensen and as each lap went by was not really cutting into the lead at all. Behind the lead two, Saratoga's Hannah Davidson was starting to close in. With four laps to go Davidson moved to Roecker's shoulder and the two now locked in battle started to make up ground on the leader. Refusing to give up her advantage over Davidson, Roecker moved right up and past the leader and powered home in 5:00.4 for her 1600 meter leg for a total time of 12:05.94 to Saratoga's 12:07.05 (anchored by Davidson in 4:56). Coming home third LaSalle would run a fine 12:11.90 with Christensen covering her 1600 meter leg in 5:09.6.

Sam Roecker – "My team always puts me in a great position and it was again a great position to chase people down. I knew I had Hannah coming behind me, so that was pushing me a lot. I was focusing on the girl in front of me, I really wanted to go for it today."

Meaghan Gregory (Burnt Hills 1200 leg) - "I was just trying to get a as big of a lead as I could get, because I know that the 3 anchors are really strong. It is a really good start for the year, for the 1st race it is exciting."



| | |
| --- | --- |
| | Kyle Merber and Sam Roecker finish off the anchors in their teams' DMR victories |
Brown Invitational Index