Cherokee Challenge: Senior Boys





Kevin McDonnell 9:45 sets course record





Sept. 15, 2007 Marlton NJ



Results - More Pix



Kevin McDonnell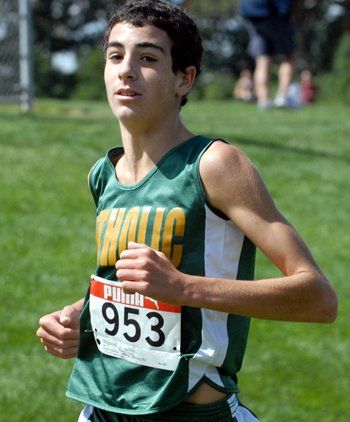 Results
Cherokee High School North                                         Hy-Tek's Meet Manager
                             Cherokee Challenge - 9/15/2007                              
                                       Cherokee HS                                       
                                  Last Completed Event                                   

Boys 3200 Meter Run CC Senior
      Comp#  Name                            School                           Time Points
=========================================================================================
    1   953  McDonnell, Kevin                Camden Catholic               9:45.00       
    2  1167  Sheehan, Mike                   Holy Cross High School        9:50.00       
    3  1125  Borsellino, Mickey              Haddon Heights               10:06.00       
    4  1531  Birchmeier, Ryan                Ocean City HS                10:09.00       
    5  1859  Clemson, Alex                   Washington  Twp.             10:10.00       
    6  1666  Latini, Jake                    Seneca High School           10:11.00       
    7  1444  Healey, Kevin                   Moorestown High School       10:11.00       
    8  1454  Mulski, James                   Moorestown High School       10:12.00       
    9  1110  Steffney, Joseph                Eastern Regional High Sch    10:12.00       
   10  1571  Kearney, Mark                   Pennsville Memorial HS       10:13.00       
   11  2073  Carreon, Daniel                 Haddonfield Memorial         10:13.00       
   12  1381  Poss, Christopher               Manchester Township H.S.     10:14.00       
   13  1325  Carfello, Dominick              Lenape High School           10:19.00       
   14  1733  Sherman, Victor                 Southern Regional            10:23.00       
   15  1079  Ali, Michael                    Eastern Regional High Sch    10:23.00       
   16  1536  Hoffman, Stephen                Ocean City HS                10:24.00       
   17   903  Turchio, Joe                    Barnegat High School         10:24.00       
   18  1811  DeAndrade, Joe                  Toms River North             10:25.00       
   19   868  DeBlasio, Garth                 Allentown H.S.               10:25.00       
   20  1678  Bonner, JP                      Shawnee Boy's Cross Count    10:25.00       
   21  1706  Armstrong, Jake                 Southern Regional            10:26.00       
   22  1140  Whitman, Andrew                 Haddon Heights               10:29.00       
   23  1844  Fox, Brandon                    Triton Regional              10:29.00       
   24  1538  Martin, Connor                  Ocean City HS                10:31.00       
   25  1020  Rocco, Zachariah                Clearview                    10:31.00       
   26  1019  Riskie, Walt                    Clearview                    10:32.00       
   27  1178  Siracusa, John                  holy spirit high school      10:32.00       
   28  1384  Abate, Brian                    Maple Shade                  10:32.00       
   29  1931  Esperanzate, Michael            Williamstown                 10:37.00       
   30  1192  Kita, Evan                      Hopewell Valley              10:40.00       
   31  1574  Mowers, Anthony                 Pennsville Memorial HS       10:41.00       
   32  1457  Naylor, Wylie                   Moorestown High School       10:41.00       
   33  1812  Delanoy, Mike                   Toms River North             10:42.00       
   34  1197  Nespoli, Jared                  Hopewell Valley              10:42.00       
   35  1096  Greer, Steven                   Eastern Regional High Sch    10:47.00       
   36  1776  Holzer, Dale                    Timber Creek High School     10:50.00       
   37  2036  McCarroll, Steven               Cherokee                     10:52.00       
   38  1837  Work, Cory                      Toms River North             10:52.00       
   39  1748  Price, Keith                    Spotswood                    10:54.00       
   40  1613  Perez, Daniel                   Rancocas Valley              10:54.00       
   41  1218  Kulik, Cody                     Howell HS                    10:55.00       
   42  1878  Austin, Tom                     West Deptford Boys XC        10:56.00       
   43  1953  Thompson, Andre                 Winslow Twp Cross Country    10:56.00       
   44  1224  Roberto, Mike                   Howell HS                    10:56.00       
   45  1601  Krassan, Mike                   Rancocas Valley              10:58.00       
   46  2332  Lee, Mike                       Egg Harbor                   10:58.00       
   47  2236  Pennisi, Rich                   Collingswood                 10:59.00       
   48  1129  Cole, Colin                     Haddon Heights               11:02.00       
   49  1406  Berreras, Estevan               Millville Senior High Sch    11:04.00       
   50  1012  Hackenbrack, Kyle               Clearview                    11:06.00       
   51  1888  Lysaght, Carl                   West Deptford Boys XC        11:06.00       
   52  1164  Moloney, John                   Holy Cross High School       11:07.00       
   53  1576  Powers, Matthew                 Pennsville Memorial HS       11:07.00       
   54  1912  Paskewitz, Brad                 West Windsor Plainsboro S    11:08.00       
   55  1778  Kelly, Shawn                    Timber Creek High School     11:09.00       
   56  1819  Gordon, Eli                     Toms River North             11:09.00       
   57  1866  Kelly, Chris                    Washington  Twp.             11:10.00       
   58   948  Knight, Scott                   Camden Catholic              11:10.00       
   59  1161  Barth, Zach                     Holy Cross High School       11:12.00       
   60  1684  Codianni, Jimmy                 Shawnee Boy's Cross Count    11:13.00       
   61  1636  Flynn, Brian                    Robbinsville High School     11:14.00       
   62  1552  Lively, Paul                    Paul Vi-Haddonfield          11:15.00       
   63   921  Laskowski, Brian                Bishop Eustace Prep          11:17.00       
   64  1905  Frankel, Ian                    West Windsor Plainsboro S    11:17.00       
   65  1660  Gossack, Nick                   Seneca High School           11:17.00       
   66  2336  Sholler, Dan                    Egg Harbor                   11:18.00       
   67  1520  Hutter, Matthew                 Oakcrest High School         11:18.00       
   68  1186  DeLucca, Jeff                   Hopewell Valley              11:18.00       
   69  1792  Donohue, Matt                   Toms River East              11:18.00       
   70  1810  Cifelli, Vincent                Toms River North             11:19.00       
   71  1864  Gallaher, Wesley                Washington  Twp.             11:19.00       
   72  1394  Timmons, Sean                   Maple Shade                  11:19.00       
   73  1761  Furgione, JJ                    St. Joseph Hammonton         11:20.00       
   74  1759  Cusick, Justin                  St. Joseph Hammonton         11:20.00       
   75  1288  Brown, Kyle                     Lacey Township High Schoo    11:20.00       
   76  1711  Carney, Sean                    Southern Regional            11:21.00       
   77  1935  Jengehino, Justin               Williamstown                 11:22.00       
   78  1022  Walsh, Kevin                    Clearview                    11:23.00       
   79  1163  McLean, Chris                   Holy Cross High School       11:23.00       
   80  1602  Leeds, Ryan                     Rancocas Valley              11:24.00       
   81  1339  Piotrowski, John                Lenape High School           11:25.00       
   82  1662  Hartman, Mike                   Seneca High School           11:26.00       
   83  1160  Barnes, Michael                 Holy Cross High School       11:27.00       
   84  1937  Thekkumthala, Austin            Williamstown                 11:28.00       
   85  1118  Leftridge, Brandon              Ewing High School            11:29.00       
   86  2204  Phillips, Stephen               Cranford High School         11:29.00       
   87  2333  McLarnen, Bill                  Egg Harbor                   11:30.00       
   88  1883  Connor, Jeff                    West Deptford Boys XC        11:30.00       
   89  1171  Duffy, Chris                    holy spirit high school      11:30.00       
   90  1555  Norris, Thomas                  Paul Vi-Haddonfield          11:30.00       
   91  1542  Moreland, William               Ocean City HS                11:31.00       
   92  1347  Sternin, Cory                   Lenape High School           11:31.00       
   93   916  Bocchicchio, Austin             Bishop Eustace Prep          11:31.00       
   94  1386  Caruso, Mike                    Maple Shade                  11:32.00       
   95  1732  Schmidt, Andrew                 Southern Regional            11:32.00       
   96  1736  Tamburo, Eddie                  Southern Regional            11:33.00       
   97  1680  Breitling, John                 Shawnee Boy's Cross Count    11:33.00       
   98  1924  Zhang, William                  West Windsor Plainsboro S    11:33.00       
   99  1177  Malecki, Jason                  holy spirit high school      11:34.00       
  100  1077  Rizzolo, Anthony                Deptford High School         11:34.00       
  101  1111  Traister, Matthew               Eastern Regional High Sch    11:35.00       
  102  1507  Sichel, Christopher             Northern Burlington          11:35.00       
  103  1423  Achilly, Nate                   Moorestown High School       11:35.00       
  104  1508  Sobotka, Kevin                  Northern Burlington          11:36.00       
  105  1414  Mitchell, Scott                 Millville Senior High Sch    11:36.00       
  106  1107  Reese, Joshua                   Eastern Regional High Sch    11:37.00       
  107  1833  Spedick, Andy                   Toms River North             11:38.00       
  108  1100  Kudart, Robert                  Eastern Regional High Sch    11:38.00       
  109  1058  Matinog, Joe                    Delsea boys cross country    11:38.00       
  110  1067  Budd, Matt                      Deptford High School         11:39.00       
  111  1901  Darmofal, Chis                  West Windsor Plainsboro S    11:39.00       
  112  1650  Schindewolf, Michael            Robbinsville High School     11:39.00       
  113  1420  Smith, Josh                     Millville Senior High Sch    11:40.00       
  114  1803  Zygmunt, Mark                   Toms River East              11:41.00       
  115  1009  Bowers, John                    Clearview                    11:42.00       
  116  1554  Murphy, Edward                  Paul Vi-Haddonfield          11:45.00       
  117  1313  Hinson, Adam                    Lawrence High School         11:46.00       
  118  1617  Waterhouse, Mike                Rancocas Valley              11:47.00       
  119   968  Wiater, Matt                    Cardinal McCarrick HS        11:50.00       
  120  1335  Herdeg, Tyler                   Lenape High School           11:51.00       
  121  1213  Firsichbaum, Alex               Howell HS                    11:53.00       
  122  1491  Chandel, Abhi                   Northern Burlington          11:53.00       
  123  2033  Lutz, Ryan                      Cherokee                     11:54.00       
  124  1172  Forys, Joe                      holy spirit high school      11:54.00       
  125  1846  Kkirschner, Kevin               Triton Regional              11:55.00       
  126  1546  Bradford, William               Paul Vi-Haddonfield          11:56.00       
  127  1411  Jones, Elijah                   Millville Senior High Sch    11:57.00       
  128  1800  Rokisky, Justin                 Toms River East              11:58.00       
  129  1498  King, Ian                       Northern Burlington          11:58.00       
  130  1502  McMullen, Andrew                Northern Burlington          11:59.00       
  131   919  Crisci, Tim                     Bishop Eustace Prep          12:00.00       
  132  1897  Wilson, Tyler                   West Deptford Boys XC        12:03.00       
  133  1017  Praetzel, Chris                 Clearview                    12:04.00       
  134   847  Hammie, Darrell                 Absegami                     12:05.00       
  135  2192  Albert, William                 Cranford High School         12:06.00       
  136  1481  Campbell, Shaun                 Neptune High School          12:07.00       
  137  1510  Anderson, John                  Oakcrest High School         12:11.00       
  138  1383  Ross, Robert                    Manchester Township H.S.     12:12.00       
  139  2121  Cordero, David                  St. Augustine Prep           12:14.00       
  140  1037  Mayes, Scott                    Delran High School           12:14.00       
  141  1919  Jaywant, Sameer                 West Windsor Plainsboro S    12:15.00       
  142   877  Ondy, Kyle                      Allentown H.S.               12:16.00       
  143  1972  DeFebo, Jason                   Woodstown High School        12:16.00       
  144  1629  McCullough, Austin              Riverside                    12:17.00       
  145  1996  String, Phil                    Woodstown High School        12:18.00       
  146  1278  Salvatore, Jeff                 Kingsway High School Tour    12:20.00       
  147  1228  Sharp, Jack                     Howell HS                    12:22.00       
  148  2034  Mauro, Tyler                    Cherokee                     12:22.00       
  149  1740  Bredin, Mike                    Spotswood                    12:26.00       
  150  1415  Novakowski, Greg                Millville Senior High Sch    12:27.00       
  151  1331  Forester, David                 Lenape High School           12:28.00       
  152  1041  Seville, Tyler                  Delran High School           12:28.00       
  153  1700  O'Neill, Steve                  Shawnee Boy's Cross Count    12:28.00       
  154   873  LaCroix, Eric                   Allentown H.S.               12:29.00       
  155   888  Bennett, Peter                  Barnegat High School         12:29.00       
  156  1699  Nixon, Dale                     Shawnee Boy's Cross Count    12:30.00       
  157  2142  Thompson, Charles               Collingswood                 12:32.00       
  158  1690  Gutekunst, Dan                  Shawnee Boy's Cross Count    12:34.00       
  159  1296  Mason, Matt                     Lacey Township High Schoo    12:35.00       
  160  1379  Nadolny, Tyler                  Manchester Township H.S.     12:37.00       
  161  1609  Melendez, Andrew                Rancocas Valley              12:38.00       
  162  1797  Miller, Eric                    Toms River East              12:41.00       
  163  1692  Klink, Alex                     Shawnee Boy's Cross Count    12:43.00       
  164  1801  Rutherford, Chris               Toms River East              12:47.00       
  165  1361  Mulhare, Cliff                  Manasquan                    12:48.00       
  166   891  Cropper, Ryan                   Barnegat High School         12:49.00       
  167  1223  Puglisi, Emanuel                Howell HS                    12:49.00       
  168  1227  Scherbinski, Daniel             Howell HS                    12:49.00       
  169  1387  Cooper, Nate                    Maple Shade                  12:50.00       
  170  1145  dezii, anthony                  Haddon Township              12:50.00       
  171  1763  Hausmann, Devon                 St. Joseph Hammonton         12:51.00       
  172   930  Grover, Kyle                    Bths Cross Country           12:54.00       
  173  1355  Davellis, Thomas                Manasquan                    12:54.00       
  174  1119  Lim, Jammar                     Ewing High School            12:55.00       
  175   929  Ekelburg, Robert                Bths Cross Country           12:55.00       
  176   964  Kelly, Sean                     Cardinal McCarrick HS        12:56.00       
  177  1658  Davies, Ryne                    Seneca High School           12:57.00       
  178  1768  Taylor, James                   St. Joseph Hammonton         12:57.00       
  179  1180  Wolf, Bill                      holy spirit high school      12:59.00       
  180  1949  Nwarnuo, Pat                    Winslow Twp Cross Country    12:59.00       
  181  1509  Yilmaz, Bekir                   Northern Burlington          13:00.00       
  182  1618  Winkelman, Matt                 Rancocas Valley              13:01.00       
  183   867  Boss, Chris                     Allentown H.S.               13:01.00       
  184  1422  Wilson, Anthony                 Millville Senior High Sch    13:02.00       
  185  1429  Chen, Albert                    Moorestown High School       13:04.00       
  186  2200  Kuczynski, Mark                 Cranford High School         13:05.00       
  187   895  Flood, Mike                     Barnegat High School         13:05.00       
  188  1936  Teefy, John                     Williamstown                 13:05.00       
  189  1093  Flynn, Sean                     Eastern Regional High Sch    13:06.00       
  190  1024  Weeks, Andrew                   Collingswood                 13:06.00       
  191  1625  Drewke, A. J.                   Riverside                    13:06.00       
  192  1556  Pellegrino, Stephen             Paul Vi-Haddonfield          13:06.00       
  193  1589  Weaver, Kevin                   Pitman                       13:10.00       
  194  1710  Caporusso, Bruce                Southern Regional            13:11.00       
  195  2208  Skelcy, Jacob                   Cranford High School         13:14.00       
  196  1497  Hardiman, Kevin                 Northern Burlington          13:15.00       
  197   995  Pawling, Christopher            Cherry Hill HS West          13:16.00       
  198  1054  Jones, Najee                    Delsea boys cross country    13:17.00       
  199   887  Begley, Chris                   Barnegat High School         13:18.00       
  200  2130  McClain, Kevin                  St. Augustine Prep           13:18.00       
  201  1817  Gerew, Daniel                   Toms River North             13:22.00       
  202   865  Wescoat, Ian                    Absegami                     13:23.00       
  203   960  Brennan, Mike                   Cardinal McCarrick HS        13:24.00       
  204   967  Weiler, Eric                    Cardinal McCarrick HS        13:25.00       
  205   954  McFadden, Shane                 Camden Catholic              13:25.00       
  206   907  Avale, Devin                    Bcit                         13:25.00       
  207   959  Balili, Delfin                  Cardinal McCarrick HS        13:32.00       
  208  1078  Wright, Tom                     Deptford High School         13:34.00       
  209  1968  Black, Andrew                   Woodstown High School        13:36.00       
  210   850  Ingrum, Daniel                  Absegami                     13:40.00       
  211  1128  Carfolite, Chris                Haddon Heights               13:44.00       
  212  1357  Geiger, James                   Manasquan                    13:50.00       
  213  1588  Ryan, Brendan                   Pitman                       13:51.00       
  214  1771  Brandis, Kevin                  Timber Creek High School     13:56.00       
  215  1070  Gillespie, Sean                 Deptford High School         13:58.00       
  216  1686  Engelke, Ryan                   Shawnee Boy's Cross Count    13:58.00       
  217  1152  Jiang, Minqi                    Haddon Township              13:58.00       
  218  1564  Morales, Matthew                Pennsauken Girls Cross Co    13:59.00       
  219  1587  Mallardi, Alex                  Pitman                       14:11.00       
  220  1553  Magrino, Matthew                Paul Vi-Haddonfield          14:13.00       
  221  1560  Rooney, James                   Paul Vi-Haddonfield          14:14.00       
  222  1174  Kresz, Tom                      holy spirit high school      14:19.00       
  223   951  Mazzochette, Leo                Camden Catholic              14:19.00       
  224  1195  Michaels-Grant, Kevin           Hopewell Valley              14:23.00       
  225  1622  Becker, Brian                   Riverside                    14:26.00       
  226   998  Redman, Nicholas                Cherry Hill HS West          14:27.00       
  227  1001  Spewak, Brandon                 Cherry Hill HS West          14:38.00       
  228  1802  Teutsch, Zack                   Toms River East              14:47.00       
  229  1492  Dombrowski, Dale                Northern Burlington          14:53.00       
  230  1480  Brown, Tyquan                   Neptune High School          14:59.00       
  231  1487  Turner, Markland                Neptune High School          15:00.00       
  232  1925  Ziedonis, Chris                 West Windsor Plainsboro S    15:19.00  
Pix by John Dye
the start
Runners flow around John Dye after he fired the starter pistol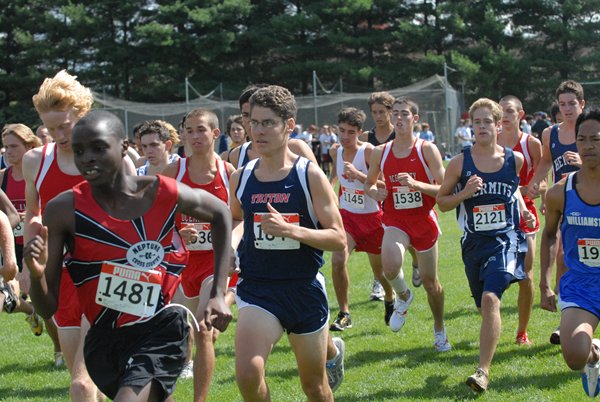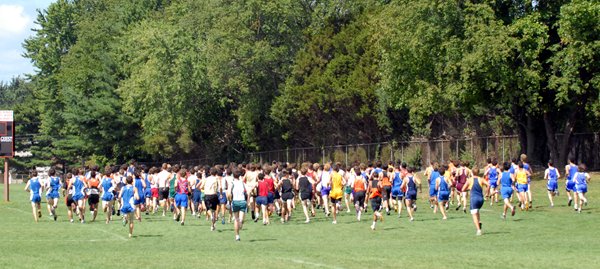 Switchback just past the half mile mark is a crowded turn around a big tree.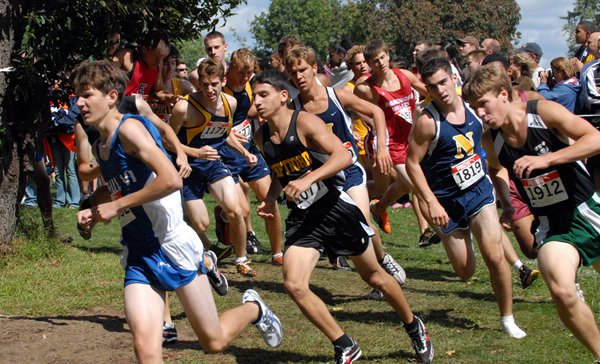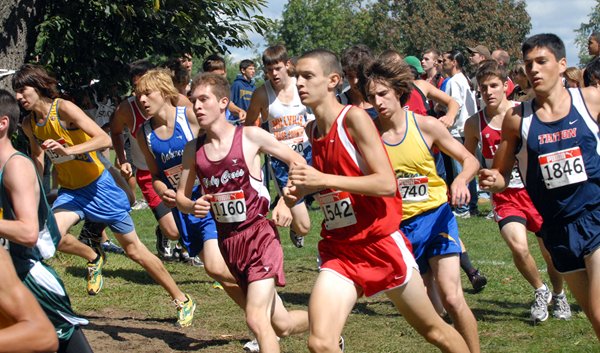 Duel on front end
Kevin McDonnell and Mike Sheehan matched strides for more than half the race before
McDonnell pulled away on the last hill.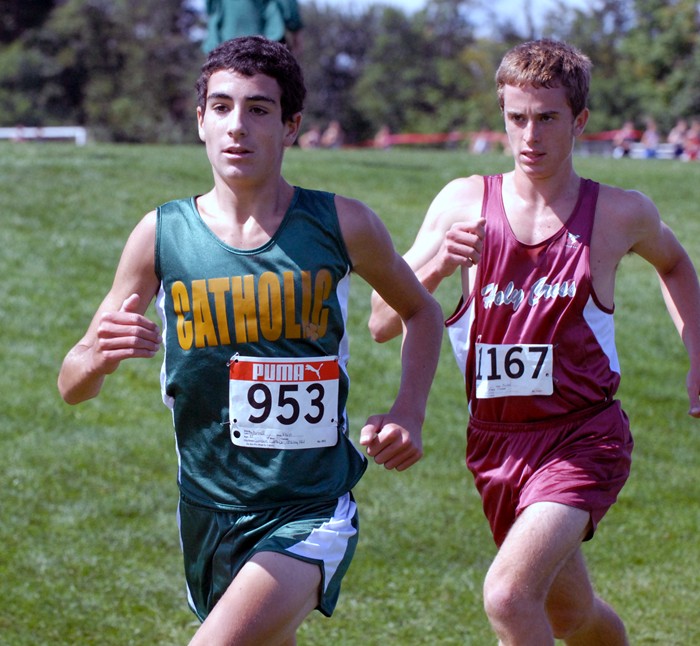 the top three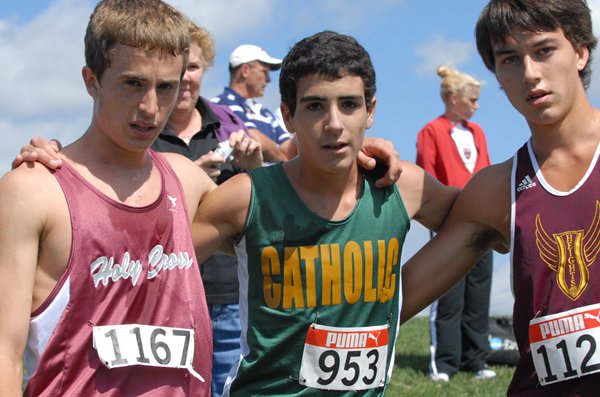 From left -- 2. Mike Sheehan, Holy Cross; 1. Kevin McDonnell, Camden Catholic; 3. Mickey Borsellino, Haddon Heights.
Cherokee home page