DyeStat on-site coverage by John & Donna Dye




Team Scoring and pix

Preview
Schedule
History
Prior Years

the meet's own web site


12th Cherokee Challenge

September 15, 2007, Cherokee HS, Marlton NJ




Chelsea Ley and Kevin McDonnell
break course records.
Team titles won by Haddonfield girls, Ocean City boys
and Southern Regional co-ed.

Donna on the Side - (left) 150 photos of the sideline scenes


All races 2 miles. Click event for results and photos.


Senior Boys - Kevin McDonnell, Camden Catholic 9:45
Senior Girls - Brianna Rogers, Moorestown 11:32
Junior Boys - Brett Johnson, Ocean City 9:53
Junior Girls - Jillian Smith, Southern Regional 11:17
Sophomore Boys - Jon Vitez, Haddonfield Memorial 9:56
Sophomore Girls - Chelsea Ley, Kingsway 10:55
Freshman Boys - Robert Rawls, Triton 10:09
Freshman Girls - Mia Spinnelli, Haddonfield Memorial 12:09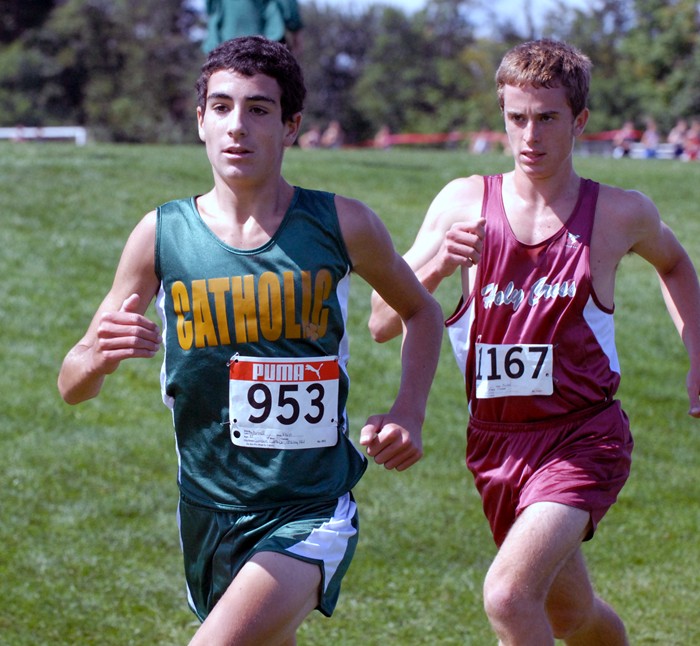 Kevin McDonnell

, Camden Catholic (953) and

Mike Sheehan

, Holy Cross (1167) matched strides for half the boys senior race
until the slender McDonnell pulled away on the last hill to win, 9:45 to 9:50. McDonnell said he had two goals before the race -- to hurt and to
break the course record. He achieved both. "If I don't hurt, I don't run fast," McDonnell said. His goal now is to make
Foot Locker national finals. He finished 73rd in the Northeast regional last year, but he had a big mileage summer and feels he is
much improved. Both McDonnell and Sheehan attended the RunningWorks camp run by the Cherokee high school coaches
and Villanova coach Marcus O'Sullivan.



photos by John Dye



Chelsea Ley

of Kingsway won the sophomore race in 10:55, taking 30 seconds off Danielle Tauro's course record on the course that was reconfigured in 2004. "I went through the mile in 5:15 and I knew I was running against the clock from there on," Ley said.

Southern Regional junior

Jillian Smith

won her first cross country race (she played soccer in the fall before) in 11:17, also besting former teammate Danielle Tauro's course record by 8 seconds. Asked about running without Tauro, who is at U. of Michigan this year, Smith said, "I don't like it." But they still talk on the phone "all the time." Smith said she had no expectations before the race except to place high.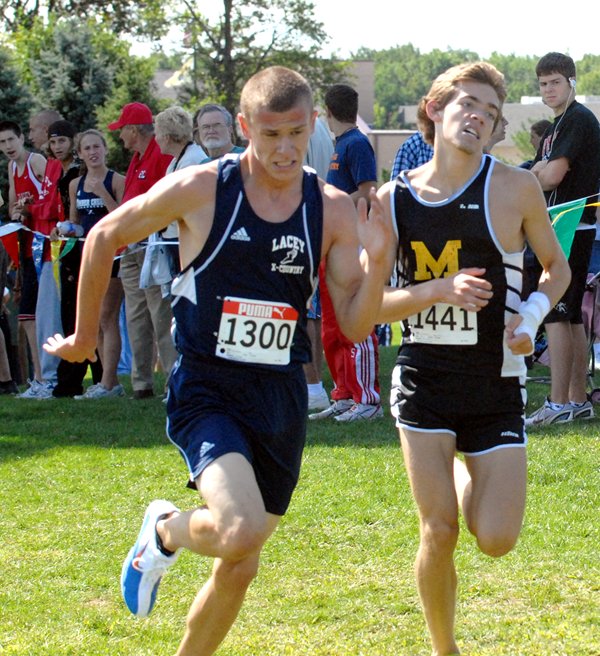 One of the most furious fights to the finish all day saw Tom Pierson of Lacey Twp (1300) edge Ben Friedman of Moorestown (1441)
for fourth in the junior boys race.



Preview

Jillian Smith is the headliner of 2,200 runners and 84 teams. Southern Regional NJ star runs her first meet without star teammate Danielle Tauro. Smith ran the 1200-meter leadoff leg of Southern's national champion distance medley relay team last year. Smith ran 3:33.5, fastest 1200-meter split by an American girl in Penn Relays history, and topped that with a 3:29 opener at Nike Outdoor Nationals, where Southern won in 11:40.81, US#6 all time. On her own, Smith doubled in the New Jersey Meet of Champions (mile 4:53.98 and 800m 2:08.80), 4th in the Millrose Games high school mile (4:54.35), 2nd in the Boston Indoor Games high school mile (4:53.58).

Best boys team will be Haddonfield, a Northeast regional bubble team in the pre-season DyeStat regional rankings.

Other teams of note are:Kingsway (girls) Led by sophomore Chelsea Ley (last year ran 10:41 at the New Jersey state meet, as a Frosh.) and Cherokee (boys) 4x State Group IV Champions.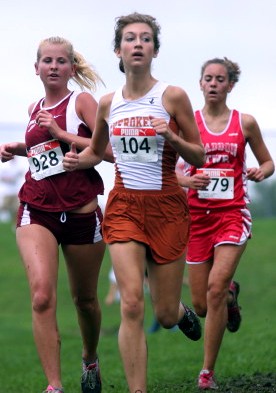 Schedule

9:00 AM . . . Middle School Girls

9:20 AM . . . Middle School Boys

9:40 AM . . . Freshmen Girls

10:00 AM . . . Freshmen Boys

10:20 AM . . . Sophomore Girls

10:40 AM . . . Sophomore Boys

11:00 AM . . . Junior Girls

11:20 AM . . . Junior Boys

11:40 AM . . . Senior Girls

12:00 AM . . . Senior Boys
Race distance: Middle School 2400 meters, High School 3200 meters

Team Scoring: There are team champions at the Cherokee Challenge even though it is a class race. There is a boys champion, girls champion and co-ed champion. The team scores are made up of the highest placing Frosh.+ Soph. + Junior + Senior. The co-ed is simply the total from the girls and boys teams. (Low scores win).



History



Started in 1996 by Steve Shaklee (head coach at Cherokee High School), the Cherokee Challenge is a cross country meet broken down by class and gender. There are a total of 10 races, two for middle school runners and two each for the fourhigh school classes.

The past champions read like a who's who of High School running:
Erin Donahue-Haddonfield -- (4 time winner setting a course record both her junior and senior years running 10:58 her senior year) Competiting a the world Championships this summer.
Mark Pelerin-Cherokee -- 3 time winner (Soph, Junior and Senior years, Mark did not run XC his Frosh. Year but rather played soccer) State Champion for NJ and USATF Junior All American at 5,000 Meters. Foot Locker Qualifier in 2001.
Brittany Sedberry-Ocean City -- Foot Locker Qualifier in 2003 and 2004.
Danielle Tauro- Southern Regional -- 2 time winner, Soph and Junior year. 2 time Foot Locker Qualifier in 2005 and 2006. National Mile Champion.
Brianna Jackucewicz- Colts Neck -- 1 time winner, Middle School Race. Foot Locker Finals Qualifier in 2005. Still in HS and running for Colts Neck.

Team scoring has been in place for 2 years:

2005
Boys: Haddon Heights
Girls: Southern Regional
Co-Ed: Cherokee

2006
Boys: Ocean City
Girls: Hopewell Valley
Co-Ed: Hopewell Valley



Course Records (new course in 2004)



H.S. Boys -- Brian Leung, West Windsor Plainsboro . . . 2006 . . . 9:47

H.S. Girls - Danielle Tauro, Southern Regional H.S. . . . 2005 . . . 11:25

M.S. Boys -- Colin Baker, Haddonfield Memorial H.S. . . 2005 . . . 7:39

M.S. Girls - Lindsay Bertulis, QuickSilver Track. C. . . . 2004 . . . 8:38
Prior Years





2006

- Results - Photos


2005

- Results - Photos


2004

- Results - Photos



Meet Information


For further information: E-MAIL Chris Callinan, CALL (609)254-0826, or FAX at (856) 596-6495.
In emails, state your name and school in the subject area.


DyeStat Northeast region home page