New York State Meet





NYSPHSAA / NYS FEDERATION COMBINED WINTER TRACK AND FIELD CHAMPIONSHIPS



Saturday, March 3, 2007 - Barton Hall, Cornell U., Ithaca NY

Coverage by John "The Track Junkie" Nepolitan

Results from leonetiming.com - Boys Results - Girls Results

- Girls Highlights - Boys Highlights

- See more pics by John Nepolitan! -- Click Here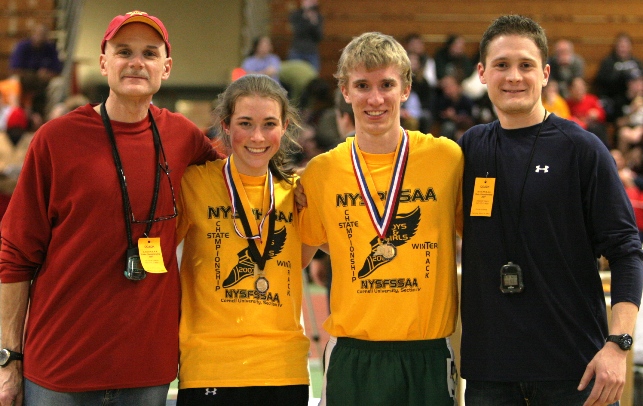 Fayetteville-Manlius coaches Bill Aris(left) and John Aris with their 1500 m (Kathryn Buchan )and 1600 m champs (Geoff King).
Upsets at New York State Girls Championships


Caroline King(Scotia – Glenville) catches US leader Brittany Sheffey(Bellport) at the line to win the 1000 meters State title in 2:54.90 to 2:55.06 with Kristin Reese (Carmel) a close 3rd in 2:55.26
Callie Hogan(Bayshore) holds off Footlocker finalist Shelby Greany(Suffern) over the last 300 meters to claim the 3000 meter state title in 10:01.52 – 10:02.48. National leader Hannah Davidson(Saratoga) towed the field through the first 1-1/2 before dropping back to 7th place.
Kathryn Buchan(Fayetteville-Manlius), who placed 5th at the 2006 Nike Team Nationals to held lead her team to the National Crown, holds off Lea Andrianos(East Syracuse- Minoa) as both runners break 4:40. Buckan's finished in 4:37.62 with Andreanos .1 behind.
| | |
| --- | --- |
| | Kathryn Buchan of F-M (right) over Lea Andrianos of East Syracuse- Minoa in the girls 1500. Photo by The Track Junkie |
Middle College team mates Deiddra Rogers and Analise Austin go 1-2 in the 55 meter dash with Rogers running a swift 6.99 for the win. Trisha Hawthorne(Hamilton), who had not lost to another New York runner all season false started in the trials.
Lindsay Rowe dominates the hurdle field to win by .3 in 7.86. Teammate Dalilah Muhammud jumped 5'9" then had to get to the track where she finished 2nd in the 600 to freshman Phyllis Francis(Catherine McAuley) 1:34.76 – 1:35.32. Returning to the high jump Muhammud could go no higher, but won the event as she cleared 5'9 on her 1st attempt while runner-up Brigetta Barrett(RC Ketchem) needed 3 jumps to clear.
| | |
| --- | --- |
| | Lindsay Rowe of Benjamin Cardozo wins another big hurdle race (center). Photo by The Track Junkie. |
| | |
| --- | --- |
| | Benjamin Cardozo's Dalilah Muhammad was beaten in the 600, but tied her PR by winning the high jump. Photo by The Track Junkie |
Ashley Hendrix and Ashlea McLaughlin of Uniondale each won individual events then joined up to help the Long Island school win the 4 x 200 final. Hendrix won the long jump by 9" with a jump of 19'3-1/2" while McLaughlin lead wire to wire to win the 300 meters in 39.17
With just one jump to go in the triple jump Gabriella Baiter(John Glenn) was ½ " behind Jasmine Simmons(Beacon), but then uncorked a winning 40' 0" jump to claim the title by 2".
When Steve Murdock(Shenendehowa) is entered in an event you can be sure that the pace will not be slow. Murdock may not win everytime out, but he wins many of his races. Today's plan was to go out and run 31's-32's and look for a final time in the 4:10 range. Jumping to the front and passing half way right on schedule Murdock looked right on plan. The next 400 covered in 65 seemed to have ended any chance for a 4:10 finish, but a state championship seemed assured. Even with 1 lap to go Murdock looked like a lock on being the state 1600 meter champion, that all would end in the final 50 meters as Geoff King (Fayetteville-Manlius) would close in and catch the straining Murdock just before the line to win 4:16.35 – 4:17.06. Behind the lead duo John Badolato(West Islip) and Ryan McDermott(Chaminade) would also dip under 4:20 running 4:18.15 and 4:18.54.
Spending most of the season on the injured list, Chris Williams (Collegiate), did not have a seed performance to get him into the seeded section of the 3 section final. Running in the "slowest" section Williams went right to the front and pounded out a 2:33.75 performance. When the seeded section went out slow, everybody was still in contention to win the heat at the bell, but would winning the section be good enough to claim the state title. Exploding from the pack Keith Stapleton(Curtis) pulled away from the field to cross the line in 2:32.56 and grab the title away from Williams whose time was good enough for 2nd place overall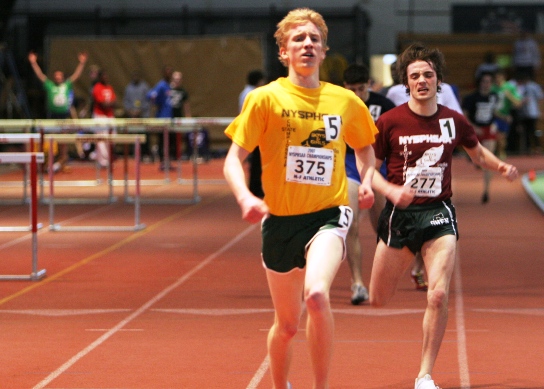 Geoff King of Fay-Man (375) stuns Steve Murdock of Shen (277) with a come-from-behind win in the 1600. Photo by The Track Junkie
Relays many times area the highlight of a championship meet and those events in Cornell did little to disappoint. Pine Bush grabbed the lead early and dared all to come catch them on their way to a quick 1:30.91 (without the benefit of a banked track) 4 x 200 victory. State list leader Newburgh may not have the national class anchor leg that they once had in Elzie Colman(national 400 meter record holder), but they showed that they have four solid legs winning by 2.25 seconds in 3:24.54 in the 4 x 400. In the 4 x 800 Chaminade came into the weekend as the clear favorite having run a time 5 seconds faster than the next best team in the field, but would need its big man Ryan McDermott to pull out the win in 8:01.19 over Byram Hills – 8:02.95 and Shenendehowa- 8:03.38.
Kester Lewis(William Grady) held a clear lead after the preliminary jumps with a 46' 10-1/4" jump, but in round 5 Julian Remouns(Washingtonville) , who was seeded 12th coming into the weekend, bounded out to a 47'4" to take the lead. Lewis would respond with a 47'2-3/4" jump, but could get no closer and Remouns would hold on for the championship.

These athletes show the strain of their efforts, as Chaminade's Ryan McDermott (left) anchors his team to a 4x800 victory and Washingtonville's Julian Remouns (right) pushes from the 12th seed to take the triple jump. Photos by The Track Junkie
Although slowed by a slight strain in his lower leg, Kemar Clarke(South Shore) was the class of the 55 meter hurdles field – remaining undefeated against New York competition taking the state title in 7.56.
The first final of the day, 3200 meters, would be a wild one as there would be constant lead changes over the final mile with Ben Hall (Victor) coming from 4th to the front over the final 150 meters to claim the victory in 9:22.35 with the next four finishers within 4.5 seconds of the winner.
Albert Johnson(Corning) came into the weekend the 2nd seeded athlete in the state and saved his best performance of 2007 until the state championship was on the line. Jumping 23'1/2" Johnson was able to outdistance state leader Conlon Bonner(FH LaGuardia) by 1-3/4" to claim the long jump title
He may be best known as the national record holder for the weight throw, but Walter Henning(St Anthony's) is also the top shot putter in New York. Henning was the only thrower in the state to break the 60' barrier entered in the state meet and the 2006 champion almost had his 2nd 60' throw of the season with a 59'11-1/4" victory over Dennis Faherty(West Islip) 59'3-1/2"