NJSIAA/Star-Ledger Meet of Champs
DyeStat on-site with John Nepolitan
Sat-Sun., February 24-25 2007 John Bennett Indoor Sports Complex, Toms River MD
Boys Photo Gallery - by John Nepolitan

Girls Photo Gallery - by John Nepolitan


Colts Neck Rules Girls, Boys Distance!

Southern sophomore, US#1 holder Jillian Smith posts US#3 1600m in 4:53.98
Eastern freshman English Gardner Doubles -- 7.08 G-55m /56.29 400m

JP Stevens sr Lataya Dixon - 5-08.00 ties US#6 in the HJ
Craig Forys and Ashley Higginson won back-to-back 3200s on consecutive days for Colts Neck in meet record times of 9:03.58 and 10:26.53 (except they did it the other way around). Photos by The Track Junkie
Girls Summaries


The New Jersey State Meet of Champs, after spending many years at Jadwin Gym at Princeton University, has found a new home at the recently opened Bennett Indoor Athletic Complex in Toms River. There may not be as much room to sit and move around, but the close atmosphere brought indoor track back to what it should be – quality performances in a short program with the fans right at track side highlighted by a new national leader in the 3200. In two weekends of racing at Bennett, both the boys and girls national leading performance has been achieved.

1600m – Jackson senior Amanda Marino assumed the lead from the gun in the day's first event with Jillian Smith(Southern Regional) right behind. Little would change until the 1000 meter point, when Smith would jump to the lead and slowly draw away from the field, winning by 5 seconds over Kelsey Ramsey (Ramapo HS).

Smith became the runner to beat after teammate Danielle Tauro, the #1 1600 meter runner in the USA, did not run last week's State Group Championship ( the top 6 from each of the 4 group meets advance to the Meet of Champs with no at large advancers) due to a slight hamstring strain. Tauro will join with Smith and her Southern HS team on Tuesday at the Eastern State Championships in the distance medley relay. Leader splits 71 - 2:28.9 - 3:45.0



55m & 400m– Eastern HS freshman English Gardner came into the Meet of Champs as the top seed having run the fastest time in last week's State Group Championships (7.10) English would run a swift 7.09 in the trials, but would win by just .01 in the final as her 7.08 would just hold off Georgina Nembhard(Ocean Township) 7.09.

With only the hurdle final and the 800 meters between her two races, English was almost right back out on the track for the 400 meter final. Colgate Games Champ Symone O'Connor (Franklin HS) would jump, to the front leading through a swift opening 200 of 26.5, but Gardner was right off her right shoulder, ready to strike. Just past the 200 meter point, defending champ Kristen Mahon(Notre Dame) would go down in a non-foul fall and not finish. Meanwhile, up front Gardner(56.29) would fly off the final turn past O'Connor(56.74) to claim her 2nd state title becoming just the 2nd runner to in state history to pull off the 55 – 400 double.

Behind the top two Emily Carrollo(Pope John XXIII) – 57.72 would be the only other medal winner out of the seeded heat as Jackie Dim(Washington Township) -4th in 57.86, Cora Dayon(Trenton Central) – 5th in 58.58 and Julie Alexander(Hopewell Valley) – 6th in 58.64 all came from unseeded sections.

55m HH – In 2006, Racquel Vassell(East Orange HS) was 2nd in the 55m hurdles at the Meet of Champs; this year there was no question she was the top hurdler in the state. In the prelims, Vallell equaled her state leading time of 8.15. Later in the final, she dominated the field with an 8.11 season best to defeat Lara Jane Que (Ridgewood) by almost .2. Que finished in 8.30, just ahead of the blanket finish of Holland Thomas(WW- Plains North) and Lataya Dixon(JP Stevens) – who would later win the high jump – both timed in 8.32 to tie for 3rd.

800 – Ariann Neutts(Roxbury) and Jahlisa Smith(Plainfield) would lead the field through splits of 32.8 – 66.5 and 1:41.3, while Lauren Bariexa(Pope John XXIII) sat in third, loking ready to strike. With 150 meters to go, Smith would swing around Neutts and set her sights on Neutts. Entering the final 50 meters Bariexa was able to get past the Roxbury sophomore and cross the line in 2:15.24 to claim the title a step in front of Neutts, who clocked 2:15.64. In all, the top 9 would break the 2:20 barrier

3200 – There was little doubt in the outcome of the 3200 as 2006 NTN individual champ and 2 time defending champ Ashley Higginson(Colts Neck) went right to the front and simply kept pulling away from the field. The Princeton bound Higginson would claim her 3rd straight 3200 title and break her own meet record (10:36.74 from 2006) with a national leader 10:26.53.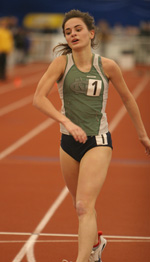 Behind Higginson, Theresa Cattuna (Cherry Hill East) and Lara Heigis(Pope John XXIII) would break away from the pack early and attempt to chase Higginson and finish in 2nd and 3rd in 10:46.85 and 10:57.25. A large main pack would form and circle the track together until the last 800 meters when Amanda Goetchius(Delsea) would break away to claim 4th and be the last runner under 11:00 crossing the line in 10:59.92.


Higginson's splits
400 - 1:17.7
800 - 2:35.1(1:17.4)
1200 - 3:53.9 (1:18.8)
1600 - 5:13.5 (1:19.6)
2000 - 6:33.8 (1:20.3)
2400 - 7:53.7 (1:19.9)
2800 - 9:13.5 (1:19.8)
3200 - 10:26.53 (1:13.0)


4 x 400 – Off the break, East Orange HS had the lead, but coming into the 1st hand-off Pope John XIII had taken over and the early leaders had dropped back to 3rd . One lap later Cherokee HS had gotten itself into the mix, but at the hand off it was once again Pope John and East Orange out front.

Cherokee would once again storm back into the mix and, at the final hand off, East Orange had a slight lead over Cherokee with Pope John in 3rd. With 1 lap to go the 55m hurdle winner Vassell had pulled away from the pack and would easily bring East Orange home for the win in 3:59.03 with Pope John XXIII in 2nd also under 4:00 with a 3:59.87 time and Notre Dame 3rd in 4:00.27. In 4th was Southern Regional the winner of the unseeded section, anchored by 1600 meter winner Jillian Smith, in 4:01.23.

PV – Five vaulters would clear 11'0", but only sophomore Chrissy Finkel (Montville) was able to negotiate the next height of 11' 6" to claim the win. Finkel would take 3 jumps at a new school record of 12' 0" with the last attempt being the best. Behind Finkel, Natalie Parkes(Hunterdon Central) would claim 2nd on fewer misses while Samantha Brady(Jackson Memorial) and Ashley Furlong(Southern Regional) would tie for 3rd. Nicole Pompei(Hanover Park) would claim 5th.

HJ – Eight jumpers would clear 5'4", but that would get cut in half after 5'6". When the dust had settled, Lataya Dixon(JP Stevens), who had already placed tied for 3rd in the hurdles, would be the only jumper to clear 5'8" and claim the title.

Shot – Coming into the Meet of Champs, 13 throwers had posted marks over 40', led by Taryn O'Connor(Hillsborough) – the 3rd best individual in the USA for 2007(47' 6") - and DeAnne Hahn(Brick Township) – the 4th best individual in the USA for 2007(47' 3-1/2"). Hahn had won the 2006 Outdoor Meet of Champs, but lost to O'Connor at last weeks State Group Championship.

In the 1st throw of the finals, O'Connor would assume the lead and would later throw 46' 3" to beat Hahn for the second week in a row. Hahn's 44' 9" was a clear 2nd place over a tight fight for 3rd as 6" would separate the next four places. Monique Riddick(Bishop Ahr) claimed 3rd with a 41' 10-1/4" toss.



55 meters – Reggie Dixon(Plainfield) entered the weekend as the defending 55 meter state champion and a 6.43 gave him the top performance of the preliminary round. Blasting from the blocks in the center of the track in lane four, Dixon grabbed the lead early then held off the late charge of Chris Church(Millsville) to repeat as the Meet of Champs gold medal winner in 6.46 to 6.47.

55m High Hurdles – Top seed Tykeen Fulton(Trenton Central) ran a solid 7.68 in the qualifying round, but he would have the second best qualifier as Emanual Mayers(Lakewood) had run 7.56. Lining up next to each other for the final, Fulton and Mayers ran neck and neck right to the finish, crossing the line in the same time of 7.45 with Fulton getting the win.

400 meters – A fast opening lap of 22.8 had Patrick Blackie(Seton Hall Prep) on the front with Charles Cox(Monmouth Regional) right on his outside. Down the back straight, Cox would hit the front and then down the final 50 meters would have to hold off the late charge of brother Christopher and Allan Lunkenheimer(Old Bridge) to claim the state crown running 48.92 to 49.15 and 49.26. Antonio Abney(Willingboro) and Paul John-Burden(Rahway) would claim 4th and 5th out of the unseeded section.

800 meters – One of the most anticipated events of the championship weekend was the boys 800 as 8 runners were seeded within 1.5 seconds of each other. Heading the field was Jason Apwah(Roxbury), who had recently set a new state 1000 meter record and Max Bruno(Indian Hills), who had set the national junior class record for 1000 meters.

While everyone waited for the seeded section to toe the line, John Gray(Southern Regional) would power through laps of 26.5 – 54.3 – 1:24.3 and cross the line in 1:56.82 just holding off Alan Laws(Pleasantville), who crossed the finish in 1:57.18. It was now the time for the "big guns" to do battle, but a classic race developed into a pack looking at each other. Laps of 28 – 58.7 did very little to shake up the pack of 9 and, in fact, as bodies started to knock into each other Bruno would quickly drop back and not be a factor when the real racing would start. Entering the last lap(1:29.0), Apwah was at the front, driving for home and would finish in 1:57.74. But once the results were posted, it was only good enough for 3rd behind the two unseeded runners.

1600 meters – With the state's top distance men either moving up to the 3200 or not running this meet, the 1600 was one of the most wide open events, with no clear cut favorite. An opening 400 of 64.1 would find Luke Fischer(Notre Dame) on the lead and nothing would change as he paced through 800 in 2:12.9 and continued to almost 1200. Coming up to 2 laps to go, Dennie White(Red Bank Regional) led in 3:18.9 and the pace would start to crank up. A 32 next lap (3:50 with 1 to go) had White at the front with Stephen Hankenson(Summit) just off his shoulder looking ready to strike. White would be able to hold off Hankenson down the final straight to win in 4:21.63 – 4:21.96.



3200 meters – In last weekend's State Group Championships Doug Smith (Gill St. Bernard) battled Andrew Hanko (Trinity Christian) to the line, posting a national leading time of 9:08.01. Because of religious reasons, Hanko would not line up at the Meet of Champs, but Smith would have Craig Forys (Colts Neck) to contend with.

While Forys has had a limited indoor season as a result of a long cross country season which included a state title, a Footlocker Northeast Regional title and a Footlocker National runner-up finish, he could not be counted out. Like a metronome Smith started to crank out almost even laps of 69-8 – 2:21.1(71.3) – 3:30.2(69.1) – 4:39.9(69.7). At the 1600 meter point the race was down to three – Smith leading with Forys right behind and Kyle Soloff(Morris Hills) in 3rd.

Four hundred meters later, reached in 5:47.6(1:07.7), it was down to Smith and Forys, and that would not change as the pair reached 800 to go in 6:55.9(1:08.3). Down the backstraight, Forys moved out and attacked for home with 500 meters to go. Hitting 400 meters to go in 8:04.5(1:04.6), the race for the individual title was over – it was just a matter of how fast Forys would run. Closing in just over 60, including a 29.6 last lap, Forys would stop the clock in a new national leading time of 9:03.58 and establishing a new meet record.

4 x 400 Relay – Opening legs of 51.6 and 52.8 had Monmouth Regional buried in the field as Trenton Central was out front looking like a sure winner. But then Chris Cox got the stick and 49.4 seconds later had brought his team back within striking distance, handing off to brother Charles who had already won the individual 400. Charles Cox slowly moved up to leader Trenton Central before swinging wide off the last turn and earning a 3:22.42 – 3:22.96 win.

Pole Vault – Four jumpers had cleared 13' 6" and moved on to 14'0", where none would be successful. Mike Goldwasser (Manalapan) would earn the state title as a result of clearing 13'6" on an early attempt to win.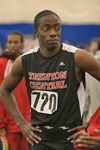 High Jump
– In mid January at the State Relay Championships, Devon Bond(Trenton Central) had cleared a national leading 7'0" and all season has been looking to clear 7'1". Having won the state title with a clearance of 6'8", Bond had the bar raised to the 7'1" height.

After one miss, an official questioned the length of his spikes(meet rules called for 1/8" spikes. Bond had used the same spikes at the same site at last weekend's state group meet without question. But it was ruled that they had to be changed. While his coach ran off to change the spikes the clock was ticking on Bond's 2nd attempt. When the coach returned with the spikes officials had ruled that Bond had exceeded the 5:00 allowed between jumps and was given a miss. At this point Bond decided to pass his last attempt and simply wait to jump another day.

Shot – Mike Alleman(Scotch-Plains Fanwood) simply unloaded a monster 59' 3" throw in the last round of the qualifying round. It was good enough to hold up for the win over defending champ Steve D'Arcy(Hanover Township) 57' 6-1/4" and state leader Vincent Elardo(Lacey Township) 57' 1-1/2". In all 15 throwers would record marks over 50'.