Jillian Smith will join Jersey greats Tauro, Forys at Michigan
Southern Regional star will reunite with teammate in Ann Arbor
By JIM LAMBERT
(photo at right, from New Balance Games 2:05.4 4x8 leg by John Nepolitan)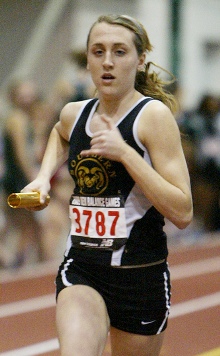 Feb. 13 - One of the greatest runners in New Jersey history is headed to Michigan.

Sound familiar?

Two years ago, it was Craig Forys of Colts Neck and Danielle Tauro of Southern Regional who committed to the Big Ten powerhouse.

Now, it's Jillian Smith's turn.

The two-national individual champion from Southern Regional confirmed via text message last night that she will join her former teammate, Tauro, in Ann Arbor, next fall.

Smith, who also visited Tennessee, Stanford, and Virginia, couldn't be reached for comment since she was attending the Shore Athletic Club's track dinner last night, but did send a text that read, ``Yes, I am definitely going to Michigan.''

Smith, who won Nike National titles as a junior in the mile last indoor season and in the 800 last spring, hasn't lost a track race since June of 2007.

She has won six NJ Meet of Champions titles in her career (four individually and two on the 4x400) and has personal bests of 4:46.87 in the 1,600 (outdoors), 4:48.83 in the mile (indoors), and 2:05.24 in the 800 (outdoors). She also ran a Penn Relays high school meet record 1,600 split of 4:42.1 on Southern's fourth-place distance medley relay team last year.

Smith is having another sensational season this winter.

She won the Millrose Games mile for the second straight year last month in a US #1 4:51.88, and on Feb. 6, Smith ran a New Jersey state record in the 1,000 when she finished first in 2:46.09, No. 1 in the U.S. this season and No. 4 all-time, at the New Balance Collegiate Invitational. Smith also ran an anchor split of 2:05.4 on Southern's US #1 4x800 that ran 9:07.67 last month at the New Balance Invitational.