115th Penn Relays


Thu.-Sat., April 23-25, 2009
Franklin Field, Philadelphia PA



Saturday






Great rivalry = a dream come true



HIGHLIGHTS | VIDEOS - Boys 4x800 w/Interview - Boys 4x100 - Boys 4x400 | PHOTOS - Nepo Winners Gallery - Nepo Metro Gallery - Davey Running Gallery - Davey Boys DT Gallery - Davey Boys HJ Gallery
DYESTAT ELITE LISTS: Finals - Prelims | DS METRO STORIES - Day 3 Notes - Up and down for Lawrenceville (NJ) - Columbia girls Tri State 4 x 1 - Morris Hills 2nd 4x8 - Vena named MVP - Field Events review



Albemarle VA & Morris Hills NJ smash 4x8 USR: 7:30.67 and 7:31.60!!! Calabar JAM rips Penn record 39.91 in boys 4x100



by SteveU



It was a thing of magic, that 7:36.99 USR on the banked boards in Boston – full of power, speed, style, daring, cool nicknames and crazy mohawks. Could it possibly happen again so soon? Just seven weeks later, long before outdoor season peaking and with a handful of talented Jamaican teams to contend with?

It could. And after Saturday's Boys Championship of America 4x800, no one will doubt what the mighty middle distance titans of Albemarle VA can do, not when they have a stick to pass and a championship to shoot for.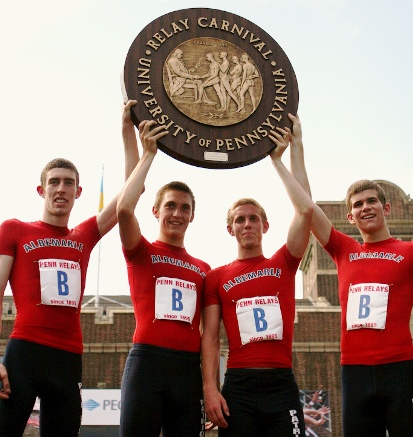 In a race for the ages and one that had some old-timers saying it was the best they'd ever seen at Penn, Albemarle (photo at right, John Nepolitan) not only beat the Jamaicans and an equally astonishing Morris Hills NJ quartet, but tore down the USR as well. The fantastically competitive and fast 8-lap battle was enough, but when 7:30.67 and 7:31.60 flashed on the screen, thousands of fans in the stands and many more around the country erupted in stupefied, delirious joy. It was truly the best prep event of the weekend at Penn, and maybe the best in many years.

"The record was great, but mostly we wanted to win," said Albemarle Coach Lance Weisand. "Buzz Male – he and I trade off coaching in the winter and spring – set the dream two years ago that these guys would win the Championship of America in the 4x800. They've stepped up every race. They've never had a bad race."

And it's not like there wasn't competition for the weekend's best event. Besides Nick Vena's great shot the previous day, how about that 39.91 by Calabar JAM Saturday, featuring Ramone "Batman" McKenzie, as the school took down the meet 4x100 mark set by St. Jago two years ago? Or the unrestrained joy of St. Jago as they came back for the 4x400 crown in 3:12.55? On the field, there was the first-ever victory by a Jamaican in the boys pole vault and a triple jump battle that came down to a difference of a half an inch between first and second.

But no, it will be the 4x800 that will stand out, at least among US prep track fans, as the defining moment of the 115th Penn Relays, and certainly Saturday, as fans and athletes baked in the sudden surge of 90-degree temperatures.

Part of what added to the wonderment of the 4x8 performances is that the prelims gave no indication that such drama was ahead. Morris Hills had qualified best in 7:47.13 to win the small schools, while Albemarle hit just 7:49.39 to win the large schools. Fans wondered if the best Jamaicans had been on the relays from that country and debate ran its course as to whether either US team could win. Many would have been impressed by a sub-7:40 and strong US showing.

"I was a little worried they'd be rusty, and yesterday, they looked a little sluggish," admitted Coach Weisand of his Albemarle charges, explaining that they'd taken an "hiatus" after indoor and had only had a few hard workouts since.

And the Championship certainly began innocently enough, as far as the US teams were concerned. Bellefield JAM actually had by far the best opener, with Kemoy Campbell hitting 1:52.53, while Layon Folkes ran 1:54.54 for Jamaica College. Trailing were the 1:55.22 of Morris Hills' Vincent Chiusano and 1:55.43 of Albemarle's Garrett Bradley.

But things tightened up in the second leg and fans waited to see what Albemarle's Zach Vrhovac might do, given his explosive change-of-pace potential. Sure enough, in the last 100, he burst from the pack and smoked down the final turn to give teammate Luke Noble the stick. When the announcer gave Vrhovac's split – a big PR 1:50.57 – the game was on and the volume increased in the stadium.

"I knew it was my last chance to run in front of 50,000 people, so I gave it my all," said Vrhovac.

Morris Hills' Lucas Clyde had been nearly as impressive, ripping a 1:52.17. Noble went out and while Bellefield had spent its top two legs, Morris Hills, Jamaica College, Calabar, and Central Bucks South PA all stayed in contention. Morris Hills' move to add Sean Pohorence paid off magnificently as the distance standout ripped a 1:53.56. He overtook Nobel, who ran a strong 1:55.34 of his own, and handed to a very determined Liam Tansey. At this point in the Nike Indoor 4x800, Albemarle had taken a solid lead and Tansey had little hope but to push for a good time. This time it was mano y mano and fans settled in for one of the great final leg battles in a boys relay here.

Unfortunately, for Morris Hills, the man with the stick for Albemarle was Anthony Kostelac, a.k.a. The Squirrel Chaser, a.k.a. AK-47, a.k.a. several other nicknames. The Albemarle quartet had no mohawks today, but no less resolve. And as good as Pohorence's effort was, if there's anything any runner in the country doesn't want, it's AK-47 on your tail in a middle-distance relay.

So with all of his considerable guts on display for more than 40,000 fans, Tansey hauled butt and Kostelac played the hunter. And with under 200 left, the hunter went in for the kill. Driving his arms and knees, and leaving a sprinting but agonized Tansey behind him, the junior drove to the tape. Watching the clock, it was clear the record was going down, and it did with plenty of room to spare.

Kostelac's 1:49.33 800 is second only to Alan Webb's 1:49.1 carry on South Lakes VA's winning team in 2001. Tansey's big PR 1:50.65 nearly matched Vrhovac's mark. Amazingly, though finishing 5 more seconds in arrears, Central Bucks South moved to #13 on the all-time HS list with a stunning 7:36.93. On the anchor, after a qualifying effort where he did not look like himself, was PA indoor state champ Tom Mallon, whose screaming 1:49.79 was the second best of the meet and #5 in Penn history.

"I have to give a lot of credit to Morris Hills, our rivals," said Kostelac. "If it wasn't for Liam, I don't think I would have gone out that fast … then in the corner (of the track) it was an all out sprint for whoever wanted it the most."

"We didn't win, but we ran under the national record,'" said Tansey, who was one of the first runners to congratulate Albemarle. "I still can't believe we ran that fast and didn't win.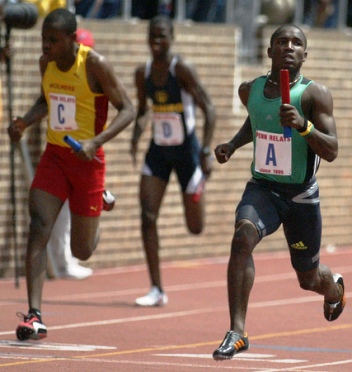 "It is hard to be disappointed. There really wasn't anything else we could have done. Everyone had the best races of their lives, but it was Albemarle's day. Sometimes you just have to tip your cap to the other team."




Jamaican 4x100, 4x400, PV titles



Both before and after the titanic 4x800, Jamaican fans had plenty to cheer about in the 4x100, 4x400, and even the pole vault.

With "Batman" on the second leg, and Earl Lee, Ricardo Powell, Oshaine Bailey (at right, photo John Nepolitan) preceding him and following him, Calabar lived up to the pre-meet hype in the 4x100. For the third time this year they cracked the 40-second barrier, this time ripping a 39.91 that took down St. Jago's 39.96 from 2007.

Wolmer's Boys JAM were a well-beaten 2nd at a still swift 40.44, and Munro College JAM was another big chunk back at 41.13. The only US team, Altoona Area, was 7th in 41.83.

"It was just a lot of hard work and preparation," said Calabar Coach Floyd Howell.

Attempting to explain the "Batman" mask he wears, McKenzie said, "My little brother came up with it. Before I wore glasses … just frames, with no lens. It was just to be different, to be myself."

There were no masks on the faces of St. Jago's 4x400, or on vaulter K'Don Samuels, but they were no less animated. Nickel Ashmeede

Samuels did a great job of getting the crowd into his efforts and no doubt the Jamaican fans appreciated what he was doing. In the 48 years of the event at The Relays, none of his countrymen had ever came away with the watch. But Samuels sewed things up before he attempted his winning height of 15-09. He had three attempts at 5 meters – 16-04.75 – before he was out.

"It was both my training and the crowd," he said of his PR effort. "The crowd helped me when I was out of energy. I've been working hard on my speed and strength all this year; they were my weaknesses before."

Two of the other four field event winners enjoyed big PR efforts, with Carlton Lavong PA leaping to a 24-06.75 win in the long jump and Matthew Huckabee NJ whirling a 182-11 in the discus. In the TJ, Ricardo Jaquite MA nipped Jeffrey Artis VA, 49-01.50 to 49-01, and Kimarki Absalom took a lackluster HJ in 6-09.


---
Saturday Highlights
Boys 4x800 COA:

Albemarle

VA and

Morris Hills

NJ both smashed the 4x800 USR with 7:30.67 and 7:31.60, with anchor Anthony Kostelac 1:49.33 outlasting Liam Tansey 1:50.65. Central Bucks South PA 3rd in 7:36.93 (#13 all-time) with Tom Mallon 1:49.79 anchor - VIDEO w/Interview
Boys 4x100 COA:

Calabar

JAM went under 40 seconds for the third time this year, defending their title and taking down the field in a Penn Relays record 39.91. They topped St. Jago's two-year old mark of 39.96 - VIDEO
Boys 4x400 COA: St. Jago JAM held off Calabar JAM for the victory in 3:12.55 to 3:14.25. Munro College ran in 2nd at 3:13.73, but was DQ'd, moving Rancho Verde CA (3:14.78) up to 3rd. - Video
Boys 400H: Hillard OH's Jordan Rispress came from behind to edge Nicholas Maitland JAM (52.06) and Niall Flannery UK (52.27) in a US#1 51.89
Boys 4x400 Trials: Rancho Verde CA led all qualifiers with a US#2 3:13.75. They were followed by St Jago JAM (3:14.19) and Calabar JAM (3:14.62), which were other heat winners. The final qualifier was Altoona PA, whose 3:15.77 for 4th in the Rancho Verde heat included a 45.7 leg by Brady Gehret, the best of the session.
Boys LJ: Methacton PA jr Carlton Lavong outjumped Nansemond River VA sr James Taylor, 24-06.50 to 24-00.25, to win the long jump
Boys PV: K'Don Samuels of Jamaica College became the first Jamaican to win the high school pole vault, clearing a personal best 15-09
Boys TJ: Madison Park MA's Ricardo Jaquite nipped Western Branch VA's Jeffrey Artis in the triple jump, 49-01.50 to 49-01
Boys DT: Timber Creek NJ jr Matthew Huckabee PR'd by 8 feet to take the discus in 182-11. Huckabee, throwing next to last in the order, had the winner on his final throw.
Boys HJ: Kimarki Absalom of St. George's JAM took the boys HJ in 6-09