Central Bucks South 4x800 - State Record 7:33.48 - US#3 - #6 all-time
"We've changed our lifestyles"
After their state record 7:33.48 in the AAA 4x800, Central Bucks South team members Jeff Dickson, Matt Poiesz, Dave Manion, and Tom Mallon talked with DyeStat's Kristen Holzherr about the race.
Also ... Brady Gehret Interview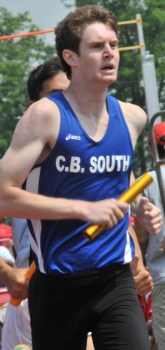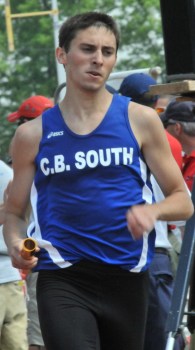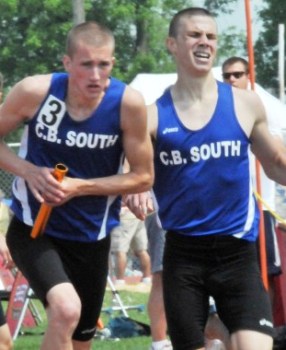 Q) How did you guys prepare for today's race?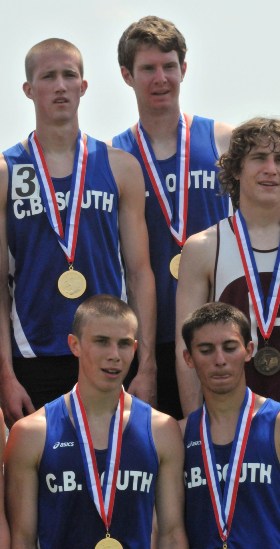 Mallon: We've been preparing for a year for this; I think we put all our efforts toward this. We've changed our lives basically; I mean we go to bed earlier now and we eat healthy. We really had to change everything for this and, I think, I mean Coach knows what he's talking about with everything and he's really prepared us for this moment.

Dickson: Well, like Tom said, we've been working towards it all year and this season we knew we could get it and we were looking for it and we just completely believed in ourselves. Every race, like at Penn Relays, we missed (the record) by less than a second and that completely opened our eyes, saying we can definitely get this. And then at Districts last week we went for it, and you know we missed it again, but I think that just built it more up for us to get it now.

Manion: We really have been preparing for this since last year, and after Nationals [Nike Indoor Nationals] … I mean we've been working, sacrificing everything, we've changed our lifestyles, as Tom said. It's really been our main focus and school, I'm pretty sure, has slipped out of all of our minds; by now; its just been pretty much running, track, this record, this meet, its all been together.

Poiesz: I mean, for us three – me, Dixon, and Manion's – it was our last race in high school, so we wanted to go out with a bang and we did. I mean, I've been looking forward to this. This is one of the things you kind of dream about and you hope it happens. You know you can do it, but to actually see it happen is a different thing.




Q) How do you feel the race went overall?



Mallon: I mean, it went great, we broke the record. I think that's what we were aiming for and, I mean, that's really what our goal was, so you can't be disappointed with that because it went awesome.

Dickson: It definitely went real well, at least I know that I went out fast and I was up there with who I should have been up there with. I just pushed through at the end and just kept going as fast as I could, no matter how bad it hurt.

Manion: Personally, I would have like to done a little better, but we just ran a 7:33, so I'm not really complaining. I ran pretty close to my PR, less than half a second off. It was good. I went out where I wanted to be, handed off a little behind where I wanted to be, but I was still right with it.

Poiesz: It was great. I kind of ran slower than my goal time, but I know I have three guys who are also great runners to kind of hold me up if I don't run as fast as I should; they always have my back with that.




Q) How do you guys think you performed individually?



Mallon: (first in AAA 800, 1:52.77) Individually – good. I would've liked to go 1:51, that's my PR, so I can't complain.




Q) Do you have any post season plans?



Mallon: No, we're done after this. I just have the open 800m in a little bit and after that we are done. Next year, I'm only a junior, so I'll be back next year and hopefully we get another good team back.



---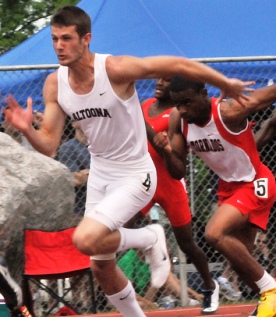 Gehret: "The whole weekend caught up with me"

Altoona sprint star Brady Gehret was the key cog on state championship 4x100 (41.44) and 4x400 (3:16.42) relay teams as his team finished 2nd overall by a narrow 2 points to Hempfield. Individually, he led 200 qualifying in 21.12 (+1.0w), then finished 2nd in 21.65 in the 200 final (-1.8w). He was also 8th in the LJ and talked with Kristen Holzherr about his weekend

Q) How did you prepare for your races yesterday?
A) Well, basically all season I was training to do multiple events at states, so we did a lot of tough workouts to prepare for state.

Q) How do you feel your events went overall?
A) I was very happy with both of our relays getting first. In both, it was unfortunate about what happened to Abington. For the 200, I was just dead. The whole weekend caught up to me. I was a little disappointed about long jump.

Q) How do you think all of your teammates, including yourself, performed individually?
A) My teammates really stepped up for us. Wade came up big in the 800.

Q) Do you have any post season plans?
A) Our relays plan on training for Nike nationals next month.