Results

- courtesy of Leone Timing
Thursday
Friday
Complete

Preview



Photo Galleries


Thursday
Eastern Chall DMR Race Flow
Frosh/Soph DMR
Open DMR
Eastern Chall general gallery

Friday
Winners Gallery
Boys action gallery
Girls action gallery


Entries (as of 5/5)

Schedule

DyeStat Prior Years
2008
2007
1999-2006

Saturday: Greany, Stutzman still on fire


Highlights

Greany continues hot streak with fast 1,600 at Loucks Games
By Jamie Kempton

WHITE PLAINS, N.Y. -- Shelby Greany is on a roll. Before she stepped to the line for the 1,600 meters at the Glenn D. Loucks Games, the Suffern senior's coaches told her to go out and have fun. They wanted to defuse any pressure she felt from heightened expectations as the newly crowned national record-holder in the steeplechase and author of a sizzling 4:47.6 anchor split on Suffern's winning distance medley two days earlier. Read the full report


Friday: US #3's for Jen Clayton and Emily Lipari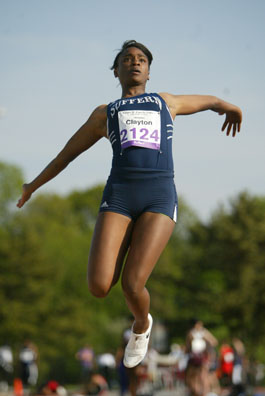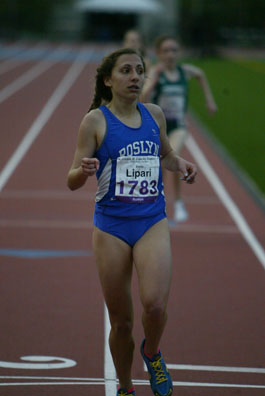 Jen Clayton (Suffern) and Emily Lipari (Roslyn, NY) each posted US #3's to highlight the action Friday
(photos by John Nepolitan)


Saturday
Continuing her incredible week (already US steeple record and 4:47 DMR 1600 leg), Suffern sr Shelby Greany ripped a US#2 4:48.25 1600 to dominate a strong field. Garden City NY sr Emily Menges was 2nd in 4:53.09 with two others under 4:56
Already having the fastest straight 1600 in the country at 4:09.12 and with a 4:07 DMR 1600 leg 2 days earlier, Western Albemarle VA sr Tyler Stutzman took the 1600 in 4:09.86. 2nd was North Rockland NY sr Chris Carrington in 4:11.64, with 4 others under 4:20
US#2 6:56.96 2k steeple as Ward Melville NY soph Mary Kate Anselmini breaks the 7:00 barrier
Bronxville girls take 4x800 in 9:09.44, US #3
Liverpool (NY) boys hold off Western Albemarle (VA) in 4x800, 7:46.50 (US #6) to 7:46.74 (US #8)
Middle College's Janice Jackson wins 100H in 14.02, US #11
Cardozo's Ahtyana Johnson runs 54.62 400, #14 US
Suffern's Jen Clayton wins 200 in 24.74, DyestatMetro #1
Ramapo boys take 4x400 in 3:17.48, DyestatMetro #2
Friday
Jen Clayton (Suffern, NY) returns after a mid season injury to take the girls long jump with a meet record and US #3 20' 2.50".
In the last championship final of the day Emily Lapari (Roslyn, NY) kicks past fellow Footlocker finalist Aisling Cuffe (Cornwall, NY) and Samantha Nadal(North Shore, NY) to take the girls 3200 in a US #3 time of 10:21.32
Also using a big kick over the last lap Alex Leuchanka (Shenendehowa, NY) to take the boys 3200 in 9:10.68
Mike Levine (Commack, NY) takes the boys discus in a new meet record 185' 2"
New York's top 800 meter runners each got the win - Charlene Lipsey (Hempstead, NY) - the national leader - lead wire to wire to cross the line in 2:09.58. Defending state champion Terrance Livingston (Great neck South, NY) moved down the backstraight to win in 1:52.50
Thursday
Being forced to chase the leaders, Andrew Springer (Westerly, RI) would pass through splits of 59-2:01-3:03 and still have a little more ground to make up on Tyler Stutzman (Western Albemarle, VA). It would not be till 150 meter remaining the Springer would get to Stutzman's shoulder. There was no time to rest as the two fought down the final straight with Springer getting ahead to cross in 10:01.13 a new

US #1

for 2009 and the

#14 time in US History

. Springer would split 4:03.5 for his 1600 meter leg and needed all of that to beat Stutzman who brought Western Albemarle over the line with a total time of 10:01.87 and a 4:07 split fo his own. Warwick Valley (NY) crossed the line in 3rd in 10:15.09 the #3 time in the Metro region for 2009
Westerly Splits
Tim O'Loughlin 3:07.1
Alex Phelps 50.9
John Di Gangi 1:59.5
Andrew Springer 4:03.5

The very next race Shelby Greany (Suffern, NY) would need two laps to get to the lead and pushed on to cover her four laps in 4:47..6 and stopping the clock in 11:49.46 the #3 time in the USA for 2009 and the #1 time in the Metro region. Also dipping under 12:00 was early leader Bronxville (NY) which crossed the line in 12:59.86. Bronxville will graduate three of its runners, but the future looks very bright for Bronxville whose frosh/soph team ran 12:23.24 to win that division.
Suffern Splits
Christy Goldman 3;39.5
Faith Consiglio 59.9
Nicole Tassello 2:21.4
Shelby Greany 4:47.6






Preview

--

Tradition-rich

Loucks Games set to crown future stars


By Jamie Kempton

There were a lot fewer meets around in 1968, when the Glenn D. Loucks Games debuted in White Plains, N.Y. But Loucks quickly became a destination for top teams and future stars, and its 42nd edition, which runs Thursday through Saturday at the state-of-the-art White Plains facility, continues its tradition as a high-powered drawing card for the elite and soon-to-be-elite.

A cursory check of the meet records and record-holders underscores its stature as one of the premier meets on the East Coast. Future Olympic gold medalists Derrick Adkins (1996, 400 hurdles) and Lashawn Merritt (2008, 400) hold meet records in the 400 hurdles (51.40) and 200 (21.02), respectively. Future Olympic marathon teammates Alberto Salazar and John Tuttle established meet standards in the 2-mile and 3K steeplechase. Many others went on to national prominence, names like Mark Belger (800, 1:50.8), Sanya Owolabi (TJ, 52-4 ½), Shana Cox (200, 23.60), Molly Huddle (3,200, 10.14.63) and Natasha Hastings, who was a leg on A.P. Randolph's record-setting 4x400 (3:40.55).

The heroes of yesteryear serve as inspiration and targets for today's scholastic stars. Meet director Fred Singleton has once again assembled a high-octane lineup that promises to maintain the standard set by previous meet directors Ed Kehe and Nick Panaro. Serving as added incentive, teams in the girls' 4x100 and 4x400 and boys' 4x400 and 4x800 have one last chance to qualify for their respective invitational events at the Reebok Grand Prix at Icahn Stadium on May 30.

The Loucks scorecard abounds with hot performers primed to one-up their recent efforts. Take Charlene Lipsey, for example. The Hempstead senior is coming off a nation-leading 2:05.83 800 at the St. Anthony's Invitational. Can she knock that time down further on Friday? How about Suffern's Shelby Greany? Fresh off her 2K steeple national-record 6:33.7 on Monday at the Cornwall Steeplefest, can she push the record under 6:30?
Greany is also entered in the 1,600 and 3,200 so she will have to choose her poison, but if she runs either she may well have to contend with Roslyn's Emily Lipari, the top seed in both events and reigning 3,200 champ, and Cornwall's Aisling Cuffe. All are sub-5:00 and sub-10:30 performers. Greany could be a mighty busy athlete during the three-day meet if she also runs Thursday evening on Suffern's distance medley, which is top-seeded at 11:55.0.

Speaking of double threats, you can't overlook people like Great Neck South's Terrance Livingston, Harrison's Claudio Delli Carpini, North Babylon's Vanessa Stewart and Hackley's Aaron Konigsberg. Livingston swept the 800 (1:52.16) and 400 (48.21) at St. Anthony's and figures to vigorously defend his Loucks 800 title against the likes of Tyler Stewart of Colonie (1:52.15) and Eric Fontanez of Hilton (1:53.01). Clemson-bound Delli Carpini has by far the fastest seed in the straightaway hurdles (13.6) and, at 23-3 ½, is closely seeded behind Danbury's Daryl Baptiste (23-5) in the long jump. Vanessa Stewart is a heavy favorite in the shot (47-0) and disc (140-4), and Konigsberg has designs on his meet record in the javelin, in which he's thrown 199-10, and will challenge for supremacy in a pole-vault field studded with five 14-foot-plus vaulters.

Suffern's Clayton sisters, Jen and Janelle, should figure prominently in the sprints and jumps. Jen has healed from an earlier foot injury and posted an 18-7 long jump last week at Crusader Relays. She's the top seed in that event (19-5) and the 100 (11.70), and is seeded third in the 200 (24.80). Janelle hopes to capture the high jump for the third consecutive year, with her meet record of 5-8 ½ from '07 looming as extra motivation.

Meet records are hard to come by at Loucks, but Western Albemarle of Virginia is taking dead aim at bettering the distance medley mark of 10:11.32 it established last year. Albemarle's Tyler Stutzman anchors the relay and is top seed in the 1,600 (4:09.12), while teammate Kyle Satterwhite runs the 1,200 leg and is seeded second in the 3,200 (9:12.01) behind Arlington's John Muller (9:11.80).

Newburgh's Randy Patterson (47.45) and Fred Locklary (48.12) are the No. 1 and No. 3 seeds in the 400 – sandwiched around Livingston (48.07) – and form half of the Goldbacks' top-seeded 4x400 (3:15.21). Defending high-jump champ Sean Reilly of Arlington has scaled 6-10 and may threaten the 26-year-old meet record of 7 feet ¼ inch if he is in the groove.