Ramapo (NY) boys burn up track, but end night on sour note.
Nick Vena breaks own meet record
By Jim Lambert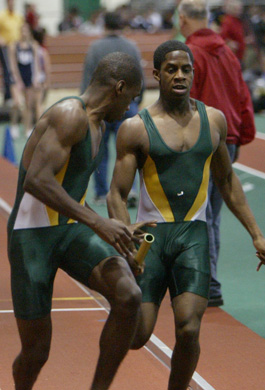 Ramapo NY was burning up the track all night and seemed to be on the verge of yet another red hot victory in the sprints. But then disaster struck.

With three victories already in their pocket (two individually and one in the 4x200), Ramapo's heavily favored 4x400 hit the track looking to add to its gold collection at the Metropolitan Invitational in New York at the New Balance Track & Field Center. But leadoff man Mike Abelard, who won the 200 (21.9) and anchored the winning 4x200 (US #2 1:29.2), crashed to the track, clutching his right hamstring after completing the first 200 meters. Abelard, a senior, had to be helped off the track by his teammates, putting a bit of damper on all the success Ramapo enjoyed during the meet. It also left a cloud of uncertainty over Abelard's status for Saturday's big 4x200 showdown with some of the top sprint relay squads in the nation, including US #1 New Bern NC (1:27.02), at the New Balance Collegiate Invitational on this track. ``I'm not sure if I can run on it,'' said Abelard, who hurt the same hamstring at the Penn Relays last April. ``It's not as bad as it was then, but it's real tight and sore. ``I just don't know how it will be this weekend.'' If Abelard can't run, Ryan Whitley would take his spot on the 4x200. Whitney, sixth in the 200 (22.6), ran in place of Abelard on Ramapo's 4x200 two weeks ago when it went 1:30.50.

Before the 4x400, everything was going Ramapo's way. In addition to Abelard's 200 win and the 4x200 triumph, senior Kevin Malivert won the 55 dash in 6.2 and led off the 4x200. Ramapo's 4x200 time of 1:29.2 was ever more impressive considering that third leg Chidi Ezemma and Abelard bobbled the final exchange (photo left by John Nepolitan). They were most likely headed for a sub 1:29 without that mishap. ``Handoffs are everything,'' said Ezemma, third in the 200 (22.4). ``If we get them cleaned up, we can run under 1:28.'' But they also need a healthy Abelard to have any shot at going that fast.

The lone meet record on the boys' side was turned by Morristown sophomore Nick Vena, (photo right by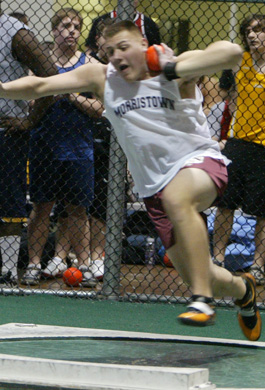 John Nepolitan) but he was far from satisfied. Hoping to launch a bomb in his first competition in nine days, his longest layoff between meets this season, Vena had to settle for a meet record 63-11 ½ on his final attempt. Vena broke his own mark of 61-10 ¼ set last year. In the three-throw, no finals format, Vena's first two throws were 62-10 ¼ and 61-7.

Vena, who owns a US #3 throw of 67-8 1/4, said he felt a bit hurried and never got into a rhythm . ``I assumed that the seeded flight would be last like it always is,'' said Vena. ``So I went to run a couple laps and then I heard that I was throwing in the first flight. Honestly, I felt rushed.''
Vena will be back in action this Saturday at the North Jersey, Section 2, Group 3 meet in Toms River NJ, and will return to the New Balance Track & Field Center on Monday for the Varsity Classic.

Pat Schellberg of Delbarton (NJ) scored a big win in the 1,600, negative splitting his way to an indoor personal best of 4:18.7. Schellberg took command after a 2:10.9 first 800 with laps of 32.6 and 32.2 to open a 10 meter gap on the field. He finished off the victory with a 32.8 final lap to complete a 2:07.9 last 800. ``I was real happy with this race,'' said Schellberg, a junior who added a fourth-place finish about an hour later in the 800 in 2:00.8. ``Especially the way I was able to run the last three or four laps so strong.''

Dayne Mosconi of Tenafly, who lost his shoe in the 1,600, came back to claim the 800 title when he hammered out a 28.5 final 200 to reel in Kevin McKenna of Suffern (NY) and cross first in 1:59.6.

Pope John took advantage of Ramapo's misfortune in the 4x400 to emerge victorious in 3:28.4. Pope John's splits were 53.8 for Kyle Johnson, 52.6 for Kyle Nelson, 51.7 for Greg Moore and 50.1 for sophomore star Dylan Hurley.