Parros ready for opportunity of a lifetime
Seton Hall Prep senior to run in Olympic caliber field
BY JIM LAMBERT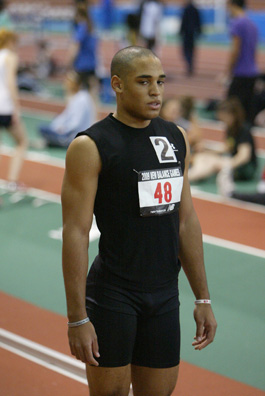 When Clayton Parros (photo left by John Nepolitan)strides onto the famous banked boards on Friday night, basking under the glow of Madison Square Garden's bright lights, he'll be surrounded by greatness.

As he lines up to run in the Men's Open 600-yard run at the 102nd Millrose Games, Parros, a high school senior at Seton Hall Prep in West Orange, NJ, he will see 27-year-old Sherridan Kirk of Trinidad & Tobago, a former All-American at Auburn who won the 800 at the Millrose Games two years ago. Kirk owns personal bests of 46.22 in the 400 and 1:45.43 in the 800. And there will be 21-year-old Renny Quow, also of Trinidad & Tobago. Quow was seventh in the 400 at the Beijing Olympic Games last summer (45.22), and has a personal best of 45.04.

Also in the field will be New Jersey schoolboy legend Reuben McCoy, an All-American at Auburn last spring who starred at Winslow High in South Jersey. McCoy was the Most Outstanding High School Performer at the 2004 Penn Relays and is the only boy in NJ history to win three events at the Meet of Champions (400, IH, and the 200 in '04). He took the place of 2008 600 champion Bershawn Jackson (winner of the event three of the last four years, and the bronze medalist in the 400 hurdles at the Beijing Olympics). Jackson scratched from the race a couple days ago.

While Parros admitted that he may be starstruck by the atmosphere, he's very excited about the opportunity to compete against some of the top runners in the world.

``It's an amazing feeling to think that I will be in a race like this,'' said Parros. ``The other night I was laying in bed and I asked myself why me. Why did I get picked for this. It's just an amazing feeling to think that I will be in a race like this.''

So how did a high school runner like Parros get into a race with Olympic caliber runners.

Seton Hall Prep coach Steve Trembley applied to have Parros put in the race,. Based on his 400 time this season (Parros ran the nation's fastest high school 400 time of 47.58 to win the New Balance Games last Saturday), he was accepted.

Parros, a former basketball player at Seton Hall Prep, used an analogy from his old sport to describe how he felt.

``I feel like the kid who goes down to the playground to play basketball with the older guys,'' the North Carolina-bound Parros said.. ``They try to be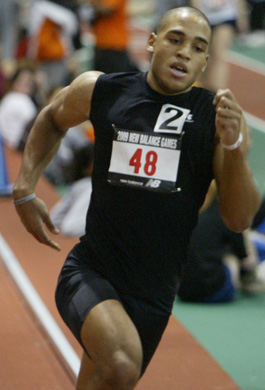 physical with you and stuff and you never get the ball,'' said Parros. ``That's how I feel going into this race.''

But Parros isn't nervous.

``I usually am before a big race, but I have nothing to lose in this one,'' said Parros.

Parros gained some valuable experience against a group of older and elite runners at the New Balance Games last week, finishing ahead of former New Jersey stars Tyrone Ross (Metuchen HS), Anthony Campbell (Snyder HS) and Mike Brown (Lenape HS).

``To run against elite runner and win does give me some confidence, but on Friday, I'll be going up against guys that are more elite and even faster,'' said Parros.

Parros isn't just content with being in the race.

``I don't want to set the bar too high for myself, but I'd like to not just run, but compete. I don't want to just be in the back of the pack. I want to be in the mix.''

Parros has done his homework.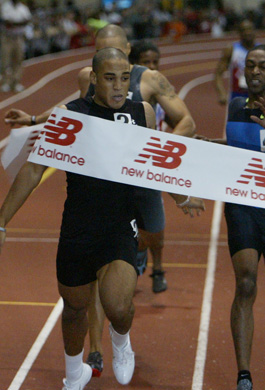 ``I've watched last year's 600 race a billion times, and the first thing I noticed is the pacing,'' he said. ``I calculated everything and they were at 50 point at 400. That's running on that track, but it's not like running a 47. I'll have a race plan and do the best I can. I can't wait. It's something I'll never forget.''























Millrose Games meet page