Andrews tired of runner-up finishes
Manalapan senior aims for title in boys mile
By Jim Lambert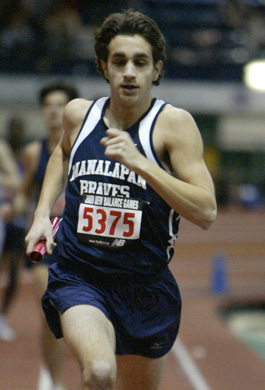 Robby Andrews (photo left by John Nepolitan) is haunted by his narrow runner-up finishes in the mile on the national stage last year. But he says he's ready to exorcise those demons on Friday night at the 102nd Millrose Games.

Andrews, a fast closing senior from Manalapan High in New Jersey, was second in the mile at both the Millrose Games and Penn Relays a year ago. And both times, the Virginia-bound Andrews relied on his wicked kick to come from way back over the final lap only to come up less than a second short of victory both times.

At Millrose, Andrews ran 4:14.60 and placed second behind Kyle Merber of Half Hollows (NY), who ran 4:13.86.

``I can't believe the way I lost those races,'' said Andrews. ``I know I had the talent to win, but made mistakes. But I am a year older and wiser now and have learned from those mistakes. On Thursday, I am going to watch Millrose and Penn from last year just to get myself even more fired up.''

Andrews has a new game plan for his this time around.

``I have to be in the top five for the entire race and then move up on the leaders and breath down their necks before letting in rip at the end.''

Andrews comes into the race full of confidence after some hot early season splits.

Last Saturday, Andrews blasted a 1:52.3 800 anchor (which reportedly included a 26 point last 200) to bring Manalapan from way back to second place in 7:57.87 at the New Balance Games at the Armory in New York.

And he ran that despite nearly going down when he had to elude a fallen runner, which cost him some time.

``After that race I got even more excited about Millrose,'' said Andrews. ``I respect everyone I am running against, but I am running fast right now and feel I'm ready to run as fast as I have to win on Friday. It's about time I won one of these big races. I can't wait.''

One of the biggest obstacles facing Andrews is good friend and future college teammates, Brett Johnson (photo left by John Nepolitan) of Ocean City NJ, and fellow New Jerseyan Doug Smith of Gill St. Bernard's.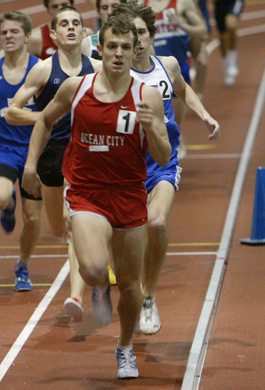 Johnson, the nation's top returning miler (4:08.51 last year), is running indoors for the first time after giving up basketball.

``I am super excited about Millrose,'' said Johnson. ``I don't know what to expect as far as how the race will go, but I'll keep an eye on where Robby is and it come down to the two of us. You never know. I think where we are at the half mile will decide a lot since we are both pretty even with the way we finish.''

Johnson does feel that the edge on paper right now goes to Andrews.

``I think because of the way he's running and the fact that he has the experience of finishing second last year that Robby has to be considered the favorite with me right there with him,'' said Johnson.

Johnson has run two races this season. He was second in 4:16.01 in the mile (behind the 4:15.14 by Marco Bertolotti of Port Washington NY) at the Hispanic Games on Jan. 10. Johnson also ran a 3:07.2 1,200 leg at the NJ state Group 3 Relays.

But Johnson said he's still hampered by a badly sprained ankle and foot that he suffered near the end of the cross country season.

``It has felt okay when I have raced, but it's so sore the day after that it has really affected my training.''

Johnson is scheduled to run the mile at the Boston Indoor Games on Feb. 7, but isn't sure about what will happen after that.

``I might shut it down for the season after Boston,'' said Johnson. ``I want to be healthy for a big outdoor season.''

Smith was fourth at Millorse last year in an indoor personal best 4:15.76, has run 4:16.19 this season in the mile, and won the mile at the Stanner Games two weeks ago in 4:16.36.

The rest of the eight-runner field consists of Bertolotti, Bobby Peavey of Floyd E. Kellam in Virginia Beach, VA (4:16.35 mile this season), Tyler Stutzman of Western Albemarle in Crozet, VA (4:14.91 mile this season), Mark Feigen of East Greenwich, RI (who owns the fastest 2009 time in the field of 4:14.68), and Nick Ross of East Greenwich, RI (4:16.52).

Andrew Springer of Westerly, RI, who ran a US#1 4:10.61 at Yale on Jan. 10, declined his invitation to compete. Springer is scheduled to run the mile at the Boston Indoor Games on Feb. 7. Leoule Degfae of Thomas Edison in Alexandria, VA (4:16.92 mile this season), who took the spot vacated by Springer, had to drop out of Millrose due to an injury.