Sarah Pagano (IHA, NJ) picks Syracuse





2 time NJ Non Public A XC Champ will run for the Orange



John Nepolitan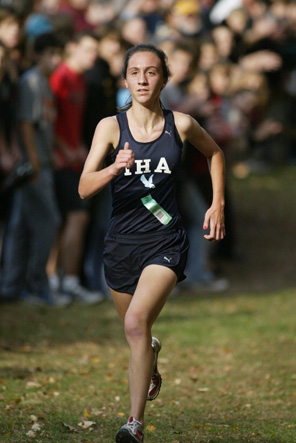 Just a few days after repeating as NJ Non-Public A State Champion and leading her Immaculate Heart team to the team crown, Sarah Pagano (pictured at the left winning the Bergen Meet of Champs - photo by John Nepolitan) has chosen to attend and run for Syracuse next year. The same day that Pagano was repeating as state champion, her future teammates were qualifying as a team for the NCAA Championships with a 2nd place finish at the Northeast Regional meet.

On her decision Pagano said "I just felt like it was the right fit for me. When I went for my visit, I got a really great feeling - the girls were really awesome and I love the coaches. I think Syracuse has alot to offer both academically and athletically for me and I think it'll be a great place for me to go to college. The program is growing quickly and I am really excited to have the opportunity to be a part of that next year. It was a tough decision but I definitely think I've made the right decision for me. "

Pagano and her IHA team, after a few difficult weeks, are one of four schools that look to have a chance to claim top team honors this weekend at the State Meet of Champs.