4 time FL qualifier Shelby Greany reflects




Suffern (NY) senior Shelby Greany has qualified for four Foot Locker Championships and takes a look back at her previous trips west and what is ahead this weekend.



Since entering high school competition, Shelby Greany has been a major force. As part of the Suffern High School team, Greany has won state and national titles, won Penn Relays Championships, and set state and national records. She may have never won a state cross country crown, but the Providence-bound Greany has joined a select group of high school runners who are 4-time qualifiers for the Foot Locker National Championships. Dyestatmetro asked Greany to reflect on her four regional races, her experiences at the National meet, and this upcoming weekend.


I have been asked to reflect on my experiences of qualifying for Foot Locker for 4 consecutive years. Let me start by saying when I started running in 7th grade, I didn't know what Foot Locker was. By the time I got into 9th grade, I kept hearing about this race and figured what have I got to lose? I had been running against most of these girls all year so I was going to give it a shot.



The first year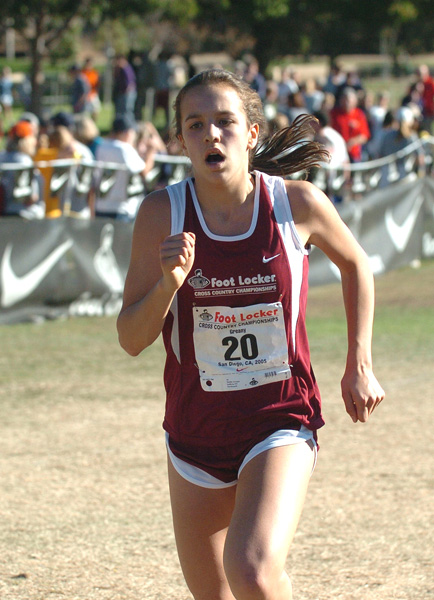 In 9th grade, the regional race was bittersweet for me. My teammate, Kara McKenna, and I ran the regional together and we were in the lead pack. I wasn't really sure what to expect and I knew I was on the bubble, and would have to run well to qualify. Kara was having a great race and, coming out of the woods, we were the 9th- and 10th-place runners. In the final 800m, Hannah Davidson (Saratoga, NY) passed us both to move into 9th place. Kara and I both knew we were fighting for the last spot. In the final stretch, we battled back and forth and in the last strides of the race I was able to pull ahead and get the 10th and final qualifying spot. We were separated by a second and having to pass her was not only physically tough, but mentally tough as well, because as I made my dream come true, I took that away from my teammate.

The national race that year was scary for me. I had just barely qualified and felt like everybody else there was faster than me. I had little confidence going into the race and I just hoped I didn't come in last. On the starting line, all I could think about was how fast everyone was and I was star-struck. I felt honored just to be in the same race as these runners. It was hot this day, and coming from NY with the temperature being in the 30s, it didn't do well with my asthma. The race went off and in the first 800m we run over wood chips. Well, that was the beginning of the end for me. All the dust kicked up by the lead car and the other runners got into my lungs and I was done. My family just encouraged me to run my best and to finish. My sister came to watch and she was yelling at me, "Just don't come in last!" Of course that was my biggest fear, so I just tried to stay ahead of some runners. I came in 38th out of 40 girls(photo left by John Dye), but there was a DNF this year. So basically, I almost came in last.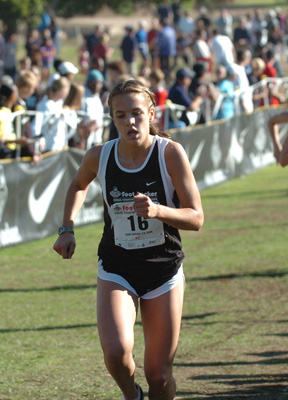 Halfway to 4 in a row
In 10th grade, the regional race was less intimidating. I had finished second in the NY State Federation meet and, hopefully, proved I deserved to be in the mix. With 800m to go, I was in 10th place (my favorite place ... NOT!). I knew I had saved a lot for the last half mile, so I brought it in as fast as I could and placed 6th. I improved my time by 12 seconds from the year before, so that made me happy. The idea to qualify for 4 years seemed possible with this race. I was halfway there.

The national race seemed less scary and instead of staring at the runners next to me, I was more focused on the race. I was ready to run and felt I could be in the mix this year and improve my time as well. As a runner, you can't focus on place all the time. If you improve your time you have to be happy. I was patient this race and my asthma didn't give me trouble this year. In the last mile, I went from 29th place to 19th place (photo left by John Dye) and improved my time by a lot. How could I not improve from the year before?! I was really happy with my race and more confident with myself, and believing I belonged in the race.





Three down one to go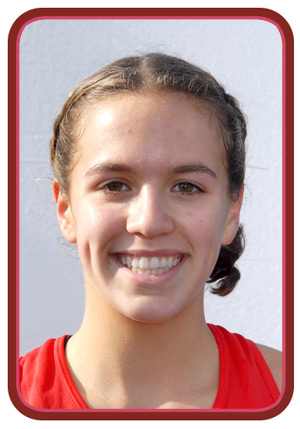 In 11th grade (photo, right, from Photorun.com's gallery of '07 finalists), the regional race was interesting. I had been sick on and off all fall. As some of you know, I tried to go off my inhalers and the mucus I produced on a daily basis was intense. I woke up the day of the race and didn't feel well. I didn't let on to my parents how sick I was, but my mom could see it in my eyes. She said just qualify and don't worry about your time. My coach said the same thing and not to push myself to hard. I felt horrible during the race, but qualifying was my goal all season and I refused to let some mucus stop me. With 800m to go, I was in 9th place with 10th close behind. I knew 11th was further back, so I had a cushion with qualifying. I come across the line in 9th place. I was relived to have this race behind me. By the time I got home I was so sick that I went to the doctor and got on some antibiotics. I took a day or two off and did some swimming instead. If the race was on Sunday, I wouldn't have been able to run - I was so sick.

The national race was very wet and just like we Northeast runners like it. It had rained a lot in the early morning and it was cool and damp out. The cooler and messier it is, the better we like it. I was fully recovered from my bronchitis and I wanted to improve my time and place again this year. On the starting line I was more confident than the previous years. I knew I belonged there, and knew I could run well, and I had the experience that some of the other girls didn't. I ran the same way I ran the year before, but I got off the line a lot better this year. I made my move in the last mile and was able to pass some runners. I ran faster then the year before by 13 seconds but placed 24th this year. Last year my time would have placed me in the top 15, which is All American. I was happy with my time and my race, but I'm not going to lie - All American would have been sweet.




Joining the select group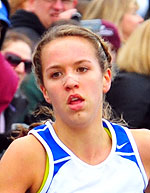 In 12th grade, the regional race was like no other race I had ever run. I had one more regional race until I qualified for Foot Locker 4 times. My last few races hadn't been that good and there was a lot of talk on whether people thought I could make it or not. I knew I couldn't let it get in my head that I couldn't do this. Who were they to tell me I couldn't make it?! It got me fired up. I knew I would do whatever it took and I knew this was my day to shine. It would be the race I was waiting for, the race where everything would fall into place. My practices were going great and I was in the best physical shape of my life. I got on the line with a new approach from my previous races. No pressure, no frustration, just pure passion and determination. I was determined to prove to everyone else and myself that I was one of the best runners in the Northeast and that I deserved to go to nationals. When the gun went off, I was a different runner. I ran for me and because I love it. I didn't put pressure on myself or think of the disappointment of losing. I just ran and came across the finish line in 2nd place (photo right by John Dye) with a 19 second PB. I went for the win and it was the best race I had ever run -- and qualifying for the 4th time made it the best day of my cross county career.

Now for nationals I don't want to jinx myself, so all I will say is: I will run this race for me and have fun and put everything on the line for my last cross country race of my high school career.

(P.S. Go Northeast!)