PIAA Pennsylvania State Meets




Fri.-Sat., May 23-24, 2008

Seth Grove Stadium, Shippensburg U., Shippensburg PA

The Stars Speak Out
Post-Event Interviews by Kristen Holzherr
Chanelle Price

– Easton – Won AAA 800 in state record and National Federation Record 2:02.90, just 0.52 off her PR 2:02.38 from USATFs last summer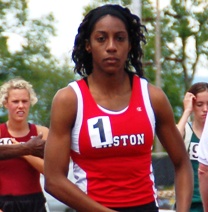 Q) How did you feel about your race today?
A) I felt great during it, I felt great until I had 30 meters to go; that's when I needed that last kick. I went out a little too fast – people have probably heard me say that too many times – but soon it'll kick in.

Q) What were you looking to accomplish?
A) Records, another state title, definitely close to the two-minute mark, a little bit closer than I got today. I was looking to get 2:01 or better, really wanted to get two-minutes or under, but it'll come. Hopefully, when I run against professionals that will bring me to where I want to be.

Q) How did you feel about the competition you were facing?
A) I usually just race the clock. I always come in with a strategy and I always have certain splits that I want to hit, so I don't really worry about who I'm running against. So me versus this clock. I wish it had gotten me through at two-minutes, but again, I have the competition on my own and it's really just about (the) mental (part) for me.

Q) Do you have any plans for the post season?
A) Like I was saying, I was thinking around with Nike Nationals, Juniors, any professional meets that I can get into – just so that I can get more confident for the Olympic Trials. (I want to) get closer to the two-minute mark and then I know I'm ready for the Trials.

Q) Coming down the homestretch, what keeps you going?
A) The crowd, definitely, and sometimes I'll peek at the clock and if I see that I'm where I want to be, then it helps with the drive. But mostly the crowd and hearing my mom scream.




Dan Kwiatkowski

– McDowell – Dominated AAA shot-put with 64'1''

Q) What were your expectations of how you were going to perform?
A) I wanted to throw either 65 or 66 feet, but I threw 64, and I am happy with that.

Q) How did you prepare for this meet the past week?
A) I've been training hard, cutting back on my lifting, trying to hit bigger ones in practice.

Q) Do you have any plans for this summer for shot putting?
A) I'm definitely going to Nike Outdoor Nationals, and doing a couple summer workouts at Pitt with the coach.




North Penn Boys 4x800

- Brian Quintrell, Steve Franks, Justin Bokhinery, Zach Montijo – North Penn's 4x800, already the nation's top squad from its win at Penn Relays, hit 7.38.79 to lower their best by six seconds and win the AAA race decisively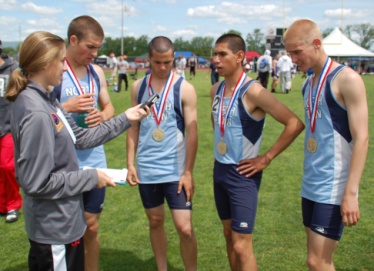 Q) When facing big rivals, what is your mentality going into the race?
A) We all stay focused; we all know that if we do our jobs, we should come out on top. And you just focus on yourself, and know that each guy in your relay is going to do his job, and then you're going to come out with a win.

Q) How did you feel about your winning time?
A) I mean, we were going for the national (Federation) record, but we got our school record, 7.38. I mean, that's great, it's awesome, I'm not ashamed at all. We're very proud; it's the last time we're all on a relay together. To even be mentioned in the same sentence as the national record team all the way back, 26 years ago, its just phenomenal.

Q) After this meet, do you have any plans?
A) We're not sure, maybe Nike Outdoors, who knows. We may just end up chilling, just recovering, and getting ready for our college careers.

Q) How did you prepare for this meet?
A) We just did the same thing we've been doing all year. We took (our time) down a little bit, and pretty much everything else was the same; we went in with the same mentality. The mental preparation was do what you've been doing all year; we haven't been losing, so you want to do the same thing, do your job, like I said before.




Fawn Miller

– Lakeview – Miller, just a soph, had one of the most stunning and unexpected marks of the meet, as she improved 15 feet for a state record 167-02 Javelin, #2 in the country and #5 all-time with the new jav.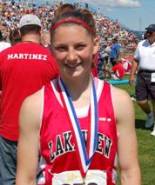 Q) How did you feel coming in to the meet?
A) I felt good. I got up in the morning, kinda early, but I came out and I was ready to throw. I was excited for the throw.

Q) Which throw did you get the big one on?
A) The very last one.

Q) How was your series before that?
A) I threw 149, and I was thinking around 147 or so.

Q) What was your PR coming in?
A) It was 152 feet.

Q) Do you have any post-season plans?
A) Just to keep working on it, and start working out and lifting.




Carly Seymour

– Central Cambria – Seymour continued her dominance of Class AA distances with a class record 10:31.85 3200 victory.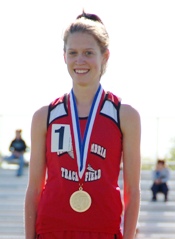 Q) What did you think was the toughest part of the race?
A) Probably the last three laps, when they told me that there was a chance that I was going to be close to the record. I was kind of like, wel, I can go for the win and I can get the record. I figured since it was my senior year, I could go for it.

Q) When coming up on the last couple of laps, what kept you going?
A) The crowd and my coach screaming the times out to me. I've been on this track for four years, and knowing it's your last time, you try your hardest.

Q) Coming into this race, what were you looking to do?
A) I was definitely looking to win, and, depending on how I was feeling, set the meet record.

Q) What did you think about your time?
A) I'm ecstatic about it; I really wasn't expecting it because I really just conserved the first mile. So I would love to see what I could do, just going all out.

Q) Do you have any post-season plans?
A) I think I'm going go to Nike Outdoor Nationals. I'm pretty sure.




Justin Shirk

– Central Dauphin – Shirk saved his best for the biggest meet of the year, throwing the javelin 221'3'', #2 in the country this year.

Q) When you're throwing, what do you think the biggest challenge is?
A) Staying focused, and overcoming the competition and doing what you need to do to get your throws up.

Q) What were your plans of how you were going to prepare for this meet?
A) Well, the weather this past week was real ugly with rain and wind. So I just tried to get some throws down. My shoulder was hurting a little bit, so you just gotta do your best out there.

Q) How did you first get into the javelin?
A) My high school track coach told me to go down to some relays because I was just coming off my eighth-grade year and I was still (running) sprints, the 100 and 200. And I was a quarterback, so I figured I would just give it a try.

Q) Do you have any plans for the post-season?
A) I was invited to the Caribbean team by the NSSF, and then after that I have the USATF Junior championships.




Neely Spence

– Shippensburg – The home-schooled distance star completed the PA portion of her great career with a dominating 4.44.85 1600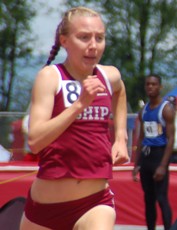 Q) How did you decide you wanted to become a miler?
A) Well, last year I decided to focus on the mile to work on speed, and it seems that the longer I get, the better I am. But you know I just decided to go for it again this year, just to see if I could get my time down, get a little faster, and be a little help in everything I do. So, I just started out trying to beat some of my records from last year, and I honestly two weeks ago never thought I would have the chance to go for this (state record). You know it was worth a try, and it didn't come together but I was happy with the time. I was 6 seconds off from last year and it's pretty exciting.

Q) Coming into the last lap, how did you feel?
A) You know, each lap kept getting harder, and they kept getting slower, so that's kind of a bad thing. But coming into the last lap, I was like, well, I'll go for it, use my arms, see what I have left – and I didn't have left as much as I wanted. You know, I tried, did my best, and just let the crowd bring me home. I looked at the clock, I was disappointed, but I was happy and it always can't come together.

Q) Are you happy about the outcome of this race?
A) I had higher goals, but I did my best, and really that's all I ask of myself.

Q) What do you think your greatest accomplishment in track has been?
A) I think my biggest surprise was probably last year at Nike Nationals and I was the last person to make the fast heat in the two mile, and I ended up almost winning. I just got outkicked right at the end. I got second, and I think that was probably my most memorable moment right there. So I'm hoping to go back in this year and maybe be the one that outkicks at the end.

Q) How did the wind affect your race?
A) Well, everyone had to face the wind, so in a competition situation it's not really that big of a factor for competing for first place. You know when you're racing the clock; the wind doesn't help at all, so unfortunately that's what I was doing today. It didn't really help me at all, everyone had to battle the wind, and so everyone tried their best.


Pennsylvania State Meet Index