PIAA Pennsylvania State Meets




Fri.-Sat., May 23-24, 2008

Seth Grove Stadium, Shippensburg U., Shippensburg PA


Results from PIAA.org - FINAL RESULTS POSTED - Class AAA - Class AA - PIAA Event-by-Event Results



Kristen Holzherr Interviews

- Ryann Krais - NEW Part 2 - Part 1--The Stars Speak Out (post-event w/ several winners)

North Penn's 4x800 boys (US#1 7:38.79) and Ryann Krais's single-handed
state meet win for Methacton were two big highlights. Photos Kristen Holzherr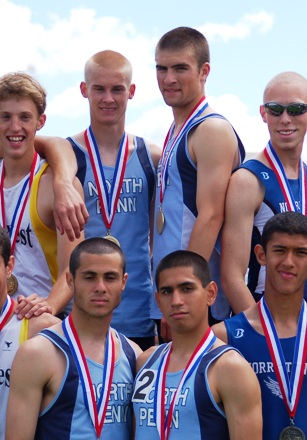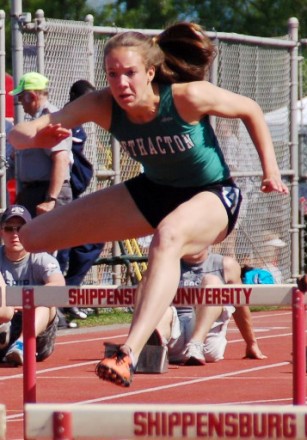 Saturday Highlights
Despite a tough fall in 100H, Methacton sr

Ryann Krais

wins 300H in 41.68, just off her state record, which when added to her HJ and LJ wins Friday single-handedly wins the AAA title for Methacton.
Easton Area sr

Chanelle Price

, in her only event of the weekend, lowers her US#1 800 to 2:02.90 in AAA, only 0.52 off her PR from USATFs last summer.

Lakeview soph

Fawn Miller

raised her PR by 15 feet and moved all the way up to US#2 and #5 all-time with state and US soph record 167-02 JT
Central Dauphin jr

Justin Shirk

hits US#2 221-03 javelin throw

North Penn

rips US#1 7:38.79 boys 4x800 in AAA; top 20 all-time; Norristown Area (7:45.44) leads 7 more teams under 7:49

Gwynedd Mercy

9:04.35 girls 4x800, with 6 more teams under 9:17
CR South sr Ije Iheoma 54.41 400 / 24.17 200 (+0.4w) double
Shippensburg sr Neely Spence 4:44.85 1600 to win by 11 seconds
Central Cambria sr Carly Seymour 10:31.85 3200 (Kacey Gibson 10:41.76, Lauren Zarger 10:41.90)
Boyertown sr Mark Dennin 9:03.63 3200 (Chris Aldrick 9:07.53)
Team Champs
Class AAA

-

Methacton

girls 30 over Council Rock South and Penn Hills 28;

Altoona Area

boys 44 over North Penn 34

Class AA

-

Swenson Arts

girls 55 over Lewisburg Area 42;

Wilmington Area

boys 45 over Bishop McDevitt 37

Friday Highlights
Methacton sr

Ryann Krais

starts off her AAA quadruple attempt with 5-05 HJ and 19-02 LJ (nwi) victories, as well as leading qualifiers in 100H (13.66, +1.7w) and 300H (42.04).
Penncrest sr

Karen Shump

47-10.75 SP in AAA

Swenson Arts

girls AA record 47.73 4x100 in qualifying
Easton Area sr

Chanelle Price

2:12.46 800 in qualifying
Swenson Arts sr

Shanae Bailey

11.83 100 (+1.8w) / 24.79 200 (nwi) to lead AA qualifying
CR South sr

Ije Iheoma

leads AAA 200 & 400 qualifying with 24.57w (+3.4w) / 55.46
South Columbia sr Ted Heitzman wins tight AA jav battle with 198-07
Wissahickon sr Folarin Ijelu 48-06.50 TJ (nwi) in AAA
Indian Valley soph Laura Loht 141-08 JT in AAA
Reynolds soph Kara Mostoller 18-08.50 LJ in AA (nwi)
Gwynedd Mercy leads AAA girls 4x8 qualifying with 9:19.87
11 teams under 8:00 in boys AAA 4x8 qualifying, led by Norristown Area 7:56.98
Gratz sr Frank Wainswright 37.84 300H qualifying
Chester girls (3:51.94) and North Penn (3:17.94) boys lead AAA 4x400 qualifying
Ryann Krais Interviews

- Part Two - Part One -

Story, photos by Kristen Holzherr






Part Two

(at end of state meet)

Krais's Final Hurdle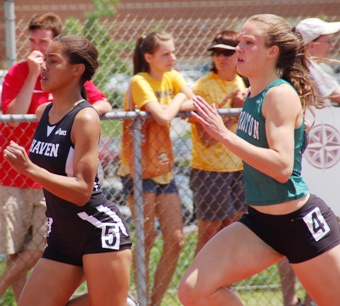 Ryann Krais was nothing but smiles when she walked off the track after winning her last race as a high school athlete in the 300 hurdles. When at the starting grid, Krais looked calm and prepared for the race she had ahead of her. After going over the first couple of hurdles, Krais was ahead by more than one second, and she came out triumphant in her race.

After falling in the 100 hurdles, Krais showed how much of a stand-up athlete and courageous person she was. She got back up and continued running, and even though she was disqualified, she came out of the race knowing that she could improve in the 300 hurdles. The hardest part of being an athlete is being able to get back up after making a mistake or falling, and still being able to go on as if nothing ever happened.

Watching Ryann Krais run is like hearing an amazing song for the first time, and you know nobody's saying it, but everybody's thinking it – we have something to believe in again. As a spectator, no one has ever seen anyone who has the kind of talent that Krais has, the kind of strength and confidence she has that leads her to victory in the toughest of races.

She has led Methacton to numerous wins throughout her four years as a Lady Warrior, and in her senior year, she single-handedly won the PA State Meet title. Ryann has fans everywhere she goes, because she's not only one of the best at what she does, she's a role model. She will gladly take a picture with you, sign an autograph or talk to you about being an athlete and the struggles one can face. Krais has become a person who anyone can look up to or call a hero, she's just that gifted and inspirational.

Going on to UCLA next year, there is no doubt that she will continue her outstanding track career, and break some more records. Anyone would be proud to say they competed against her in a race, proud to say that they know her, proud to say that she's their hero. For four years, Ryann Krais has had jaws dropping, crowds cheering, and everyone in awe. But one thing is for sure… she will be greatly missed!

Ryann Krais – Methacton – 1st 13.75q 100H semi, DQ 100H final, 1st 41.68 300H

Q) What did you do to prepare for this meet after districts?
A) Well, we actually ended up not having great weather this week. I mean, I guess you saw, it was raining and stuff. So we spent a lot of time inside doing drills with the high jump and the long jump, and then one of the days we got to go outside and kind of just run through what the meet was going to be.

Q) You've led Methacton to many wins throughout your four years, why do you think you have been so successful?
A) It's a team thing, you know, I've got a bunch of girls on my team that I hear cheering and even though we're all in competitions, too.

Q) In your opinion, what has been your greatest accomplishment in track and field?
A) I think I'd say last year in Indy (at USATF Juniors), with the heptathlon and the 400 hurdles. I had two PR's that weekend.

Q) What do you like so much about competing in the hurdles?
A) I always loved racing on the track, and just when you put hurdles in there, it makes it even more exciting.

Q) In two weeks, you will be facing (US#1 100 hurdler) Jackie Coward in New Mexico, what do you think the outcome of this race will be?
A) Whoever wins, it's gonna be a great race, absolutely. I mean, more than just Jackie will be there. It'll be quick, and that's what I'm looking for.

Q) What will you miss the most about high school track and field and being on the Methacton team?
A) As I said before, I love the girls, I love the coach. It's just my home, it's where I came from, it's where everything started and it's gonna be sad to leave that. But I'm ready for the next step.




Part One

(at end of district meet)

Ryann Krais of Methacton High School is both critically and nationally acclaimed as being one of the best to have ever entered into the world of track and field. Krais is known for winning nine various national championships in the pentathlon, 100-meter hurdles, and the 400-meter hurdles. She committed to UCLA on Valentine's Day, and sports a UCLA sweatshirt and a blue headband in support of her Bruins school colors.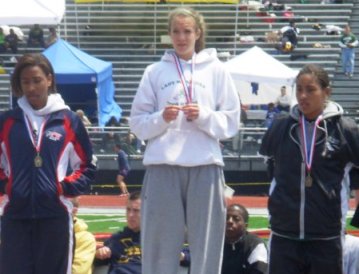 Although she holds many state records, and is known to many as never losing a race (in PA, anyway), Krais was not always in love with track and field. She came into Methacton HS out of Arcola Intermediate School, and was a talented and driven soccer player who never gave up a fight. Playing the position of a striker, soccer was known to be her first love until she was introduced to running.

Krais always being a very determined athlete, did not take to the idea of losing well, and had to overcome this obstacle when she first started to race in the off-season. This perspective was changed when she ran 57.08 seconds for 400 in summer competition in Des Moines, Iowa, the summer before she started her high school career at Methacton. Krais was not only motivated by the confidence it gave her when she won, but also by a dog that her father John had promised to buy her if she ran 57 seconds in the 400-meter dash.

The more that Ryann began to race, the more she became a female athlete icon for all those who saw her set PR after PR. Not only is Ryann hoping to continue her success at UCLA next fall, but she also has dreams of making the 2012 Olympics held in London, England. Many see her as a national record holder, an extremely talented athlete, and a threat to other competitors – but most see her as unstoppable. I had the pleasure of interviewing Krais, after she finished the 300-meter hurdles at the District meet in Coatesville, PA.

Question & Answer

Q: How do you think you've improved as an athlete over your past four years in high school?
A: I think the biggest thing is not necessarily the PR's, but the consistency. I mean if I look at some of my times, something that I'm disappointed with this year would've been like a PR in past years.

Q: What does it feel like when you break a new record at a meet?
A: It feels good. I guess it feels even better when it's your own record, because then it's like you can see an improvement throughout the years.

Q: What is your favorite part about being able to compete versus other nationally acclaimed athletes?
A: It's awesome. I mean it's very nerve-wracking, but those are the best races, you know, when you get somebody that's going to push you real hard.

Q: So you're attending UCLA in the fall – what are you most excited about?
A: Well, I'm very excited that there's a beach 5 miles away. I'm also excited because as much as I loved being on Methacton's team, I'm excited to look forward to another team that really just wants to run.

Q: What is your biggest fear?
A: It's so far away from home, that's a big one. I've lived in the same house my whole life, so it's going to be a big change.

Q: When you're preparing for a big race, do you have any pre-game rituals?
A: I don't know that I have any rituals, really. Well, I guess I eat an orange sometimes, drink a little water.

Q: What's the best advice you've ever received about track and field?
A: I don't know that I could just pick out one thing, but I actually have a quote book. I mean, I read that a lot, so I guess it comes from there.

Q: What were your expectations of how you were going to perform in this meet?
A: Yesterday was just to be cautious, not trip over any hurdles, because I've been known to do that in big meets, so that was a big thing for yesterday. Today was just to go out and get some PR's and I just missed both of them today, but it's okay.

Q: So you recently ran 13.50 in the 100m hurdles at the Taco Bell Classic. What was going through your head after you ran this?
A: Well, that was a huge PR for me, and I guess the thing that I was most excited about was that I actually felt like I could be close to (defending NON champion from TN) Jackie Coward. So many times I've run against her and I'm just like "All right, just let her go." But I actually felt like I was competing with her, for at least half the race.

Q: If you could give any advice to athletes everywhere, what would it be?
A: I think the biggest thing is really you gotta love what you do, or you're not gonna do it well.

Northeast Region Index