John Nepolitan Photos
Winners
Boys Distance
Boys Relays
Girls Distance
Girls Relays
Field Events
Sprints Hurdles
BUY THESE PIX
Meet's Own Site
Start Lists
Schedule
Preview
Cabral's 4:09.80 Mile Leads the Way

- John Nepolitan Story

Highlights - Results from mysportsresults.com and nesportstiming.com - 490 John Nepolitan photos (index at left)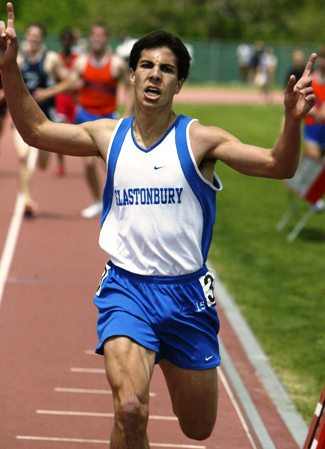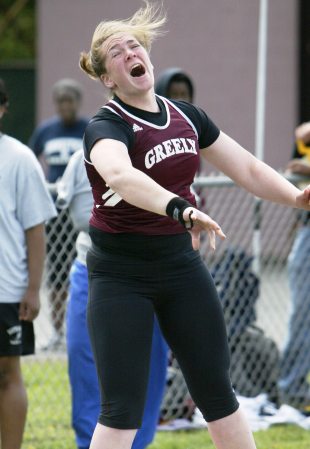 Donn Cabral ran a US#1 mile (left), while Becky O'Brien doubled the shot and disc. Photos John Nepolitan
Highlights
Donn Cabral

(Glastonbury, Ct) leads 7 others under 4:20 in the mile with US#1 4:09.80
US weight throw record holder

Victoria Flowers

(Classical, RI) US#1 & meet record 179' 0" HT
Becky O'Brien (Greely, Me) 2 meet records in shot (49' 5-3/4") and discus (148'5")
Mike Hartfield (Manchester) takes long jump (23' 8-1/2") and the triple jump (47' 0").
Anna Shields (Lewis Mills, Ct) leads wire to wire in girls mile (4:52.70) and earns medals in 800 (6th in 2:16.78) and sprint medley relay( a 2:14.5 split).
Dominic Smith( Bloomfield, Ct) is a double winner on the track and almost earns 3 firsts taking the 400(47.56) the 200 (21.52) and anchoring the 2nd place 4 x 100 team.
Madalayne Smith (Saratoga, NY) runs a meet record 14.04 in the 100 meter hurdles
Defending NON steeple champ Hannah Davidson (Saratoga, NY) 6:46.17 2k ST, just off her US#1
After getting 2nd in the mile in 4:12.94, Andrew Springer (Westerly, RI) takes the 2 mile in 9:12.96
Matt Callanan (Mansfield) takes both 110H and 400H – 14.14 and 55.30.
Parker Boudreau (Danbury, Ct) kicks late for 1:52.94 800 (Cas Loxsom of Wilbur Cross 1:53.83).
Foot Locker Finalist Emily Jones (Bromfield, Ma) 10:32.26 solo 2M.
Charlestown, Ma 3:30.89 boys SMR, with Omar Aden 1:55.0 800 anchor (also 4th in the mile in 4:17.82).
Cabral's Fast Mile Leads the Way
Story/Photos by John Nepolitan


(Photos below of Hannah Davidson leading steeple, multi-sprint winner Dominic Smith, and hammer winner and shot runner-up Victoria Flowers)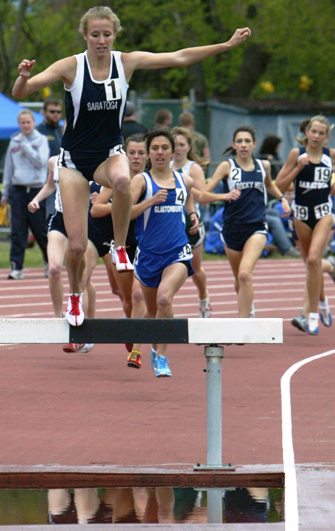 The day before the Hartford Public Schools Invitational was cold, windy and wet as rain storms swept through the Northeast, but meet day dawned to sunshine and rising temperatures and, once again, performances from the Nutmeg State's biggest weekend meet would have an impact on the national stage. The highlight of the meet, directed by 1952 Olympic gold medal 100 meter winner Lindy Remigino, was easily Donn Cabral's 4:09.80 USA #1 win in the mile, but there were many other notable performances.

After having set state records in the 10,000 and 5,000 meters earlier in the season, Donn (Glastonbury, Ct) decided it was time to drop down and work on a bit of leg turnover and race tactics by taking on a crack field in the mile. From the gun the pace was fast, as Omar Aden (Charlestown, Ma) had the lead at 400, meters, passed in 61. Cabral was right on his heels and the pack a step or two back.

By the 800 point, 2:02, Cabral was in front with Aden and Andrew Springer (Westerly, RI) right behind, and a gap back to the chasing pack headed by Danbury's Willie Ahearn. With just 400 meters to go, Aden had regained the lead, passing the one lap-to-go point in 3:06. Cabral was a step behind and Springer was starting to slip off.

Down the back straight, Cabral took the lead back for the last time and begin a drive to the finish. Over the last 300, Cabral looked strong and powerful, and it even appeared that he shifted gears one last time about 40 meters from the finish, on his way to a USA #1 time of 4:09.80.

Behind Cabral, Springer, who would later take the 2 mile in 9:12.96, was moving best of all. He came home 2nd in 4:12.94 with Ahearn 3rd in 4:13.48. Aden would fade back to 5th in 4:15.82, but would return later in the meet to lead Charlestown to a win in the Sprint Medley with a 1:55.0 anchor.

In all, eight runners broke 4:20, among them was Mark Feigen (East Greenwich, RI) who won the unseeded section in 4:19.84. For the winner, this was a step toward the dream of making the US team for the World Jr Championships in the 10,000 meters at the USATF Jr Championships. He will spend the rest of the season running 800s, miles, and relays to get ready.


Not to be outdone in the fast mile department, Anna Shields (Lewis Mills, Ct) jumped to the front of the girls race and led wire to wire, zipping through spits of 71-2:21 and 3:34. She slowed slightly over the last 400 to cross the line in 4:52.70. The race was far from a solo time trial, as Shields knew that behind her was a fast-closing Sarah McCurdy(Bay Shore, NY). The 2007 NSIC 800 meter champion could not close in time to really threaten for the win, still ran a creditable 4:56.61.

Shields returned to the track two more times, each time running 800s. The first 2 lap tour of the track was in the open 800 where Saratoga's Michelle Riley, who had earlier in the day had run on the winning 4 x 800 team, took over the lead at the half way point before pulling away for a 2:14.13 win, with Shields finishing in 6th in 2:16.78. At the end of the day, Shields ran 2:14.5 on the 3rd place Lewis Mills sprint medley relay team.

Runners from New York distance powerhouse Saratoga reached the winners circle three other times on the day. The day's first final was supposed to be a showdown between Saratoga and Lincoln Sudbury, another NTN qualifier from this past season, but it was Rhode Island's Westerly threw a scare into the New York school. Westerly had the lead for the opening two legs, before giving it up to the New Yorkers on the 3rd leg.

Saratoga went on to win in 9:16.76 and Westerly finished 3rd. The 2nd final of the day saw defending NON 2000 meter steeplechase champion Hannah Davidson win her specialty in a swift 6:46.17, just shy of her national leader of 6:45.0. The final Saratoga runner to earn first place honors was Madalayne Smith, who established a new 100 meter hurdles meet record of 14.04 (into a 4.2 head wind) to take 1st by .67.

Foot Locker finalist Emily Jones (Bromfield, Ma) and the Connecticut duo of Parker Boudreau (Danbury, Ct) and Cas Loxsom (Wilbur Cross) each produced marks of note in multi lap events. Jones took the lead early in the girls 2-mile and, after a 5:14 opening mile, had a 10 second lead that would grow to 29 seconds at the finish as she crossed the line in 10:32.26.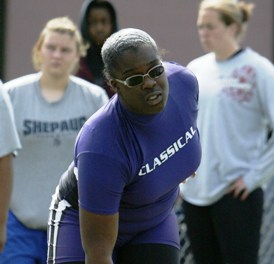 Bourdeau and Loxsom may very well have given the crowd a preview of the state 800 meter race, as the two used an opening lap of 54 to break away from the field. Loxsom was in front doing the work and Bourdeau sat until he came off the final turn and saw the finish line before he attacked. Up the final 100 meters, Bourdeau inched ahead for the 1:52.94 to 1:53.83 win.

The top field performances were turned in by two girls who established meet records in three events. The first field final, the shot put, matched Becky O'Brien (Greely, Me) and Victoria Flowers (Classical, RI). O'Brien picked up her first win of the day with a meet record 49' 5-3/4", one of the top three throws in the USA this year. Flowers finished 2nd in 43' 6".

O'Brien got her 2nd win and 2nd record of the day just a short time later in taking the discus with a record toss of 148' 5". At the end of the day Flowers, who holds the national record in the weight throw, would take over the national hammer throw lead with a throw of 179' 0". Flowers' performance was also a meet record.

While the national-leading marks and meet records were what most fans were talking about during the meet, there were other fine performances and double winners. Mike Hartfield (Manchester) earned the top field performer award with his double win in taking the long jump (23' 8-1/2") and then the triple jump (47' 0"). On the track Dominic Smith( Bloomfield, Ct) took the two long sprints and earned Meet MVP as a double winner. He took the 400 in 47.56, leading from the gun, then came back for the 200, blasting from the blocks to win in 21.52. Earlier in the day, Smith took the baton in the anchor leg of the 4 x 100 a few steps behind Middletown, Ct and came up just short in earning three 1st places. Middletown would take the relay in 42.60 to Bloomfield's 42.95.

Matt Callanan (Mansfield) earned gold in taking both hurdle events. First up for Callanan was be the short hurdles and he totally dominated the event, winning by a cushion of .29 with his 14.14 clocking. His 400 meter hurdle win was just as easy, crossing the line in 55.30 for a .66 win.

The Hartford Public Schools Invitational is a meet that year in and year out that produces national class performances and once again has provided a springboard for athletes as they gear up for state and national competition.


====================



Distance Events, Throws Look Very Strong



Meet Preview by John Nepolitan

As May hits the Northeast, the 2nd weekend means the last of the year's big invitationals and the move to the championship part of the season. In New England, one of the highlights each year is the Hartford Invitational, bringing together not just schools from Connecticut, but from across New England – and many New York powerhouses as well.

The 37th edition of the Hartford meet is sure to once again produce performances that will have an impact on the national lists. Among the things to see at this years event include: