by Matt McCue

- Special to DyeStat.com


Photos by Jeannette Seckinger

- Video by Moses Galindo


The aptly named Bolt Bus full of elite high school runners pulled into the Bronx, New York just past midnight on Sunday morning to ease the pressing matter—a slew of hungry bellies. Dinner choices were slim: McDonald's, Burger King, or Popeyes. For those craving carbs, there was a greasy pizza joint down the block. The dog-tired athletes, from Jamaica, New Jersey, and New York, poured out in search of something to eat. They were still four hours from their final destination: Boston. There they would complete an unlikely weekend double. Their first race had taken place earlier at the Penn Relays in Philadelphia. Their next, the following afternoon, would be a mad dash at the Puma Street Meet, the newest twist to help promote America's running scene. The late-night, energy-sapping travel wasn't ideal, but none of the athletes were all that anxious about their upcoming races. Run on the street, these contests would be different—simpler than what they were used to. No times. No exchange zones. No batons. Just winners, and losers.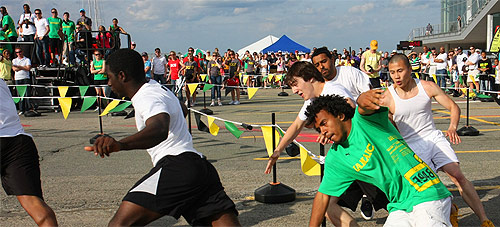 Bob Marley, baby! The reggae music began blasting early on Sunday afternoon, and it didn't stop for five loud hours. The distinctive beat set the rhythm for the hot, windy day at the inaugural Puma Street Meet, advertised as one part Jamaican street carnival, one part track meet.

Matt Taylor, Puma's International Marketing Manager, and also a self-described "running geek", came up with the concept. "The idea of the Street Meet was to take everything that's exciting about track and drop it in the middle of a Jamaican street carnival. What we wanted to do was to create an atmosphere that was different from any track meet that you would go to. Then we took some track events that were what we think of as standard track events, the 4x1, 4x4, but we did them in a totally different way."

For one-day-only, Puma turned an empty parking lot shouldering Boston's southern waterfront into a hub of activity for the masses. "Maybe there is a way to do something that is unique and different and still credible to the sport, but also would draw in a crowd that normally wouldn't come to a track meet," said Taylor, adding. "The idea was to…bring in an audience."

To do that, Puma organized an array of unique competitions. Bordering the near edge was the human "Speed Trap," a 50-meter stretch where participants sprinted past a radar gun that told them how fast they ran in miles per hour. None came close to matching the top-end speed of Usain Bolt, whose reading of 27 miles-per-hour during his 100-meter Olympic final in Beijing outpaced, well, everyone in history.

Along the far perimeter, the Street Flash offered the crowd a chance to "race" Bolt. A metal contraption on a wire rail shot down the cement at the speed Usain ran in Beijing. People could ride a bike to try and "beat" him.

The centerpiece of the Puma Street Meet was the 200-meter racecourse that twisted and turned every 20-30 feet, throwing sharp corners into the path of racers, stealing their momentum and breaking up their stride. It was how exactly how Taylor had planned it, replacing the standard left-hand-turns of the track with something unruly and wild.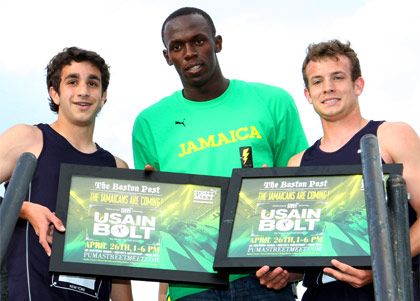 Usain Bolt with Boys Street k co-winners Robby Andrews and Brett Johnson


Bolt adds star power to the day



The highlight of the day was Bolt himself, who showed up in the middle of the afternoon, guarded by a healthy security force. The 1,000 person crowd, packed with Jamaicans, went nuts. One older woman mopped the sweat from his brow with a Kleenex. Another offered her baby for him to kiss. Someone even asked the PUMA-endorser to sign his Nike shoes. When Usain walked to the porta-pottie, a detail of four men and one woman escorted him and guarded the door.

Those fortunate enough to win the day's signature events were awarded their prizes—signed jerseys and Puma shoes—from the human lightning bolt himself. To kick off the finals, local Chris McConnell from Andover High School blitzed a reading of just under 20-miles-per hour in the Speed Trap. To put that in perspective, the powerfully built junior boasts a PR of 10.78 for the 100-meters. The idea to jump into the event happened spontaneously. "My race is the dash," he said, "so when I saw the radar gun, I knew I had to go for it."

Molly O'Dea earned her opportunity to meet Bolt by winning the women's Speed Trap finals. A bubbly, part-time field hockey player who was also a Massachusetts All-State and New England champion in the 55m dash for Hingham High School, she has run 12.2 for the 100-meters. She hopes the Puma Street Meet returns next year, saying, "I'm the defending champion, so I have to come back for that. It's so unique that I think other runners should do it."



Andrews and Johnson tie in the Street K, Lipsey wins handily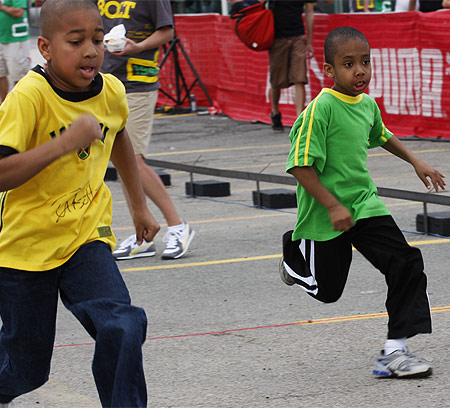 Two young sprint competitors race through the Puma Street Meet layout


Robby Andrews and Brett Johnson, two of those who took the late-night bus from Penn to Boston, employed smart tactics in the 1,000-meter Street K, patiently sitting behind Omar Abdi and Ahmed Ali of Boston for the first four circuits. They unleashed their superior speed over the bell lap to sprint past the finish line together, resulting in a tie.

Toni Reavis, the television commentator who announced the Puma Street Meet, summed up the consensus for these nontraditional tests of speed. "There is a lot of crashing," he said, "and that is what street racing is all about." For example, Radea Buchanan, who wore knee-length dress shorts and high tops to win her one-lap all-comers Street Sprint, likened the race to a Roller Derby." It was dangerous, the turns were sharp, I got tripped a few times—it was cool."

The only person who didn't seem to take an elbow was Charlene Lipsey. Her midnight meal of cheese pizza didn't decrease her appetite for winning. She led from wire-to-wire, cruising to an easy victory in the women's Street K. Asked her thoughts on the Puma Street Meet, she said, "Track is so serious, I think this kind of thing shows people running can be fun."

Building on the success of the Puma Street Meet in Boston, Taylor is already looking to expand the event into a series, starting with stops at the Golden League Meets in Paris and Zurich this summer as well as Berlin during the world championships.

One of Puma's hopes is that through these festivals, they will discover the next Usain Bolt, a kid who might have initially participated in other sports like football or cricket, but learned he had a real talent for running. Perhaps it will be Bryan, an eleven-year-old who plays football and basketball. In addition to the races, he was watching over his seven-year-old sister Kaylon. Bryan had competed in an early round of the Street Sprint and summed up his race by saying, "I would have won if I didn't slow down."

"Do you think you'll ever run faster than Usain Bolt?" I asked.

"Yeah," Bryan coolly replied, "Someday." In background, his sister piped up and added her two cents, "Someday."