Spiked Shoe - Penn State University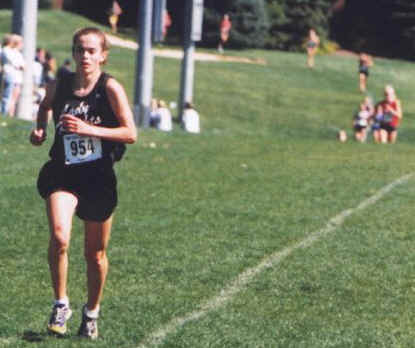 Freshman Emily Buzzell upends Kelly Otstott,
leads Middletown MD girls to big victory
Other winners:
Hempfield PA HS boys, Matt Stephens, Michigan women, James Madison men
Detail: HS Girls - HS Boys - College Women - College Men
9/18/99 at State College PA
HS and College Women 5000m, College Men 5.2 miles - rolling golf course - 75 deg, sunny
by John Dye
In their first major foray outside Maryland, the young Middletown MD girls racked up an impressive victory against a good field of 32 schools from three states.

Middletown, the top team in Maryland the past 2 years, took 5 of the top 15 places to beat Thomas Jefferson of VA, 49-89. Everyone else was far back. Middletown freshmen Emily Buzzell and Rocky Morgan placed 1-7; Emily's sister Randy and fellow juniors Laura Pumphrey and Kathy Harrigan came in 12-14-15 to seal the victory. Emily Buzzell's race was especially impressive as she went to the front at the outset and never looked back to beat last year's winner Kelly Otstott of Thomas Jefferson VA by 22 seconds in 18:47.8.
Picture of Middletown girls.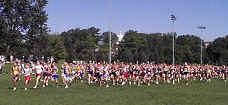 HS Boys - This was a much tighter race with Hempfield PA and Matt Stephens of Bloomsburg PA prevailing. Hempfield (5-6-7-31-52) scored 101 points to edge Strongsville 112, Thomas Jefferson VA 124, and Good Counsel MD 145. Stephens 16:06.2 was a 1 second winner over Joe Reynolds of North East.
College Women - Michigan (2-4-5-8-11-12-20) warmed up for the Big 10 championships to be held on this course with a dominating victory. Bucknell was a strong second, but still fell 30-67. Host Penn State was third with 111 points. Kim McGreevy of Pony Express TC won the individual race in 17:44, followed 10 seconds later by Lisa Ouellet of Michigan.
College Men - James Madison (3-4-5-9-25) was best in a fierce 3-way battle of nationally ranked teams with 46 points to Georgetown's 50 and Michigan's 62. Unattached Peter Sherry won a garrison finish in 25:42.3, followed in 2 seconds by David Rodriguez of Georgetown. Then it was 2 more seconds to Mike Wishiewski of Michigan and 1 more second to Ben Cooke, who paced the James Madison pack.
Photos by Charles Covell