27th Manhattan Invitational
Eastern States Girls Championship
Colonie and Lauren Burdick
10/9/99 at Van Cortlandt Park, New York City
2.5 miles - partly cloudy, low 70s
see George Febles' Armorytrack web site for more on the Manhattan Invitational
Colonie beats Saratoga
Colonie NY (4-10-11-13-21) beat regional rival and perennial national champion Saratoga NY (3-12-14-15-17), 59-61, in a race that was in doubt until the pencil pushers finished their work. California invader Peninsula was third with 101 points.
Lauren Burdick
Lauren Burdick of Fayetteville-Manlius NY, unbeaten in her sophomore season,
wins in 14:34.6, best girls time of the day. Lauren took the lead from Danielle Coon of Saratoga about halfway through the race in the woods; she said it was her best race yet.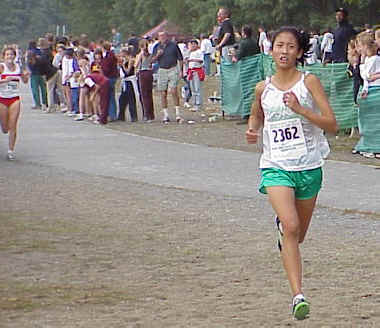 | | |
| --- | --- |
| 2nd - Lisa Capello 14:39.1 | 3rd - Danielle Coon 14:50.5 |
TEAM
1. Colonie 59
2. :Saratoga 61
3. Peninsula CA 101
4. Fayetteville-Manlius 160
5. Warwick Valley 195
6. John Jay 197
7. Clarence 217
8. Starpoint 220
9. Westfield 281
10. Our Lady of Lourdes 297
INDIVIDUAL
1. Laurel Burdick, Fayetteville Manlius 14.35
2. Lisa Cappello, Starpoint 14.40
3. Danielle Coon, Saratoga 14.51
4. Katie Twarog, Colonie 14.54
5. Jessica Pannote, Westford 14.58
6. Sally Briggs, John Jay 15.01
7. Melissa Stellato, Kingston 15.14
8. Emily Vince, Peninsula 15.15
9. Colleen Howard, Wellesley 15.19
10. Ashley Trenelay, Colonie 15.20
11. Ashleigh Bordwell Colonie 15.20
12. Liz Carlsson, Saratoga 15.21
13. Nicole Susser, Colonie 15.22
14. Tessa Auwartet, Saratoga 15.32
15. Marage Boltzer, Saratoga 15.35
16. Breanne Sandberg, Peninsula 15.37
17. Kate Markopoulus, Saratoga 15.38
18. Nicole Lee, Peninsula 15.39
19. Angela Kudla, Starpoint 15.40
20. Megan McGowan, Peninsula 15.43
21. Sara Lampack, Colonie 15.45
22. Lindseyh Jochum, Clarence 15.50
23. Heather Roberts, Tully Central 15.53
24. Rachel Stein, Warwick 15.56
25. Laura McClaus, John Jay 15.58
26. Erin Connelly, Westford 16.00
27. Andrea Aris, Fayetteville Manlius 16.00
28. Ana Hoyos, Saratoga 16.01
29. Julie LaFrano, Colonie 16.03
30. Allison Jochum, Clarance 16.04
INDIVIDUAL